Jungle themed decor is on trend this season, as are animal print and tropical patterns. And we can see why: they all give off serious summer holiday vibes. So make yourself a cocktail, then sit down and read our edit of the latest jungle themed design pieces.
'Jungle themed decor' is one of the most searched-for design terms, generally in connection with bedrooms. But we reckon you can make this trend work in any room of the house. So whether you're just accessorising or committing to a whole new paint shade, make your home feel more summery with these seven suggestions.
This lush tropical scene
Firstly, picture yourself swaying in this hanging egg chair, a gentle breeze blowing through the tropical foliage around you. Maybe your feet occasionally brush the wood-effect vinyl tiles, as you drift into a blissful slumber… Now wake up, it's time to shop for jungle themed decor.
This leopard print pillowcase
Leopard print never goes out of style, and it fits neatly into the jungle themed decor trend. This pillowcase is made of 100% mulberry silk, which is great for your hair (it makes it really glossy), so why not treat yourself?
This comfy tub chair
Sure, by all means channel tropical vibes, but you don't have to swing through the Amazon to enjoy jungle themed decor. Buy this cosy velvet chair, then you can do it from the comfort of your own home. Throw in a book and a bottle of something delicious and you're all set.
This elegant natural rattan plant stand
This stand combines two types of natural rattan for a graceful feel. So style it with some exotic green plants and stand it in a corner, or make it the focal point of a room. And if you don't want to put a plant in each part, but a decorative accessory instead? It's your stand, so you make the rules.
This palm print dining chair
Upholstered in green palm leaf velvet, this Art Deco chair will take your dining experience up a level. Inspired by the Beetle Dining Chair by Gubi, it boasts a curved back which hugs your contours, along with quilted detailing. Just exquisite.
This chic zebra print rug
Unleash your inner animal by chilling out with this outdoor rug, which suits the jungle themed decor trend to a T. Soft, durable and easy to clean, it combines charcoal grey tufted pile with cream flatweave. And it's so stylish, it'll go with any colour scheme.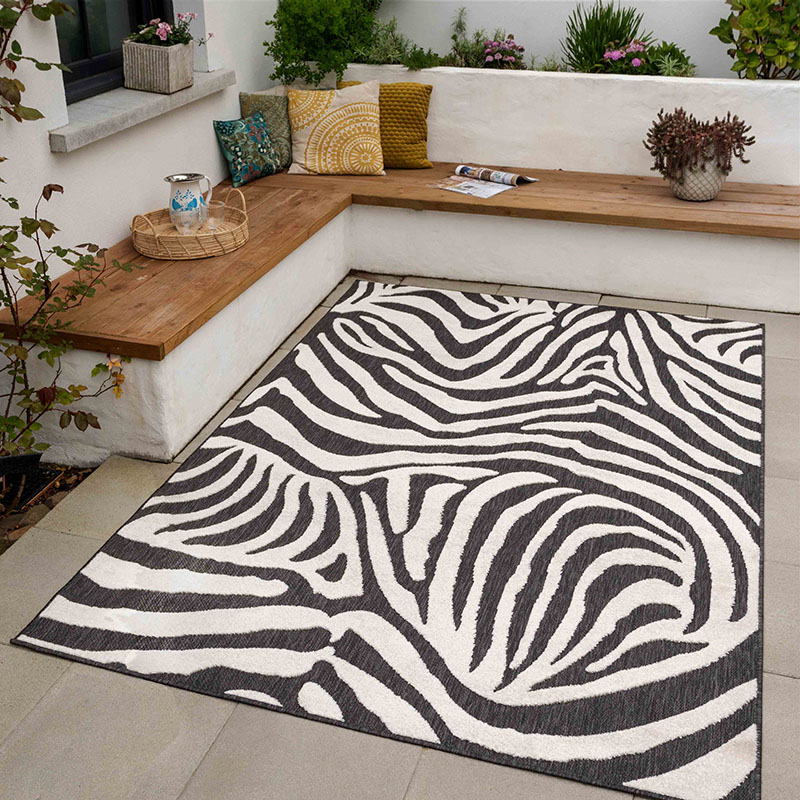 This totally tropical table lamp
We adore this green lamp. You can choose from a great array of different bases and shades, but we love this green glass. Team it with a 25cm empire shade in green, yellow and blue piave handmade marble paper. Jungle themed decor FTW.
This fierce animal print sofa
Raaaaaaarrrrrr! This tiger print love seat was designed by none other than rock star Paloma Faith, and we think it fits perfectly into our jungle themed decor edit. Made from luxe velvet and boasting on trend brass legs, it's sure to put some animal magic into your living room.
This jungle themed paint shade
Benjamin Moore describe this jungle themed decor paint shade as "a deep, earthy green that brings to mind a perfectly ripened avocado." And what could be more tropical or summery than that? Paint a feature wall in the bedroom or a section of the bathroom (just make sure you buy the appropriate type of paint for that room).
This gorgeous jungle print wallpaper
So: this made-to-measure wallpaper mural is perfect for the jungle themed decor trend. It's available to order onto a wide range of wallpapers including peel and stick. This is great if you like to switch up your wallpaper: you can enjoy the design for year, then move onto a different trend. Bonus.
This funky zebra stripe doormat
What better way to greet your guests than with this fun and on trend doormat? This way, jungle themed decor will say a big hello to them when you open the door. The print has been hand sprayed onto the tufted coconut fibre mat using exterior paints designed to be durable and stick to the coir. So this zebra will stay alive for years to come.
This gorgeous collection from Arteriors
Lastly, imagine lounging on this off-white muslin sofa with a mojito and just chilling. Lush. We love the jungle themed decor in this scene, from the rattan chairs with their palm-grey finish to the wooden backdrop – it's so relaxing. Team with tropical plants, then lie back and dream. Magic.
In short, channel your tropical side and embrace animal print and jungle vibes. Your home life will be wilder as a result.
Love the dark brown items in this jungle themed decor collection? Then check out our Americano trend edit.
About Post Author