Craving a getaway? If there's one word on many of our lips right now it's the S word: staycation. I won't mention the other L word or C word (not the rude one, don't worry) in this post as we're most likely sick of those, but there's no doubt that holidays in the UK are in high demand. Why? Well aside from travel restrictions, we actually have some rather gorgeous places to visit – and if the weather plays ball (*prays*), there's no better place to be than perched at the seaside with the waft of fish and chips in the air or holed up in a country idyll with no cares in the world.
And the UK serves up some fantastically stylish hotel bedrooms at that too. Many have become destinations in their own right and I've read many a home renovation story where the look of the bedroom or bathroom was inspired by a hotel visit.
Luckily for us, @kbbmagazine journo Charlotte Luxford set about tracking down the designers behind some of those very hotel bedrooms and gleaned their top tips for recreating the look at home in your bedroom. And it's gold dust.
So if you're in the market for a staycation, you could book into one of these and then transform your own bedroom into a fancy hotel-style bedroom too. Or if you're staying home this summer, what a better way to get that holiday feeling? Here's Charlotte with the tips she picked up. Strap in…
The Ned, London
As hotel bedrooms go, The Ned is one of those names that crops up on the old 'inspired by' boards many times. And for good reason: the glamour, the old-meets-modern styling, the cosy feels and Art Deco vibes.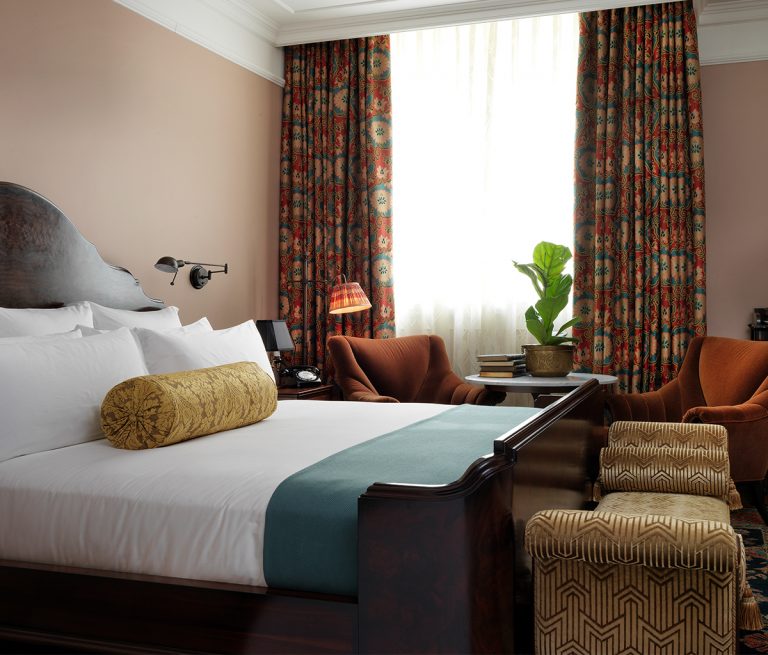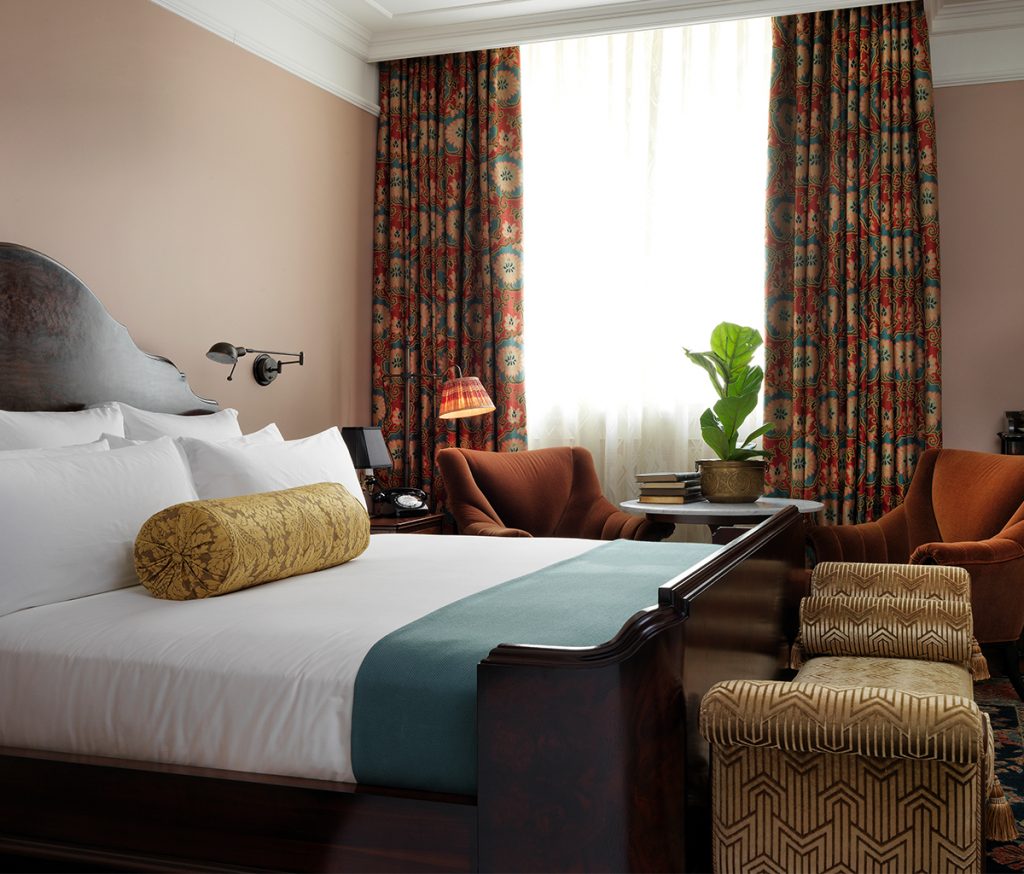 Adam Greco, who's the former designer at The Ned, with its five stars, told me the secret to the relaxed urban look lies in the choice of textures and making sure the furniture suits the era of the building, which in this case is the old Midland Bank building in the city which had lain empty for many years before it was transformed into a hotel.
"The faded glamour of a 1930s transatlantic ocean liner was the starting point for The Ned," says Adam.
"The design team and I trawled the archives to find out what the building looked like in its 1930s heyday. We wanted guests to escape into a bit of a fantasy."
"I love patterned fabrics and used tons. Woven designs such as jacquards and lampas look more intricate and luxurious than prints, and catch light better, so there are plenty of those. We shopped at antiques markets across Europe and America to layer in vintage furniture, art, and accessories. You see lots of interesting little objects at these fairs, especially Victorian pieces in England and Art Deco styles in France and Belgium.
"We ended up becoming obsessed with onyx finds. To add more interest to a room than a plain timber surface, we also snatched up tables with beautiful marquetry patterns. They're indispensable – you should never have to reach too far to put down a glass."
From £260 per night, book at thened.com
The Sandy Duck, Falmouth
Located in the seaside town of Falmouth in Cornwall, The Sandy Duck has a cool, calm, collected Scandi-inspired feel in its hotel bedrooms.
That's something owner Freyja Ducker set out to achieve and well, she's nailed it.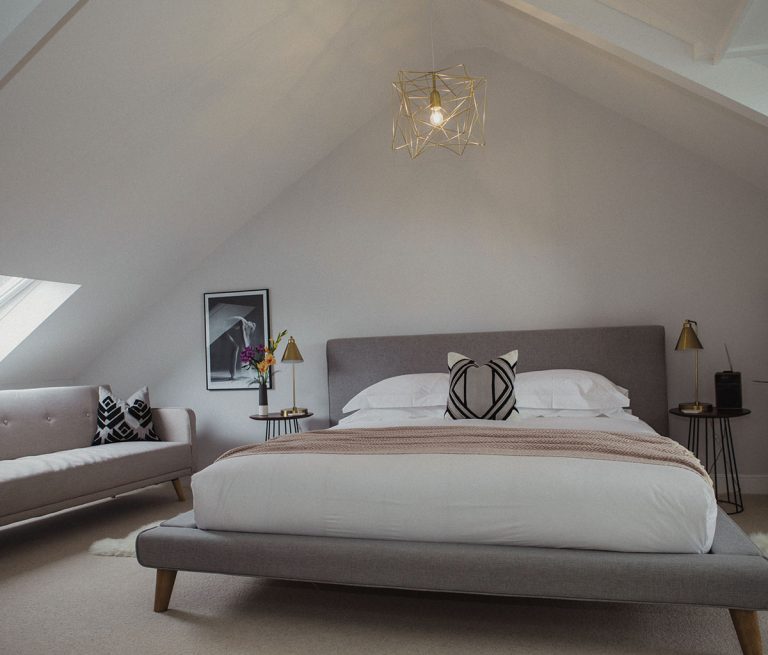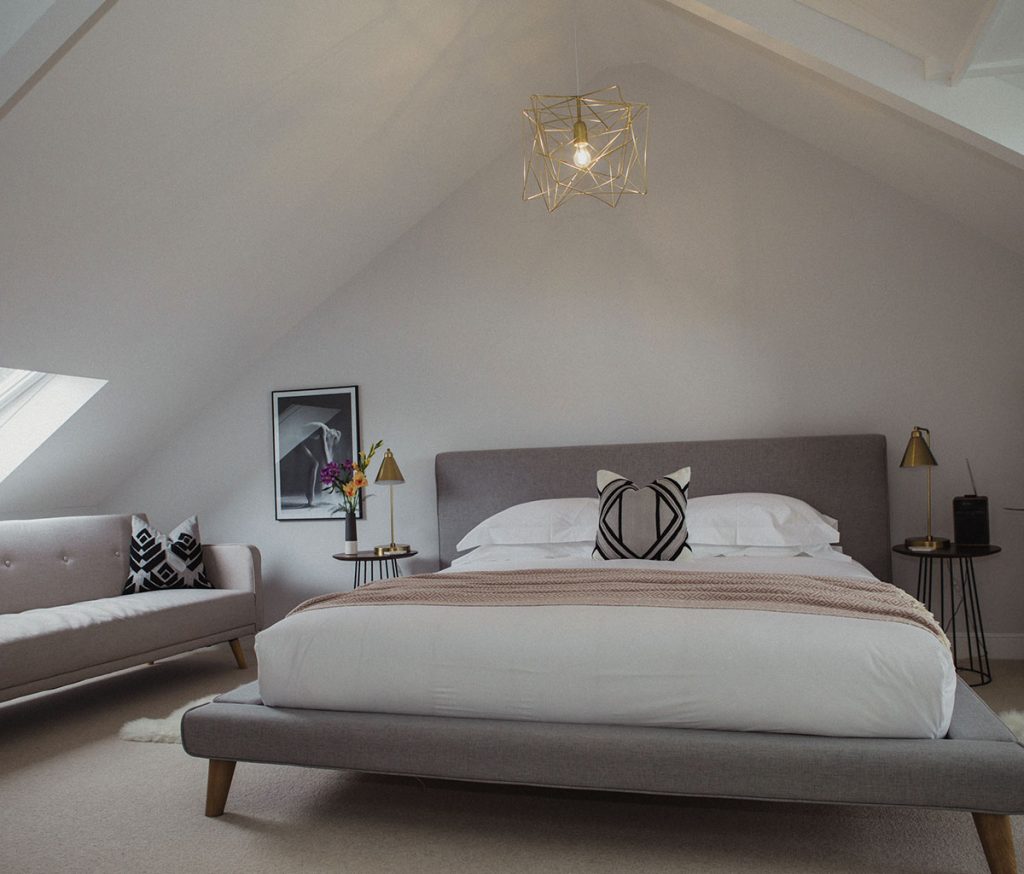 To recreate the Scandinavian style in the hotel bedrooms, she said she used calm neutral colours on the walls and add accent shades with warm tones such as blush pinks through cushions, upholstery, and artwork.
"Also layer in organic materials including untreated wood, rattan, jute, linen, and wool in varying textures to add interest."
"Then, to give the scheme a more contemporary note, add touches of monochrome, graphic patterned fabrics, black and white photography, and also metallic accents like brass and copper for warmth."
Where does Freyja source items for the hotel rooms? "All over the place: from Ikea and Facebook Marketplace to Nordic House. Trouva is a great place to buy from independent makers, especially cushions and wall décor."
"I think it's good to mix old and new but if you have a renovated piece of furniture, introduce some newer designs alongside to avoid going down the shabby chic route."
From £100 per night, book at thesandyduck.co.uk
The Fife Arms, Braemar, Scotland
Love country style hotel rooms? Step this way. The Fife Arms in Braemar, Scotland is not only perfectly placed for some exploration of the beautiful Cairngorms National Park, it's got that quintessentially manor house look that will have you putting your feet up and enjoying afternoon tea or a Scotch by the fire in no time. It's a B listed building built in the 19th century and has plenty of charm.
The design team at Russell Sage Studio designed the hotel rooms and they said they key starting point is a four-poster bed for extra granduer.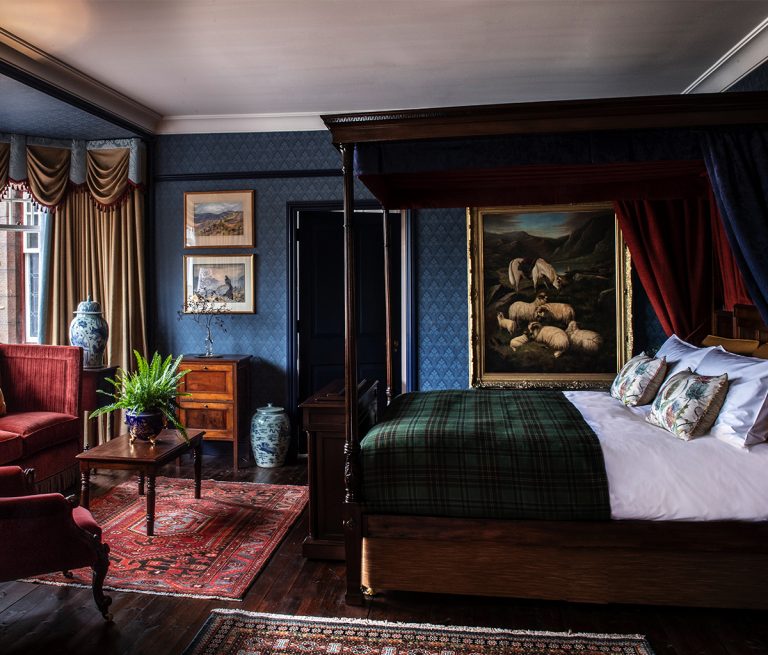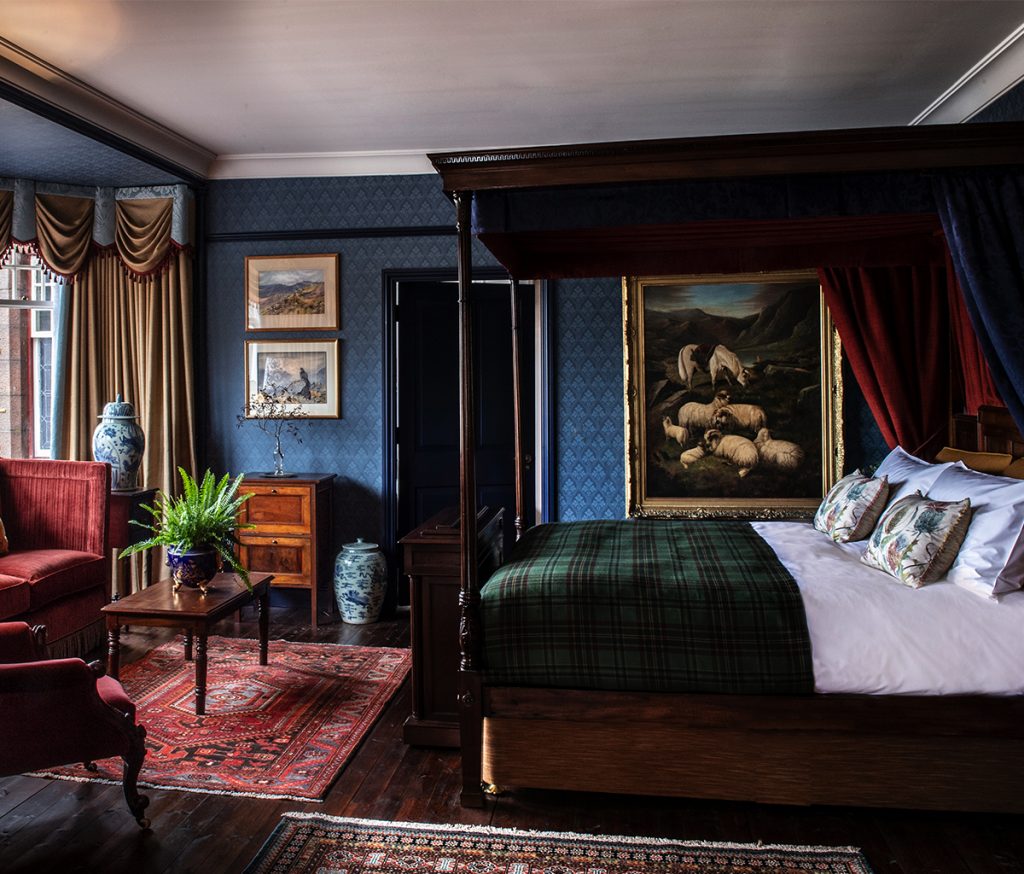 "Go all out for antiques, which are best bought at auctions around the country. For the floor, go for Persian rugs, ideally vintage, and exposed floorboards, which you can darken with wood paint to give them an aged appearance, to set the scene."
Opulence is also key, but you can be clever with how this look is achieved at home: "The sofa in our room design is covered in velvet, but if you don't have the budget or space, cover cushions in vintage velvet instead."
"The wallpaper at The Fife is of very high quality, but Sanderson's William Morris range offers similar designs, but make sure to go for rich colour and pattern."
"When it comes to accessorising, small groups of pictures don't work in this look – you want large-scale art, preferably oil paintings, and lovely old mirrors sourced from vintage markets.The frames are important too; they should be oak or carved.A chandelier will really complete the scheme, too. Finally, source old lamps and top them with lovely shades."
Pass me some slippers.
From £435 per night, book at thefififearms.com
The Wild Rabbit, Oxfordshire
How would I describe the look of The Wild Rabbit in Oxfordshire? Modern country with a dash of enviable elegance just about gets there, I reckon. Located as part of the Daylesford estate, it is described as a country pub with a twist.
When it comes to the hotel rooms, the design team wanted to create that modern country look to ooze Cotswolds charm.
"We wanted to create a relaxed, welcoming space that feels like home. To evoke rural luxury, we preserved the heritage and craftsmanship of the traditional buildings while taking inspiration from the countryside.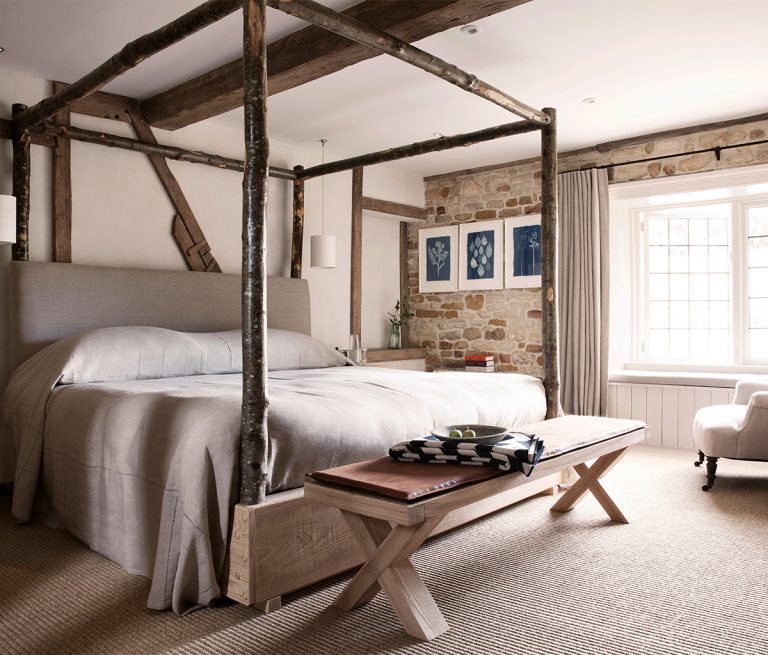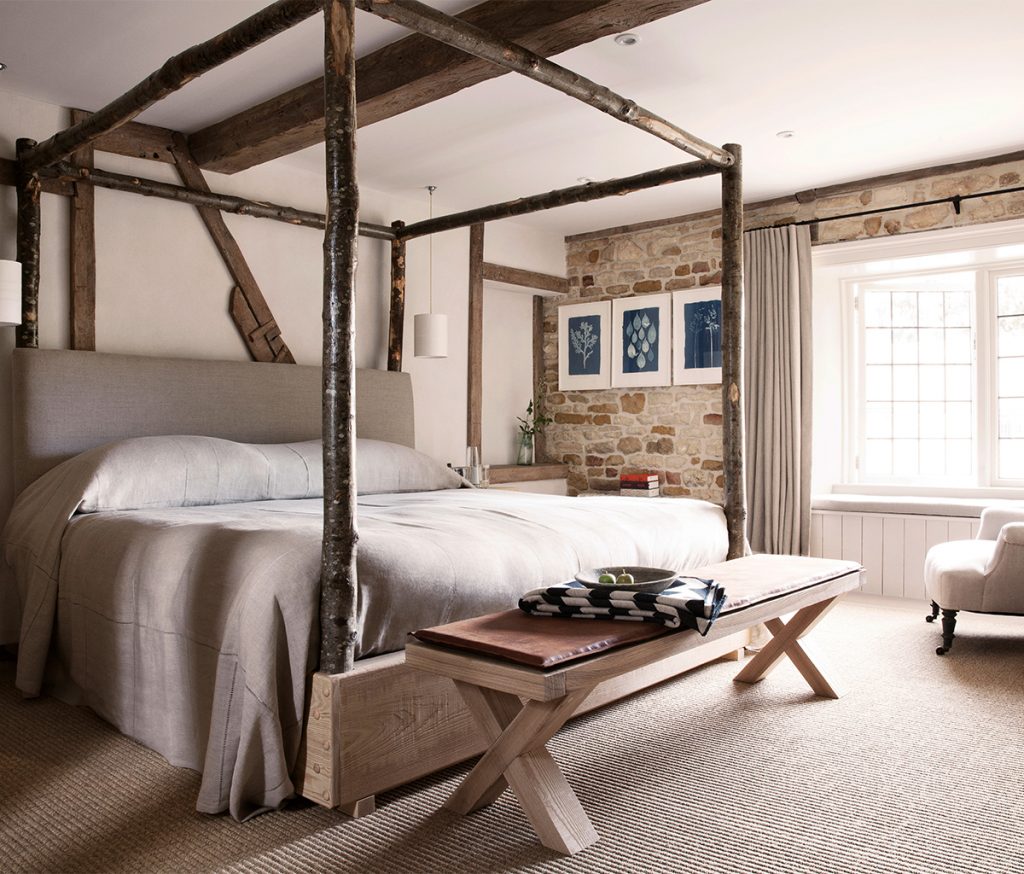 "There are references to nature in the materials: hazel for the side tables and locally sourced chestnut for the four-poster beds. We then combine contrasting textures and fabrics and turn to natural yet luxurious materials to softly complement to the hard woods."
"All of our rooms have Bamford bedding, organic cotton robes,and linen towels. The linen curtains are heavily padded and lined and beautifully contrasted with a softer blind to filter the light. Similarly, our natural sisal rugs are woven and finished to be both soft and strong."
"We complete the look with antique or handpicked items, such as carefully selected books, linocuts by Hugo Guinness, and foraged finds such as pine cones and branches to bring nature inside."
From £125 per night, book at thewildrabbit.co.uk
The Stock Exchange, Manchester
Longing for a city escape? If culture and retail therapy are your idea of a great staycation getaway, how about Manchester's The Stock Exchange?
Boasting city click styled hotel rooms, the hotel rooms are modern and polished. Exactly what interior designer Naomi Astley-Clarke set out the do.
"The first thing to note about this scheme is all polished surfaces, which is basically the shortcut to creating a glamorous city vibe, plus they're easy to clean."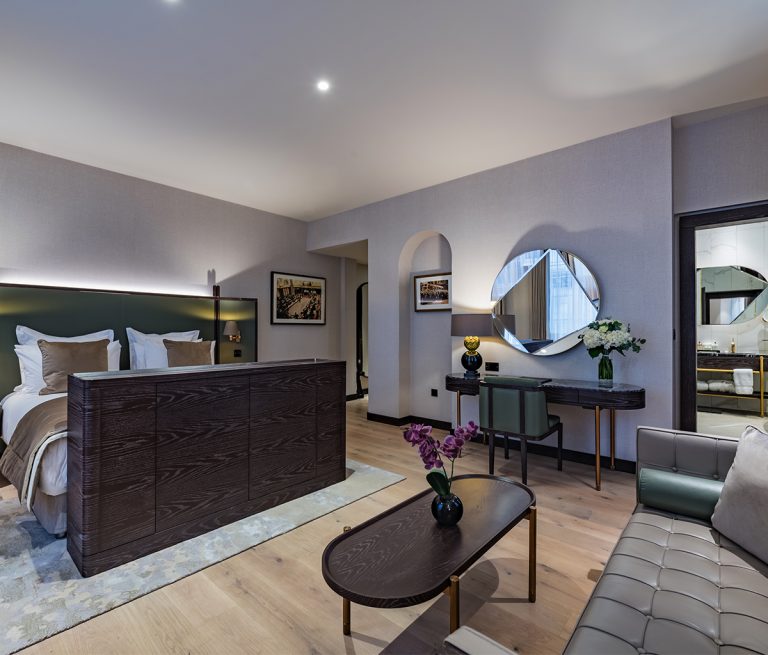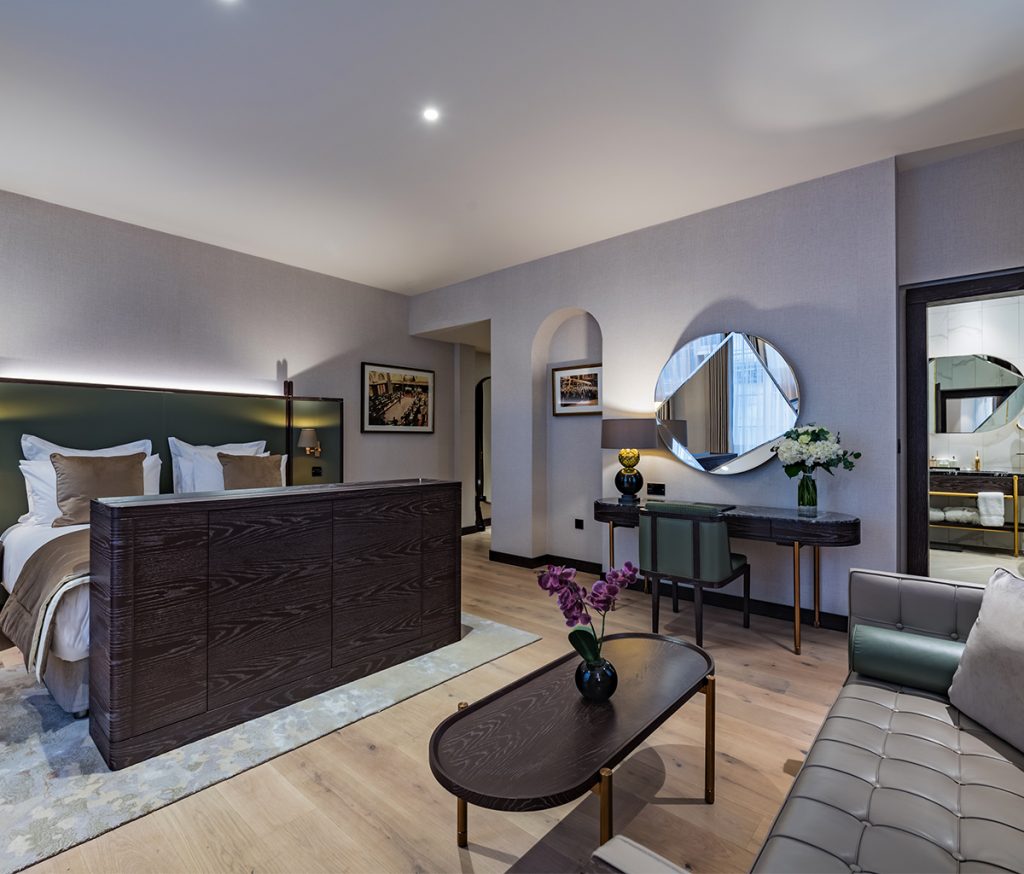 "For the details, the rich brass accents in this room are picked up throughout, with the table legs, towel rail and bedside lights working so beautifully to pull the different sections of the room together – this is so important in contemporary urban designs where space is often at a premium and one room takes on so many roles."
"What the design team at Autoban has done very cleverly here, and is something I always like to do as a designer, is to create balance by using softer, tactile fabrics in the cosy throws and cushions, as well as introduce some voluptuous curves."
"Dimmable lighting helps create intimacy and individuality and I often use mirrors as a focal point, as they help bring the look together – in this case, the curves, sleek lines, and shiny surfaces."
Prices start from £160 per night, including breakfast, book at stockexchangehotel.co.uk
That completes our whistle-stop tour around some of the UK's lovely design-led hotels. With these tips you could recreate that hotel feeling right at home in your bedroom. Can you share your favourite hotel inspiration? Comment below…
About Post Author