These Three Rooms editor Ariane started her home renovation this week, and pretty much everything that could go wrong did go wrong. So she thought she'd vent about it in her new renovation blog E13: Lucky for some?
When I pictured starting a new renovation blog, I was super-excited. I mean, there's nothing better than overhauling a house and making it beautiful, then being able to chronicle the journey for a living, right? Well, read on and weep…
I bought a three-storey three-bedroom Victorian terrace in London E13 earlier this month. It was beautiful but in need of some TLC. Still, the survey hadn't turned up any serious problems, so I bought with confidence.
New renovation blog: E13: Lucky for some?
It had a huge kitchen extension but a tiny kitchen, so I had nowhere to put most of my kitchen utensils and pots and pans. So step 1 was to renovate the kitchen. After all, it's the heart of the house and also the most expensive room.
I decided to go with Smile Kitchens as they had pretty designs, offered great value for money and had a 4.9 rating on Trustpilot. I also really liked my kitchen designer Corinne.
My builder, however, was grumpy at the best of times. I found him on Checkatrade and he was a sweary one-man band with an air of permanent annoyance. Thankfully, he balanced this out by being a very hard worker and competent trade who didn't cut corners and had great reviews.
Encountering the first problem
New renovation blog: E13: Lucky for some?
I planned for him to fit the kitchen and then install the flooring. However, he insisted that the flooring be put down first, 'otherwise I'm going to refuse the job. I've refused jobs before!' He repeated this three times.
So I sighed, called the flooring people and told them they had to install the LVT (luxury vinyl tiles) first. They said they weren't sure they'd ordered enough flooring, as they hadn't been planning to fit it under the kitchen units. That was the first problem.
New renovation blog: E13: Lucky for some?
New renovation blog: E13: Lucky for some?
The second problem became apparent when my grumpy builder removed the existing laminate flooring. This revealed not just one but three separate leaks! The floorboards beneath were wet, black and rotting in three distinct places, all metres apart.
The builder said I needed a roofer. So I called a load of Checkatrade roofers, who all said I needed a plumber. As a result, I called a plumber, who came round, checked the pipes and said there wasn't even one leak, let alone three. He also checked the boiler to confirm that the water pressure was fine, proving there was no leak.
New renovation blog: E13: Lucky for some?
He said 'this is a roofing problem, you need a roofer' then charged me an £80 callout fee. What fun!
I then called a load of roofers. The average quote seemed to be £3k, wiping out my budget for fitted wardrobes.
E13: Lucky for some?
New renovation blog: E13: Lucky for some?
The third problem occurred when my builder found a live electrical wire outside. The cable could easily have been touched by my eleven-year-old daughter or myself, electrocuting us. It was also right next to the outside tap. The builder helpfully isolated the wires and made the cable safe. I was very grateful to him.
I was so upset with my surveyor: not only had he failed to identify the three leaks (oh, and one in the loft which had let in a bird, but that's another story). He'd also failed to spot the live cable. So I sent him a civil but highly displeased email asking exactly what I'd paid him £1,000 for. He wrote back essentially saying the leaks and electrical cable weren't his problem and that he'd only done a visual inspection. I felt like pointing out that I had eyes too, and had spotted all the same things he'd spotted, so could have saved myself £1,000.
The builder then removed the entire kitchen, but he couldn't take it away. Which brings me to the fourth problem.
The fourth problem: in which I get a temporary husband
New renovation blog: E13: Lucky for some?
He couldn't take away the kitchen because he'd forgotten to ask me for a parking permit, and as a non-driver, I hadn't realised that he'd need one. So he walked out of the house for lunch just in time to see the council lifting his car onto a transporter!
At which point the builder somewhat farcically decided to tell the council traffic wardens that I was his wife and that he lived in my house. I think he thought they'd let him off if he was a resident. This ridiculous excuse didn't wash (I'm divorced so don't wear a wedding ring, for starters), so they towed away and impounded his car. If he was grumpy before, this understandably ratcheted up his grumpiness to the max.
'I've worked for free today!' he kept saying, smashing bits of kitchen around and swearing under his breath. He was right: his day rate was the same as the cost of getting his car back. I wished I could pay him double but it would have cut even further into my renovation budget.
So, in conclusion…
New renovation blog: E13: Lucky for some?
I now have no kitchen and, a day before, stupidly made the mistake of buying a load of vegetables that need cooking (asparagus, onions and potatoes!). The roofers are coming round to give me a quote in a couple of days. I'm feeling pretty miserable as I was really hoping to have a new kitchen for Christmas, but I'm not sure this is going to be possible now. The roof leaks need fixing, then the flooring needs to go down, then finally the kitchen. So I'm buying a portable induction hob for now. At least I have a fridge.
Frankly, life doesn't always work out the way you hope, and neither do renovations. But thankfully I have enough money to cover these problems; I'll just have to make savings elsewhere.
And I still live in a beautiful house. Even if it does have three roof leaks.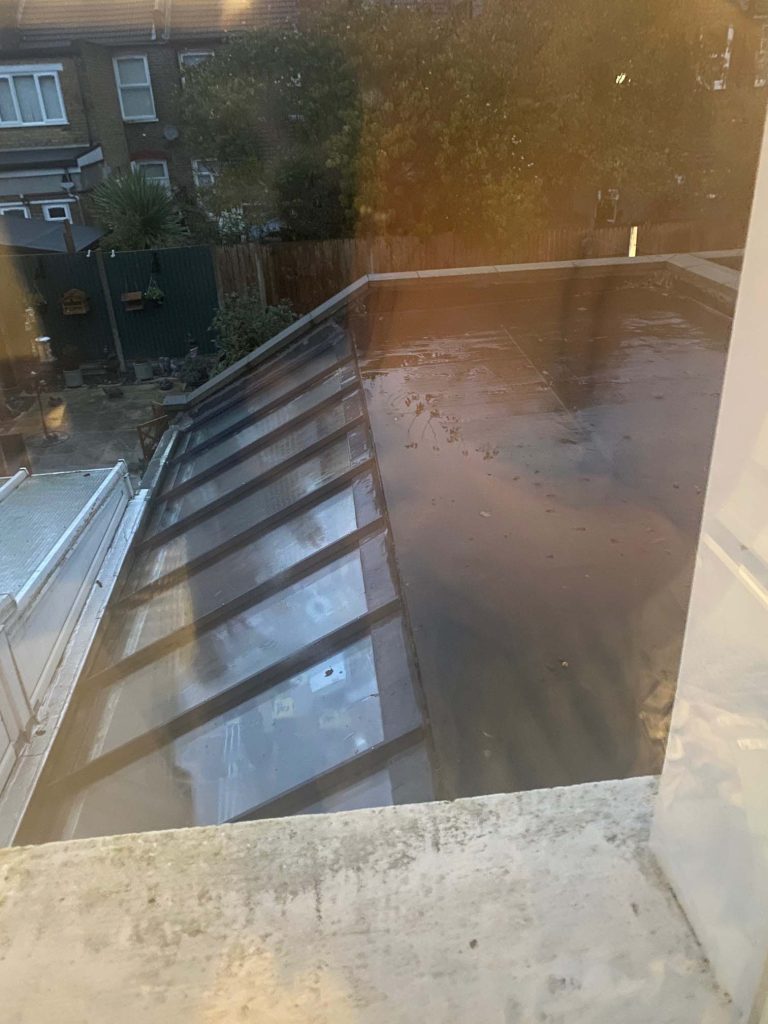 Read all about how my kitchen will look after it's done.
About Post Author