Wanting influences from old-style bars and restaurants from the Mediterranean, Helen Parker, creative director of Devol also wanted to acknowledge the era and location of her home, "so I had to ensure it didn't feel like I had tried to recreate Venice in Leicestershire," she laughs. I think we can all agree what she has accomplished is nothing short of stunning.
I love the idea of combining style from places with warmer climates with traditional English cabinetry. You'd think the two wouldn't work, but looking at Helen's Devol kitchen – it works. It really works.
From the marble chequered floor to the furniture-style cabinetry, this kitchen is truly unique.
Below, Helen explains her inspiration and how the project came together…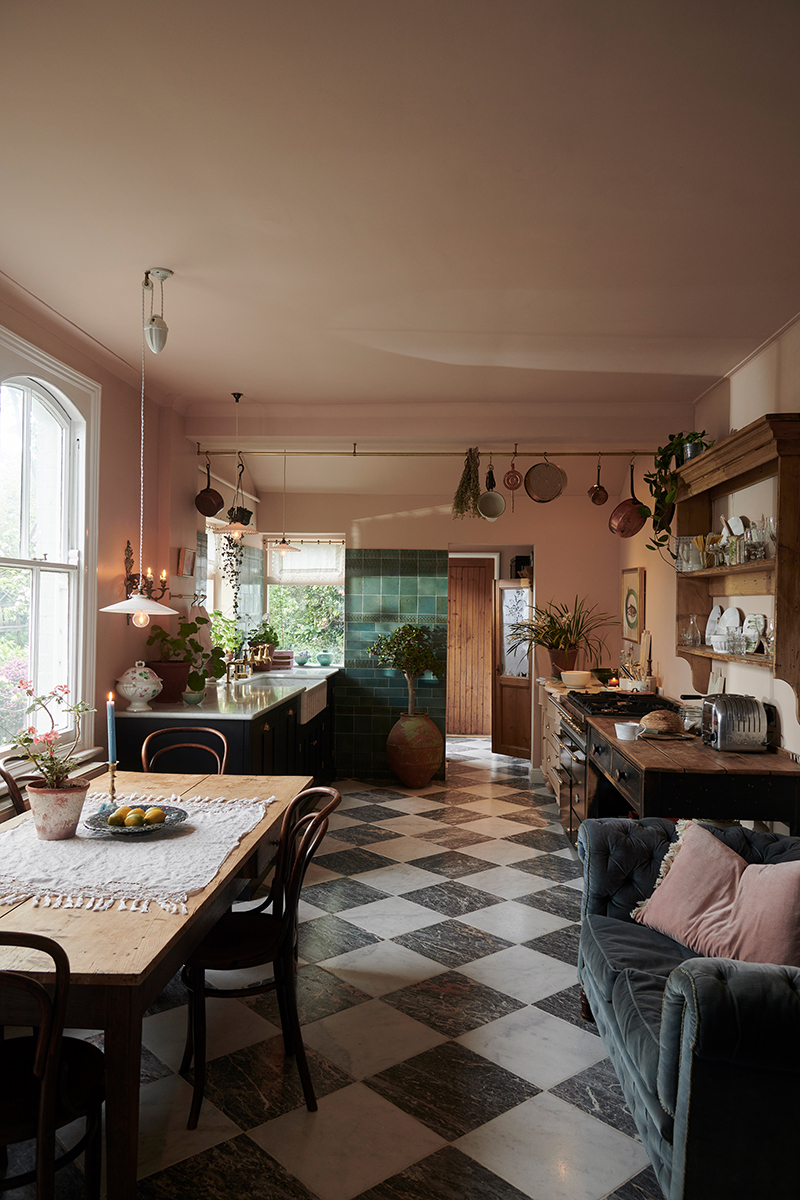 Where did you start?
"Sixteen years ago I began working at Devol. In those days we only had the Classic English furniture range, so for me it is the essence of Devol and I had to include it in my own home. As well as Classic furniture, I have more than a passing affection for the Mediterranean – my recent(ish) trips to Venice and Sicily were uppermost in my mind.
"So, I had the glorious task of finding and mixing Devol furniture and accessories with vintage pieces, in the hope I could accomplish this mix of styles in a cohesive and evocative way.
"My starting point was a still life painting of a fish I bought way before the kitchen was started, it gave me a colour palette and made it much easier to navigate the minefield of options and colours."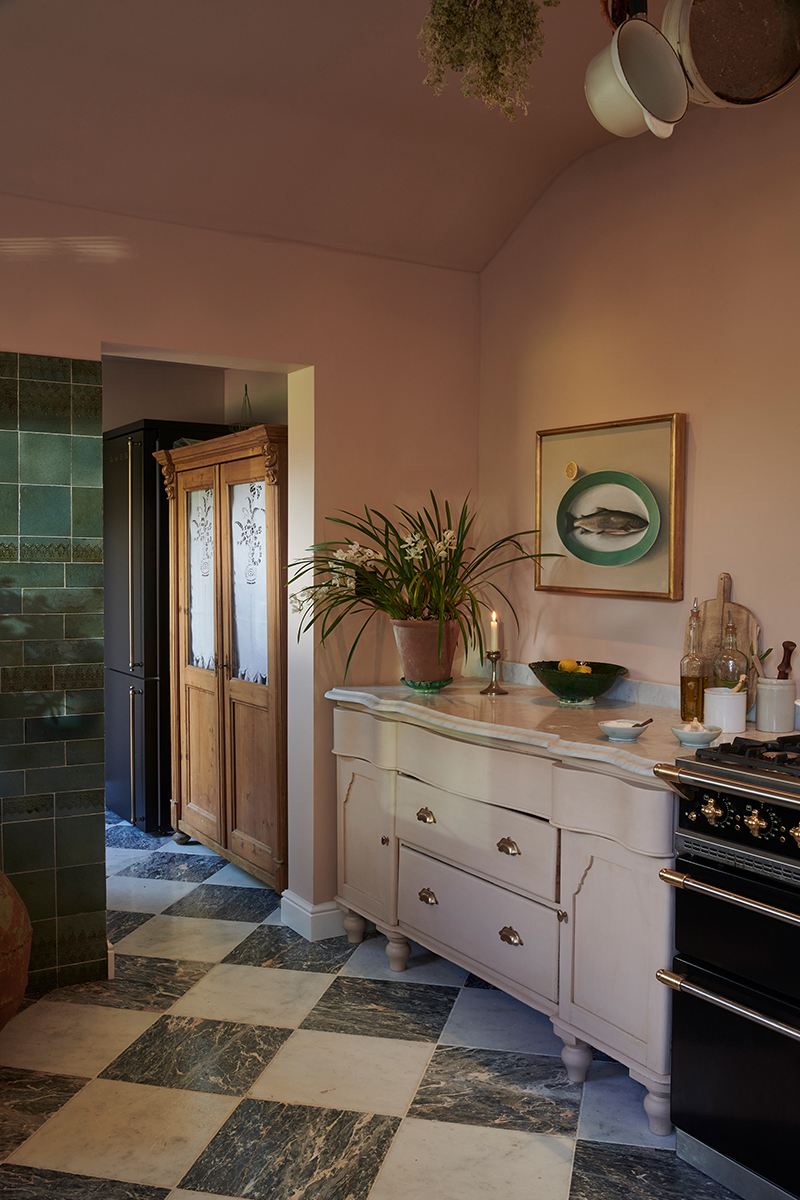 Why did you go for this layout?
"At one end of the room there are such beautiful arched windows – so it was easy picking which end would be the dining area. The kitchen table just had to go there.
"I wanted a big Lacanche cooker and a big marble sink, so the galley layout almost designed itself. I'm lucky to have a little extra room just off the kitchen where my pantry cupboard and fridge are kept. By not having my fridge in the kitchen, it instantly feels less like a kitchen – which I am so happy about. (I much prefer having a sofa in the space than a fridge!)
"The sofa was an impulse buy and it squeezed perfectly in between my Curiosity Cupboard and my vintage prep table. It instantly helped the room feel as if it had two ends, cooking and seating. The velvet texture helped this and was instrumental in breaking up the potential long run of cupboards.
"Wall cupboards weren't included to ensure the width of the space didn't feel too narrow – no one wants a long skinny room, as it just doesn't feel comfortable."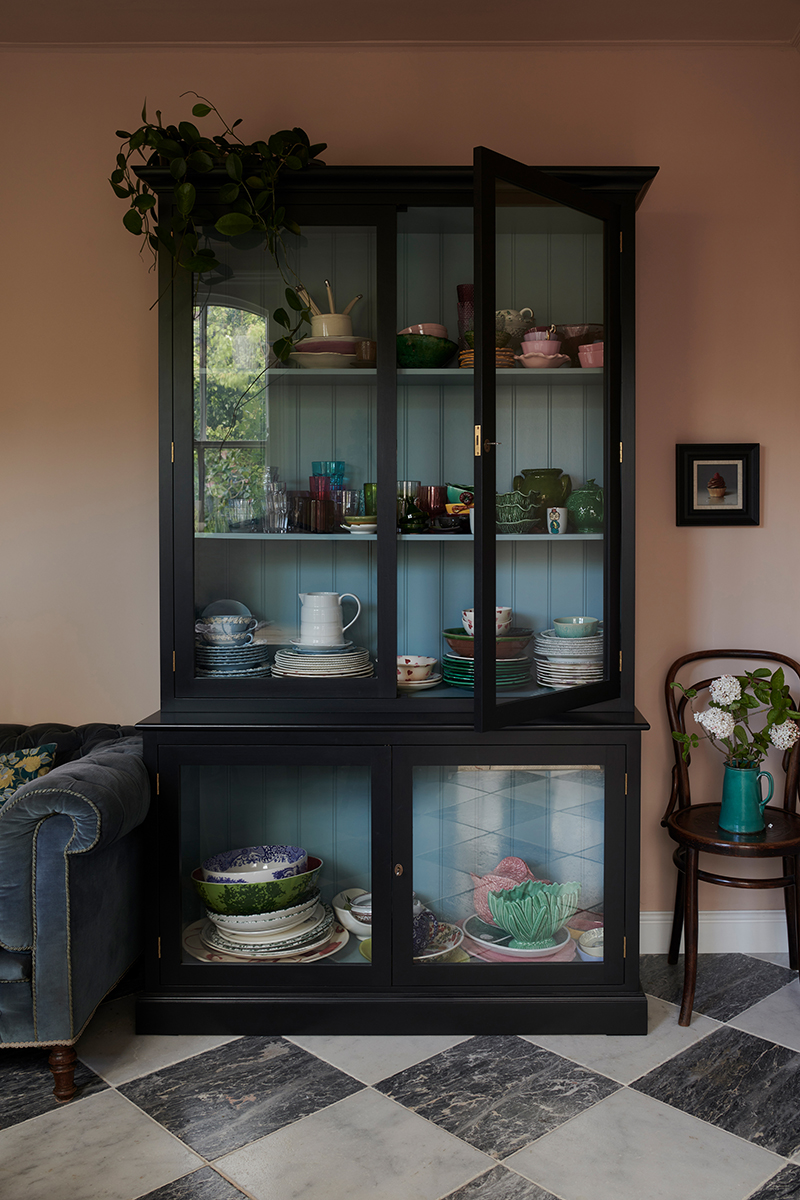 Can you tell me about this finishing touches?
"A chequered marble floor by Floors of Stone, gave me the perfect base. It felt Victorian, grand and slightly faded. It's not the cheapest floor, but it is a place worth spending your money in my opinion.
"Tiny flecks of pink within the marble were beautifully similar to my favourite Farrow and Ball paint colour, Setting Plaster, so the walls were now decided on too. The plate in my still life painting has a wonderful teal edge, so having the faded glamour of our lace tiles in Vintage Teal was a no- brainer.
"I had picked up a few vintage pieces from our Cotes Mill showrooms and eBay. With lots of 'doing up' they were fit for purpose and added that heirloom 'been there forever' look, which I crave. The cabinetry on either side of the cooker are both vintage pieces I found at a local antiques fair. I painted the pink cupboard and added a bespoke curvy marble top and beautiful Devol Boho handles to finish it off. 
"A marble sink and marble worktops and my budget was blown, but hey ho, I now love washing up so it was worth it."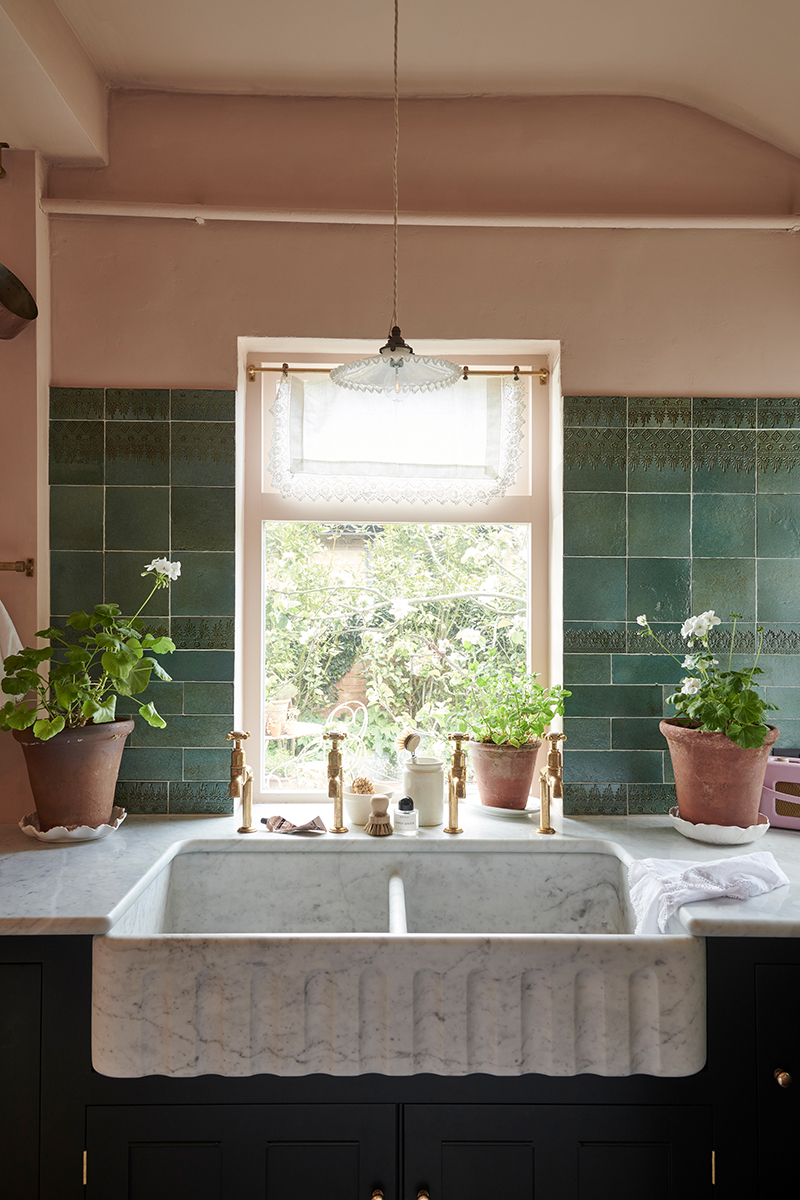 How do you feel, now that it's finished?
"There's no need to rush onto a plane anymore as I can go home and instantly feel happy.
"It is almost too obvious to make your home feel as good as being on holiday, but it really does make sense and seeing as you only spend two weeks away each year. It's silly not to try, our homes are our sanctuary.
"A flourish of Devol brass rails, café curtains and a French cooker and I am a very happy lady."
Featured image: The Classic English Kitchen by Devol, prices starting from £25,000.
About Post Author