Multiple shower gel and shampoo bottles, plus towels that never seem to look good anywhere you place them? Do you agree that bathrooms are some of the most difficult spaces to keep tidy and clutter-free? I feel ya. It might seem an impossible mission to create a practical, yet stylish bathroom design at first given that most of our bathrooms are spatially lacking, but don't worry, we've come with plenty ideas to your rescue. Some of these are so clever, even I'm wondering why I've never thought of them before…
From extra storage and layered vanity units to discreet heating solutions and water-saving products, bathroom innovations abound. With the help of journalist Alison Davidson, we've rounded up our top ten bathroom design ideas for your bathroom to help you maximise its space.
A multi-purpose vanity unit

Sometimes it's the simple things that can make our lives easier, such as vanity units that have accessories already built in to them. T
his
birch
-effect vanity unit has a copper frame
,
which includes a towel rail –
a
clever
and chic-looking
idea
,
perfect
for drying your hands
without dripping water all over the floor
. The range also includes an open shelving unit
that
gives the illusion of space
,
ideal for smaller
rooms. Plus,
it
has been wall-mounted to make it easy to clean beneath – they've really thought of everything, right?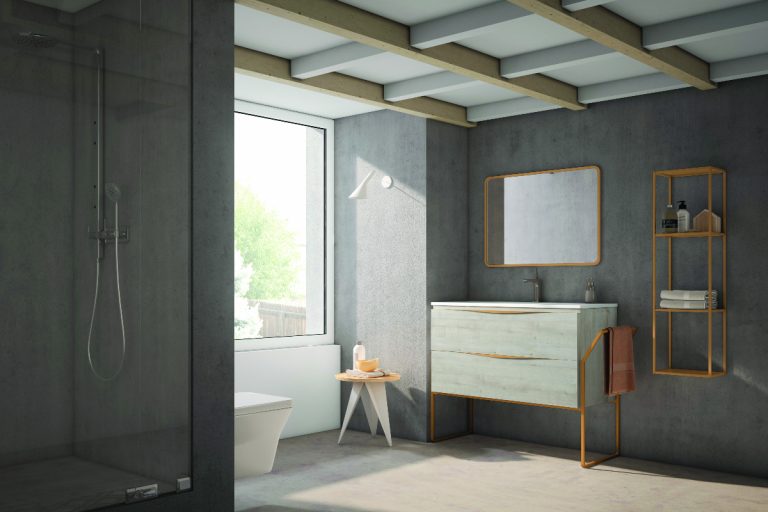 A mini basin (within a basin)

I know we're all trying to do that little bit more for the environment, so if
you often find yourself thinking
– '
I only need a small amount of water, why am I filling up the whole basin?
',
then this is for you.
The grid is a smaller version of the larger basin, in the same contemporary style, which sits inside. To save water, you can simply fill the Grid rather than the whole basin for that morning shave or washing make-up brushes.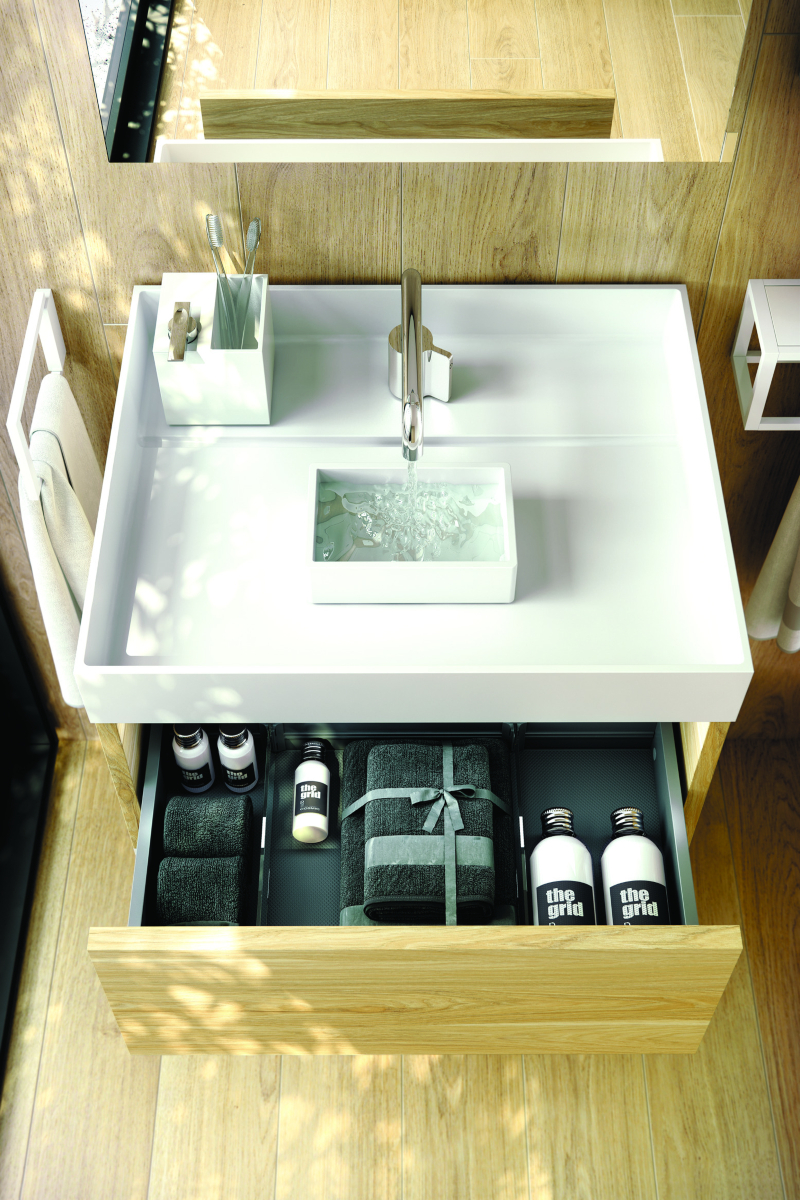 An all-singing all-in-one unit

Make your bathroom feel unique with an accessory personalised to your needs like the
Juno unit, made up of a system of mirrors and Magneto metallic accessories that can be positioned anywhere on the surface of the mirror or
mounted on the wall.
You can go for open-fronted storage boxes
in different sizes for products
, shelves, soap dishes, tumbler holders and towel rails – anything you could
want and need from your bathroom's design.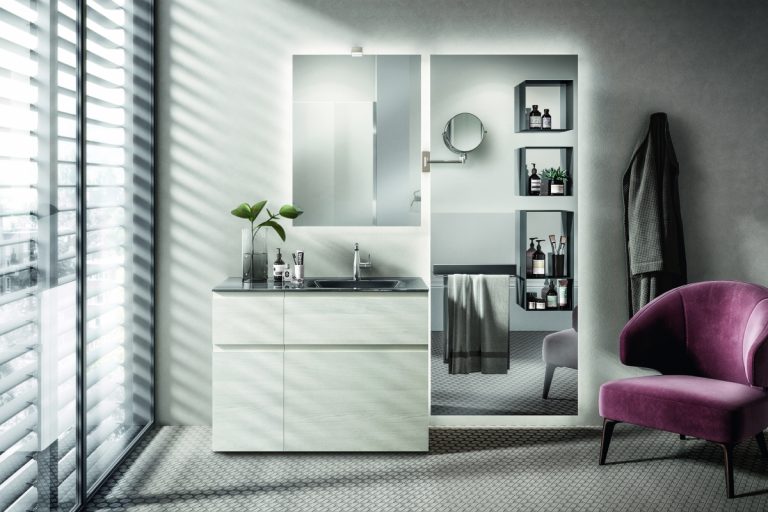 Storage with a twist
Do you need that extra storage in your bathroom? Choose a statement design to match your bathroom, like the Nest Trendy laundry unit which is practical and has a designer look. This unit can be concealed in your vanity unit and it slides out to reveal plenty of storage space – plus, it's on wheels for easy access. You can store your spare towels or cleaning products to maintain a tidy bathroom.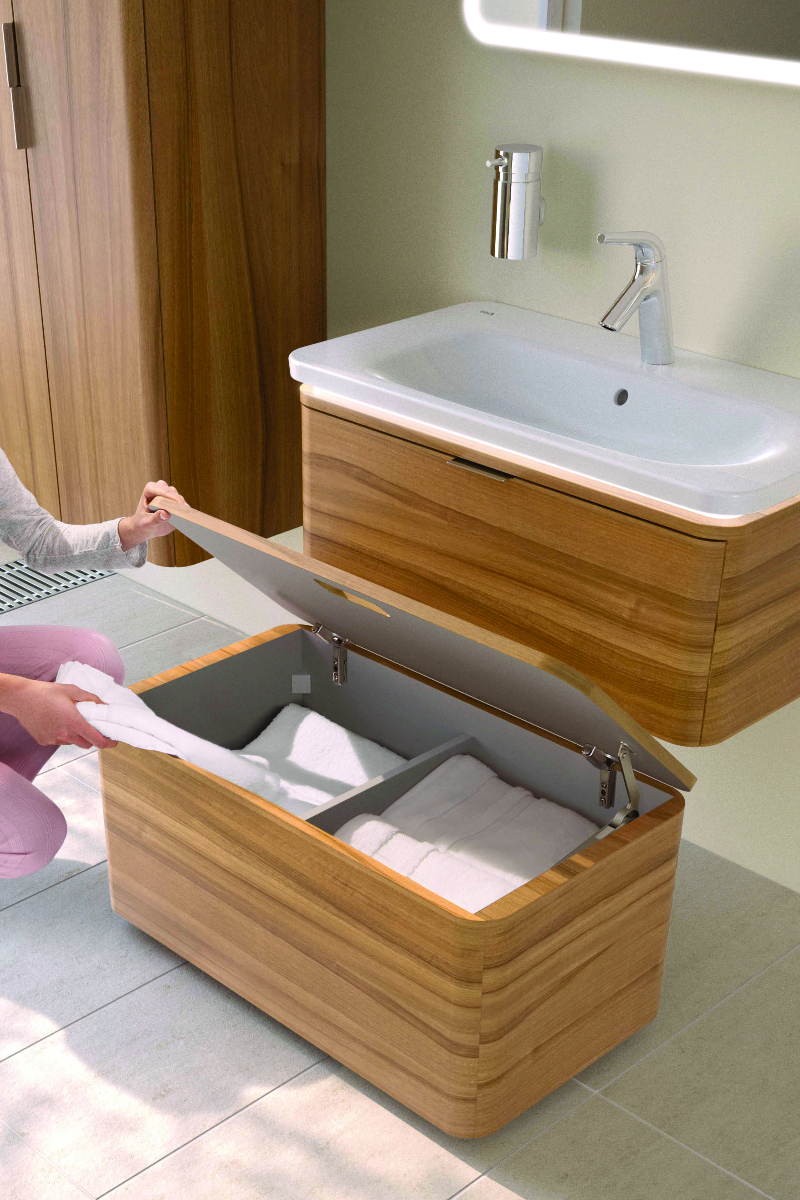 Easy access and double duty

Give your mirror storage a modern twist. T
his
compact unit
has a mirror on the front and three
concealed shelves behind, so it's perfect for hiding toiletries that you don't want on display, like that bright mouthwash that doesn't really go with your bathroom's aesthetic. This
is
also a great choice for a cloakroom or smaller bathroom as it's compact
and
wall-mounted
.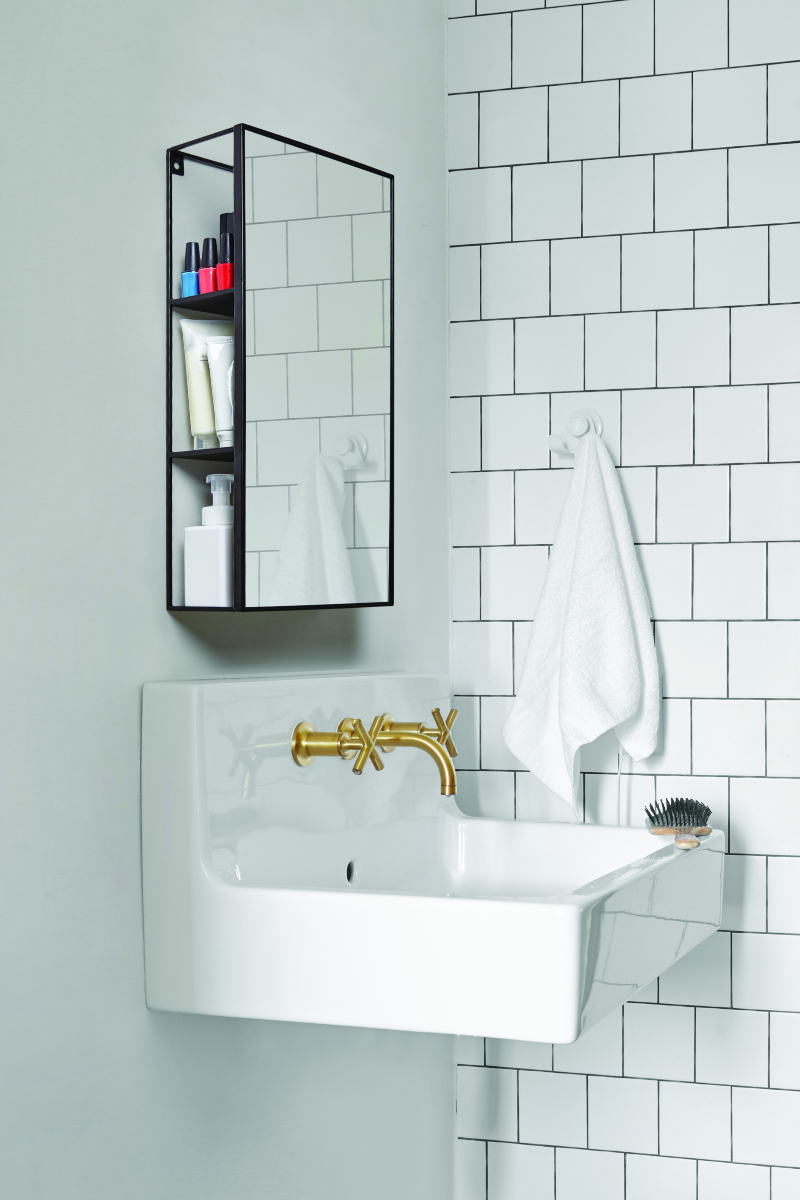 The storage nook

If you have a smaller bathroom,
it is important to maximise your space with a clever bathroom design that not only looks great but also keeps the space clutter-free
.
For example, this wall-mounted shelf holds all your essentials
– 
such as hand wash, soap and
toothbrush, while keeping the sink looking clean.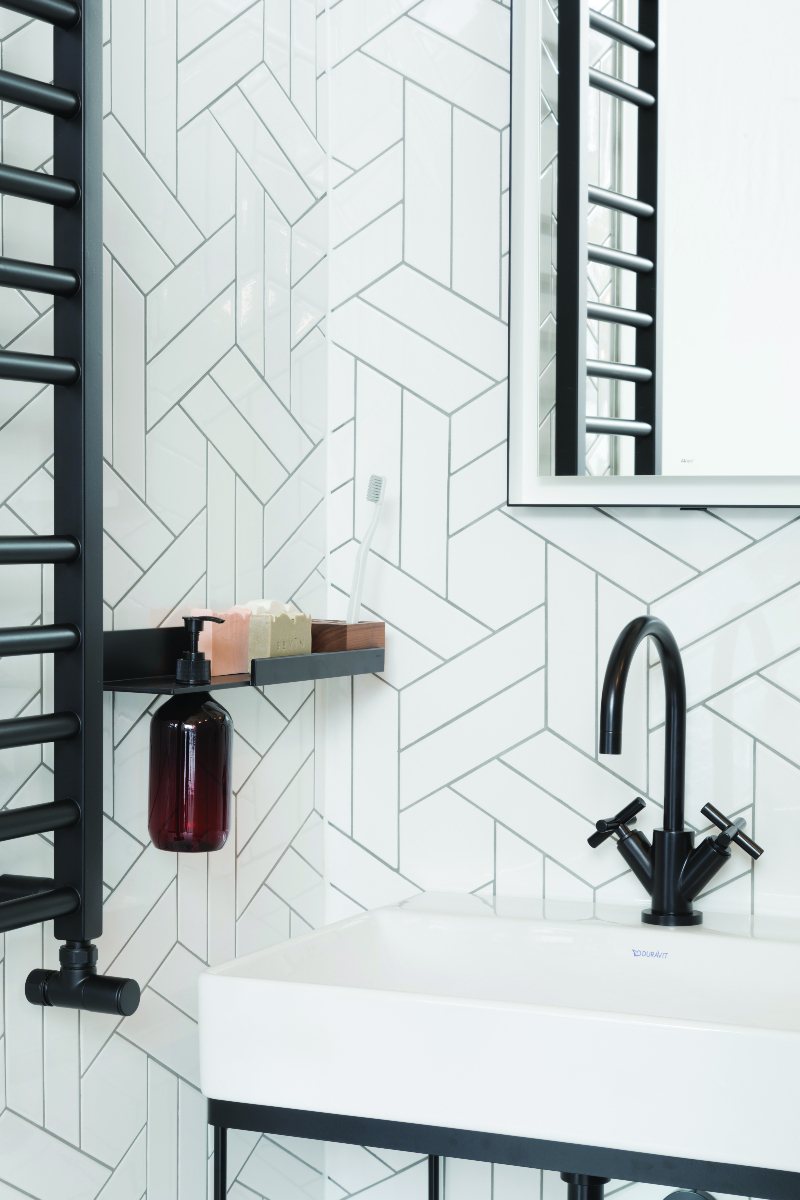 The discreet heating solution

If
underfloor
heatin
g isn't
for you,
pick a heat
solution that takes up little space, l
ike this
sleek
slim-line radiator
with its rounded edges
in
subtle
a
ice-
blue shade.
I
t takes up little room and when
facing the wall,
i
t creates the ideal focal point in
a
shower area
.
However,
the real hero
is the towel bracket, which not only does
it
add
a designer touch
but
it means you'll have a warm towel within reach – I need that!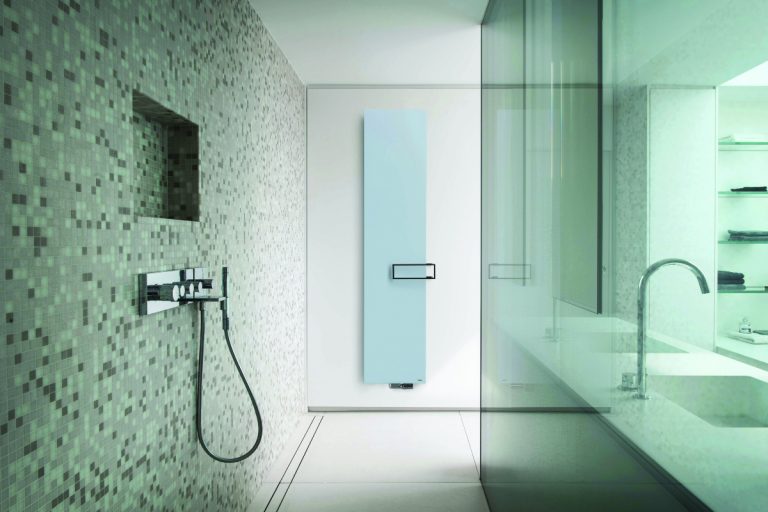 The retractable towel radiator

Make your radiators work harder and combine heating with towel warming and extra storage. This model looks like a standard ladder
towel
rail but the top section lifts up on a hinge to create a shelf where you can store, hang or stack towels, or any clothing for that matter. It's a great solution if you don't have access to outside space to dry clothes or live in a small flat where there isn't
room
to put up a laundry hanging rack
.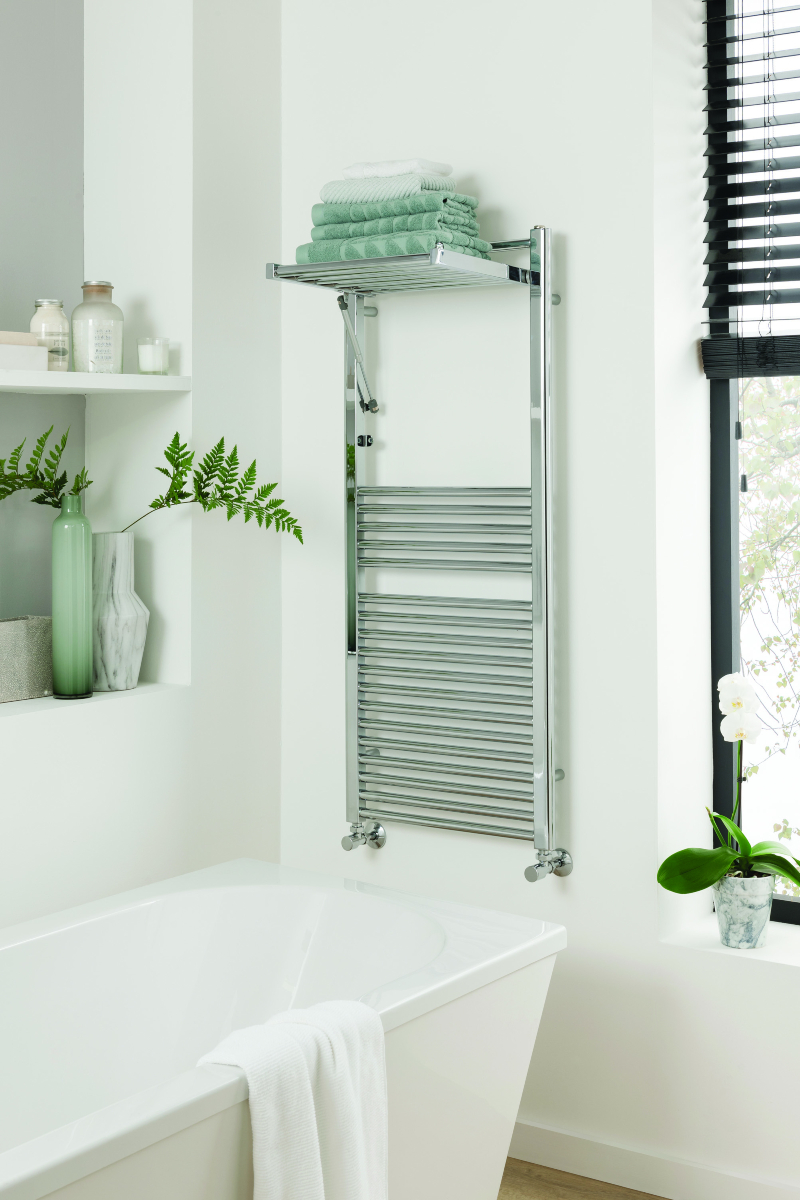 Good lighting
Something you need to think about early on in a bathroom project is where the electrics will go, especially the lighting – from ceiling spotlights or lights above, or either side of the mirror – I know, so many options! But you don't want to spoil that newly plastered wall or have to chip off tiles at a later stage if you change your mind. This stylish strip light above the mirror is perfect if you're looking to create a more industrial look. The one essential thing is to make sure any lighting is rated IP44 to make sure it meets UK safety regulations in bathrooms – we have a guide right here to help you get your bathroom lighting right.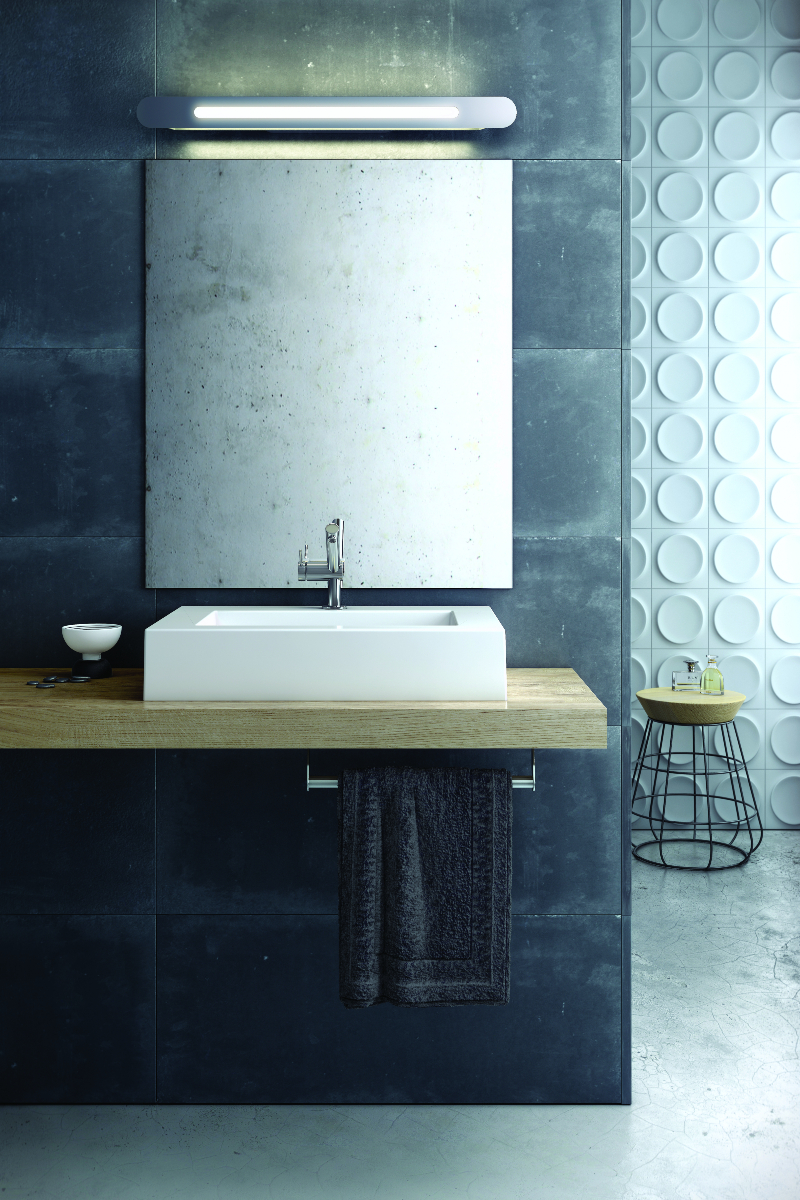 Simple, but effective hooks

There is nothing worse than having to step out of a nice, warm shower and making puddles on the floor to get the towel, so hooks are a brilliant idea to have towels, your robe or the back brush close by. Small
and stylish
, they are strategically placed
within easy reach
, just outside the shower enclosure
. You could also p
ut additional hooks
near the basin for
hand
towels, face cloths and other necessities.
Featured image: iStock/ alvarez
About Post Author