Family bathroom ideas for a safe and stylish retreat: this feature's full of them. And they're important, because think: would your bathroom be safe if you weren't as steady on your feet? For example, this could happen if you were older, injured or tripping over little kids.
Family bathroom ideas to ensure your safety around water are essential. If you're a bit clumsy like me, you might have done a silly thing such as slip in the shower or on wet tiles. My accident was self-inflicted (I washed out an oily hair mask while standing) and I've never made the same mistake. However, I could've done without the scare of actually falling. Or the bruise that adorned my shoulder for quite some time, to be honest.
While this might seem like a funny story, safety concerns such as this are key when planning a family bathroom.
But how do you go about combining safe features with a stylish look? Well, it's actually pretty easy these days. I have all the detail you need to know to make it work, packed into six short steps. So let's explore some family bathroom ideas…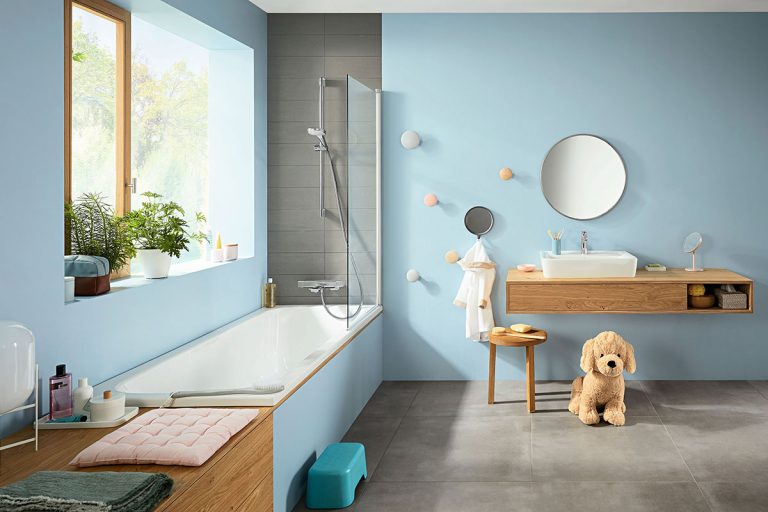 Firstly, choose safer brassware
Hot showers are nice, but scalding ones are not. To reduce the risk of kids or older family members hurting themselves with hot water, opt for digital showers with an LED display showing the temperature.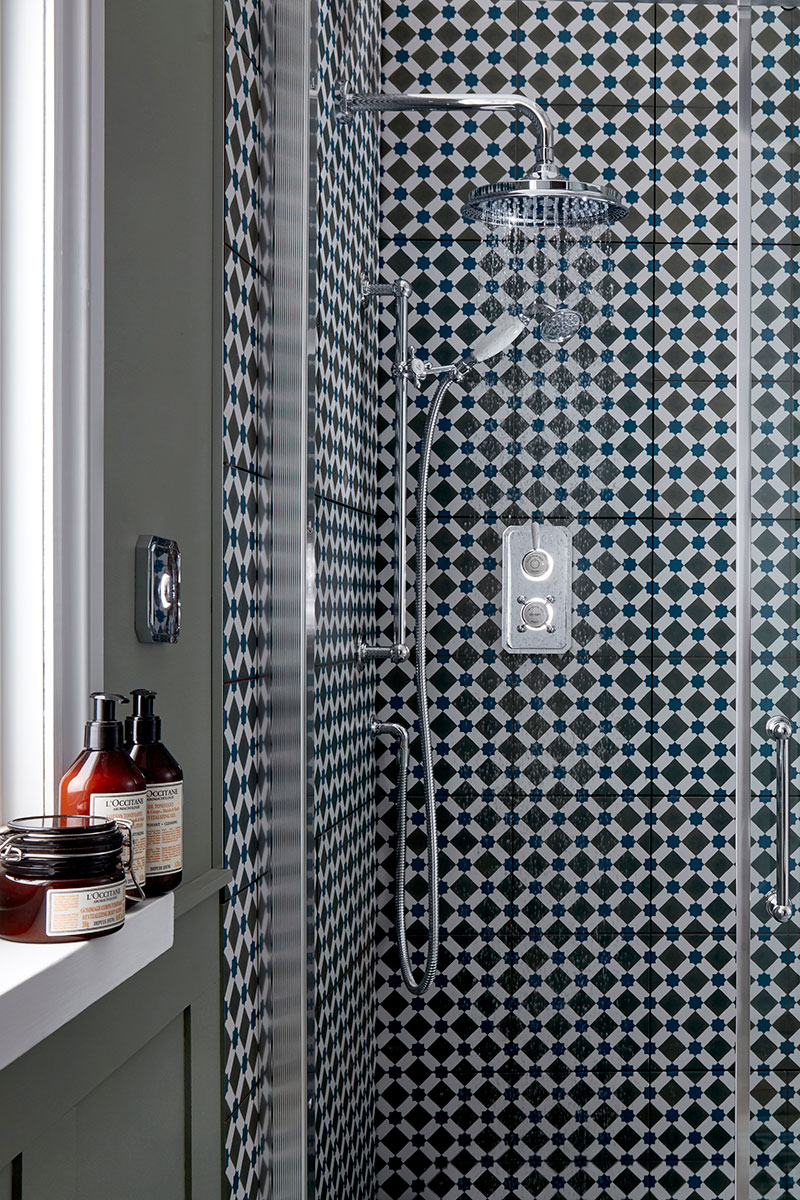 Even better: invest in one which can be controlled by an app and save user profiles. This way, you can set everyone's preferences once – and then a touch of a button will do the rest. Some even have a pause function or, ideal for bathroom hoggers (every family has one, don't they?), a timer. Neat.
For the basin, pick no-touch fittings which use sensors – activated by the wave of a hand – instead. Apart from being very hygienic and easy to clean, they also help save water by only dispensing what's needed… plus they can't be left on by accident.
Family bathroom ideas: reduce the slip risk
Think about the last time you went to a lido or an indoor pool. For some magical reason, the tiles they use are far less slippy than the ones in many of our homes, right?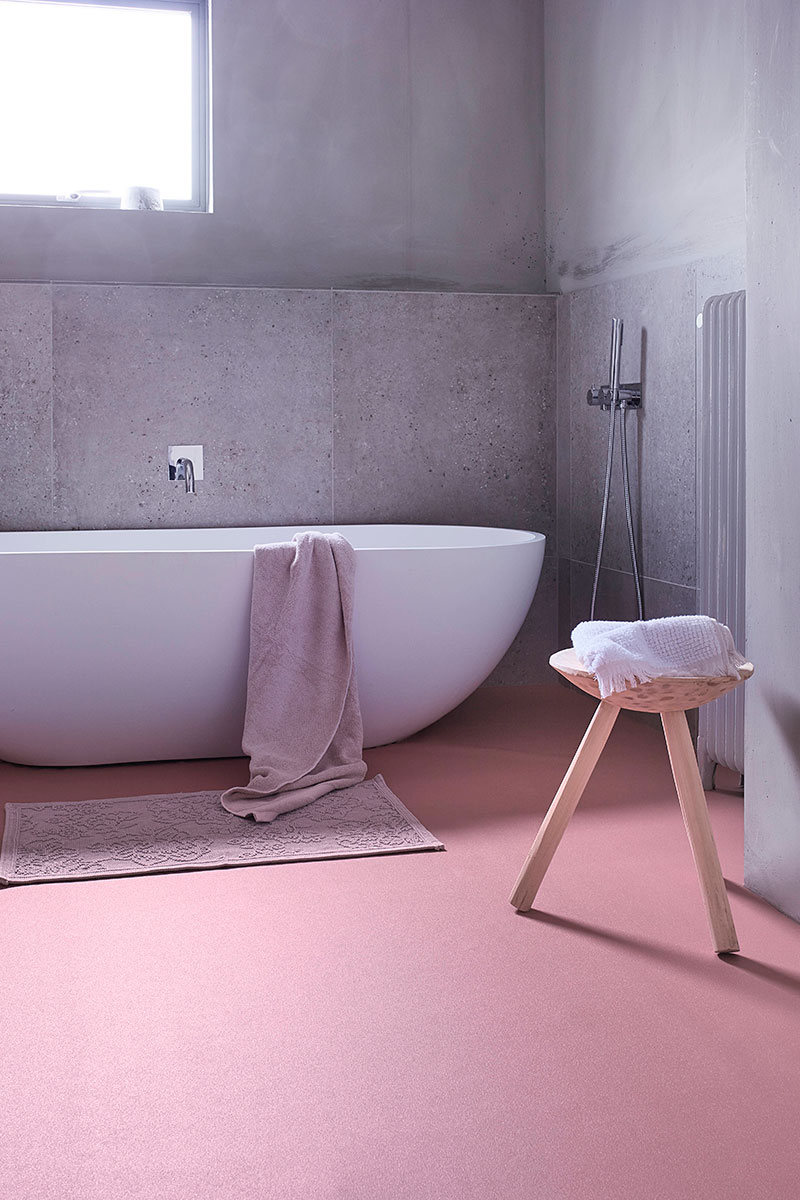 Well, it's not actually sorcery. Instead, they've treated the surface in a way that helps drain water quickly and generally makes it less slippery. This will help avoid trips and falls for everyone and keep less able family members comfortably upright.
To take it up one level, fit underfloor heating too – this will make water evaporate and dry the floor even faster. And you won't freeze as soon as you step away from the hot water.
Family bathroom ideas: double up
To make your family bathroom truly efficient, install a double basin with either two mirrors or one extra-large design. This will take the stress out of the morning rush and allow more than one person to get ready at the same time.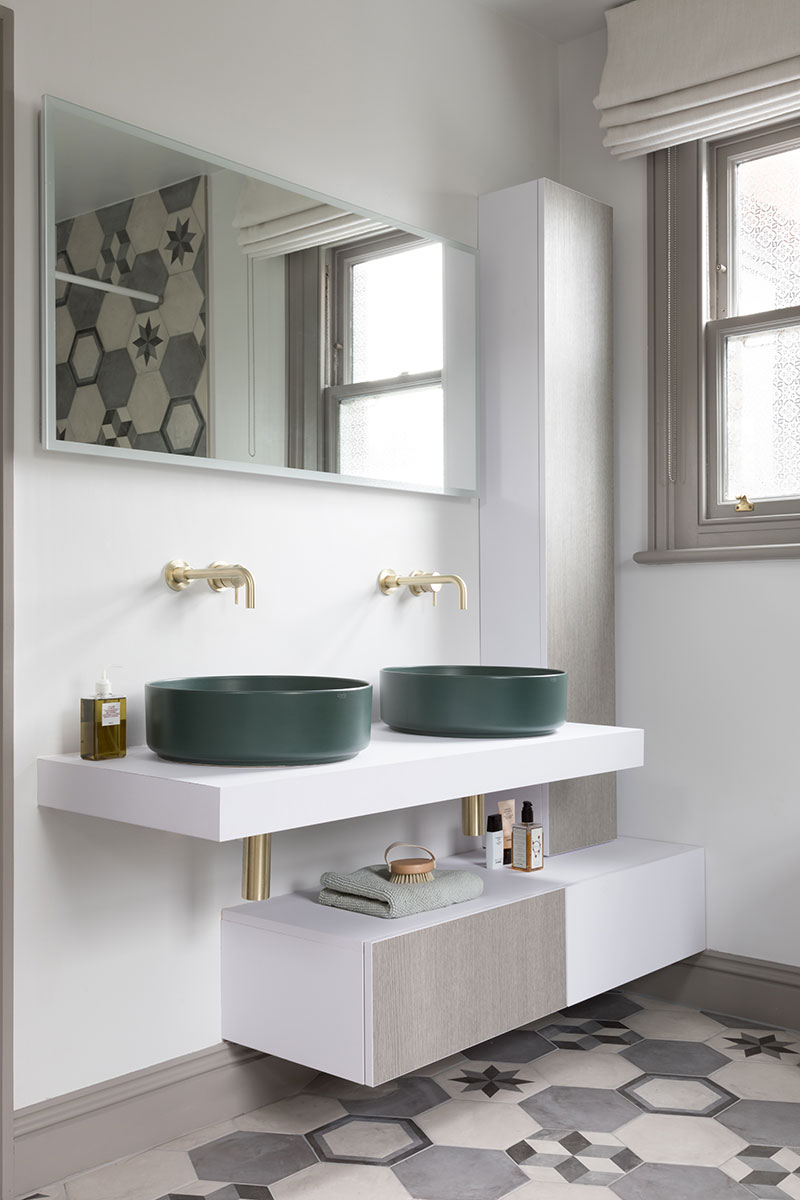 Just… maybe don't include two WCs. That's just awkward. Have a separate one instead, and include a third basin so an additional person can get ready. You could even add extra storage, to help you keep both spaces tidy.
Speaking of which, it's also a good idea to double up on storage. Then every family member can have their own compartment, shelf, or even cabinet to keep all the essentials in easy reach.
Make your family bathroom accessible
You and your loved ones might be mobile now, but that might change in the future. Accessible design is also an easy way of futureproofing your home now, while you're undertaking a project. Hence all these family bathroom ideas.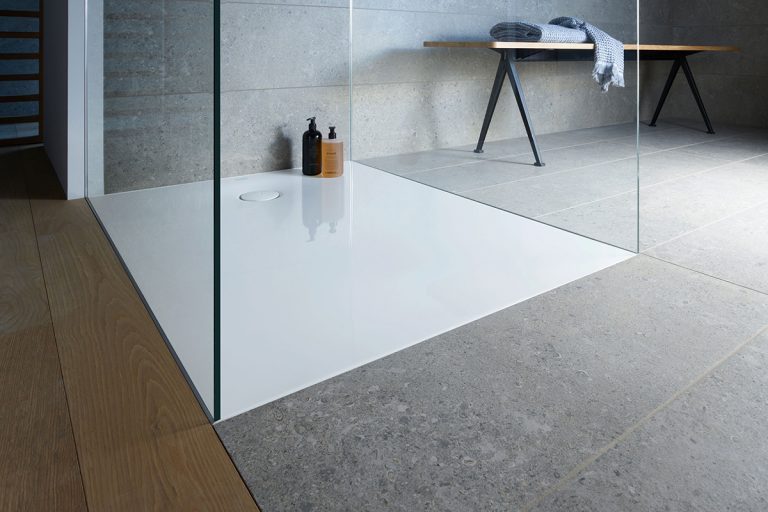 Think about adding a flush-fitting shower tray, including a bench seat in the shower. And choosing a bath with a door or a seat, and having a WC that'll be easily accessible for less-abled people. This includes the flush, by the way.
A shower toilet is the absolute luxury. You can control most of them from a panel in the wall, but there are also flush systems for conventional WCs that can be controlled by a sensor. And while there may be no need for grab rails yet, look at where they could be fitted in the future. Just in case.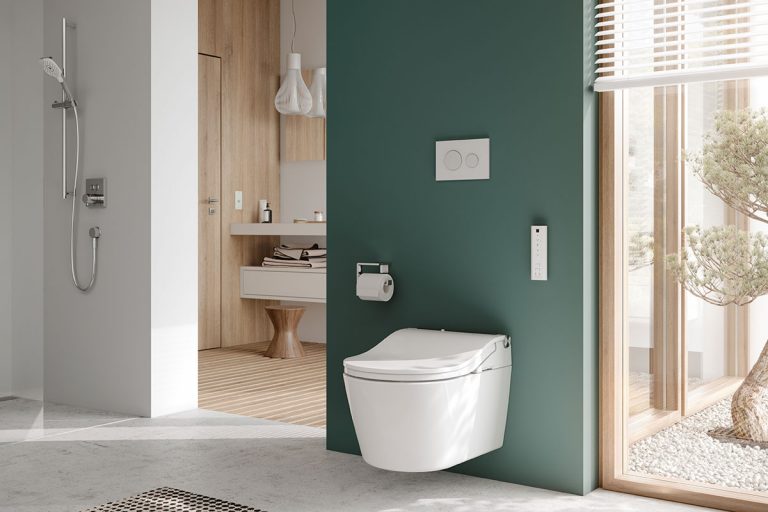 Go open plan
The best accessible spaces have a lot of free floor area for people to move around – no matter if they're using a mobility aid or a wheelchair. When it comes to family bathroom ideas, this will also make it feel nice and open, which can help you relax and will limit the impact cabinets or other storage solutions will have.
Family bathroom ideas: make yours easy to clean
This one doesn't need much explanation: especially if you have smaller children, surfaces that only need a wipe down to sparkle again are a godsend. Not only are they hygienic, they also leave you more time to do fun things with the little ones. And isn't that the very best of family bathroom ideas?
Featured image: Family bathroom ideas. A spacious vanity makes busy mornings easier, while plenty of floor area means nobody gets in each other's way. The DuraSquare bathtub, £3890.40, with freestanding mixer, £2545.20, is shown here with the L-Cube by Christian Werner vanity unit, £1152, console, £837.60, and mirror, £1000, all from Duravit.
Want to read more? Here's a complete family-friendly renovation with indoor slide.
About Post Author