Love the look of beautifully veined surfaces? Why not go beyond the kitchen and play around with natural stone or stone-effect surfaces in your bedroom and bathroom, too?
From luxurious marble to statement sintered stone, there are so many ways to embrace the look and feel of these intricate materials. Here we show you how to get the look of stone in your bathroom and bedroom.
First, if you're considering going for marble or a natural stone, know that it it's a demanding material to care for. It's porous, so that means you need to properly seal it to avoid it absorbing any spills and staining.
Natural stone is most often more costly than stone-effect surfaces or engineered materials, as well as more prone to scratches and marking. So, it's worth keeping all of this in mind when purchasing your new surfaces.
Now that we've got the practicalities out of the way, it's time to talk style and all you can do with stone surfaces in your bedroom or bathroom.
Embrace stone in your bedroom
First of all, there is no doubt stone can instantly add a touch of sophistication to any space. But where do you start when you want to include it in your bedroom, for example?
Well, you can start easy with a stone headboard instead of the traditional, upholstered design. Opt for a modern black and white veiny pattern, which will certainly create a focal point.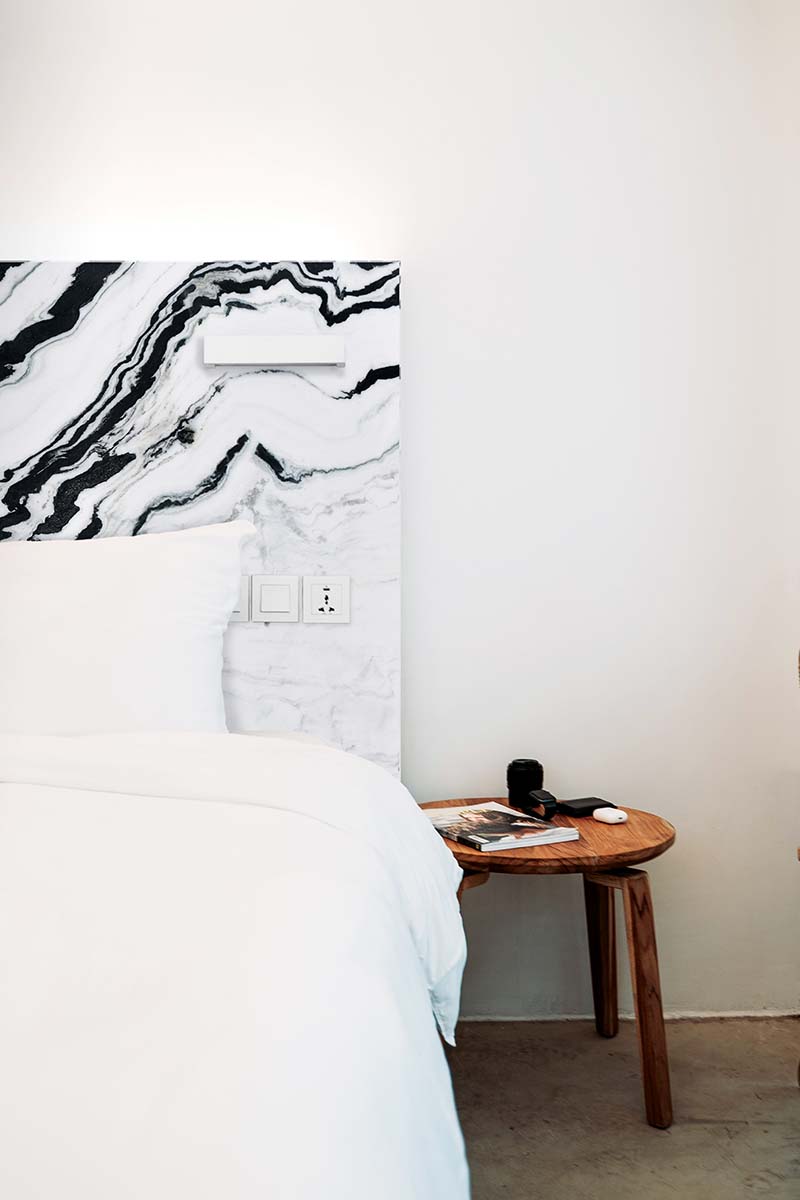 If you're feeling a bit more daring, then why not create a feature wall in your bedroom? Marble is a high-maintenance material, so if you want a hassle-free experience, why not go with sintered stone?
There are lots of benefits to granite, for example – from being resistant to stains and scratches to having antibacterial properties. So, to upgrade your bedroom, install a feature wall behind your bed and pick out accent shades to match your bedframe and décor.
How to get the look of stone in your bedroom
Want to go all-out? Then match the surfaces of your walls and floors for a modern scheme. You can embrace the look of stone using porcelain tiles – easy to care for but still offering a stylish look.
Use stone to ensure a seamless flow in your ensuite. Simply keep with the same flooring in both your bedroom and bathroom. Porcelain tiles are a stylish and more affordable option if you love the glamorous feel of marble.
They come in a variety of patterns, so you are set to find one to suit your taste. Pretty veined tiles effortlessly emulate the look of stone and infuse character into any scheme.
Luxurious bathroom ideas
Moving onto bathrooms. Can't you just picture a luxurious ensuite with highly veined walls and floors, modern sanitaryware and mood lighting? One day, one day…
If you're looking to get the look of stone in your bathroom, veiny materials are ideal for creating an expensive aesthetic. Choose traditional mixers, glossy mosaics and classic fittings. To complete your new scheme, dress your walls, floors and sanitaryware in striking marble.
But, as I mentioned, keep in mind that this porous material can stain easily, so ensure it is sealed and given regular care and attention.
You can also inject colour into your scheme through stone surfaces. Go all-out using a mix of wall and floor coverings in calming shades of blue. Pick a design with splashes of white to imitate the look of waves, which will exude a sense of tranquillity in your bathroom.
How to get the look in your ensuite
From hexagonal shapes to chunky slabs and large-format tiles, natural stone is great for elevating your bathroom style. Stick with the same material for a cohesive scheme. But play around with shapes and sizes to add depth and dimension to your room. For example, you can use hexagonal tiles to section off the shower area, as pictured below.
By now, you know that porcelain tiles are perfect if you want to get the look of stone in your bathroom – bonus, without the upkeep. So. if you are a lover of colour, find the right palette for creating your own sanctuary bathroom. Neutral and pastel tiles with oversized swirls and veins make the perfect backdrop for a relaxing bubbly soak.
In conclusion, if you're looking to get the look of stone in your bathroom and bedroom, dare to go bold. Be it a simple marble headboard or an all-over look using stone-effect surfaces, play with different ideas. Why not use these inspirational projects to nail the look and get your moodboard going?
You might also enjoy: Get the look of stone in your kitchen.
About Post Author