When giving a kitchen or bathroom a small update, you might think about a new mirror, nice accesories or a fluffy set of towels in a new colour. But what about the tiles? Sound like too much effort? I get it. Taking them up and laying new ones is a messy, dusty job and not exactly what many of us consider 'quick'. But what about painting the tiles you already have?
What if there was a way to achieve a new look without going through all that upheaval? And it was not just easy, but allowed you almost complete design freedom?
I'm talking about painted tiles. Yes, you read that right – it's time get a brush, pick your favourite shade, and update your space.
Of course, there's a little bit more to it than simply starting to paint, but that's why I'm here. Ready for the four steps to success? Of course you are… so here it is, our quick lowdown from the first preparatory steps to actually painting tiles.
1. Prepare your grout
Before we start on the tiles, we need to get everything ready – and that includes cleaning the grout lines. Spray them with cleaning solution and start scrubbing.
A toothbrush is a good choice, as it makes it easy to get into all the nooks and crannies.
While cleaning, look at the state of your grout. If there are any cracks, make a note of them so you can seal them before you start to paint.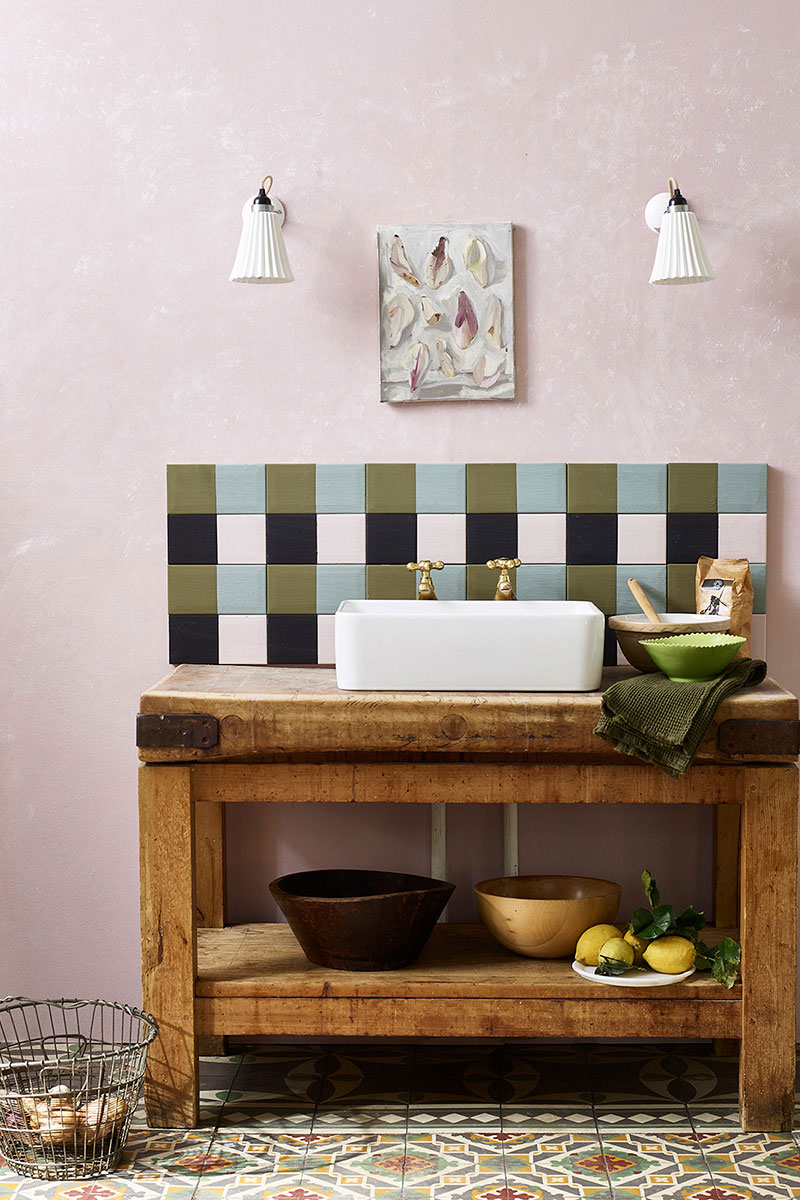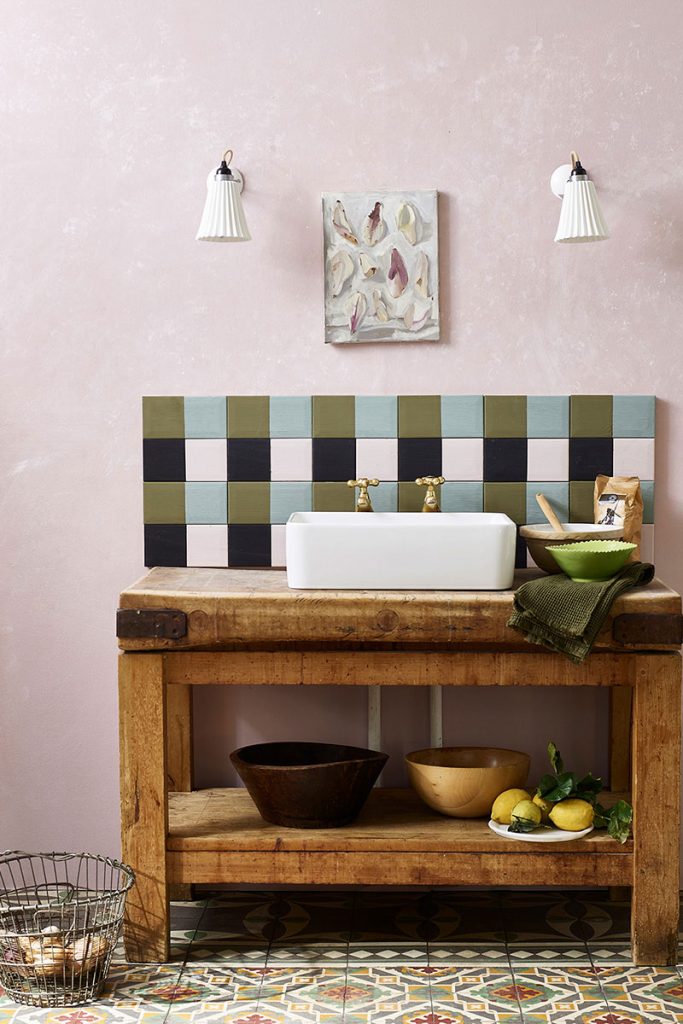 2. Prepare your tiles
Once the grout is done, it's time to get the future stars of the show ready. Give your tiles a good clean, to ensure they are free from any dust, grease, or moisture as those can negatively impact the result.
Use a scourer sponge and sugar soap, and double check you really got *all* the grease if you're painting tiles in a kitchen.
If the surface of your tiles is very smooth, get out the sandpaper and sand the surface a little, so your paint will have something to hold onto.
Now is also the time to double check if you need to prime your tiles. Check your paint; whether you need to prime the surface will usually be indicated on the tin.
Both sanding and priming are not always necessary, but it's always smart to triple check, to ensure you get the best result.
3. Get out the masking tape
This is the last step before we get to the fun bit, promise – but you'll need (and want) to protect the surroundings from splatters, drops, or an accidentally too enthusiastic swipe of your brush.
Carefully tape around the edge of your tiles, and cover any taps or surfaces so they don't end up with a new look. A dust sheet is a must in kitchens, to protect your worktop; don't rely on a steady hand.
4. Painting your tiles
It's finally time! You're ready to start the fun part and actually give your walls a new look.
To make sure you get the best result, apply your chosen shade in several thin layers – if you paint too thick, you'll likely see brush marks due to the tiles' smooth surface.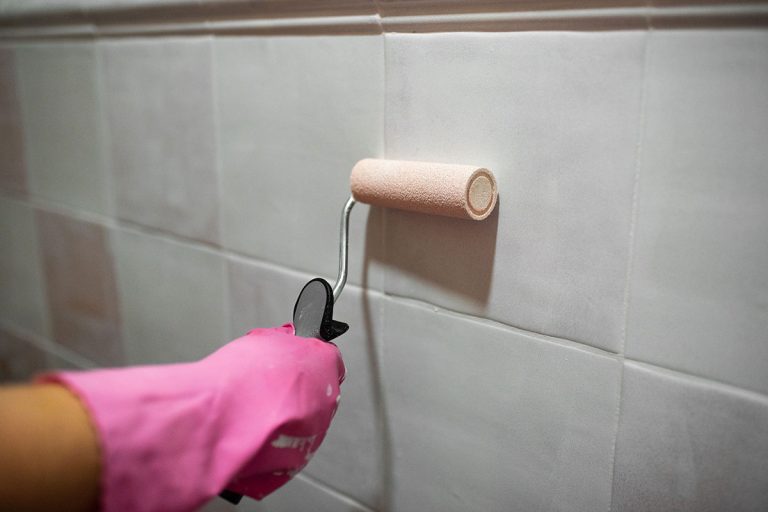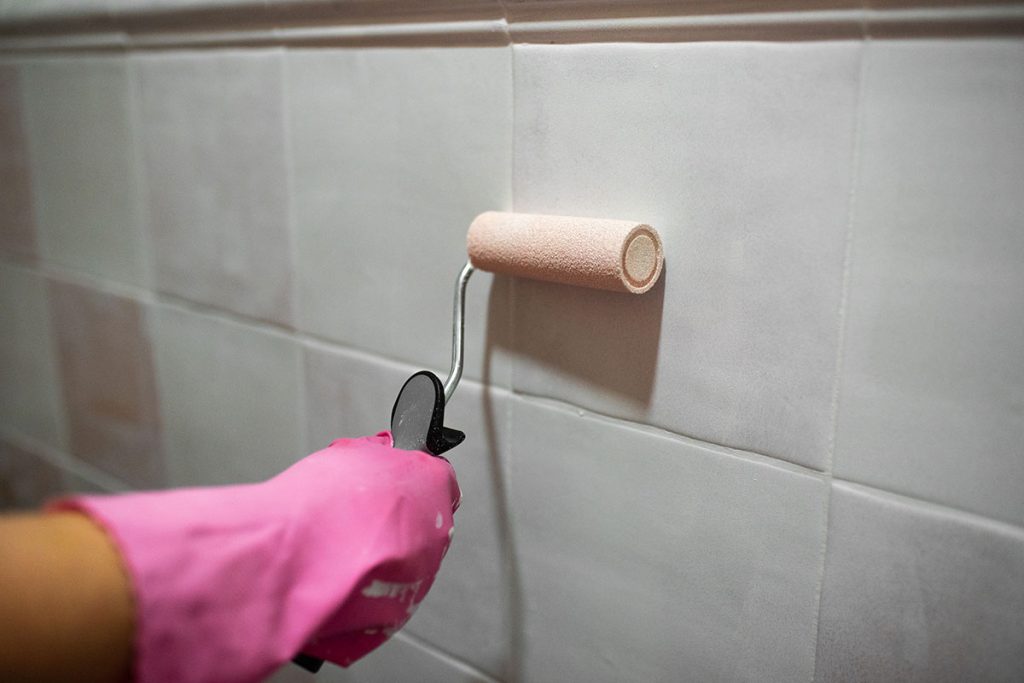 Thin layers also reduce the risk of paint peeling, so take your time and be as accurate as you can. It's very meditative – I recommend putting on a podcast, audiobook, or simply your favourite playlist. (I wouldn't recommend full-on jamming out, though…)
Instead of a brush, you can also use a little foam roller to paint; whichever works best for you. Paint the entire surface, including the grout lines, and check how long you need to leave between layers of paint.
If you would like your grout to be a different colour than the tiles, wait until everything is fully dried and then draw the lines in with a grout pen. You can, of course, also use a different shade of paint – there is no limit to your creativity, so go with whatever suits your taste.
And that's it – you're all done! Just let your tiles dry fully and enjoy your new space.
You'll probably have guessed this, but standard interiors wall paint is often not the best choice for this kind of job.
Instead, you'll want to use epoxy or special tile paint. That said, if you do want a specific colour (and the shades for specialist paint can be limited), you can often use a professional, solvent-based primer as the undercoat and then follow it up with a glossy or semi-glossy top coat.
Featured image: iStock/Pedro Blanco Gutierrez
About Post Author