I was going to start this blog by saying 'who really likes cleaning?' (not me!), but with the Insta-power that is Mrs Hinch, it seems like cleaning might be less loathed that imagined. I must admit, I do love a good cleaning hack and the satisfaction of a house that's spick and span, but anything that makes chores easier is a winner for me, too.
Any easy-clean bathroom ideas have my vote and as we now live in a world where hygiene and cleanliness are right at the top of the agenda, I've been looking into how we can make sure our most-used living spaces can by more hygienic, but also lower maintenance. Because even if you're a Hincher, you want those hacks to make cleaning easier, right?
For the How To Buy A Kitchen Or Bathroom podcast, I spoke to Holly Aspinal at Geberit and she told me about the ways in which you can design your bathroom so it is easier to keep clean. But the secret is all in what you put into your bathroom, so needs planning from the start. So if you're renovating your space or simply updating taps, read on for nifty design ideas that will make cleaning your bathroom easier…
1. Non-touch taps
As real hero products in the home, sensor taps are convenient, add a hint of spa-like luxury and, perhaps most importantly, help eliminate germ hotspots. Great for heavy use bathrooms like cloakrooms (i.e the downstairs loo) which is more likely to be used by guests.
Equipped with an infra-red unit, the sensor notices the presence of a hand nearby and sends a signal to open or close an internal valve, controlling the water flow. All clever stuff which can help us combat bacteria in the wettest parts of our home, plus help save some water (bonus!).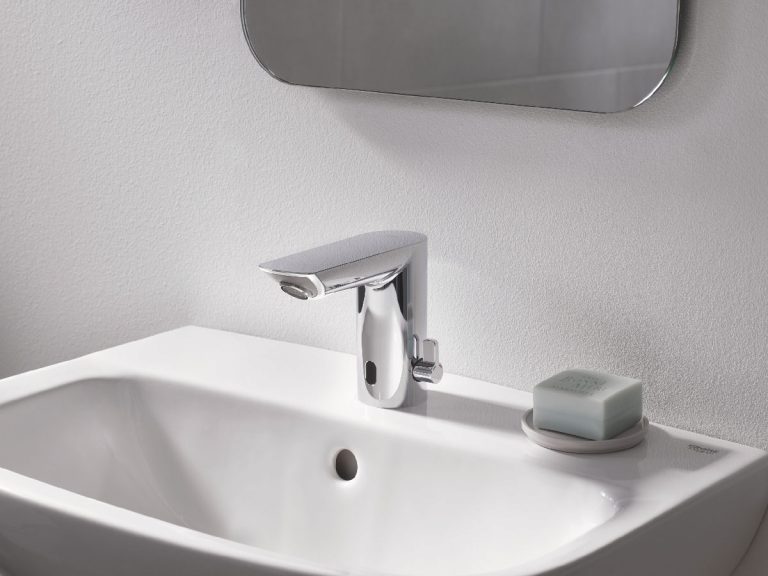 2. Basins without 'germ catchers'
When it comes to easy-clean bathroom ideas, good design matters. Integral and flush-mounted basins keep joins to a minimum, reducing opportunities for grime to gather. Any intricate detailing like fluting, ridges or texture could harbour dirt if not regularly cleaned, so if you're concerned, stick to simple, sleek looks instead.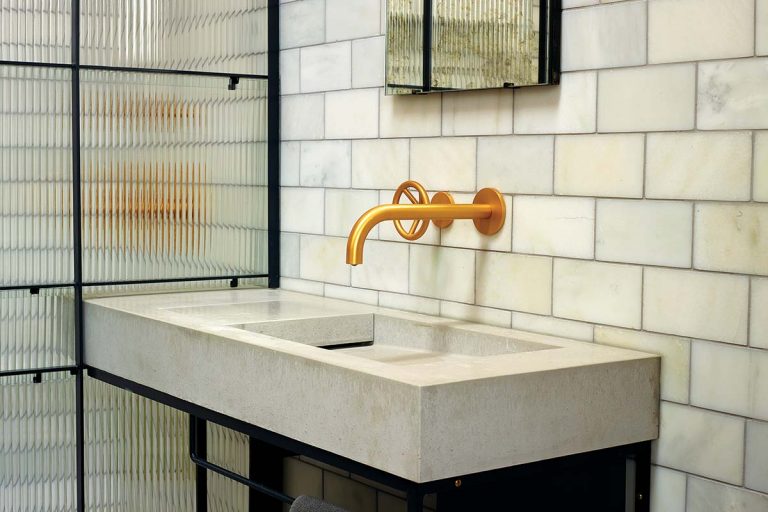 The choice of material can play its part, too. The same is true for bathrooms – while designs and finishes may be more decorative and varied, what a basin or vanity unit top is made from needs to be considered too.
Many granite basins are embedded with silver particles to help repel dirt and bacteria, while stainless steel (besides being stain and corrosion resistant) has a self-healing surface. Copper also offers anti-bacterial properties and looks great as a design statement – just be aware that it will develop a natural patina over time.
Many bathroom manufacturers will have their own special coatings for materials to add an extra layer of protection, creating antimicrobial properties – another key thing for making the bathroom easier to clean. Simply ask your bathroom designer or showroom contact and they'll be sure to let you know what they offer.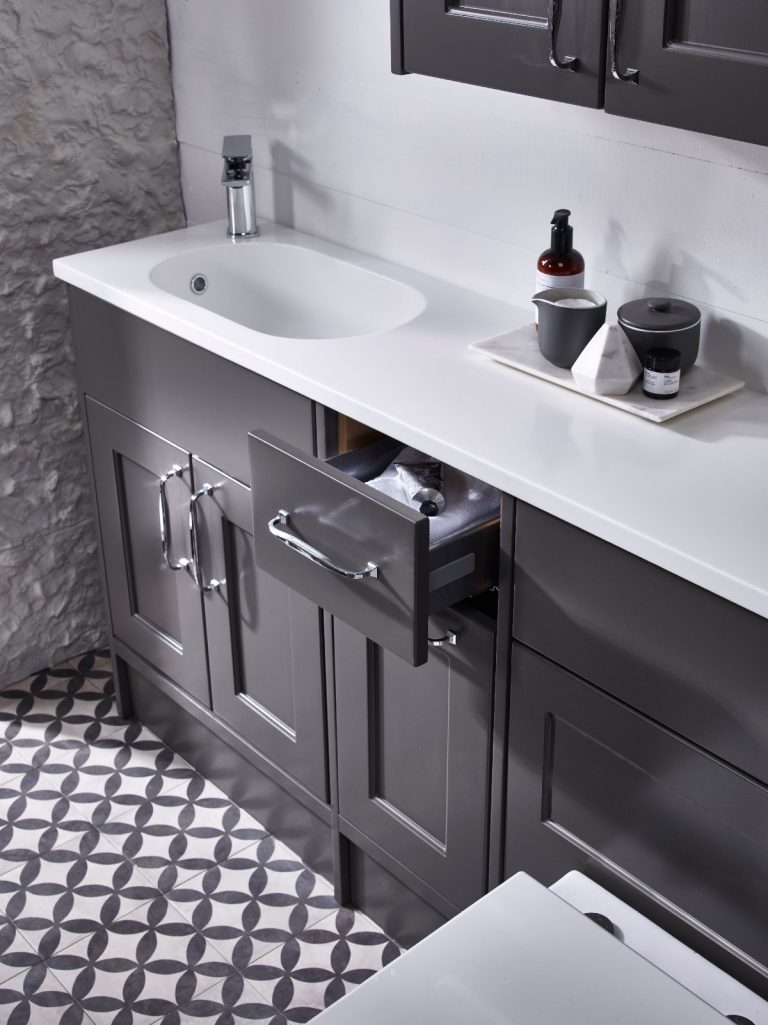 3. Antimicrobial bathroom surfaces
In short, your choice of countertop (on top of a vanity unit, for example) must cope with the wear and tear of daily life (think toothpaste splatters, make-up smears, hair and water marks) so needs to be especially hard-wearing, scratchproof and quick and simple to wipe down when needed.
Not every material will withstand heavy use, so it pays to choose wisely.
Many natural surfaces – such as some marble, granite and timber – will need sealing to prevent bacteria and moisture seeping into the material, while other options with low or zero porosity keep germs on the surface so they can simply be wiped away.
Manmade options such as engineered quartz, stainless steel or composite stone vary in durability and heat resistance but score high when it comes to hygiene as most are non porous so nothing soaks in.
4. Easy-clean floors
Hoovering and mopping are up there with my most-loathed chores (again, does anyone like cleaning the bathroom?). To make it a bit easier, a seamless surface is usually the answer for keeping germs at bay.
The most important flooring advice is to keep the surface level, avoid steps, too many grout lines and niches where dirt can easily gather and ensure you give it the cleaning attention it needs weekly.
In a wetroom, mop up water after each shower. Or invest in underfloor heating which will help clear wet floor in no time.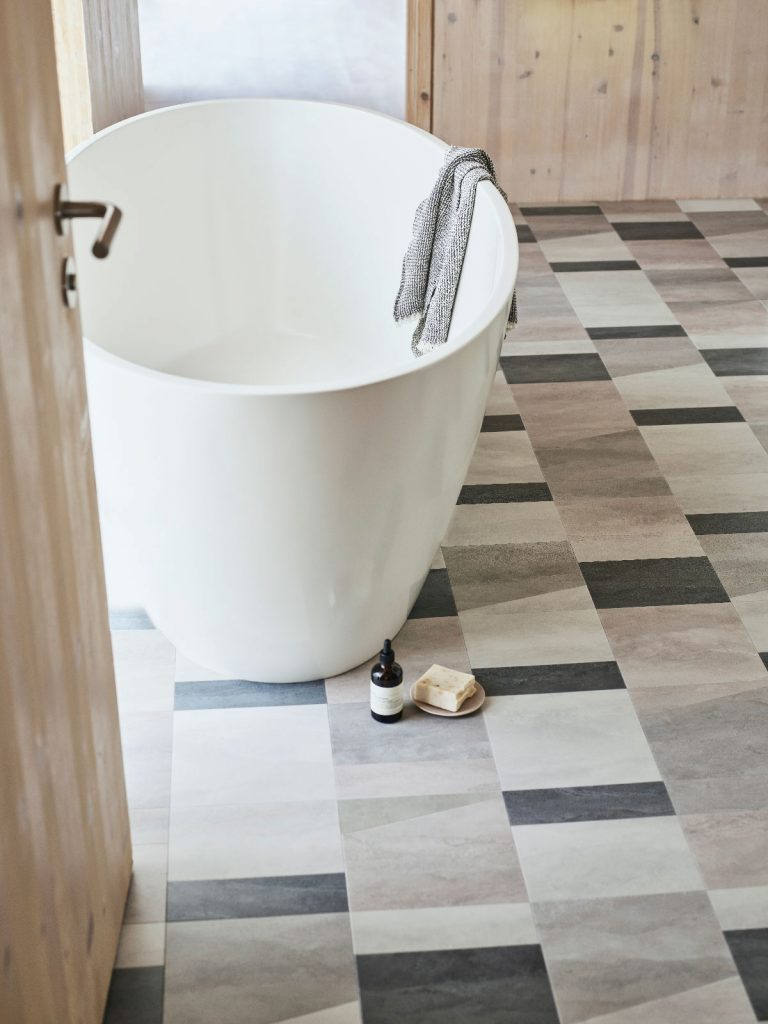 5. Wall-hung fittings
While floors are kept as flush as possible, another way to make the bathroom easier to keep clean is to keep more of the floor visible. By which I mean through wall-hung fittings.
By lifting the WC, basin and any storage off the floor and mounting them on the wall instead, you can easily get a mop under to keep the bathroom spick and span.
Go one further with a wall-hung WC that's smart, too. A shower toilet is a popular bathroom addition in parts of Asia and slowly catching on in the UK too. In short, it's a loo that combines the functions of a bidet and WC with wash and dry functions as well as self-cleaning programmes and scent diffusers. Yep – find out more about shower toilets here.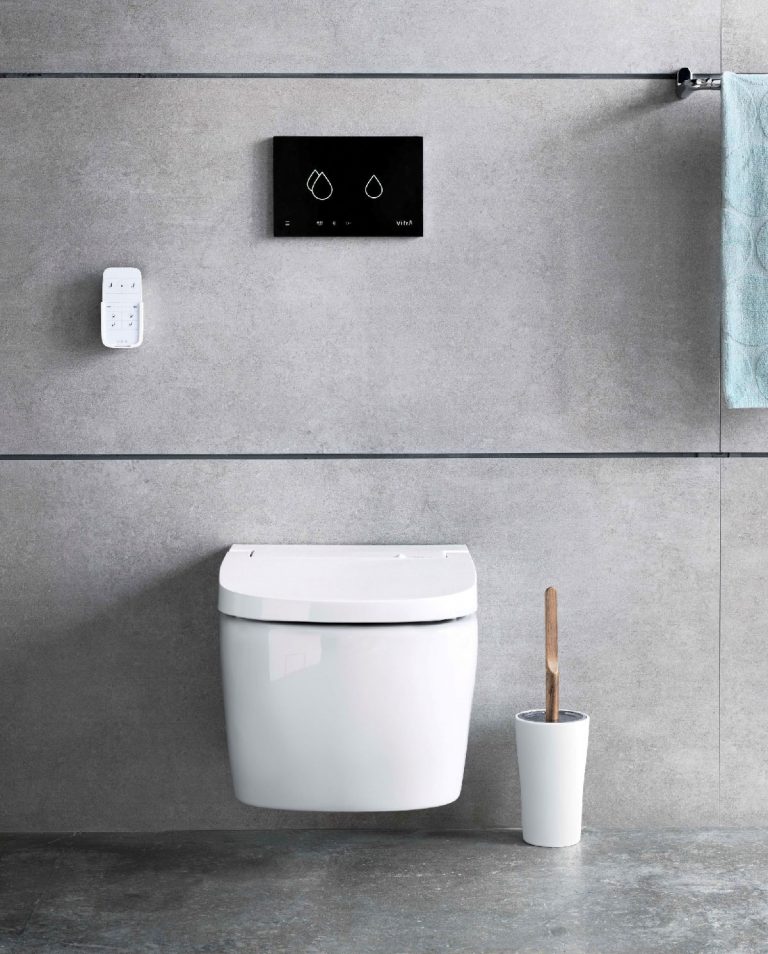 Do you think you'll use these ideas to make cleaning your bathroom easier?
Featured image: iStock/BrianAJackson
About Post Author