Hands up, who else is working from home for the next – however long? If, like me, you're needing to sort your spare bedroom – probably the one room in our properties that gets the least love – as an office space, or another room to escape to, then this is for you.
But other than what's going on in the world at the moment, maximising your spare bedroom to make the most of your available space is always a good idea, right? Whether that's to help support a hobby, or create a separate area for your older children to chill with friends. I say make the room work for you!
So if it's something that you've been thinking about for years but never got round to, or something that you've suddenly realised needs doing, here are some handy tips and ideas to help transform the space.
The home office
Whether it's because of the current situation of Covid-19, or if you're actually used to hot desking, freelancing, or have your own business set up in your home, a dedicated space to tackle the job at home is essential for maximum productivity.
Introduce a calming, fresh décor that will help keep you motivated and don't forget efficient storage so you can easily hide paperwork. Open shelving is a great idea to make the space feel airy, just ensure you get some eye-catching files or storage boxes to keep your paraphernalia in when not working. You can also keep house plants on these shelves, great for oxygenating the space – and they look fab too, right? Or why not invest in some old-school lockers or trolleys to help jazz up the space (like the picture above).
There are also some really clever desks out there that can fold and hide away to maximise space, and some very good-looking chairs that will also provide the right amount of support for your back as well.
(Don't forget this is also a spare bedroom, so pick a sofa bed that any potential colleagues or clients can sit on, but that is also comfortable for overnight guests. Don't forget to consider its dimensions when folded out – ensure you pick a design that's not too big. Also, leave some room in your shelves or drawers for them, too!)
Products: The Skinny locker in Olive, £229 per unit, Mustard, mustardmade.co.uk; Ming Mountain Scenic linen wallpaper mural, custom size starting from £40, Surfaceview.surfaceview.co.uk; String Pocket shelving system in walnut and black, £126, String, stringfurniture.com; EchoShow, £79.99, Amazon, amazon.co.uk; Wireworks Casper roller organiser in oak, £245, Naken, Interiors.nakeninterior.co.uk; Atworth love seats of a bed in Tobacco leather, £1685, Willow & Hall, willowandhall.co.uk; Soren office chair in grey and brown, £399, John Lewis & Partners, johnlewis.com; Nubo wall desk by Gamfratesi, £1316, Ligne Roset, ligne-roset.com; Highgate loop carpet, £37.99 per sq m, Carpetright, carpetright.co.uk.

The laundry room
If you don't intend to make your whole spare bedroom into an office, and plan on working in an open-plan kitchen – let's say – then make that space as clutter free by converting the spare bedroom into one that helps you look after the laundry more efficiently. Let's face it, most of us use the spare bedroom to keep piles of recently washed clothes – and sometimes those in need of a clean, too – anyway. (Can't lie, I am extremely guilty of this.)
Why not sort out the mayhem – while making the space look beautiful for guests – with some aesthetically pleasing storage. Which can be anything from a large wash basket, large freestanding wardrobe, bedside table with plenty of drawer space, wall cabinets and open shelving.
Products: Satis 200cm-wide wardrobe with hinged doors in white glass and light rustic oak, £1200, John Lewis & Partners, johnlewis.com; Puck intelligent matt emulsion, £25 for 1 litre, Little Greene, littlegreene.com; Vero pendant by Celerie Kemble, £1100, Arteriors, arteriorshome.com; Mind The Gap Edison Electric Light framed art print, £250, Decoville, decoville.co.uk; LeopardWalk109/2010wallpaper, £90 per 10m roll, Cole & Son, cole-and-son.com; AirDresser in Crystal Mirror, expected in 2020, price on application, Samsung, samsung.com; Lavender divan bed in Designers Guild Brera Cestino F1996/04 Noir, from £875 for a double, Button & Sprung, buttonandsprung.com; Ivar table lamp, £65, Habitat, habitat.co.uk; Randall bedside table in grey wash, £149, Swoon, swooneditions.com; Havana seagrass laundry basket, £69, Made, made.com; Delicious carpet in Babe, £47.95 per sq m, Lifestyle Floors, lifestyle-floors.co.uk.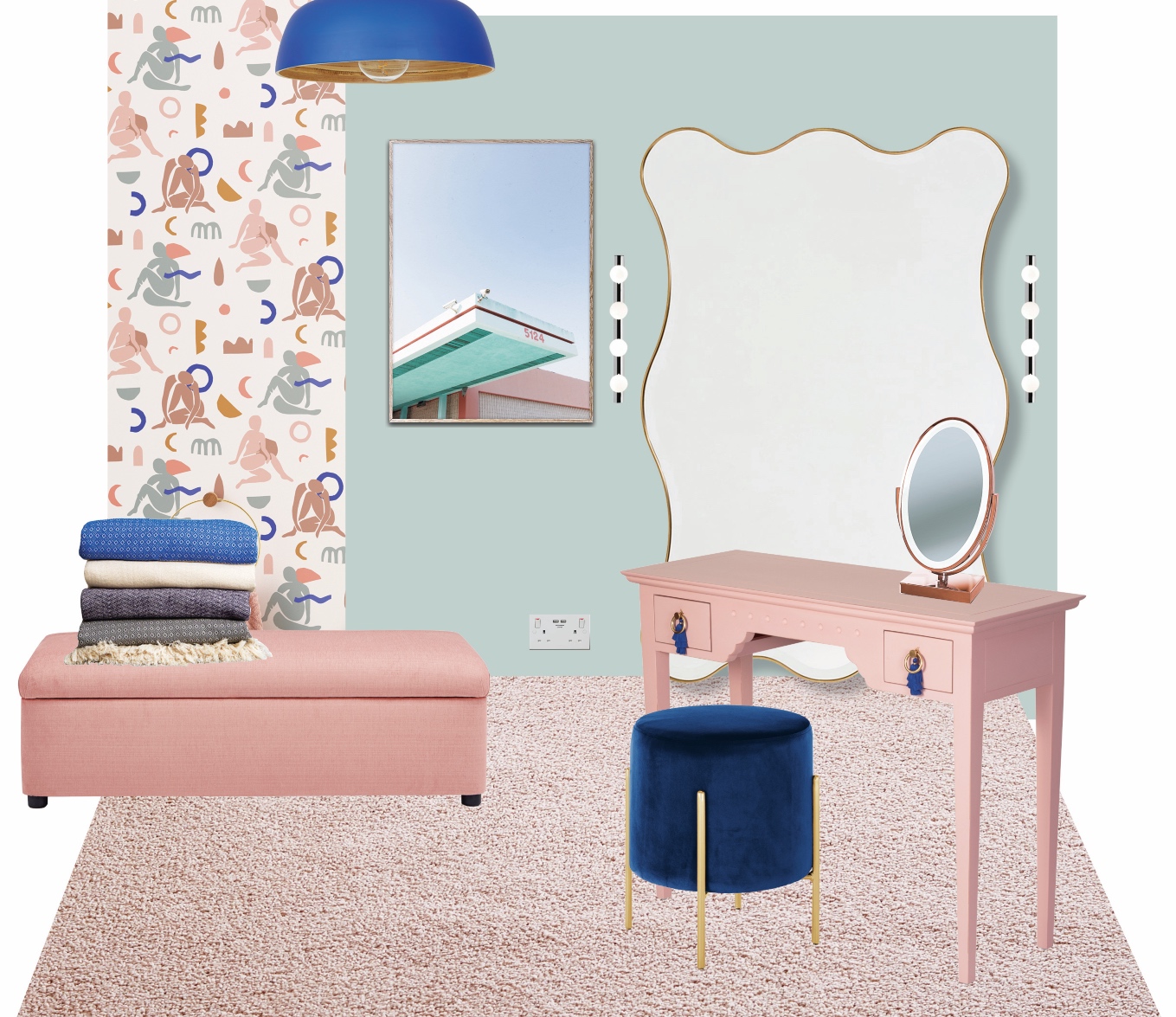 The dressing room
If you're going to be spending a lot of time at home over the next few months, or really just in general life, creating a stress-free environment where you can get ready for the day ahead is a great idea. Usually one of the smallest spaces in the home, the room can still be a place for your guests to feel like they're in a boutique hotel – dreamy.
If you want to create a dressing room in your spare bedroom, consider space-saving furniture to maximise floor area. For instance, there are beds out there, like the one above that looks like a footstool. Slim dressing tables also work well, and can double up as either a desk or space for any guests to put their things while staying over.
Also consider your décor – think squidgy luxurious carpets, wallpaper that can liven up the space and a large mirror that will not only be practical, but help bounce light around the room. On a more practical note, power socket location is vital for your small electric appliances.
Products: Posture mural, £36 per sq m, Murals Wallpaper, muralswallpaper.co.uk; Moxleybambooshadeinblue, £35, Habitat, habitat.co.uk. Mikal Strøm x Paper Collective Los Angeles is Pink 01 print, from £36, Heal's, heals.com; Astro Cabare tbathroom wall bar light, £120, John Lewis & Partners, johnlewis.com; Pirelli mirror, £1887, Julian Chichester, julianchichester.com; Andersen vanity mirror in Rose Gold £64.99, MyFurniture, my-furniture.co.uk; Iro dressing table in pink, £350, Oliver Bonas, oliverbonas.com; Baltimore low velvet stool in Royal Blue, £79, Cult Furniture, cultfurniture.com; Henham throw in Provence Blue, from £25; Snuggle Up blanket in Stone and Navy, £60 each; Henham throw in Dove, The Cotton Poet, thecottonpoet.com; Bed in a Bun day bed in Tuskan Pink clever softie fabric, £725 for a double, Loaf; loaf.com; Evolution Saxony carpet in Warm Sand, £18.99 per sq m, Lifestyle Floors, lifestyle-floors.co.uk.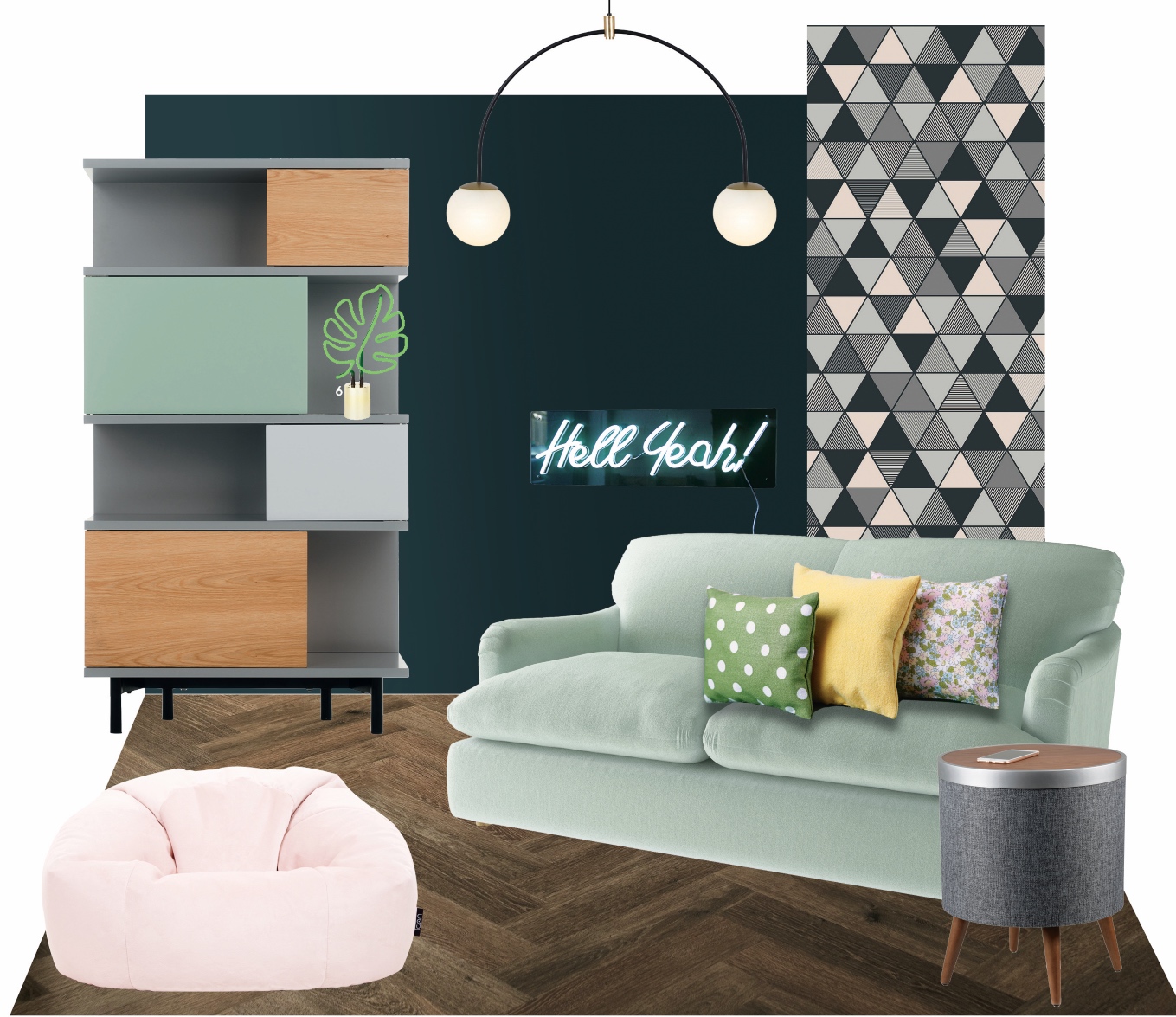 The den
If your kids have reached the age where they are crying out for their own area and independence – or more to the point, you're looking for some of your own space back – the spare bedroom can become an ideal zone for them to get away from the family for a few hours and entertain themselves or hang out with their friends.
Think about choosing stylish but hard-wearing and durable materials, such as a laminate or vinyl flooring, and creating a fun atmopshere for a space that they will be proud to show off. (I believe neon lights are still in, FYI!) Smart tech is also all the rage, from smart speakers, to wireless phone charging ports.
Remember this is somewhere your guests will be spending the night as well, so pick a sofa bed that is comfortable – but that also has a hard-wearing stain-resistant material – such as clever velvet – for when the children have their juice and snacks up there. Dimmable lighting might also be a good idea, for games and movie nights.
Products: Railings modern emulsion, £46.50 for 2.5 litres, Farrow & Ball, farrow-ball.com; Fowler large shelving unit in Multi colour and oak, £499, Made, made.com; Cult Living Abel Arc double globe ceiling light in black and brass, £99, Cult Furniture, cultfurniture.com; Engblad & Cotriangular wallpaper in 8811, £52 per roll, John Lewis & Partners, johnlewis.com; Hell Yeah! LED neon light in white, £345, Rockett St George, rockettstgeorge.co.uk; Large UK monstera leaf neon light, £55, Sunny Life, sunnylife.com; Pudding sofa bed in Mint clever velvet, £2375, Loaf, loaf.com; Koble Zain smart side table with speaker and wireless charging, £299, Cuckooland, cuckooland.com; Spacia luxury vinyl tiles in Noble Oak and a parquet laying pattern, from £39.99 per sq m, Amtico. amtico.com; Icon Milano Classic velvet bean bag in Rose Dust, £69.99, Bazaar Group, beanbagbazaar.co.uk.