They're one of the kitchen must-haves everyone is raving about: boiling-water taps. In all honesty, I wasn't 100% convinced… until I tried one that can also do sparkling water. (I'm team 'the more bubbles in my water the better'.)
But what do you need to know before setting out to buy boiling-water taps? Well, as a newly converted boiling-water tap fan I have done my research – and I'm here to share my findings.
But before we start, one key point: always get your appliance installed by a professional. While there are plenty of jobs you can do yourself, messing with pressurised tanks (if your tap has one) is actually dangerous.
I'm not kidding – they can explode, not to mention that a wrongly fitted boiling-water tap might hurt you later down the line, too.
So please, get an expert in. But now, here are all the other things you need to know:
What do boiling-water taps do?
Well, what it says on the tin – although, to be clear, not all of them actually dispense boiling water. But generally, it'll be at a temperature between 98º – 100ºC, so still plenty hot.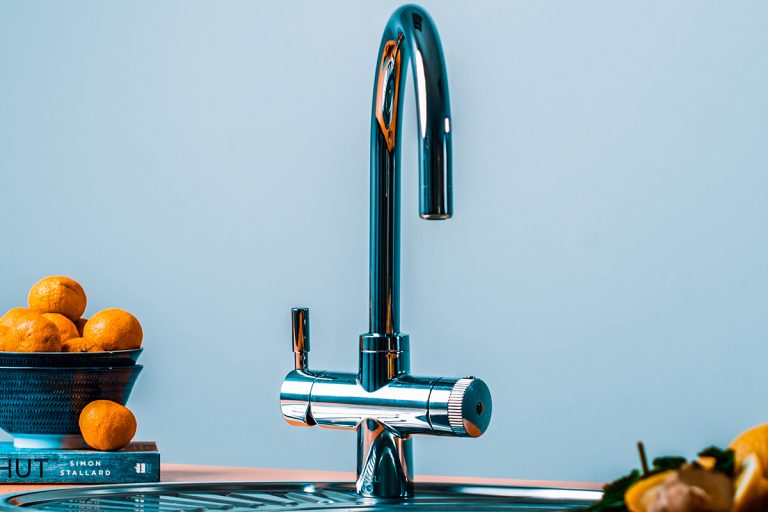 There are three different types: boiling-water taps, which are self-explanatory. Three-in-one designs can also dispense regular hot and cold, and four-in-one models will give you all of these plus filtered cold.
As mentioned, some boiling-water taps now also give you sparkling water, which in my book is the greatest feature of them all. But then again, I might be a bit single-minded here…
But what about safety?
Because what they dispense is so hot, a lot of boiling-water taps come with extra safety measures, to avoid accidental scalding.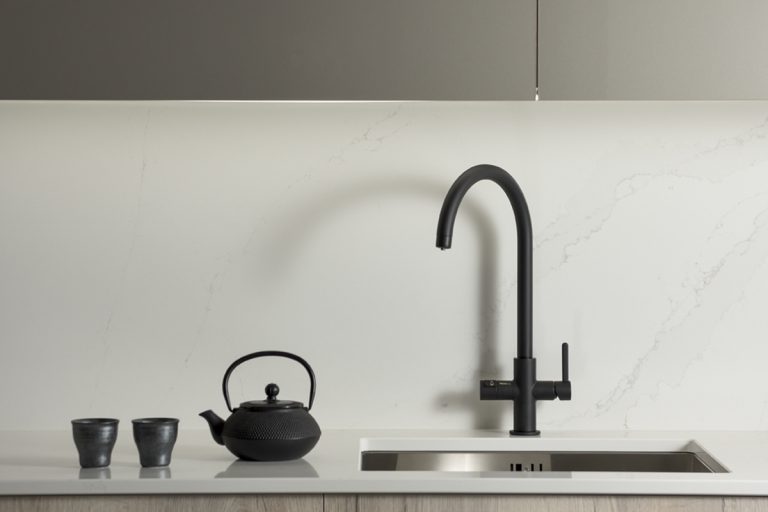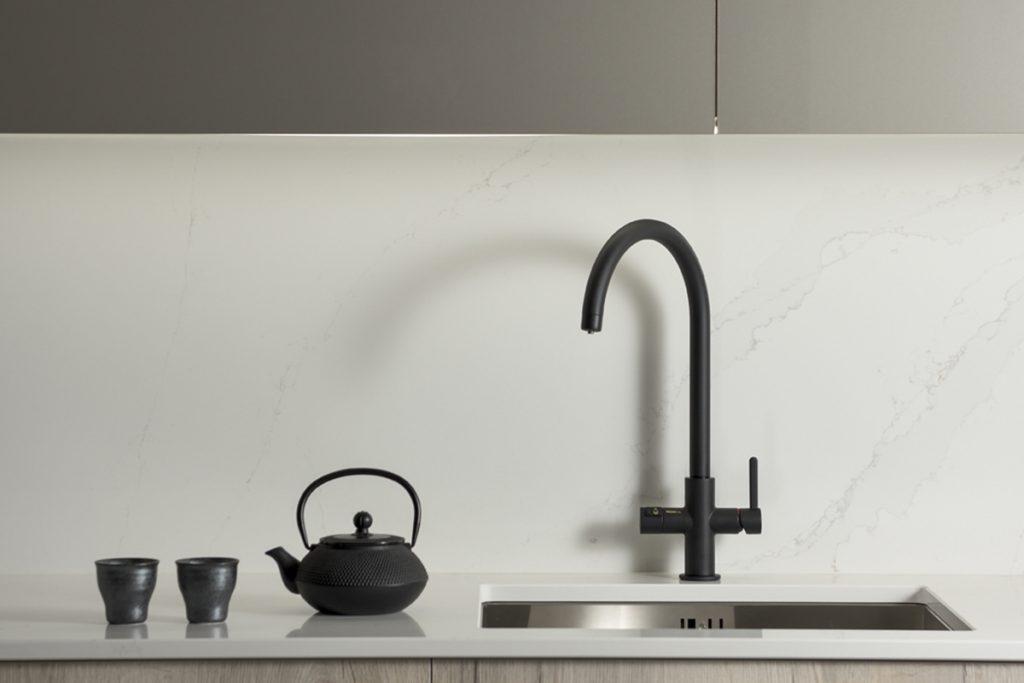 Usually, the boiling flow has a lower pressure so it won't shoot out of the spout, hit the sink, and then splatter everywhere, hurting you in the process.
Many designs also feature specific anti-splatter spouts, to really reduce the risk.
If you have little children, there are even some designs where you need a separate little tag to activate the boiling function.
For example, Abode's Pronteau 4-in-1 range has this feature, which the company calls a Hotkey, and only works if it is in a very specific position.
So even if your kid figures out the mechanism to get boiling water flowing, you'll keep them safe by simply keeping the tag out of reach – but if your kiddo is of the inquisitive (and really brave) sort, make sure you take that into account.
Other boiling-water taps operate a so-called safety sprung handle.
In simple terms, this means you have to press down the safety button – sometimes integrated into the handle– twist it, and keep it in that position as long as you fill your mug or pot.
As soon as you release it, the flow stops. And believe me – these safety mechanisms require a bit of strength. I tried with my non-dominant hand once. All it achieved was that the people around me had something to giggle at for a bit.
Why should you have a boiling-water tap?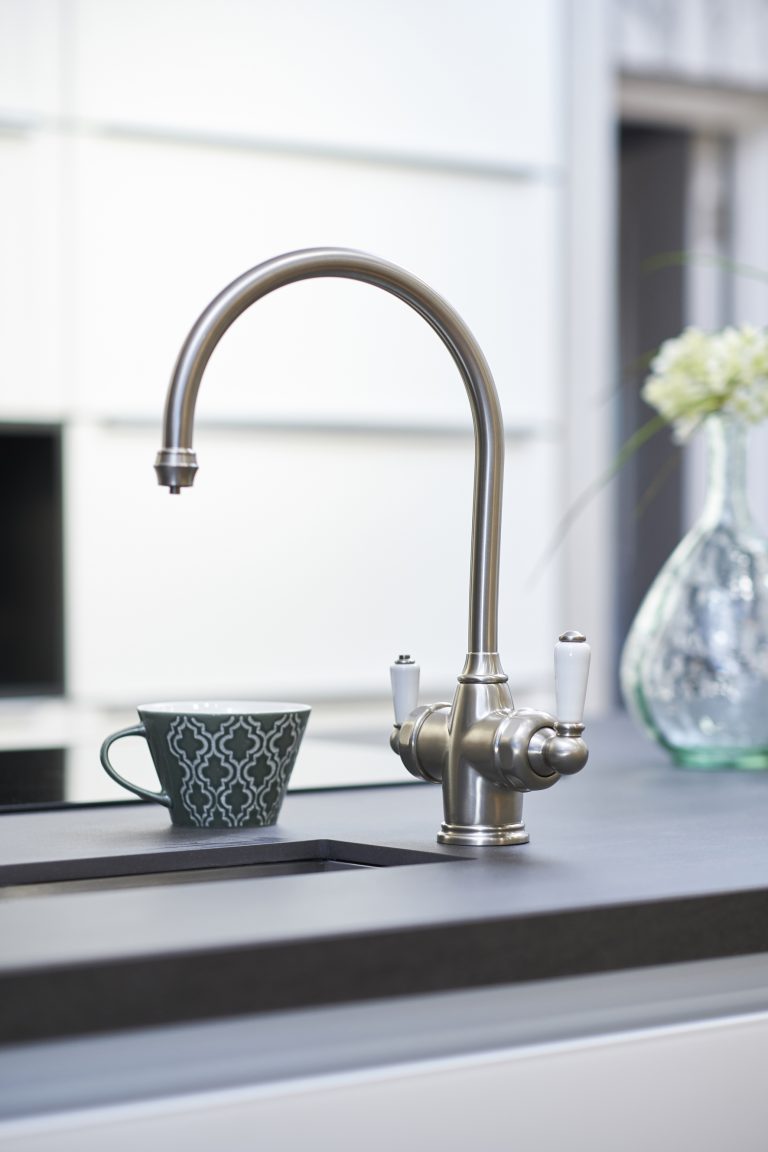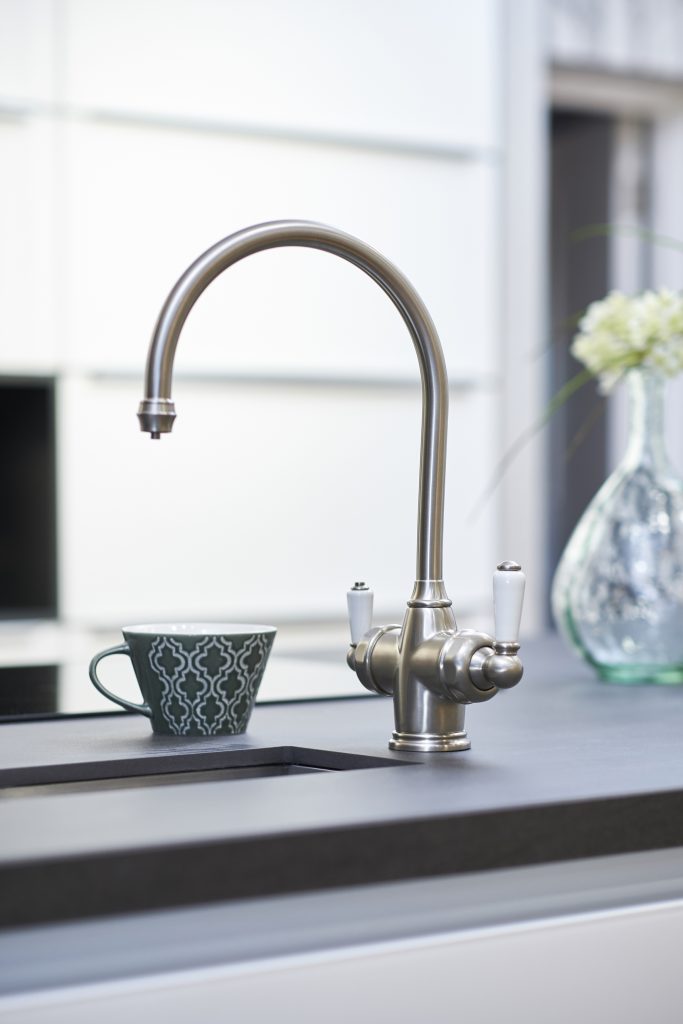 Ever come home from work so hungry that waiting for water to reach the right temperature feels like forever? Because I certainly have.
With a boiling-water tap, that's essentially a thing of the past. Simply fill a pot and pop it on the hob. If it isn't quite hot enough it'll take a minute or two, and hey presto, you're good to go.
In the same breath, you won't need a kettle to make hot drinks.
If you opt for a four-in-one design, it can also help you do away with plastic bottles. And also the heavy lifting that comes with them – after all, you have filtered water right there on tap.
What about the look?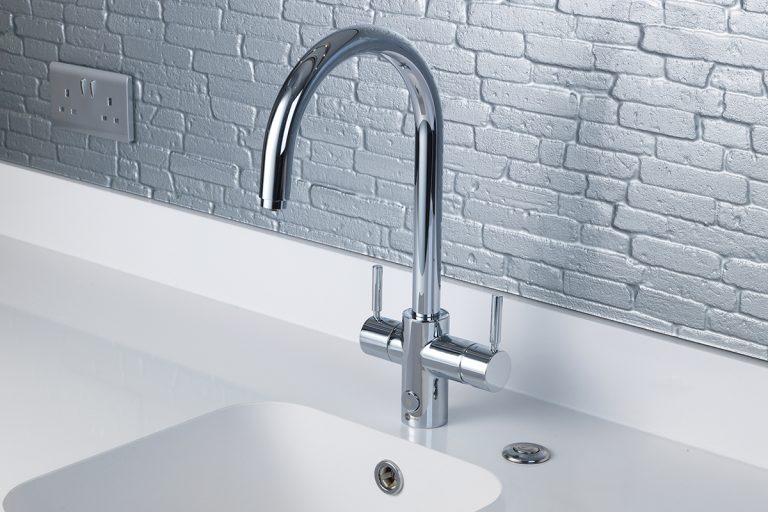 Boiling-water taps come in a range of spout designs – U, L, or J shaped. They also come in contemporary finishes, from classic chrome to dramatic matt black.
What they all have in common is the boiler: it sits underneath the sink and comes in a variety of sizes. Check with the retailer or manufacturer to figure out which one is ideal for you and your needs.
But won't a boiling-water tap need a lot of maintenance?
Apart from safety, keeping the boiler ship-shape is the absolute key. They often don't need much cleaning, but unless you invest in a limescale-control unit, you'll need to get rid of any residue.
Filters also need changing. How often depends on your tap, but it's usually given in litres as well as timeframes of between 6 months and a year.
However, don't worry if you don't feel you'll be able to keep track of that. Quite a few designs – such as Qettle's 4-in-1 and Franke's Omni tap – feature a warning light that flashes when it's time.
So, are you making the switch?
Featured image: Franke's Omni Contemporary boiling-water tap offers many finishes – such as this on-trend copper. From £1646, it dispenses standard hot and cold as well as filtered 100ºC boiling and filtered cold water.
So, did you love this feature on boiling-water taps? Then you'll also enjoy Non-touch taps to keep your kitchen and bathroom cleaner.
About Post Author