Love bold patterned wallpaper? Do you swoon at sea green swirls, or are you a fan of fluorescent florals? Whatever kind of colours and patterns you prefer, we can help you decide how to use wallpaper to best effect. We've asked a wallpaper designer, an interiors expert and a wallpaper buyer to advise you on all prints bright and beautiful…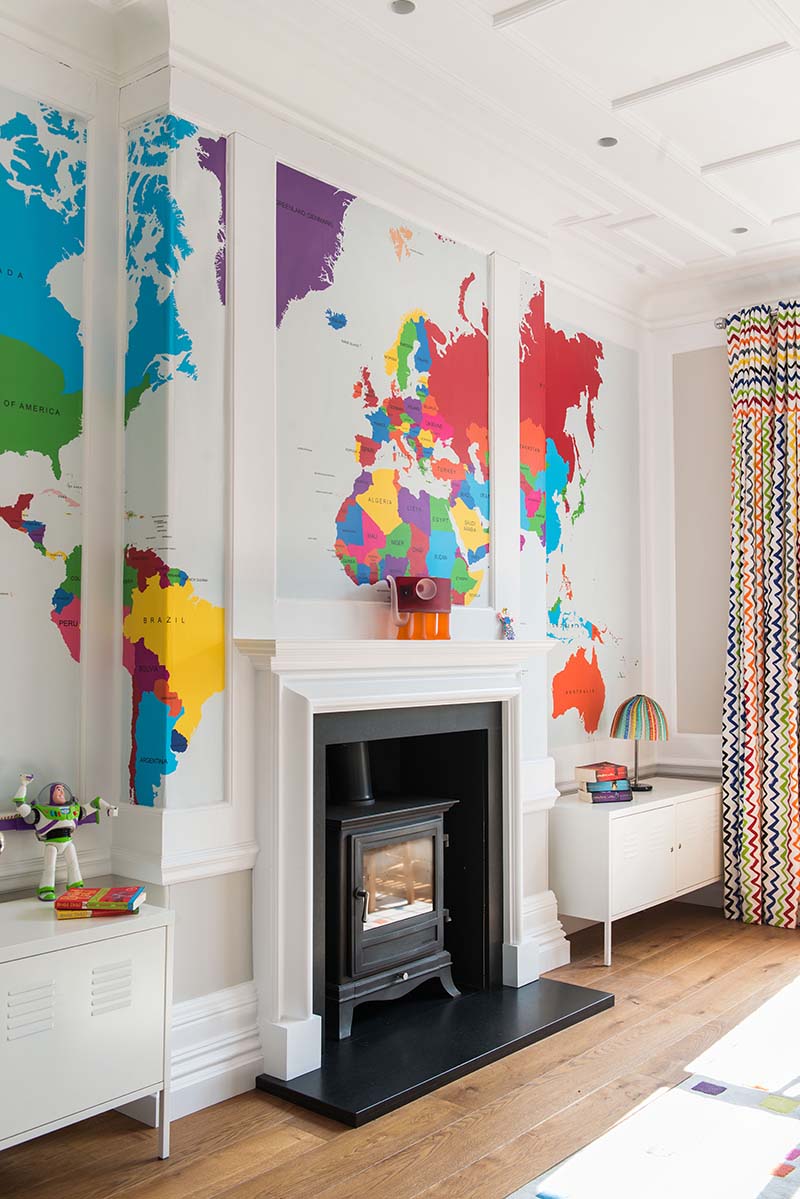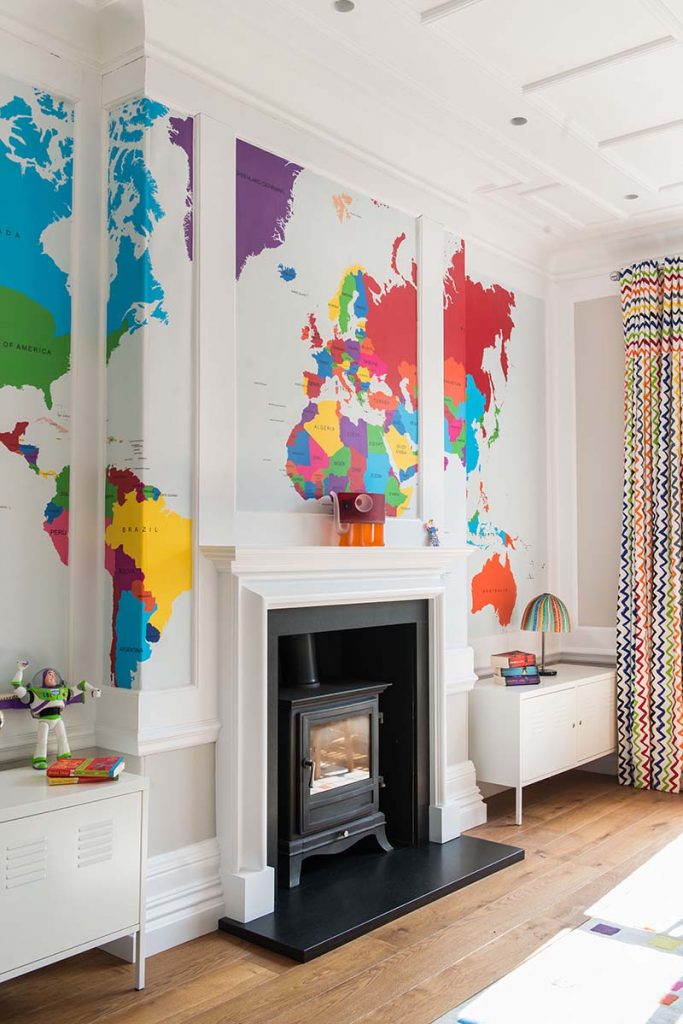 Bright patterned wallpaper is bang on trend this season, but we have questions, and we bet you do too. Firstly, how much is too much? Secondly, how bright is too bright? Thirdly, what are the right colours to use? And lastly, how do you go about hanging the stuff on the wall?
Don't worry: we've got you (and the wall) covered. We've rounded up three experts: Diane Hill, artist and creator of gorgeous Chinoiserie prints; Ann Marie Cousins of AMC Design, an interior designer who loves using bright and bold patterned wallpaper; and Chelsea Clark, Head of Brand at fun wallpaper store Lust Home. So, without further ado, here are all your questions answered…
What if I'm scared of using bright colours on my walls?
"We say go for it!" says Chelsea. "You only regret the things you didn't do! Bright and bold patterns can add character and personality to your space, and our range of wallpapers and complementing paints are perfect."
And she's actively enthused by vibrant colours: "Using bright colours within a space can draw attention to the style of the room as opposed to the size. Creating a dramatic effect, bright colours can work in larger and smaller spaces, giving them the attention they deserve.
"We all know that colour can heavily influence our emotions. Blues and greens create a sense of calm and relaxation, while reds, yellows and oranges can raise energy levels, leaving us happy, stimulated and invigorated."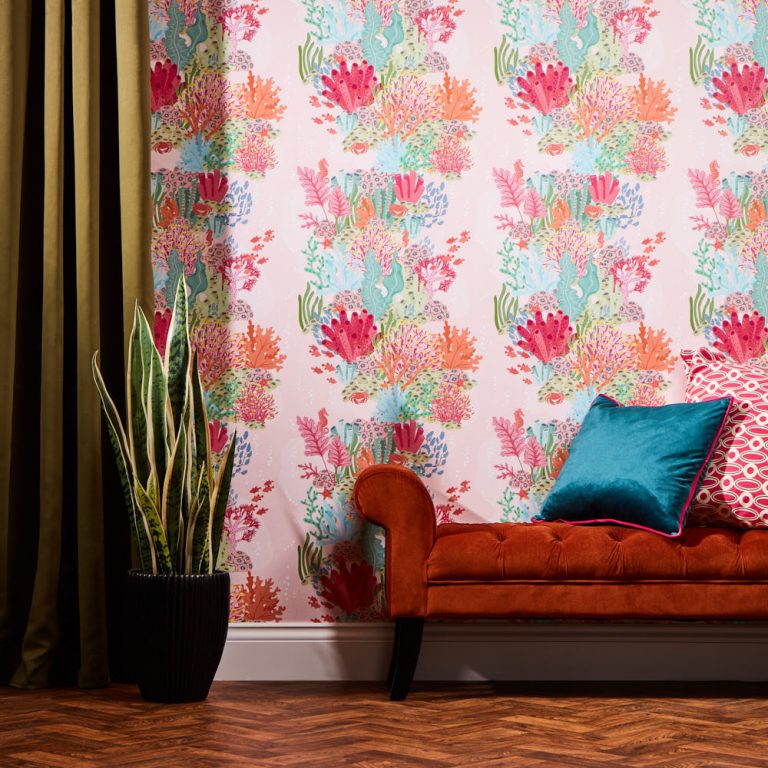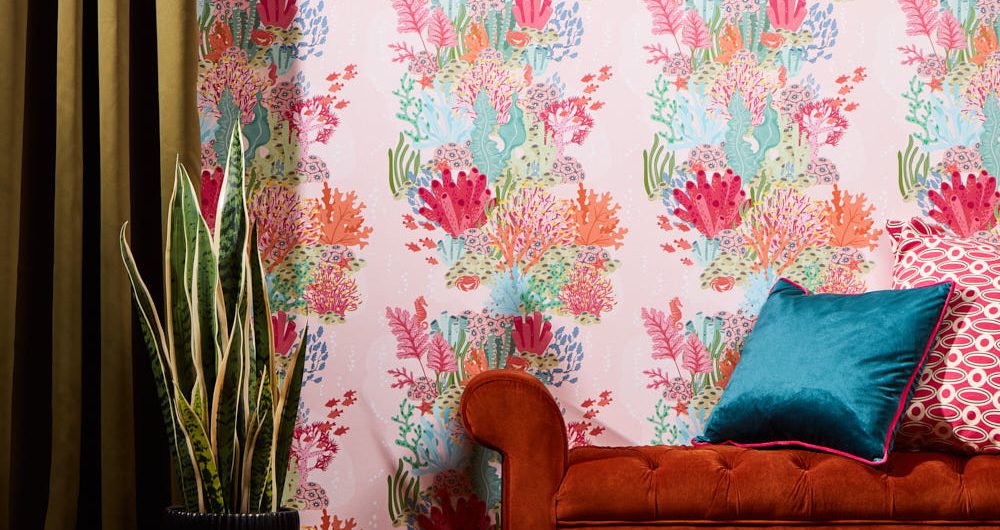 Any more advice on using bright colours?
Diane has great advice for the cautious homeowner: "I think if you start small, it's easier," she tells us. "Start with smaller soft furnishings like cushions or curtains, maybe a bit of upholstery on chairs. You could do a feature wall instead of the whole wall, or even split wallpaper into panels or frame it! If a certain colour makes you feel happy when you look at it, then chances are if you decorate with it you'll love it."
As an interior designer, Ann Marie has wise words to offer: "Though it can feel scary, your walls are a great place to add colour. Plus they're the most affordable thing to change later on if you want to, rather than pieces of furniture," she points out. "I'd recommend ordering a few samples first, tape them to the wall and see if they tie in cohesively with the rest of your furniture, artwork, etc. Live with it for a few days and then decide after that!
"Don't be afraid to be bold with your colour choices," she adds. "You'll never know if you like it or not if you don't try it first. I always recommend being pushed outside of your comfort zone and seeing how it sits in your home."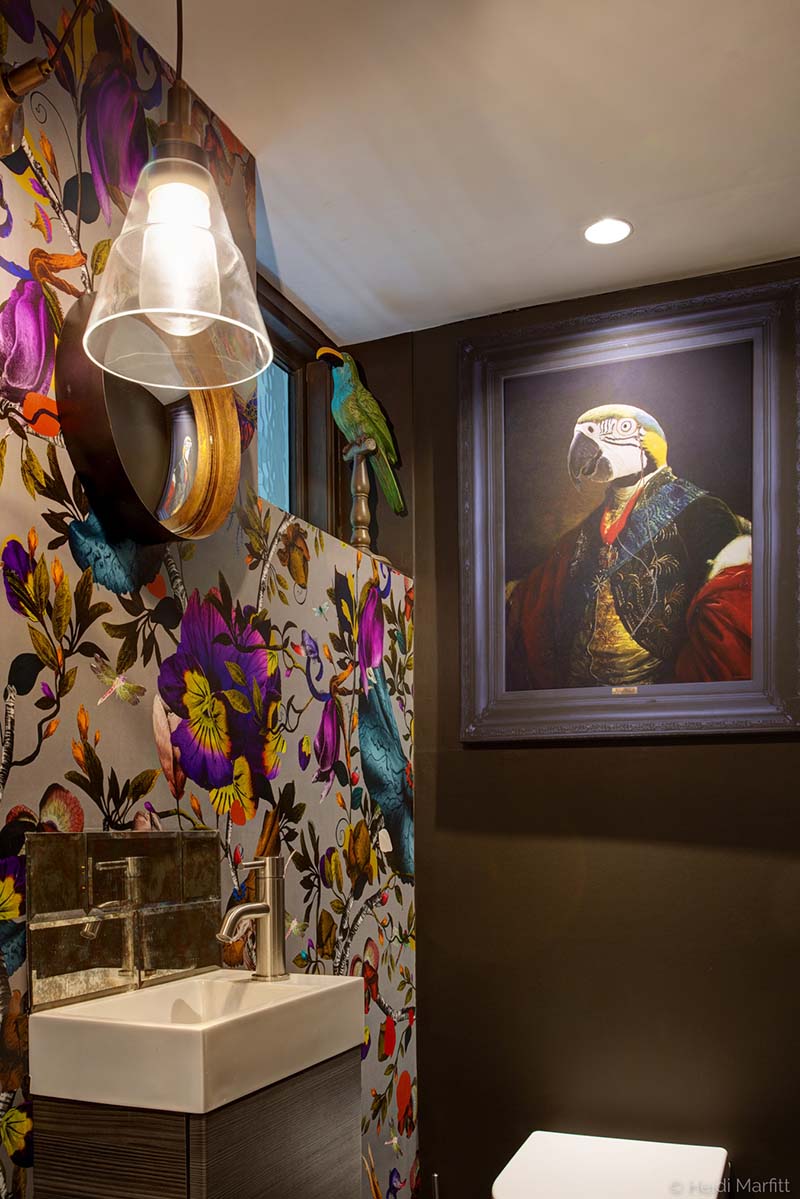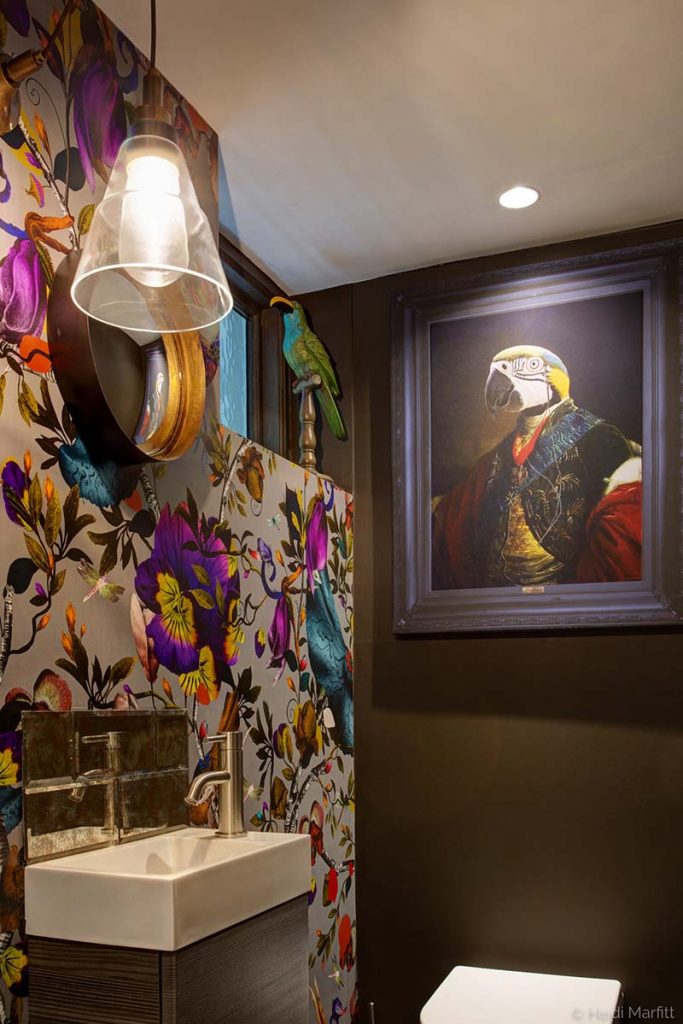 But can you ever use too much colour? Should I keep the rest of the room plain and neutral to help the patterned wallpaper stand out, or can you never have enough bright shades?
Chelsea's advice? "Go bold or go home! We love the maximalist vibe, layering contrasting colours and patterns."
Diane reckons: "It's all about balance. To get a basic understanding of colour, have a look at a colour wheel, and you will see that opposing colours on the wheel are the ones that work together," she explains. "As long as it feels balanced I think you can go pretty wild if you like! But I also love to pair a bold statement wall with a plain wall to really make it stand out. It's all about personal preference."
Ann Marie agrees: "I never say there is a limit on the colours you choose – it's all about personal preference as it's your home, no one else's! We specialise in mixing colour, pattern and texture, so no colour combination is too much," she assures us.
And if you want to make your wallpaper stand out over anything else in the room? "A great way is choosing a wallpaper with a larger print to draw the eye towards the walls as soon as you walk in."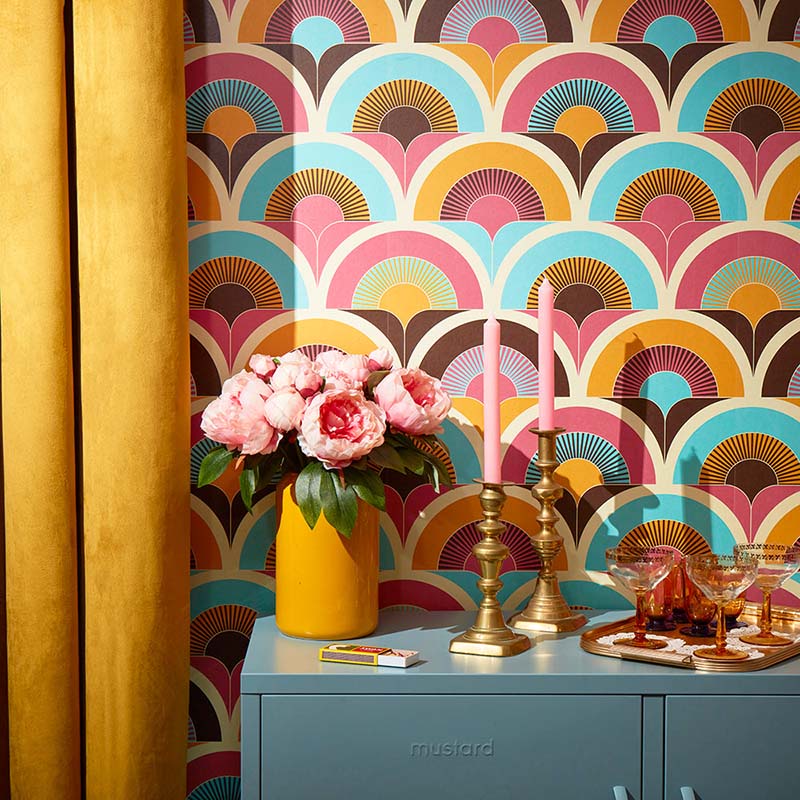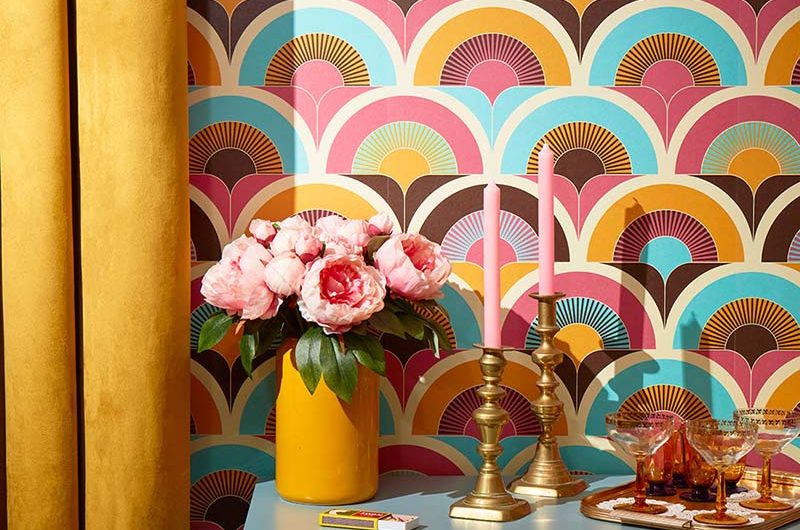 Can bright patterned wallpaper make a small space feel more enclosed, or can the opposite be true?
"We think the opposite. Using the right colours can open up a small space, ensuring it receives the attention it deserves," Chelsea promises. "Opt for lighter bright colours such as orange, pink, turquoise and yellow to really open up a smaller room."
Diane offers her personal experience: "Crazily enough, my Florence wallpaper is installed in my bedroom on all four walls, and it makes it feel a lot bigger! At first I feared it would really close it in, but it creates the feeling of a magical forest. It's almost as though you can see through and beyond. I think darker tones are more likely to close a room in than bright. Often this is the cosy feeling people are going for when they choose a dark colour for their walls."
Ann Marie reassures us: "Don't feel restricted because of the size of the room," she insists. "Instead, be smart about how much space you have and choose the right wallpaper. In a cloakroom or utility room, for example, you might opt for a darker pattern and wallpaper every wall. This can give the illusion of space rather than making the room feel smaller."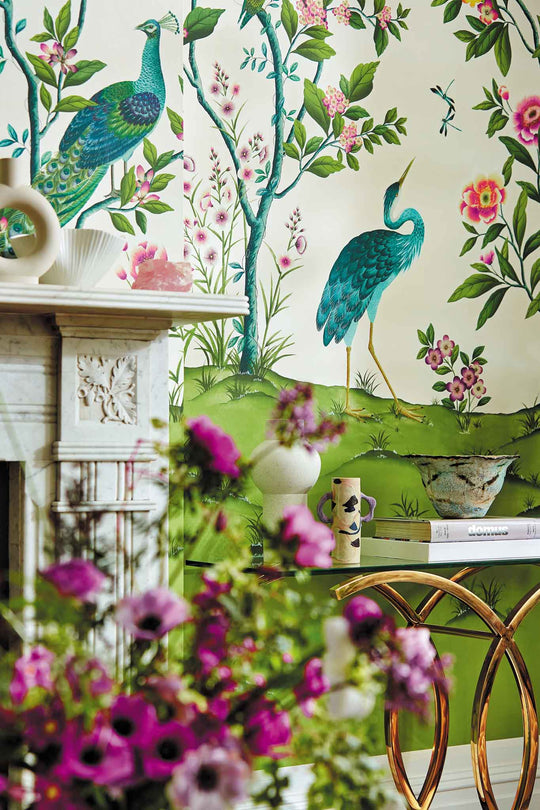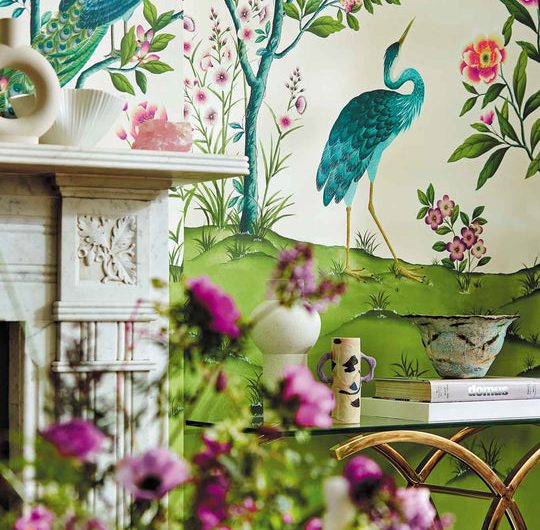 Are there patterns and colours that work particularly well? And are there any colours or patterns you'd avoid?
"When it comes to colour, we love a clash," Chelsea explains. "Think pink with green and blue with orange. We're all about pattern clashing too – check out our 'Happy Birthday' wallpaper, featuring a collage of our bestselling and favourite wallpaper designs."
Diane reveals her favourite colours: "I love the colour blue so much, as it gives the feeling of space and tranquility," she enthuses. "It is globally the most loved colour, I think because of the sky and the sea – it makes you feel connected to the Earth."
But she isn't into all colours: "I don't really use red, black or earthy tones. I avoid them personally as they don't evoke the joyful and uplifting feeling that I hope to achieve in my designs."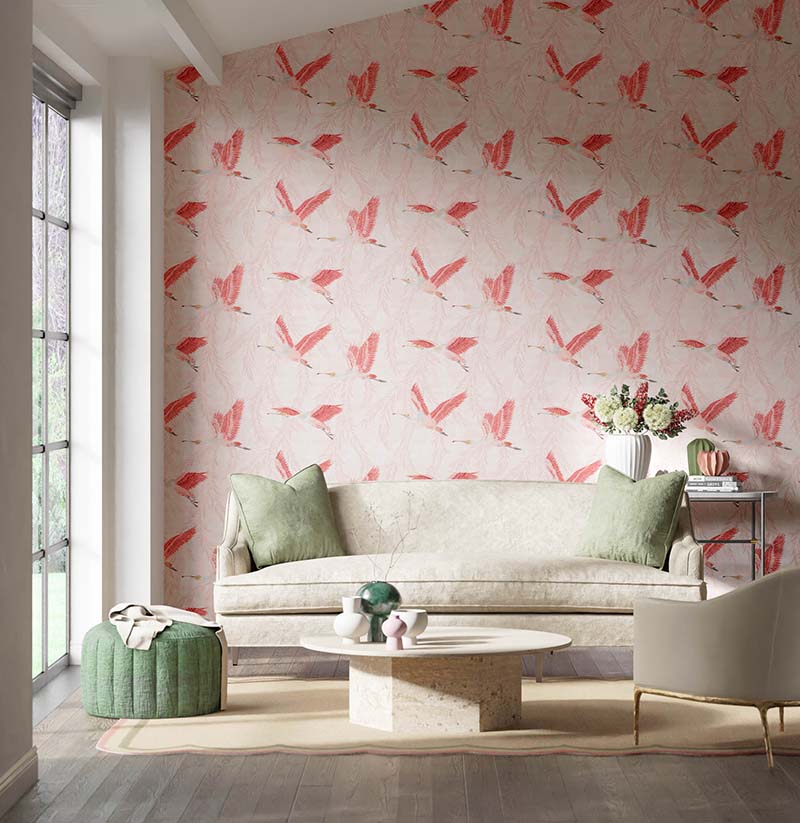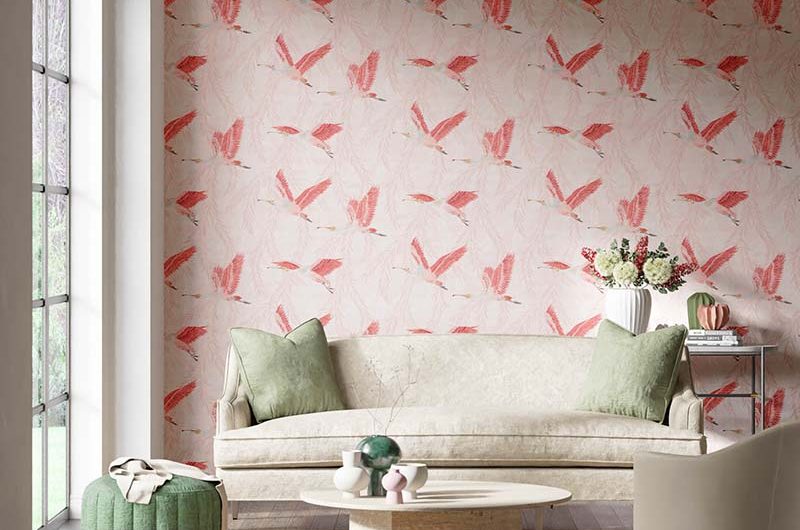 Any more advice on colours and patterns to choose or avoid?
Ann Marie is also a fan of the colour wheel. "Knowledge of the colour wheel is helpful when choosing your scheme, she tells us. "It will help you understand the do's and don'ts of colour pairing. There aren't necessarily colours to avoid as it's all about personal preference. However, a great way to choose patterns and colours is by using the room's natural light as an indicator. In addition, not all wallpapers have to be really busy or bold. You can opt for something simpler which will also have a great impact."
She thinks it's a personal decision: "We all have such emotional connections with colours which we have to bear in mind. I'll never use dark brown liberally in my home, as I wore a dark brown school uniform for years and hated it! This is why our schemes always reflect a client's personal preferences – because their homes have to reflect their story. The same is true for patterns. Some clients don't like birds or insects, so any heavily patterned wallpapers for their homes must avoid them. It's my job to push clients further than they would go on their own, but I always bear in mind our clients' preferences."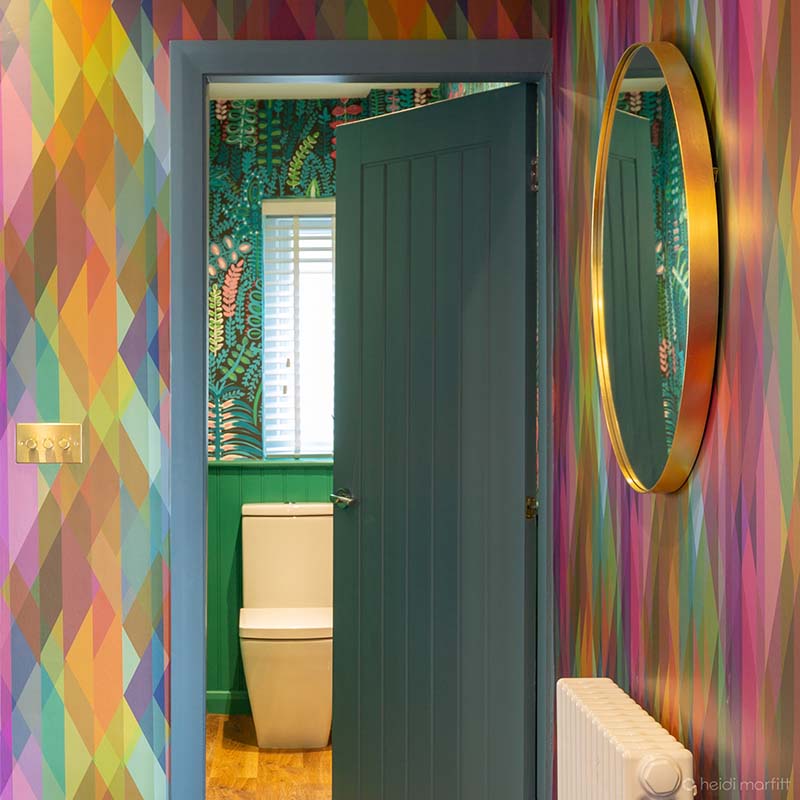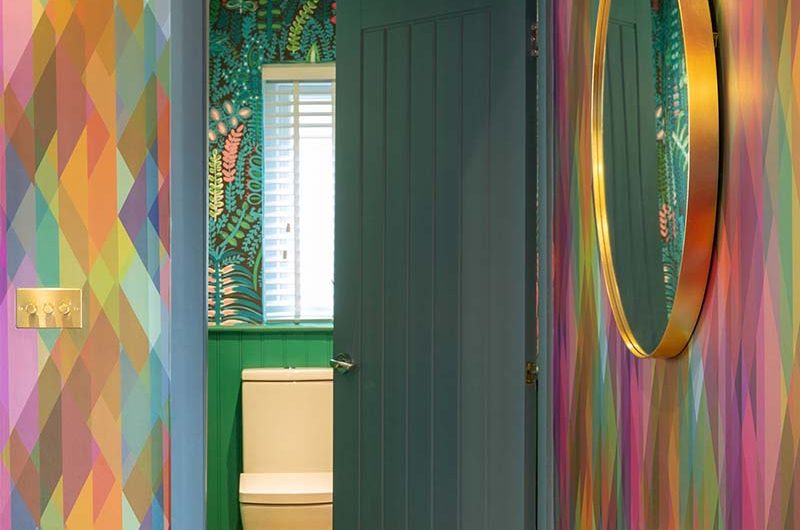 Okay, I'm sold on bright patterned wallpaper. Where do I start?
"Before you make your decision more permanent, we always recommend ordering some wallpaper samples and popping them on the wall for a week to get used to the colour in your space," Chelsea advises. "If you've chosen to only decorate one wall, put up paint samples too. All of ours are peel and stick so no added mess."
"I like to plan things," says Diane. "You can get basic cut-and-paste apps where you can lay things out like a mood board just to give you a feel for the balance." [Try Morpholio Board, available from the App and Play stores.]
Ann Marie gives her designer's perspective: "Before ordering wallpaper, think about your design scheme as a whole and make sure you know what the room is being used for and how much light it has. Natural lighting will have a huge effect on how the colour and pattern looks, and it may end up looking totally different to how you imagined."
She adds: "Also, the different spaces in your home need delineation. However, there needs to be a thread that ties it all together. If you're set on your larger pieces of furniture, such as a sofa, headboard, dining table, etc, then consider the colours and patterns before choosing a wallpaper to make sure it all works together."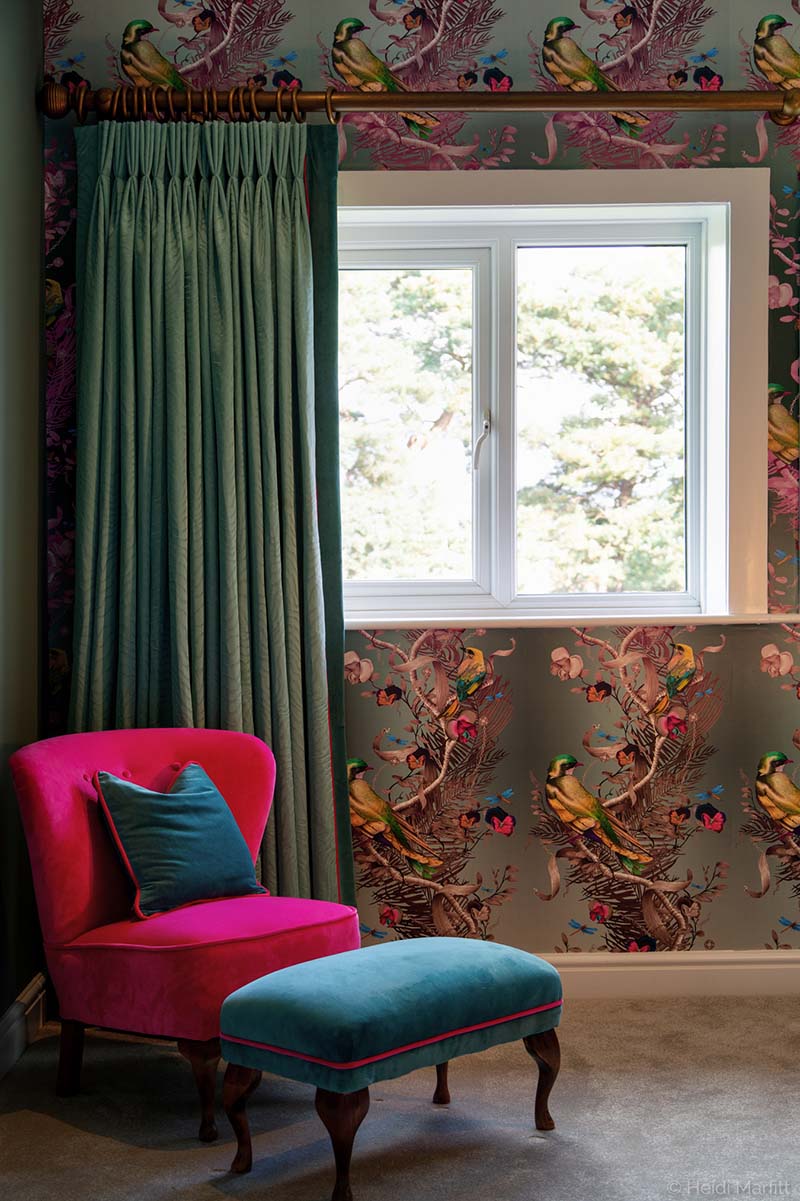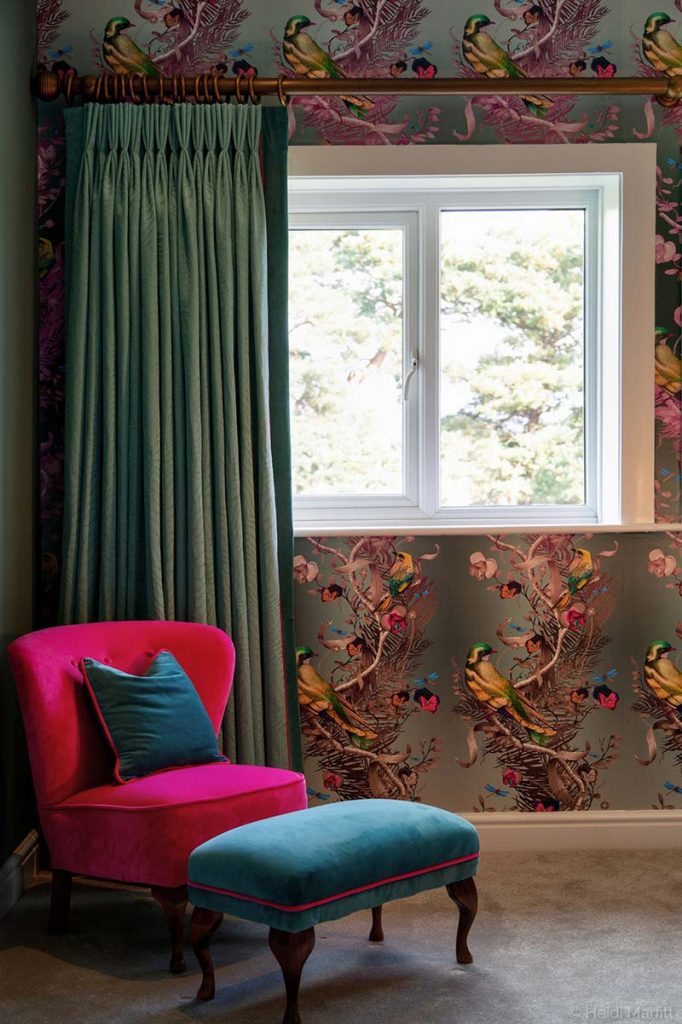 Sounds good. How do I actually hang wallpaper though?
"The first place to start is prep," says Chelsea. "Make sure any holes have been filled and sanded, and your wall is cleaned with sugar soap. Now you're ready to start wallpapering! Begin in the centre of your wall, marking the centre point with a pencil. Then ensure you have enough wallpaper by mapping out each length. When you're ready to begin, draw a centre line from the top to the bottom of the wall – this will ensure your first length of wallpaper is straight. Hang the wallpaper following our foolproof method here."
She adds: "Our Lust Home wallpaper is all paste-the-wall, which in our opinion is the easiest way to apply wallpaper. It's super speedy, easy and a far less messy way of wallpapering, especially for beginners or DIY-ers."
But Ann Marie doesn't think you should do it yourself. "Professionals all the way when it comes to wallpapering, in my book. I'm happy to wield a paint brush, but beautiful wallpaper is generally £££ so I'm not prepared to take a risk with it!"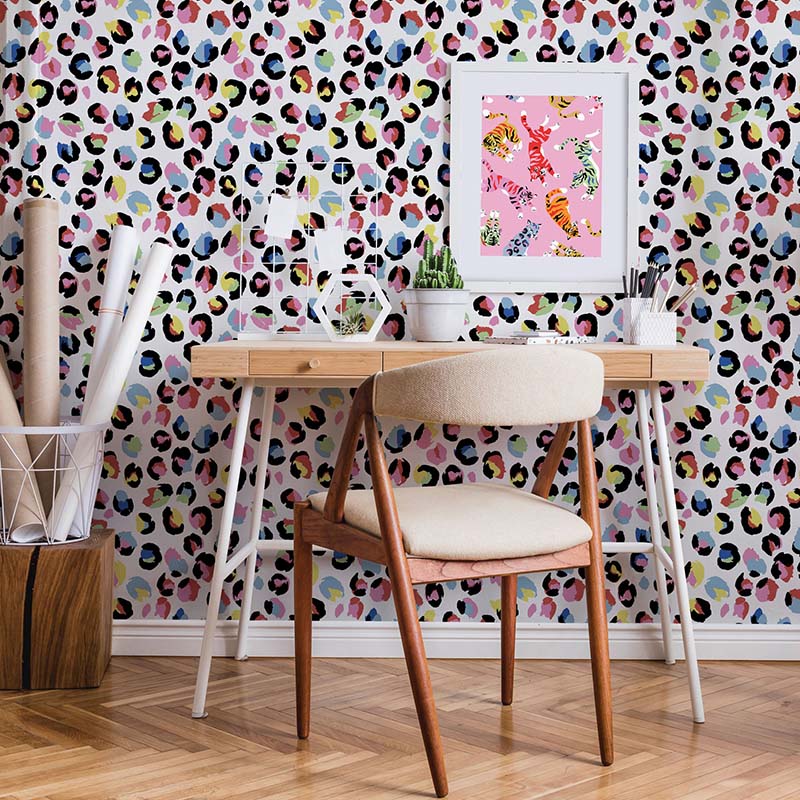 Right, I'm ready to get started. Three, two, one…
So there you have it: that's all our best advice. Now go forth and choose your patterned wallpaper. Be brave and take risks with colours and prints of all sizes and shapes. Remember: when it comes to design, fortune favours the bold. Have fun shopping, browsing exciting patterns and collecting wallpaper samples – this is the best bit. Rest assured there are no wrong decisions. Then either roll up your sleeves and get pasting, or leave it to a professional. We're sure you'll love the results – but if not, they're relatively easy and inexpensive to fix.
Want to read on? You'll love Georgina's feature on kitchen wallpaper.
About Post Author