This home refurbishment now has the best of both worlds: the ground floor is perfect for entertaining, from dinner parties to groups of friends gathered to watch the football. While the new loft conversion provides a tranquil and restorative retreat. I don't know about you, but I think this couple has definitely got the balance right.
The property is a third-floor flat in Swiss Cottage, north London, which the pair purchased as their first home together. With plans to give it a full refurbishment and a recommendation from friends for interior designer Cat Dal, they challenged her to create a light-filled, grown-up scheme. Fancy finding out how this all came together? A journalist I work with at KBB Magazine, Catherine Edwards, spoke to Cat, and here's what she had to say…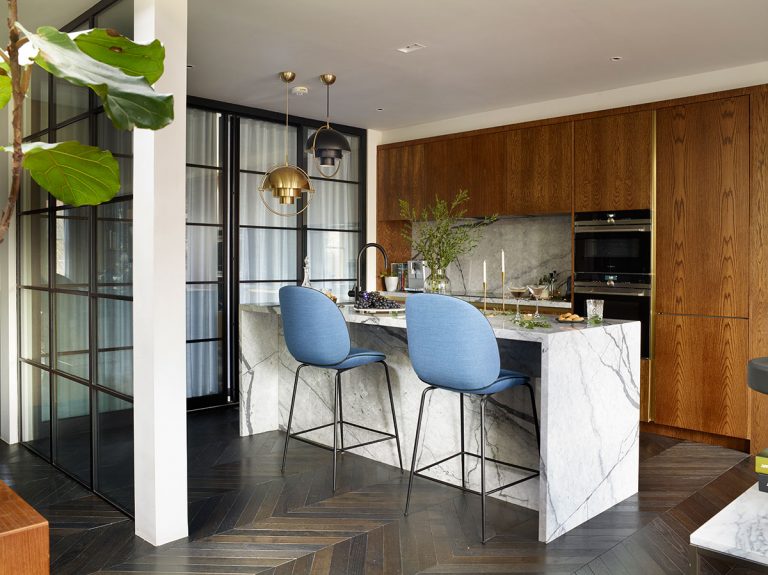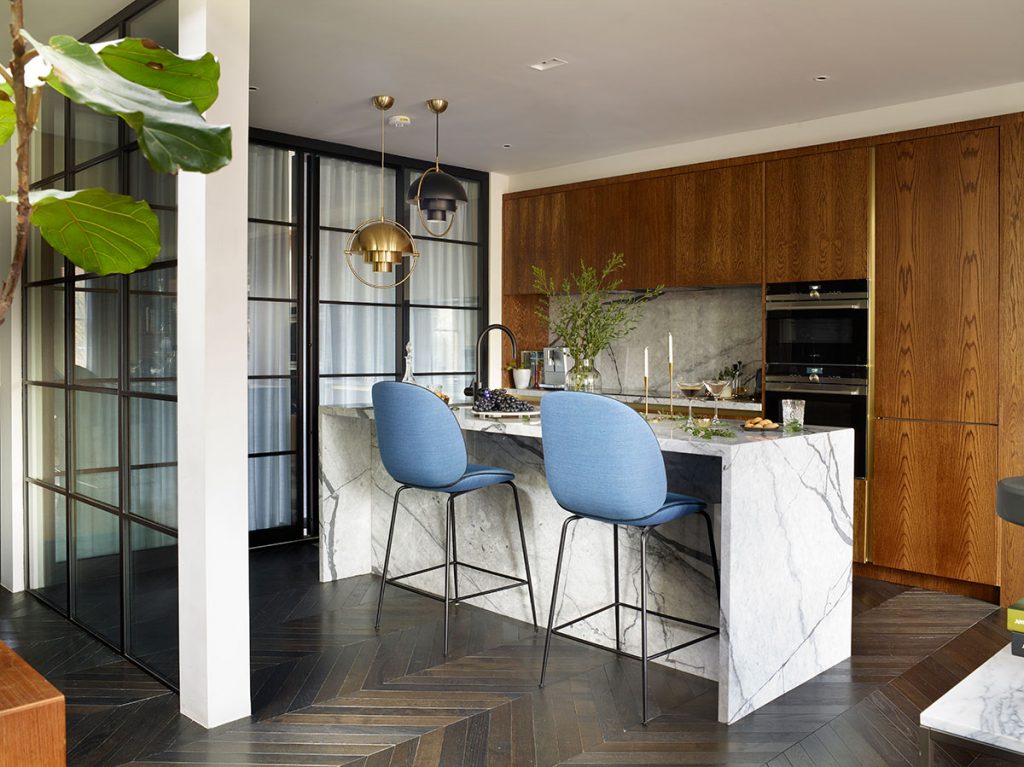 The design brief
"The one-bedroom flat had an unused loft, cramped configuration and dated interior, so the couple looked to transform it so it reflected their lifestyle. First off, we spoke about things they enjoy – for example having their coffee in the morning, a quiet reading place, hosting friends, watching football, or dinner and drinks." (Sounds pretty idyllic to me!)
"The couple also wanted more space, and to make the most of the views of Primrose Hill, hence the decision to go up into the loft. They needed a spare bedroom, for overnight guests and in case they ever had children – but as space is limited in London they asked for it to be multi-functional."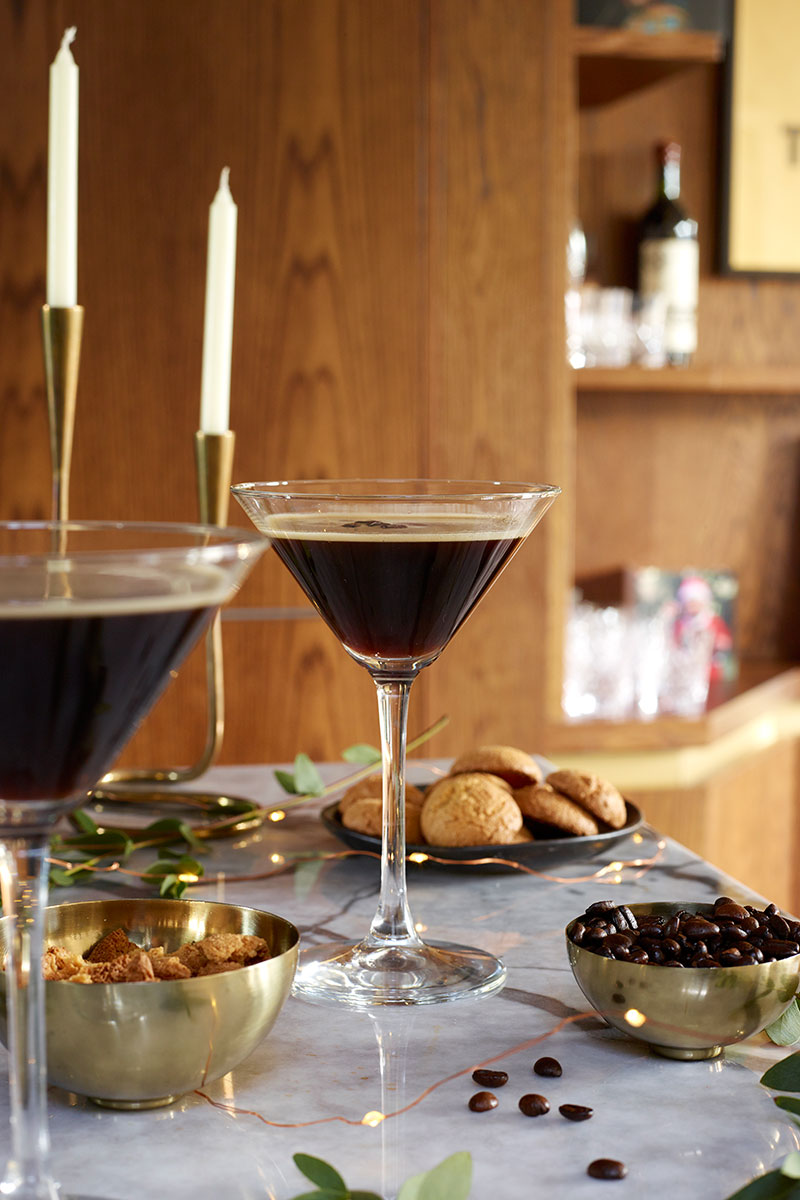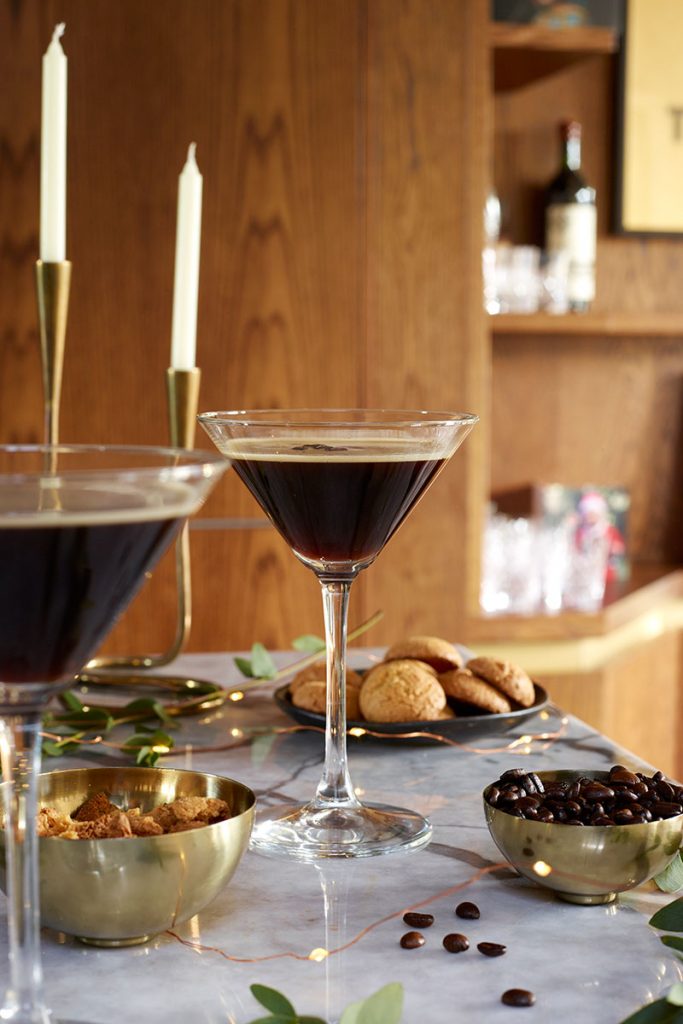 "A sociable and open-plan kitchen was especially important: a large island with seating was a must-have, plus they requested a comfortable and easily accessible dining and living area closeby too."
Creating the space
"I became involved after planning permission for the loft conversion was granted and collaborated with DrawArchitects to work out how big areas in the flat, such as the kitchen and bathroom, would be. The job was huge, messy, and dusty, so the owners rented elsewhere until all works were completed.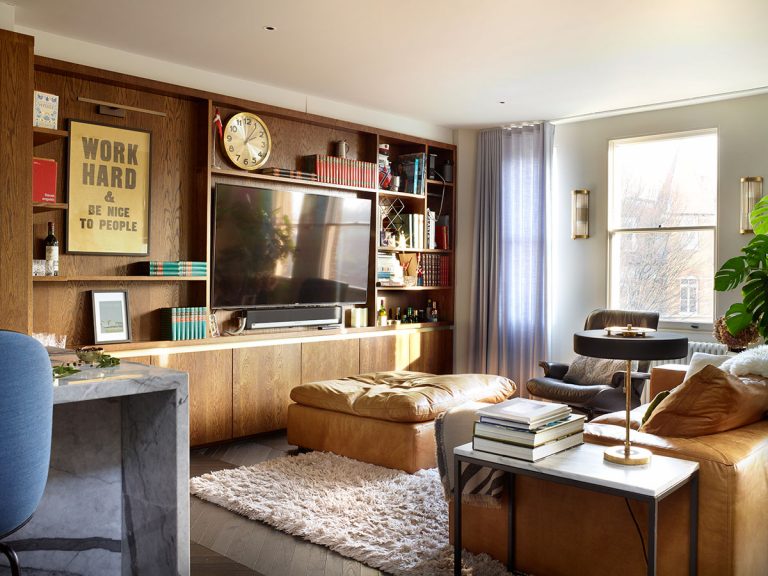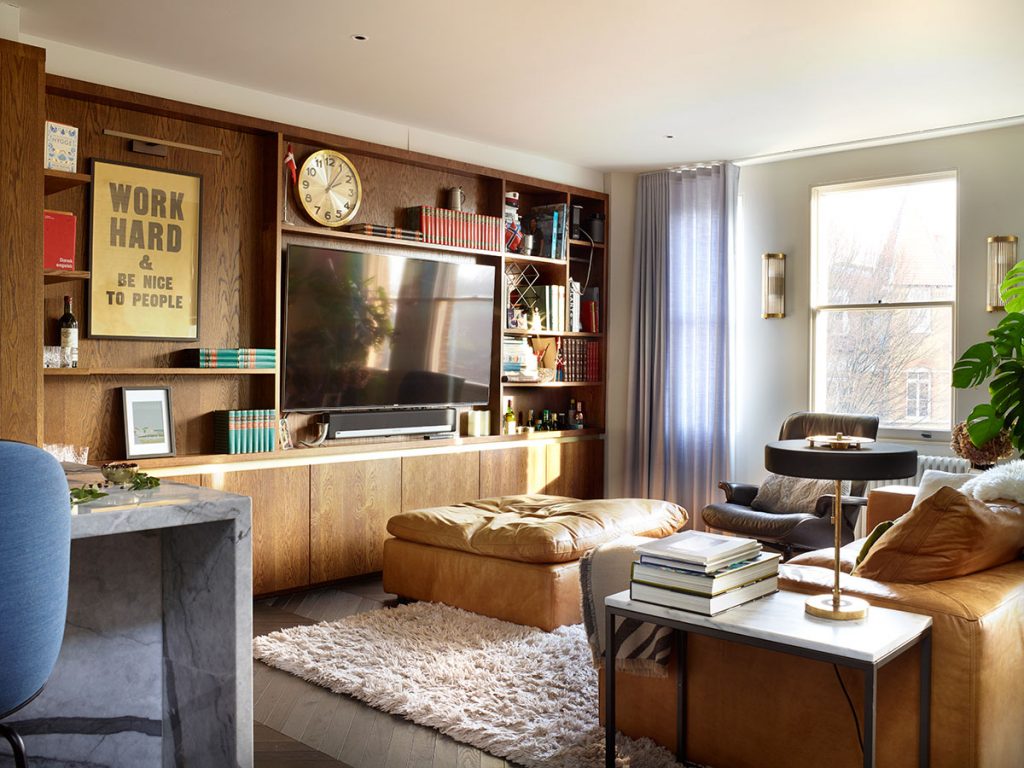 "We started with stripping the place completely, which took about a week. On the main level, the old walls were taken down to create an enormous open-plan space for living, cooking, and dining. A new partition was added to create a guest bedroom – but we didn't want to entirely close off the space, so used interior glazing instead of a solid wall to create separation. This allows the room to be opened up, but curtains ensure it can become more private when needed."
"On the same floor, I designed the kitchen joinery to create good flow and ensure it didn't feel disjointed. I thought it was important to have one long run of furniture stretching from side to side through the entire flat – this keeps an open-plan feel and helps the kitchen blend into the media unit in the living room, which in turn makes the space seem bigger."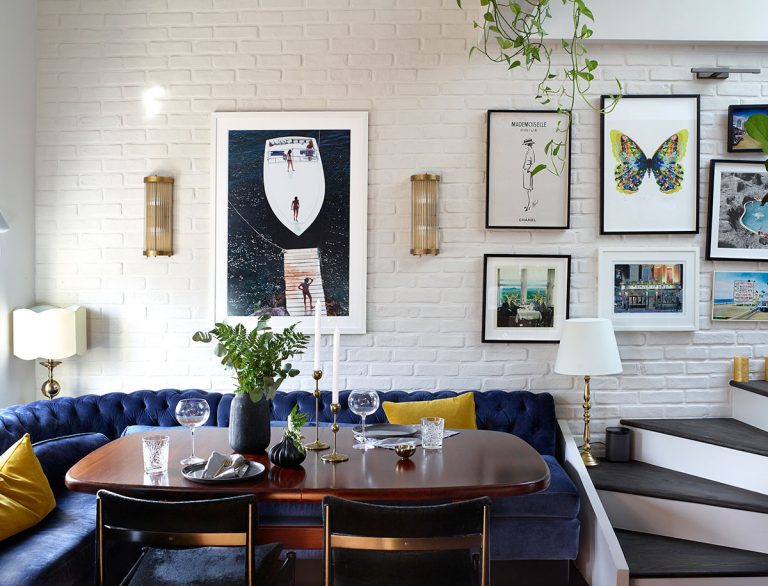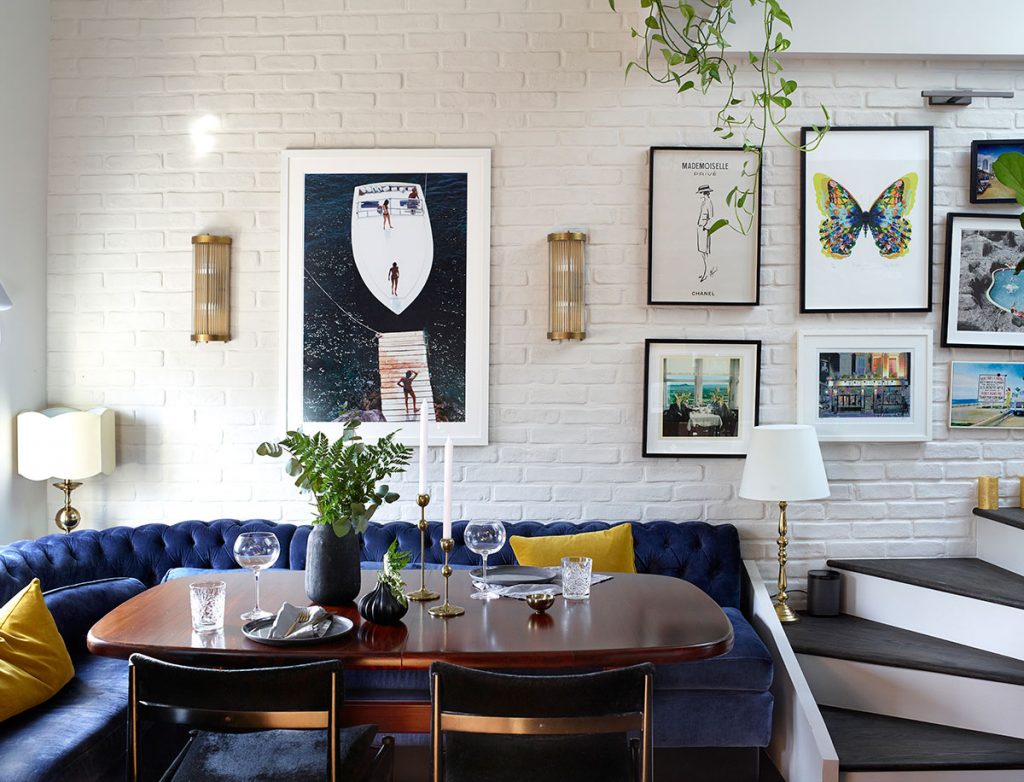 "For the dining area, we considered how they wanted people to sit. The couple love spontaneous parties with varying numbers of guests and didn't want storage for chairs, so we had the bespoke banquette made instead.
The next stage
"Away from the entertaining space, upstairs had to be more of a retreat. Throughout, I had some important things to prioritise – including creating a lot of space, making sure there were blackout blinds to stop too much light getting in, and adding air conditioning as loft conversions can get very warm.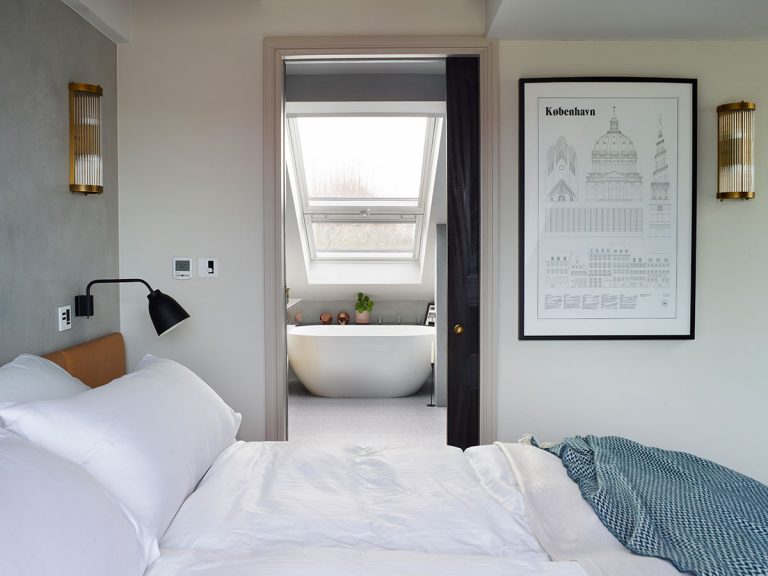 "When it came to the bathroom layout, I suggested placing a bath under one of the dormers because I thought it would be a good use of the space and you can look out over the park from the tub. The couple also wanted a separate shower, plus his and hers basins next to the bath. In the bedroom, we used a calm palette with earthy tones – including tadelakt, or Moroccan plaster, on the walls, which is offset by the soft curtains and the leather headboard. It's cosy and relaxed, but also feels luxurious."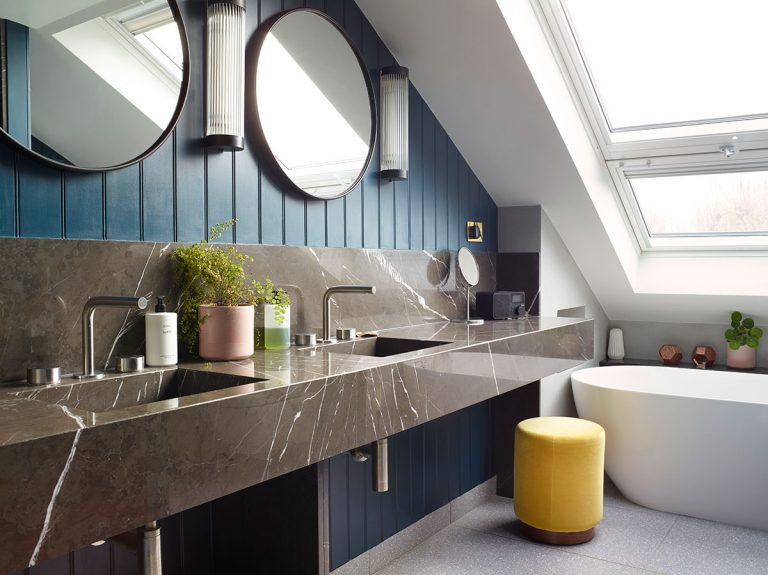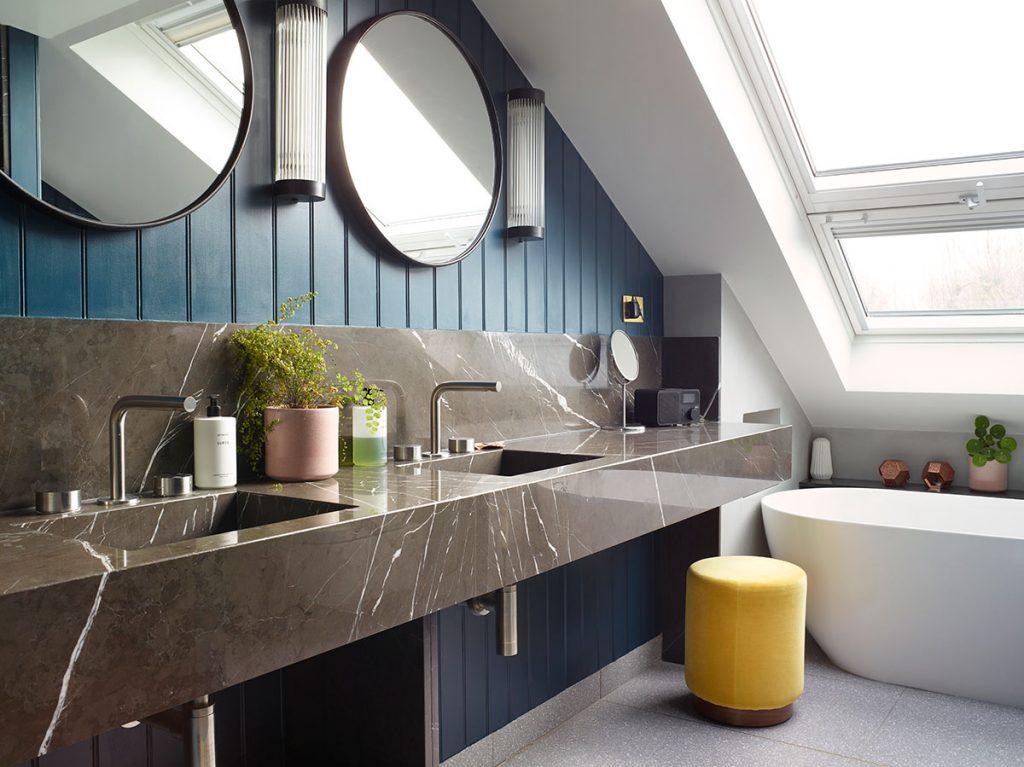 Finishing touches
"As this is a top-floor flat there is no garden, but the couple love greenery – so we made sure there was a feeling of bringing the outside in by creating spaces for plants and filling the rooms with a lot of them. This is paired with the mixture of textures, such as the brick slips across the back wall in the kitchen-living-diner, which makes it feel both rustic and luxurious."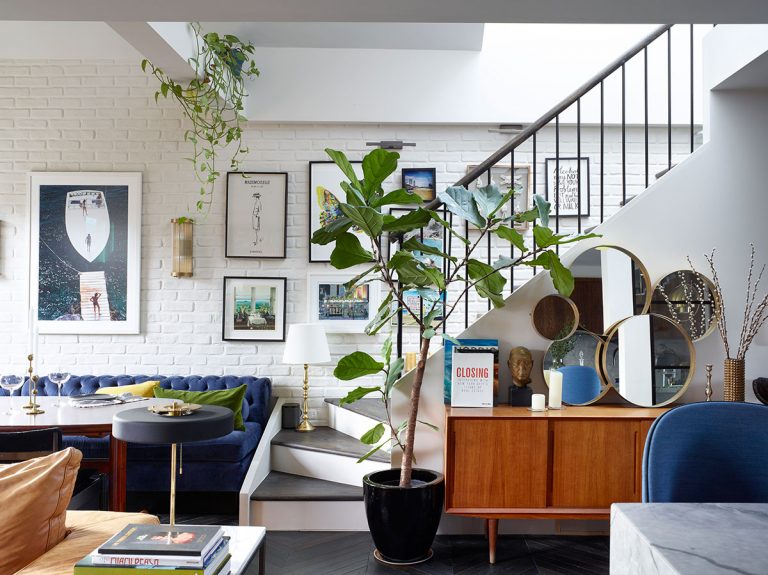 I love how the couple have created a place to relax, feel comfortable, and – of course – be entertained. What more could you want?
Special thanks to Catherine for interviewing Cat.
Photography: Rachael Smith
Featured image: The open-plan kitchen-living-diner mixes materials and textures to create a really personal space.
This error message is only visible to WordPress admins
Error: No feed found.
Please go to the Instagram Feed settings page to create a feed.
About Post Author