Have you ever seen a colourful house like this? I know I haven't! From the glass floors, parquet-clad stud walls, Art Deco bedrooms, industrial elements, Mid-century furniture, yellow and petrol blue kitchen cabinets, and a fireplace that wouldn't look out of place in the 60s sci-fi cartoon classic The Jetsons. (No one could ever say this decor was boring, that's for sure!) It's a complete mishmash of cool, and I love it.
But what I also admire is that, despite the different cocktail of design elements, homeowner Lucy Kemp (@victoria_road_restoration) has created a colourful house that flows seamlessly from room to room, showing off her and her husband Dan's personalities to a T.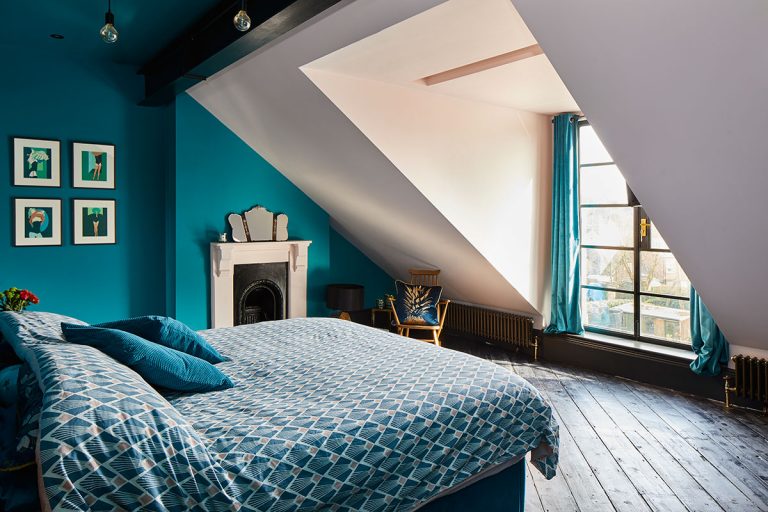 However, Lucy tells me that when they got the keys to the property, it was in a dire state of affairs. The Victorian home had to be stripped back to its bare bricks, and they certainly found a few problems along the way – including the structurally unsound, too small foundations holding up the rear of the property. At one point, only the outer shell was standing. It was a long way from being the gorgeous colourful house it is now.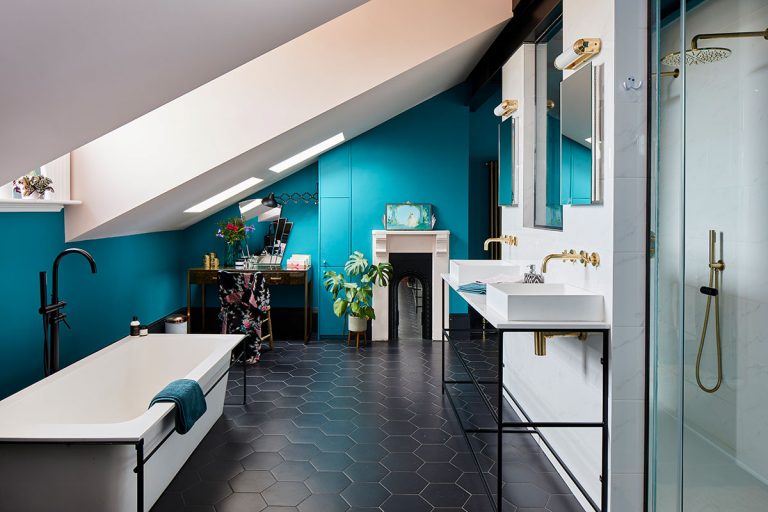 However, the real reconfiguration happened on the third storey, which has become Lucy and Dan's boutique-style open-plan master suite. Which is super dreamy. Originally the space comprised two bedrooms, a landing and a kitchenette. They decided to take the walls down and then put up the parquet-clad stud wall the bed sits against. Such a lush addition to this colourful house.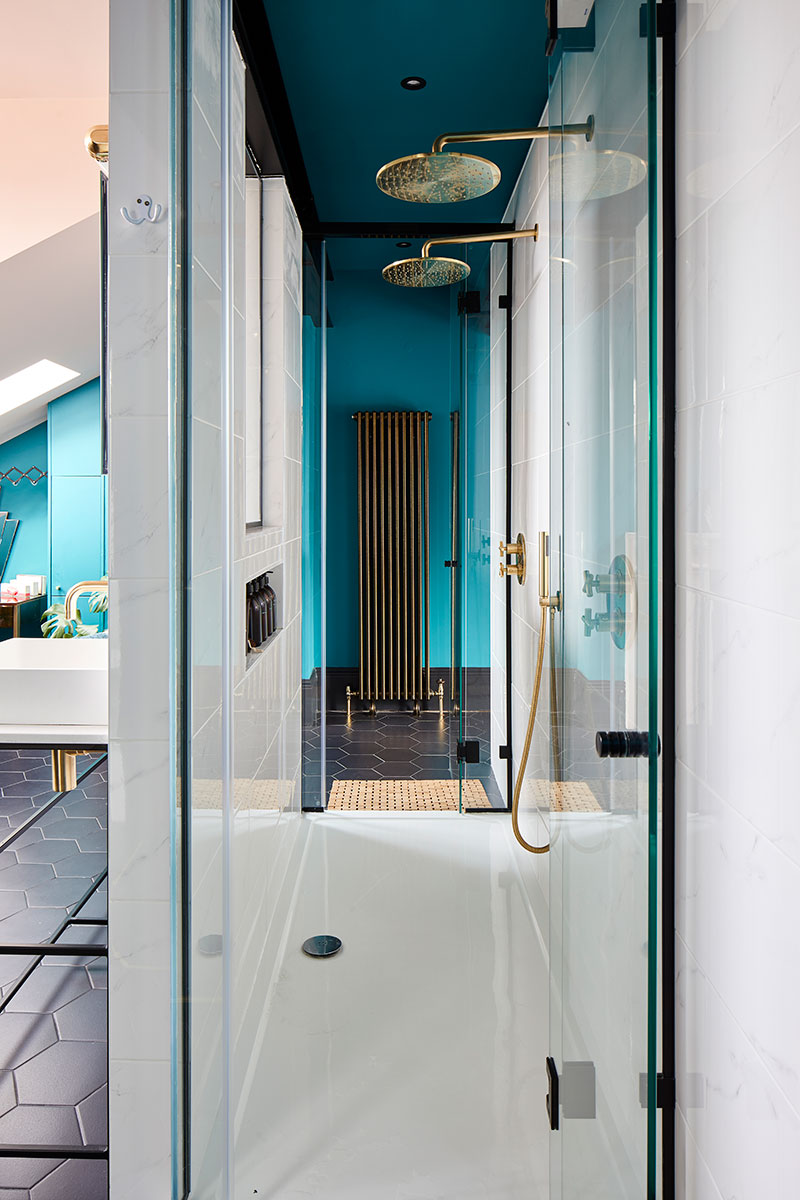 What inspired Lucy and Dan's renovation?
I ask where the inspiration for the incredible decor came from. Lucy explains it was a combination of nice holidays and hotels they stayed in over the years. They knew they wanted a big bedroom with plenty of storage and a bathroom that would act as a sanctuary. I mean, who can blame them?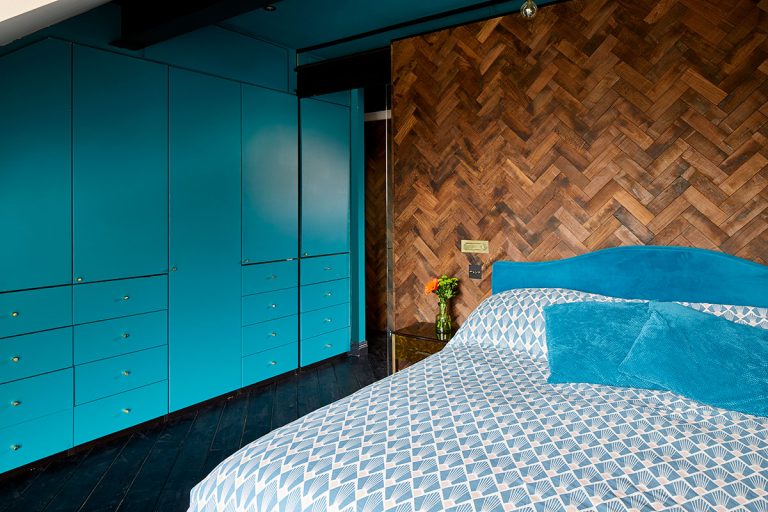 Dan and Lucy can access the ensuite – created so they can use it together, with the double basins and a twin shower – from either side of the bed. The colour scheme, a striking combination of teal and pink, was also a joint effort. Some fine teamwork there in this colourful house!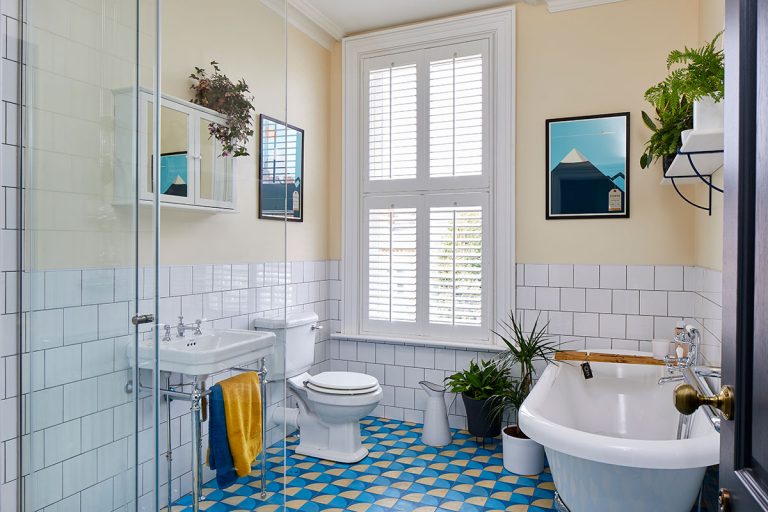 Going big in this colourful house
As for the kitchen, daring to go big was their motto – and with a 10 x 6.5m rear extension, it seems like they stuck by it! Lucy explains they wanted it to be a contemporary space, perfect for entertaining. Also on the list of must-haves were a large island, a concrete worktop, and steel-framed glazing. (Lucy tells us that as they are interiors obsessed, this wishlist was non-negotiable in their colourful house.)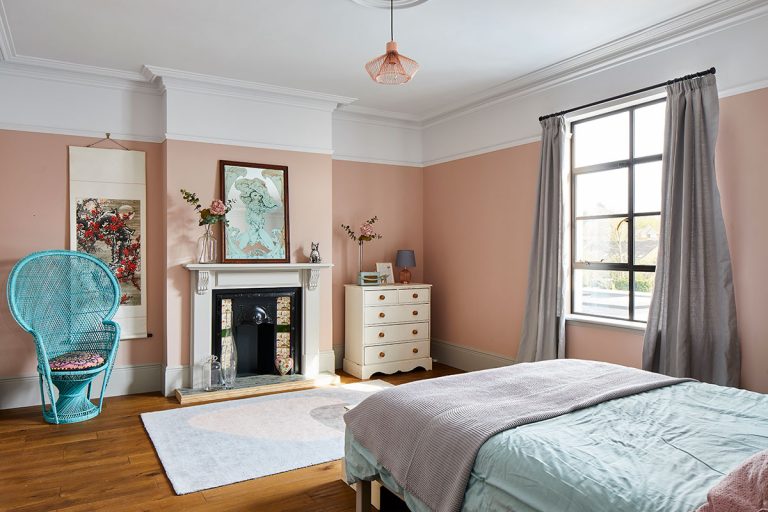 A local joiner created the kitchen. It features off the shelf carcasses with bespoke colourful plywood fronts. Lucy chose yellow – her favourite colour – and Dan wanted petrol blue, which is his, and they drew out where they wanted each shade. (More fantastic teamwork.)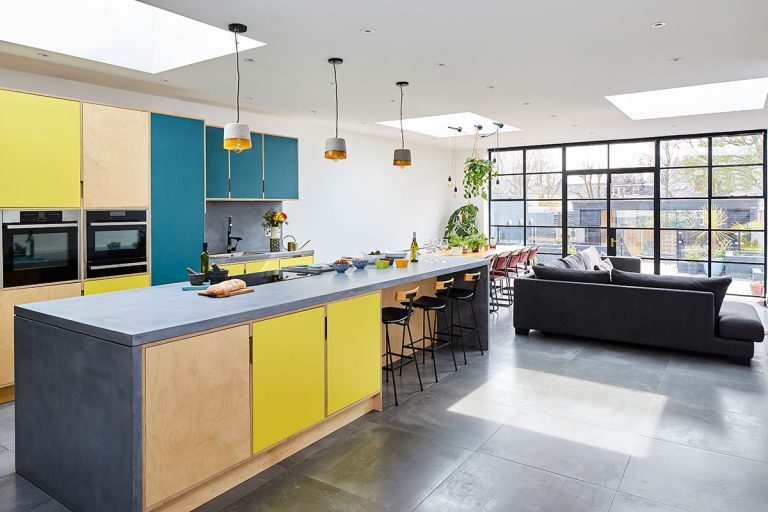 Despite the large cooking zone, the kitchen also has enough space for a snug with an L-shaped sofa and
a 12-seater table – made from the old roof beams – which sit directly below a lightwell. Incredibly, they covered the island with a concrete worktop so heavy it took 16 men to install it. This was then complemented by the concrete-effect large-format floor tiles that help connect the three zones.
The stunning finished kitchen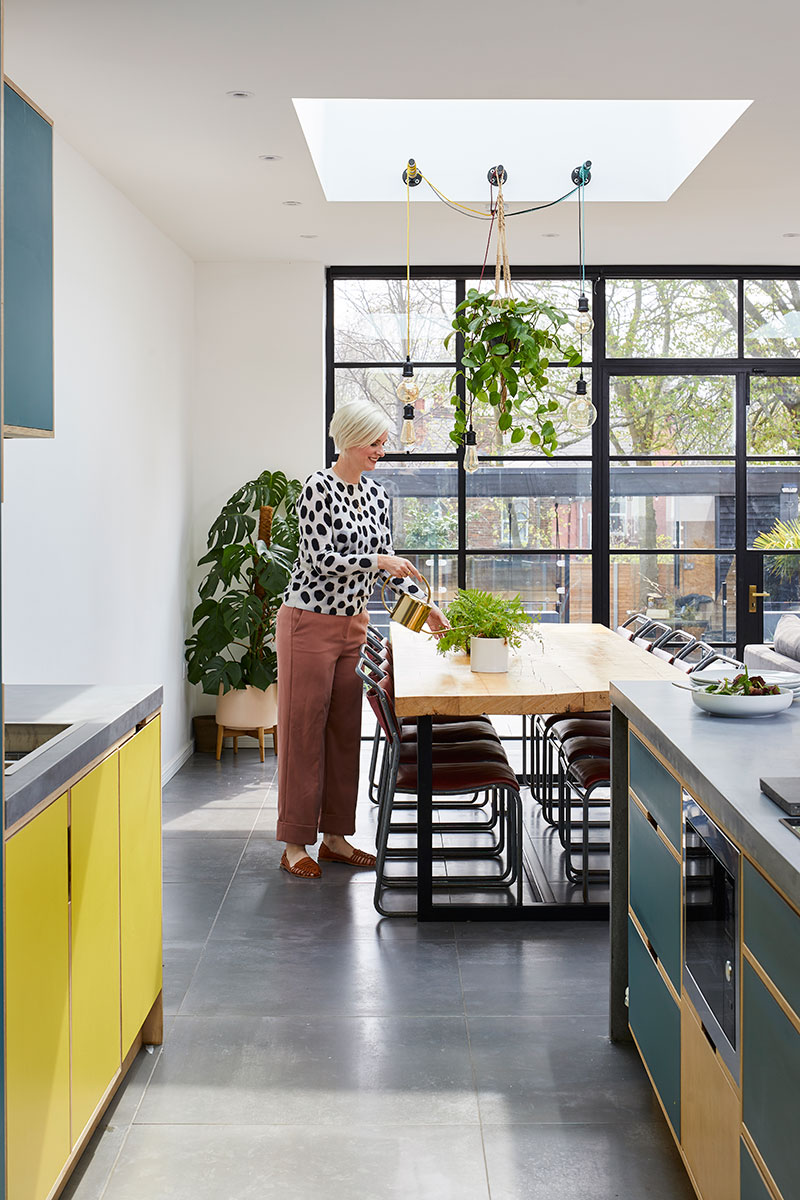 With the renovation complete, apart from small bits and bobs, a strong theme is visible throughout Lucy's home. I love how everything connects. From the yellows and blues from the family bathroom floor, picked up in the kitchen cabinets. And also the pink and teal of the master suite, used in the guest bedrooms as well.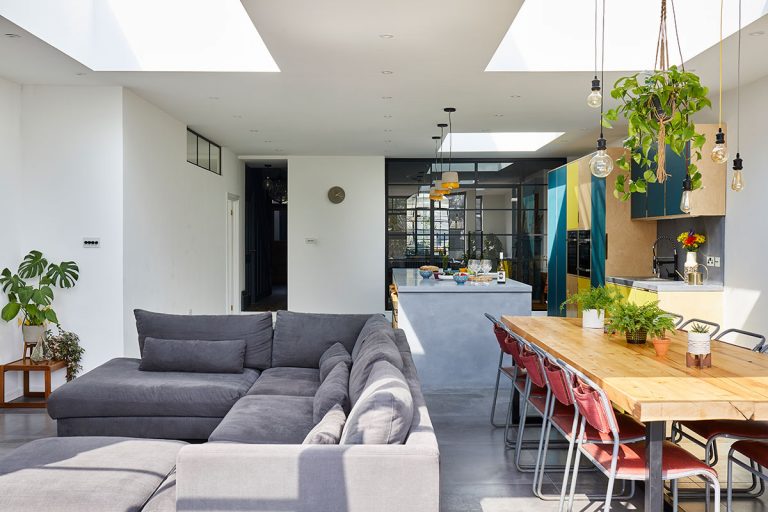 But what is fantastic is Lucy says it was all a happy accident – but that she discovered she really likes the colour yellow. I have a feeling it's up there on my favourite list now as well. So it just shows, being bold really can pay off…
Photography: Chris Snook
Featured image: Lucy Kemp wanted a bold, colourful and spacious kitchen.
If you loved this colourful house, then you'll enjoy our Inspiration gallery: colourful bedrooms.
About Post Author