I'm a firm believer that colour is a powerful design tool, affecting our mood and making us feel calm, invigorated or comfortable. Colour can also have an impact on room size, making a small space feel larger or a spacious room feel more cosy.
March is National Bed Month, so if you haven't bought a new bed for seven years or more, now could be the time. Start with the mattress (don't miss Stefanie's top tips before you buy). Then, once your new bed is sorted you'll need to set the mood. And what better way than with some colour?
Maybe you'll opt for muted tones for a pared back luxury feel or you might want more of a statement bedroom with heaps of personality. There are many ways to introduce colour to your bedroom with paint, bedding, the bed, wallpaper or artwork. I've collated my favourite colourful bedrooms so hopefully you'll find the one you love here… I know I have!
Go bright! Try painting a statement wall in a bright but deep shade and then pair with softer tones, like this blush pink headboard and bedding, for a balanced bedroom with plenty of personality.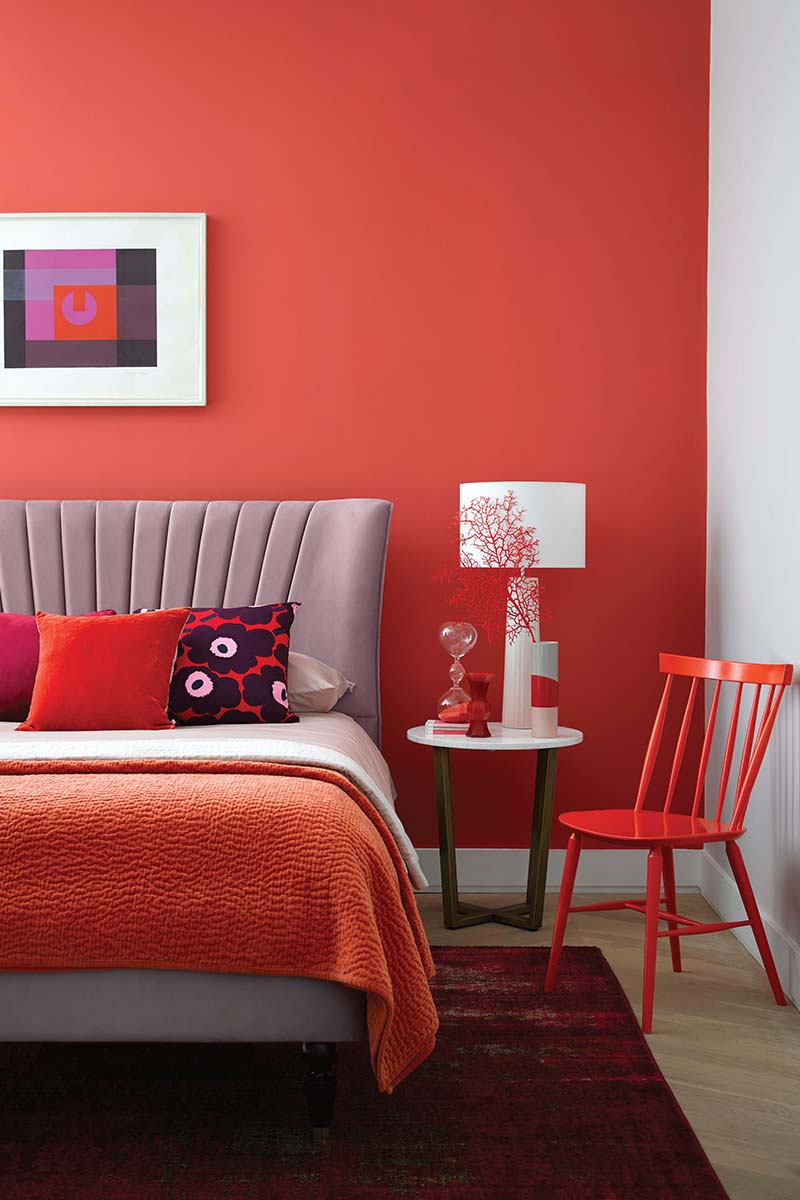 Wallpaper is an ideal way to add pattern and colour to your scheme. I love this floral pattern, which is pretty without feeling overly feminine. Window coverings can also be a fantastic way to add colour, how about these gorgeous blue shutters for a twist on a classic style?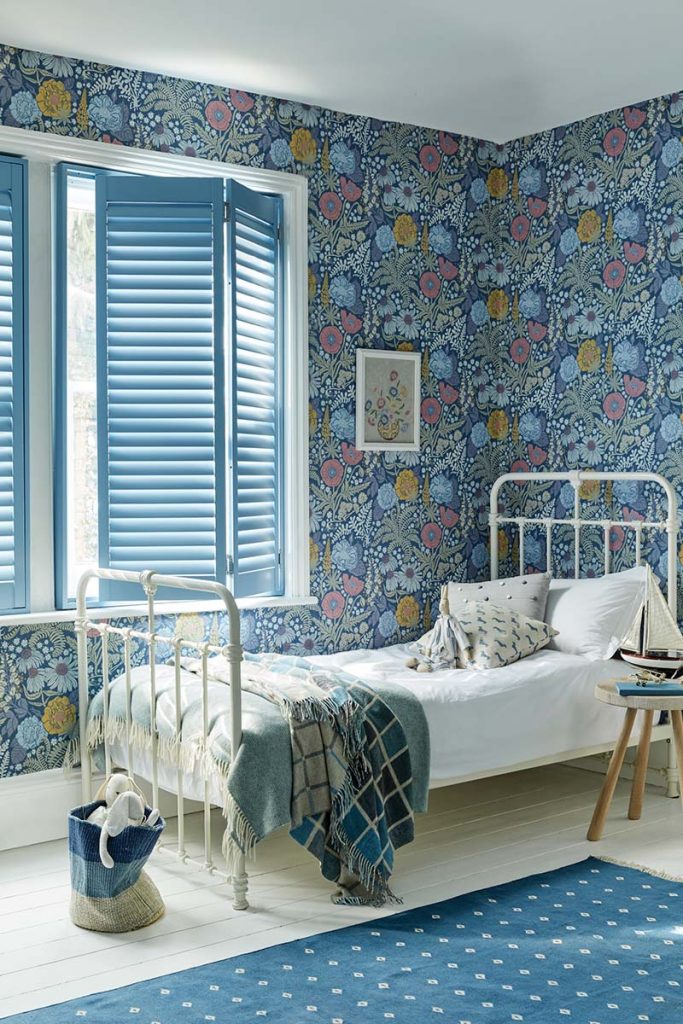 If the bright patterned or painted walls aren't for you, go bold with the flooring instead. Carpet is perfect for the bedroom, it's soft under foot for a cosy feel but if you opt for a patterned style like this one from Brintons it will add that wow factor you're looking for.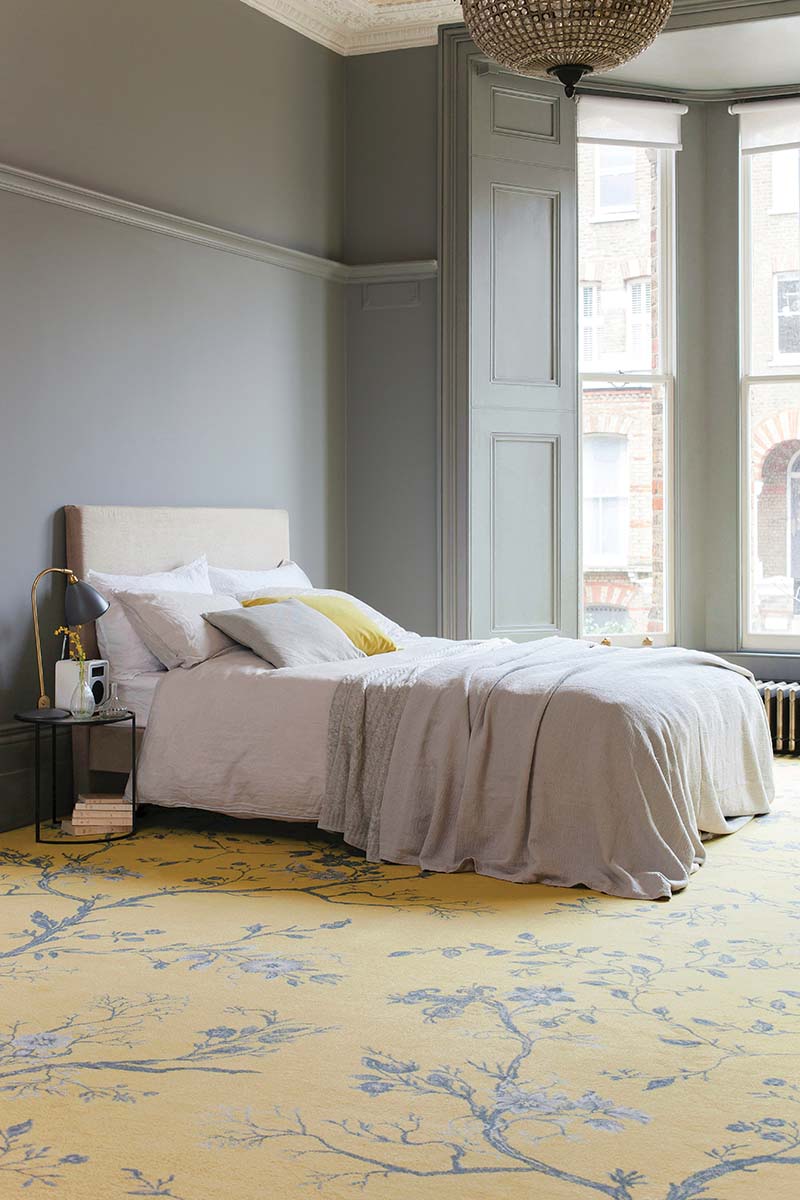 A striking headboard is one of the simplest but also one of the most effective ways of adding colour to your bedroom, drawing the eye to a focal point while adding personality to the design. There are endless options in terms of fabric, shapes, colours and upholstery details as well as styles and sizes and you can stick to softer, pared back tones on the walls. I love the range of patterns and colours in this striking scheme.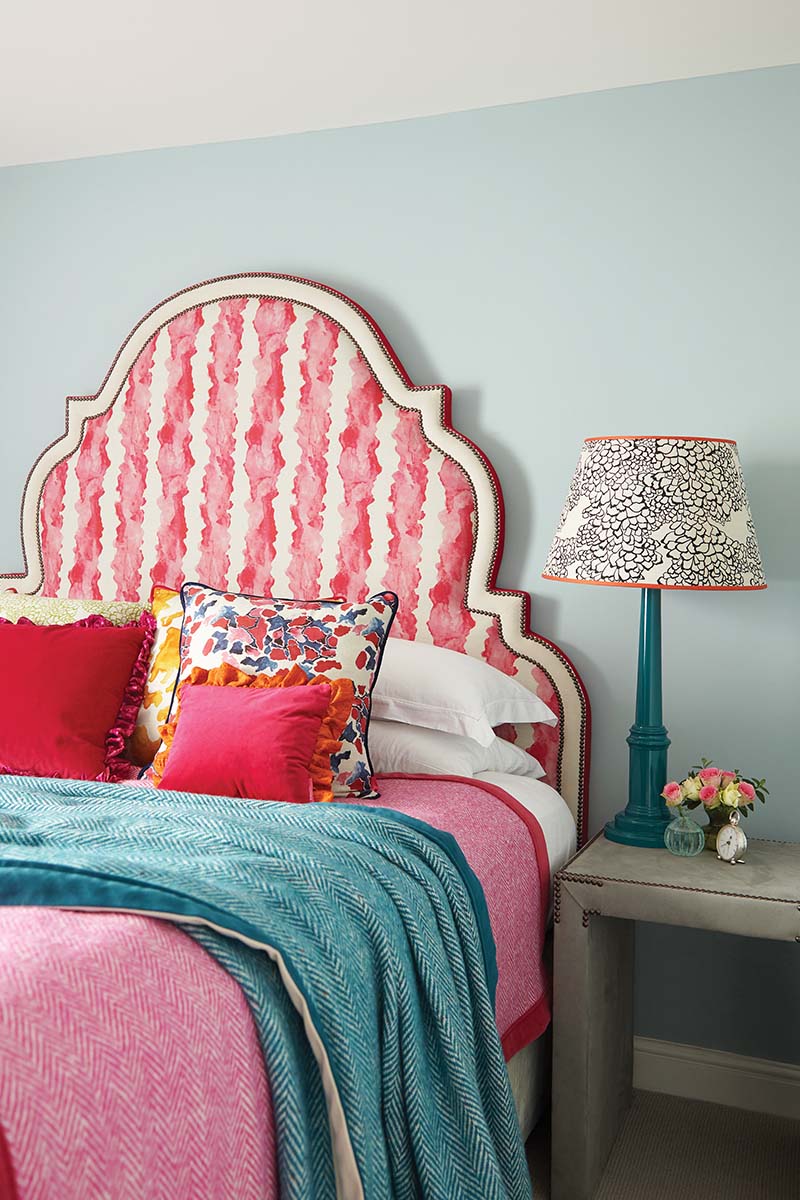 Try a matt emulsion on the walls for a smooth, velvety look and team with light stylish bed linen. The charcoal touches in this bedroom scheme contrast really well with the pink/terracotta walls and the abstract shapes on the bedlinen and artwork tie the scheme together perfectly.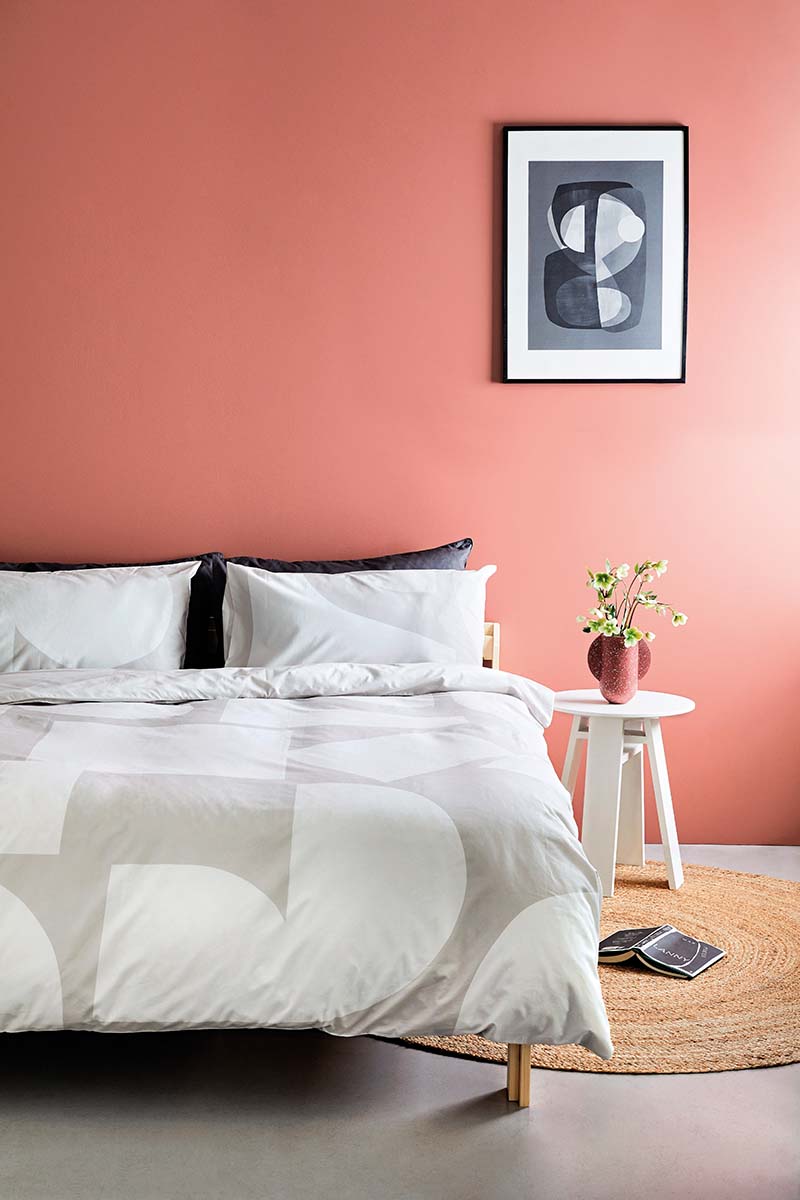 My favourite palette in our look book would be green (obviously!). This teal tone works perfectly with tactile finishes like feathers, tassels, cork and will add lots of visual interest when layered. How cool is this statement lampshade with its feather-like appearance? It would add character to any room scheme!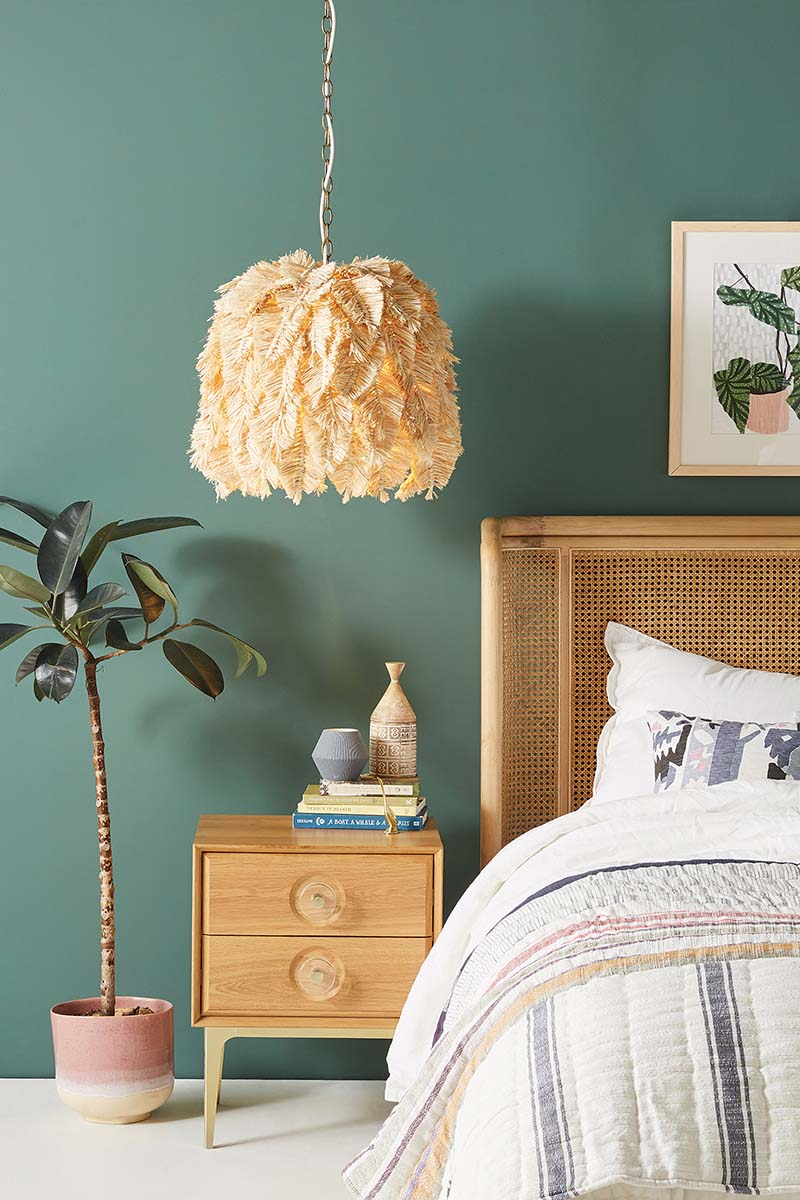 The colour you introduce doesn't need to be bright – how about adding a dramatic statement with dark tones?
Darker colours are cosy and create a cocoon-like feel.

This gorgeous Oriental floral headboard is a nod towards the Japandi trend. To add another splash of colour, team it with equally dark and opulent bed linen and pick out the colours in the floral print for accessories.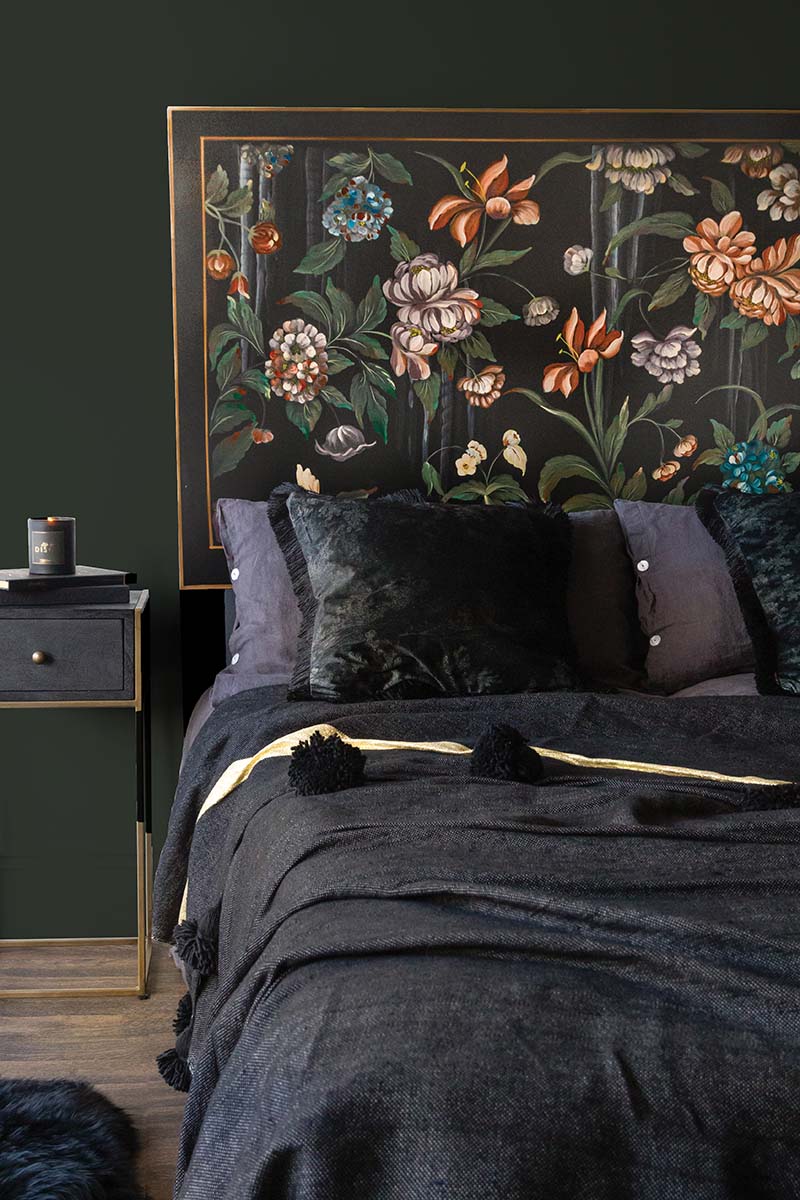 Try framing your existing headboard with a colourful shape behind it. You can paint or wallpaper this board for some layering. This bedroom is large so the botanical print behind the headboard adds a statement without being too obtrusive.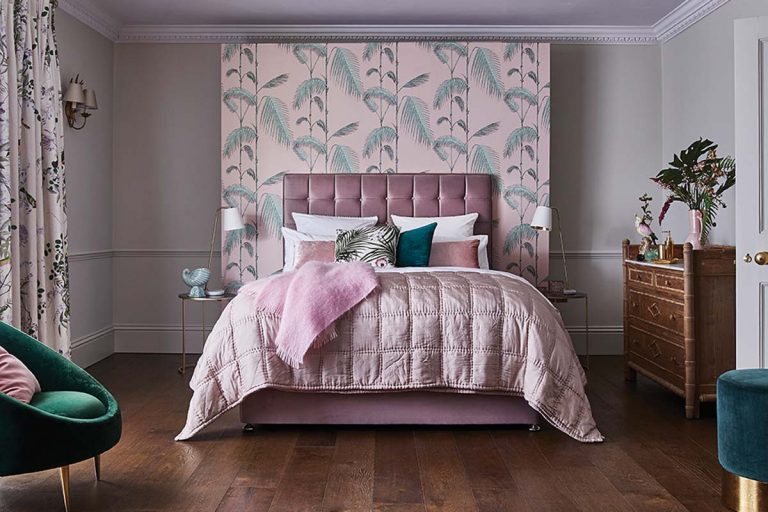 Warmer colours such as mustard yellows promote a restful environment. I love this natural ochre clay shade from Earthborn.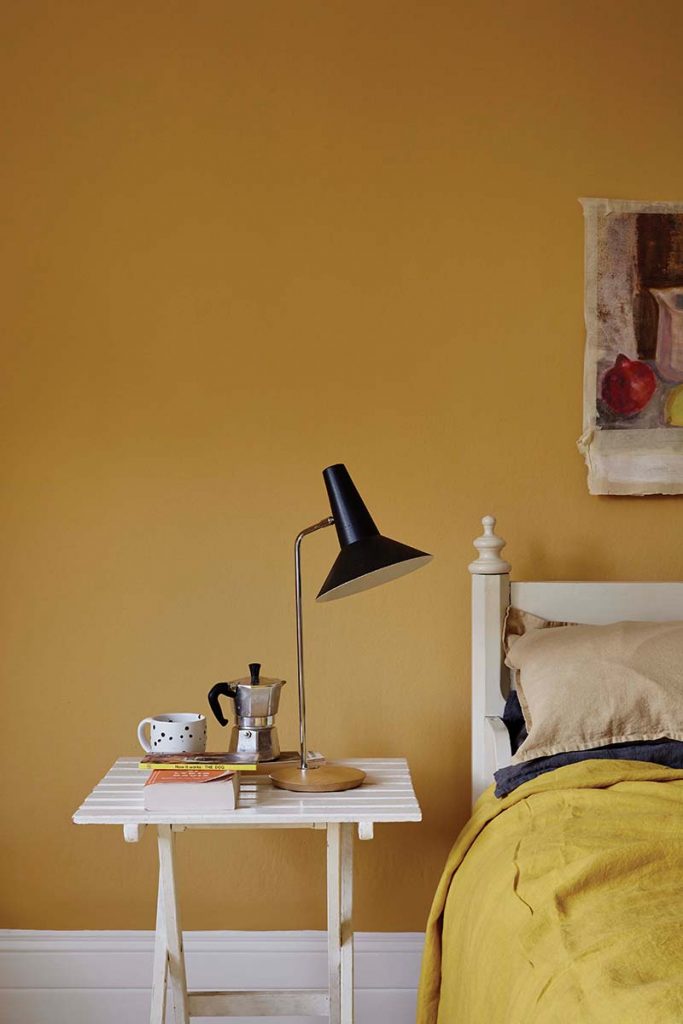 Pink and navy are the perfect combination. Add layers of cushions and throws on the bed and touches of grey for a really sophisticated feel.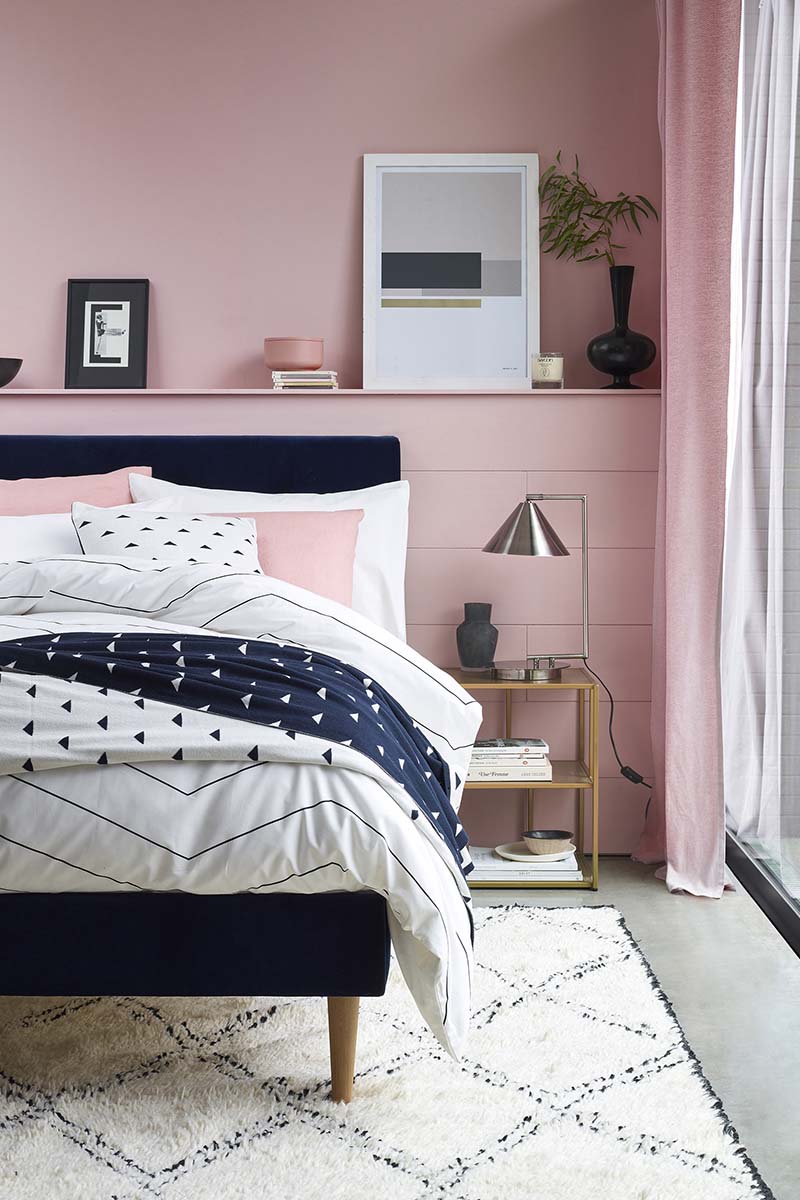 Kristoff bed in Indigo, £849; Aero side table in Brass, £149; Illias rug, £399; Krishna Cushions, £25, all Swoon
Featured image: Add a bright statement bed to room with crisp white walls. I love this vibrant yellow Joules Windsor bed with a sumptuously soft, buttoned headboard. King-size frame, £1099, available exclusively from DFS.
About Post Author