Have you ever looked at luxurious hotels – or other people's homes – and swooned at the sight of an open-plan bedroom-bathroom combination?
Because I sure have, when pondering how to renovate a bedroom and bathroom. Of course, the toilet should ideally be in a separate room – there's nothing cute about cracking open your eyes and seeing a loo first thing in the morning – but apart from that, an open-plan design is certainly the dream.
When you renovate a bedroom and bathroom in one, flooring can make such a big difference.
How to renovate a bedroom and bathroom
Even if your scheme isn't fully open plan, using the same laminate, tiles, or other floor covering throughout can create a cohesive feel with good flow between the two spaces.
Of course, it can also create contrast and, if you do have a bedroom and bathroom that aren't closed off from each other, zone your space into areas serving different purposes.
To match or not to match your flooring?
One word of advice in general: whatever you pick, make sure it works practically speaking in both the bedroom AND your ensuite – that goes for whether it is open plan or not, really.
This is especially important if you choose tiles, because otherwise you risk your bedroom feeling cold and impersonal (which is exactly what we don't want to achieve).
Whether you run the same flooring through both spaces or go for the ultimate contrasts depends on what kind of look you want to create when you renovate a bedroom.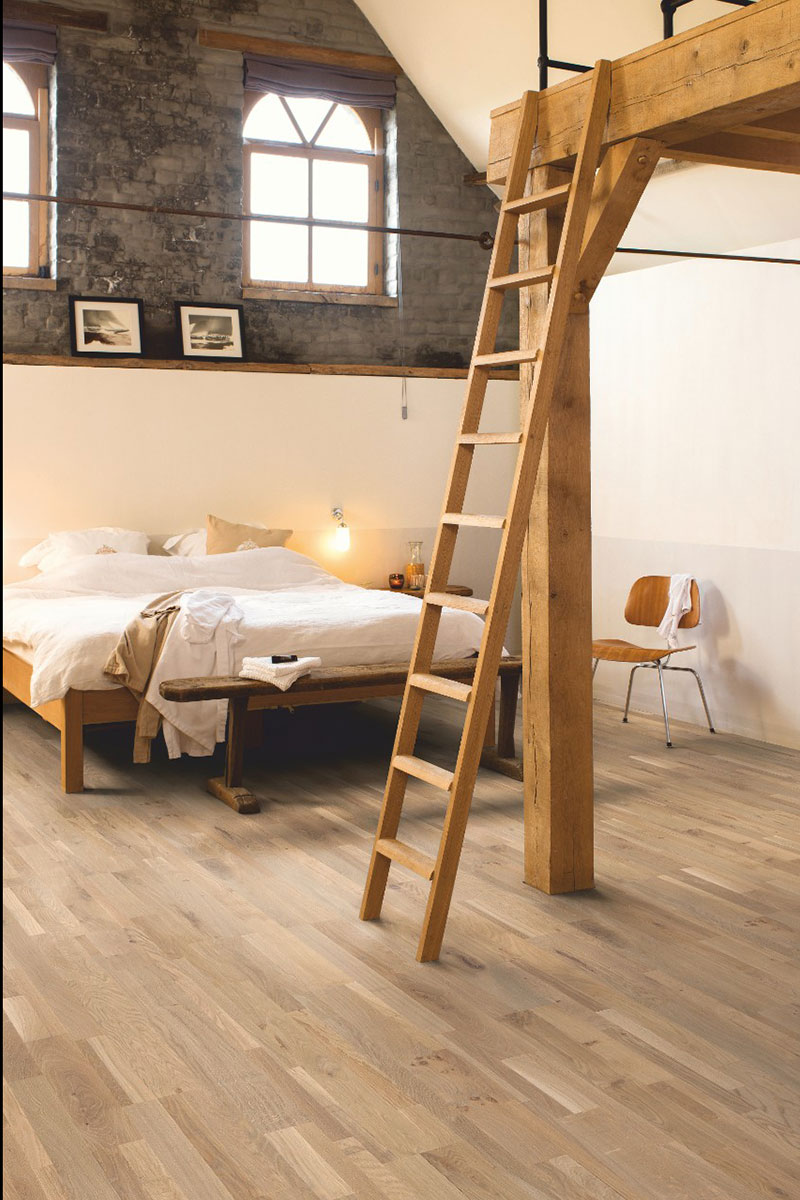 Go for a cohesive approach
How to renovate a bedroom and bathroom
If your spaces are separate from each other, you have the wealth of choice – but if they're not, I'd always recommend going for a cohesive approach.
This will guarantee a good link between the bedroom and bathroom, while too big of a contrast may look jarring.
Of course, carpet or real wood aren't exactly practical in a bathroom. If you want these softer surfaces, you can add them to your bedroom in the form of rugs or wooden accessories.
How to renovate a bedroom and bathroom
Alternatively, if you're set on this kind of flooring, try to find a hard-wearing laminate, tile, or luxury vinyl tile in a similar colour or pattern for your bathroom to make the transition less obvious.
Some porcelain tiles even have been designed with a textured surface, to mimic the real deal.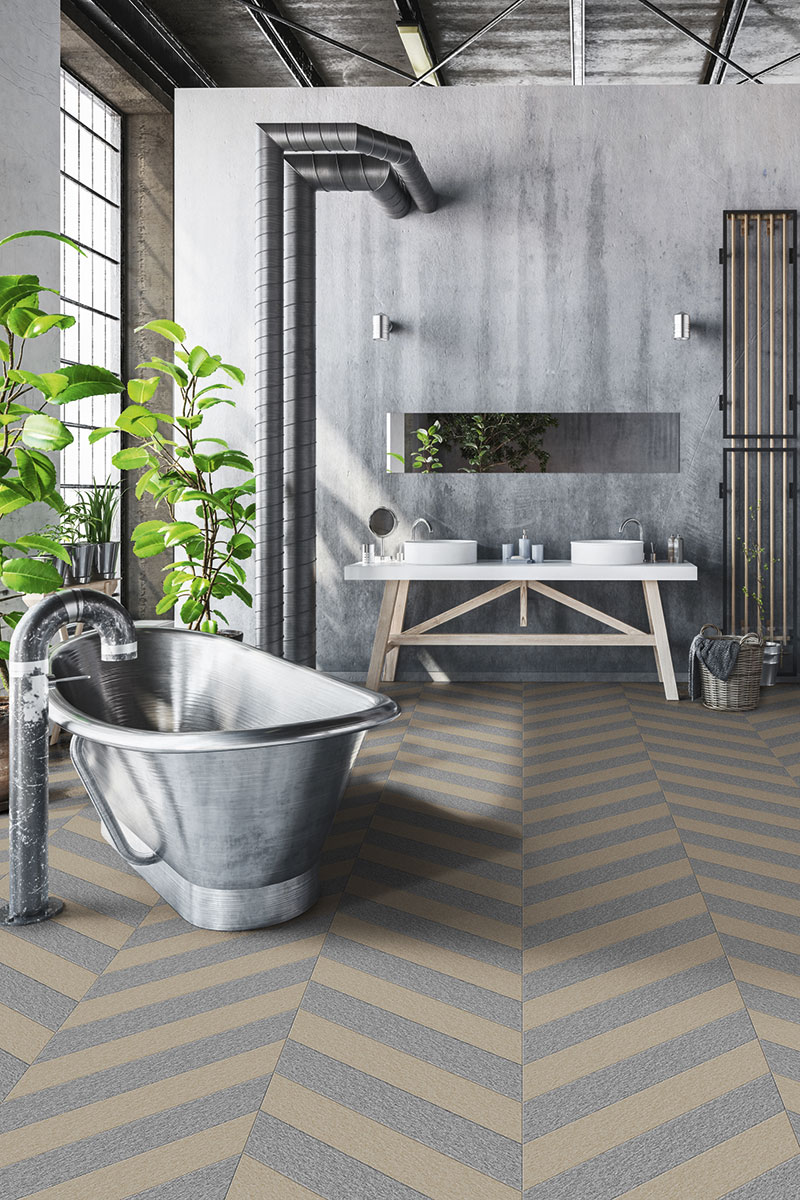 How to renovate a bedroom and bathroom: create zones
Deliberately choosing different flooring solutions can be a great idea to help you zone your space. This is especially true if it is open plan.
This layout allows plenty of light in and, with no walls affecting your sightlines, maximises the feeling of space. However, it can easily feel too big.
Creating distinct areas, for example by using flooring, can help with this. That's because it assigns a purpose to certain corners when you renovate a bedroom.
How to renovate a bedroom and bathroom
It can be as simple as laying your floorboards in a different pattern. Maybe straight on in the bathroom and in a herringbone design in the bedroom? Or choosing slightly different tones or textures.
And if privacy is a concern, don't worry. Half-height walls will still guarantee a nice and airy feel, but hide the loo from view.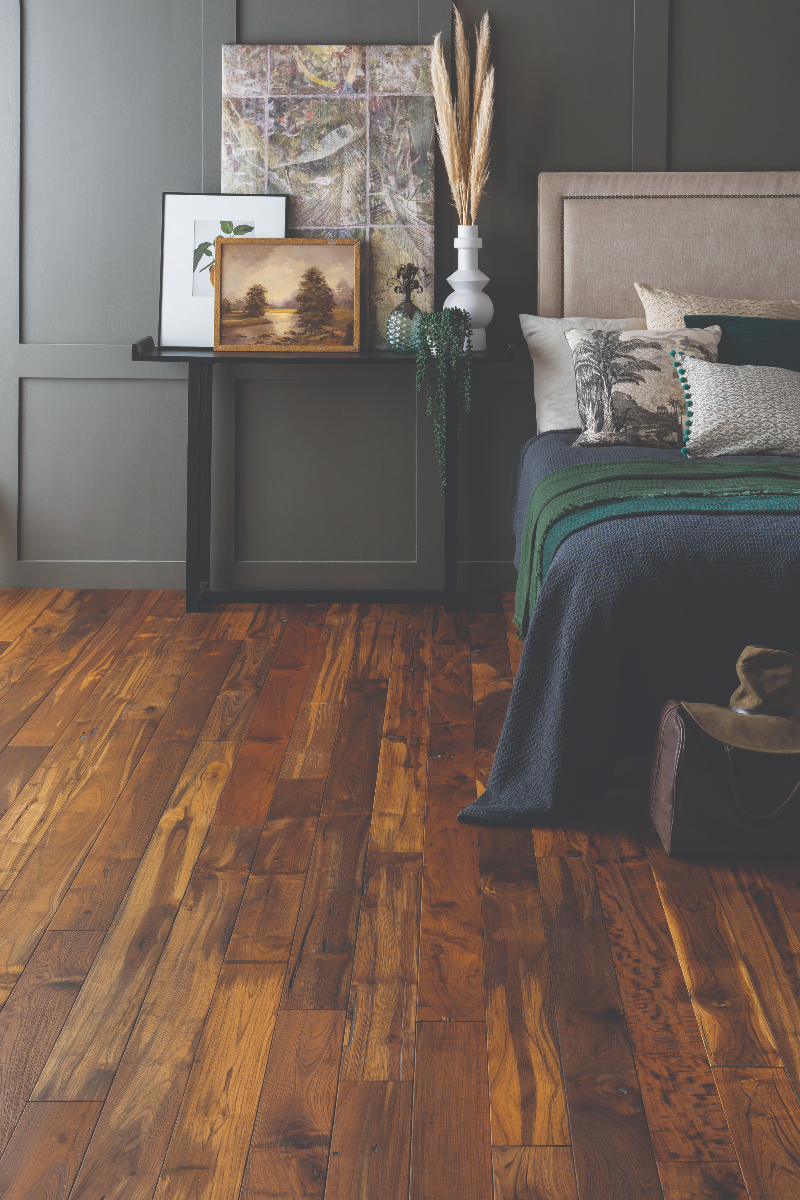 How to renovate a bedroom and bathroom: choose cohesive colours
If you're concerned that two different flooring types are too busy or may result in a mismatched look, stick to one palette.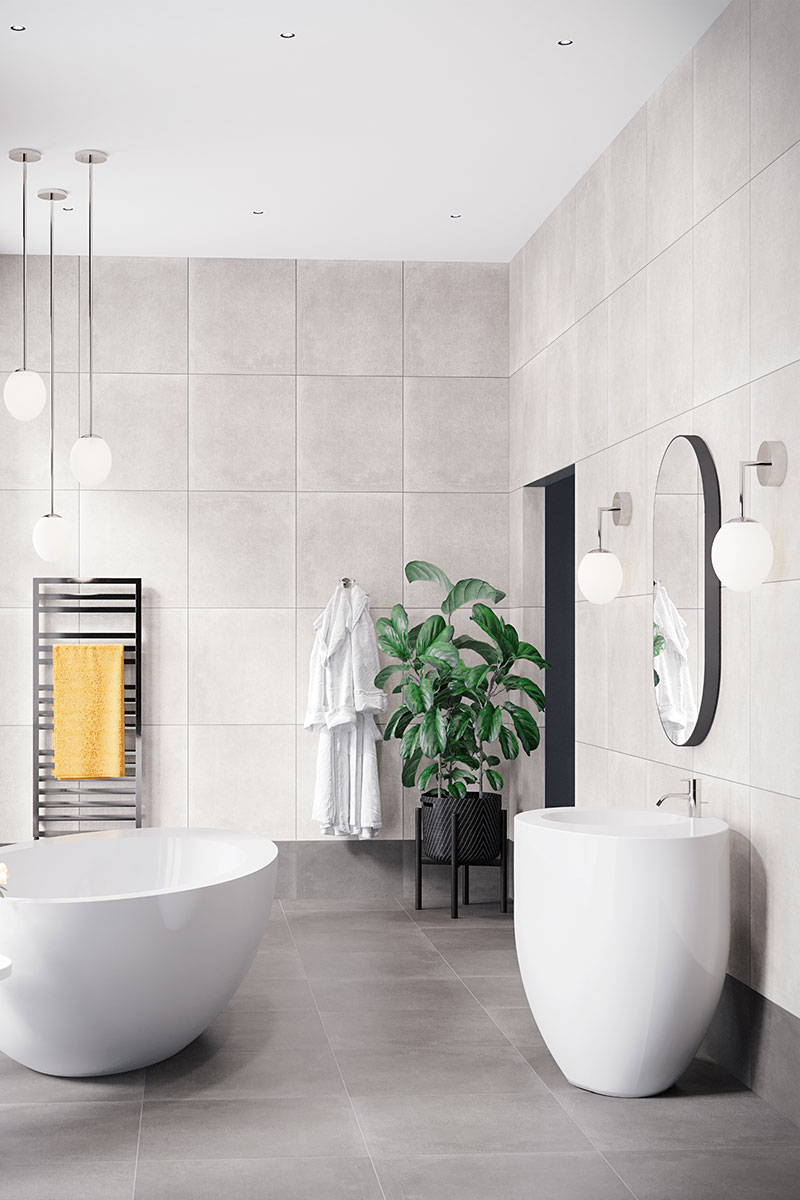 Stick to one palette
For example, have dark anthracite carpet and a lighter shade of the same colour for your bathroom tiles.
You can also bring in accessories to tie the two spaces together. If you have wooden flooring in the bathroom, have some wooden accessories into your bedroom.
And to tie stone flooring in your bathroom into your bedroom, why not add marble or other stone pieces? From trinket trays to countertops on a sideboard, the only limit is your imagination.
The golden rule
Through all of this, there's only one rule: don't be afraid to clash colours to create a real statement. As long as you like the result, all is well.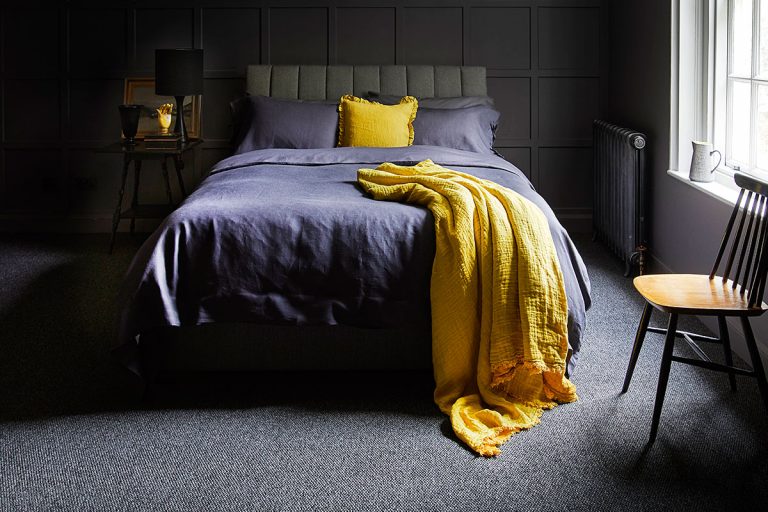 Practical matters when you renovate a bedroom and bathroom
Don't forget to look beyond the style aspect.
Whichever flooring you choose for your bathroom, it must be able to withstand moisture and be safe for everyone using the space.
All tiles should have an anti-slip surface. And, in the name of inclusivity and future proofing, it's also best to avoid changes in floor level in there.
How to renovate a bedroom and bathroom
The above considerations don't apply when you renovate a bedroom and are choosing flooring, but there are still some things to consider.
As mentioned, wood is prone to warping if it gets wet. So if you like to pad around barefooted and slightly dripping after a shower, it's probably not the best choice!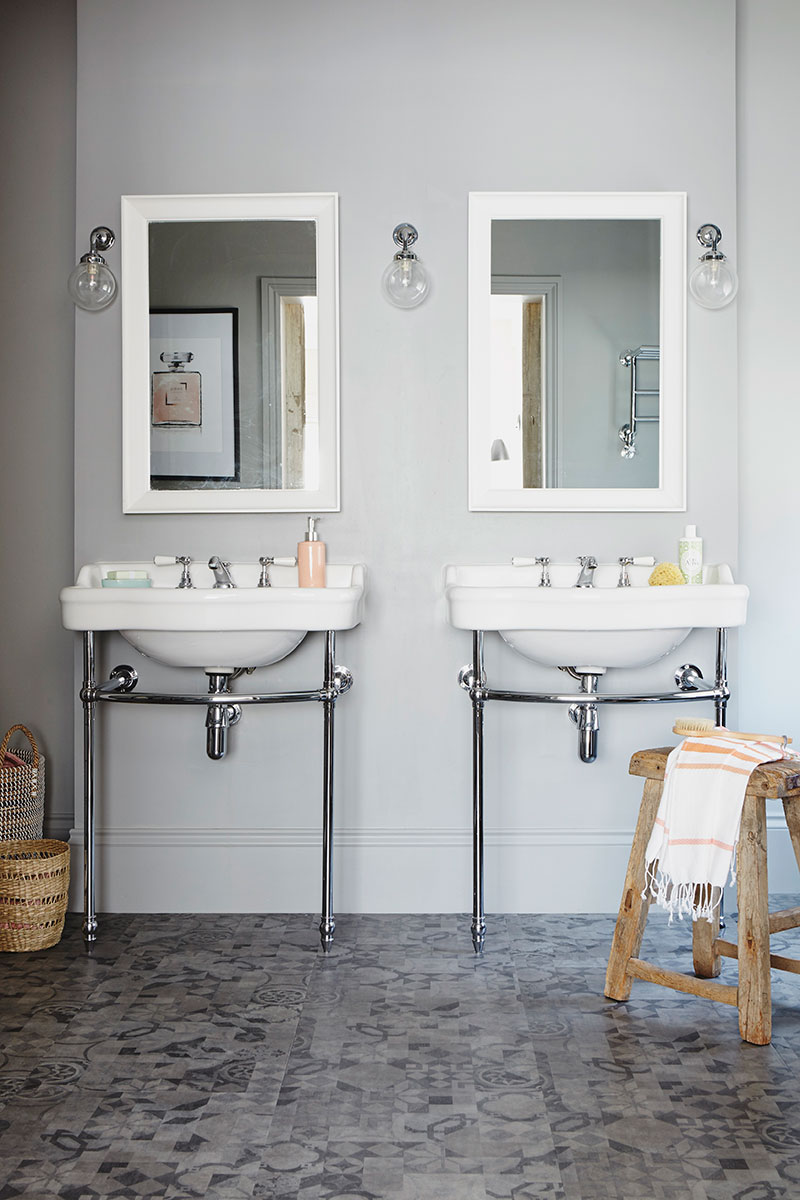 How to renovate a bedroom and bathroom
In the same vein, some laminates can lift and distort due to heat and condensation in a bathroom.
Why you shouldn't put carpet in the bathroom
Carpet, of course, is ideal for a bedroom. However, in an ensuite it'll get damp and turn into the ideal haven for dirt, moisture and mould.
And tiles, of course, look super stylish in a bathroom. But carry them into your bedroom and you risk the space feeling cold.
Look at all aspects of flooring
So when you make your choice, look at all aspects. And even if it may take a little longer, I promise you'll find your ideal solution that'll make you happy for years to come.
Now, what will it be? Cohesive and serene? Contrasting and punchy? Let me know your style preference and, if you like, add some pictures too – I'm very curious.
Featured image: If you opt for a plain carpet in the bedroom, pair it with a bolder flooring solution in the bathroom. This is the Stainfree Ultra carpet from Abingdon Flooring in Ice Dance, priced £18.99 per sq m.
So have you chosen your ideal bedroom and bathroom flooring? Then check out this feature on bedroom decor.
About Post Author