The words 'accessible' and 'inclusive' are popping up more and more – but what do they mean in an interiors context?
Ever more of us live in households with many ages under one roof, from our grandparents to the smallest family members. I know the feeling – I grew up with my grandma a mere staircase away (and loved every second of it). And that's what inclusive design is all about.
Multi-generational living means our homes have to cater for a range of different needs, from safety to inclusivity. And that's not even taking into account that we, as a society, are living longer too. So future proofing is a great idea in general.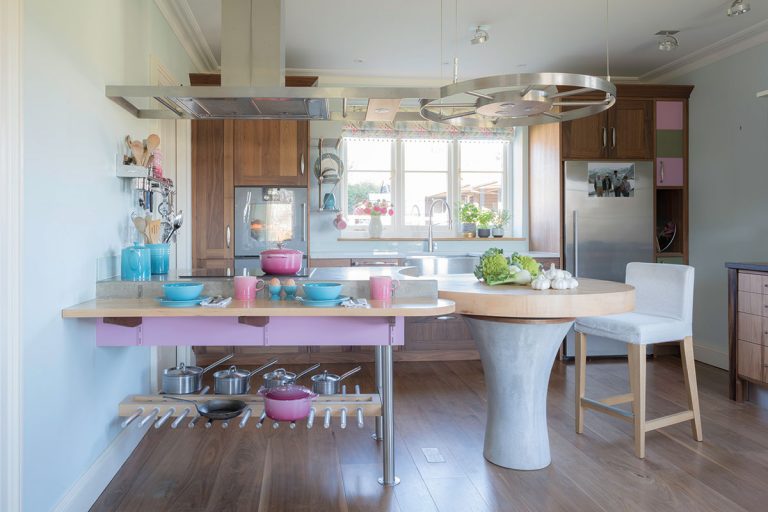 What is inclusive design?
But what does inclusivity mean? Well, in design, it's creating schemes that include everyone and are safe to use, no matter how able bodied someone is.
This can be including anti-slip tiles and including a seat in the shower. Or fitting the toilet a bit higher so it's easier for less mobile family members to sit down.
It can also mean making a kitchen accessible for wheelchair users, which can be done in a whole host of clever ways.
Where to start, I hear you ask? Well, here is my lowdown on the key aspects you need to consider.
And before you worry: no, it will not look like a hospital.
Choose safe surfaces
Kitchens and bathrooms are wet environments, which makes it very easy to slip, trip and fall. This can be due to spills or simply lingering condensation – so reducing the accident risk is key here.
Vinyl is a good floor covering for a surer step, as it is naturally slip resistant. But porcelain tiles often also come with anti-slip properties.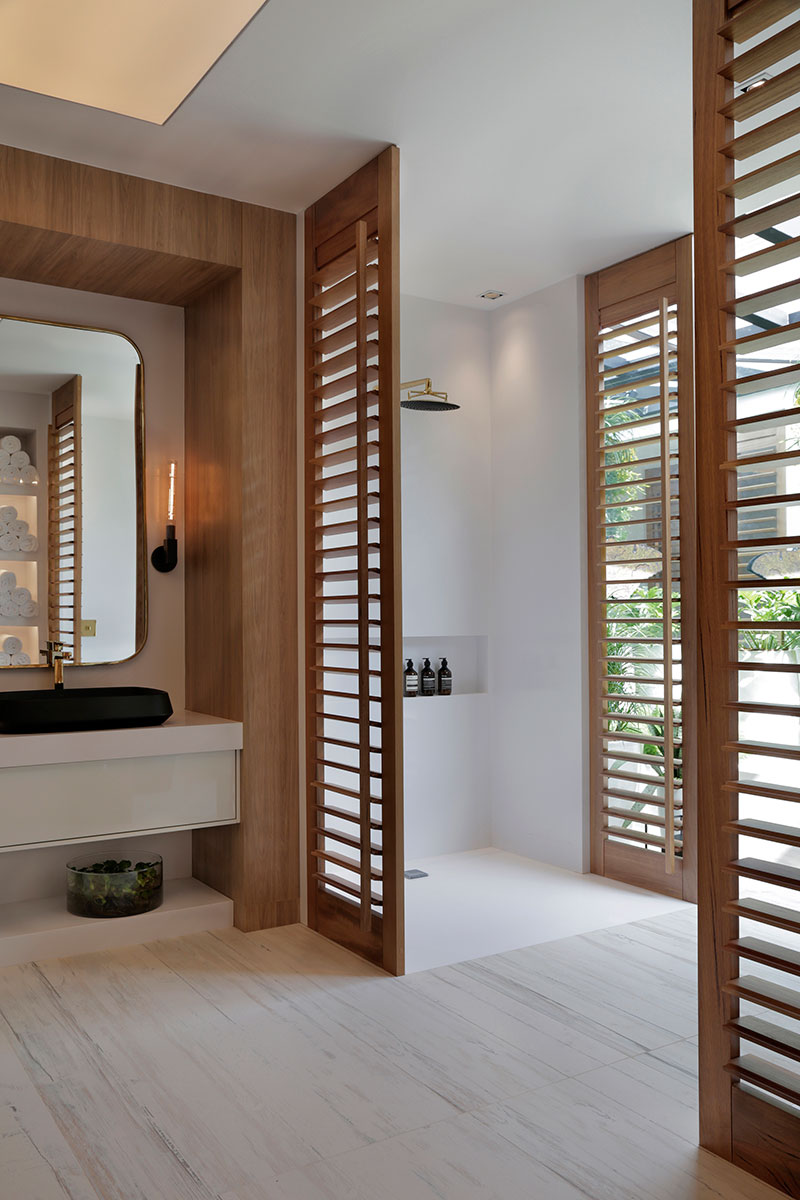 They are rated on a scale starting at R9 – usually for smooth glazed with a matt finish. This means putting down a bath mat or towel is essential.
The highest rating is R13, which is what you'll find around lidos, indoor pools, and in public showers. You know the type: not very easy to slip on, unless you ignore the rules and run.
Level the floors
For a fully accessible inclusive design scheme, make sure there are no unnecessary steps and that the floors are even. This also directly helps you avoid trips over very low ledges.
Opt for flush-fitted shower trays, which also result in a very on-trend wetroom look. So it's a win for everyone.
Think of the height
Sitting quite low might not be a problem for you, but it can be tricky to get back up for others. This can be the case especially if they're older or otherwise limited in their mobility.
In general, height is a key consideration to make sure your inclusive design is truly accessible.
So hang the loo a bit higher and choose a basin with an integrated grab rail (or add one to your vanity). Then everyone will be happy, safe, and independent.
Of course, you might face some trickier issues in the kitchen. But even there, inclusive designers have come up with some very clever accessible solutions.
Inclusive design may surprise you. You might think a wheelchair user can't reach wall cabinets, but that's not the case. There are very handy pull-down shelves, which you can pull out and down to access even the highest shelf.
Rise-and-fall worktops are also great if you and a partner or family member have different needs, as you can easily adjust the height to suit whoever is using it.
And if you install ovens at the ideal height for a wheelchair user, they'll be easy to use with no bending down for everyone else. The height which depends on how tall the person is, but around waist height is about right.
An inclusive design can even include a pull-out shelf to rest pans and get doors that open sideways. This will make it even easier.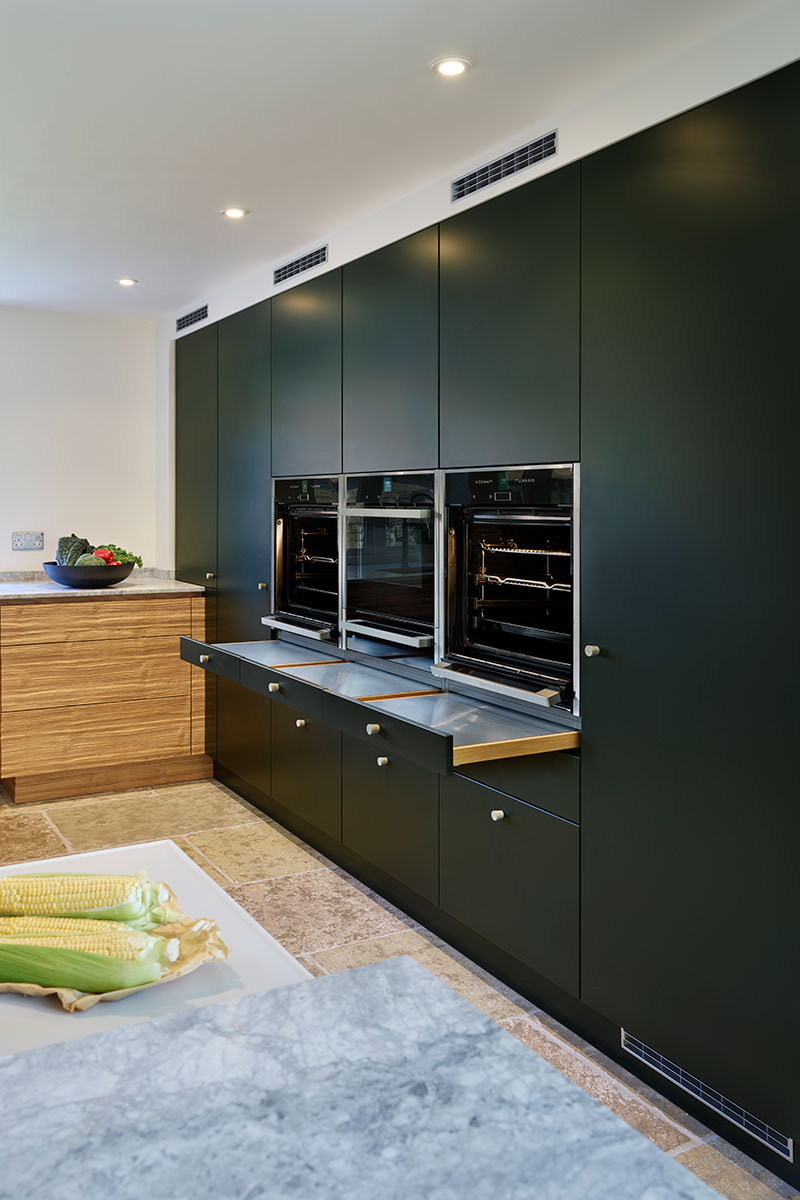 For other appliances, such as dishwashers or the washing machine, raise them on a plinth so they're easier to reach. This inclusive design is really good if you have back issues, too.
Zone your inclusive design
Separating a room into different areas is popular in open-plan living. But even if you still have separate spaces, dedicating different zones to tasks can really help.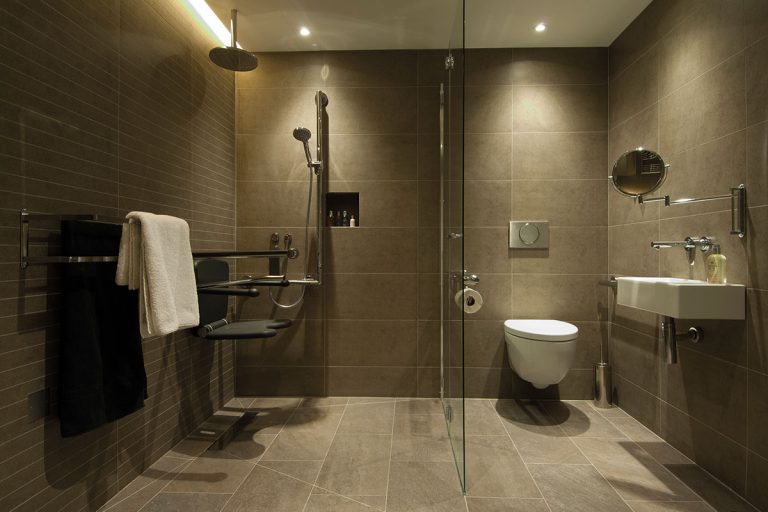 I spoke to Adam Thomas at Design Matters, who uses a wheelchair himself and has designed more than 1000 inclusive design kitchens for people with a range of different impairments.
He says short ways between key aspects of your kitchen are key. "You want to avoid having to carry heavy or hot items, so placing the hob, oven and sink on the same run of worktop is important," he told me.
"You might also like to group the food preparation area and sink together and keep the cups, boiling-water tap or kettle, and fridge in close proximity to one another."
Adam also recommends a peninsula over an island, because they reduce how far you have to travel through the space.
While we're on the topic of moving around: if you live with someone who uses a wheelchair, make sure all the walkways and doorways are wide enough for them to easily pass through – and don't block the way with furniture. This accessibility is key to inclusive design.
Go smart with inclusive design
Automated technology banks plenty of accessibility points when it comes to inclusive design.
Voice-activated home assistants such as Amazon's Alexa and Google's Home Assistant allow less mobile family members to do plenty of things hands free, from switching on the heating to activating some of the latest appliances – all with a simple voice command.
Remote-controlled blinds and bins that open with a voice command are also great inclusive design ideas, as are digital showers which reduce the risk of scalding by accidentally choosing the wrong temperature.
Not to forget shower toilets, which make it easy for people with limited mobility to be independent – especially those with remote controls, where you don't have to reach back to flush.
And, of course a boiling-water tap, which can reduce the risk of spillages as nobody has to carry the heavy kettle. These inclusive design appliances also feature a whole host of handy safety features to avoid scalding.
Inclusive design is in the detail
When creating an accessible scheme, think about the seemingly little things. Can you fit a grab rail to help an elderly relative feel safer on their feet?
Are hooks for towels and robes reachable for everyone, or are there solutions for people who might need them a bit lower down? Can everyone move comfortably and safely?
On that note: tables with rounded corners are great. Not only will they reduce the risk of really hurting yourself should you bump into it, they also look very beautiful and warm.
So, is your home full of inclusive design and ready for the future?
Featured image: This Roundhouse kitchen was designed for a wheelchair user, so features a whole lot of clever ideas. The wall cabinets are touch-to-open and feature pull-down interiors, so everything is in easy reach, and the worktop is a rise-and-fall design which can easily be adjusted in height. Roundhouse kitchens start from £35,000.
So, did you enjoy this feature on inclusive design? Then you'll love our feature on how to make your shower safe for a multigenerational bathroom.
About Post Author