What do you think of when you hear the words 'bathroom flooring'? Chances are that, much like me, your instinct is to imagine white tiles, stone-coloured slabs, patterned lino or intricate mosaics… I'm think of white or stone designs. But, thanks to the wonders of writing for These Three Rooms, I am here to tell you that there are SO MANY MORE choices available – each more beautiful than the next.
And not only is one more beautiful than the other, they all also cater to different needs and tastes.
But how do you choose bathroom flooring?
Before we get into what's available, take a good look at your household and your space. What do you need? What is your current scheme like, and does it work?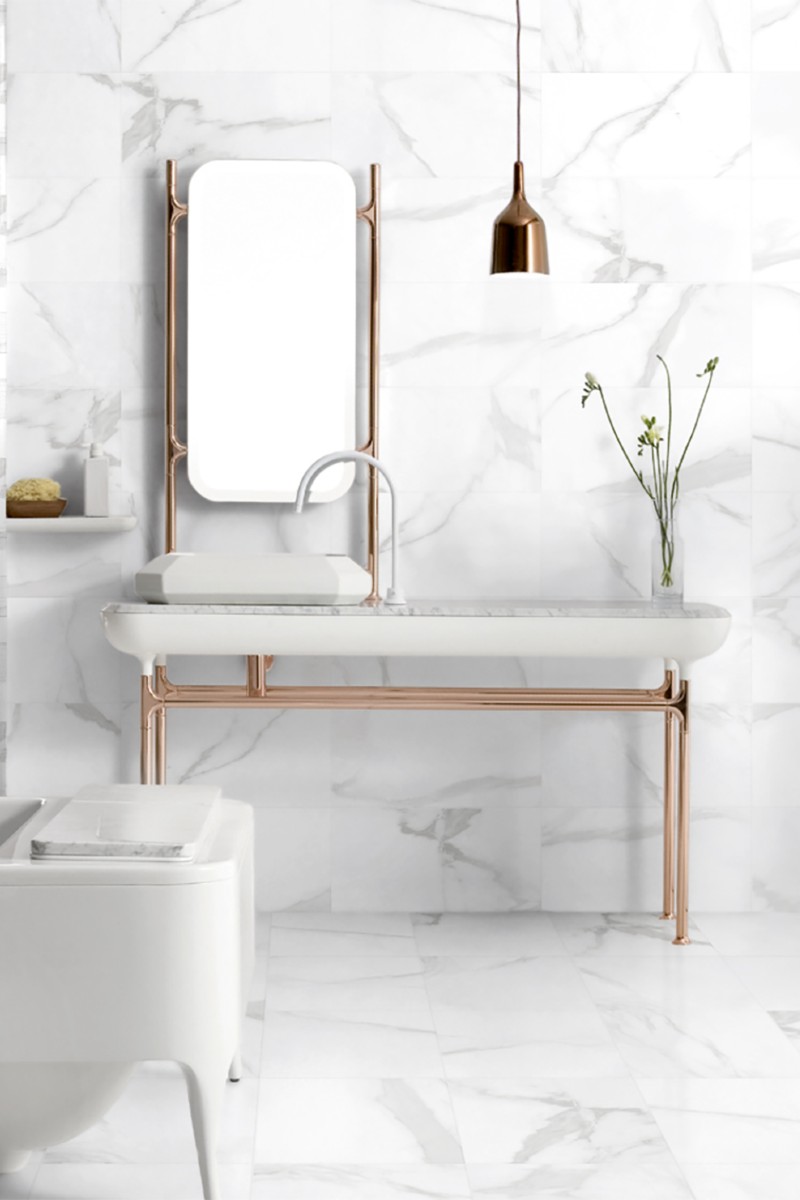 Whether you choose tiles, concrete, or vinyl, you should always make sure that your new flooring solution has anti-slip properties. This is generally good advice, but especially important if you live in a multi-generational household or have small children, as it reduces the risk for slipping.
It also, of course, needs to be waterproof and resistant to moisture. Real wood, for example, looks nice, but it will warp due to the wet environment so is generally unsuitable for your bathroom (unless you choose a waterproof option which, yes, exist)
But which types of bathroom flooring are available?
Most commonly, you will find tiles – porcelain or ceramic – as well as vinyl, laminate, stone, or even concrete.
Even if you'd like marble but aren't ready for the maintenance it requires, many of these solutions provide lookalike options that appear like the real deal, but are much easier to care for – and lighter in weight, too.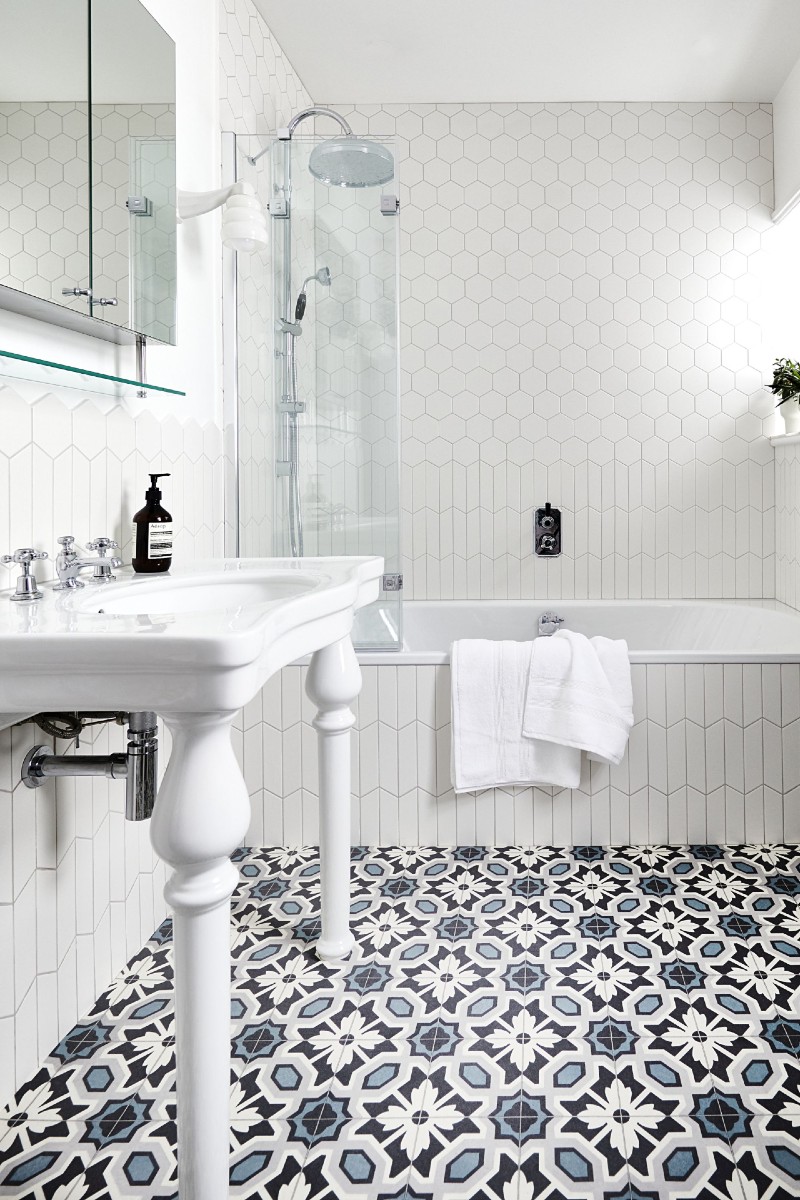 Here is my quick breakdown of the most common options:
Tiles
Undeniably the classic idea of bathroom flooring, tiles don't have to be boring and limited to shades of white.
In fact, they allow you plenty of creative freedom to create individual designs.
Whether you opt for large-format slabs with minimal grout lines for a clean, almost-seamless look or go wild with patterns, different colours, or unique shapes, the only rule is that you have to like the result.
However, whether you choose porcelain, ceramic, or encaustic tiles, always make sure they are anti-slip, to minimise the risk of falls.
Yes, super-high gloss is beautiful, but it's better used on the walls.
Vinyl
The allrounder of flooring solutions, vinyl comes as sheets or, for a more high-end feel, luxury vinyl tiles.
Not only is is hard-wearing, generally slip resistant, and often 100% waterproof, vinyl also comes in a whole host of colours or designs which look so much like the real deal that it's easy to be fooled.
This opens up an easy way of connecting your bedroom and bathroom, for example, as you can simply carry the same flooring through both spaces – or, if you want to keep real wood in the bedroom, find a vinyl that matches you chosen boards as closely as possible.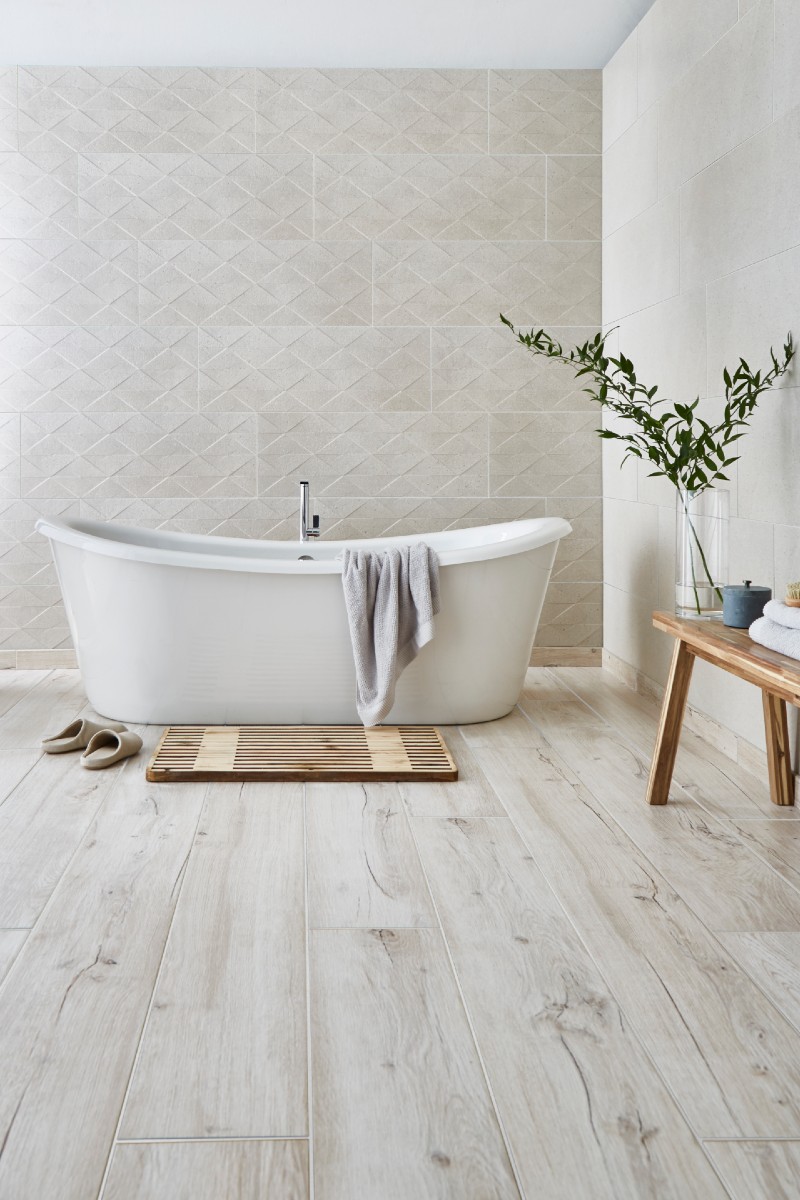 Laminate
For a long time, laminate hasn't been ideal for, excuse me putting it like that, moist rooms.
But luckily, these days, there are water-resistant options which are ideal to be used as bathroom flooring.
Much like vinyl, it comes in a variety of designs – the look of real wood, for example, will add instant warmth to your space.
When setting out to buy laminate, make sure you double – or even better triple – check whether it is definitely water resistant, to avoid unpleasant discoveries down the line.
You'll also need to add underlay and a vapour barrier underneath, to protect it against moisture from the bottom.
Stone and concrete
These solutions are undeniably attractive (call me basic, but marble floors, at least in the shower? That's my actual dream… if only the upkeep wasn't so hard), but also among the trickier ones.
Sure, their natural veining and texture is beautiful, but the price tag is heavy and the more porous the material, the more care it'll need.
For one, some natural stones such as marble need a lot of maintenance if you want them to look their best for a long time – especially in wet spaces.
Some of these materials are also very heavy, so always check whether your home will actually be able to carry it – literally – if you're determined to have stone or cement.
So, which one will you go for?
Watch The Bathroom Sessions: ways with colour and pattern
Featured image: Who said tiles always have to be white squares or rectangles? These Palm Springs tiles in green and grey, £66 per sq m, from Porcelain Superstore come in a variety of colours and are ideal to brighten your space.
About Post Author