If you are working from home (myself included), then you know how important having a multi-functional kitchen, bedroom and bathroom nowadays really is. Hands up, have you found yourself dashing to the downstairs toilet to wash your hands after coming back home from your local grocery shop, or after kneading dough to bake yet another bread, because someone else was already using the kitchen sink? If the answer is yes, then it might be time to think about installing a second sink.
Why should you include a second one in your kitchen? Well, if you have a bit of extra space, it may be a good opportunity to make use of it through fitting in an extra sink, so everyone in the home can have easy access to cleaner hands. I may be speaking for you too here, but I cannot go about my day if I haven't washed my hands the minute I came back home. So, how can you install a second sink, you ask?
Add a second sink…
In your kitchen island
If you are planning a kitchen renovation, or if your dream space already has an island, then double up on the sink to include one in your kitchen island. For example, if you are prepping dinner, washing your fruit and veg, or rinsing your hands, that second sink will come in really handy. It's a good idea to designate one sink for washing up dishes and one for prep and general rinsing. Remember you'll need to factor in the plumbing required for the additional sink, so speak to your kitchen designer and plumber to make sure it's feasible.

Apart from stepping up your household's hygiene level, you could use a second built-in sink in your island for quick access to tap water – really handy if your cooking too. You may even have one sink with a regular hot and cold tap and the other as a drinks station, featuring a boiling-water tap.
If you love entertaining (even your family for now), a sleek built-in model can help keep your drinks and delicious sea food cold. Fill your second sink with ice cubes and pop your wine bottle in there to keep it nice and chilled.
Add a second sink…
In your coffee station
Did your espresso coffee machine run out of water? Well, how useful would it be to have instant access to tap water in your breakfast cupboard? Multi-functionality is key, so install a compact second sink in your coffee station, which can easily be used to fill your kettle for a nice cup of tea or coffee machine's water tank. Now, as a self-confessed coffee addict, that's an idea I like. Remember, a second sink can be much smaller than the main kitchen one, so doesn't need to take up too much room.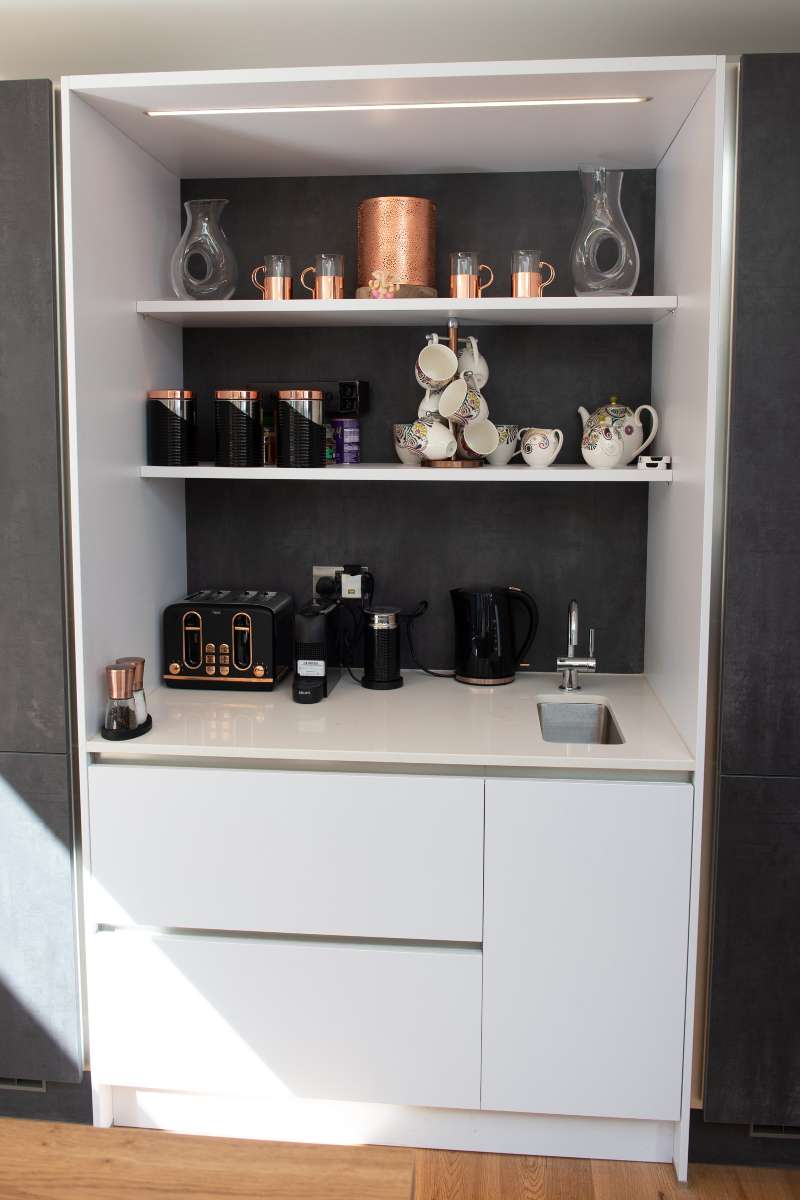 Kitchen in Putty Concrete Graphite, White Matt & Vintage Oak: furniture from the Urban Collection by Brandt Design. Luxsoplus undermount single sink by The 1810 Company.
Add a second sink…
In a forgotten corner
A great way to install a second sink in your kitchen is to create a dedicated washing up area in a plain corner – you could go for a large and spacious butler sink to make the most of your space. This way, you will be able to carry on prepping food while your family has their own space to disinfect. Even better, place it close to the back door and they can wash their hands as soon as they step into the house. Add an open shelf for extra storage and keep all of your sanitising essentials there, such as the first aid kit, face masks and hand gel – really handy for when you are rushing out the door.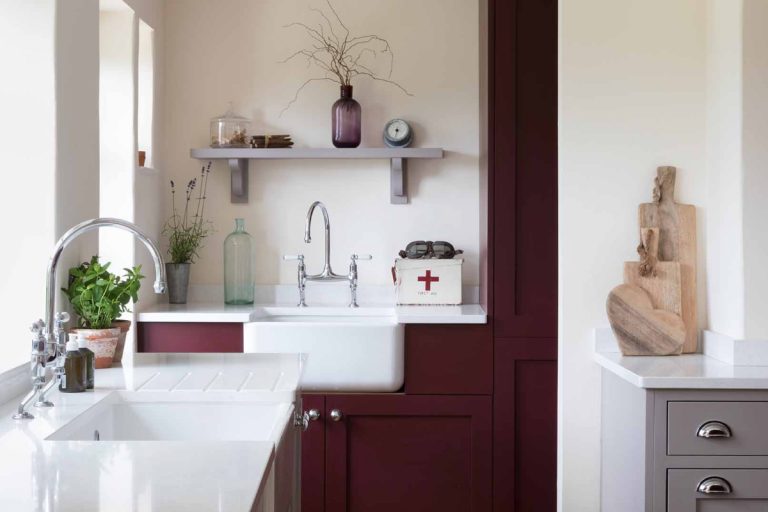 Featured image: Photography: Paul Craig
About Post Author