Copper, marble, ceramic or stainless steel? That is the question. Butler sinks have been around for many centuries, but over the years, the textures and materials changed from the initial go-to component – fireclay – and so many options are now available. A classic choice, yes, but you can now get the style in a range of materials, so they're befitting a contemporary kitchen scheme too. So if you're thinking butler sinks equals farmhouse, think again.
You may also be thinking: 'what are butler sinks?' and we wouldn't blame you. There's some slight differences between this and the similar Belfast sink. Well, butler sinks are a classic rectangular design set into the worktop with an apron-front design (where the front is on display) and a rounded rim. You can also come across the names Belfast and farmhouse – there are differences between each sink (mostly to do with the number of bowls and type of overflow), although these days the names are often used interchangeably.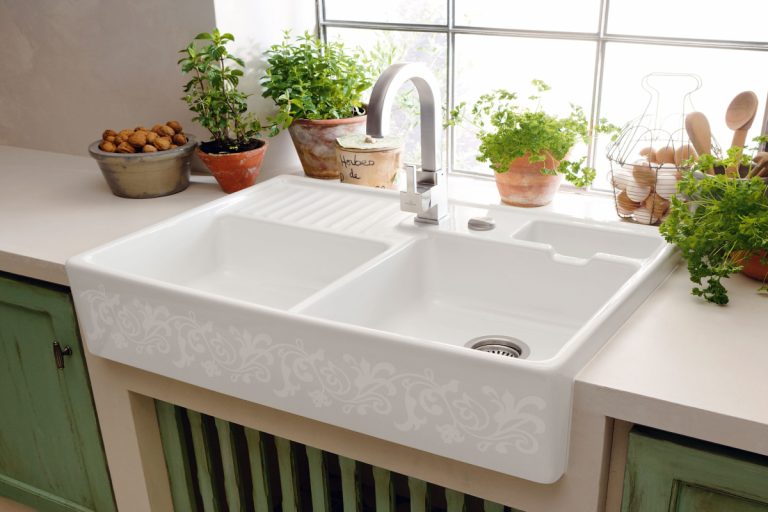 A little bit of background…
Butler sinks date back to 17th century London, where you could find them in butlers' pantries. They are practical because, as you build them into the front of a worktop, you can easily lean over the sink. Shortly after, they came to Belfast with one notable difference – an overflow to help with drainage.
Seemingly, the reason this overflow didn't feature in London sinks was to reduce fresh water usage. This is because water wasn't as readily available in the capital as it was in the countryside.
Rural France was the birthplace of farmhouse sinks – however, they were popular throughout Europe. Much larger than the other two styles, they were perfect for properties without access to running water. They were also ideal for washing clothing – and even children.
They were made from a fine French fireclay and although many still are today, designs in cast iron, stainless steel, and copper are also available – perfect for the modern kitchen.
OK, history lesson over. Read on for essential buying tips…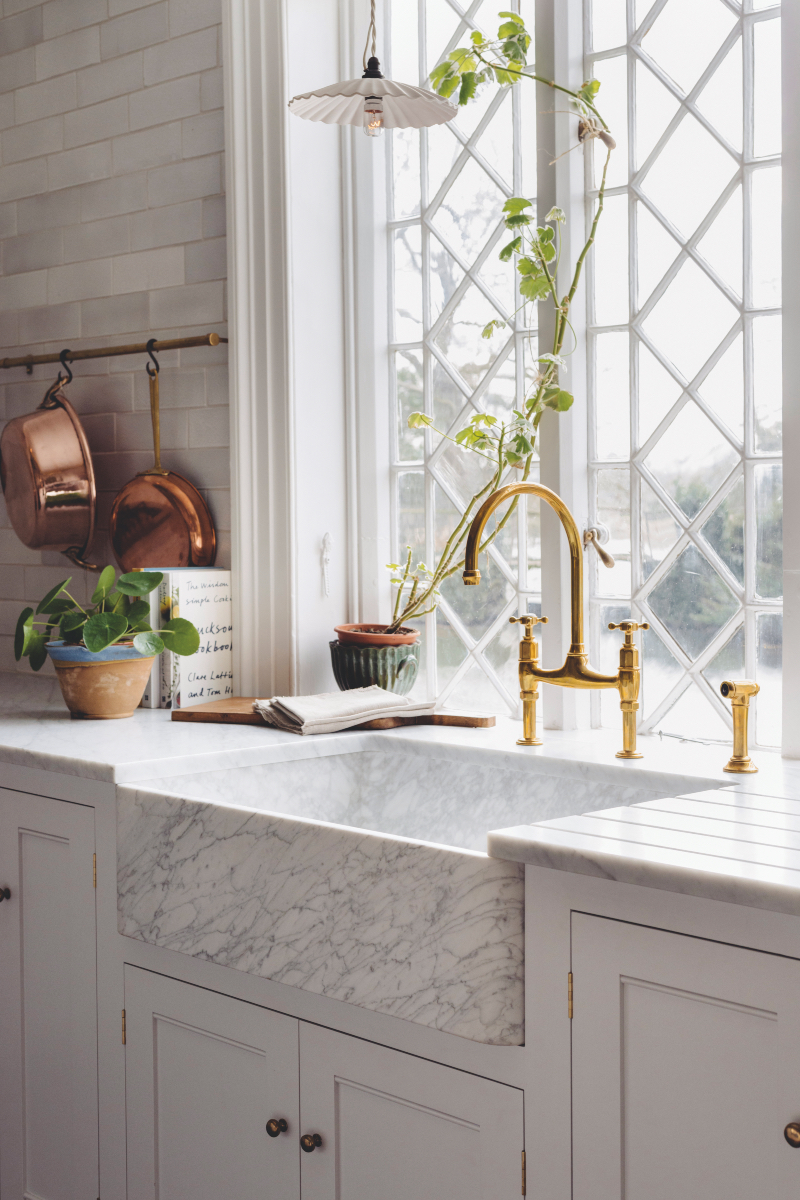 Buying tips
You can't simply slot a butler sink into your existing design (sorry), so you'll most likely be buying one as part of a new kitchen. Decide early if you want to go for an apron-front design, as its look, shape, and size will affect the cabinetry you choose to have underneath, as well as the type of worktop you have either side of it. Chat to your kitchen designer if you're in any doubt.
Butler sinks: design decisions
The fun bit! Traditionally, butler sinks were made from a fireclay ceramic, but today they are available in many materials. These can include porcelain, cast iron, stainless steel, copper, and marble – to name a few. They also come in a variety of colours, textures, and finishes.
Plus, you will have to consider different features, from double sinks to drainers, waste outlets, and tap holes. Choose a configuration that best suits your needs, family size, and available space. In addition, the style of tap – or taps perhaps – you'd like to include.
Butler sinks: need to know
You need to undermount butler sinks, which sadly makes them more difficult to install than other styles. You'll need to cut the surrounding worktop to size. The cabinetry underneath will also need to be shorter than the rest to accommodate the apron front.
Don't forget to bear in mind your new sink's weight – both full and empty – to ensure you can secure and seal it properly within the design you've chosen. If your chosen model doesn't come with a tap hole, be sure to leave room either directly behind or above on the wall for one. Make sure to ask your supplier to recommend a professional installer to ensure correct fitting.
Pricing
Expect to pay between £150 and £3000, depending on your chosen size and material. A single bowl ceramic style will cost less than a large marble one with added drainer and waste disposal. Don't forget to budget for installation, a custom worktop, and cabinetry.
Featured image: With a sleek stainless-steel finish, Caple's Beless classic Belfast sink is hardwearing, temperature resistant and easy to keep clean.

About Post Author