Thinking back to the laundry room in my childhood home, it was far from stylish – although the polished concrete flooring is on-trend today, the rest certainly wouldn't be. After all, the space was practical, located in basement room, adjoining my nan's in-law flat (which, I feel the need to specify, did have windows, fresh air, and garden access).
In which we placed a washing machine, dryer, some shelving, a large freezer, and, tucked neatly underneath the stairs leading up to our home, more shelving.
As I said: it wasn't much, but it did the job. Quite brilliantly so, because there was no door to the stairs so you wouldn't even get the classic laundry room air – you know, kind of muggy, very warm, makes your glasses fog up.
These days, however, we'd very much like our utilities to work hard while still looking good. They're often multi-functional – some serve double duty as a a boot room, others are designed for entertaining, with a second dishwasher and plenty of work surface. There are even schemes which double as a walk-in pantry.
So whether yours is used for doing the washing, drying your dog after a walk, keeping coats in order, or all of these (and more), here are some ideas on how to boost your space's practicality.
All, of course, while keeping it stylish.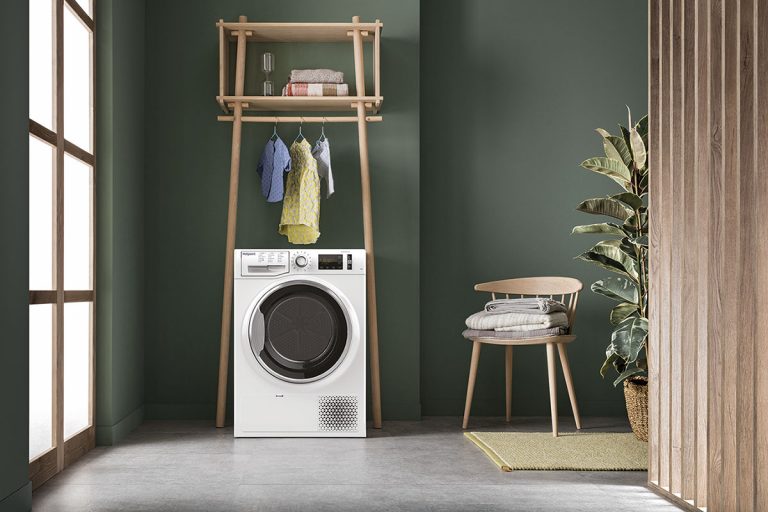 Add a sink
Fitting a deep bowl, maybe with some countertop space next to it, in your utility is incredibly handy.
Need to pre-soak dirty sports kit? No problem. Want to handwash delicates? You've got a dedicated space. Has the dog managed to get its paws exceptionally muddy? If you choose the right sink size for your pet, you can rinse its paws right there rather than in the bathtub.
If you're entertaining, it's also ideal to hide dirty dishes from sight until you begin clearing up in earnest. Not to mention the added work surface is ideal as extra food preparation space.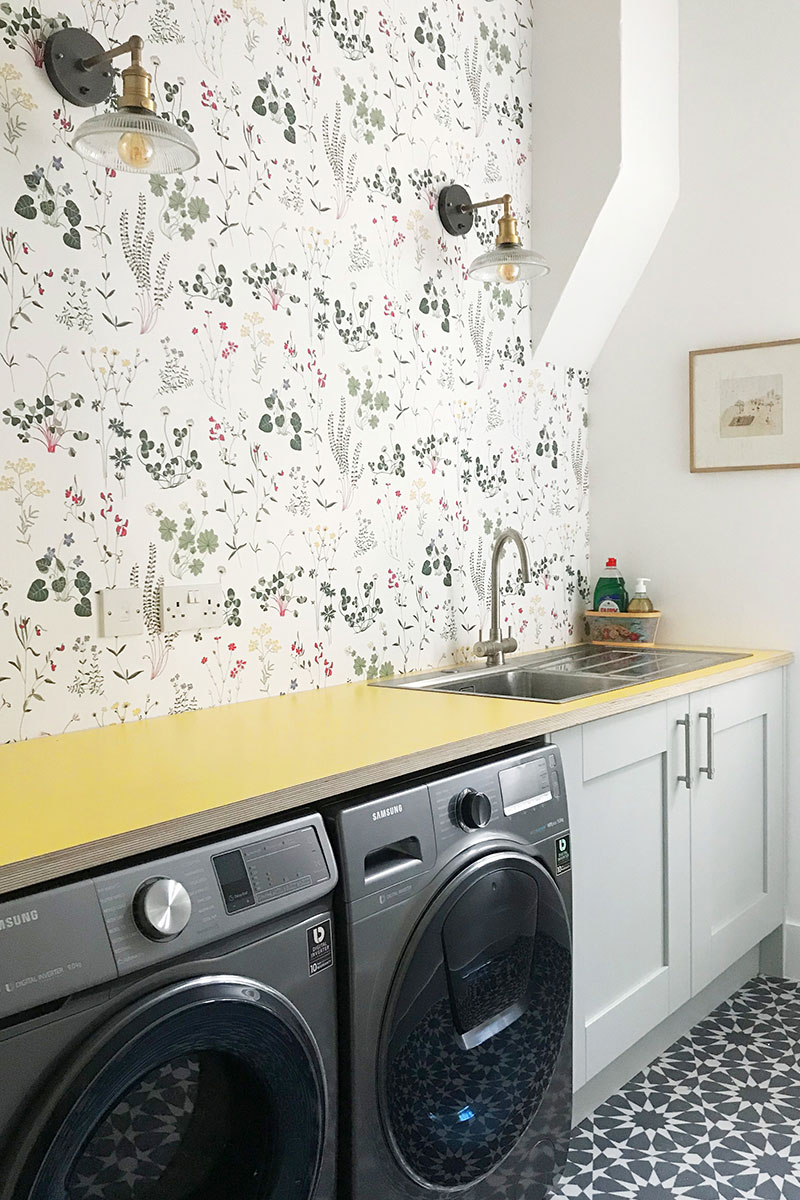 Install a drying rack
Do away with unsightly clotheshorses and free up your radiators: this solution keeps wet laundry confined to one single space.
"It's not new or revolutionary," William Durrant, director at Herringbone Kitchens, told me when I asked him for advice. And he's right, too – we had one of these when I was growing up.
But, William said, it's ideal if you don't have the space for a tumble dryer. Plus it helps save precious floor area, as the overhead racks won't have much of an impact on you moving around.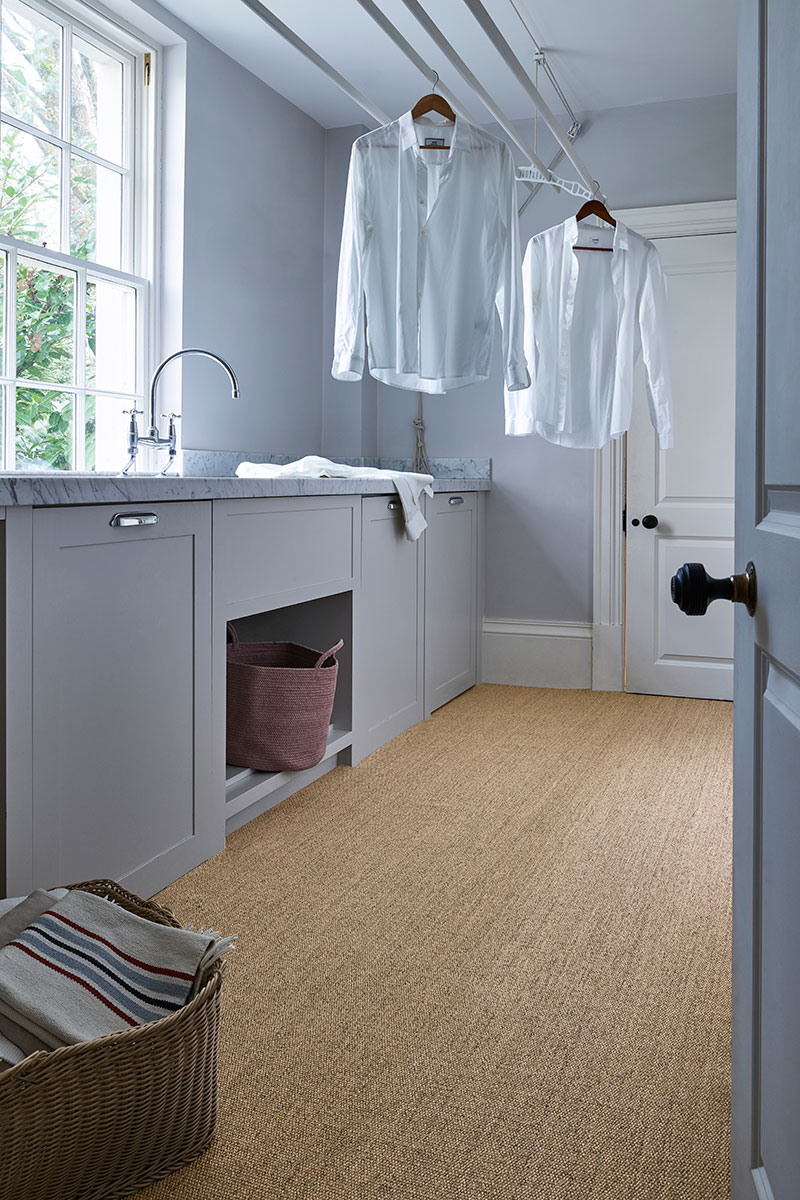 If you do decide to go for this traditional solution, make sure you install them quite high up. This way, the hot air rising will help dry your clothes faster and keep them smelling fresher.
Create flow between the kitchen and utility
When you design the room, think about what you would like to achieve.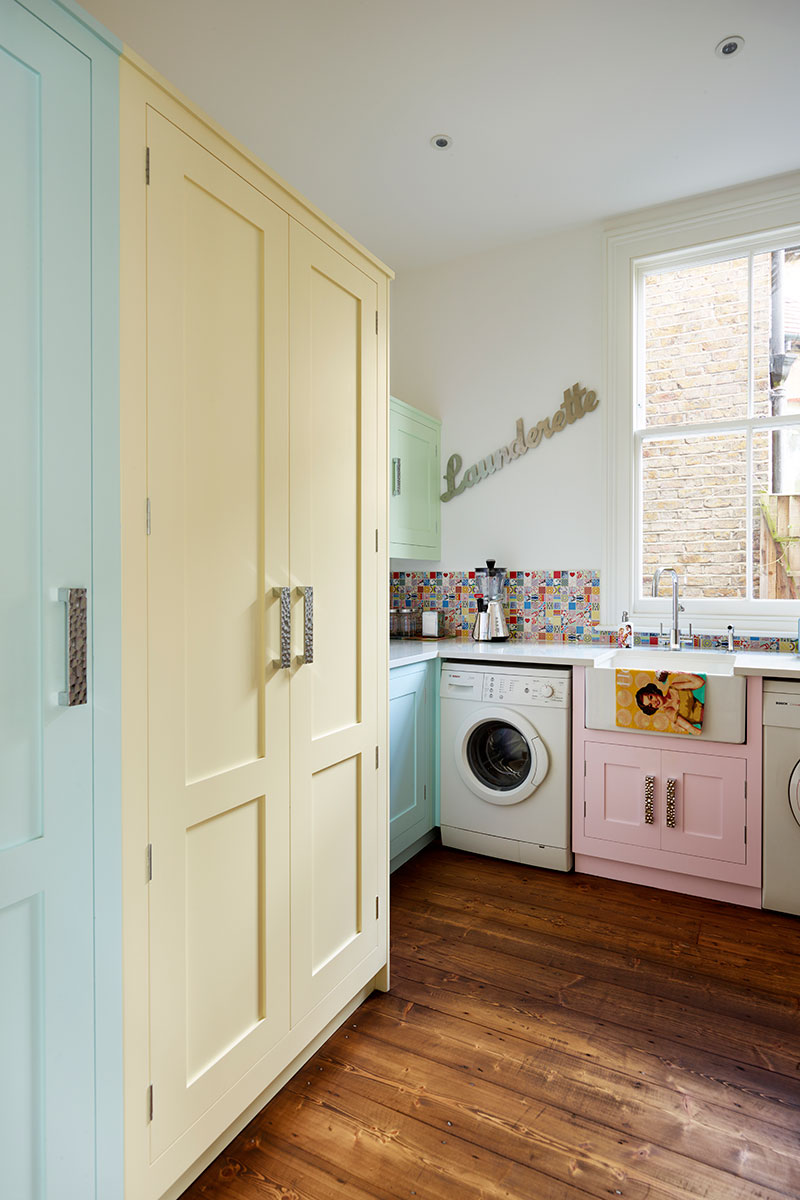 If you want, you can of course go for the full contrast and have completely different looks in the kitchen and utility. However, coordinating the two spaces will result in much better flow and a cohesive look that will make your scheme look unified.
But don't worry if matchy-matchy is not your style: you can always opt to go for the middle ground and use the same worktop or wall paint. Another great idea? Choosing the same cabinetry, but painting it in different – but related – shades.
Stack your appliances
In a compact room, every inch of floor area is precious – so make the most of it by stacking your appliances. You can't do it just like that, though: purchase the manufacturer's stacking kit to make sure your set-up is safe and stable.
Think lifting laundry into the machine is a little cumbersome? Place a small table next to it, on which you can rest baskets. This way, you won't have to bend down time and time again. Some stacking kits also come with a pull-out shelf, so it's a good idea to keep your eye out for this feature.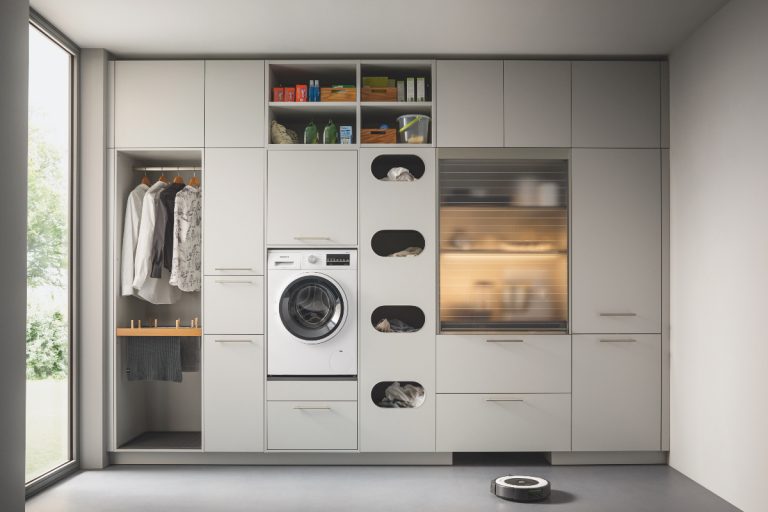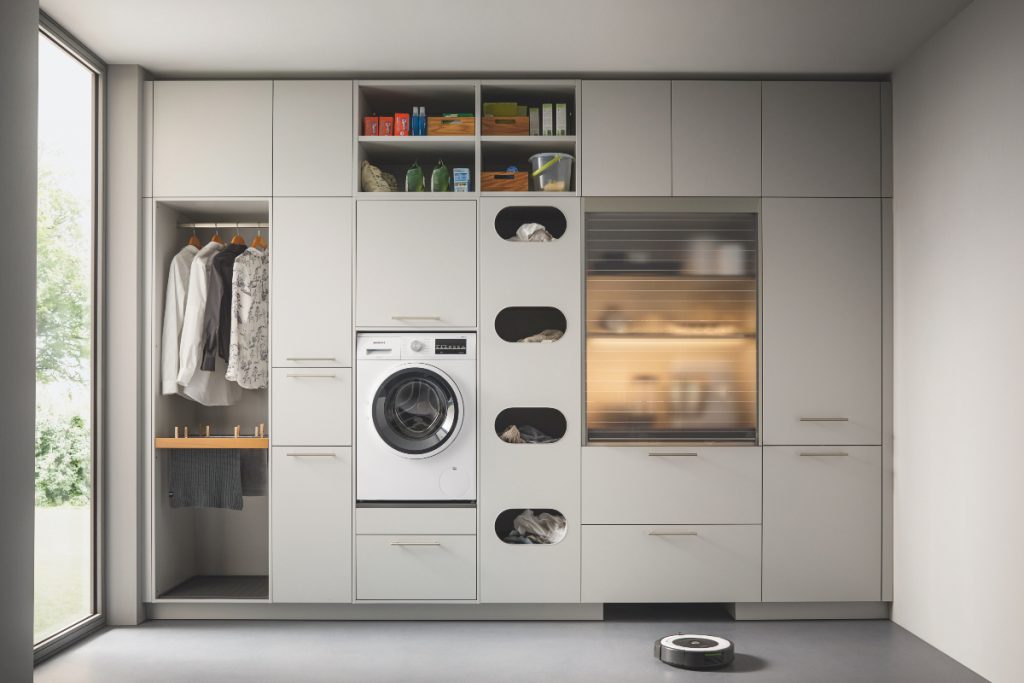 Hide your utility away
Everyone who lives in a busy household knows the feeling: no matter how many loads you wash, the laundry pile rarely seems to shrink. (And if it does, it quickly builds back up again.)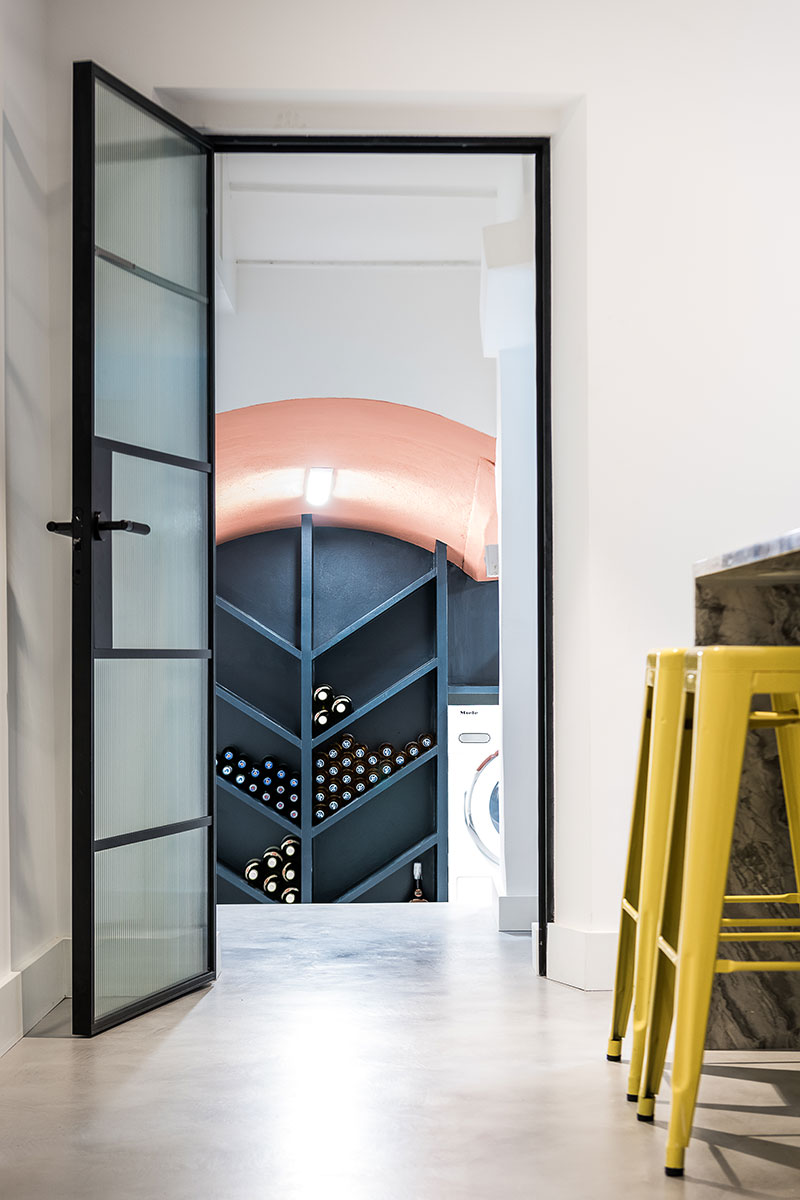 If you have doors, that's okay – but in an open-plan scheme, you might feel it could get you into a pickle. After all it's not that nice to look at, is it?
But fear not: there are solutions out there to help. You could hide your laundry space away behind a pocket door, which slides into the door when it's open. This way, you can shut off the utility when needed without losing out on floor area.
And if you are in there putting on a wash and sorting out socks, simply open the space up to feel connected to the main kitchen.
Who said you couldn't have the best of both worlds?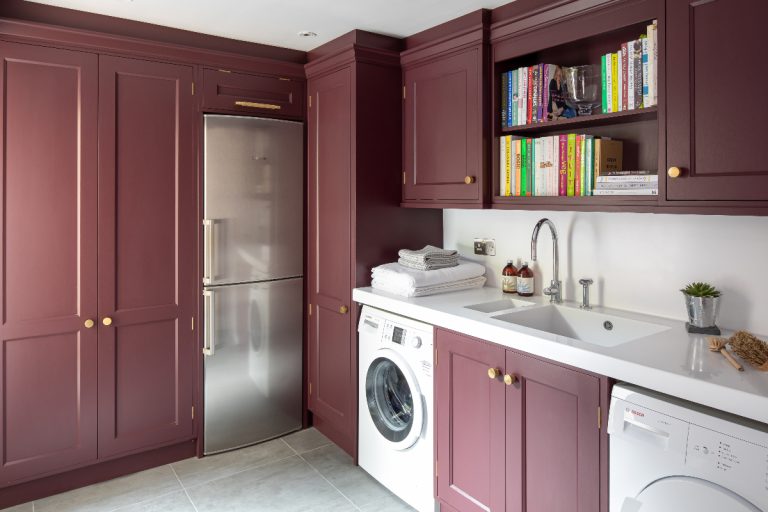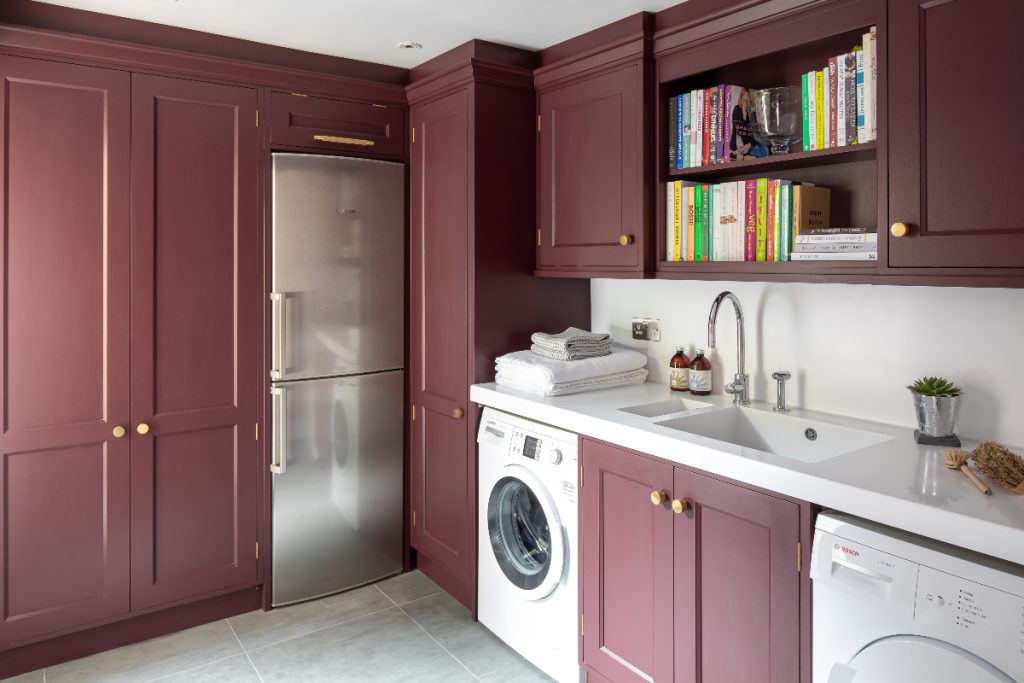 Opt for larder-style storage
A freestanding cabinet is the ideal addition to a laundry space.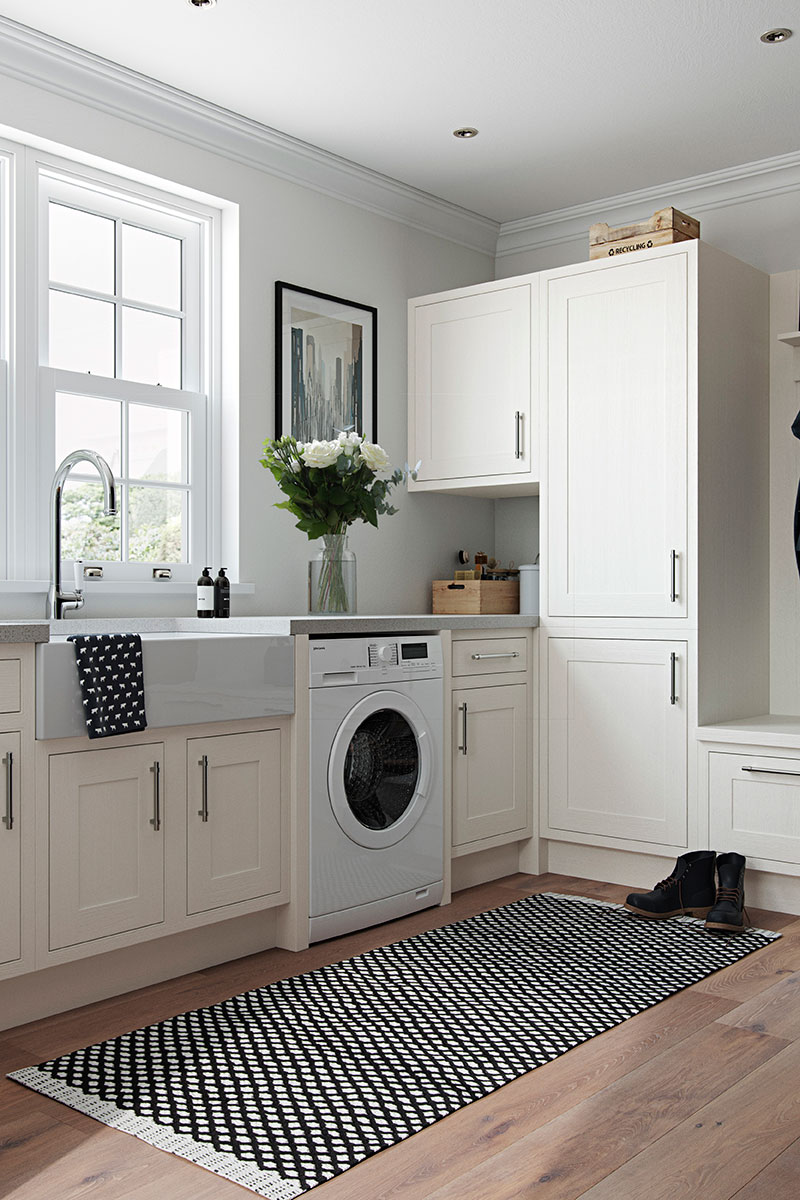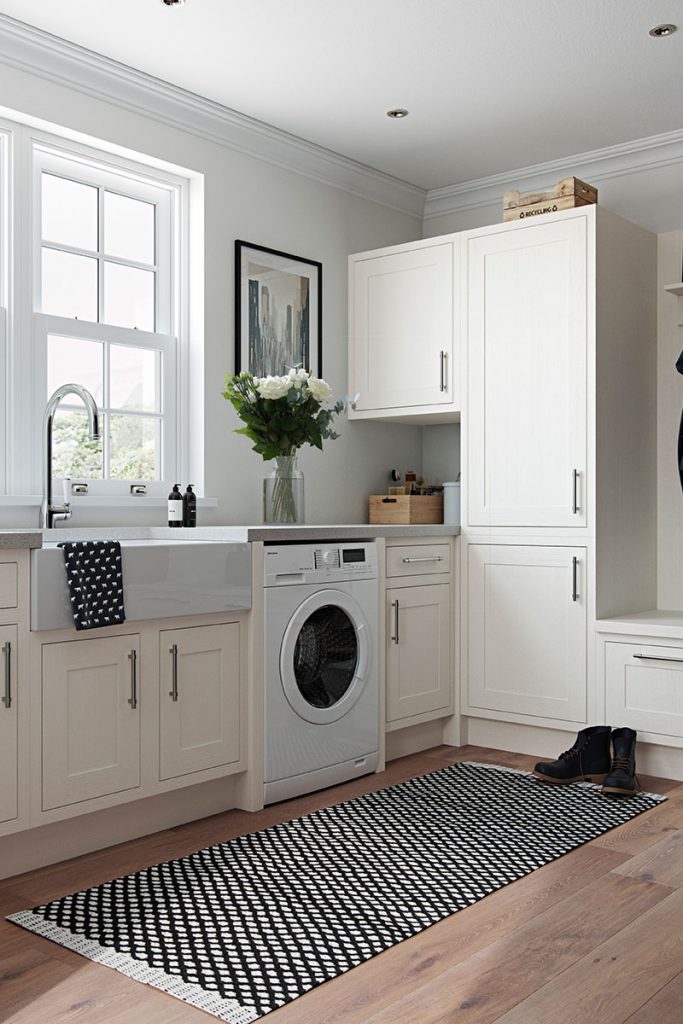 Not only can you stash your iron, board, and other paraphernalia inside, you can also hang up freshly ironed clothes to ensure they don't get new creases.
Make sure you add a plug socket inside so you don't have to trail a cable all through the house and to guarantee there's always one free. Smart, right?
Choose clever solutions for your utility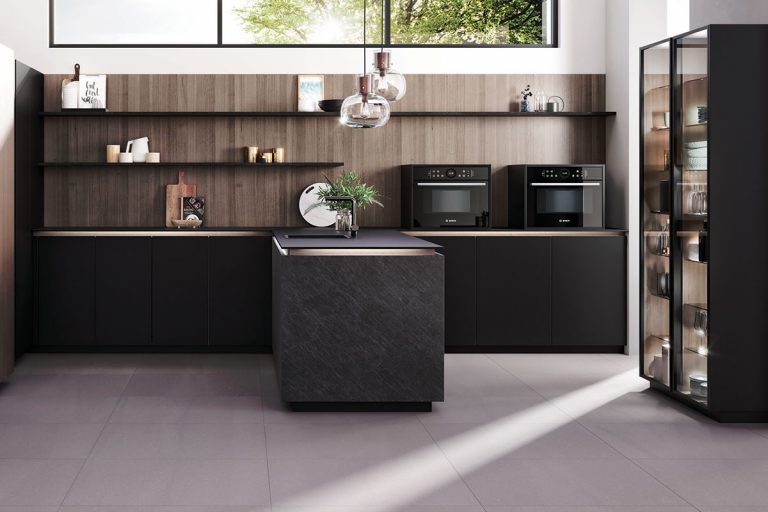 Whether you have plenty of floor area or are creating a hard-working scheme in a compact space, there are lots of intelligent designs out there which help you maximise every inch.
Pull-out ironing boards hide underneath the work surface until they're needed, keeping cupboards free. Alternatively, there are tabletop designs that won't need much space, either. A pull-out washboard is equally as clever, as it slides into the sink when not in use.
Then, of course, there are flexible wall systems which allow you to create a shelving solution that's exactly right for you.
So, what's your utility like? Are you going big or is a compact but incredibly smartly planned space more your style? Let me know – and as always, don't forget to share your top tips!
Featured image: Who said a utility has to be compact? If you have the space, consider creating a dedicated laundry area along an entire wall, complete with units and appliances. This scheme features Scavolini's Rivo furniture in Navajo Elm textured laminate, which has been combined with features from the brand's Laundry Space range. The scheme features a lift-up worktop with pull-out ironing board, for example, as well as a sink with pull-out washboard. Prices for Scavolini's Laundry Space start from £5000.
About Post Author