If you're looking for a kitchen that packs a punch, look no further than the home of television presenter Helen Skelton. She took on a broken house just as lockdown struck, but still achieved her aim of creating a unique modern country look. And she only used local craftsmen and suppliers. Let us tell you more…
Helen Skelton's home is incredible. Talking to KBB writer and journo Stephanie Smith, Helen tells us how her husband was at first reluctant to see the property with her, due to its fairly neglected state. He then made an offer on the house while she was on Celebrity SAS as a surprise for when she finished filming. (I wouldn't mind a surprise like that, would you?!)
After getting the keys in February 2020, the couple quickly began to make plans. "It was obvious the downstairs needed to be one big, open space. So we took down the wall dividing the kitchen and living room, plus a couple of others. We also took out the low ceiling, and went for a vaulted roof to give us more height," Helen says.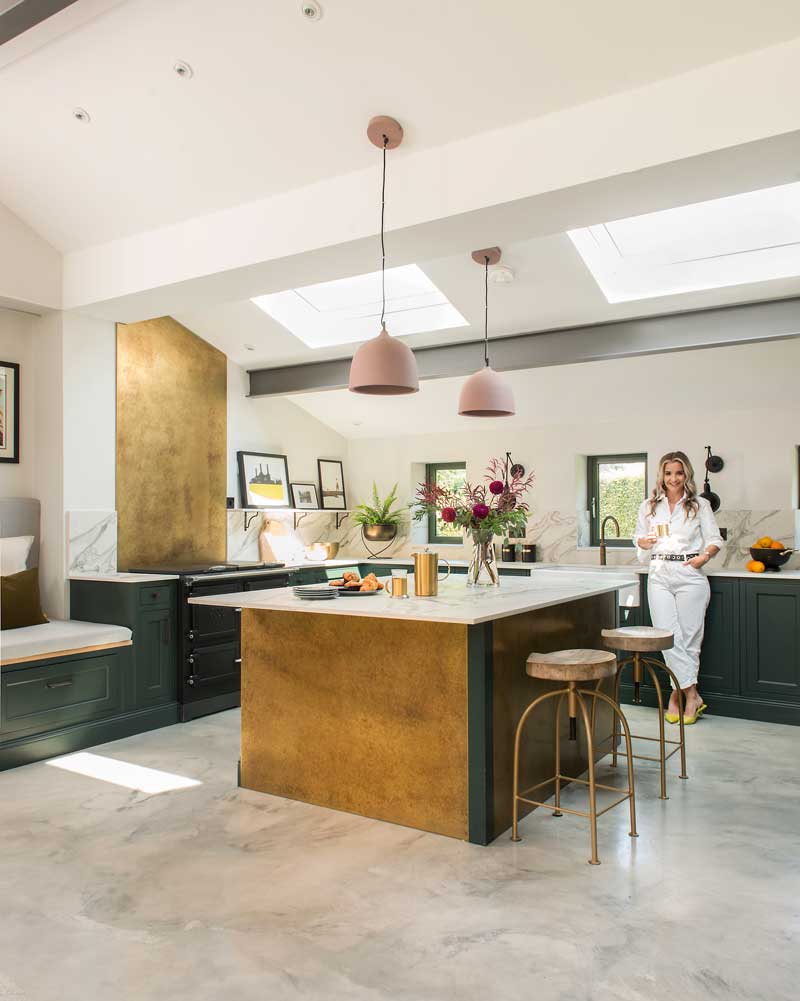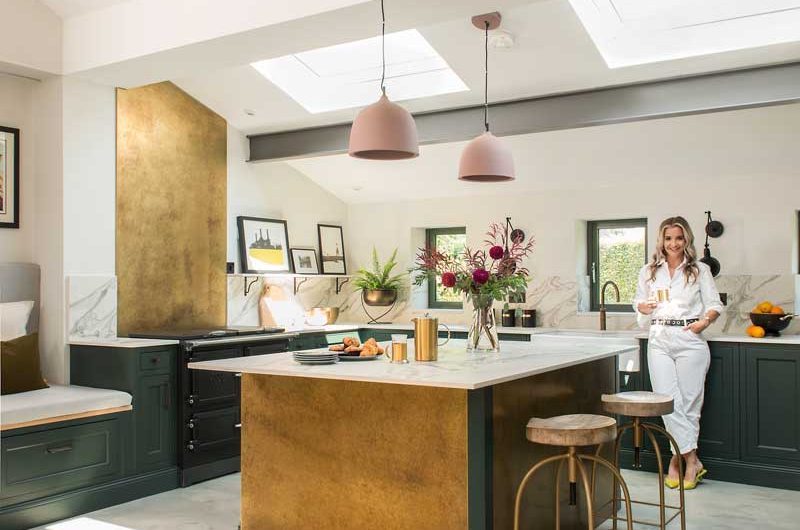 Designing the renovation
When it came to the design, Helen wanted someone to help focus her ideas. She was adamant that as far as possible, she wanted to use local tradespeople and quality suppliers.
"I found Kelly Roden at Meliora Kitchens, Bedrooms and Bathrooms in Doncaster on Instagram and we just hit it off. She and her husband Leon are a young, dynamic couple – and they're based in Yorkshire. They put huge amounts of care and attention into their clients and are endlessly patient. I'm sure Kelly must have been tearing her hair out at times."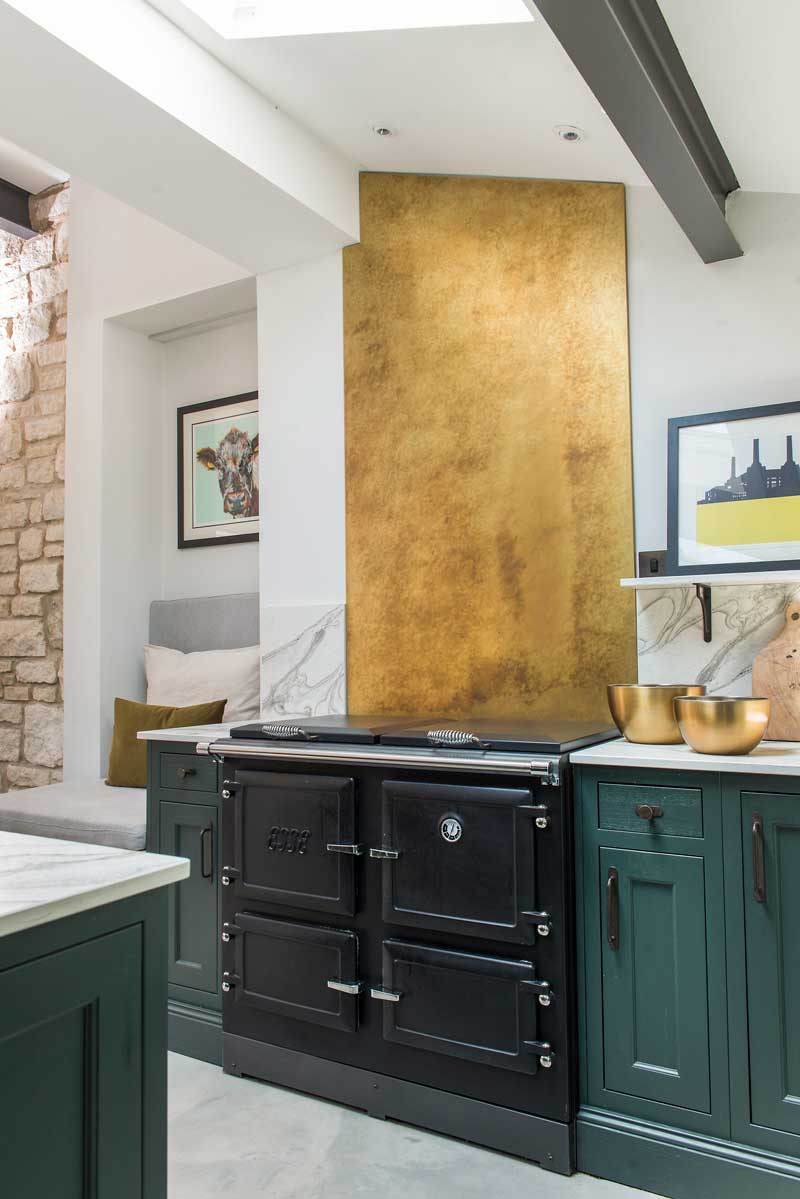 Helen Skelton's gorgeous kitchen
As for the kitchen, a large island was a must for Helen. "Being brought up on a farm, the space was always busy," she says. "I wanted that feel here. We're a very sociable family, everything from having other kids round to play, to enjoying takeaways with mates or cocktails with the girls. So that was important to me."
Having decided on Shaker-style cabinetry in a dark green shade by Kitchen Stori, Helen was keen on marble for the worktop – initially. "I went to a marble warehouse and discussed it with them. They asked me if I was someone who would put down a glass of red wine or a takeaway container of curry on a worktop and not clean it up until the morning. When I admitted I was, he said marble probably wasn't for me," she laughs.
(Count marble out for me, then!)
Brass was another essential element for the scheme, and at one point Helen even considered kitchen units wrapped in the material. "That was the point at which Kelly said no," she admits. "But we compromised on a brass splashback and end plate, which I love."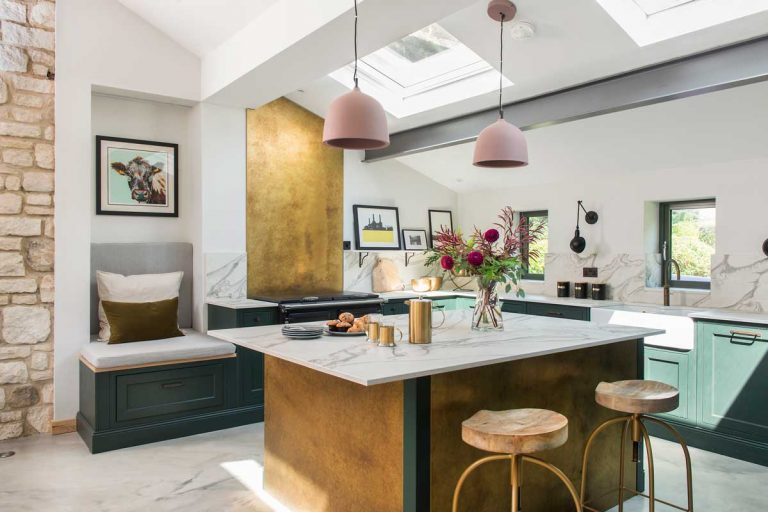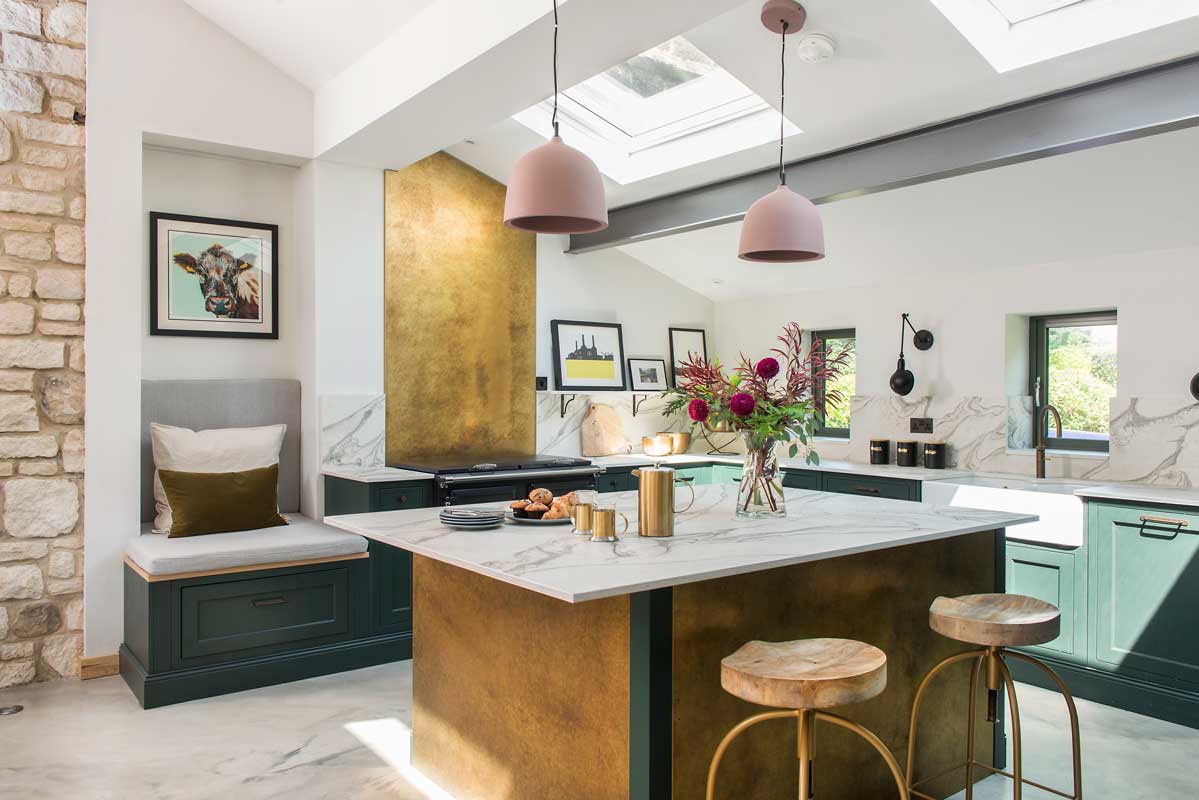 How a polar explorer influenced Helen's choice of cooker
The splashback also had an impact on Helen's choice of range cooker – which has an interesting story behind it.
"I liked the sound of Esse, as the company is not far away in Lancashire, so I went up to the factory for the day. As soon as I heard that Ernest Shackleton, the explorer my eldest son is named after, took an Esse stove with him to the South Pole, I was sold. Plus, every single part is made in England," she says.
Elsewhere in the house, when it came to the three bathrooms, Helen wanted each of them to have a different feel rather than repeat the same sanitaryware. The family space has a natural vibe, with a freestanding metal bath, wooden shelving, stone flooring, limestone tiles, and a concrete basin from The Poured Project, which was another of Helen's local finds.
Helen Skelton's stunning bathroom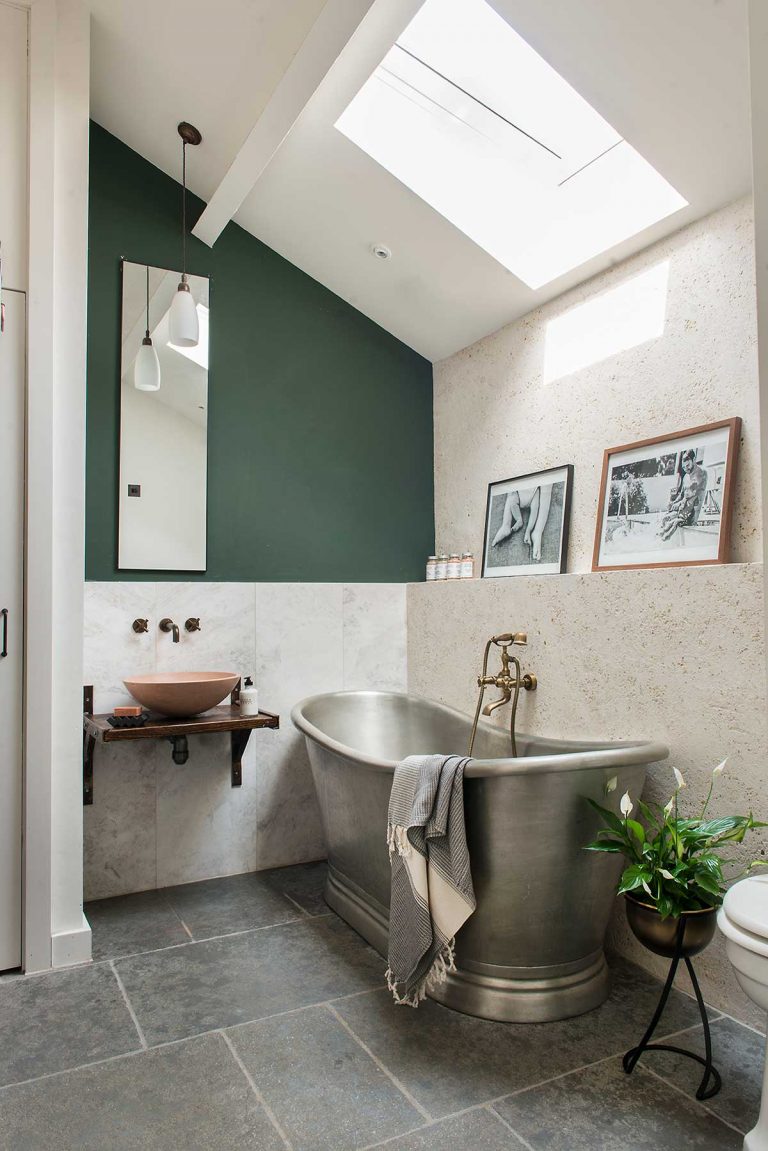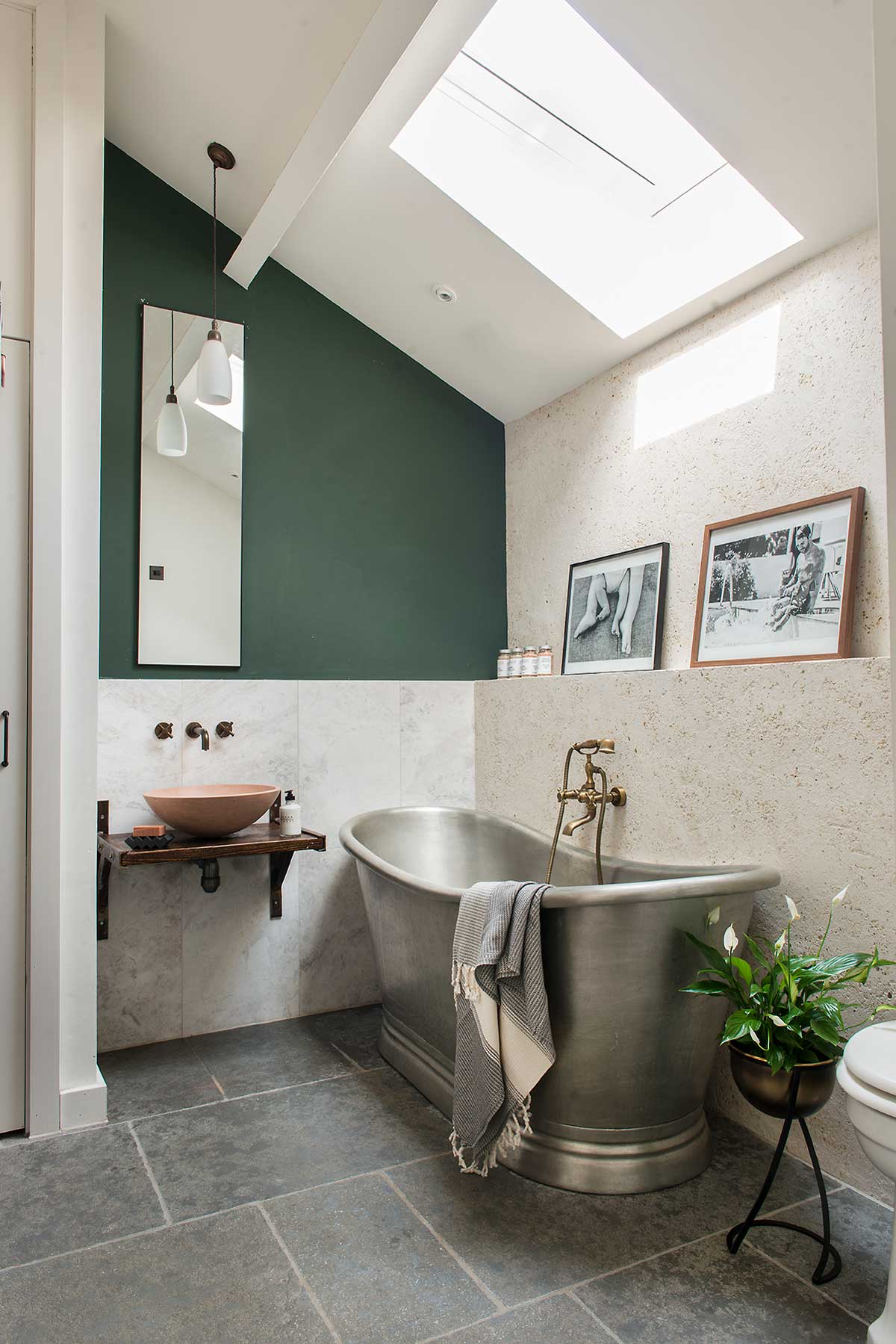 The master ensuite has a light, airy feel, with green crackle glazed tiles and a fluted glass shower door. However, the ensuite to the guest room is all dark and dramatic, with black tiles and a bespoke black grid screen.
Now the house is finished, Helen is thrilled. "Our home works exactly as we hoped it would," she sums up. "And I'm pleased I stuck to my guns."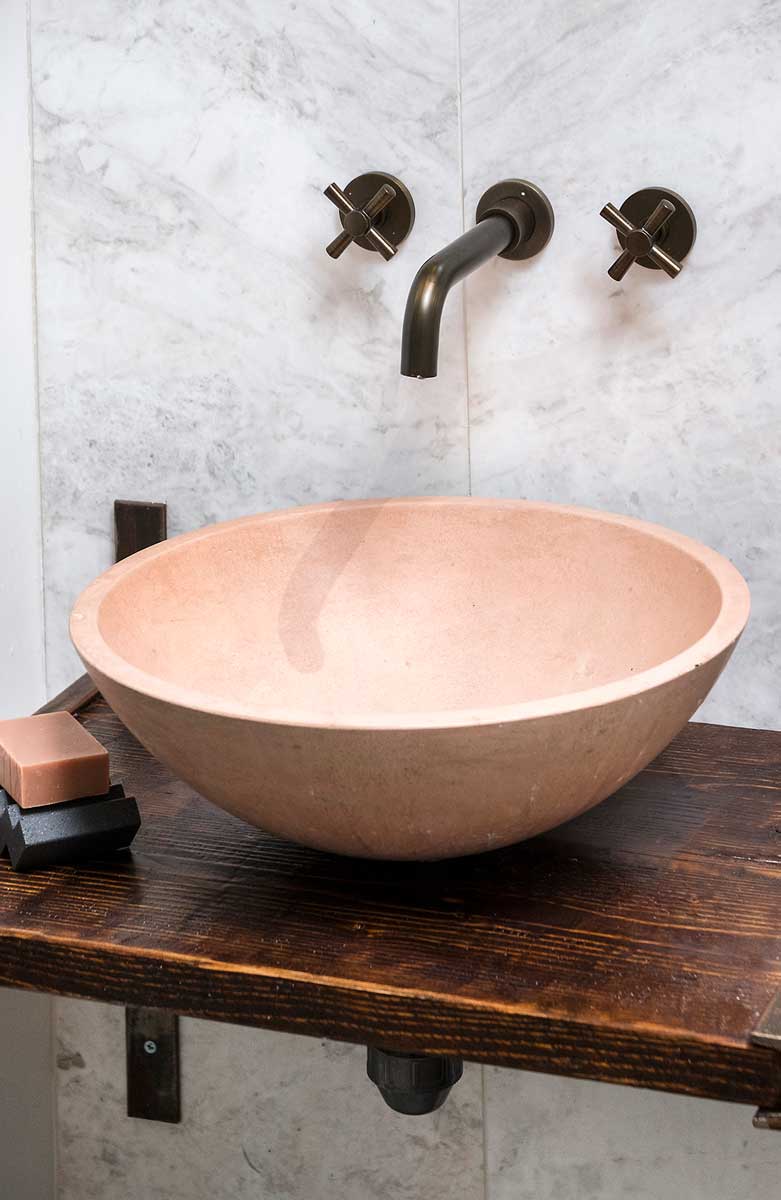 Photography by Colin Poole. Styling by Annabelle Grundy.
So, did you love Helen Skelton's home as much as we did? Then you'll enjoy this house tour of a country-style kitchen.
About Post Author