If you were around in the 1990s like me, one of your most iconic interiors-related mental images is probably of classic black-and-white kitchen flooring.
While that's a famous and timeless look, there are many other options. I'm not only talking black and white – think every colour under the sun. The monochrome options are pretty gorgeous as well though.
When it comes to materials, this feature should help you get started…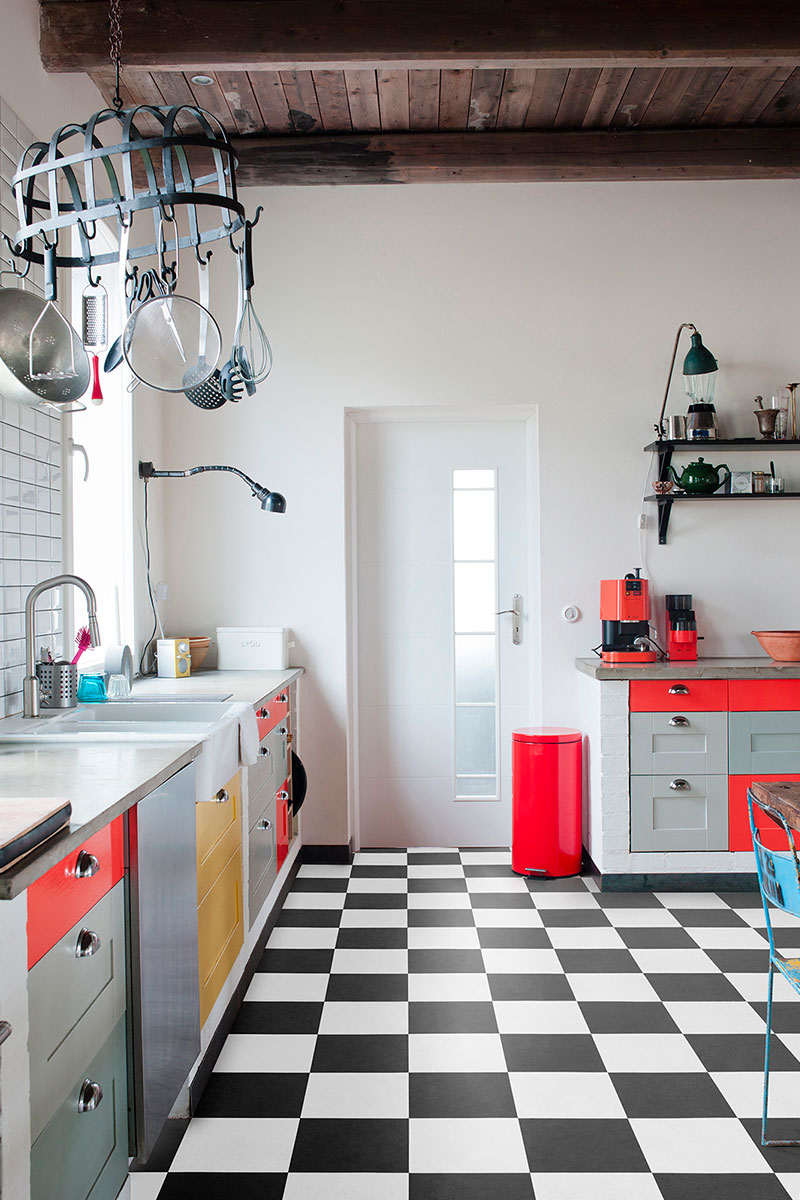 Gone are the days of having to choose between cheap lino and expensive tiles. Vinyl has stepped up its game, while wood-look solutions appear like the natural material but are much more resilient.
But what do you need to know? Well, luckily I'm here with all the detail you need to find the right solution for your kitchen renovation project. Read on to find out which flooring material may suit you…
Solid and engineered wood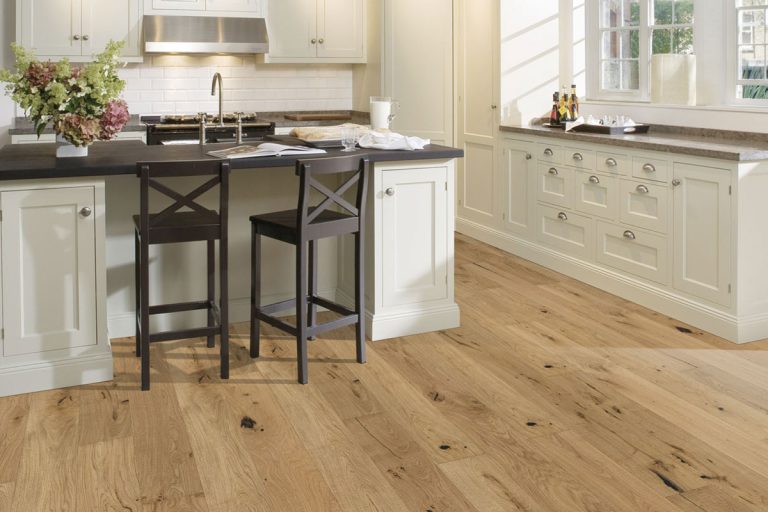 Oak, pine, teak… there are so many different types of natural flooring out there. Their looks are very different, but they all have one thing in common: wood itself is not actually 100% suited to a kitchen.
You can sand it down and stain it time and time again to fixes scratches, but the heat – as well as a potentially damp environment paired with frequent spills – may cause planks to warp.
Luckily, there is another option if you want the appearance of the real deal without the high-maintenance aspect.
Engineered wood, including laminate or flooring sold by the likes of Kährs and Amtico, looks the part but is often very hard-wearing. It can easily withstand the demands of a busy kitchen, be it in a family home or party central.
Vinyl kitchen flooring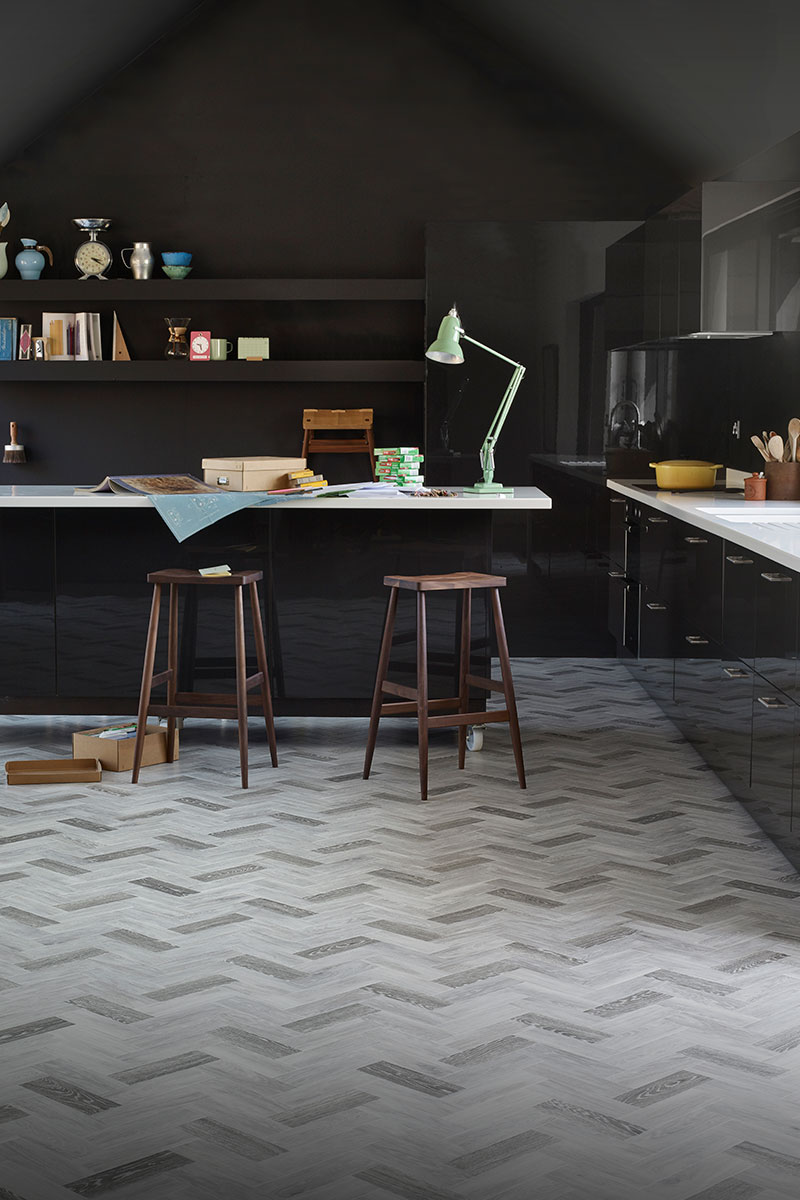 The iconic black-and-white design isn't the only option out there, of course. You can buy vinyl as sheets or so-called luxury vinyl tiles, which are exactly what they say on the tin and come in a whole host of designs.
Wood-effect? Yes. Porcelain-look? Absolutely. Bright, unusual patterned designs? Vinyl has you covered.
It's not limited to square tiles, either. You can find hexagonal or trapeze-shaped flooring too, for an extra touch of character.
The material is really hard-wearing, so don't worry about spills. That said, it's still best to wipe up any accidents as they happen, to avoid the chance of staining (and also stop you from slipping).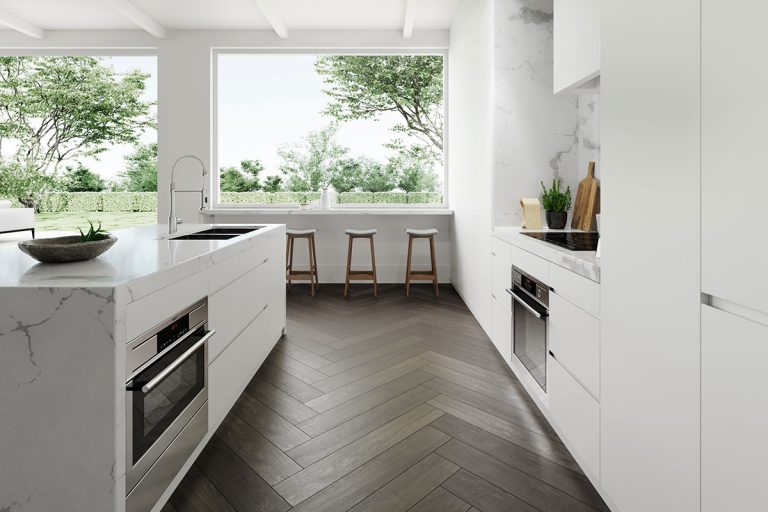 Much like vinyl, this type of flooring is hard-wearing and comes in a range of shapes, colours, and patterns.
But tiles also come in different materials, of course…
The most familiar are usually ceramic and porcelain. They are often glossy, robust materials you frequently find used for splashbacks or in bathrooms.
But there are other options: encaustic tiles, which carry a pattern all the way through the shingle, or even metal.
Glass tiles also exist, but I'd always recommend them for a splashback rather than the floor. After all, it'd be a shame if you drop something and crack a tile in the process. They are quite tricky to replace after all.
As ever, let me know if you found a solution in this. And if you're one of the dedicated people who have real wood, please tell me your secret to keeping it in ship shape.
Featured image: No longer constrained to shades of grey, vinyl now comes in options that look like stone, wood, or other materials which may not be ideal for a kitchen. Shown here is the Colosseum Moonstone luxury vinyl tiles in a warm oak finish that looks like real wood, from £29.95 per sq m, Lifestyle Floors.
Want to read more? Check out our feature on vinyl flooring.
About Post Author