Ok, I admit it. When I first stepped foot into Jess Young's beautiful home I swooned. Big time (especially when I saw that kitchen). But, can you blame me?
Look at the light, airy space. The classic Shaker-style doors, mixed with contemporary accessories – from the lighting to the handles – accented with those the vivid colours from the Moroccan rug and crackle-glazed green splashback – an idea Jess openly concedes she stole from someone else. (Don't worry Jess; I would have done the same thing if it were my kitchen!)
Jess, and her husband Reuven told me they felt like they needed a little help to realise their décor aspirations, so hired interior designer Beth Dadswell, of Imperfect Interiors, to concoct a scheme for the entire house.
Their brief was to incorporate their love of travel, with particular focus on Morocco and India – but most importantly, they wanted to comprise aspects of their New Zealand heritage in the design. This included having lots of natural materials and plants throughout.
Teas in hand as Jess shows me around her gorgeous house. She explains that before tackling the kitchen, Beth helped 'tidy up' the house, as it had once been split into two flats which later were joined back together by a previous owner.
There had been a second kitchen on the first floor, which they ripped out and made into another bedroom. Handy, as they then lost a bedroom to make a small family bathroom bigger while also borrowing space from it to create a master suite. It was around two years later that they looked at sorting out the dark and narrow galley kitchen.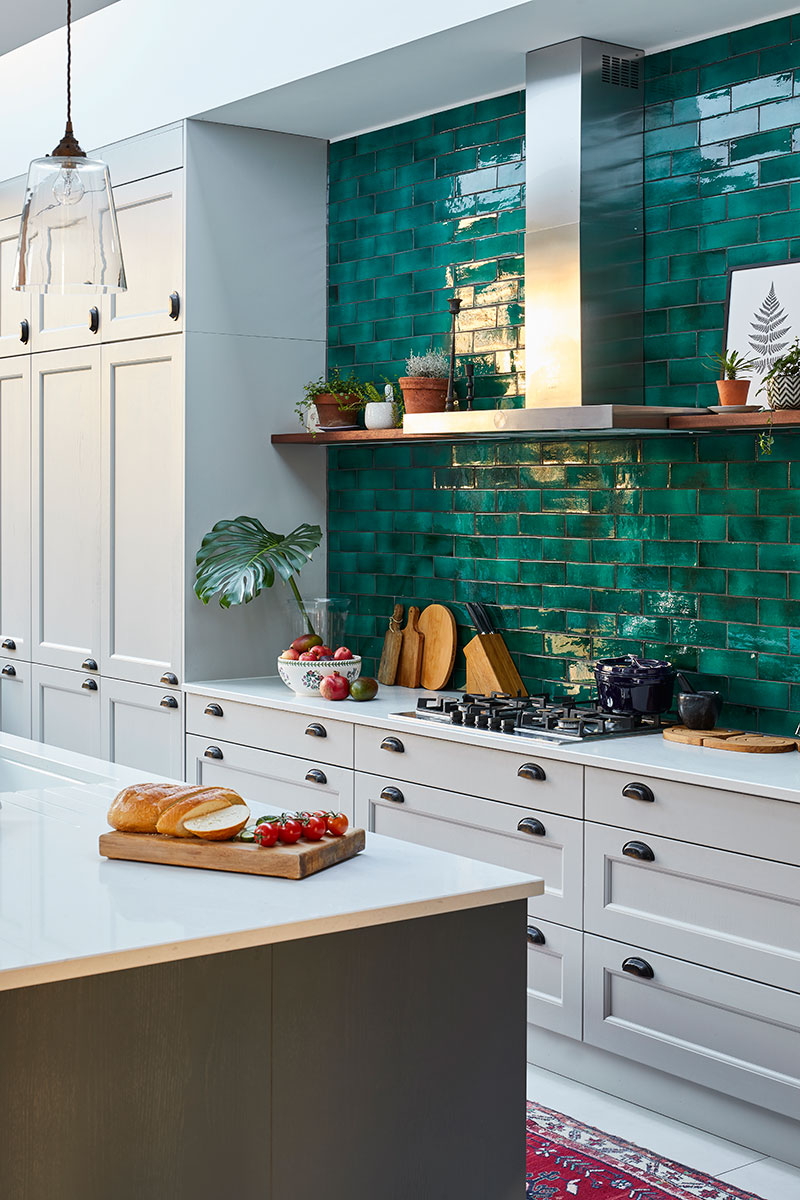 It wasn't more room that they needed, but more light. So, with the help of architect Richard Bridges, from Alexander Owen Architecture, they used redundant space from the side return and extended around two metres with a long skylight spreading the length of the space.
As if that wasn't enough, they removed most of the back wall to create that stunning picture window. The result? A bright and fresh room that draws your eyes up to the majestic ceiling height and out towards the gorgeous garden.
Now back in the kitchen, feeling tiny sat in the incredible picture window, Jess informs me that they picked Puccini Kitchens, with the brief being a super-efficient space that worked for family living.
They also wanted a sensible, ergonomic arrangement with the sink, dishwasher, cooker, and fridge all located within easy distances from each other, with an informal dining area close to the kitchen that utilised the picture window.
Here's what Jess had to say about the project. "My favourite part of the house has to be the kitchen, in particular the picture window.
In fact, we now spend all our time in there as you are practically floating in the gorgeous garden. It's much more light, practical, relaxed, and perfect for family life."
I think you'll agree that this home has an incredible energy, a beautiful mix of elegant period details and modern finishes, and is a space that is truly enviable.
I'm not jealous – you are.
Photography: Chris Snook
Feature image: Jess says the picture window is one of her favourite things about her renovated home