Taking on a home renovation to create the perfect kitchen is almost always a memorable experience – for the good, bad and the ugly. However, I'll mention here that it's almost always worth the pain in the end! But for Sarah Silvey and her family, it signified a dramatic shift in their lifestyle.
How the red kitchen island and self-build home came about is a story involving an international move. The family had been living in the Middle East for some years and had got rather used to the spacious, open-plan home style out there. So coming back to the UK was a case of downsizing or taking on a home renovation. Well, at least until they decided to knock down a dated bungalow on a plot of land once owned by Sarah's family and build their forever home in its place. It's probably best if I don't compare the weather between Worcestershire, where the property is located, and Dubai and Oman where the family used to live…
Let's move on, shall we?!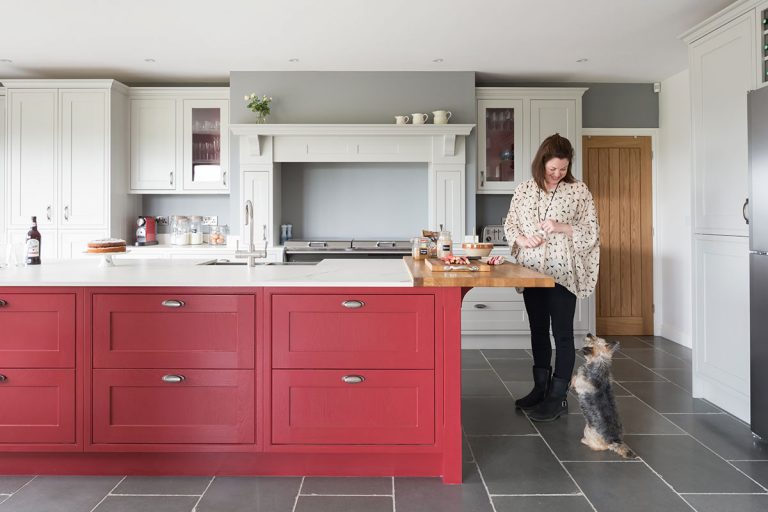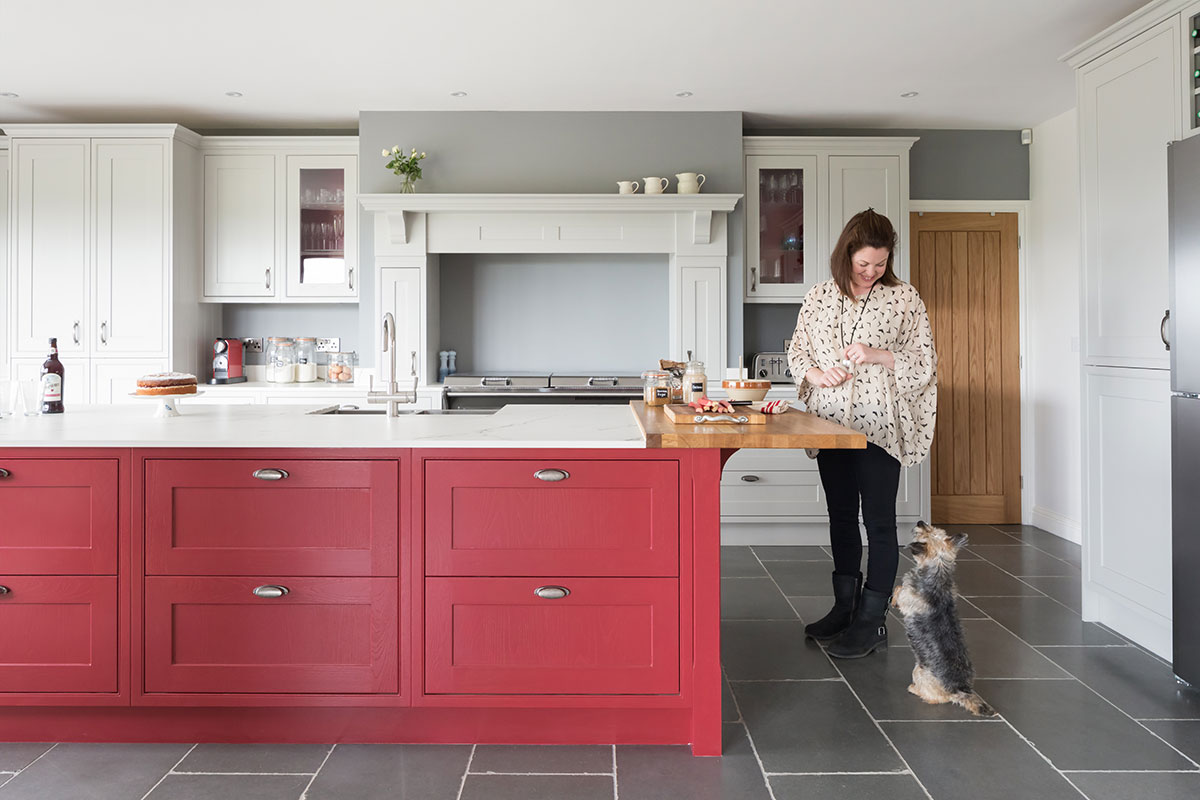 A two-storey, five-bedroom house
Sarah and husband Tom have two sons, Oscar and Felix, and Nelly the dog. Before long, the couple got AM Architectural Design on board for a new two-storey, five-bedroom house. The key open-plan kitchen with red kitchen island and living area would take up most of the ground floor.
"I had an exact layout in mind," Sarah tells me over the phone. "This was inspired by our time spent living in the Middle East. There we had an open-plan villa filled with natural light and great links to the outdoors."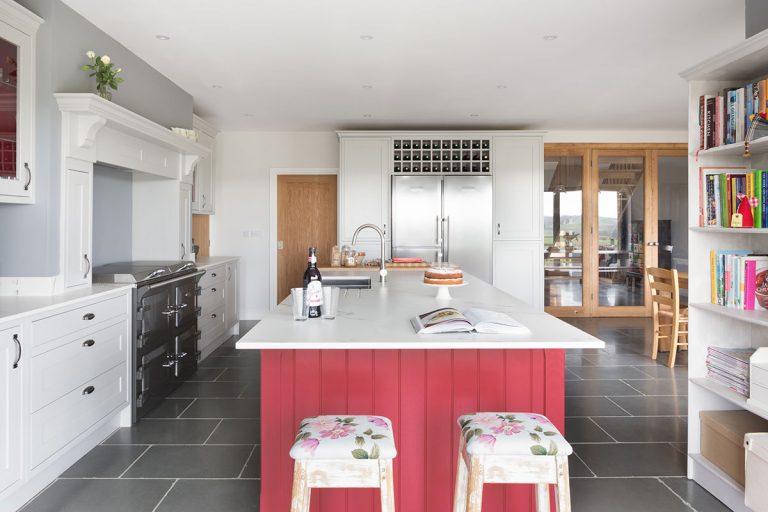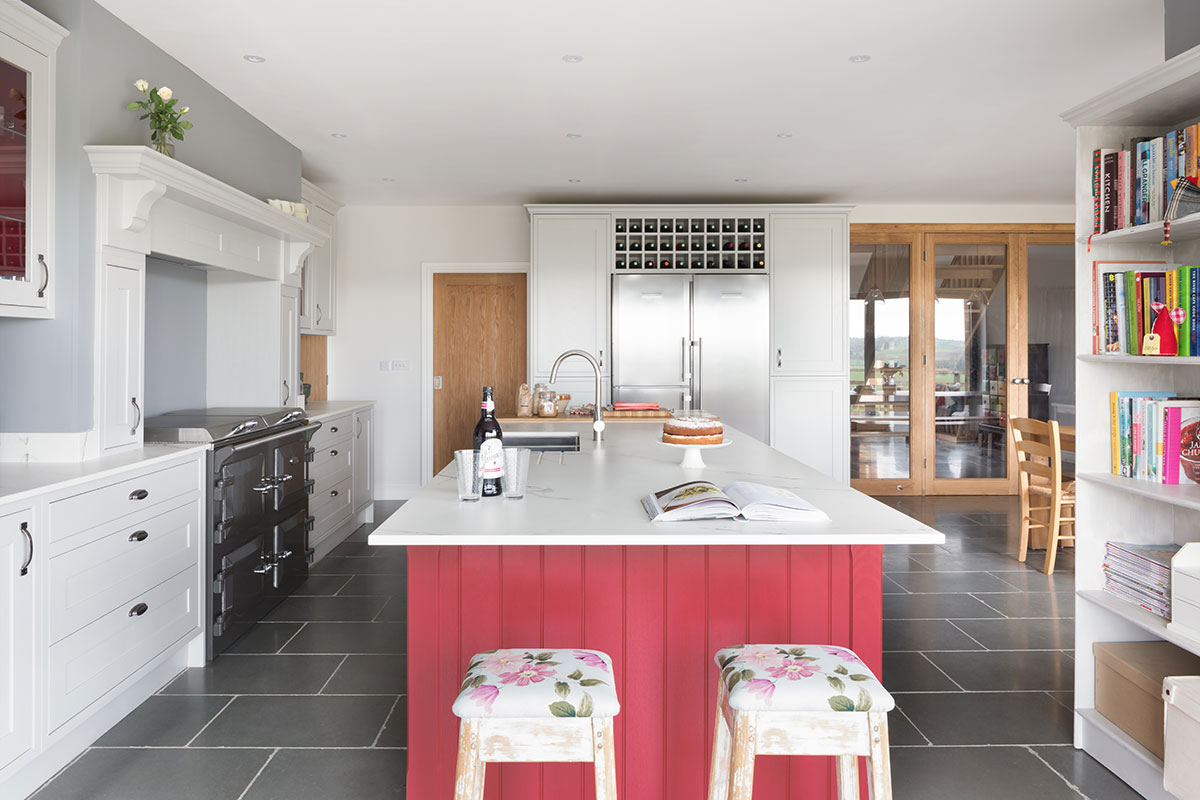 The kitchen had to be an in-frame design
She wanted the kitchen to be an in-frame design with a central red kitchen island and a long bank of wall units behind, but without any corner cupboards. In addition, she wanted a pantry and laundry room. "While living in Muscat, we had a kitchen with an island which I loved, so couldn't go back to not having one."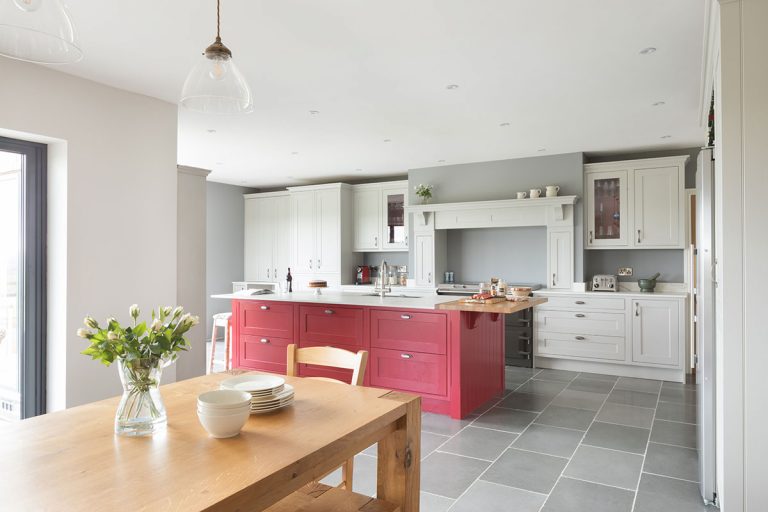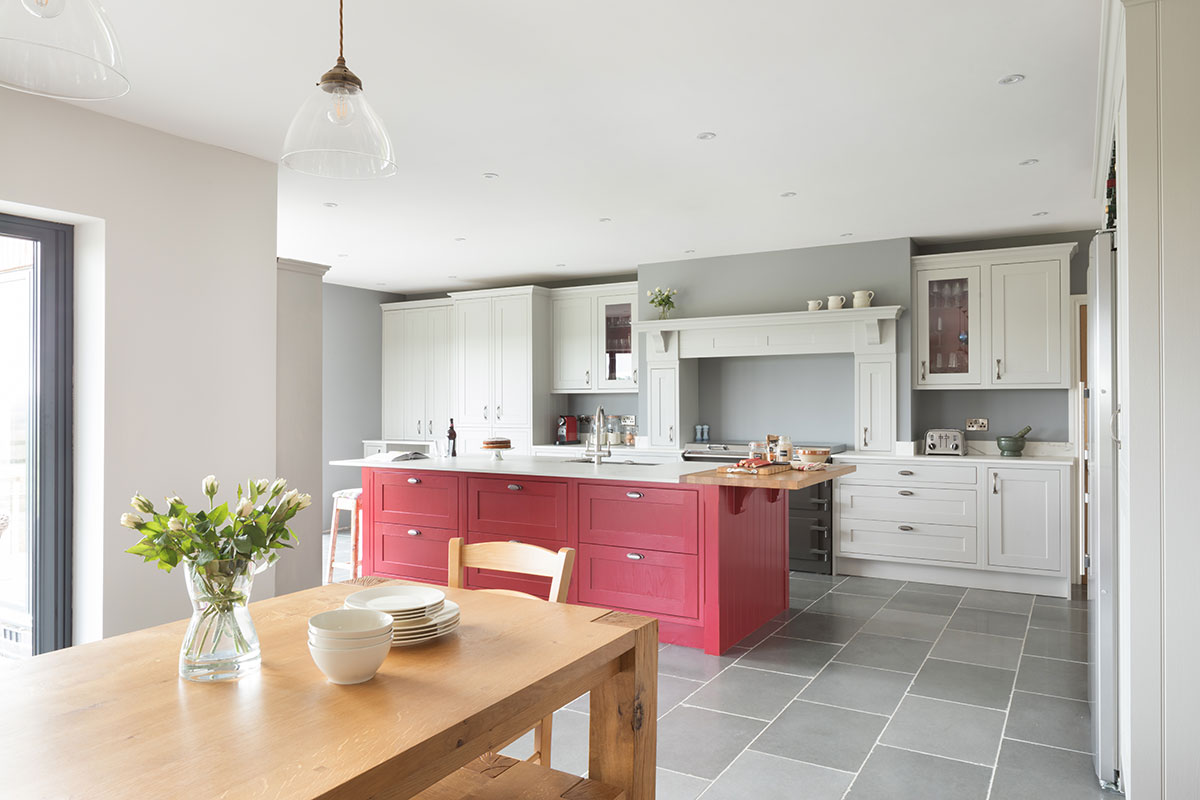 Finding a kitchen company to meet their requirements took some time, as many firms they approached wanted to change the couple's ideas. In the end, they agreed to work with Classic Interiors, recommended by their architect. "Gareth Davies at Classic Interiors listened to our brief," Sarah says. "He designed the layout we'd specified and made suggestions on how to improve it without drastically altering the design."
"He recommended the best size of island to incorporate the sink, prep and eating areas. Then he also suggested a hardwearing white Dekton quartz worktop to complement my choice of painted cabinetry. And he worked out the best amount of worktop overhang on the red kitchen island for a balanced look. In addition, he included a tall unit on the far left of the room that doubles as a desk."
Designing the red kitchen island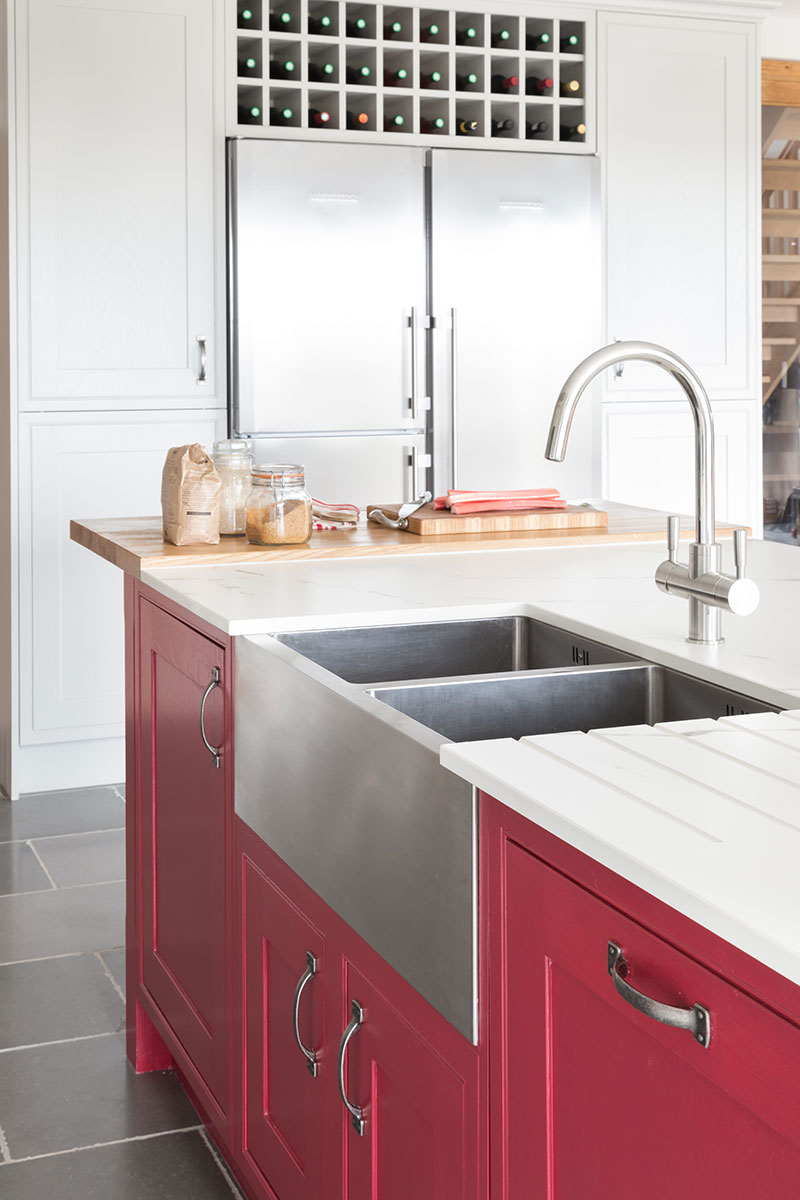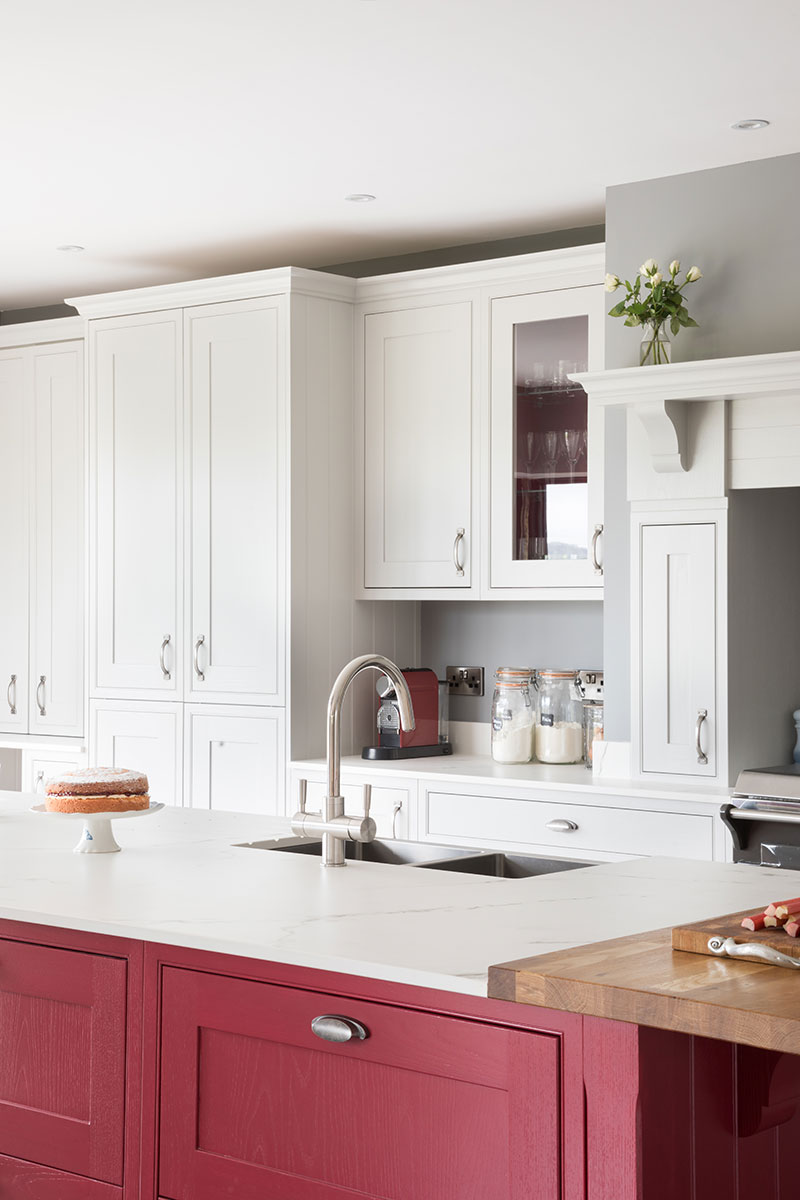 Although the couple's choice of cabinetry has a traditional influence, Sarah requested modern finishes in stainless steel, including a butler sink, boiling-water water tap and side-by-side fridge-freezer. She also introduced a contemporary colour on the red kitchen island. "I tested so many pots of paint on photographic paper, seeing how it looked in different lights. I finally chose Farrow & Ball's Radicchio – a warm red shade," she says. And the name just rolls off the tongue, doesn't it?
Matching the inside of the cabinets to the red kitchen island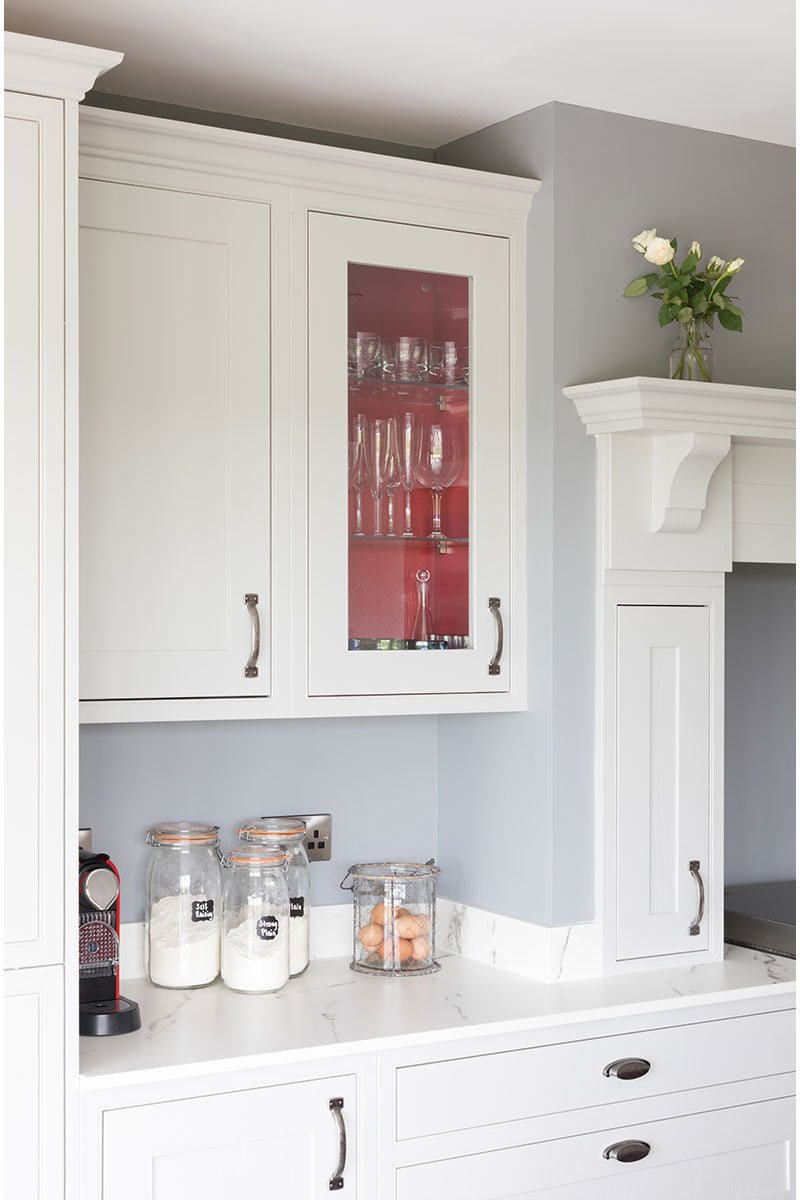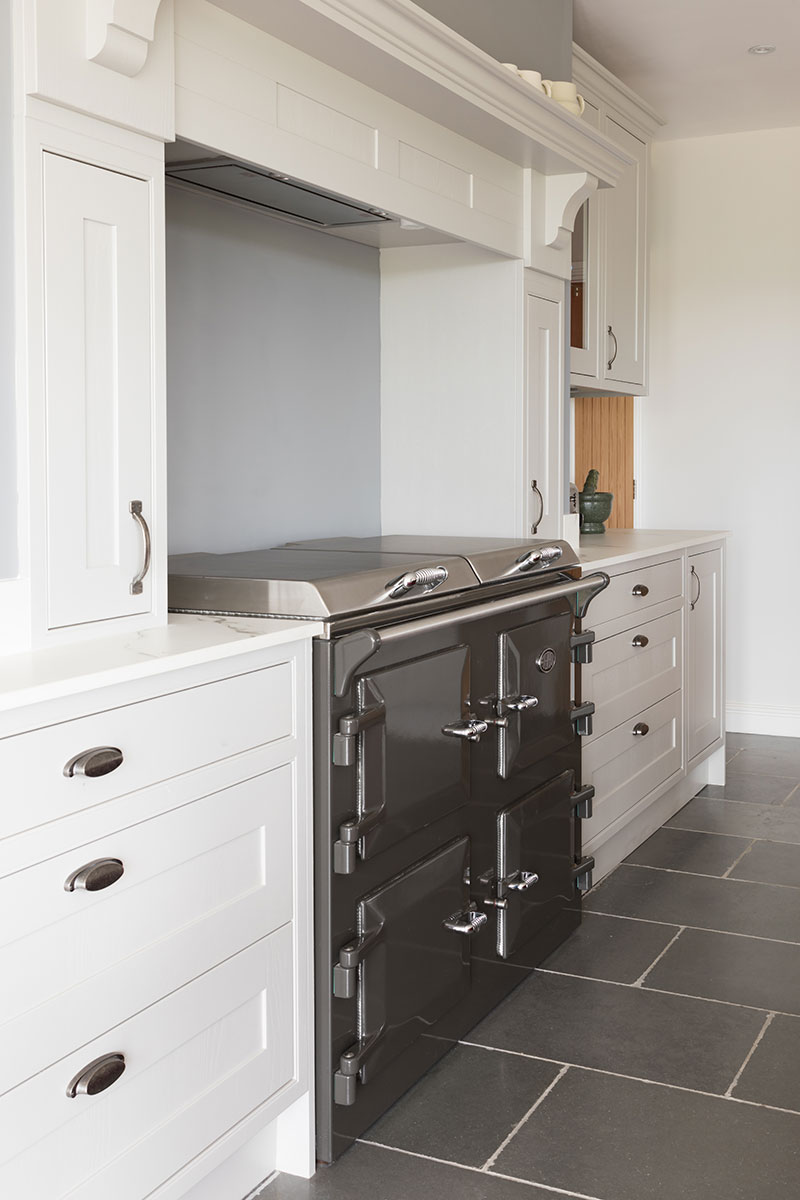 So, Sarah has a large red kitchen island incorporating deep drawers and cupboards. With space for a separate laundry and pantry, she now has plenty of storage and room to house large appliances. "I have an awful lot of cooking equipment, so having places to store it all away was essential," she recalls. "My favourite new piece has to be the Everhot range cooker." Me? I quite fancy decamping to the clever desk nook as my new office – so long as there's some cake left.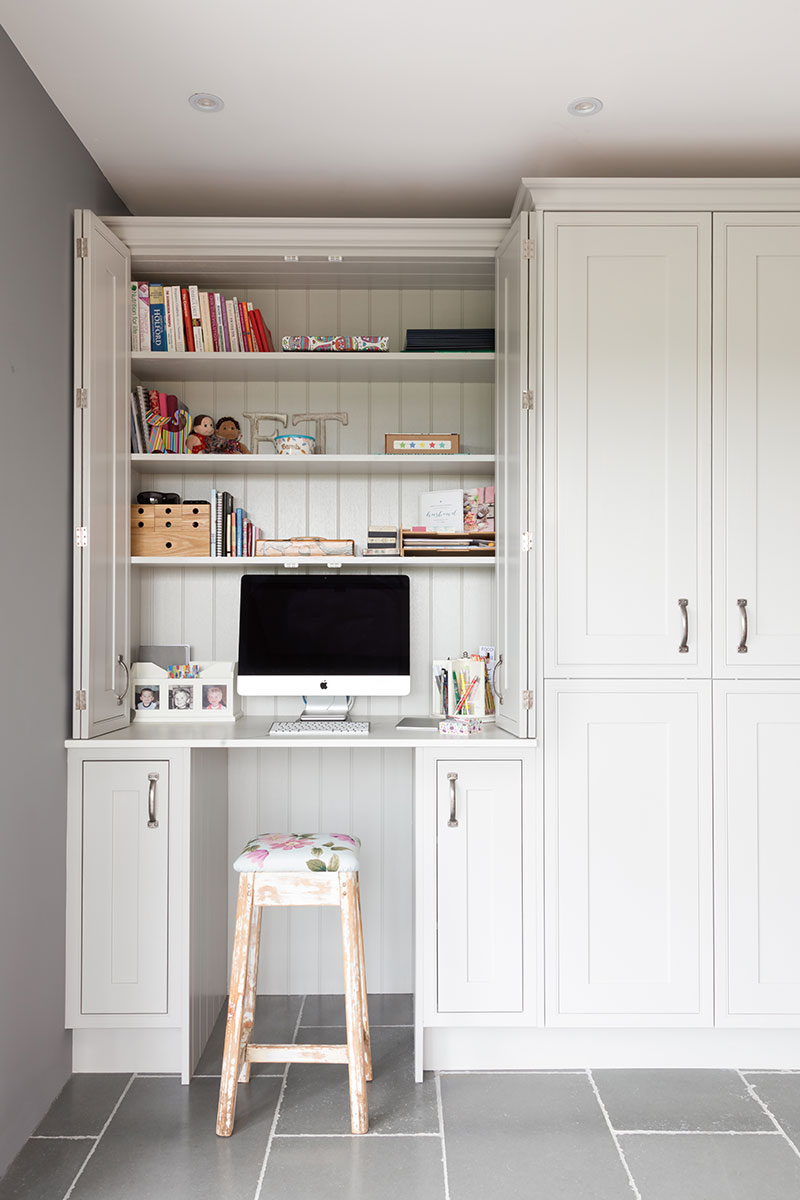 Photography: Paul Craig
Featured image: Inspired by the open-plan kitchen-diner Sarah had enjoyed when she and the family lived in the Middle East, she designed the space with clear sightlines throughout, making it great for keeping an eye on the kids and when entertaining. The L-shaped room benefits from plenty of natural light thanks to windows and large bi-fold doors.
So, did you love our feature on this red kitchen island? Then you'll also enjoy 10 amazing colourful bathroom ideas.
About Post Author