Ever a celebrity that you loved or a person you really, really admired? And lost your cool a bit, stared open mouthed and ooh-ed and aah-ed too much? Then you can imagine my reaction to this amazing apartment in a south London warehouse conversion. Oh my. It's hands down one of my favourite projects that I've been lucky enough to take a look around and, quite frankly, I wish it were my home.
But it's not (and that's okay, I promise). Because this South London warehouse conversion belongs to the uber-creative Lamia Sbiti. She turned a bland two-level space into a place oozing individuality, character and inventive design ideas.
The two-bedroom south London warehouse conversion feels like an Uptown New York loft. But it was once, in fact, part of a converted factory. Now-known outdoors company Blacks made and rented marquees there.
South London warehouse conversion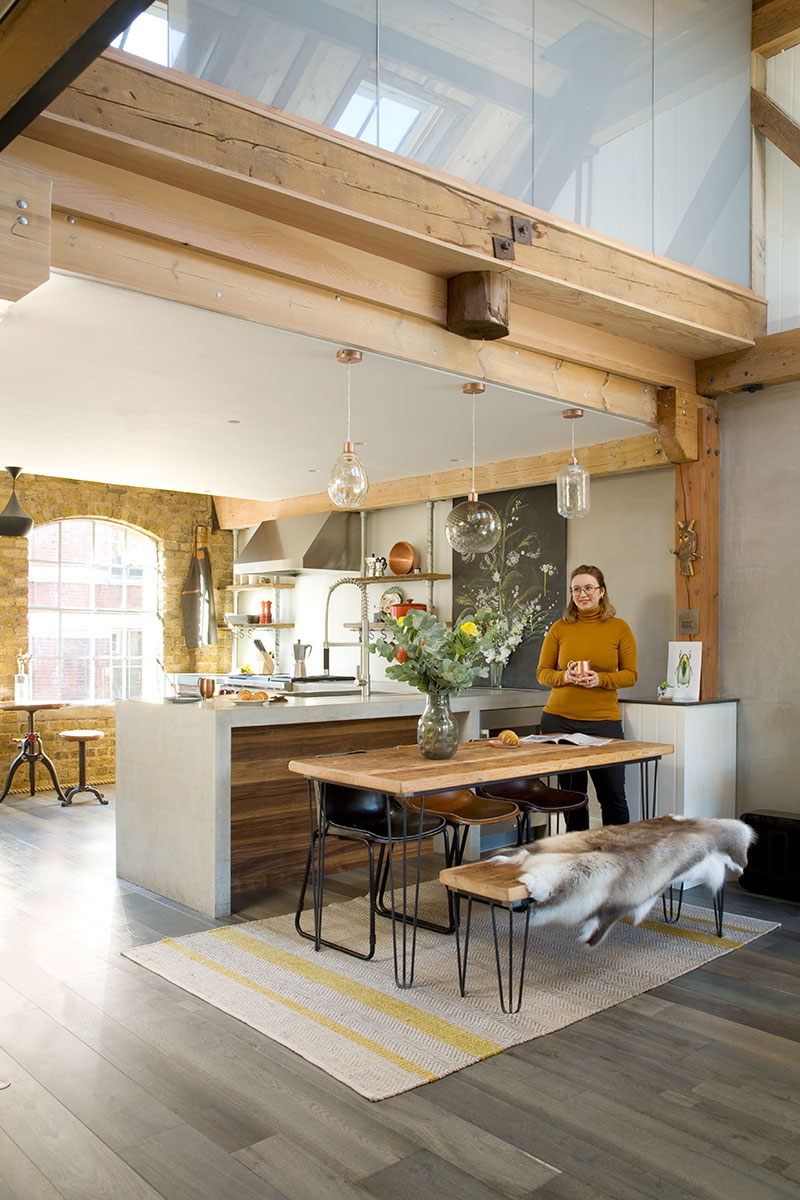 I say the apartment reminds me of New York, but on closer inspection I also spot influences from Moroccan craft and architecture and Scandinavian-inspired simplicity. It's a bit of a visual trip around some of the most stylish destinations, really.
A Dickensian feel
"I love the history and style of the buildings in this part of London and always wanted to live in an industrial conversion with such heritage," says Lamia. "It feels very Dickensian, but light and modern at the same time." Lamia works in social enterprise and is also an illustrator.
"I could see the potential of the space straight away," she explains. "Despite a rather unusual layout with a mezzanine level as the first floor."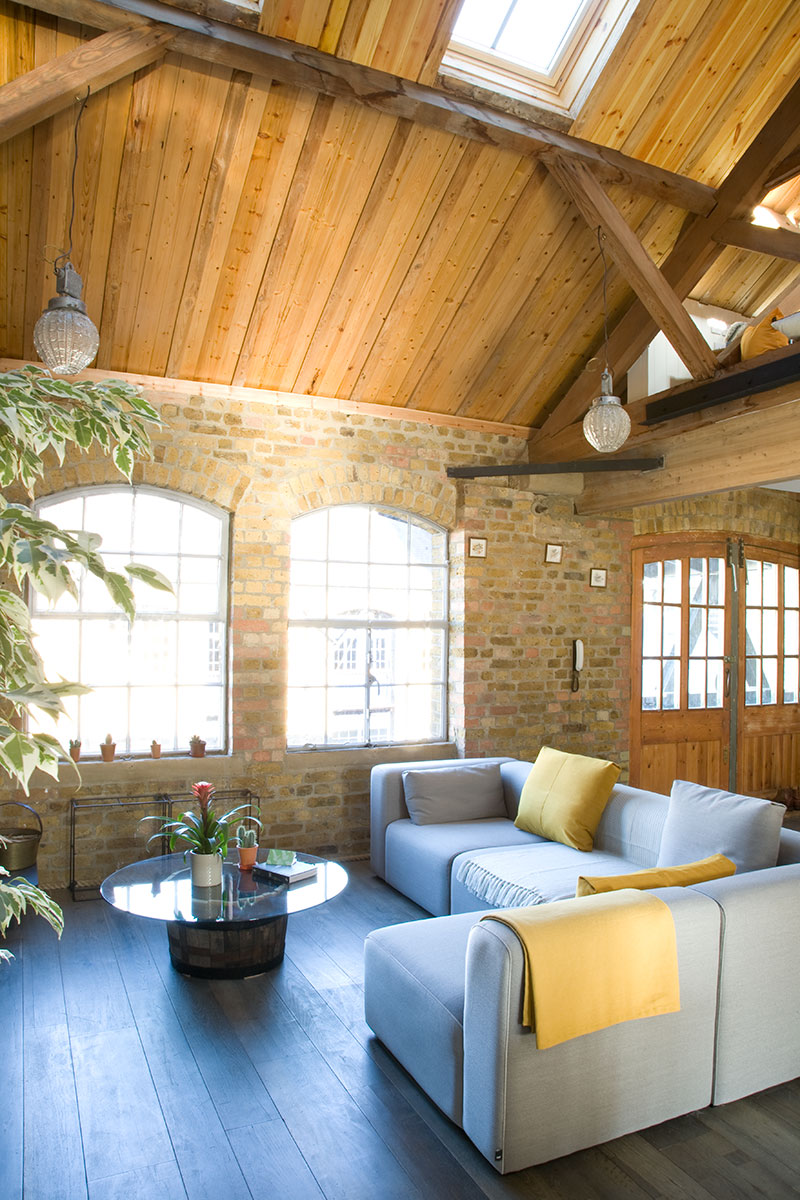 A south London warehouse conversion with style
When Lamia bought the property, the layout was, shall we say, a little contrived. The kitchen was on the ground floor right by the front door and the living area was downstairs, as well as two bedrooms. There was a dining area above the kitchen on the mezzanine, with a pulley system to transport food and dishes up and down. How could that ever be practical?
"The first thing I wanted was to open up the downstairs to create an open-plan kitchen-living-diner," says Lamia. "I wanted a project and to put my own stamp on the place. Although unusual in its layout, it had lots of interesting levels and corners. It also had structural elements such as the spiral staircase and wooden roof beams." Lamia worked closely with Dransfield Architects. They had, as it turned out, worked on the building's original conversion from warehouse to residential apartments.
Maintaining its heritage and adding a contemporary feel
She wanted to maintain the heritage of the south London warehouse conversion. She also wanted to make it more contemporary – both in terms of the layout and décor.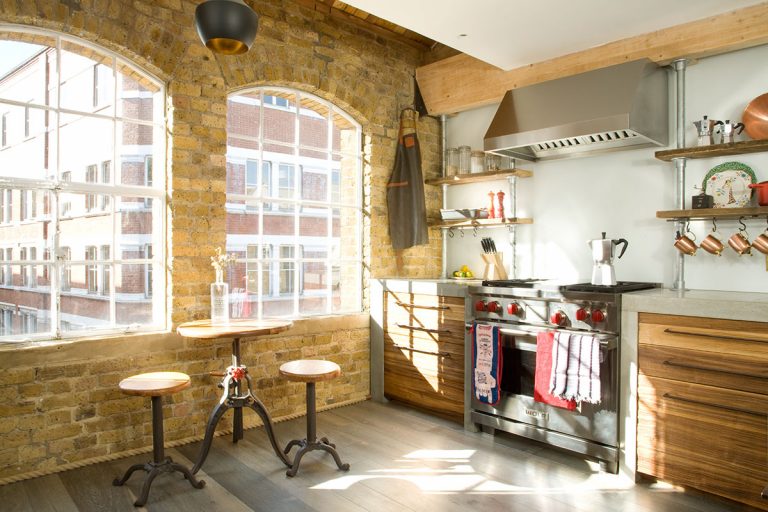 The kitchen was moved from the entranceway to the back of the space to replace one of the bedrooms. This creates more of a 'wow' when you enter the apartment. It also makes space for a small utility room behind a new stud wall by the door.
South London warehouse conversion
The kitchen, by Roundhouse, was inspired by the building's style, as well as ideas Lamia had gathered on Pinterest. And also by the family homes she grew up in, in different countries including France and Morocco.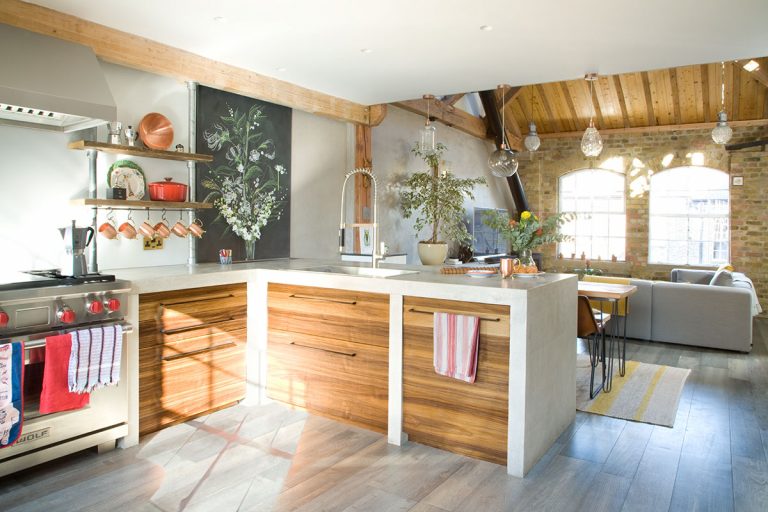 South London warehouse conversion
The designers at Roundhouse suggested an L-shape layout with a large sink and professional-style tap on the peninsula and plenty of cooking and prep space. In addition, they suggested deep-drawer storage, a standalone larder cupboard, American-style fridge-freezer, and large Wolf range cooker with statement red knobs. These all had an industrial look. Then Lamia also wanted bespoke scaffold shelving to store and display all of her crockery and utensils. "I wanted everything out in the open, as I like to see what I have. If I don't see it, I won't use it."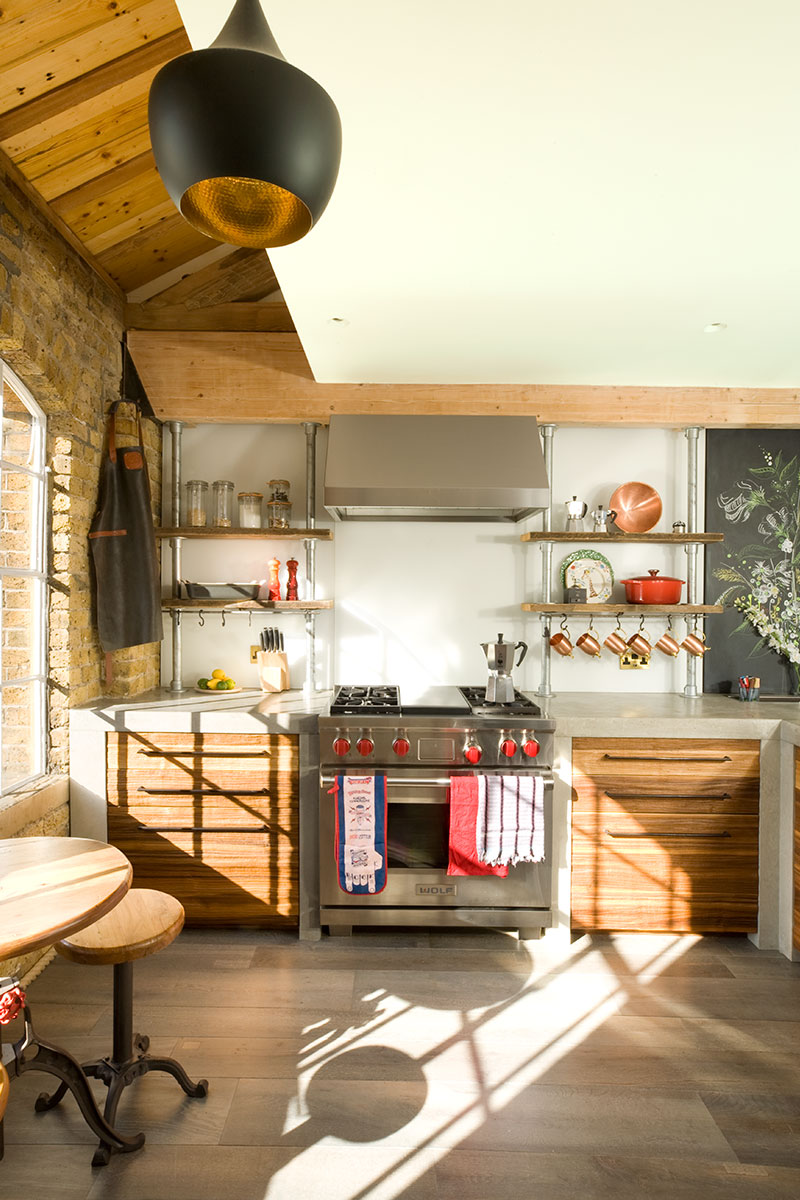 More gorgeous pictures of this warehouse conversion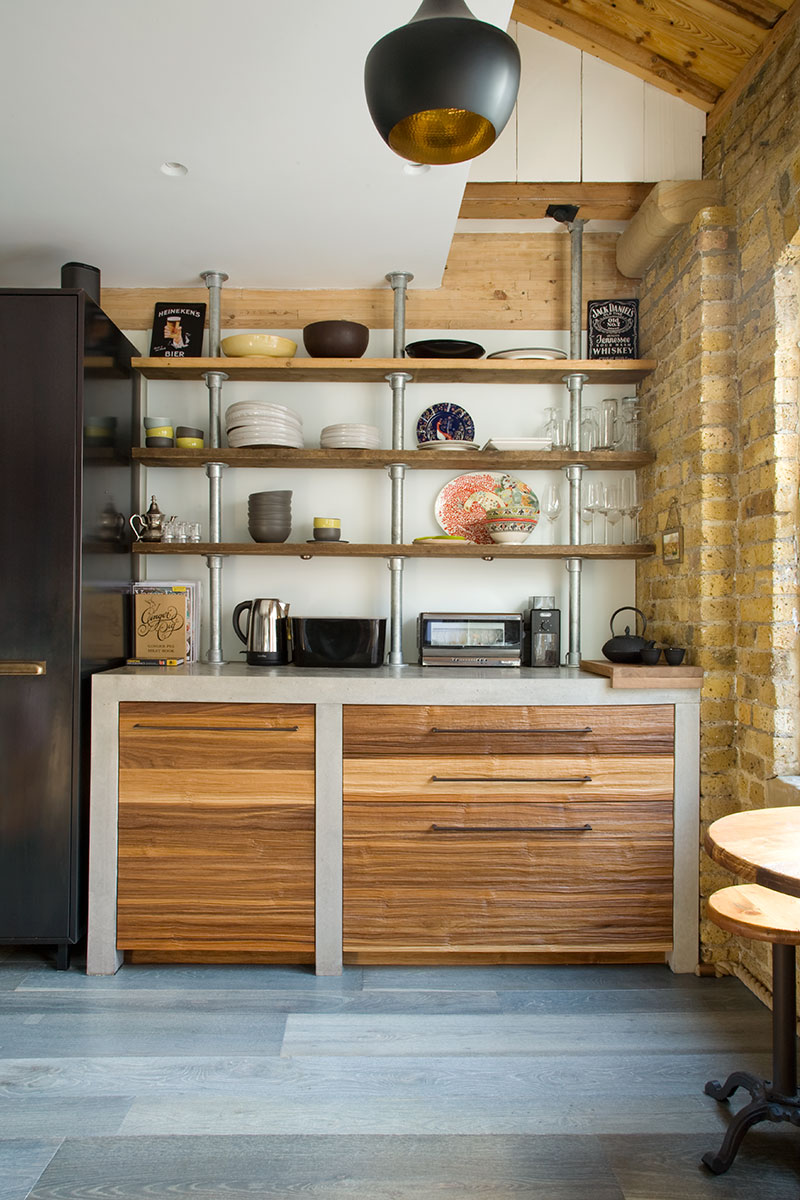 South London warehouse conversion
Moving upstairs via the statement spiral staircase – surrounded by a faux gold-leaf wallcovering (fancy) – the open mezzanine has been partly retained as a reading nook. The newly created master bathroom was built into the eaves and the original roof cladding kept. Cleverly, a panel of glazing on the ceiling lets natural light filter through without disrupting privacy. Then, in the master bedroom, there's a nifty panel of intelligent glass which can go from clear to frosted at the touch of a button.
"The bedroom's style is more Scandinavian – a natural choice with all the original wood panelling – while I had extra storage made behind the bed and ash flooring laid," Lamia explains. "It feels really calm and relaxing up there and the look definitely contrasts with downstairs."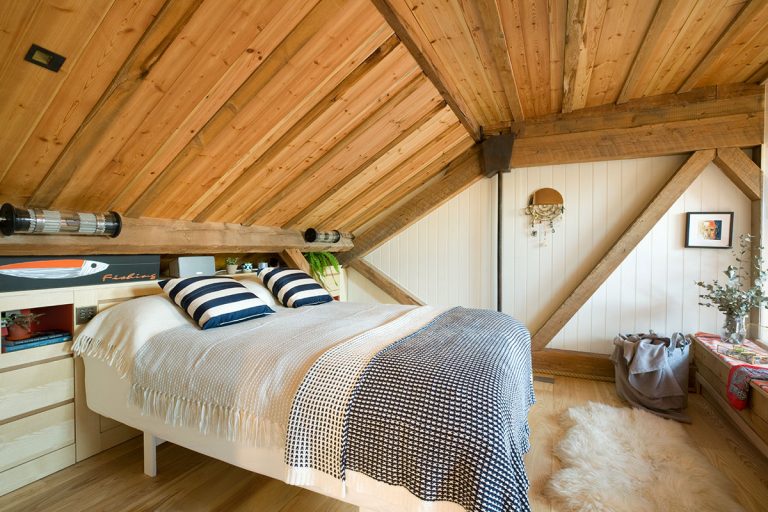 A great eye for design
Taking in all areas of Lamia's house, it's clear she has a great eye for design. She credits the final look to a successful collaboration between herself and Dransfield Architects. "They helped me realise my style choices in a practical way and encouraged me to look at every little detail, right down to the rope skirtings, airflow, and lighting, which all make such a difference to the overall space," she says.
"It took more than two years of planning, deliberating, and construction, but redesigning this property – with its rich history and many influences – has ignited a new love for interior design. I'm surrounded by things I love and I love coming home – moving the kitchen was definitely the best decision, as each time I open the door I think 'wow'." Me too, Lamia, me too.
Featured image: By removing the walls between what was a bedroom and the living area, light floods the space from both sides, while the open mezzanine allows light from above to filter downstairs. The beams throughout are original from when the warehouse building was first converted into residential homes.
So, did you love this feature? Then you'll also enjoy Bedroom decor: 6 ways to add the wow factor.
About Post Author