Discovered that you have a secret talent for tagliatelle or a penchant for patisserie making? I myself have finally cracked how to make a Victoria sponge, and am rather pleased about it. People keep telling me it's easy, but I can't fathom how they've come to this conclusion. My sponges are more-often flatter than a pancake! If you're taking your hobby to new heights, perhaps it's time to update your space to have a pro-style kitchen.
But what is a pro-style kitchen, you ask? Essentially it's a kitchen that makes the process of cooking complicated dishes as simple as possible. Similar to, or inspired by, what you would find in a restaurant setting. With a mix of well-planned storage, high performance appliances and perfect ergonomics. And these simple tips really do work – the proof is the in the pudding (pun intended).
So, let's have a peak around some chef's kitchens shall we?
First up is Prue Leith. The co-head judge on The Great British Bake Off and cook book author has a bright yellow handleless design. It offers lots of open shelving for her dry ingredients. Plus hundreds of utensils, oils and herbs that she can easily access thanks to her lazy Susan. It has been with her in three different kitchens.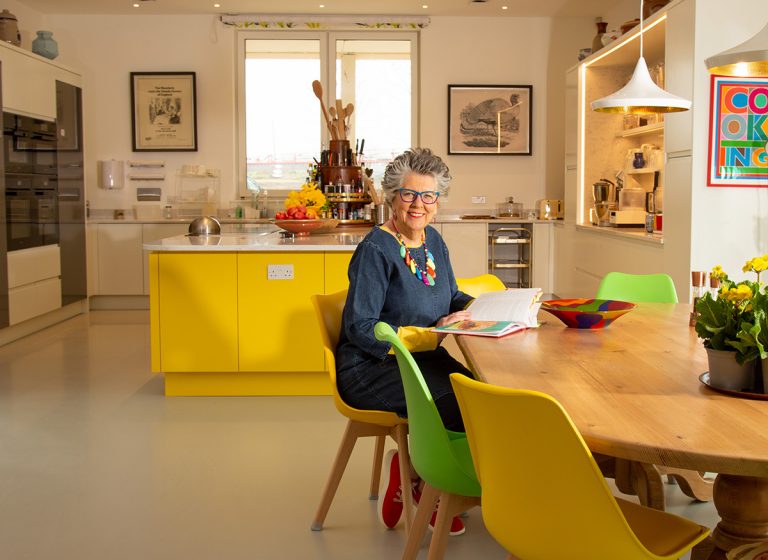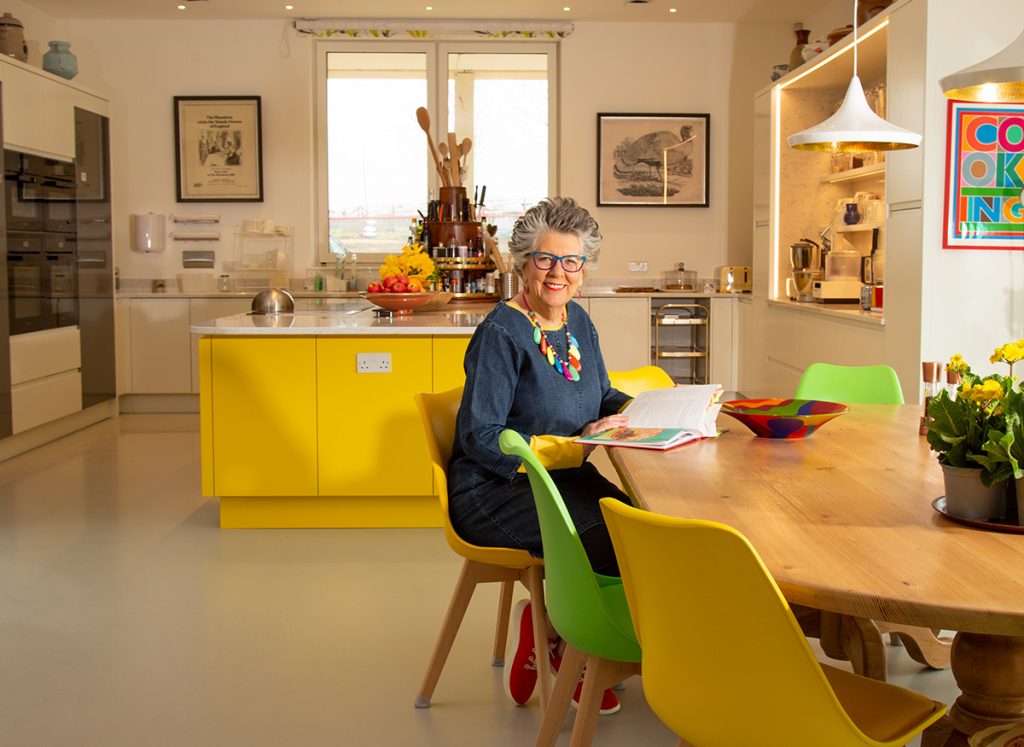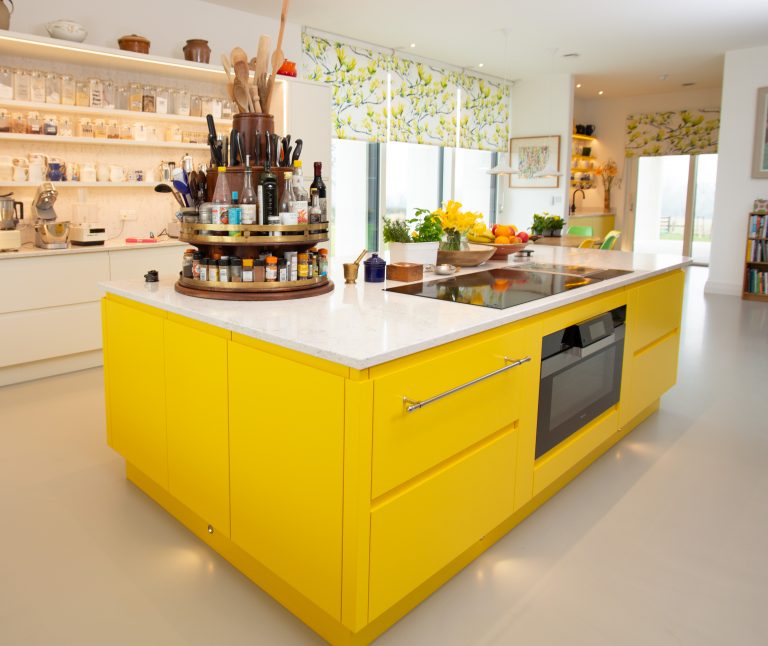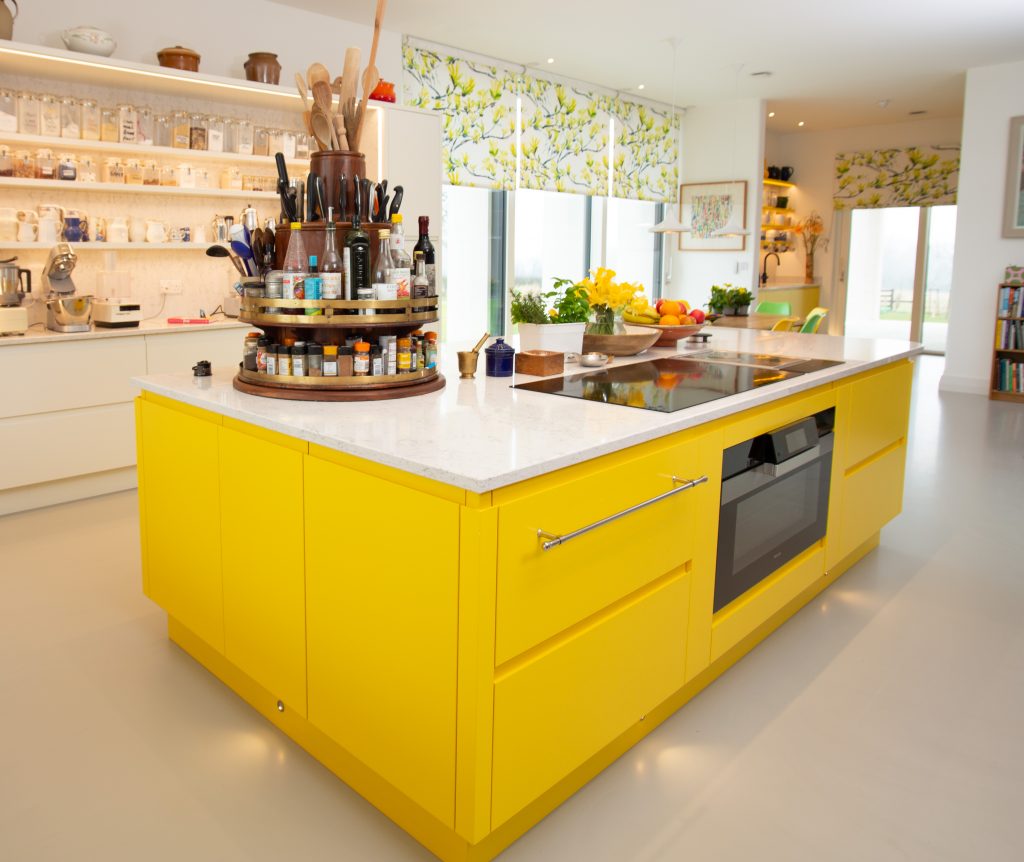 Prue's top tips for a pro-style kitchen:
"When it comes to design, easy access is key for a kitchen that works well. I hate scrabbling in drawers and crouching down to get into the back of a cupboard. I have a larder with narrow shelves so I can see all of my jars and tins. On the kitchen shelves, where I can easily reach, are jars of the most commonly used ingredients. For example, sugar, flour and rice."
"Tools and utensils should be hanging on wall racks, with everything tidied away drawers, leaving surfaces uncluttered."
Speaking of The Great British Bake Off, here's the kitchen of former contestant, cook book author and youtuber Chetna Makan. You can see more of this in our October issue. The kitchen is in a U-shape using a peninsula, creating a dedicated cooking zone. Guests can socialise with Chetna, but they won't interrupt the cooking process.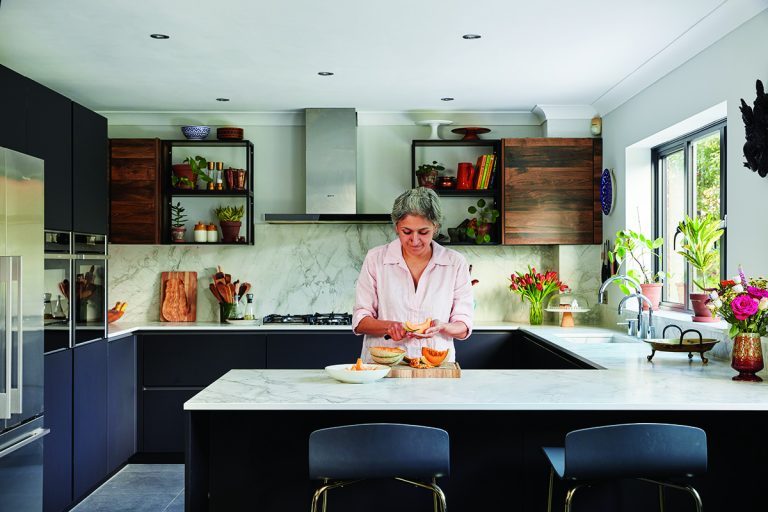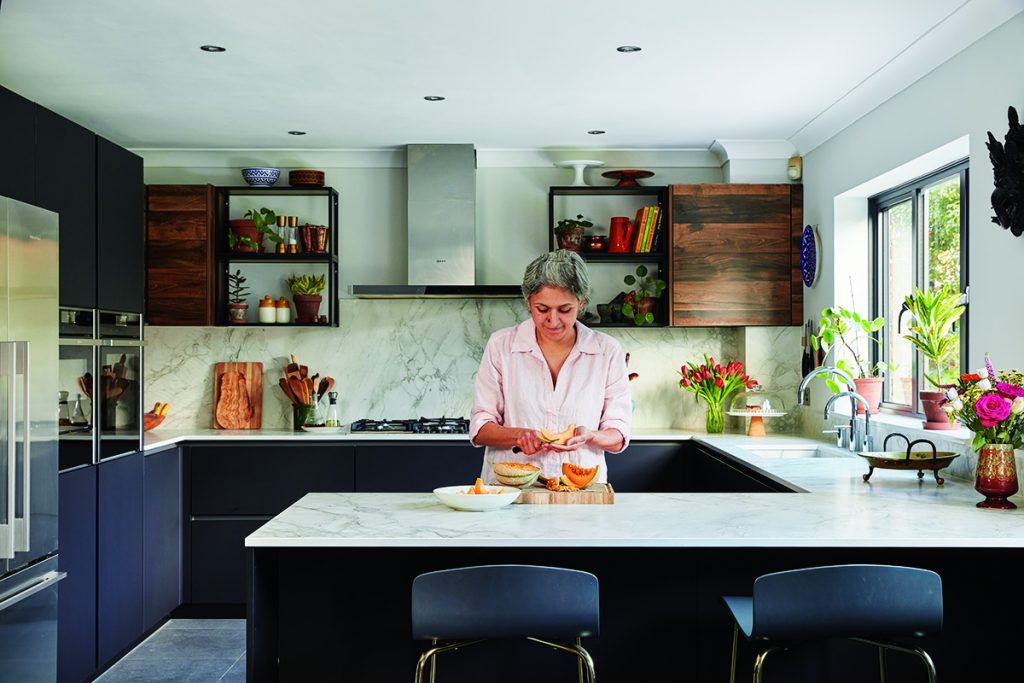 Chetna's top tips:
"Because I'm always cooking and baking, the position of the hob and ovens has to be just right. For instance, I moved the ovens from being in the bottom units to be eye level."
"The fridge, too, has to be in the kitchen and easily accessible. I can't be stepping our every two minutes."
"Everything has to have a home as well – I have a dedicated drawer for everything from pans to lentils. I can't function if things aren't in their place."
Judi Rose is a food writer like her mother Evelyn Rose. She wanted a social kitchen with a pro-style kitchen feel. It needed to be a space where she could entertain and host cooking parties. She also wanted to teach cookery classes, and experiment with recipes for her cookbooks.
She wanted a space that was practical and easy to clean and organised. But also a place where people could be sociable. Don't you just love those studio lights? Notice both the gas and induction hobs. (You can find out all about the pros and cons of gas vs induction here.)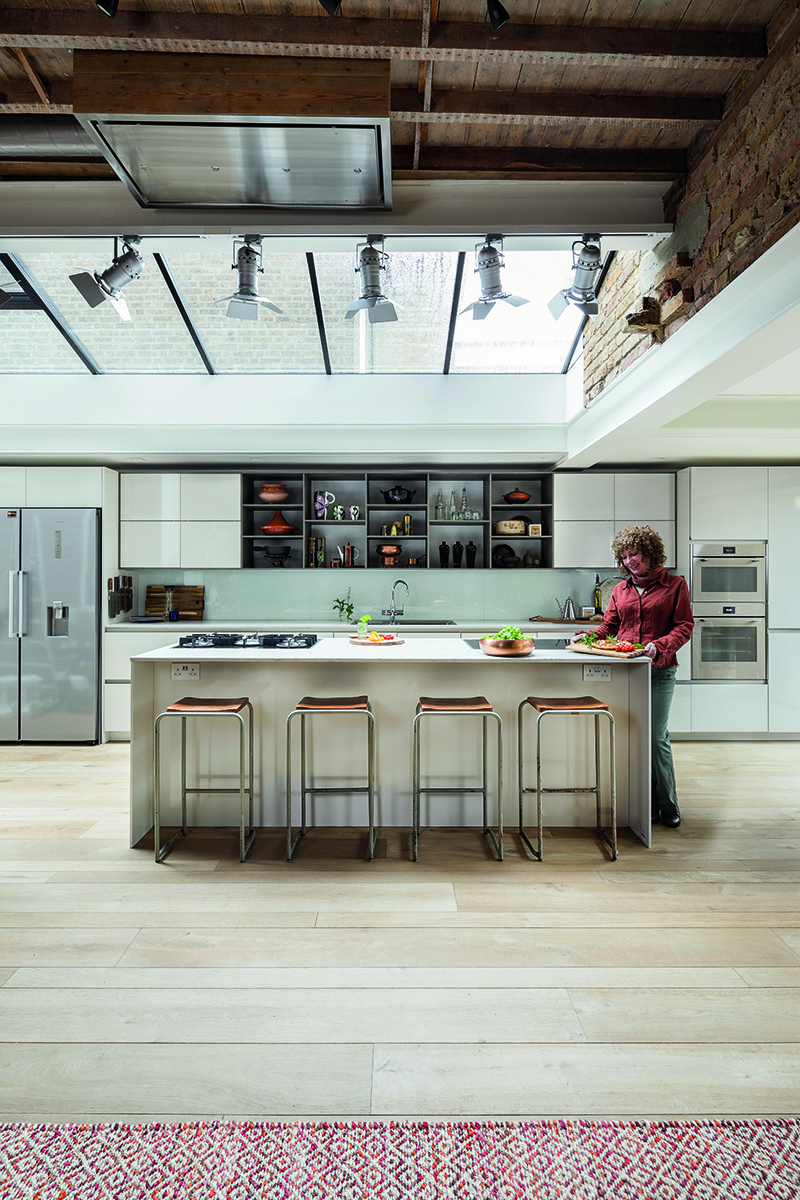 Judi's top tips:
"For a pro-style kitchen, install more electrical sockets than you think you need. You'd be surprised how many you may end up using and in different parts of the workspace. (Electric beaters, hand blender, food processor, toaster.)
"Installing counter pull-out units just next to the the hob is handy. It means bottles of oil, sauces, seasonings and cooking utensils are always to hand as you cook. Magnetic knife holders mounted on the side of the fridge or oven housing keeps them away from little hands. It also avoids taking up precious worktop space with bulky knife blocks. In addition, it avoids the risks of sharp edges in drawers. Finally, don't be tempted into buying a big set of matching knives. Choose a few good quality ones that do exactly what you need. A 15-20 cm cook's knife (for chopping veg or dicing meat). A 12-15 cm serrated knife (for slicing tomatoes, lemons and the like). And lastly, a longer serrated bread knife. These will do just fine for most home cooks."
Celebrity chef Tony Singh's pro-style kitchen
Celebrity chef Tony Singh wanted to use his kitchen both socially and professionally. He wanted to hold supper clubs and cookery classes. He also wanted to use the space for entertaining friends as well as dinner time with his children. However, he also wanted a layout that would work best for his cooking style but feel homely as well. "Because it is my kitchen, not a restaurant!" he tells me.
Taking into account the room's generous proportions, he designed the layout. It has a central island for people to gather around. It houses both an induction and a gas hob for maximum cooking potential. (I'm sensing a theme here, aren't you?)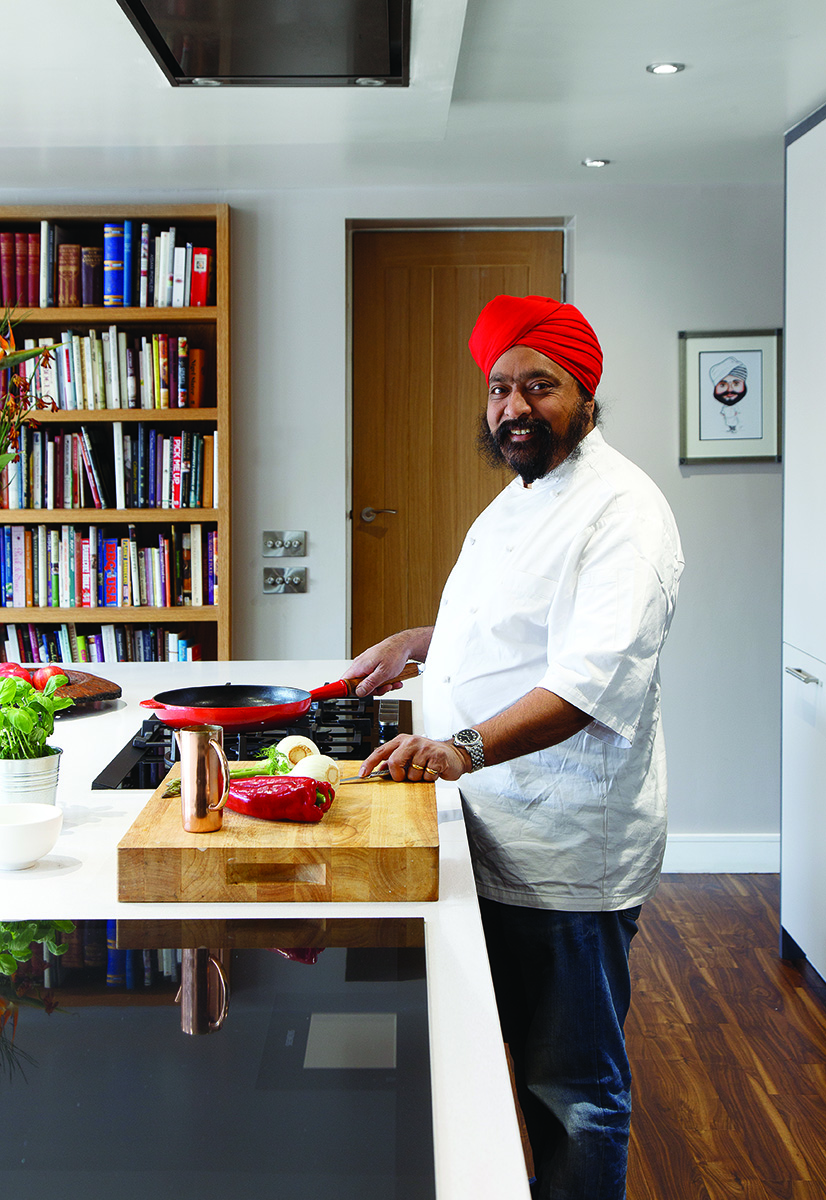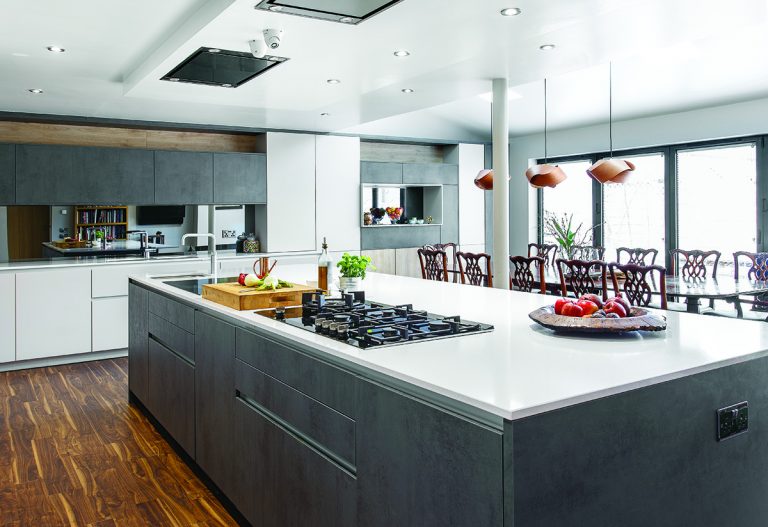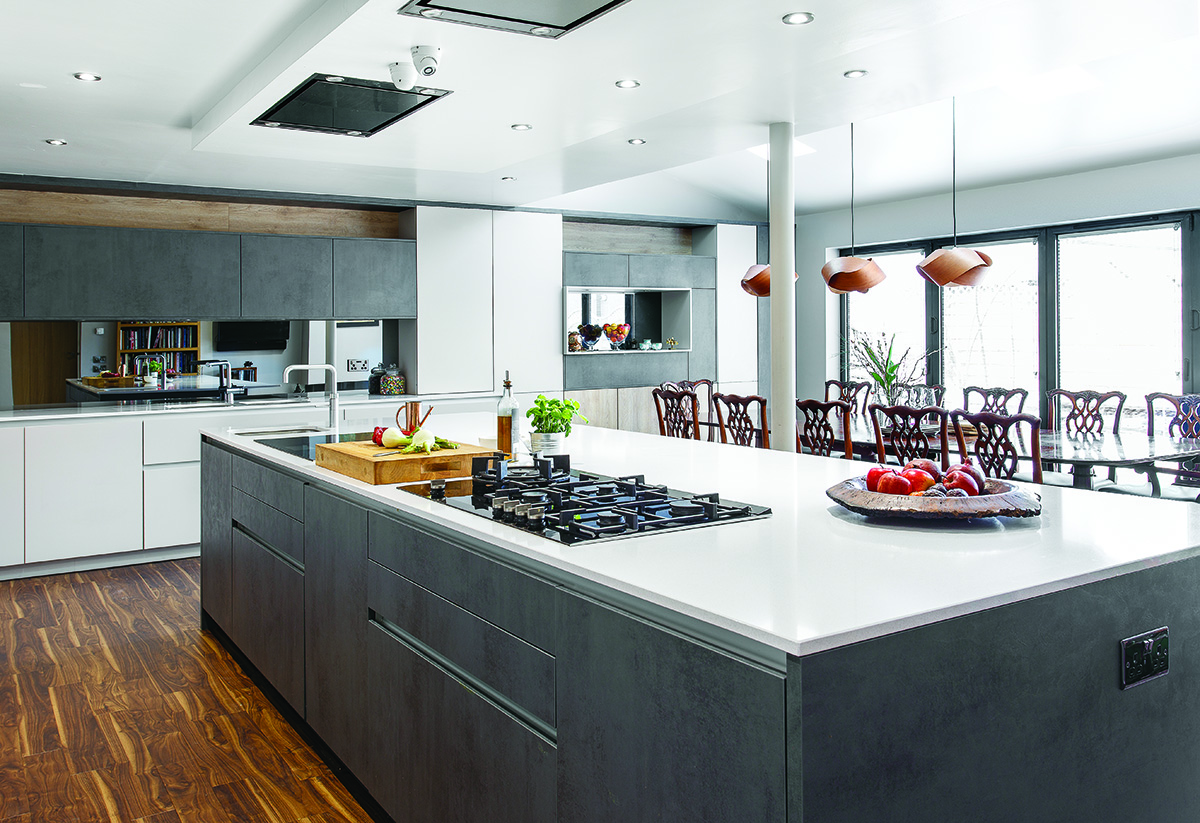 Henrik Ritzen, executive chef at Bluebird restaurants, has a classic contemporary Shaker-style kitchen. It has a large bank of Gaggenau appliances. An integrated ceiling extractor creates ceiling height for Henrik, who is 6ft 5'. I love the island, which looks more like a dining table, don't you?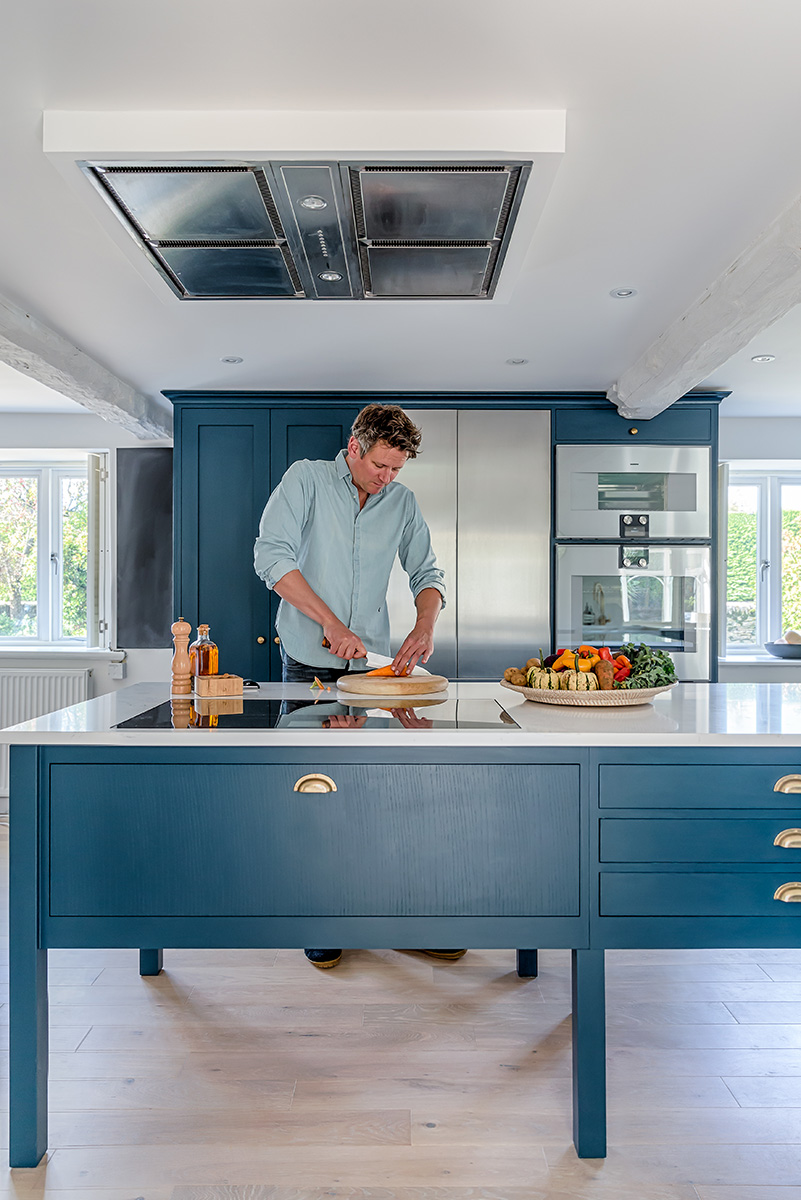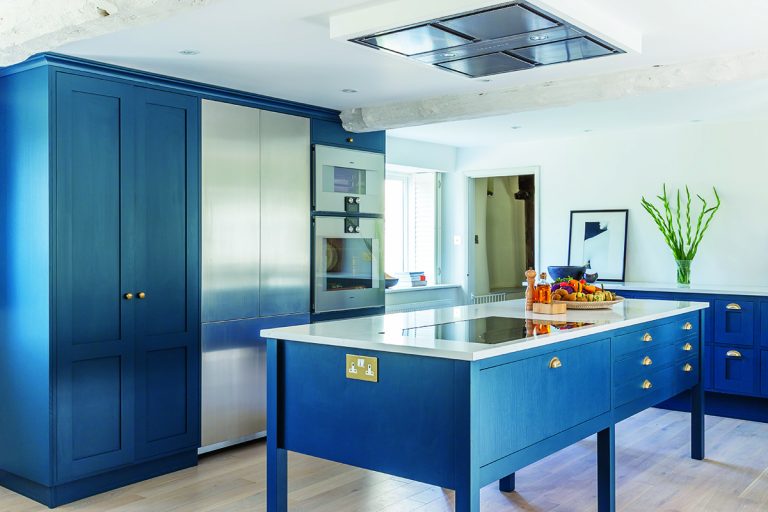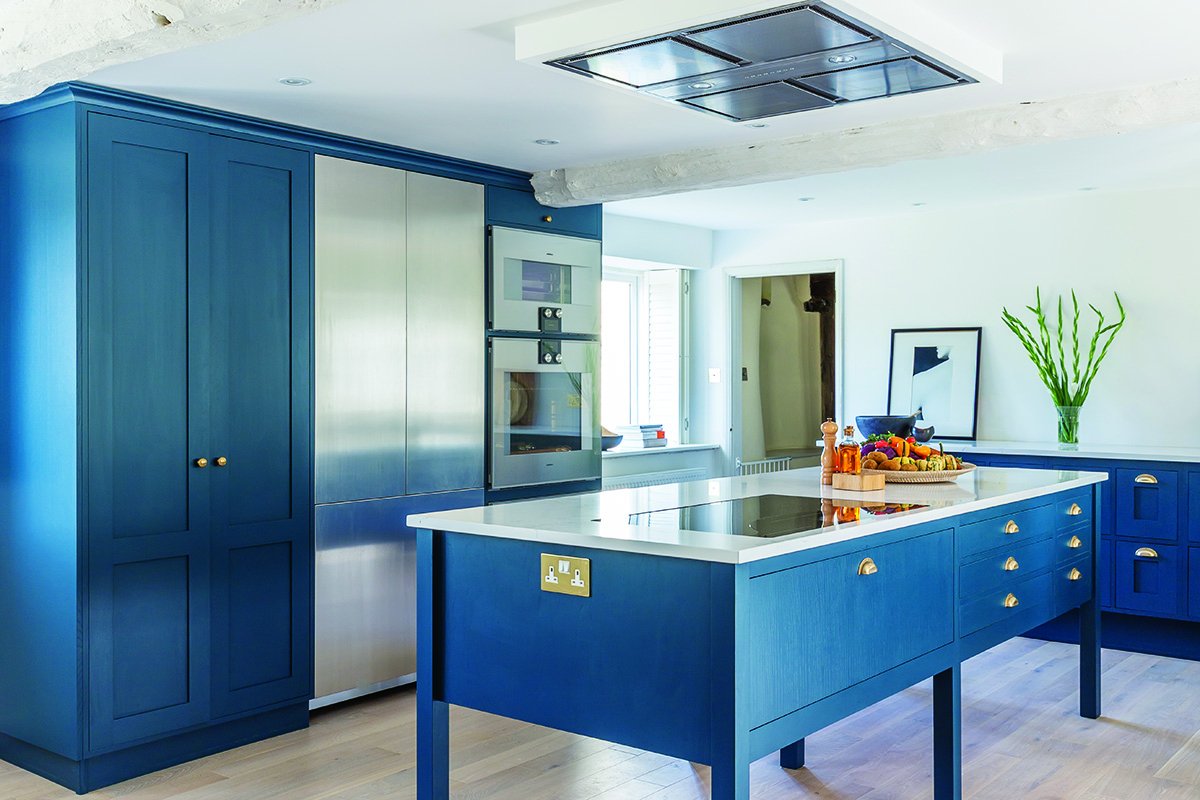 Henrik's top tips:
"For me it's important that the kitchen is easy to work in. Having a good flow of movement and plenty of surface to work on. Having good equipment to make life easier in the kitchen also helps."
This is Michelin star chef and restaurant owner Tom Aikens. He shows us it's important to have all his ingredients and tools mis en place when preparing a meal! (Which is a French cookery term for basically getting absolutely everything ready before you begin to cook the meal!)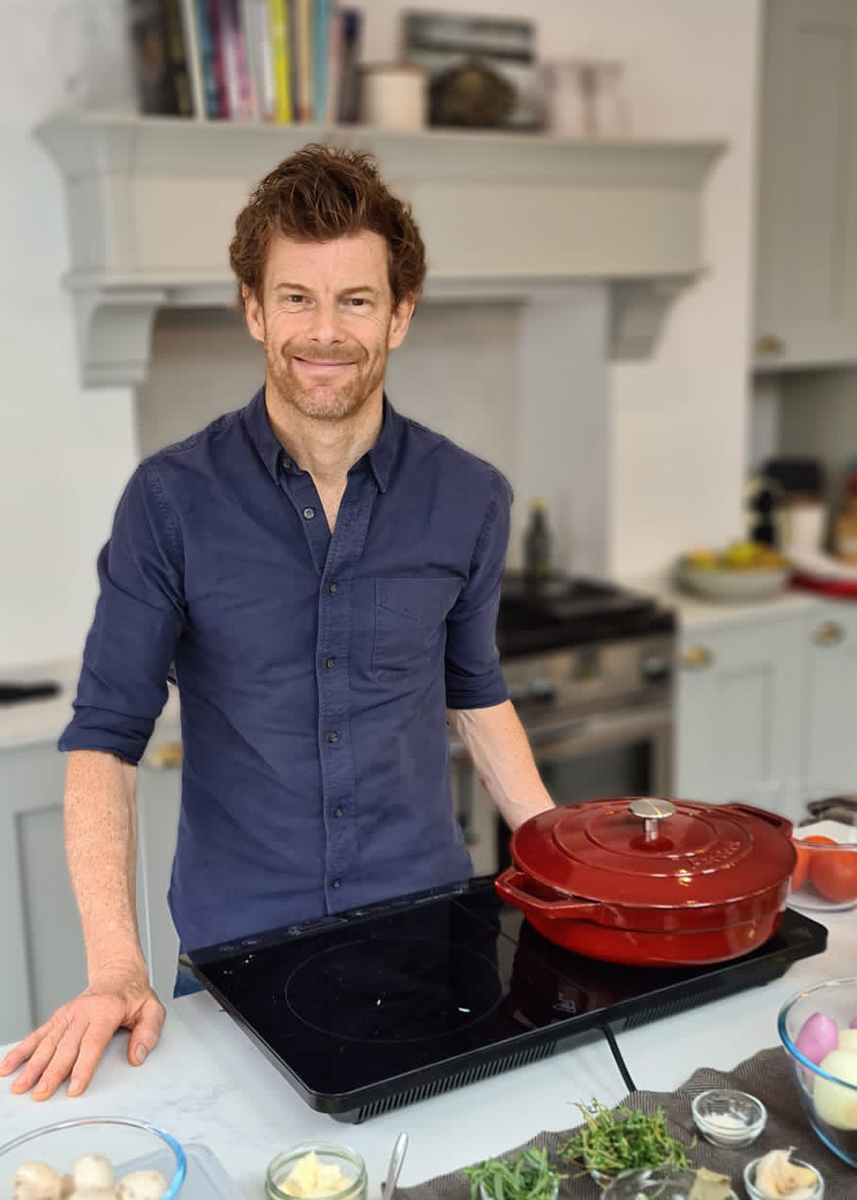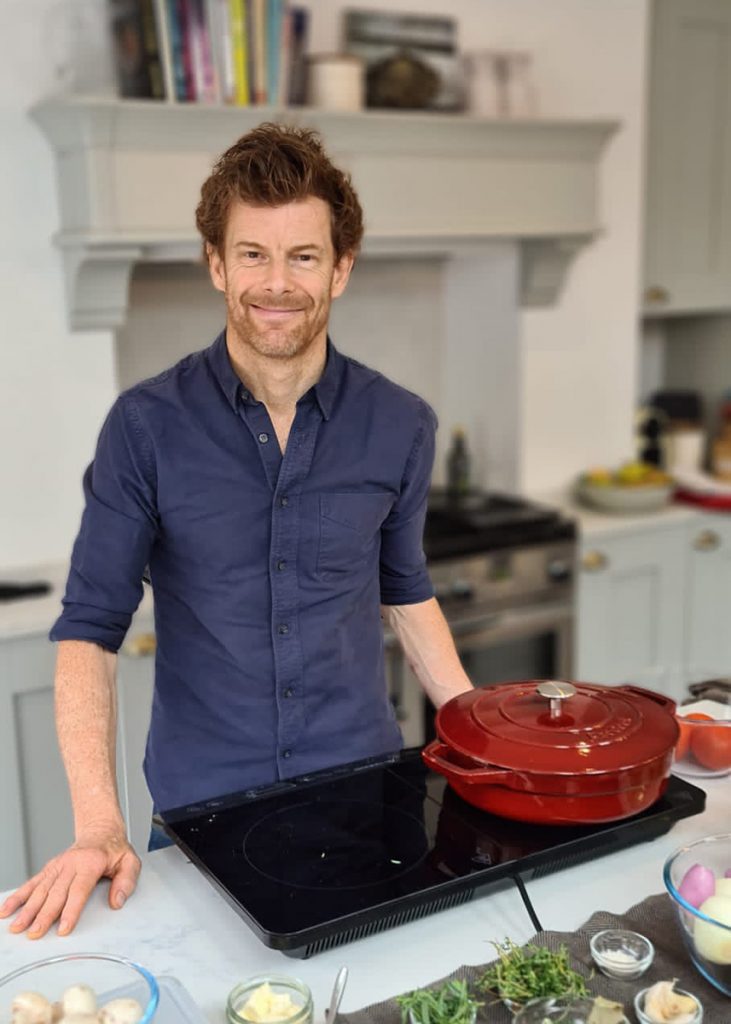 Tom Aikens' top tips:
"Having an organised, orderly space with minimal clutter is key to achieving a pro-style kitchen at home. Plenty of shelving and cupboards allows you to maximise worktop space when prepping and cooking. While neat, tidy drawers should be easily accessible to get something in a rapid second of cooking. 
Keeping the cooking area decluttered also prevents your knives and kitchen equipment covered in grease or food. If you're planning a layout, put the kitchen sink into a corner with a draining area next to it. This will ensure it does not take up a large part of your work surface. Think about making the flow of prepping to washing and cooking clear, with easy access to a rubbish bin.
About Post Author