When you're thinking about the type of worktop to choose for your new kitchen, the options are seemingly endless, we know. From natural stones, wood, marble, concrete, composite materials and more, deciding your choice should come down to the look you want to create and, crucially, the practicality of the material.
With certain materials, such as quartz, the choice is easier. Why? Well with easy-clean, hardwearing benefits, plus the huge range of styles on offer, you can find a look to suit your kitchen. We've looked at some of the latest worktop trends and discovered ways to use quartz worktops to achieve a whole host of stunning finishes that are super practical too.
Worktop trends: The look of marble
Ever popular, marble can create an elegant, sophisticated look in a kitchen. Real marble, though, does come with a warning: it's porous so needs careful care and attention to keep it looking good and to avoid staining. A great alternative is quartz.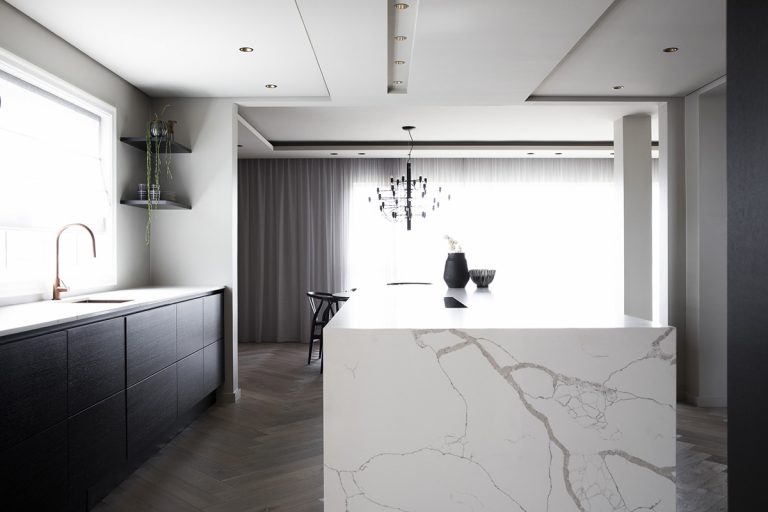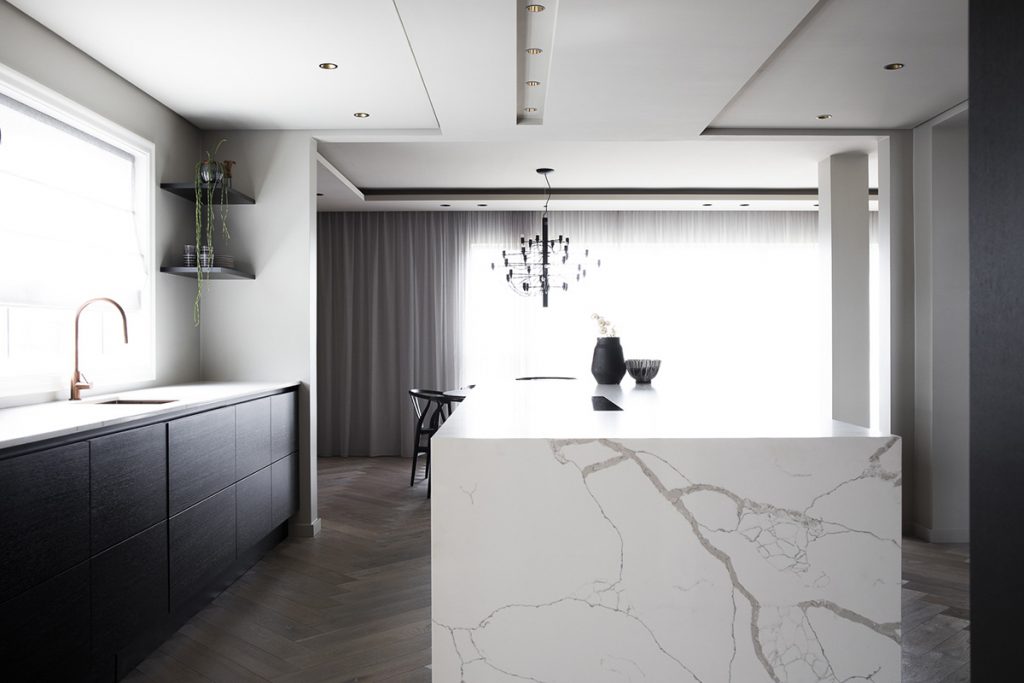 Quartz is a low-maintenance, durable and beautiful product that is non-porous and highly resistant to scratches, stains or bacteria and germs. So you can achieve the look of marble without any of the worries of it being high maintenance.
Technistone's Serenity collection features six durable worktop options with significant veins to recreate that classic look of marble – whether you want a bright white finish or something more dark and dramatic.
Chunky worktops
One worktop trend we've got our eye on is chunky worktops. Deliberately thick for maximum impact, you can create an urban-inspired statement style in your kitchen – whether that be on an island or on top of wall units.
Technistone slabs are offered in 2 and 3cm thickness as standard. So if you want to have the slab visually thicker, a good stonemason or fabricator can ensure this visual effect thanks to gluing and invisible edges.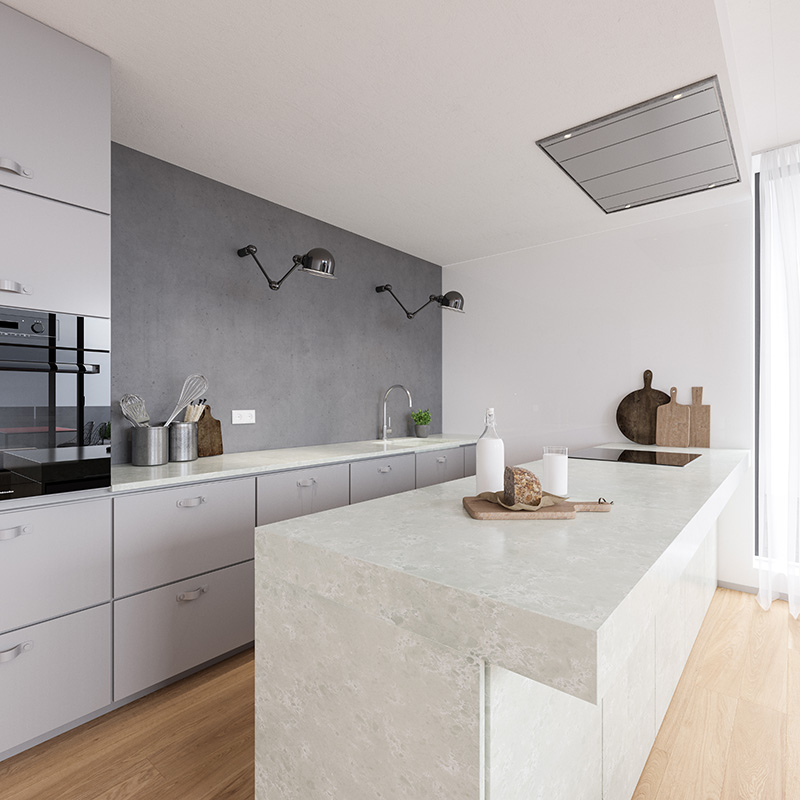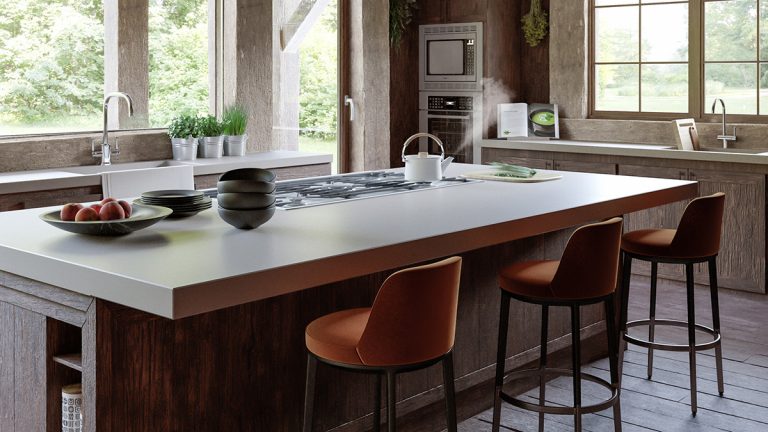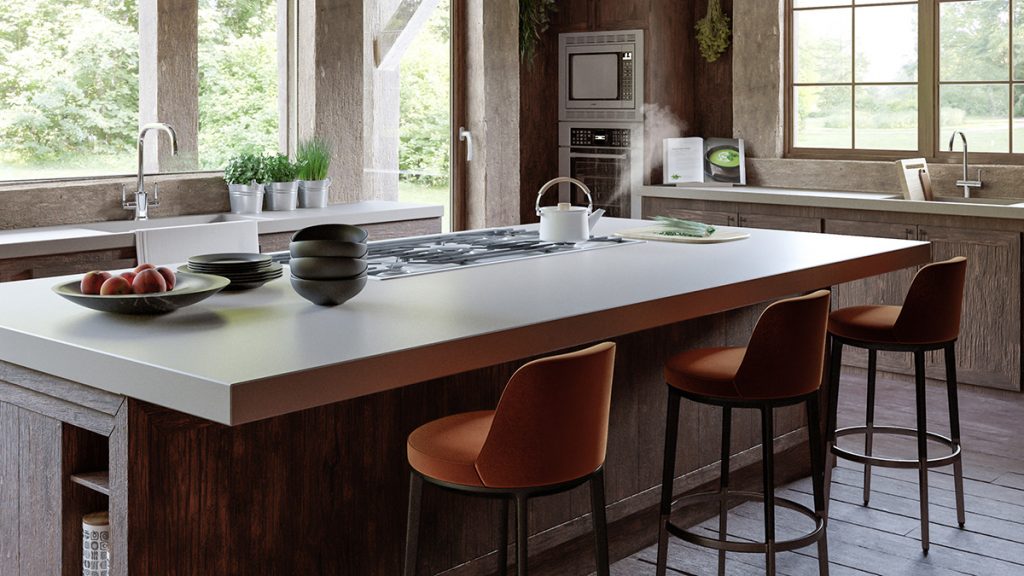 Worktop trends: Matching the dining table
For a cool, cohesive look, integrate your dining area into your kitchen design with a complementing worktop. There's currently a trend for low-level seating on island units and peninsulas and a great way to accentuate the look is through your choice of worktop. Plus, there are easy-clean and hygiene benefits to be had too.
As Technistone's quartz surfaces are non-porous and highly resistant to scratches, stains or bacteria and germs, as well as fully waterproof, the ease of cleaning will make your kitchen living counter top worry-free and will allow you and your loved ones to enjoy the space for many years to come.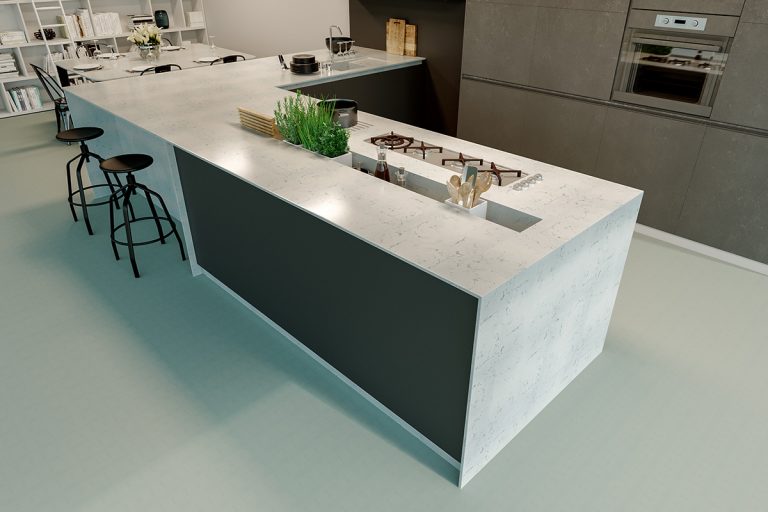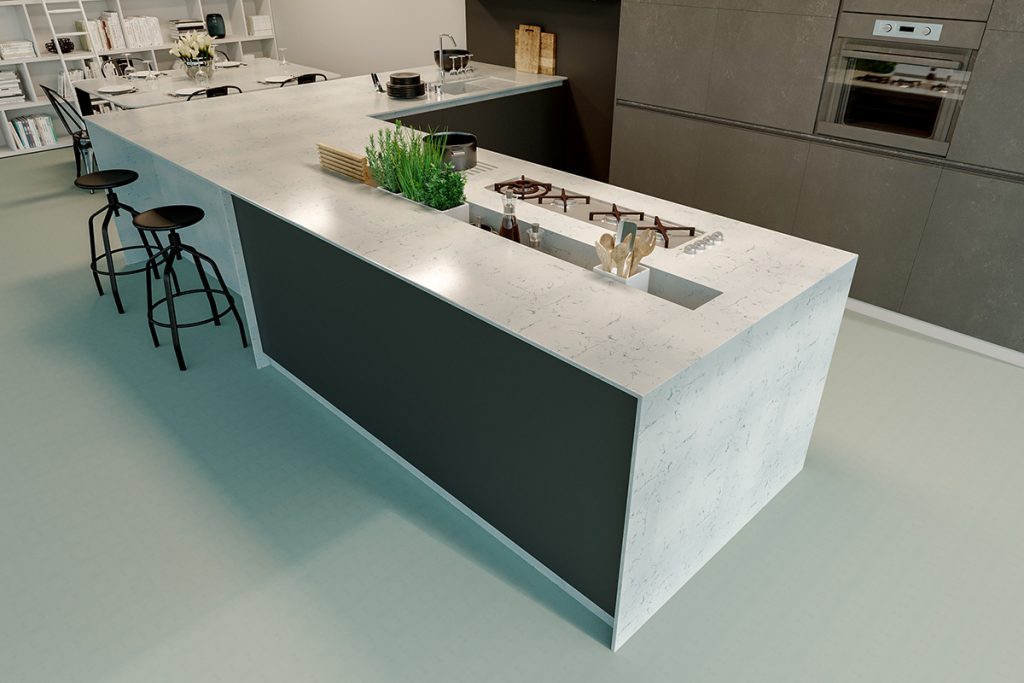 Waterfall edges
A waterfall edge is a worktop trend where, as the name suggests, the edges fall to the ground (a bit like a waterfall) so the worktop effectively wraps around the unit to create a design feature. A great way to really maximise the impact of your chosen worktop, it also allows for a sleek look in a modern kitchen.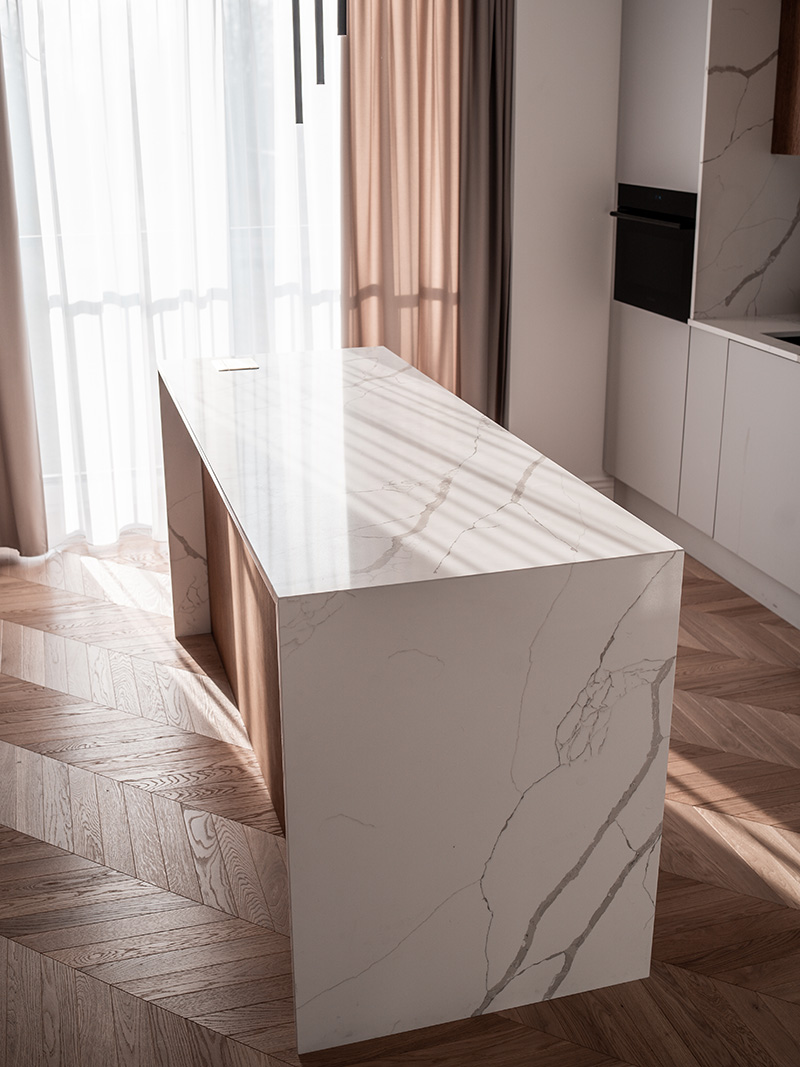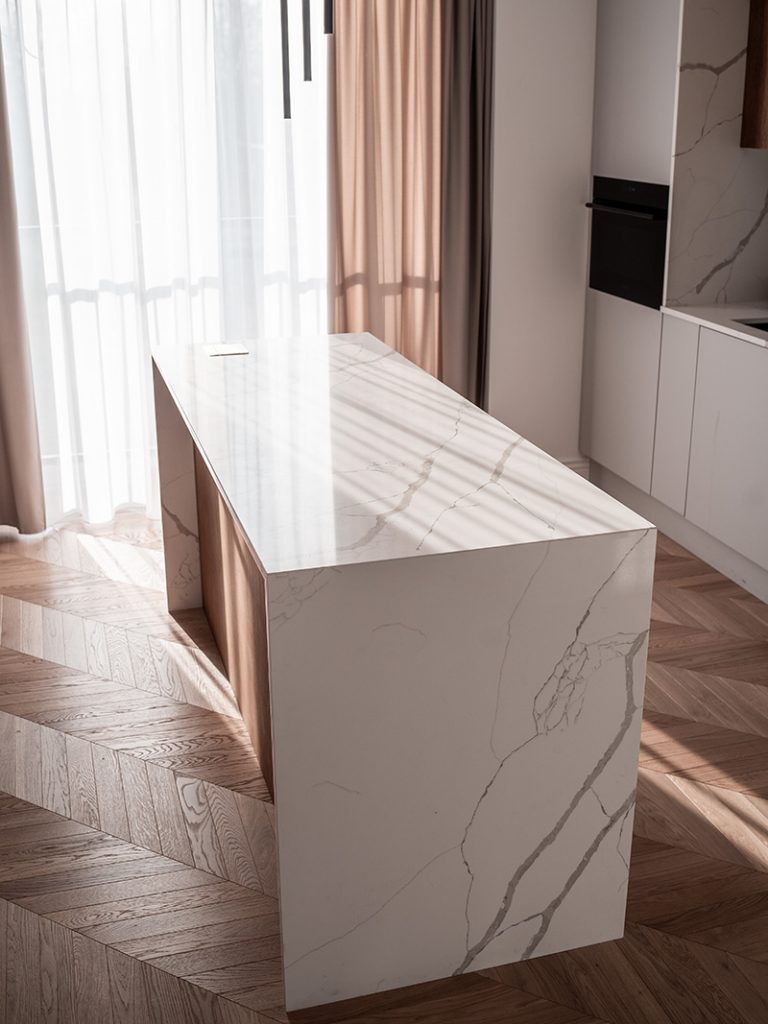 There's no limit to the colour, pattern or texture you choose to achieve a waterfall edge design, so long as you like it. Popular options include marble-look or concrete-effect quartz worktops, or a contrasting single-colour shade to stand out against the kitchen units.
Technistone offers an extensive range of colours and collections, from traditional to modern and the manufacturing technology ensures colour uniformity and stability.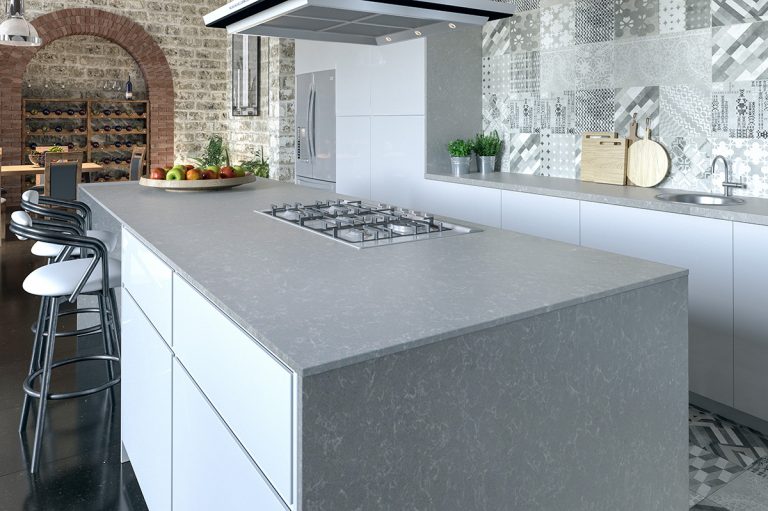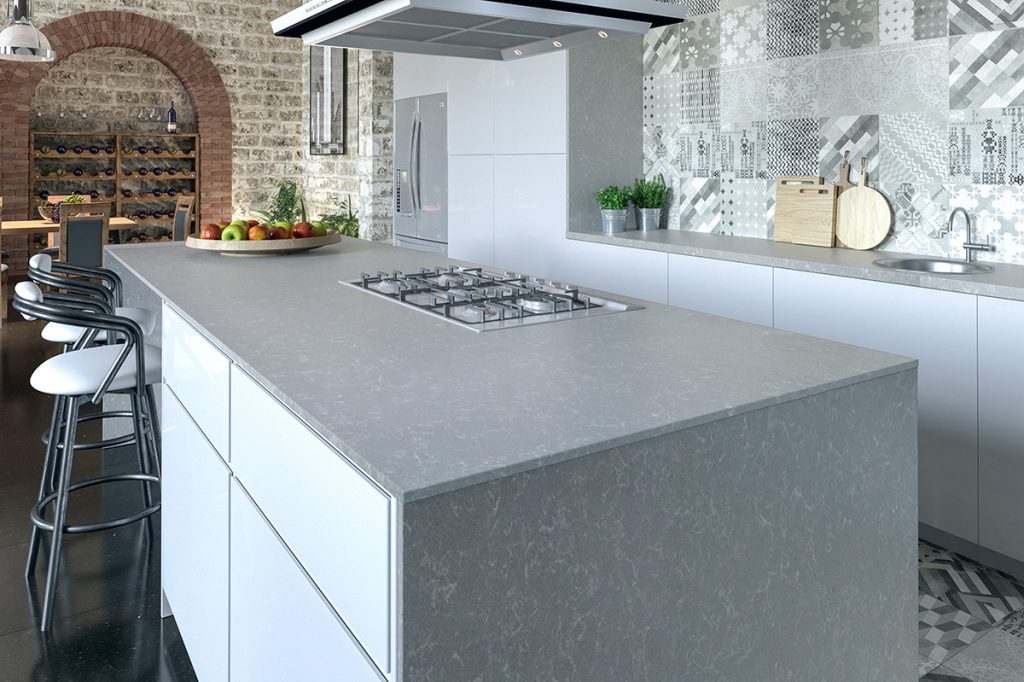 The Essential collection focuses on plain monochrome colours, or there's the popular Noble collection which has a natural appearance inspired by world-known marbles as well as with modern 3D structures and a concrete look.
Worktop trends: Shadow gaps
Now as far as worktop trends go, this is a clever one and it works best with contemporary, handleless kitchens. A shadow gap is created by leaving a gap between the top of the kitchen units and the start of the worktop. This gives the effect that the worktop is floating and you can maximise this effect with LED strips in the gap or a simple, discreet finger pull as a handle.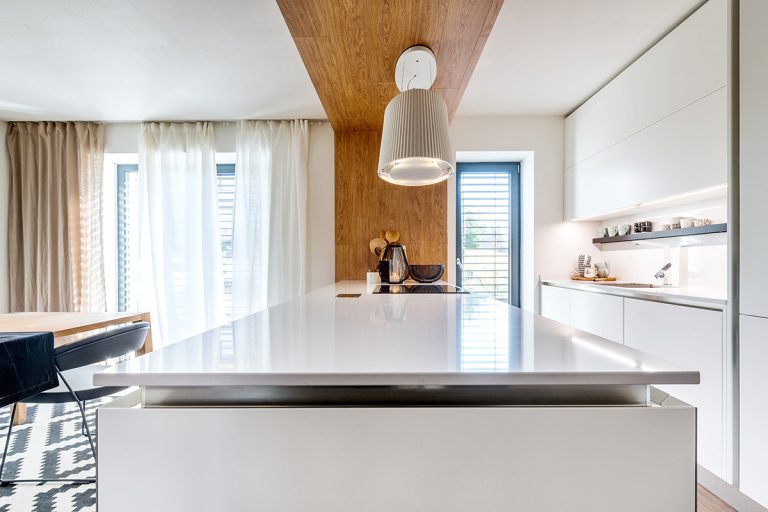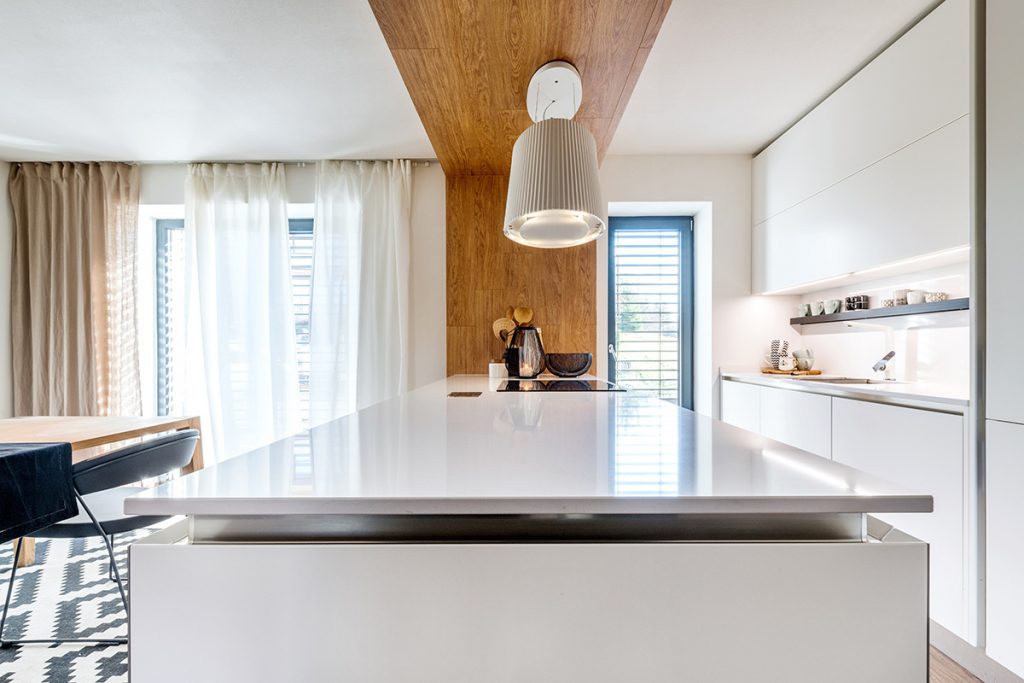 You may also like to accentuate the worktop with a complementary plinth, such as a metallic finish – the details matter after all. Keep the worktop slim to make the most of this slick worktop trend – something easily achieved thanks to the design possibilities of quartz surfaces.
Integrated features
Not only for worktops, you can utilise quartz to create handy features in your kitchen too. Yes, you can carry your chosen surface up the wall as a splashback, but what about practical storage too?
Work with your kitchen designer to create spaces for everything you need – from a handy bottle store for detergents, a herb trough or island shelving for your cookery books and plants. A quartz worktop can be fabricated to meet your specifications and create a seamless design that's tailored to your exact needs.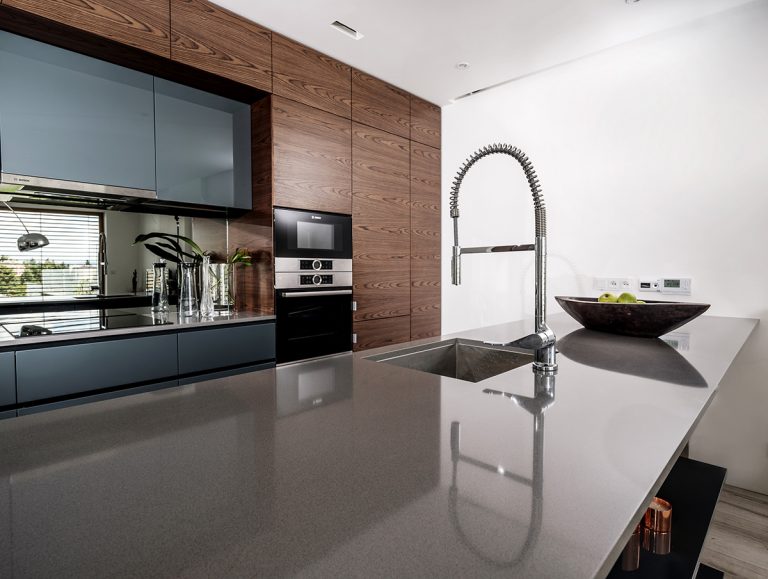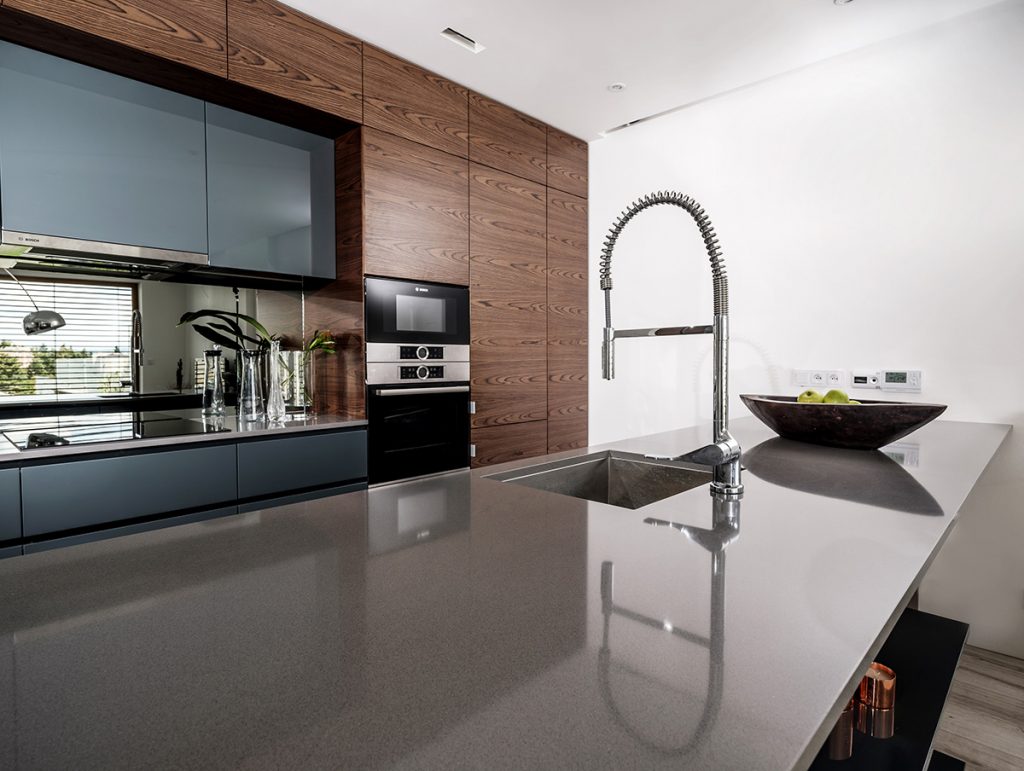 You can also continue your chosen surface from the worktop to the sink for a seamless finish and go for an integrated drip area with the grooves scored into the quartz to allow water to trickle down the drain.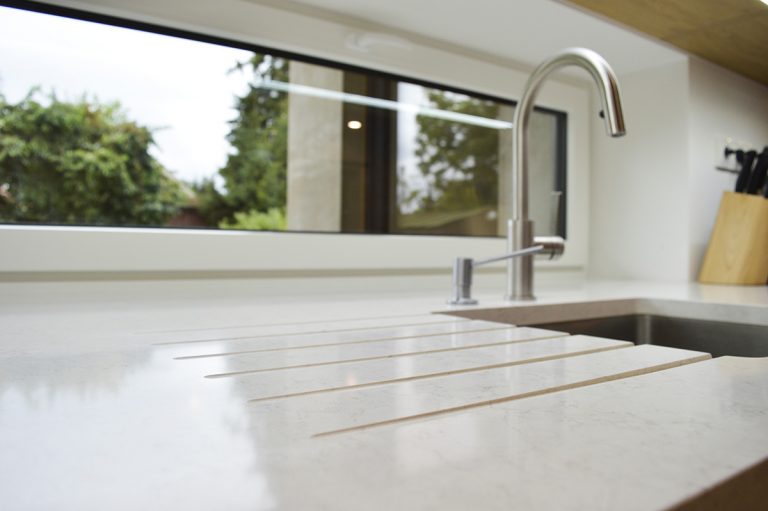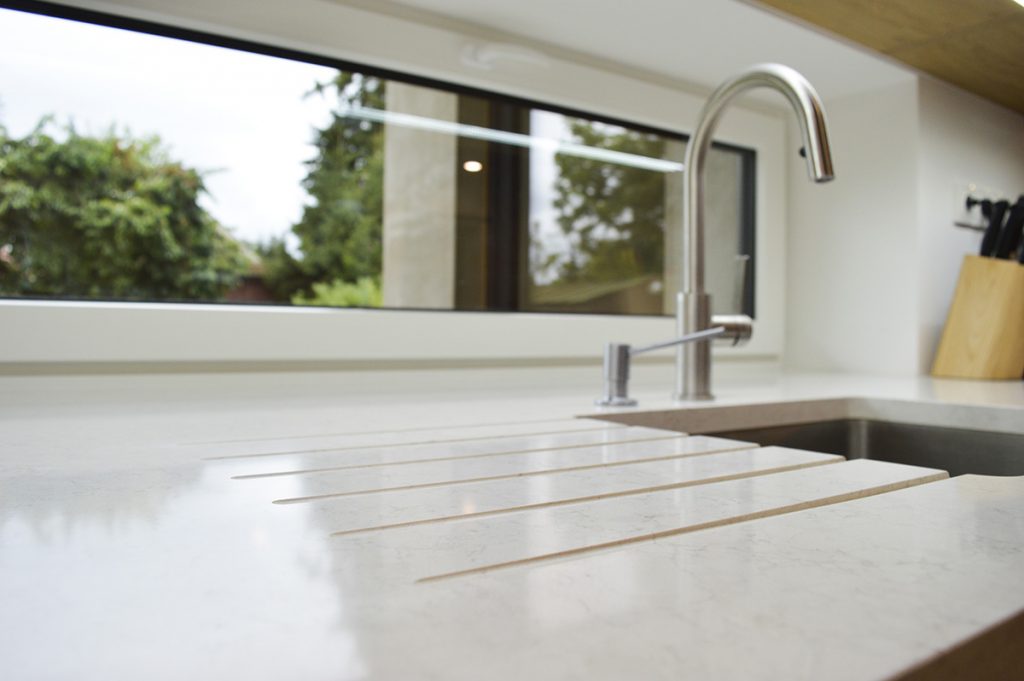 How to choose your worktop
Technistone have a dedicated UK sales team that can help you along way, from kitchen or bathroom suppliers to fabricators and builders, all ensuring the best service and installation available. At showrooms, point of sale merchandise and samples are available to help with the decision making to make your home perfect.
About Technistone


Technistone is a European manufacturer of premium quartz surfaces with UK stock and showrooms providing beautiful surfaces for homes, office spaces, restaurants, hotels and businesses around the UK.
Technistone is part of the Wilsonart company, a global manufacturer of engineered materials for interior, providing users with industry leading products and service, and work incredibly closely with fabricators, installers, sales outlets and end clients. The Wilsonart group trades in over 100 countries, under brands including Resopal, Polyrey, Laminart, Bushboard, Shore and Durcon.
This article has been created in partnership with Technistone. Discover the full range of worktops from Technistone here.
About Post Author