For me, having a kitchen that's big enough for a larder is right at the top of my wishlist. I love to cook, so having a dedicated spot to store all my jars, dried goods and small appliances would be the absolute dream. Also, I'm not going to lie, it's somewhere I can hide away all of my random bits and bobs too, (just in case I get some unexpected guests and need a quick tidy). From freestanding to built-in and walk-in styles – read on to discover how to install a larder in your kitchen. Modern designs offer a range of intelligent storage solutions to help keep your space clutter-free.
How to install a larder in your kitchen
How to install a larder in your kitchen: if you want a larder with glazing that's off the main kitchen, this design will work well. A steel-framed glazed sliding door prevents it from feeling too confined when you're in there while also providing a good view inside when you're in the kitchen. Make sure you plan this space early in the process to see how it will fit. Another thing to bear in mind here is that you will have a full view of the larder, so consider whether you mind if it gets untidy.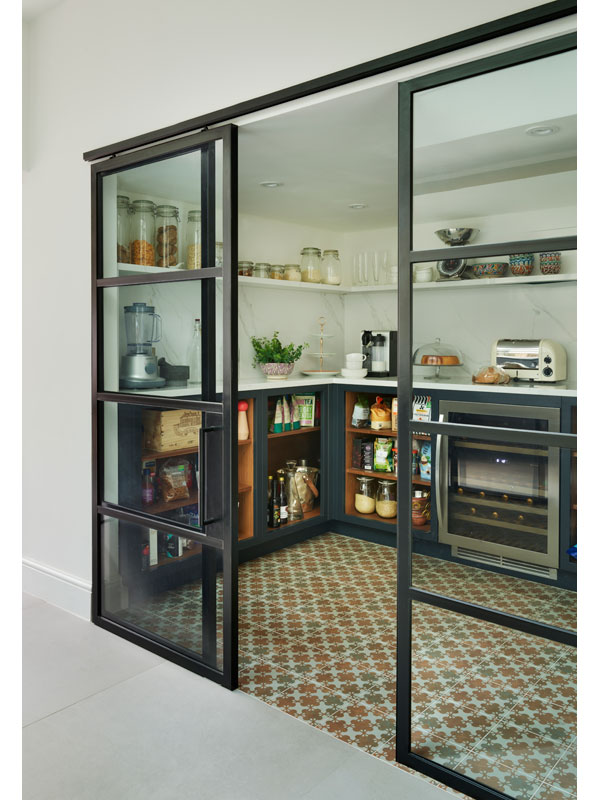 Install a breakfast cupboard
This style offers a completely self-contained solution, with deep shelving ideal for storing dried goods. It's easy to incorporate a breakfast cupboard into existing cabinetry by adding a rack into the door and building in shelving at different heights. I have a lot of jars lying all over the place, so this solution would not only increase the space but also allow me to easily see what's inside the cupboard as I wouldn't need to relegate bottles to the very back, while pull-down and pull-out options are great for easy access to condiments, and small appliances. If your considering a breakfast cupboard, incorporate plug sockets within the larder for items such as your toaster and coffee machine. If you decide to do this, think about placing countertop gadgets that produce heat on pull-out shelves to make them safe to use in the larder.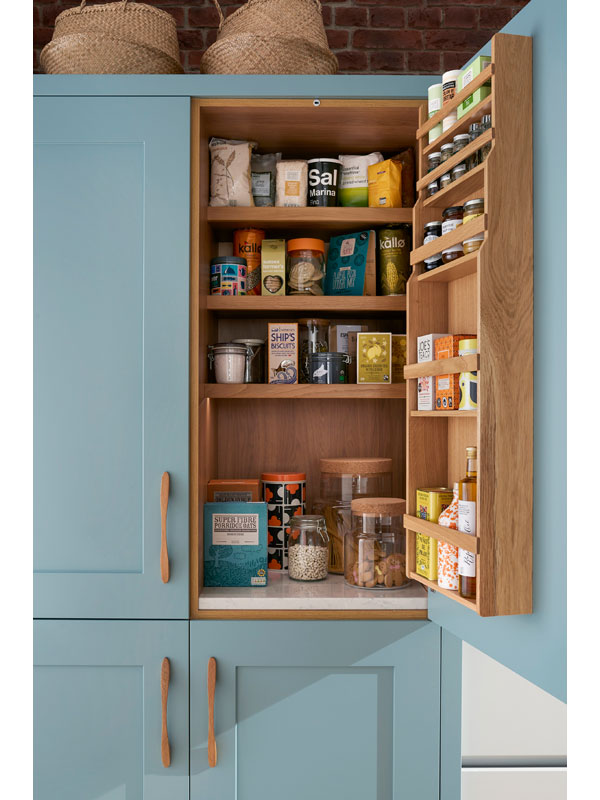 Make it freestanding
If you have an unused corner, a standalone dresser is a great way to utilise the available space as a larder. Providing a dedicated area that can be configured to suit your exact needs, a freestanding design has plenty of space for everything – from utensils to dry food. The larder can come with storage solutions including full-height shelving for taller items such as bottles, as well as pull-out racks for spices or drawers and wicker baskets for fresh produce. Not only are they practical, larders can be a focal point, too – so why not choose a different shade to the rest of your cabinetry? I think I'll go for a pastel mint green option…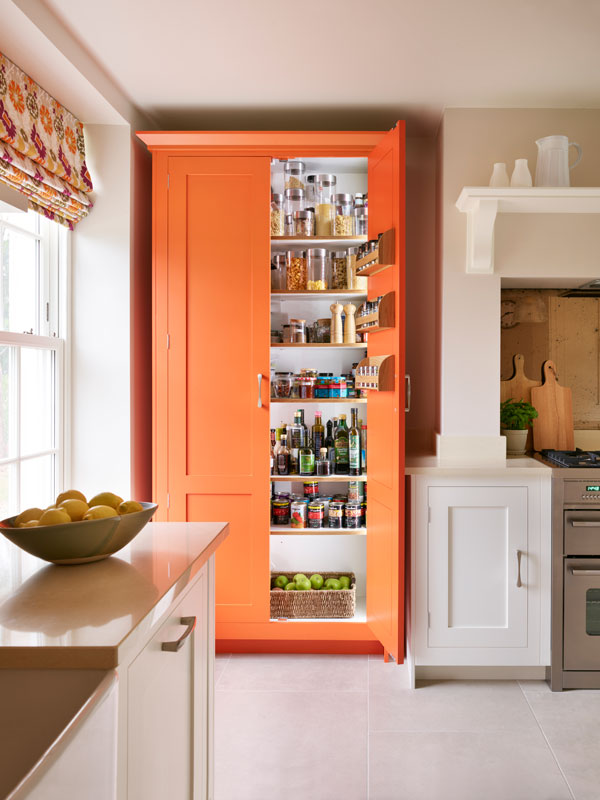 Create a display with open shelving
If your goal is to have everything on show and within easy reach, exposed storage offers trouble-free access to everyday items. It's handy to see what you have in stock, but this design is also a way for you to add a statement feature. Not only practical, this style can help lighten the space, bring in colour, and add interest – for example by serving as a showcase for some of your favourite ornaments. With open shelving, having things such as crockery, glassware as well as dinnerware on display makes friends and family feel more at home and allows them to easily help themselves.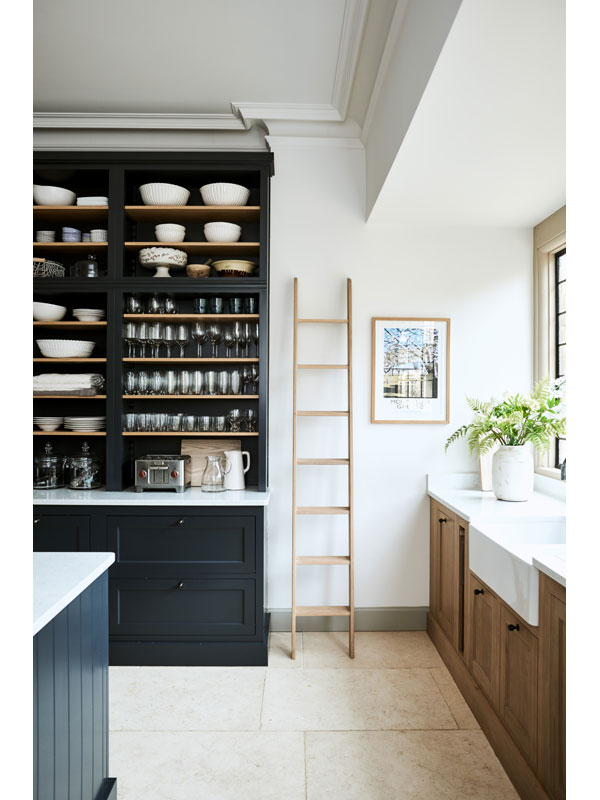 Go for fully built-in
Create a seamless look by adding an integrated larder that matches the rest of your cabinetry. This allows you to install floor-to-ceiling sections either side. It's ideal for storing bottles of cooking oil or (most importantly) your collection of wine! Built-in larders are a great option, no matter the size of a kitchen. Pull-out racks and drawers will maximise the space while conveniently allowing you to see their full depth. There's nothing worse than rummaging through a floor level cupboard to find that one ingredient, right? So, to make the most out of the space, think about installing additional shelving into your larder. This should be at different heights inside so you can easily overlook each level. Also consider including lighting to make it easier to see the contents. However, ensure you choose a warm white shine that's not overly bright to create ambience and go for an automatic solution that switches on and off as the door opens and closes.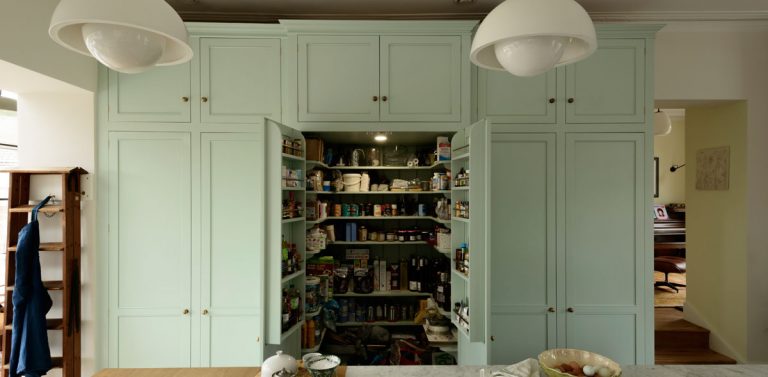 Adapt your base units
Pull-out additions are ideal if you want the benefits of a larder without completely overhauling your kitchen. Great for compact kitchens, you can also easily incorporate racks into corner cupboards that aren't being used. Many brands will allow you to customise how you organise your larder. So I would suggest having deep drawers as well as a pull-out chopping board for easy access to key items. But this all depends on you and your family's needs.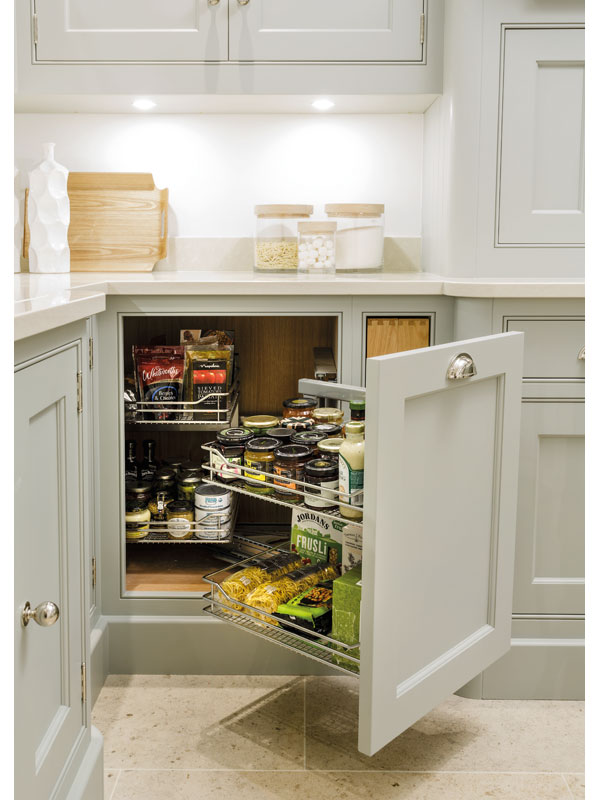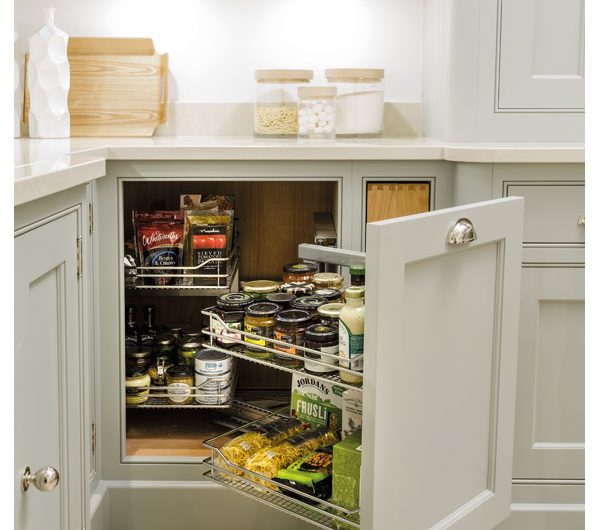 Utilise an existing area
If you have a more compact space, simply dedicate a cupboard within your existing cabinets. Ensure you include plenty of shelving to keep ingredients in order. A well-designed unit can be an efficient way of using space and works just as well in a smaller kitchen. There are many options available for the interior, including internal drawers and door ladders. These are great for storing bottles, jars and preserves. Ensure you choose a durable material such as oak for the shelving which can hold the weight of these items.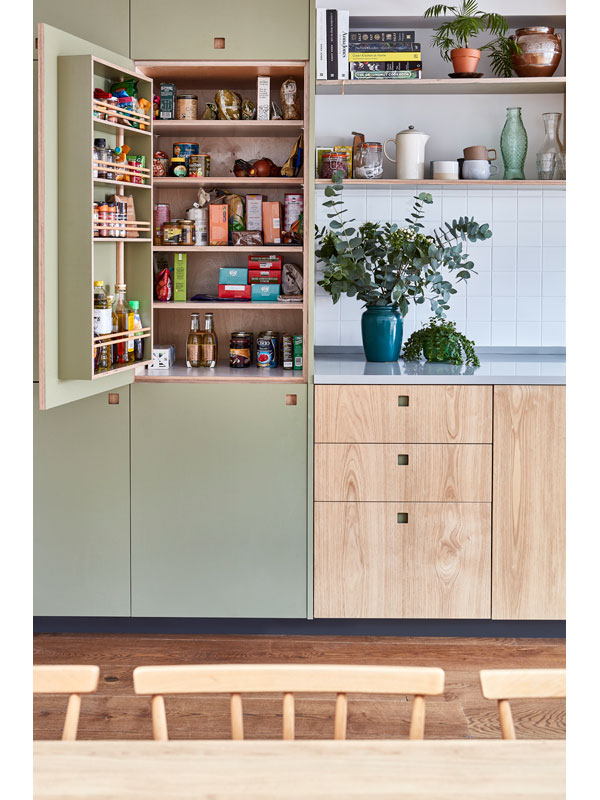 Opt for bi-fold doors
For versatility, go for a built-in or freestanding larder with doors that partially or fully close. So you can keep items on display or conceal them as needed. This style also takes up less space than traditional doors, as they don't swing out as much. So it maximises usability. For example, if you've got a larder in the corner of your kitchen, where an outward-opening design takes up floor area. With bi-fold doors, you won't need to worry about blocking any passages if you're keeping them open at all times.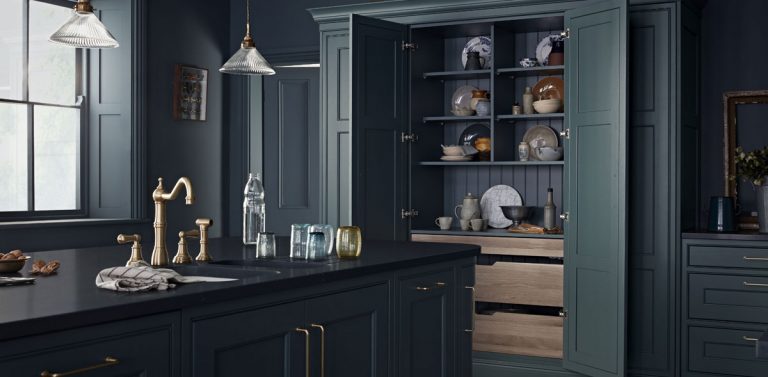 Close it off
Having a separate pantry provides plenty of space while a sliding door adds a contemporary feel. If you love to entertain, you could use it as a gin room with an extra sink for concocting beverages. To ensure a cohesive design, opt for the same cabinetry and worktops in the larder as the rest of the kitchen. Add spotlights inside so you can easily see the contents.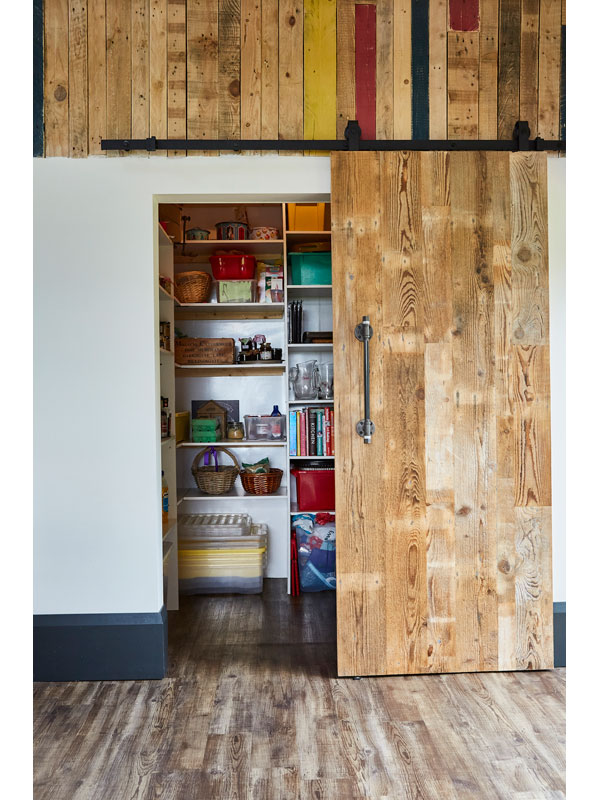 Opt for pull-out drawers
If you have a floor-to-ceiling or built-in larder, try splitting it into half with drawers and shelving. This will help you best organise napkins, dinnerware or cutlery. Position crates at the bottom, with shelving above for cereal, cookbooks, and small appliances. A cold marble or granite shelf is ideal for items which don't need refrigeration but benefit from being kept cool. For example, eggs.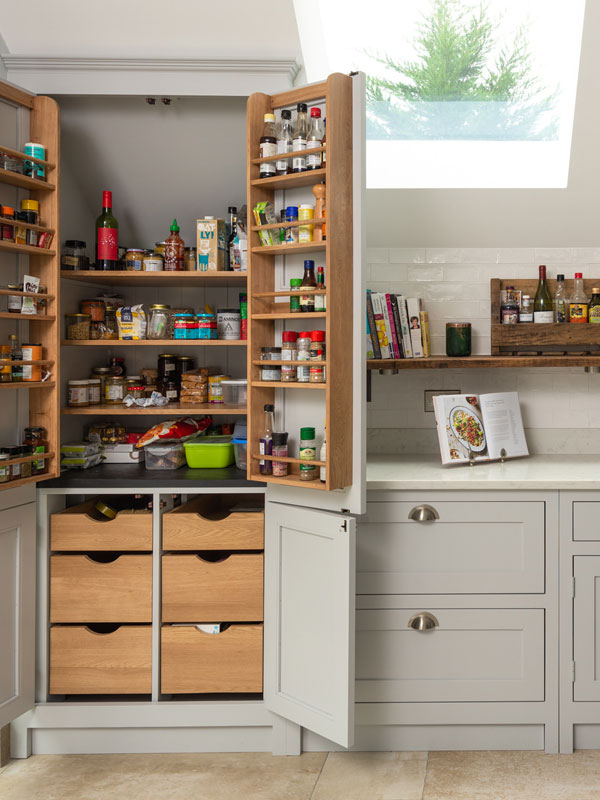 Right, now I'm inspired to start getting my kitchen cupboards in order…
Featured image: Koo kitchen starts from £20,000 and is available from Devol.
If you enjoyed this feature, you'll also love Kitchen storage: how to get it right.
About Post Author