Space. Do we all want more space? Or do we need it? I could do with a bit more of it in my home, if I'm honest. Especially now as it's functioning as so many more things than before – home office, home gym, baking set-up to rival the Great British Bake Off (I wihsh! Anyone else?). Do you need more space in your kitchen? Have you been thinking about how to make your kitchen bigger?
There are a few different ways in which to make your kitchen bigger – from the ever-popular kitchen extension to knocking through or simply reconfiguring the layout you already have to better utilise it. You might be surprised at how much a better layout could change the useable space – which is the crucial 'space' we're talking about really.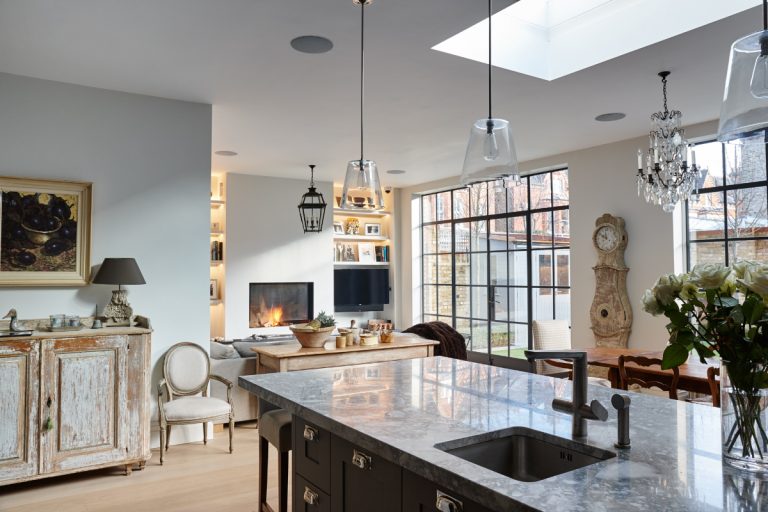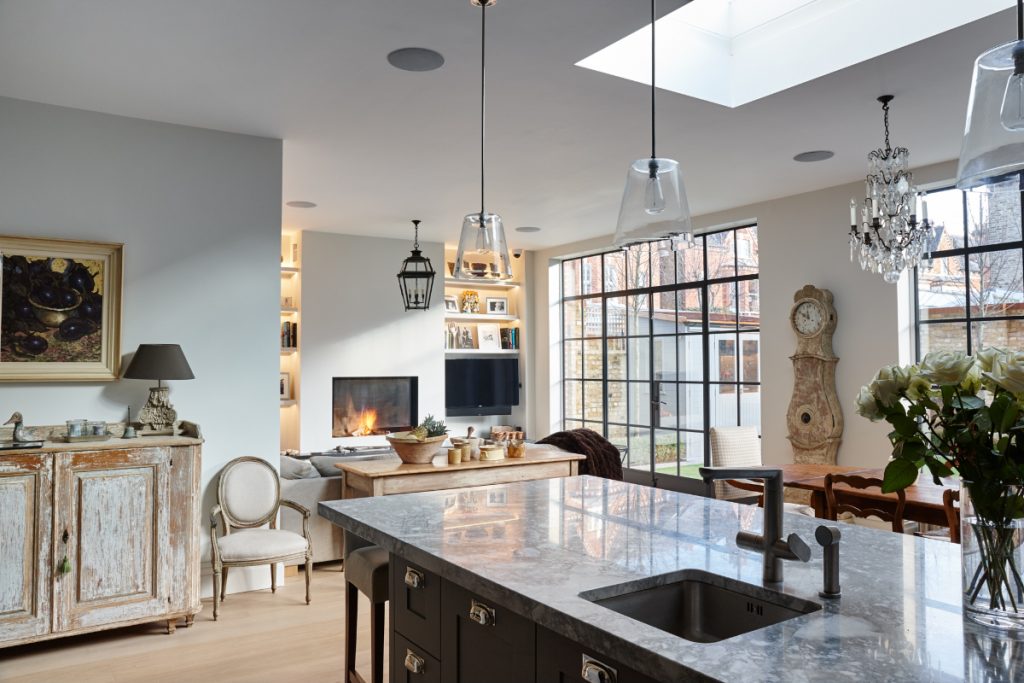 As with any renovation project, always begin with a good assessment. No, I'm not talking boring tests or tricky questionnaires, but assessing the why, how and what of how to make your kitchen bigger.
Why do you want to make your kitchen bigger?
How can you make your kitchen bigger?
How do you use the kitchen throughout the day? How many people use it?
What works in your current set-up and what doesn't?
What do you really want from your kitchen that it doesn't offer now?
Of course, look around and assess the size, structure, layout and flow and really get to know the intricacies of your space and how you use it before anything else.
Then, decide which type of renovation will work best for your needs and space.
Here are some ways to make your kitchen bigger…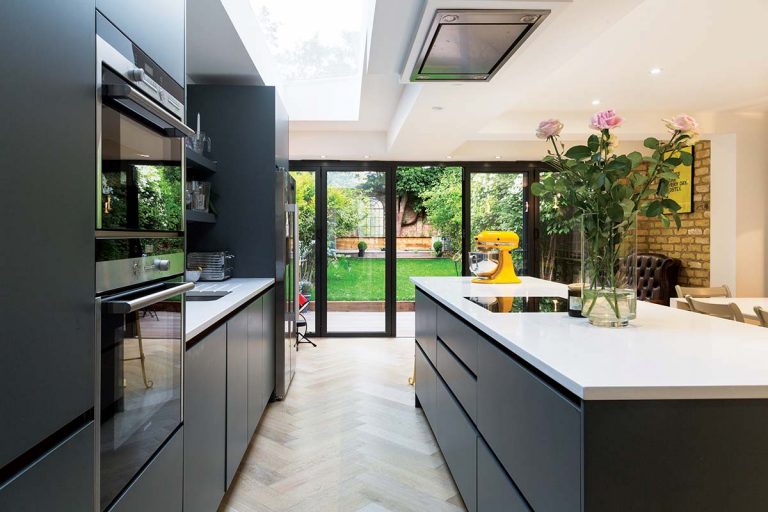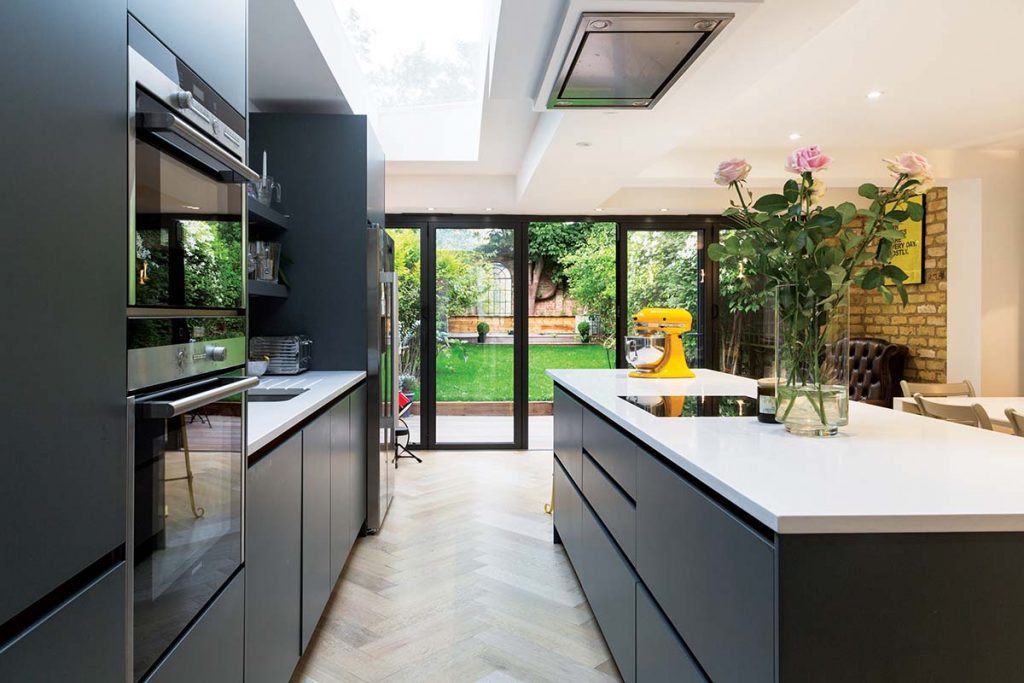 1. Build a kitchen extension
If you've realised that your kitchen is a bit too small for what you need or you've decided you're ready to go open plan (or broken plan), planning a kitchen extension may just be your solution to getting those vital extra square metres and maximise your plot, plus it's a chance to rework your interior layout, too.
The first thing to consider when planning a kitchen extension is how you'll spend your time in it, what's possible for the space and how you can use it most efficiently.
Then think about the style of extension that would work – a single-storey rear extension or a side-return extension, for example.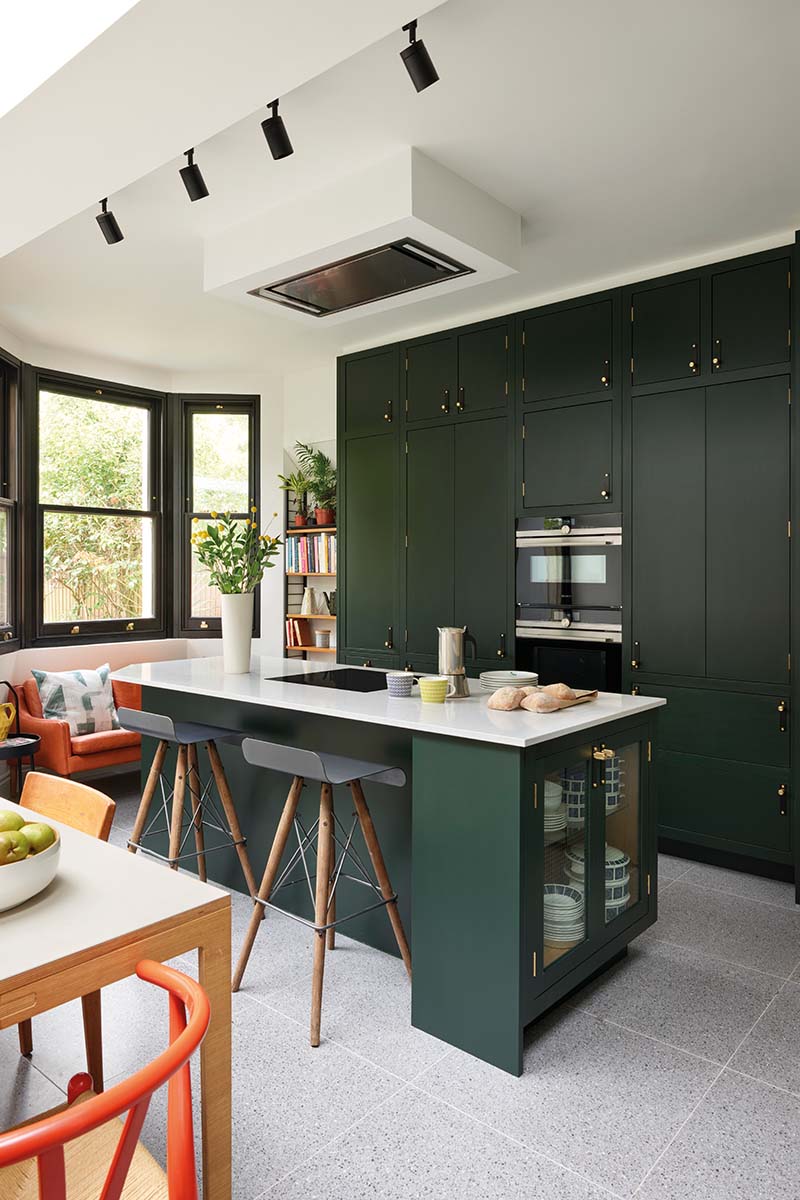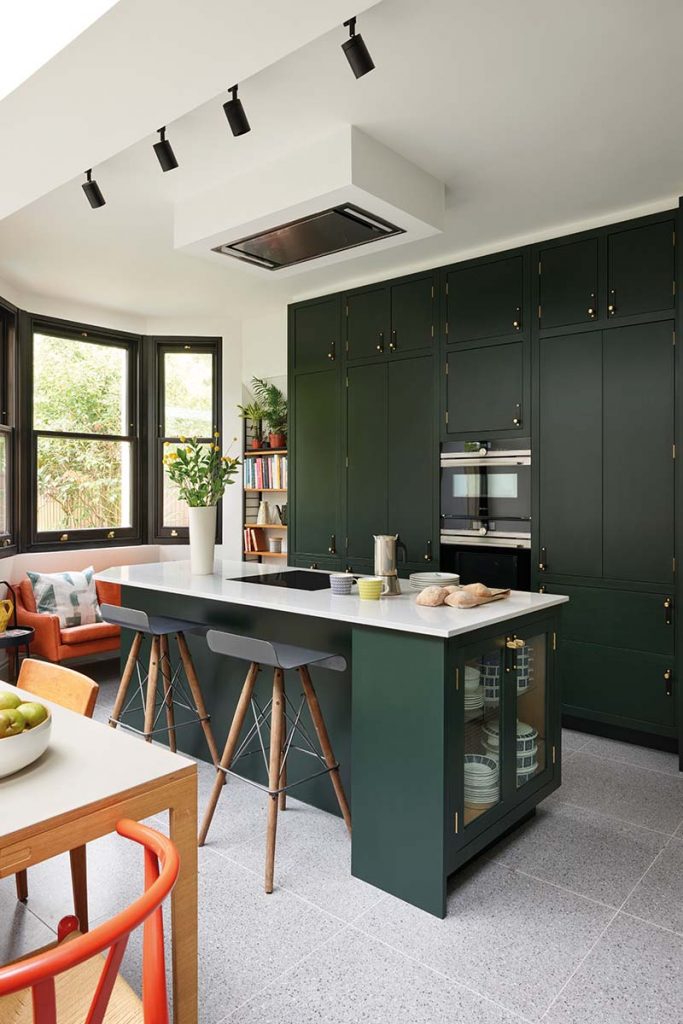 The good news is that many modest kitchen extensions fall within permitted development. This is where you're able to build without the need for formal planning permission up to a certain size depending on your property type and whether it's been remodelled before. Although it's a good idea to seek Prior Approval for peace of mind.
Check out guidelines online: planningportal.co.uk lists all you need to know for England and Wales. For Scotland, head to eplanning.scot.
Read the ultimate guide to planning a kitchen extension here.
2. Knock through to go open-plan
Important: don't just get the sledgehammer out! I know it's tempting. But you really need to seek advice before embarking on a knock through project. But, on a more positive note, a knock through is an excellent way of gaining more space without the need to extend.
As many historic properties were built with lots of small rooms, one of the ways to gain more space is to remove internal walls – perfect for a kitchen-diner.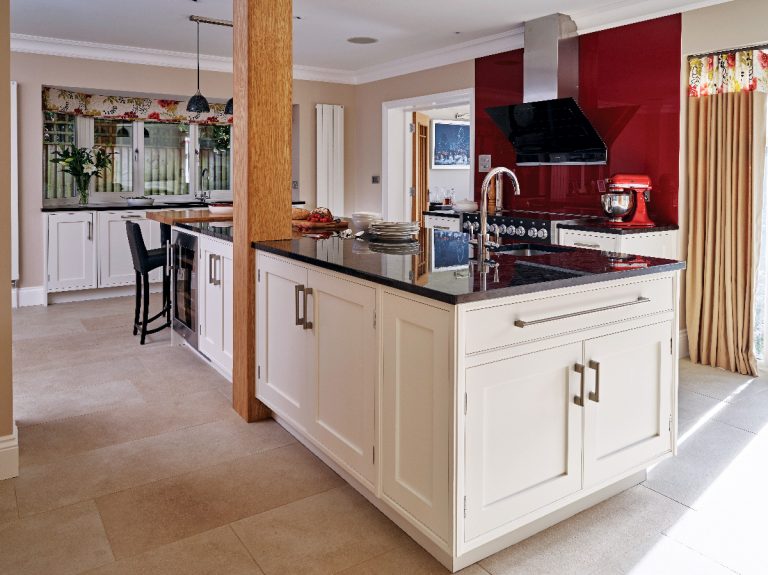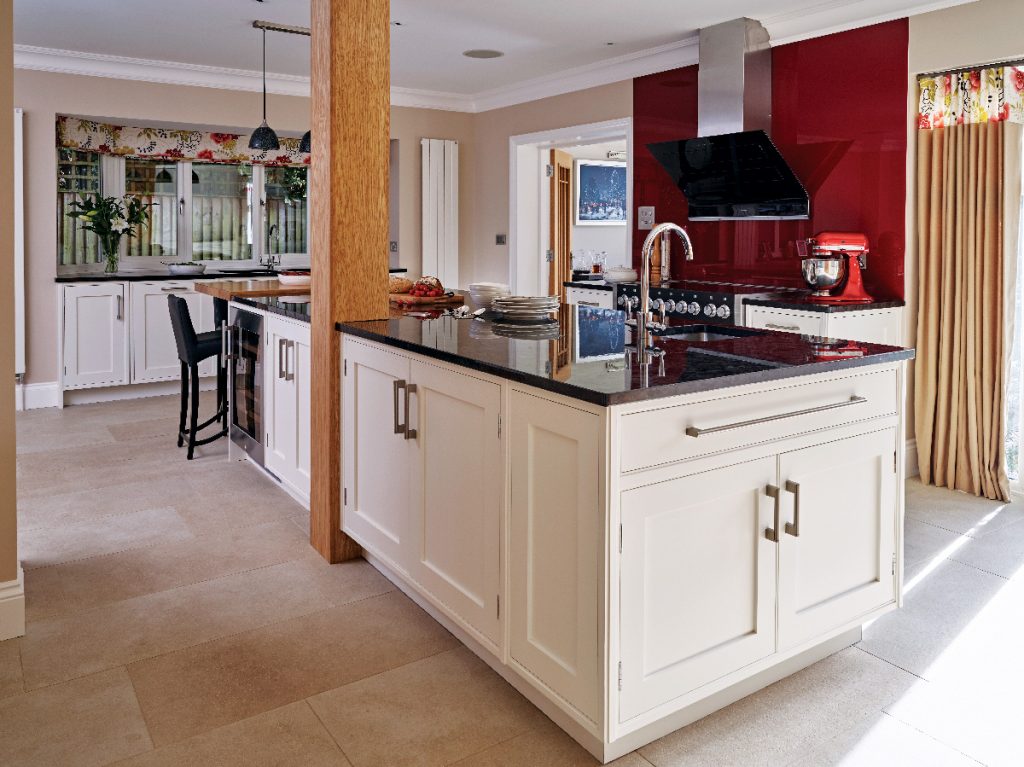 By knocking through and reconfiguring certain rooms, you can gain floor area without having to change the entire footprint of your home. This will allow much-needed light into the larger kitchen, which will be designed with zoned areas for preparation, cooking, storage and socialising.
However, before you get the hammer out, there are things you should know. Removing a load bearing internal wall, or forming an opening in an internal wall, means building regulations will apply. A structural engineer or surveyor should always be employed to determine if the wall is load bearing, which means it is supporting other parts of the property's structure, such as the roof, and then design a beam to cater for these loads if you wish to remove it.
3. Improve your existing kitchen layout
Ok, this one isn't necessarily making your kitchen bigger in terms of overall footprint, but it will – if done well – make your kitchen FEEL bigger because the space will be better designed for you.
Your kitchen's ergonomics (the way it flows) are vital for a stress-free cooking experience. Equally, if your worktops are cluttered with appliances and ingredients, you'll have less space for food preparation and serving.
So, by looking at your current arrangement, you can find some clever tricks and solutions to help make the most of your room.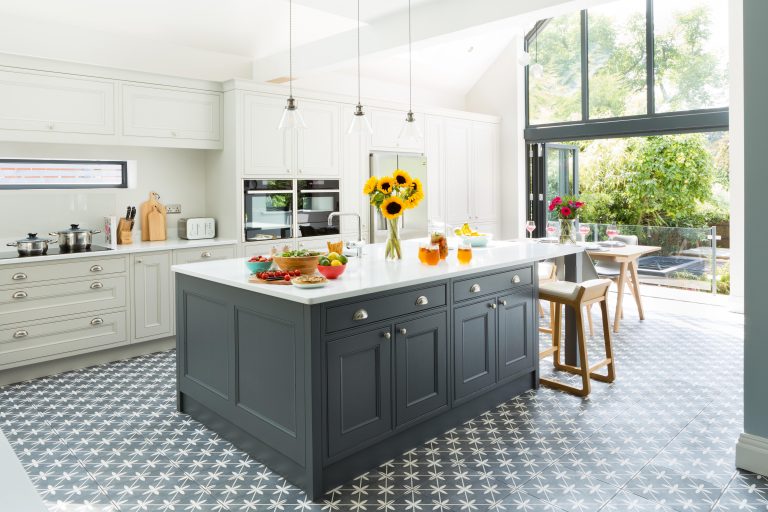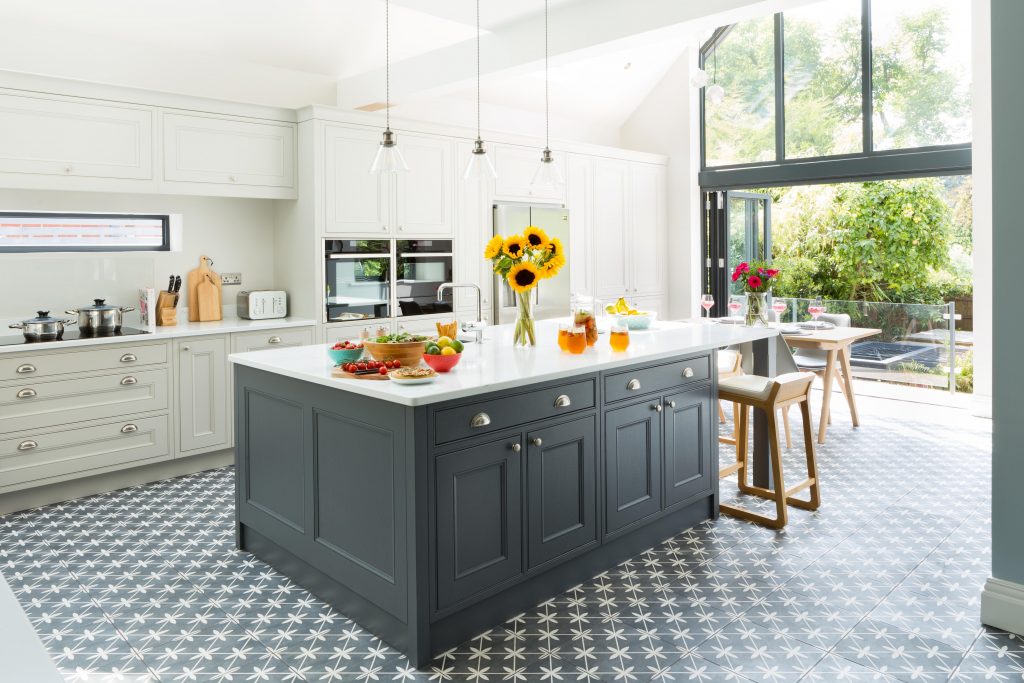 This could be something simple, such as ensuring your cabinets go all the way up to the ceiling, or including pull-our larder systems, or swapping overwhelming wall units for open shelving.
Alternatively, why not think about going bespoke instead of buying off-the-shelf carcasses so, they can really make the most from tight spaces in a way that complements a room and lifestyle?
Read more about gaining space with a kitchen reconfiguration.
4. Steal some space from elsewhere
Interestingly, if you want to gain more space, one of the things you could do and maybe hadn't thought about is reducing the sizes of your corridors – without making them uncomfortably small and narrow, of course.
You could take some floor area from a boiler cupboard (obviously relocating the boiler) or by converting a conservatory into a more practical area.
Read Georgina's guide on how to get more space from stealing some from other rooms – this could be the key to unlocking your perfect kitchen layout.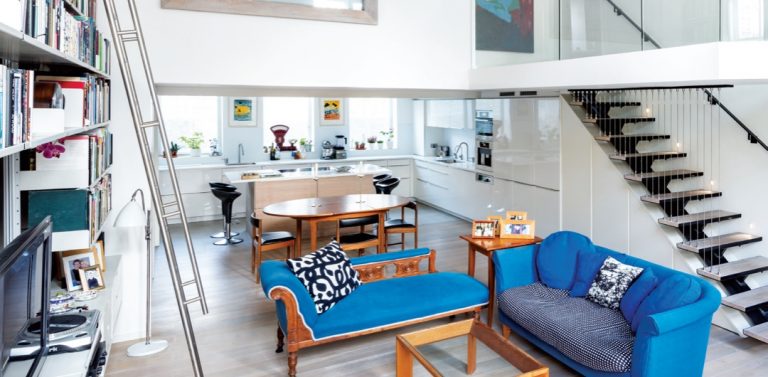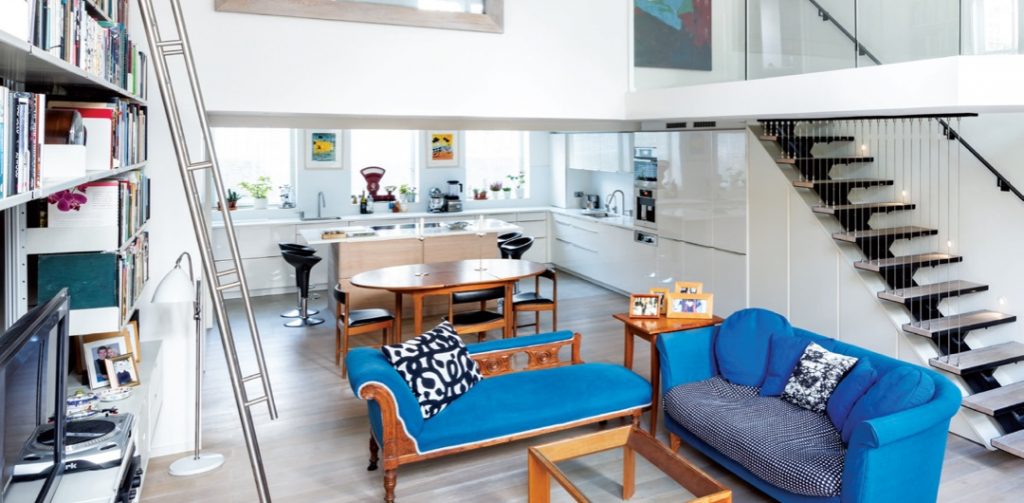 Don't want to extend? Listen to How To Buy A Kitchen Or Bathroom: Get a bigger kitchen WITHOUT extending for some clever ideas on boosting space without the big structural upheaval…
Featured image: The owners of this property wanted to make their kitchen bigger so built an extension with a pitched roof and steel-framed glazing. Kitchen design, Roundhouse. Architect, 50degrees North Architects.