A side-return kitchen extension is a great way to add extra space to an often unused area. We're talking about the strip that runs along the side of many Victorian and Edwardian properties. Who puts their bins there? Sometimes this space houses the existing kitchen, which will often be long and narrow in shape. So by extending out to the side, it's possible to square this space off, making it a much more usable kitchen or open plan room. Sounds better than a home for the wheelies now, doesn't it?
Having taken on my own renovation projects, I'm always looking for ideas to make the most of my new space. So if you have or are thinking of extending and making use of your side return take a look at my latest inspiration gallery with 10 of my favourite side-return kitchen extension projects. It was not an easy task narrowing them down to 10, I can tell you!
Firstly, take your eyes back up for a sec. The owners of this project above have created a functional family home using every bit of space available. With so much glazing the owners have really made use of natural daylight and created a fantastic indoor-outdoor feel with folding doors.
Secondly: the original kitchen was narrow and gloomy so the owners added a new side-return kitchen extension with a large skylight to create a more generously-sized, light-filled space. How gorgeous is this marble island…?!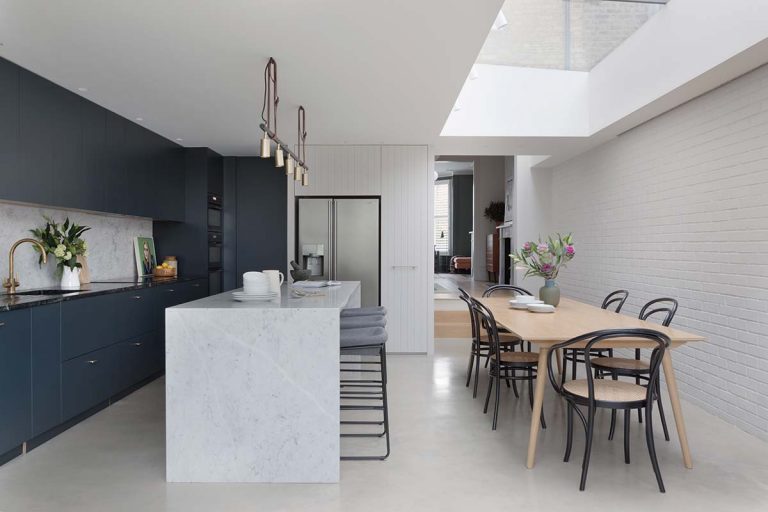 Thirdly, here's a side-return kitchen extension into the largely wasted space of this Victorian house's side return. It has dramatically increased the room's width – an effect enhanced by glass doors which fully fold back.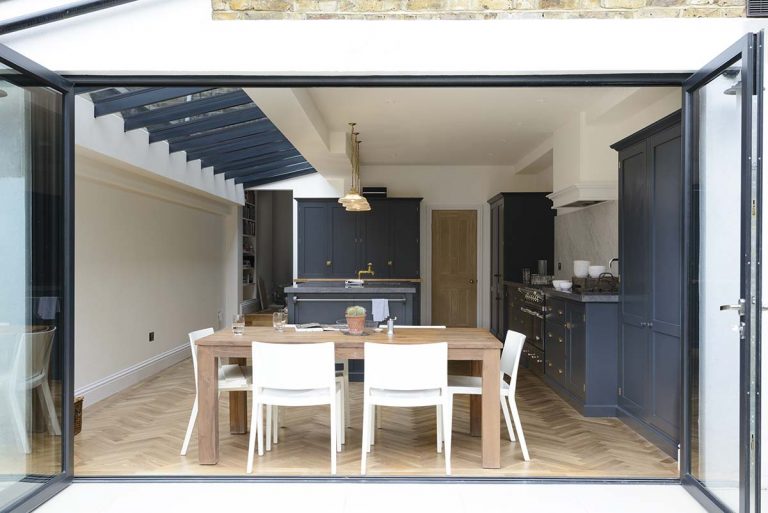 Fourthly, this industrial-style kitchen extension has been designed to include this fantastic walk-in larder for spices, small appliances and dry goods. Read more about creating your perfect larder here.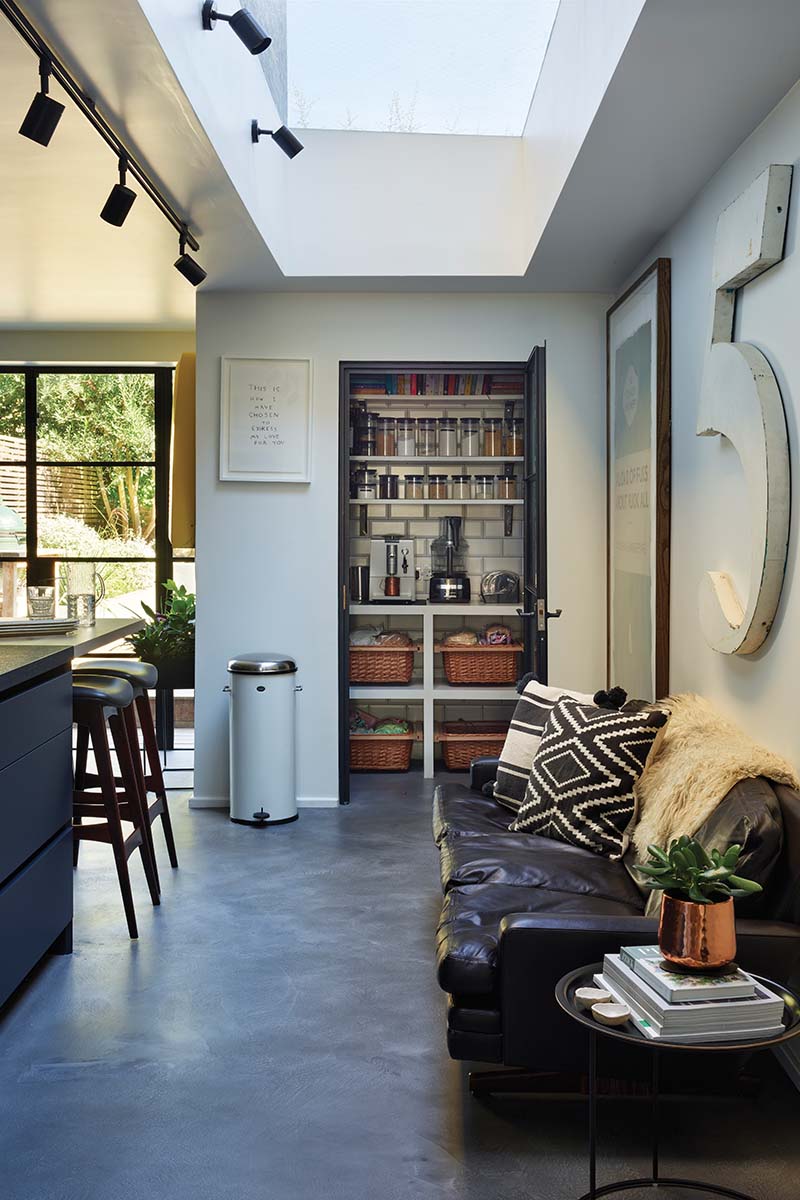 Then this
structural glass roof brings in light and adds a feeling of space. The owners of this stunning shaker-style side-return kitchen extension have kept the side return a central feature in this stylish scheme. This kitchen must be drenched in natural sunlight in the mornings – dreamy.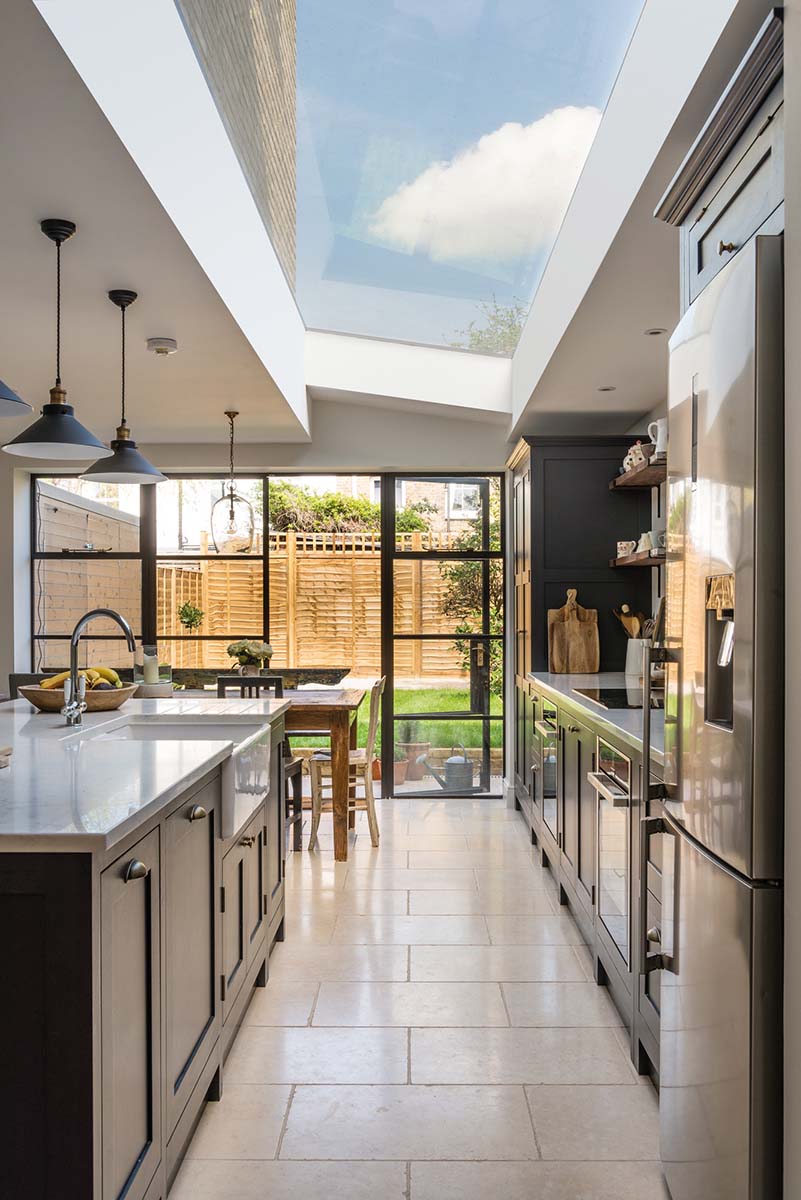 For this project the owners used a large amount of glazing to ensure the kitchen-diner stayed as light as possible and the use of fins add drama to the scheme as well as some privacy from the neighbours.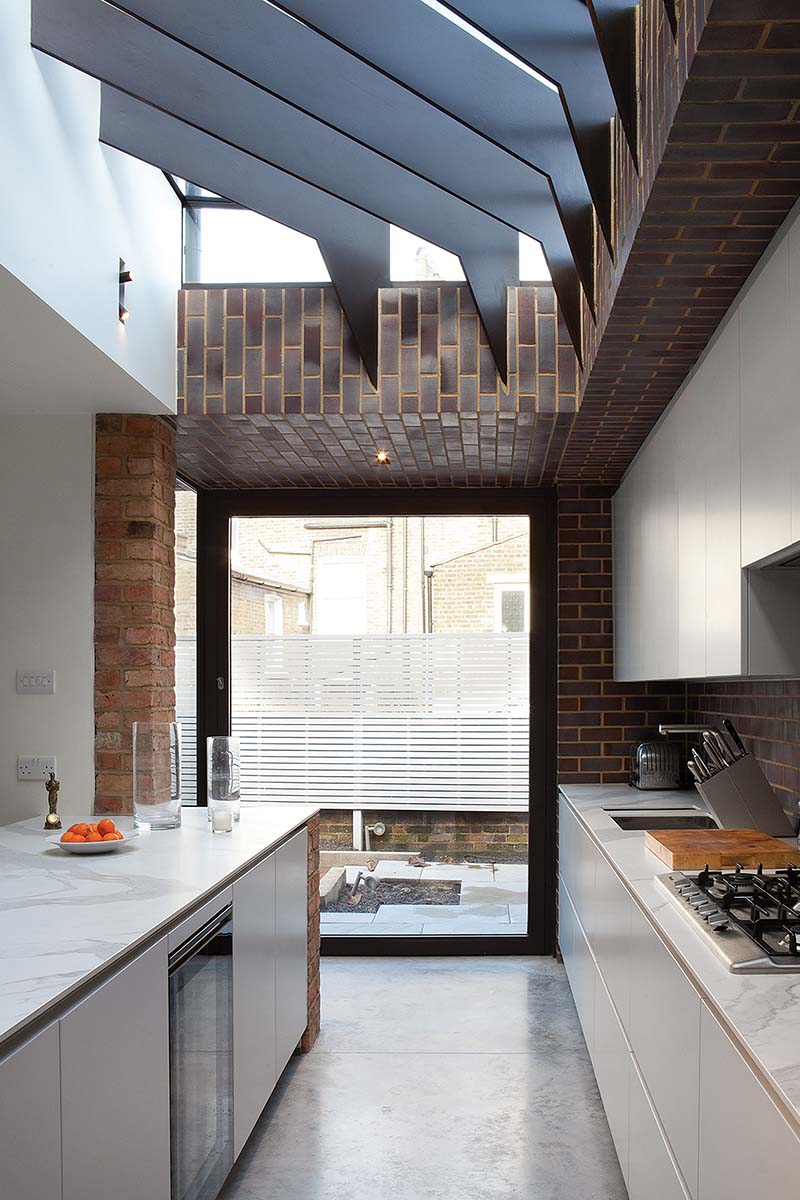 With a limited budget and limited space for extending, Material Works' challenge was to transform the existing dark and cramped kitchen in this Victorian terraced house in Stoke Newington, London into a bright and open space, perfect for a growing family.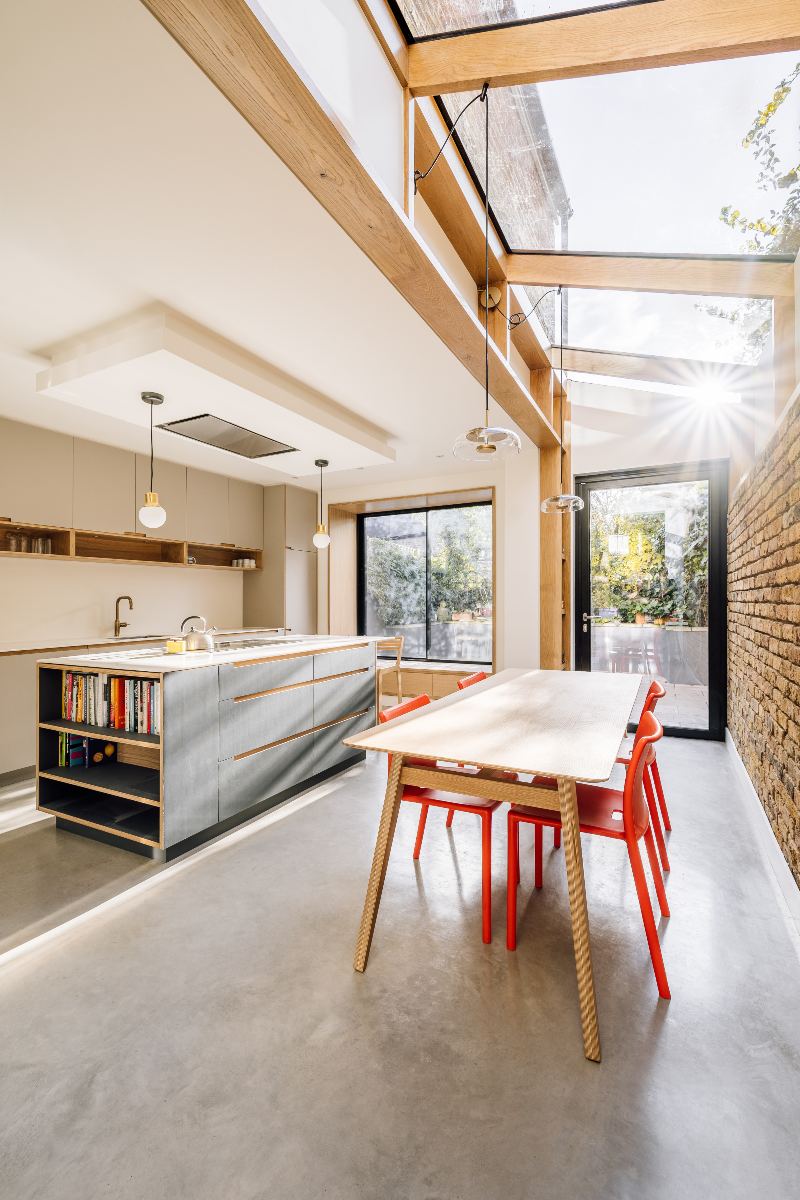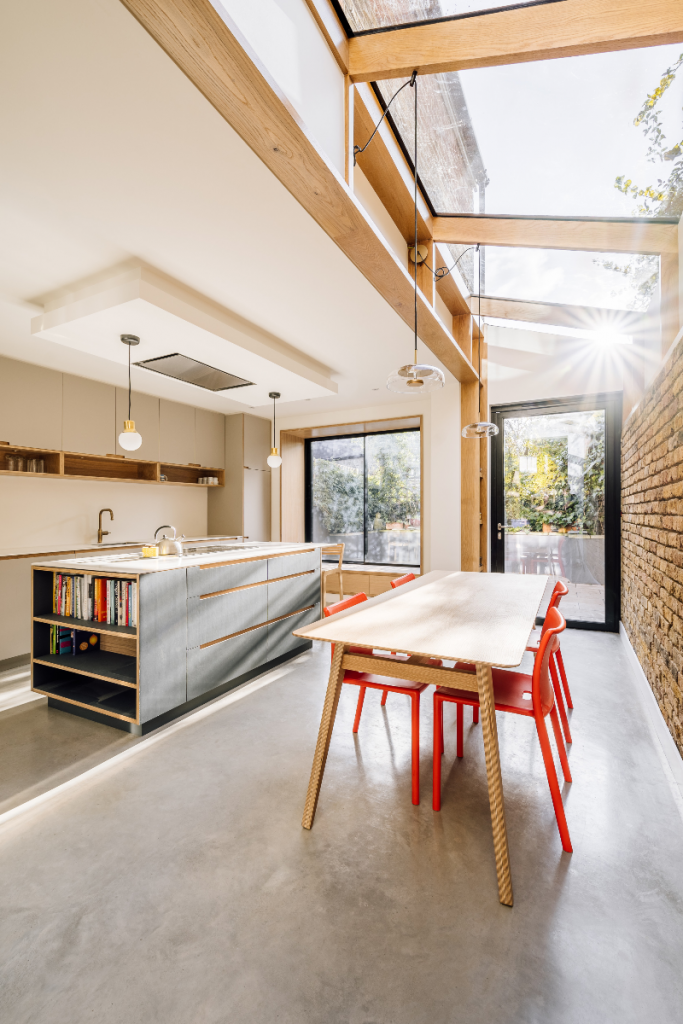 Teaming the reinforced exposed steel joists with bi-fold doors and glass panels highlights the scale and dimensions of this ground-floor side-return kitchen extension by UVArchitects. This project feels light and airy and a real extension of the garden.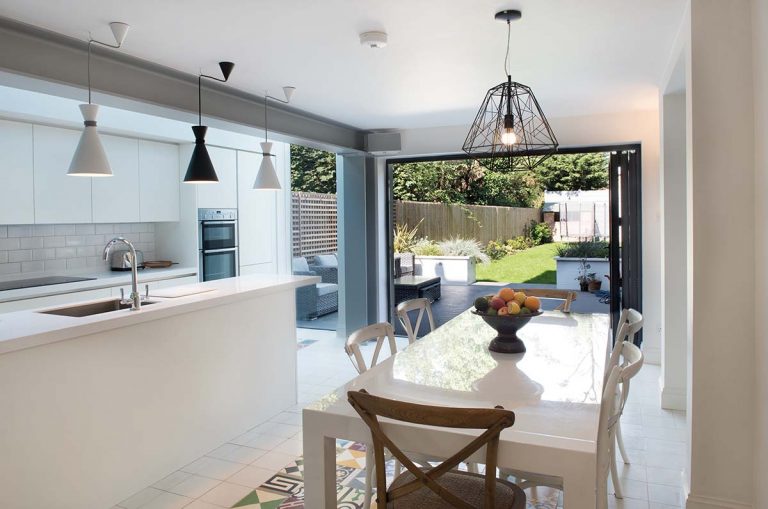 So one of the main challenges with a side-return kitchen extension is allowing as much light in as possible. A great way to achieve this is with the use of a glass panelled roof light like this project below, letting in lots of light as a result. This Victorian townhouse is spacious and bright while still maintaining its traditional character. The banquette seating also adds a touch of French brasserie style and fits in perfectly with the new layout.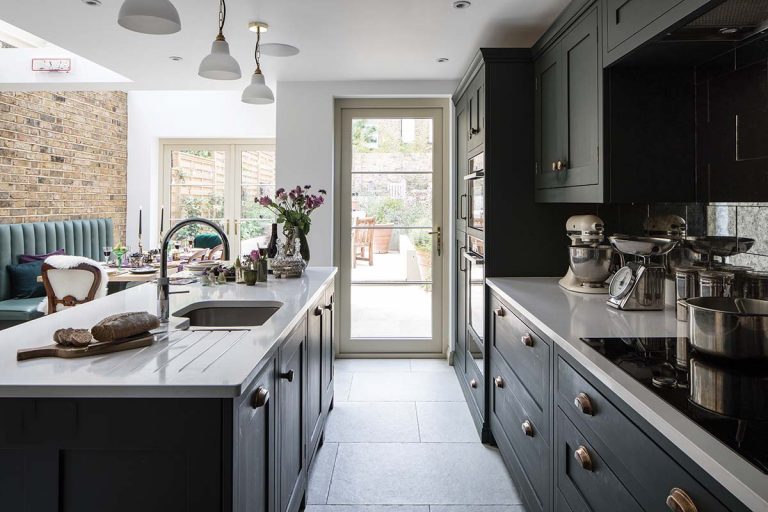 The owners of this Victorian terraced house in London transformed their kitchen with a side-return extension, which allowed for enough space for both an island and dining table, while retaining the beautiful original bay window. So the
deep run of cupboards don't obstruct or close off the window or view into the garden but allow for plenty of storage. I also love the dark green

cabinetry and glazed doors paired with the light walls for a real statement kitchen.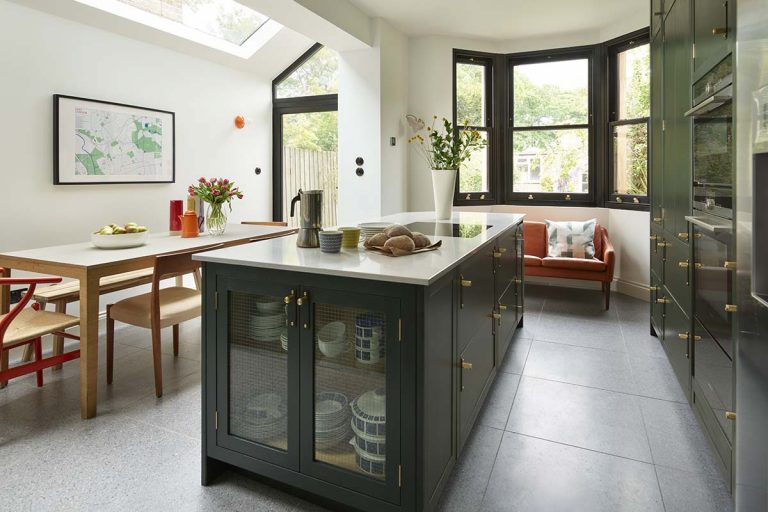 Lastly, the homeowners of

this five-bedroom Georgian house extended into their

side return. As a result, they

transformed their previously dark and dingy kitchen into an elegant, light-filled space. It's complete with this fantastic picture window that perfectly blends indoors and out. To add even more light, they also created a long roof light above the kitchen units.
This post was originally written by Hannah Talmage and was published in January 2020. It was updated in July 2022 by Ariane Sherine.
Featured image: Design by Build Team, Glazing, for similar, try Maxlight; extractor fan, for similar, try Falmec. Photography: Alison Hammond
Want to read more? Then check out How to plan a kitchen: your essential guide.
About Post Author