Whether it's part of an extension or an update of a dated scheme, we at These Three Rooms know all too well that planning a kitchen can be a rather large undertaking. The most hardworking space in the house, let's face it, the kitchen has be be suitable for many different tasks – cooking, socialising, home working, chilling out and general day-to-day-life (plus so much more).
No two kitchens are ever the same – so your new one will be unique. This is really important, because, at the end of the day, you will be the one using the space, so it has to suit you and your family's needs down to the very last detail. And everyone wants their home to be unique, yes? Unique = special.
'How to plan a kitchen?' I hear you ask. Well, you're in the right place. I asked the font of all kitchen knowledge and @kbbmagazine journalist Ysanne Brooks to come up with her top tips to planning the perfect kitchen and she's done a stellar job. Keep this tab open and you're on the road to project success, believe me.
Watch: The Kitchen Sessions: How to plan a kitchen NOW
Take stock of your kitchen now
Check what does and doesn't work in your existing kitchen and make up a wishlist of the elements you want to include in your dream design and those you want to change. This is helpful to you but will also give your kitchen designer an idea of your must-haves. Plus, this is the fun bit. Really get into thinking about what gets on your nerves about your current kitchen, why things aren't quite how you'd like them and also consider whether the design suits how you use it each day.
With many kitchens now used for cooking, eating, working and relaxing et al, when it comes to how to plan a kitchen, you need to think how your space can best cater for all eventualities.
Ask family members what they like and don't (and what they'd like to have in a new design), as they'll use the space as well and might offer up new ideas – yes, that's the kids too.
Create a moodboard
Once you know what you do and don't want, it's time to drill down into the details – and creating a moodboard can help.
Collect as much reference material as possible; compile a wishlist of cabinetry styles, colours and type of appliances you want to give to your chosen designer at the start of the project. Look at magazines (we highly recommend Kitchens Bedrooms & Bathrooms, of course), websites, Instagram and Pinterest.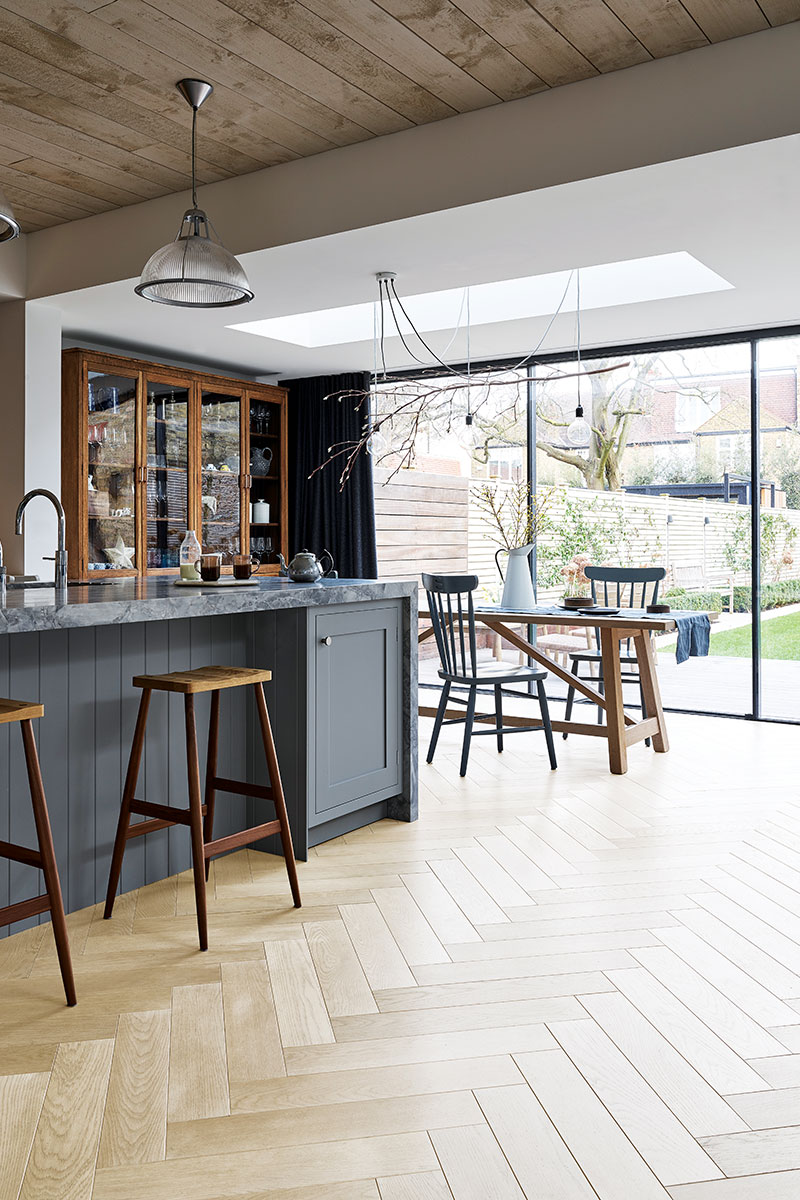 Think about layout
Heard of the working triangle? This is a rule dictating the functional relation between key aspects of your kitchen – usually the cooker, fridge and sink – to ensure your new design is ergonomic for you.
This can be achieved in different types of kitchen layout – from L-shape and U-shape to galley designs. You'll need to think about your whole room, so if your kitchen links to the dining area or living space, consider how the layout will work overall. Discover more about the different types of kitchen layouts here.
Set a budget
This will not only help you to focus on your price bracket for product choices, but it will also help steer you towards particular finishes, materials and kitchen companies to ensure you get the best value for money. The difference between off the shelf, made to measure and bespoke isn't always only the price.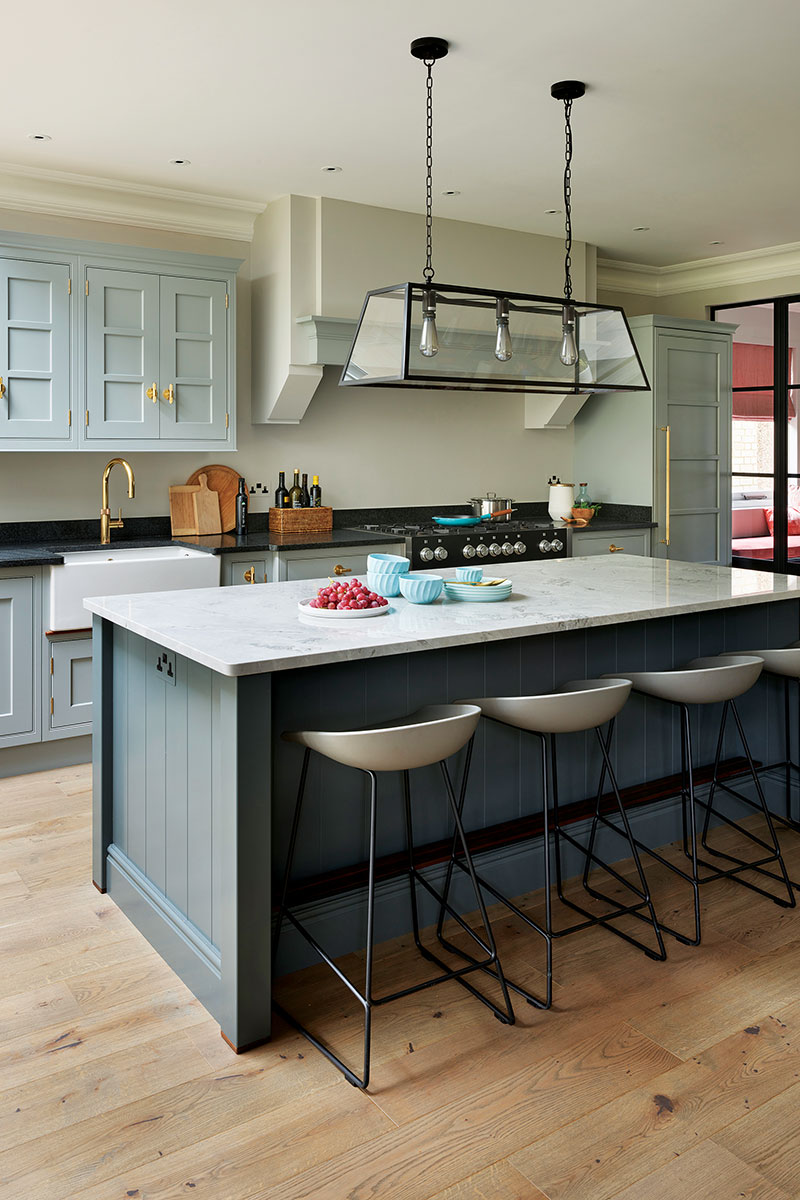 Schemes created specifically for you may appear to cost more initially but the solutions designers come up with could result in a more innovative and effective use of space using less cabinetry. A good kitchen designer will help you get the most out of your budget – whatever that may be.
Be realistic and always allocate a contingency of at least 10% for any unforeseen costs.
Research showrooms and choose a designer
Start online and see which kitchen companies are in your area. Look at a wide mix of national and independent retailers and make a shortlist of ones that you like the look of and that provide the type of aesthetic you're aiming for. Check out previous projects on the company's website, too.
These days, many kitchen retailers are offering virtual consultations in the first instance, so you can have an initial appointment from the comfort of your own home. Then, you'll make an appointment to visit the showroom. Make sure to spend time at this stage as it's important to work with a designer you get along with and a company that you trust to achieve your dream design.
When you come to choosing your designer, remember, this will be a relationship over many months, so making sure you get along is crucial. Don't be surprised if they ask you lots of questions about your family, your lifestyle as well as your style and wishlist – they want to get to know you so they can plan a kitchen perfect for you.
Take any moodboards, wishlist or Pinterest pages with you so the designer has a good idea of the style
you're after. If you have building plans, bring them with you as well.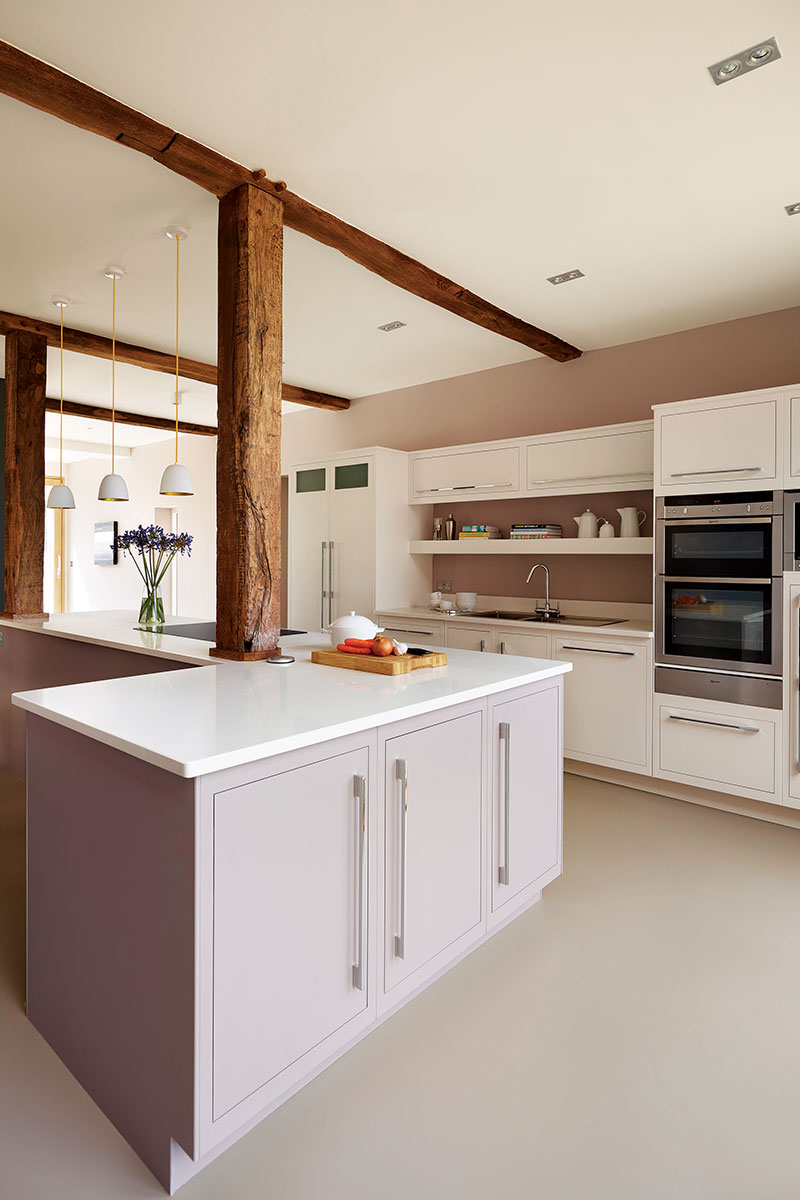 Decide what to do with your old kitchen
Sell your old kitchen if it's in good condition. Doing this is more eco friendly than simply sending it to landfill, plus it could help you raise additional funds to put towards your budget for the new one. Try online auction sites or specialist businesses to resell old schemes such as Used Kitchen Hub, Used Kitchen Exchange or The Used Kitchen Company.
You may also decide to keep your carcasses if they're in good condition, or even use some units within a new utility room – think creatively and you could repurpose some of the kitchen.
Plus, when it comes to how to plan a kitchen, you could keep existing appliances or your sink or tap if you still like them and they're in good nick.
Talk it out
Keeping in regular contact with your kitchen designer is the secret to kitchen planning success. Ask lots of questions if you're not sure on anything, ask for updates and keep the conversation going as the design progresses. It's best to make any changes to the design in the early stages as once products are ordered or manufacturing begins, changes could rack up additional costs.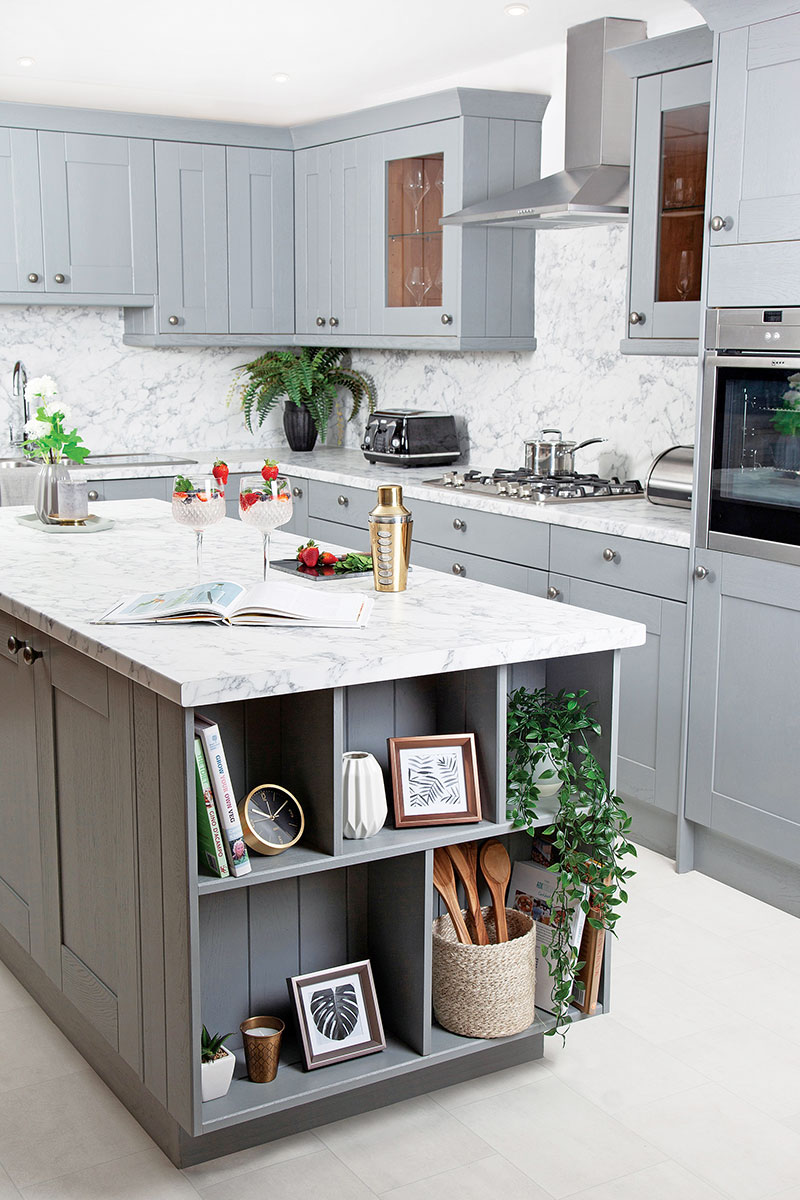 If there's something on your wishlist that simply doesn't work in the design or space you have available, be prepared to compromise. What works on paper doesn't always work when it comes to being constructed.
Be prepared to make changes on certain things if issues arise, but also remain strong if there is something you wish to include that looks like it's in danger of being watered down.
A common example of this is if a homeowner is set on having an island, but doing so would compromise the flow of the space and make using the kitchen tricky, a compromise may be a peninsula or portable butcher's block.
Consider lighting early
Not just task and mood illumination but also that from exterior sources – i.e how natural lighting enters the room throughout the day. The last thing you want to do is block the source and cook in a dark area.
Don't forget the boring bits
Yep, that's plumbing and electrics. Think about what will happen in each area of the kitchen and plan accordingly. For example, if you want a sink or dishwasher in the island, the plumbing and electrics will need to be done before the flooring is put down.
Power points are easily forgotten, too, so consider what will be used where, including charging points for tablets and phones.
Reselling or repurposing your old kitchen is one thing, but also think about how you can be more eco friendly in your new design. Choose appliances that are better for the planet by picking ones with energy ratings of A and above.
Don't forget to include enough refuse, food waste and recycling bins and try to build them in if possible to keep them concealed. A food waste disposer built into the sink is also an excellent option.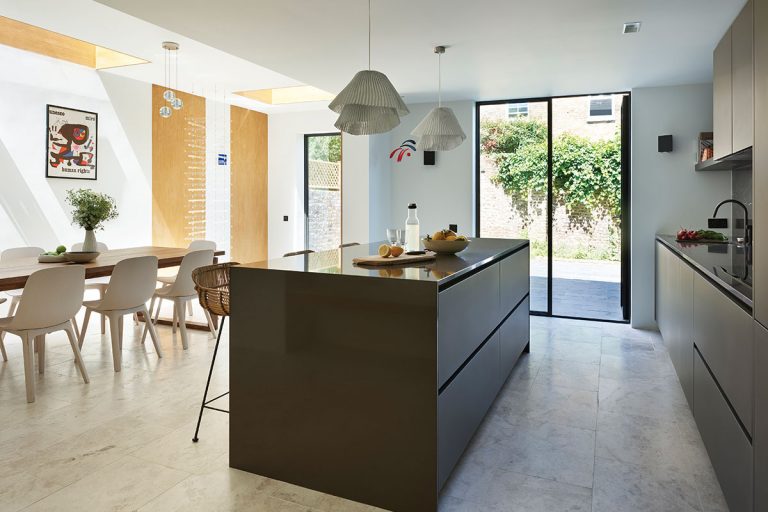 Make sure there's enough storage
Nobody has ever complained about having too much storage, right? Plan in solutions around your working triangle.
Place pans in drawers below the hob, crockery and dishwasher close to the sink, and dry foods adjacent to the fridge, or cook zone, to ensure your kitchen is fit for how you use it.
Make sure there's enough space to store all your kitchen kit and even go as far as measuring taller items (such as tagines or bottles) to make sure they'll fit. Look at handy pull-outs for condiments and dried goods and aim to dedicate an area for small appliances, including the coffee machine and toaster. A breakfast cupboard is a great way to achieve this.
You might also want to include open shelving for displaying your favourite items.
Check colours work in your space (and get lots of samples)
Decorating falls into the category of how to plan a kitchen, so when it comes to choosing colours – for walls, floors, cabinets and the rest – always check the colours in your space.
Shades can vary dramatically depending on the amount of natural light in the scheme and what looks good in a bright, airy showroom might not work as well in a north-facing kitchen.
Take a trip to a stone yard if you're planning a natural stone worktop. There can be big variations from one slab to another. Always aim to see large slabs over small samples for large pieces like surfaces.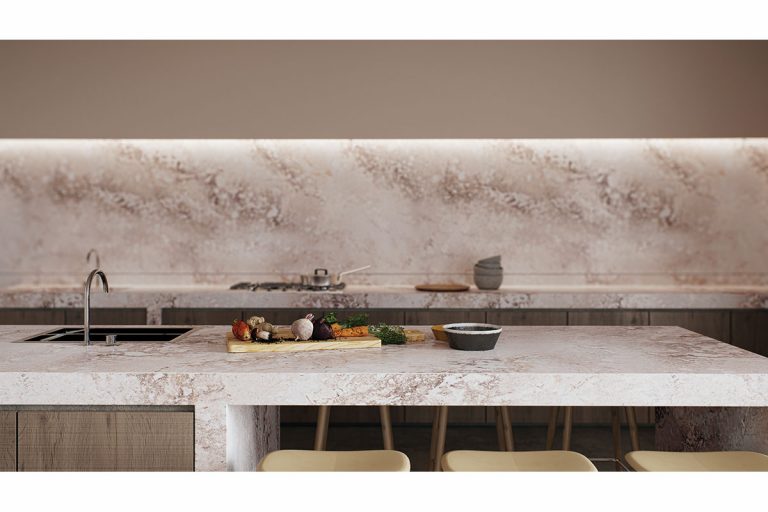 How to plan a kitchen: choosing appliances
Your choice of appliances should be in answer to this question: will I use it?
If you're a keen cook or baker, go for models with all the features, but if you prefer simply meals, simpler appliances will suffice.
Large family? Go bigger on the oven and fridge-freezer. Like to entertain? Invest in a wine storage unit. Think about your cooking habits and lifestyle and then choose appliances to suit.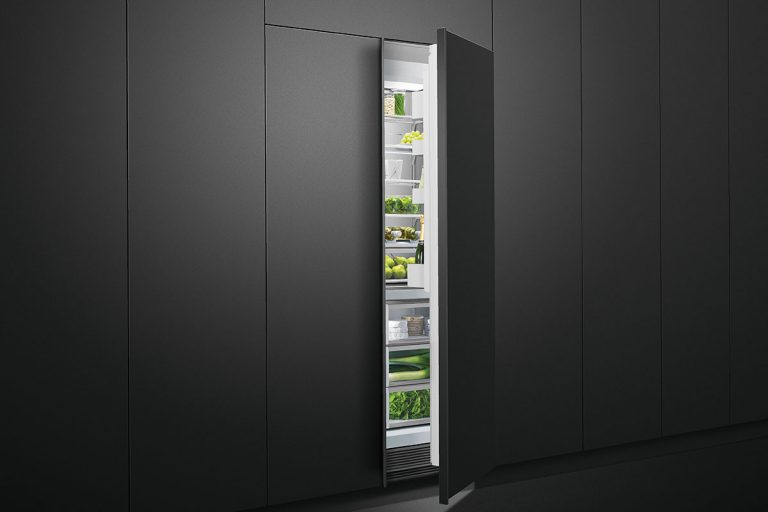 Got an open-plan space? choose appliances with noise levels of less that 60dB (the level of average human conversation) to make sure family meals or evenings watching TV aren't disturbed by a loud washing machine, dishwasher, or extractor.
Pick an extractor compatible with the size of your room. A good rule of thumb is to work out the volume of
your kitchen (length x width x height) – for instance 4m x 3m x 2.5m = 30m3 – and then multiply that by 10, as that's how often your appliance should be able to filter the air in your space per hour. This will give you a rate of extraction.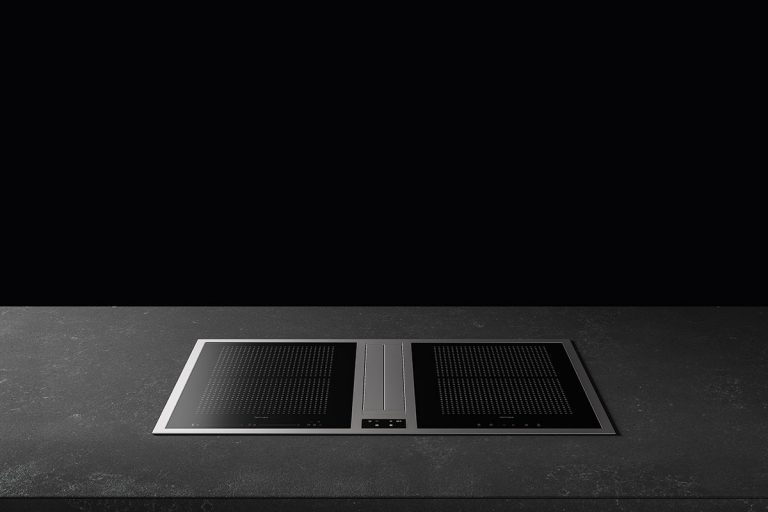 Get the sink and tap right
Make sure your sink and taps look good together – especially if you're buying them from different brands, as finishes will vary.
Boiling-water taps, three and four-in-one taps means you no longer have to include an extra hole for a boiling-water or filter tap – plus you don't have to keep an area clear on the worktop to place a kettle. However, make sure your plan includes a spot for the water tank below the sink if you choose a multi-purpose tap.
Communicate
Yes – that again. Communication is so important throughout kitchen planning, right through to installation.
Any problems that are caught early can be changed with more ease than they can if spotted later on in the process. If questions arise, speak to your kitchen designer and if you're wondering what's happening with your design, pick up the phone. Here's what to expect when working with a kitchen designer, too, FYI.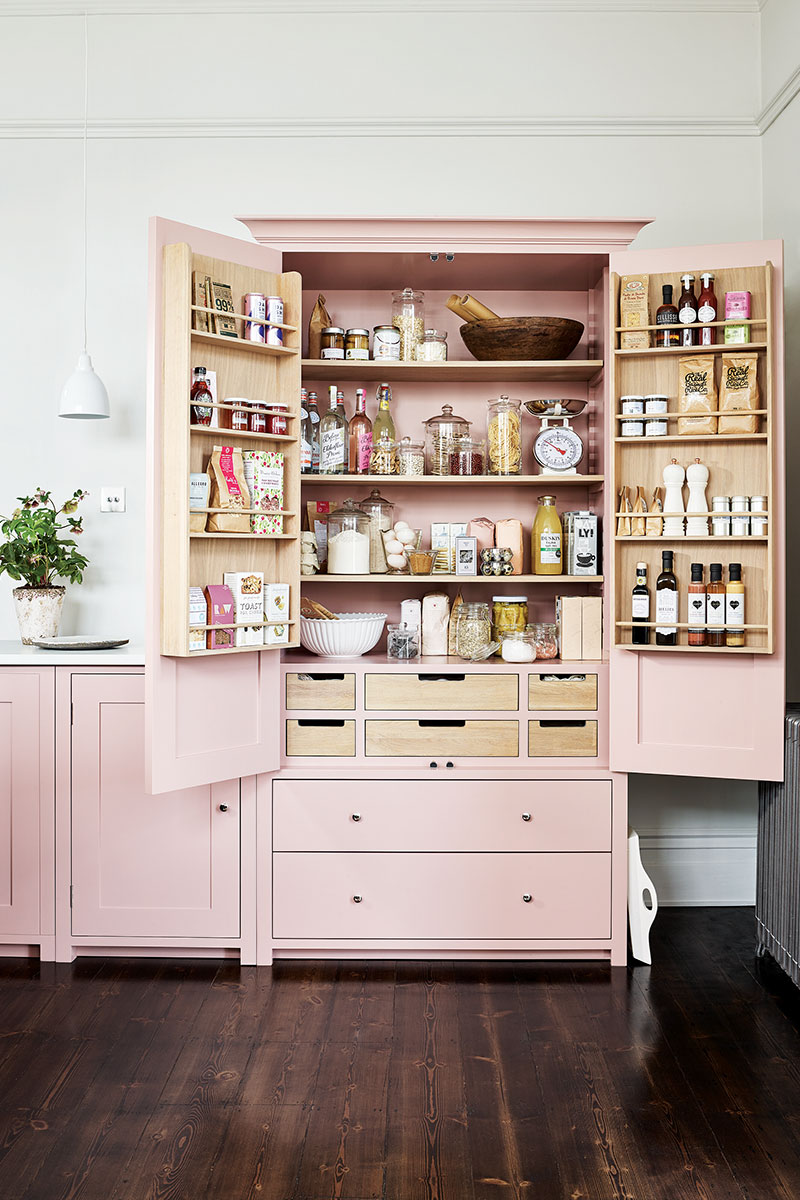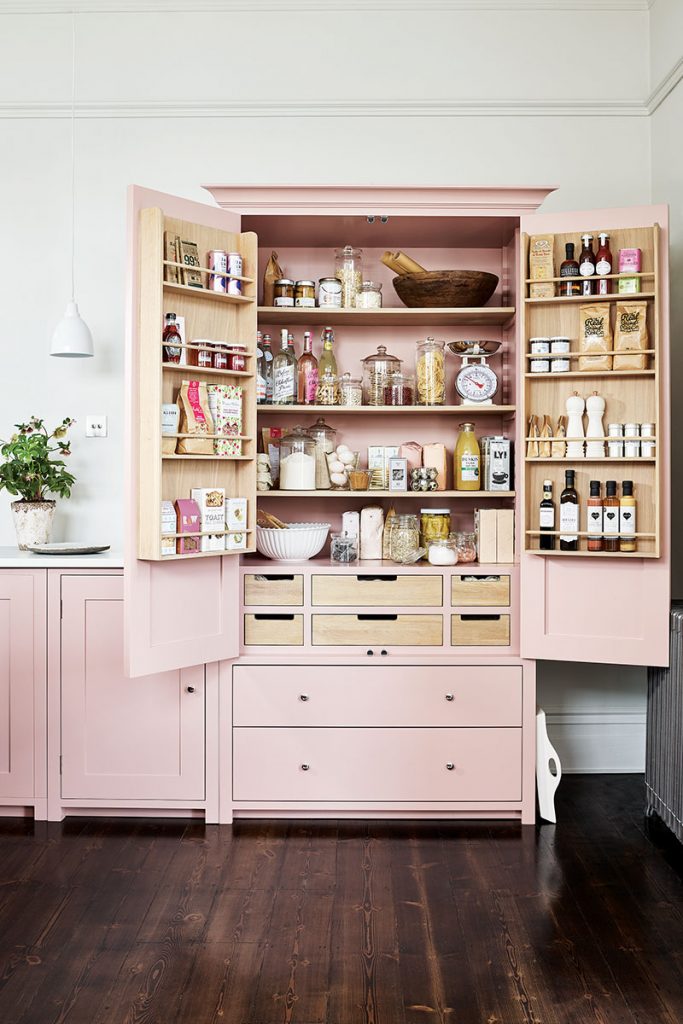 Subscribe to @kbbmagazine
Get all the advice and inspo you need to get your next renovation project going with a subscription to Kitchens Bedrooms & Bathrooms magazine. Subscribe today for only £23.35 when you sign up for six months . Click here to claim your offer.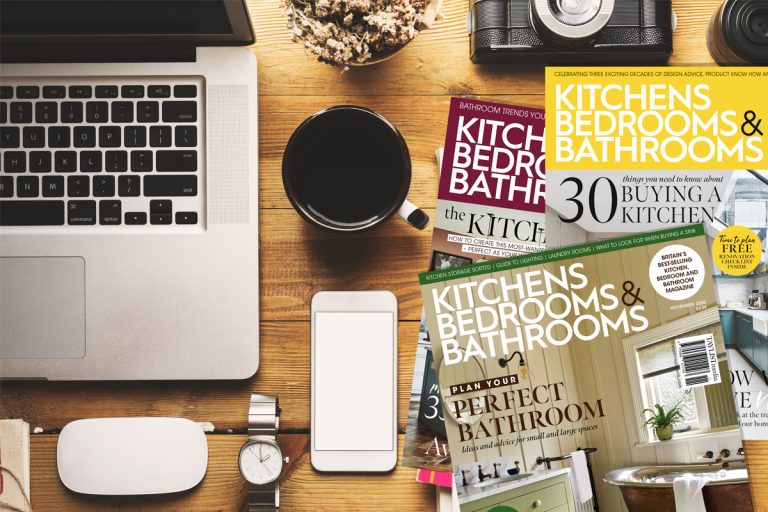 Featured image: iStock.
About Post Author