An extractor hob is essential. That smell of freshly baked bread, straight from the oven? Heavenly. The fish you had for dinner last night? Not so much.
Getting the right extractor for your kitchen is crucial to its design, as well as its aroma.
Your extractor hob doesn't just have to sweep away lingering food smells. It also needs to draw the grease out of the room. As a result, you get cleaner air, less condensation and a sleek look. Plus the mesmerising sight of steam being sucked straight from a pan into this swish modern appliance. But what is an extractor hob?
Extractor fans are a must-have item on your kitchen checklist, as I'm sure an induction hob is too. Induction cooking is different from that of any other hob on the market. It uses a magnetic field to heat the base of the pan. This makes it more efficient and safe than traditional hobs.
But what about if these two items were incorporated into one?
Enter the extractor hob
Also called a vented hob, the extractor hob is the latest innovation in kitchen design. It combines two key appliances in one.
Here I've put together my best tips along with stunning pictures of a few of my favourite models. So you'll have everything you need to know before making your purchase.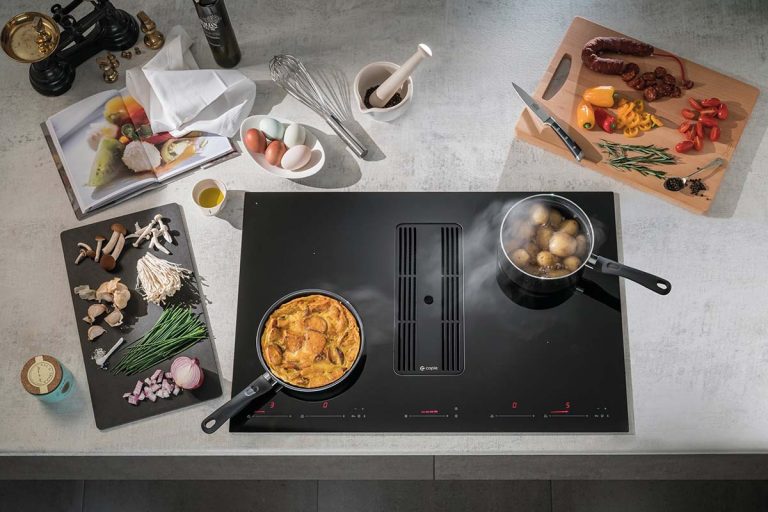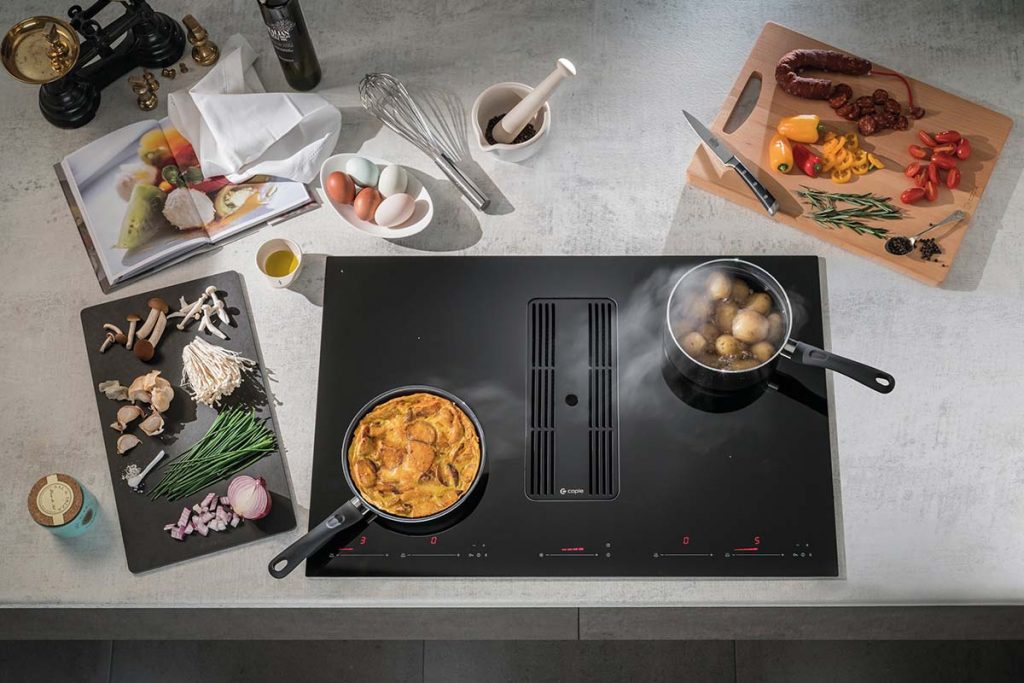 How do they work?
An extractor hob draws odours and grease particles directly out of your saucepans. This keeps any smells from rising up and spreading throughout your kitchen.
A central grid sits flush within the induction hob. This conceals a powerful extraction unit. You'll need to use some space beneath the hob to house the appliance's motor. Most brands have adapted the design so you can install a sink drawer below. This is a partial unit utilising space on either side of the hob's motor.
So: why should you buy one?
An extractor hob is incredibly efficient. This is because it takes care of any odours at source. The extraction unit is positioned in the centre of the hob. It draws the steam and cooking smells directly from your saucepan by pulling the air down. "Essentially, it's about design as you can keep the space above the hob completely clear," says Howard Bogod, managing director at DR Kitchen Appliances, Elica's exclusive UK distributor.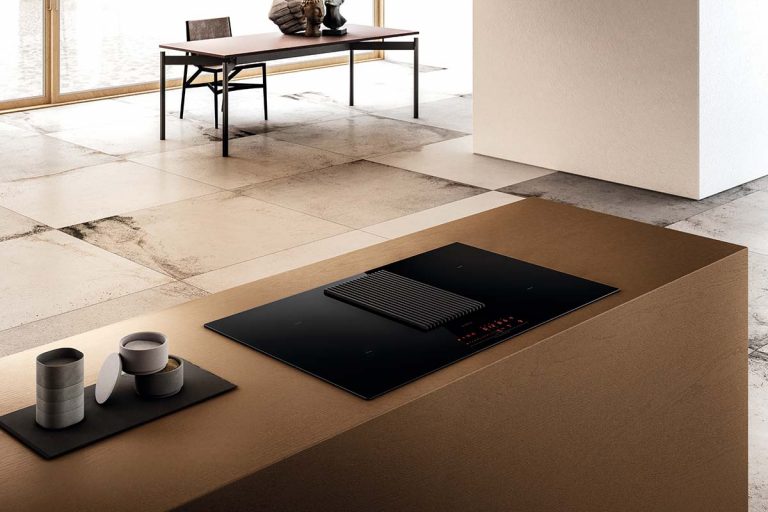 The pros and cons of getting an extractor hob
As mentioned before, one of the biggest upsides is the design freedom these appliances give you. Venting hobs completely eliminate the need for big overhead extractors or cooker hoods. This makes them ideal for use on an island or in small spaces where every cabinet counts.
They are also ideal for open-plan spaces. Extracting grease and smells right at the source prevents them from straying into the room and lingering long after dinner. And when placed on an island, they allow you to easily keep conversation with guests flowing if you're cooking, instead of leaving you facing the wall.
And in addition, since they're not overhead, you don't need to use a ladder to clean them. How handy is that?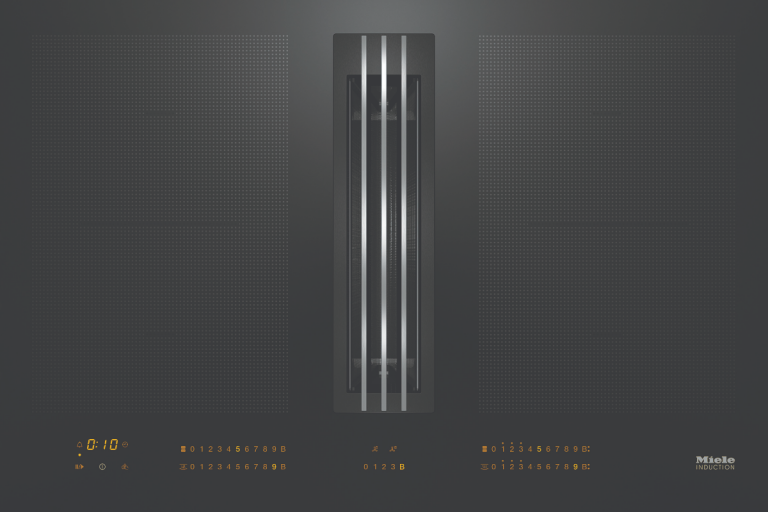 However, there is a small downside. A venting hob often needs space below the appliance to store the motor. And if you have a design with an extractor that rises up when in use, you also need a place for the actual venting unit.
This could limit your available storage space by taking up valuable drawer space. However, a lot of companies now offer something called sink drawers.
These are often shaped like a horseshoe or simply consist of two compartments. They're designed to fit around an obstruction such as a sink or a venting hob's motor. You can use the extra space to store spices, for example.
What are the options?
Similarly to overhead extractors, these combination appliances come as ducted out models. They funnel the air out of the room, so need to be close to an external wall or those that filter and recirculate air. A recirculating kit is installed within your kitchen cabinets' kickstand, to make changing the charcoal filters easier.
Venting hobs should always be installed by a kitchen fitter and wired by a qualified electrician to ensure best performance.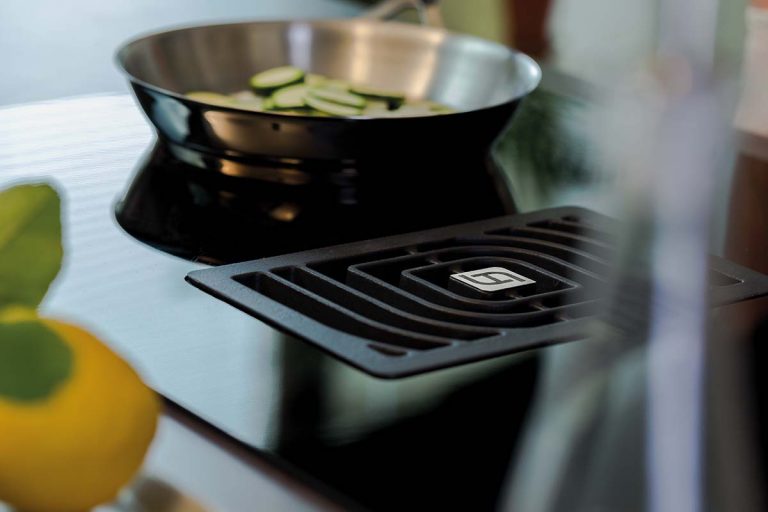 Any buying tips?
Most extractor hobs fit in standard-sized kitchen units. However, it's worth checking your specific appliance's dimensions, as brands' sizing will vary.
"Make sure you know how close your hob will be to the wall before you start shopping," advises Maurizio Severgnini, managing director at Bertazzoni UK & Ireland. "For every bend between the extractor hob and the outlet, you'll lose one meter of ducting, which reduces the performance."
Future maintenance?
Venting hobs are fitted with a safety tray to collect spillages, so no debris will end up in the extractor. The reservoirs are easy to access and clean, and the motor still works while wet. You can remove moving parts by hand when the unit is off, and the parts are usually okay to go in the dishwasher, too.
How much do they cost?
These high-tech designs are expensive. However, as their popularity increases, more brands are producing ranges of increasingly affordable models. Costs range from £1700 to £6000.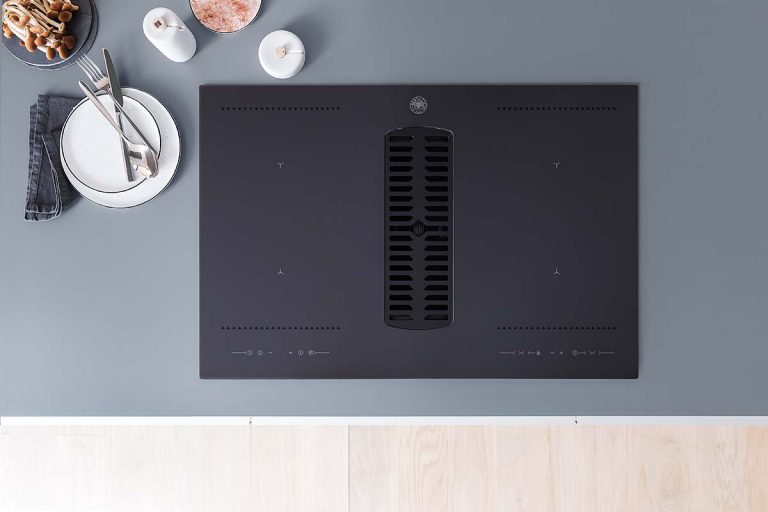 Want more? Check out our feature on the pros and cons of induction and gas hobs. Which should you choose?
About Post Author