So you've got a list as long as your arm for what you'd like in your kitchen. My wishlist is a long one too: open shelving, a walk-in pantry with neatly stacked jars of dry goods, a breakfast cupboard, range cooker, large dining table… I could go on! Appliances, worktop space, dining space, enough storage, making the most of the room's size and getting it looking good… There's a lot to think about when planning which types of kitchen layouts could work best in your home.
Narrowing it down from the range of kitchen layouts takes time and expertise. So think about what you want and then speak to a designer who can advise. Things to think about include:
where does the light come in and at what times of the day?
where are the windows and doors?
where do the water and power mains come in?
what appliances do you need to include and how can you place them most efficiently?
how much preparation space do you require?
what does your room measure and how much of this space is for the kitchen, if it's an open-plan room?
do you want to include seating as part of the kitchen design?
do you like a streamlined look or prefer things on display?
Your chosen kitchen designer will ask you these questions (and probably more – more questions is a good thing, by the way!). So it's a good idea to have a think about your answers before you head off to a showroom for an appointment.
They'll then be able to use their knowledge to suggest the best types of kitchen layout for your space, as well as for your needs. Play around with different ideas and see how different configurations could work in your home (ask for CAD drawings to see it drawn up).
Also be prepared to compromise if needed. An island might be on your wishlist, but what if your room is small? Then an island may hinder the functionality of the kitchen rather than make it better. So it's worth looking at alternatives. After all, there are many types of kitchen layouts to consider. Without further ado, let me take you through them…
Kitchen layouts for islands
An island brings the kitchen into the centre of the room. This is something that is especially important in larger spaces, where otherwise there might be furniture around its edge and a yawning gap in the middle. When it comes to types of kitchen layouts, an island is up there with the most popular.
The layout: As the central focus of an open-plan kitchen, an island is usually coupled with wall units of some kind. Also, depending on the space available, it can be used with all other kitchen layouts.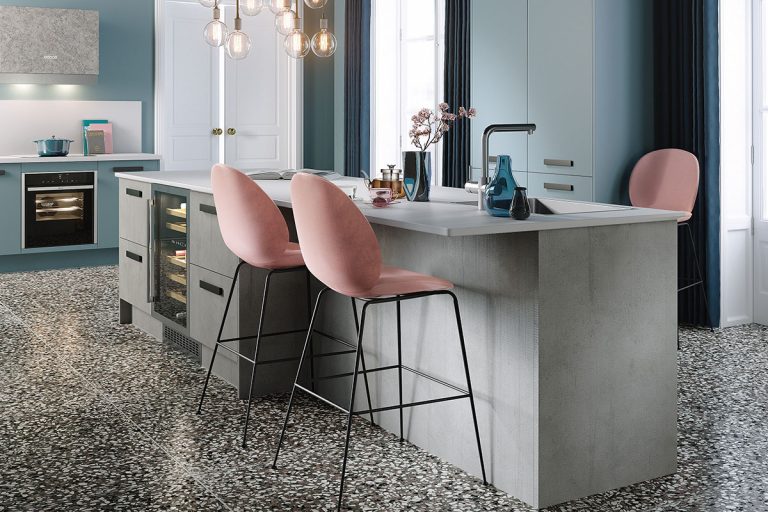 Best for: Larger kitchens, so there is space to move around the island. Particularly if it is used for socialising and entertaining.
Pros: A flexible solution to many a layout conundrum, you can use an island to create the main prep surface in the kitchen. You can also use it as the cooking or washing up centre (or both). With the addition of barstools it can also serve as a breakfast bar, or drinks and socialising space. It can create a useful zoning divide between the working and dining and relaxing areas of an open-plan room.
Cons: Walking around larger islands can be awkward. So make sure food storage, prepping, cooking, and wet zones are all in easy reach of each other, and that walkways are at least 1m wide. So if your kitchen is too small, you may need to think about an alternative solution. For example, a small breakfast bar pull down or portable butcher's block.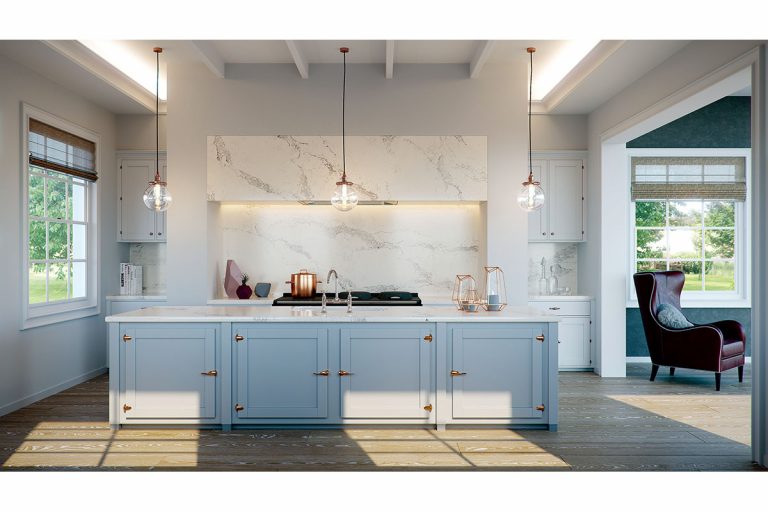 Galley kitchen layouts
A double galley layout is a simple choice when you're talking types of kitchen layout, but there;s no denying it can be very a practical one – perfect for making good use of a kitchen that is long rather than wide. A double galley is sometimes called a 'galley' kitchen and is common in Victorian homes where the kitchen leads to the bathroom or door to the outdoors.
The layout: Two parallel runs of furniture, built on opposite walls.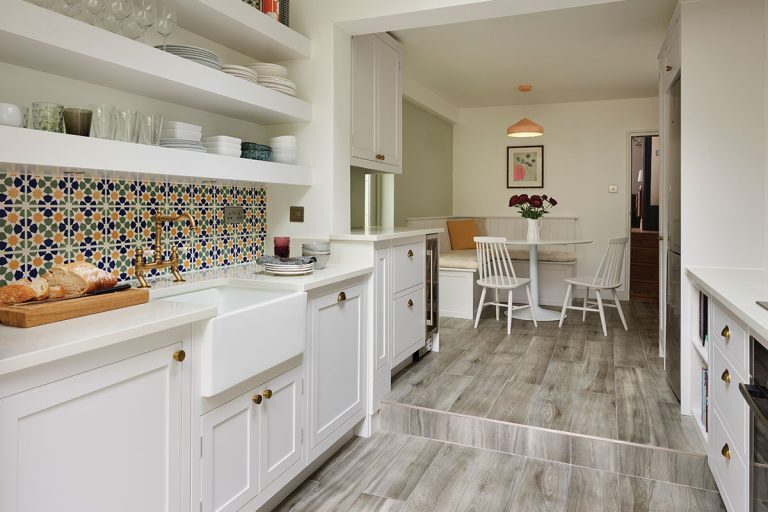 Best for: Compact and long and thin spaces.
Pros: Efficient use of a narrow area, especially if the sink, cooker, and fridge are in the classic working triangle layout. It typically offers more storage and prep surface than a single galley, because you can build cabinetry and worktops on two walls rather than one. It also offers the opportunity to differentiate functions on two sides of the room, such as cooking on one side and the wet zone on the other.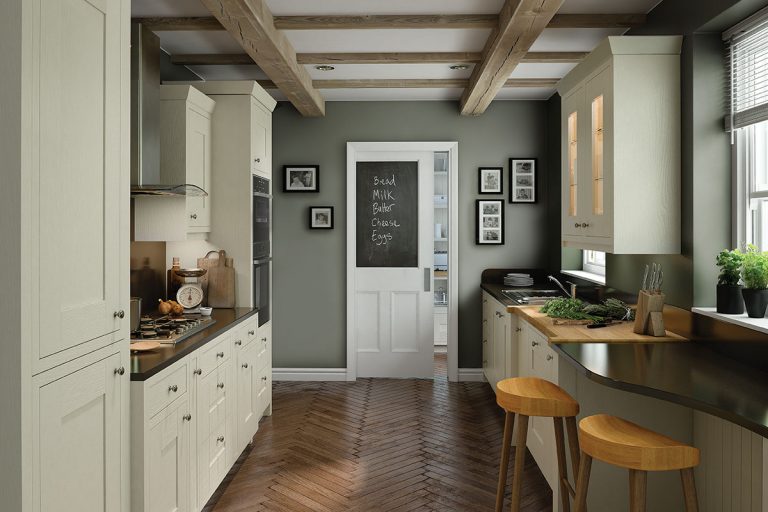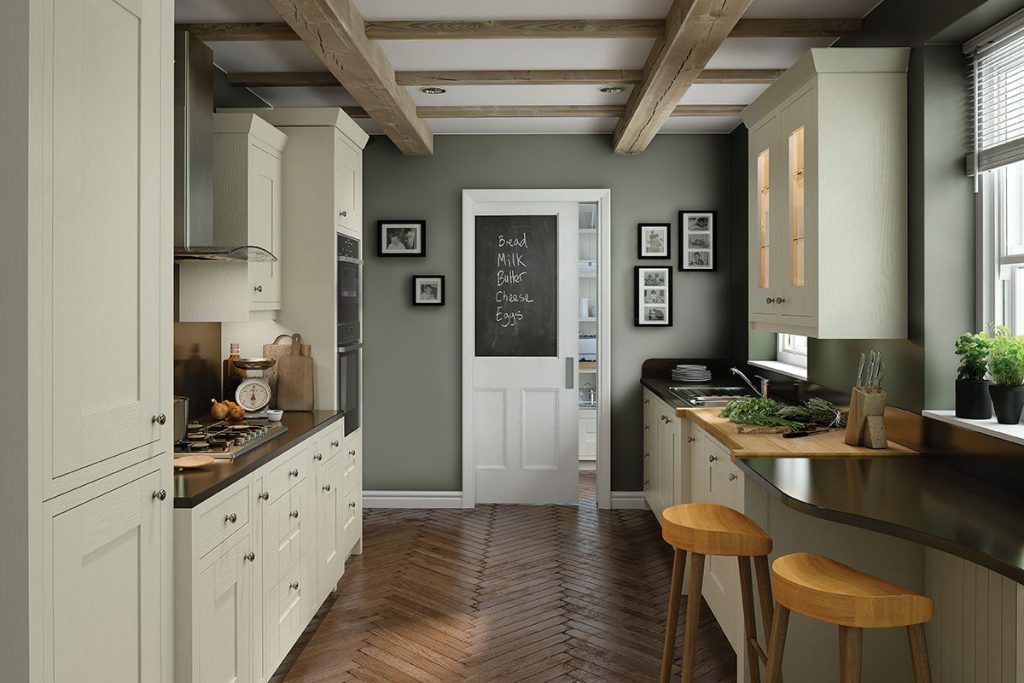 More on kitchen layouts
Cons: Allow sufficient space, usually no less than 120cm, between the parallel runs. Then you can move with ease between them. Also be aware that outward opening drawers and doors may create obstructions. Sliding doors can be a neat solution, as can pocket doors. These slide into recesses either side of the opening of a tall cupboard. So they are out of the way when the cabinet is in use.
There's also a single galley kitchen which is ever so slightly different.
The layout: A single run of units, complete with appliances and worktop, set along one wall. Named after the compact galley kitchen found on ships.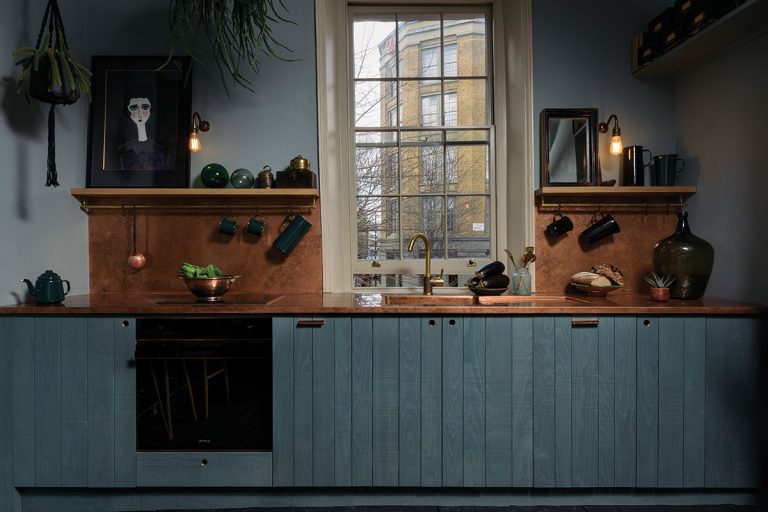 More about galley kitchen layouts
Best for: Narrow rooms, or those with limited space. In an open-plan room, a galley run along one wall is a practical way of fitting in the kitchen.
Pros: Provided there is space for the fridge, cooker, and sink, sufficient work surface and carefully planned storage, this can be an efficient layout. A 'working wall' with everything in easy reach.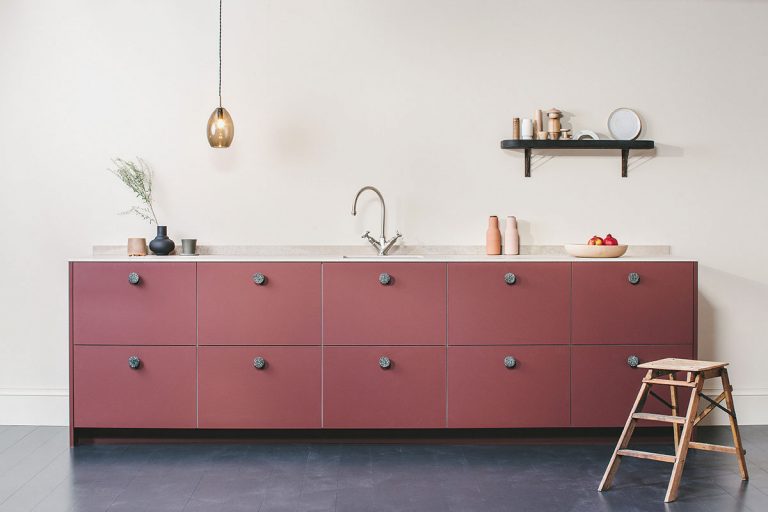 Cons: Without lots of space, every detail needs to be carefully thought through to ensure there is enough storage and prep surface. In a narrow room, sliding cupboard doors, consider a dishwasher drawer and fridge drawer, or a French-door fridge. These may work better than standard fittings because of clearance issues. This layout is often combined with an island or dining table, if space permits, offering extra work and serving surface.
L-shaped kitchen layouts
L-shaped types of kitchen layout can be very functional with cooking and sink areas at right angles to each other. The addition of an island can help clearly define the kitchen area within a large open-plan living space.
The layout: Units built on two sides of a corner, at right angles to each other.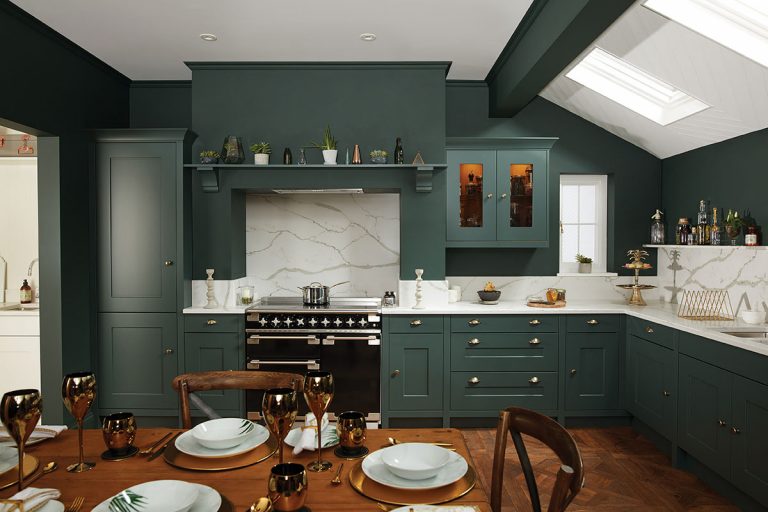 Best for: Compact kitchens, and often also used in larger rooms when combined with an island or dining table.
Pros: Streamlined and efficient, because everything is in easy reach. It also works well if two people like to cook at the same time, provided sufficient work surface is included and the hob and sink are placed on different runs.
Cons: The corner of the 'L' can be a pinch point where storage space can be wasted. You may want to consider pull-outs for corner base units to make contents easy to access. In a larger kitchen, the addition of an island is a good way of bringing the kitchen into the centre of the room, rather than limiting the furniture to its perimeter.
U-shaped kitchen layouts
Now that kitchens are becoming larger, we see fewer classic U-shaped designs – but the layout is still very useful. A modern interpretation is to combine an L-shape of units with a peninsula that serves as a sociable bar and a bridge between kitchen and other areas of an open-plan room.
The layout: Units on three walls, or in a U-shape built out into the room.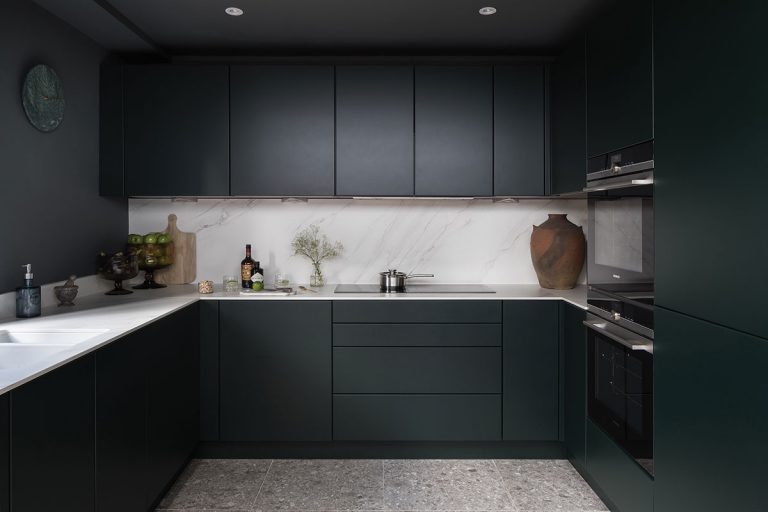 Best for: Compact kitchens, but it can also work well in larger rooms as a way of bringing the furniture into the centre of the space.
Pros: Because it wraps around you on three sides, this layout works well to define a cooking zone within an open-plan room – useful if you want to keep guests and children from getting under your feet. It can also offer generous amounts of work surface and storage.
Cons: Two corners can make for two sets of pinch points, so look out for pull-outs and carousels to ensure no corner cupboard space is wasted. In a small room this layout can create a closed-in feel, so consider open shelving rather than wall units if necessary.
Double island layouts (yes, really)
When one island isn't enough, could you split your large space into very distinct zones by including two? Bridge the gap with a breakfast bar, effectively creating a U-shape island unit. This works when you have a very generous space to work with.
The layout: Two separate islands, usually serving different functions, in the centre of a large kitchen.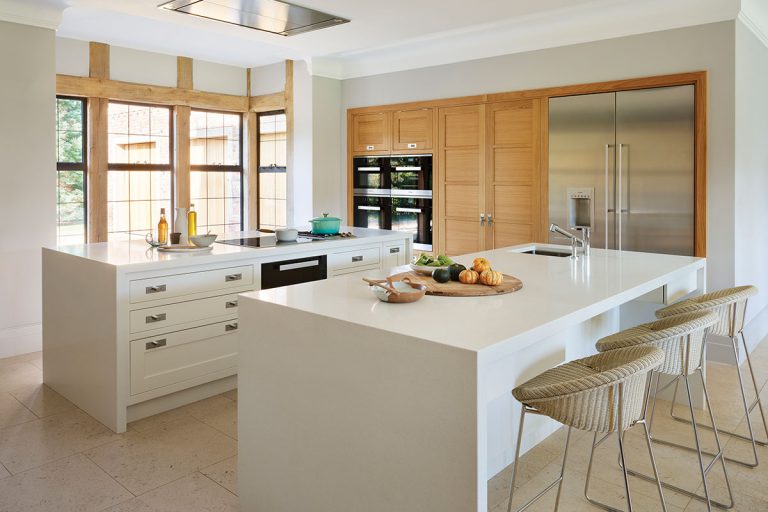 Best for: Large rooms where there's sufficient space to ensure good flow and walkaround space.
Pros: A double island layout is great for socialising, as they allow you to easily define clearly separated cooking and dining areas while creating a dynamic and functional layout. Focus on zoning the spaces to make this layout work for busy households. You could have one island operating as a more relaxing breakfast bar with seating and drinks, for example, while the other island houses a cooking space with integrated hobs.
Cons: This layout is only possible if you have enough room. Don't sacrifice floorspace for the sake of it.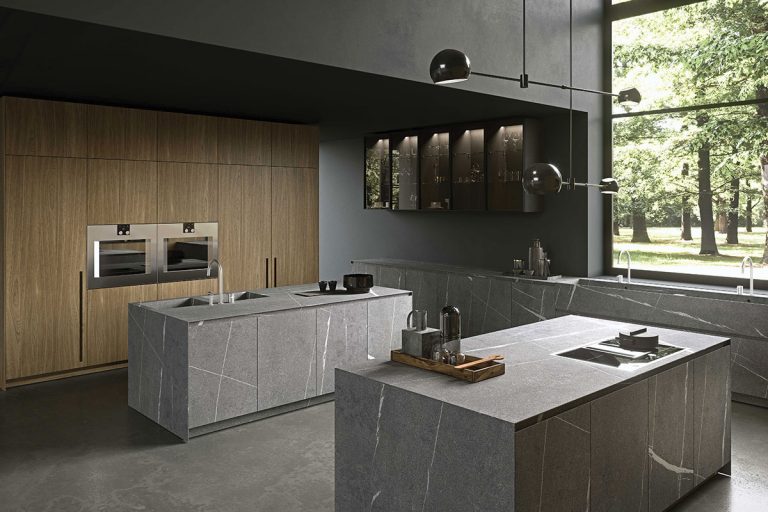 So, which will you go for? Don't forget to check out Irina's 6 tips to getting your kitchen layout right too.
About Post Author