Ready for a bit of cut and stick? Creating a moodboard is one of the most fun parts of planning a decorating project, if you ask me. It's a chance to look at all the things you like – think colours, patterns, textures, architectural styles (you name it) – and start your journey towards what your finished interiors project could look like. If you're working with an interior designer, they'll usually create a board for you, but I think it's always a good idea to do this exercise yourself to really work out what style you want for your home.
But, if you're a bit of a perfectionist (guilty), it can also be a little daunting. Why? Well, because creating a moodboard is about getting your ideas down, choosing what you like and ultimately, putting together the look for your new room – whether that be your kitchen, bedroom or bathroom (or even the whole house). Ok, that sounds exciting, actually. Here's how to get going…
Collect what you like
The process of creating a moodboard should start with lots of stuff. Yes, I'm thinking piles of magazines (KBB magazine, of course), photos, all sorts of samples, textures, colours, patterns…you name it.
Use social media sites like Pinterest and Instagram for inspiration and print out any pictures you like for your moodboard. Tear out things you like the look of from magazines; curate any photos you like – this could even be photos you've taken on holiday, around where you live or of something that means something to you – if you're drawn to it, there's a reason.
Look at your favourite things
Is there anything you already own that you love so much that it could form the starting point for a whole new decorating scheme? I've heard homeowners base their new kitchen design around an inherited dresser, a dining table that's been in the family for decades, or a range cooker that they can't bear to part with.
If you own something (even smaller, like a collection of crockery or a piece or art) that you love, well, isn't that a good starting place for a decorating project as any? This needs to go centre on your moodboard and build around there.
Is there one key item?
"What if I don't already have anything that I want in my new space?', I hear you ask. Well, is there anything you've been yearning for for years, such as a particular type of flooring, a piece of furniture, something decorative, an appliance or an iconic design classic?
If so, get this on your moodboard. If it's not an item, this could even be a style of layout or way of living. I speak to a lot of people who's aim is to create an open feeling connected to the outdoors. Write this down and add key words to your moodboard instead.
Go mad for samples
It's ok to resemble a bit of a hoarder at this stage. Look at wallpapers, flooring, paints and colours, fabrics, door swatches, handles, tiles, metals…anything you'd like to include in the décor (or think you want to include).
Visit DIY stores if you can or take advantage of the many free sample services offered by companies online. Some may charge a small fee, too. Some interior designers may call this type of moodboard a sample board, while the 'moodboard' is more of a 'theme' or 'overall feeling' for the scheme. But for ease and clarity, I like to keep it all together as one.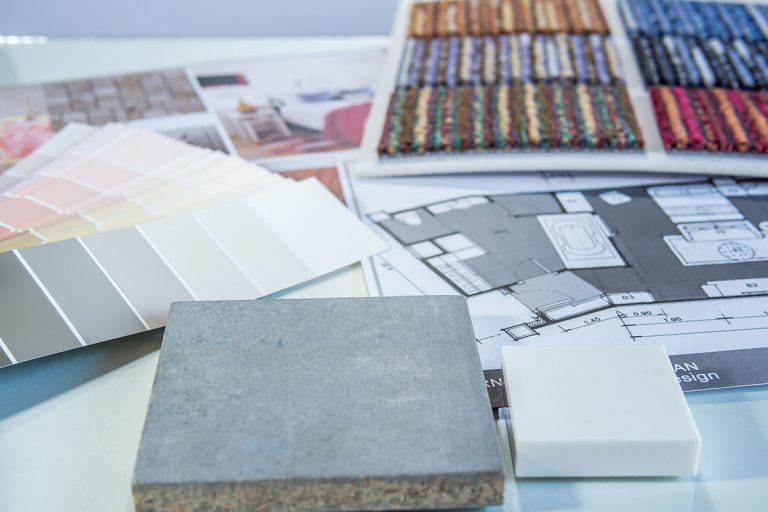 Edit it down
Now is the time to bring out your inner editor. And some serious self discipline. I get it: in my job, I'm lucky enough to see beautiful interiors every day, so whenever I get asked what I like, it's hard to define because it changes so frequently.
But, when you're creating a moodboard, the edit stage is crucial. Look at all you've gathered and begin to take away things that you don't like so much – even if you quite like it. Quite isn't good enough here. Be ruthless and ensure that what's left are looks and pieces that truly reflect your style and what your dream home looks like.
Keep editing
Yes, keep going. Spend time – days even – revisiting your moodboard and assess what it is you like and don't like. When you get to the stage where you like it all and are happy with the overall look, you're good to go.
Make a wishlist
With a moodboard you're 100 per cent happy with, you're ready to make a wishlist of items for your space. Put these in order of importance as this will help to further secure your vision and also help when it comes to setting your budget. In short, spend on the things you'll use most, or want most, and divide your budget up from there. You may need to compromise, shop around, or remove something from your wishlist to balance the books.
Refer back to your moodboard
Stick it up somewhere or keep it where you'll be able to look at it again. Once you start getting into the purchase stage of a decoration project, it's tempting to go for things you've only just spotted, or get things because they're on sale.
This is fine if it fits with what you're trying to achieve, of course, but be wary of impulse buys that aren't in line with the dream look you've been planning. Keep referring back to your moodboard to keep your vision on track. Naturally, you may switch things around, but best to do this before you've bought anything to make sure you don't waste any of your budget.
Should I do room by room?
A common question and it depends on the scale of your project and how you like your home to be. For a cohesive look throughout, create a moodboard for the whole house (you may section by room and see how each works together). Or, if you want to create a different look in each room, or you're working on one space, create a moodboard only for this. Either is fine, just make sure to follow the steps above to get it right.
Featured image: iStock/oddcomeshort
About Post Author