Open shelving has become a popular feature in many kitchen designs – and truth be told, I would trade some of my glossy cabinets for this feature. With the right ideas, you can take your kitchen shelf from a minimalist solution and turn it into a stand-out feature. If you want to make the most of your scheme, here are my favourite ways to style open shelving.
Spoiler alert: mentally prepare yourself for all the dusting you'll have to do, but it's definitely worth it!
Create a bohemian feeling

If you want to create a relaxed design, decorate your open kitchen shelves with rattan and cane accessories. Plus, you can add lots of wooden accents to warm up the space, such as an olive wood pestle and mortar or an acacia cutting board. Keep the colour palette on the neutral spectrum and choose clear jugs and jars for storage.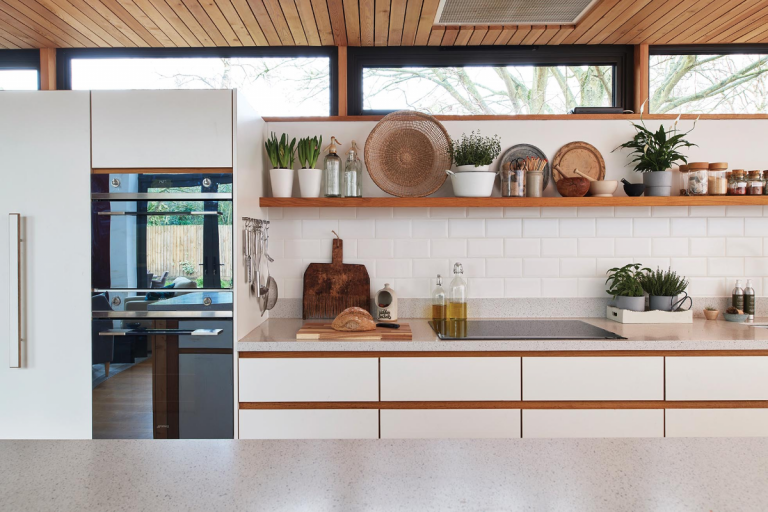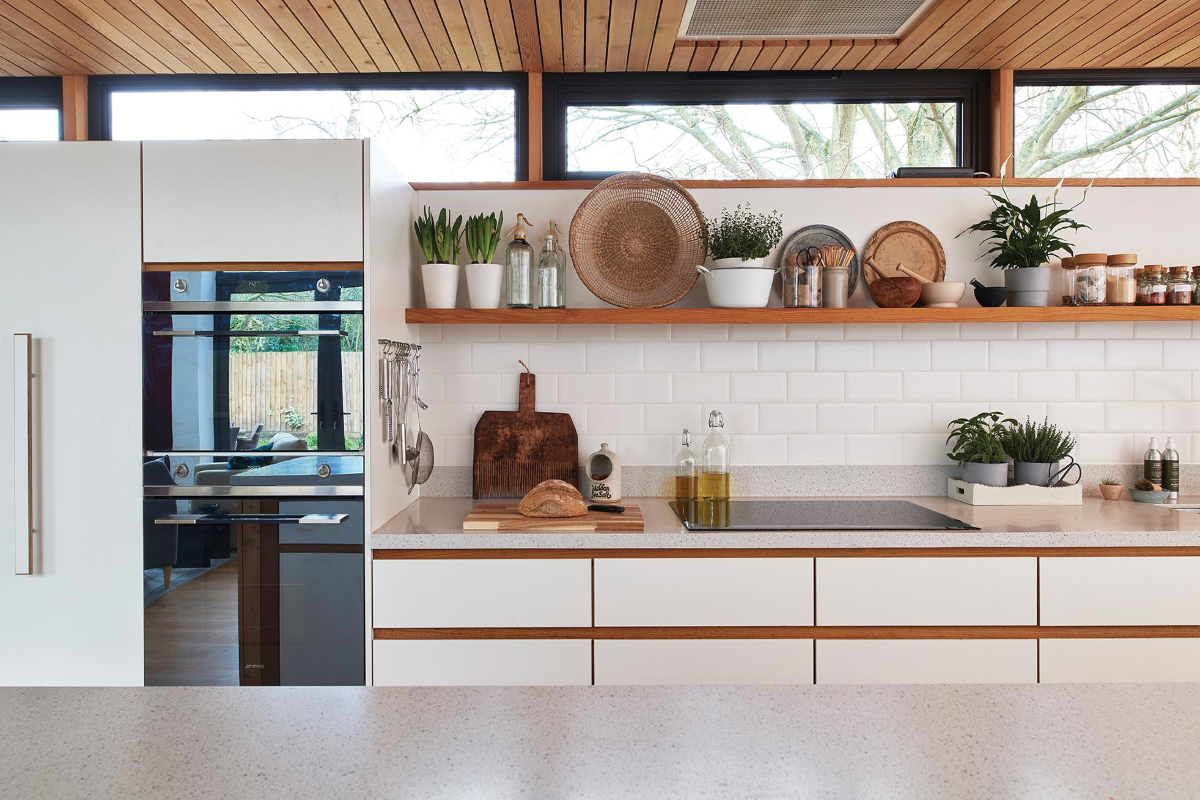 Section it off


Divide the shelf into different categories, so you can display your vases and large jugs in one section, keep most-used cookbooks close to hand in another, and have your favourite drinks, plus glasses within easy reach, too. You can keep it simple by only displaying essentials, or create a statement look through colourful accessories and bold décor.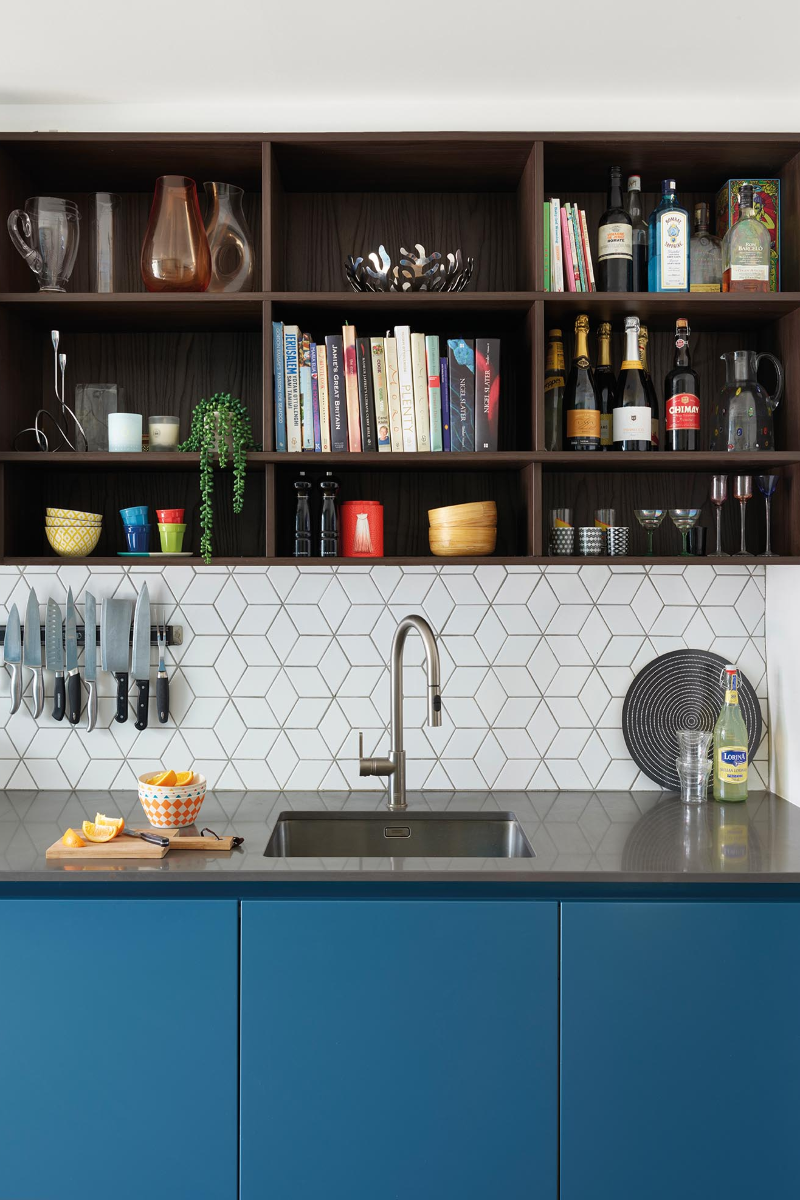 Keep it minimal


Do you like the look of open shelving, but are worried about all the dusting it takes to keep a tidy space? Why not display only a few items, then, such as an air-purifying plant and some dishes? This way it'll be easy to dust and aesthetically pleasing – there you go, the best of both worlds.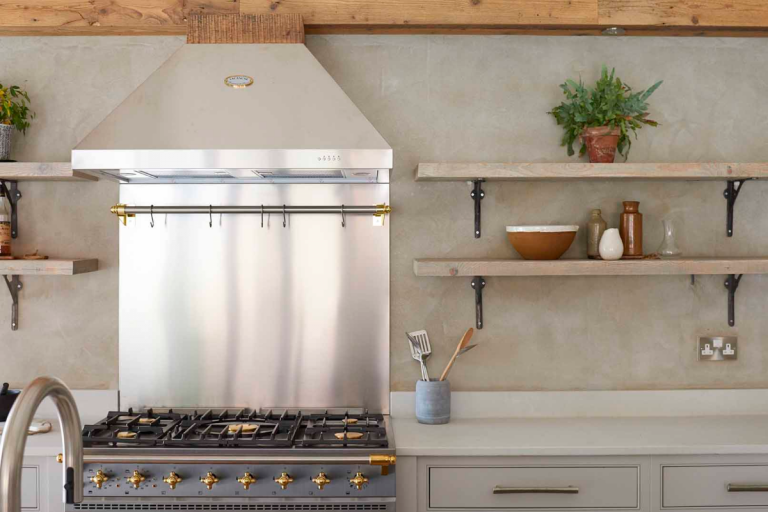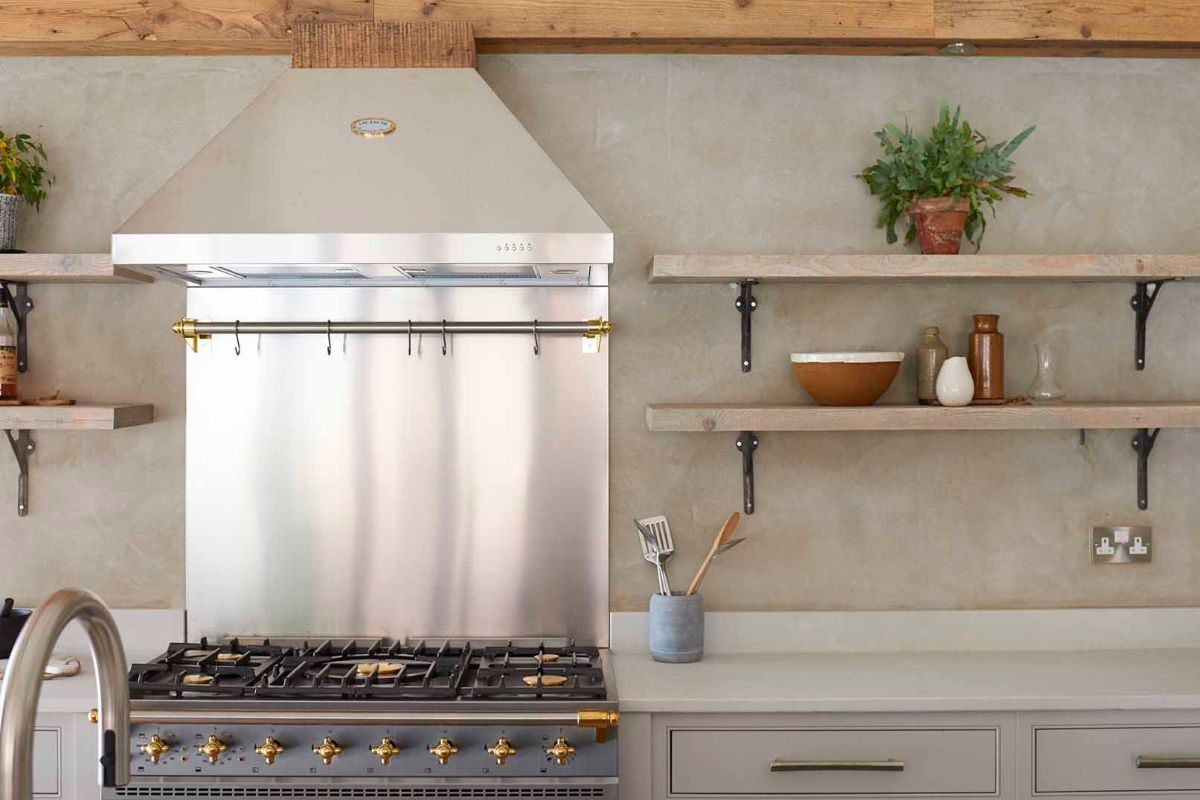 Display your cookware


If you love cooking and can't help but get yet another ceramic dish, use your passion to turn your kitchen's open shelving into a focal point. Put your beautiful ceramics and earthenware on show – the more colourful, the better. Add a pro-style look to your space and let's take those cooking skills to the next level, shall we?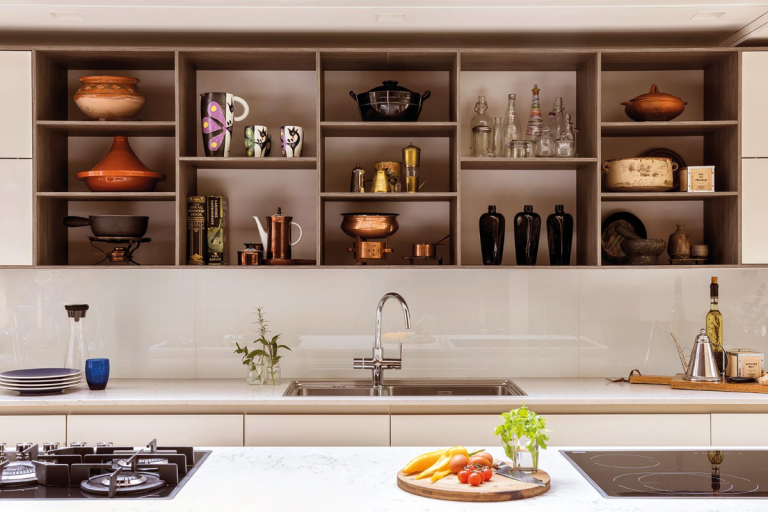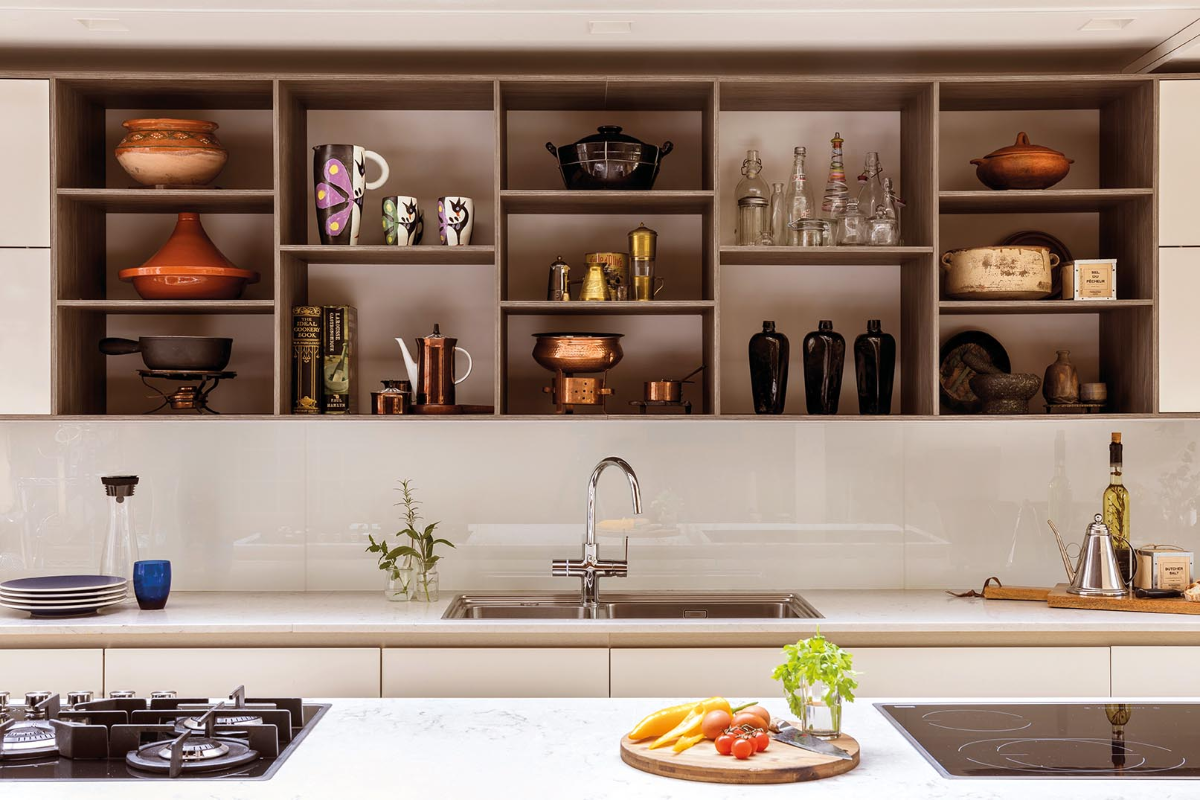 Got little ones?


If you've got young kids and you manage to stumble upon their toys everywhere, use open shelving to store some of them. Be it teddy bears, wooden trucks or ceramic dolls, pop them on the shelf to keep a tidy and clean space.
Plus, this trick works just as well in their bedroom or living room as it does in this dining area.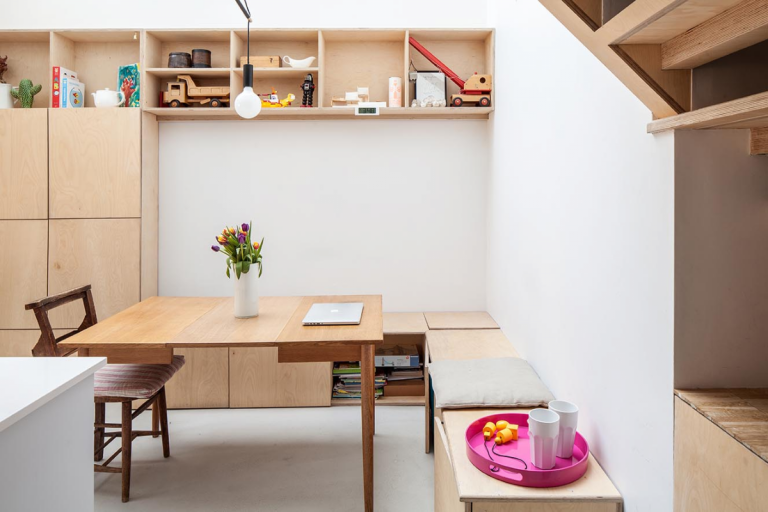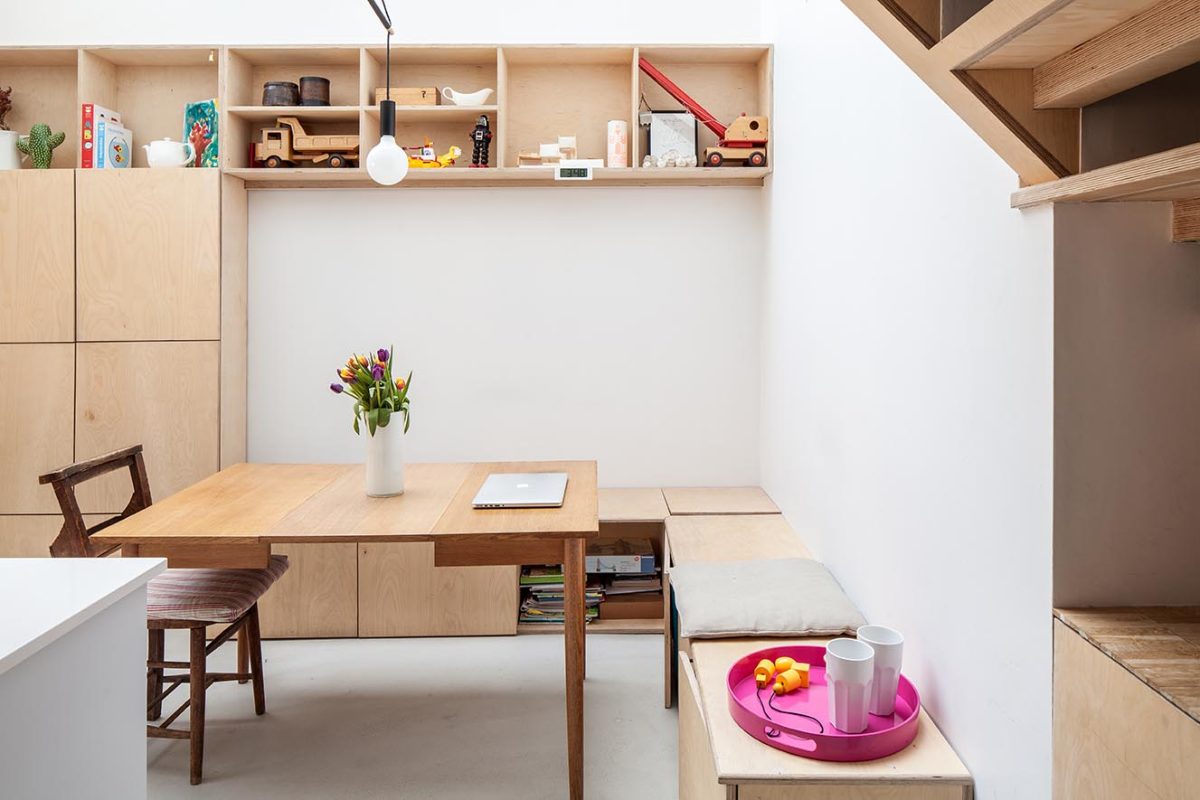 Add a green touch
Plants have incredible health benefits, which include purifying the air by absorbing toxins and producing oxygen. And what a better place to add a touch of the outdoors than in the kitchen? You can either turn your open shelving into a mini garden display, or sparingly add some greenery between your plates and bowls. Succulents are a great starting option to style open shelving as they don't require a lot of care. However, I suggest planting your favourite herbs in some gorgeous pots to have fresh ingredients for your favourite recipes.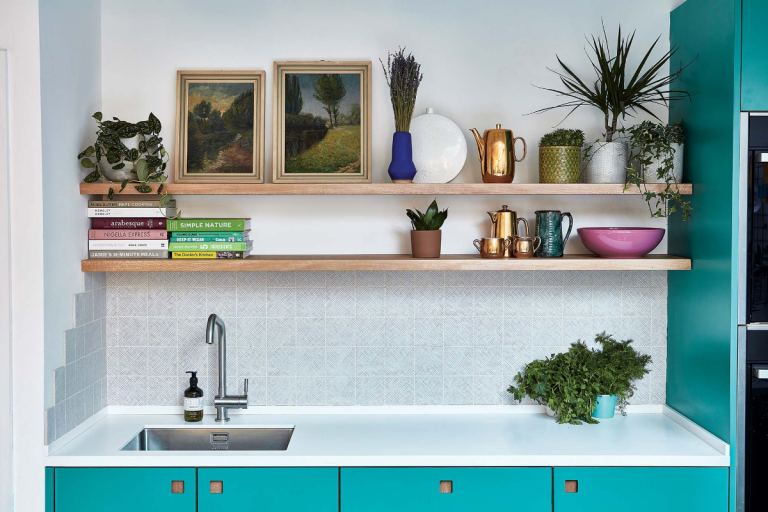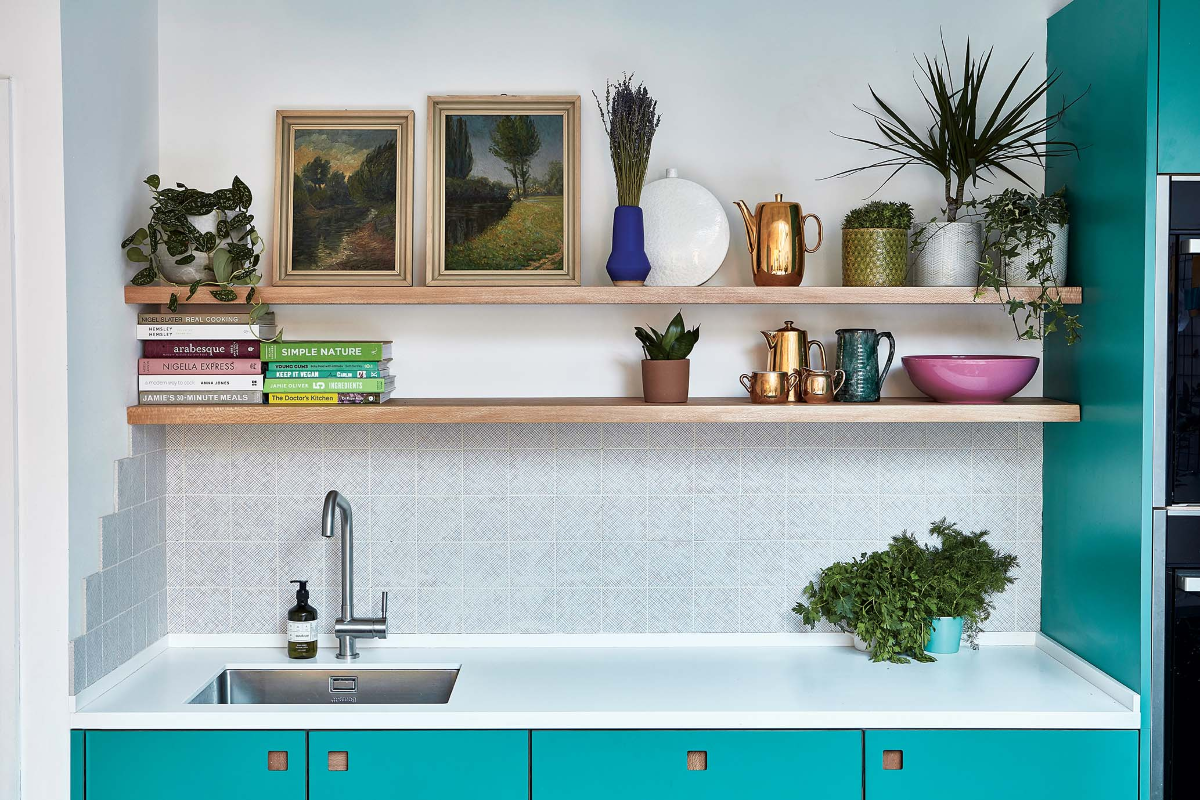 Coffee and tea station


I believe a hot drinks station is a must in every kitchen so, if you lack the space or prefer to keep your worktop clutter free, take advantage of your open shelving and turn it into the spot for your morning fix of coffee or tea. Place your cups and mugs, tea pot and French press there, along with the coffee, tea and sugar jars and voilà!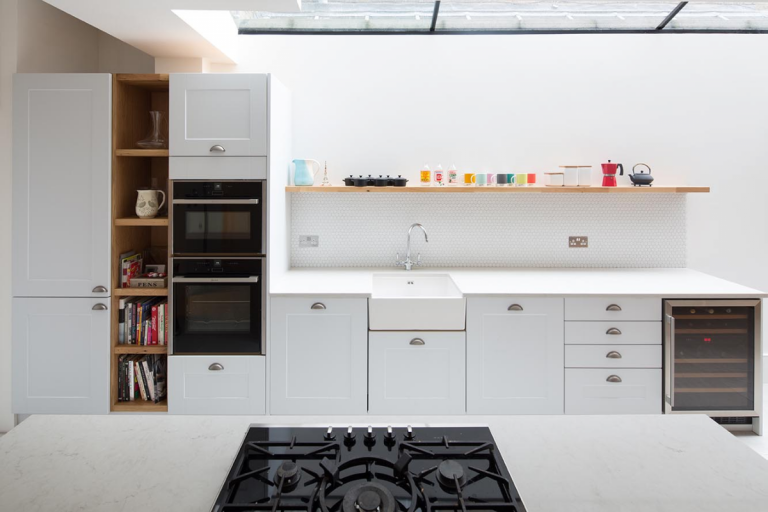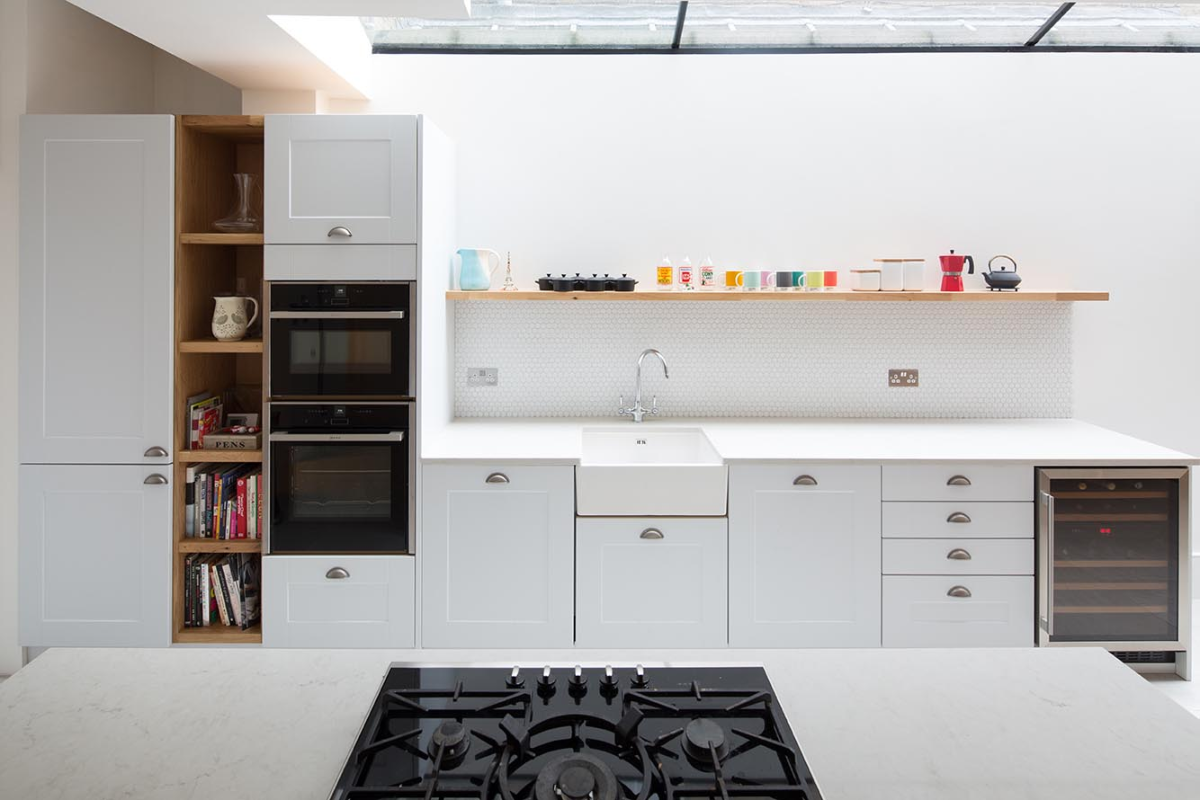 Display your art


Elevate your shelves with art, be it a painting you fell in love with at the local flea market or something you've come up with in the latest lockdown DIY project. Another alternative is to pick up some sleek frames and display your favourite holiday memories – let your creativity flow.
Pasta and condiments on show


Personally, this is one of my favourite ways of styling an open shelf – storing colourful pasta and spices in clear jars. I mean, there's something so eye catching about different non-perishables foods stored in glass jars with bamboo or cork lids. Apart from having an organised and stylish shelf, you'll know where all your essentials are, plus you won't have to dig through your pantry to find what you need.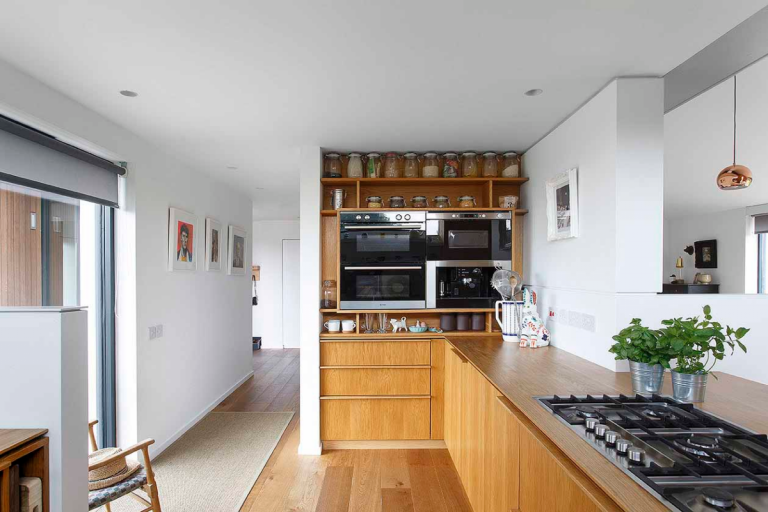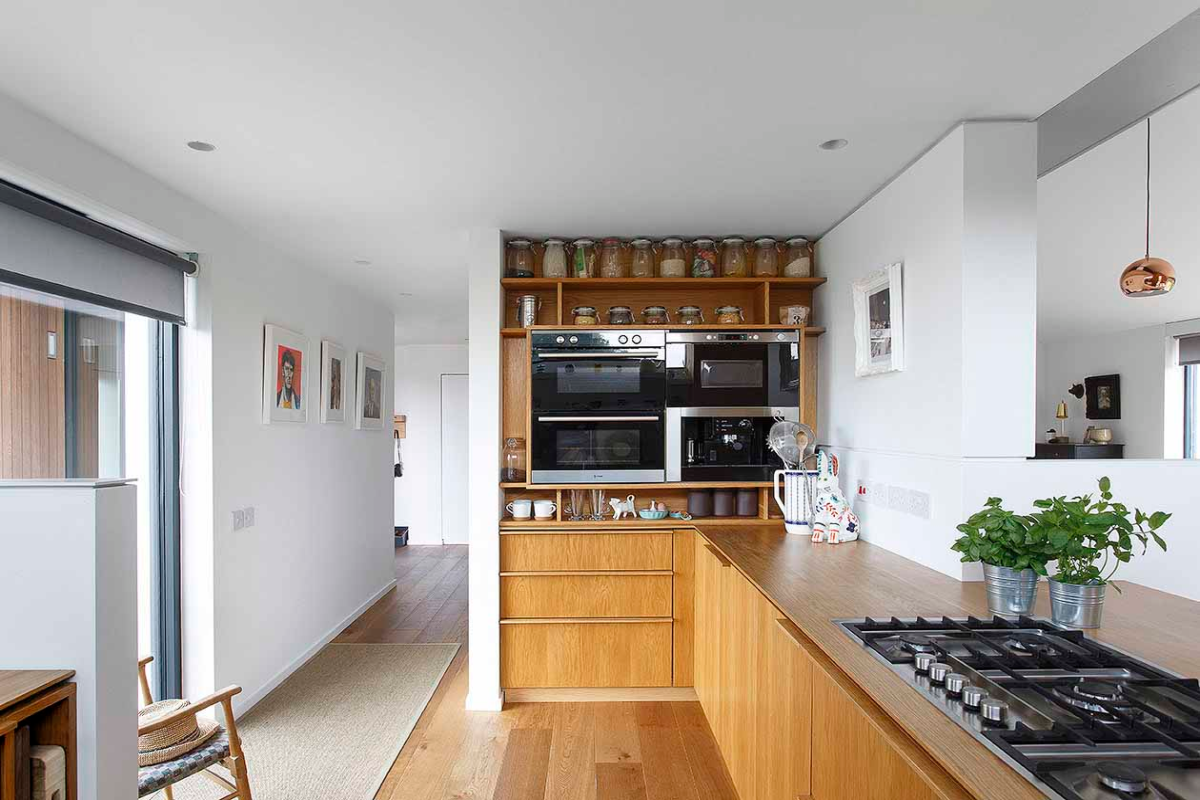 A place for your cookbooks


Over the years, have you collected a bunch of cookbooks for those moments when you lack inspiration in the kitchen? If your answer is an enthusiastic yes, turn your open shelving into a nook for all your recipe collections or those statement coffee table books that don't fit the aesthetic anymore.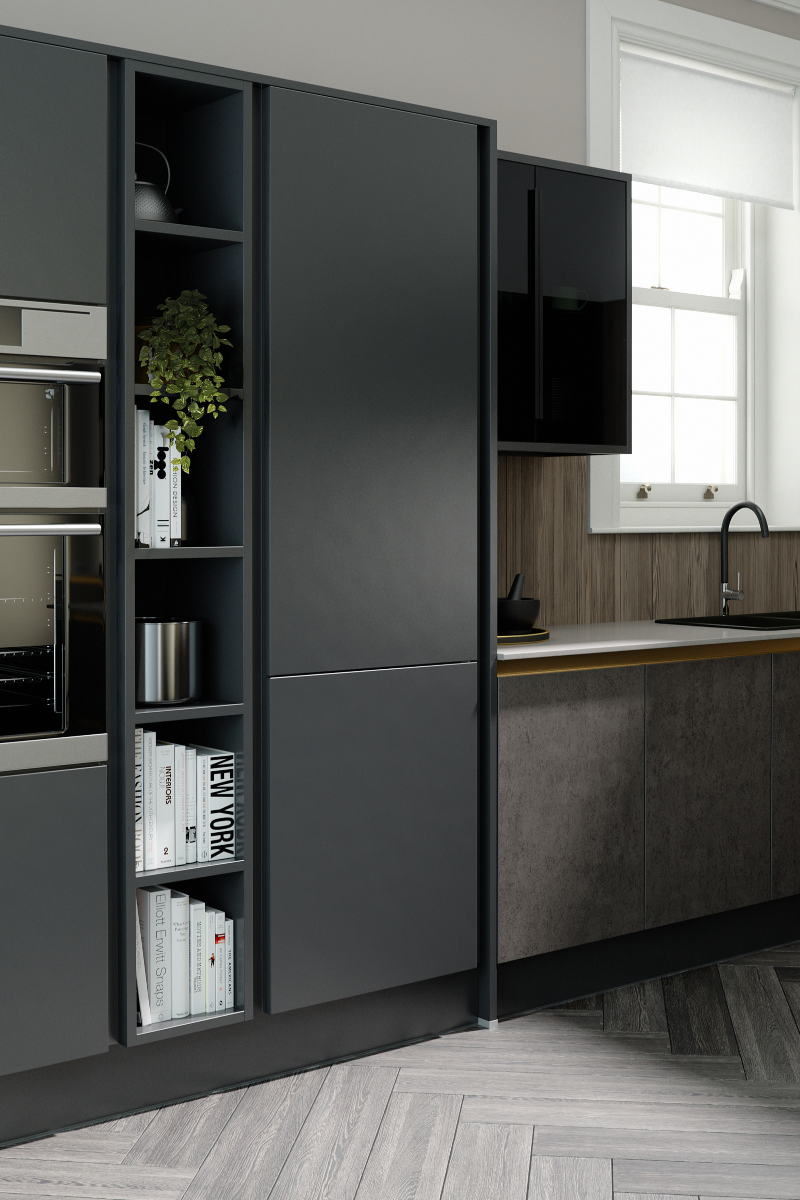 Simple yet effective


Create a minimal scheme with monochrome décor – a couple of tea cups and small pots of herbs are a good place to start. By sticking to monochromatic accessories, you will create a polished design. Remember to not overcrowd your kitchen shelves to get the look right.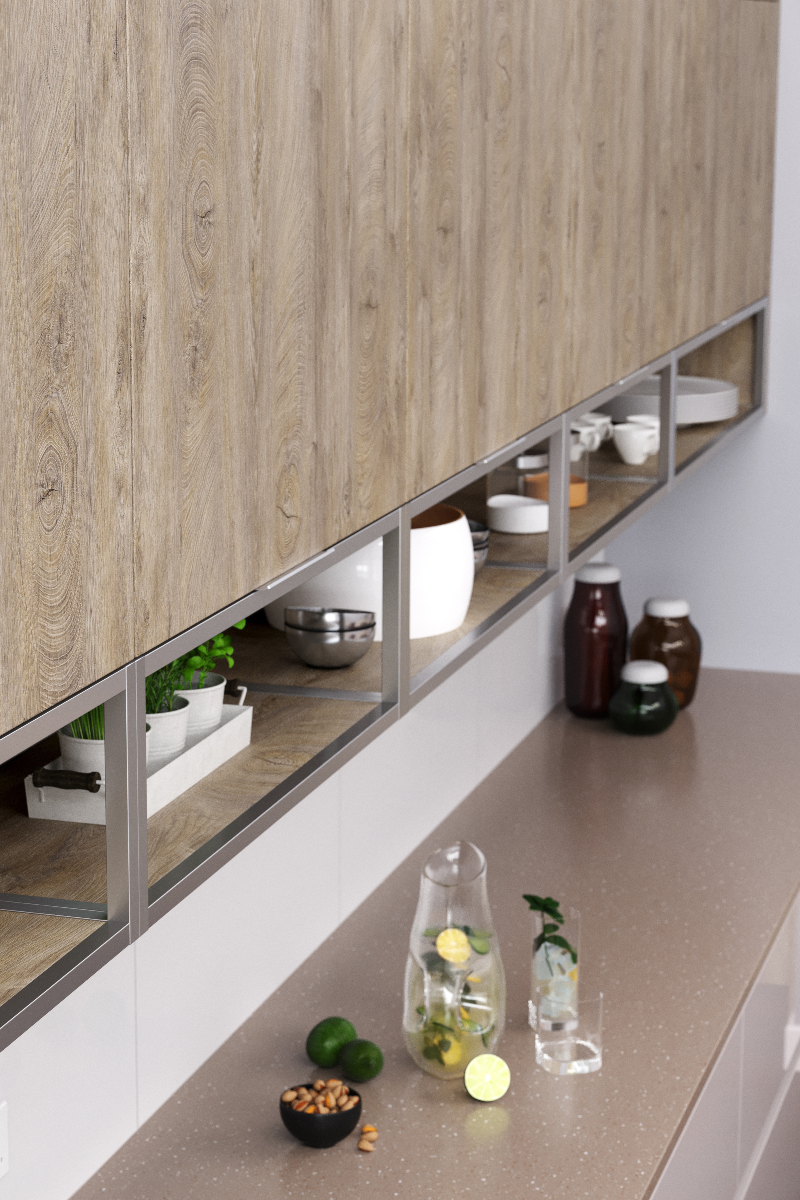 Ready for happy hour?


Are you thinking what I'm thinking? It's always 5 o'clock somewhere. Add some shelves and a wine cooler to create a bar station in that plain corner of your kitchen or living area. Pop some glasses and some decorative bottles in, too, and you're good to go.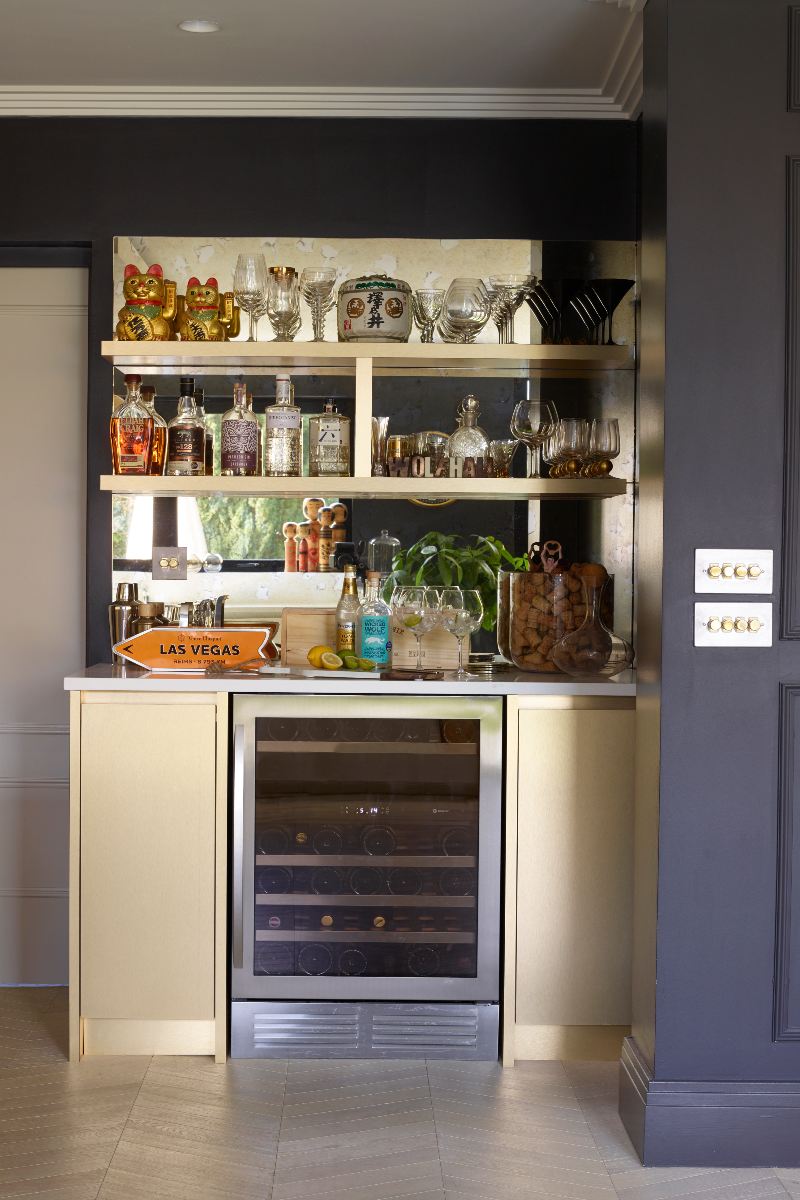 What's your favourite way of styling an open shelf? Let me know in the comments…
Featured image: iStock/ EloisaConti
About Post Author