Planning a new kitchen, bedroom or bathroom can become overwhelming with the array of options available on the market. Plus, visiting showrooms nowadays is a bit tricky. Luckily, interior design specialists across the country have made it easier to visualise and bring your dream space to life through virtual design tools. Sounds fun, right?

Spoiler alert: some are so interactive you don't have to leave your sofa. So, grab a cup of tea, get comfy and start redesigning your new space with help from the latest tech.
Let's start with virtual design tools for bathroom planning…
The 3D bathroom planner from Villeroy & Boch

The great thing about this tool is that you can either start completely from scratch with an empty room template or begin from a pre-planned template – are you team bath or team shower? Think about the room size and shape, must-have elements you would like to include and what style of bathroom you would like to go for – for example do you want to create a spa-like space or do want to renovate your guest bathroom? Choose from a wide range of fittings – from radiators and windows to walls and connections – and decide on furniture designs, toilets and basins. When you're happy with your new bathroom plan, click save, print the floor plan, 3D view and sketch and receive your list of items, plus the checklist for planning your bathroom.
Duravit's bathroom planner


Ever thought you could design your bathroom in four easy steps? Well, design experts at Duravit have created plenty of pre-designed templates, to make planning your bathroom easier, no matter the size of your space. So, choose a plan, set the dimensions and add other bathroom elements, such as windows and doors. On the next step, you can include the essentials, such as a bath or a shower (or both!), toilet, basin and furniture. Visualise your new bathroom, get in touch with one of their specialist dealers and make your dream space come true.
Heritage Bathrooms' online bathroom planner


Visit the 'design inspiration' section to get an idea of what you want your new space to look like and move onto the 3D room planner to start designing. Start from scratch or import a saved design, select the room shape and get creative. Customise anything from flooring, wallpaper and the material of your door and windows to the bathtub, shower accessories and your bathroom fittings and fixtures. Take 3D photos of the progress, or of the different designs you would like to go for. For the best results, Heritage Bathrooms recommend using a desktop PC.
Frontline Bathrooms' planner
Design your dream space in four steps – first, choose the size and shape of your room and then it's time for the fun bit. Browse through their contemporary or Italian collections and select your ideal basin, bath and brassware. Plus, you can get an overall estimated price guide after each item you've selected. View the room in 3D, decide on the colour of your walls and email your design to Frontline Bathrooms, who will contact you within three working days to discuss your design. Remember that you will not be billed or receive any of your chosen products before speaking with a Frontline specialist to confirm the order in full.
The Bathroom Planner from Roca
Browse through Roca's inspiration gallery and view gorgeous bathroom designs in different styles, from minimal to modern. Once you've got an idea of what you would like your dream bathroom to look like and chose a collection, go to the configurator and customise that design. Virtually walk through your ideal space, from the bath area to the basin one. The tool also shows you the price per zone, as well as the final price. Save your project and let Roca turn it into reality.
Now we've got the bathroom covered, let's discover some virtual design tools for those decorating jobs and finishing touches…
For paint:

Dulux

Visualizer app


Do you love the Dulux Colour of the Year Brave Ground? Then, download the new Dulux Visualizer app with new colour picker technology, and over 1200 Dulux colours, to choose the right shade for your home. You can pick a colour from anywhere and the augmented reality technology allows you to see the colours live in your desired space – how great is that? Simply save as a video or photo and share it with your friends and family to help make your decision easier. Order colour testers straight to your door and add a pop of colour into your kitchen, bedroom or bathroom.
For blinds: ViSULiZR by Terrys
Online retailer of blinds and curtains, Terrys, launched its new ViSULiZR app with celebrity interior designer Linda Barker, which includes over 1000 made-to-order Terrys blinds. Now that's a new way of shopping for blinds, right? Choose from bright or neutral shades, patterned or plain styles of high-quality products at affordable prices – great if you've splurged on that freestanding bath you've been dreaming of.

For flooring:

Carpetright's visualiser


Carpet, vinyl, wood or laminate flooring – choosing the right one for your home could be tricky, especially if you cannot go to a showroom or browse through a shop. Carpetright's visualiser helps you find the right material and style right in the comfort of your home – sounds perfect right? In five easy steps you can select a room or choose to upload your own photo, browse through different materials, textures and styles of flooring and apply it to your virtual space. Plus, you can decide on wall paint through the paint editing tool to see which shade would go best with your new flooring. Save your room for a later edit, or download it as an image or PDF, and order your favourite design. Through the visualiser tool you can also book a free home consultation.

For wallpaper and paint:

The Graham & Brown app


Visualise, order, decorate – Graham & Brown have made it that easy to choose the perfect wallpaper or paint shade from your comfy sofa. Download the app to measure your walls, map any wall-hung frames and pick and choose your desired wallpaper print or paint. With a library of over 100 wallpaper and paint options and a single tap to visualise it in your home, the app is a great tool to try if you are planning a new renovation project. You can see a close-up of the pattern and view it from different angles, to make sure it is exactly what you want. What's more, the app also calculates the amount of paint or wallpaper you need.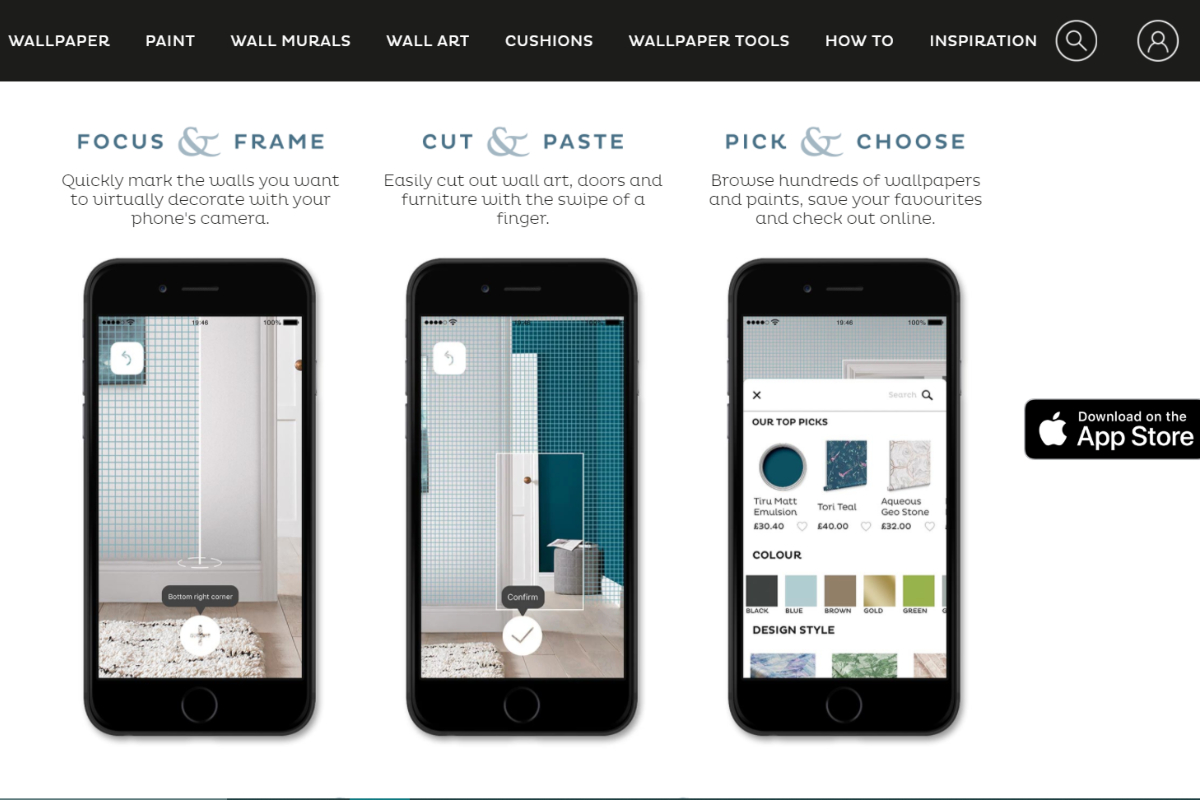 For tiles: CTD Tiles
In seven steps, you can put those finishing touches to your new bathroom or living space from the comfort of your home. Simply select a room, browse their tile range to find the one you love, select the area where you would like to place the tiles and voilà! You can play around with grout options, arrangement and size, plus change your tile selection if it's not the one for you. Edit the layout and the furniture placement, save your favourites and print or email your final design. You can order a free sample online or visit your local CTD showroom to see it in real life. 
Featured image: Virtual design tools. iStock/ milanvirijevic