Imagine: you come home from work, longing to sink into a relaxing bath… and end up blinking in bright light. Not ideal, hey? The bathroom lighting zones in your home are key to creating a cosy, inviting scheme.

So let's learn all about them – read

y?

It doesn't matter how big or small your bathroom is: you need to know about bathroom lighting zones. Let's start at the beginning: a well-thought-out lighting scheme will enhance the design of any layout. The key to a successful plan is to create different layers of lighting, using multiple light sources. There's task lighting around mirrors and accent spots to highlight design features. Then there's recessed floor lighting to create a low level ambient mood for a hotel spa vibe.

There are a wide variety of products on the market. Illuminated mirrors with integrated LED lights adding a modern twist to the traditional vanity unit. And also a wide range of downlights, uplights, pendants and wall lights.

For example, a simple way to add flexibility to your bathroom lighting is to incorporate dimmer switches. These allow you to easily regulate your lighting to create the perfect atmosphere at any time of day. As for the latest ideas, some manufacturers offer integrated rainfall shower units with colour changing LED light units. These fit flush to the ceiling, ideal for a streamlined wetroom concept.
How do you make it work? Introducing bathroom lighting zones
First of all, you'll need to make sure any fixtures are safe – after all, electricity and water don't mix. But how do you do that, I hear you ask? With bathroom lighting zones.
Every light comes with an IP rating, and the higher the rating the more watertight the light will be. IP stands for ingress protection, which, put simply, means how much water will get into the fixture. And, as a result, how close to a water source you can install it.
If you see the letters IP, they'll be followed by two numbers – so, for example, IP44. The first number means how protected the light is from anything getting inside. This scale runs from 0 – not at all – to 6, which means dust tight. (Sometimes, this number isn't relevant, in which case you'll see an X.)
The second number tells you how water tight it is and will be somewhere between 0 – once again, not at all – and 8. A high number indicates that your chosen bathroom lighting is suitable for complete, longer immersion.
You can immerse a spotlight rated IP67 in up to 1m of water for up to 30 minutes. And a hermetically-sealed light is rated IP68 and you can use it as a pool light. See, bathroom lighting zones aren't that tricky.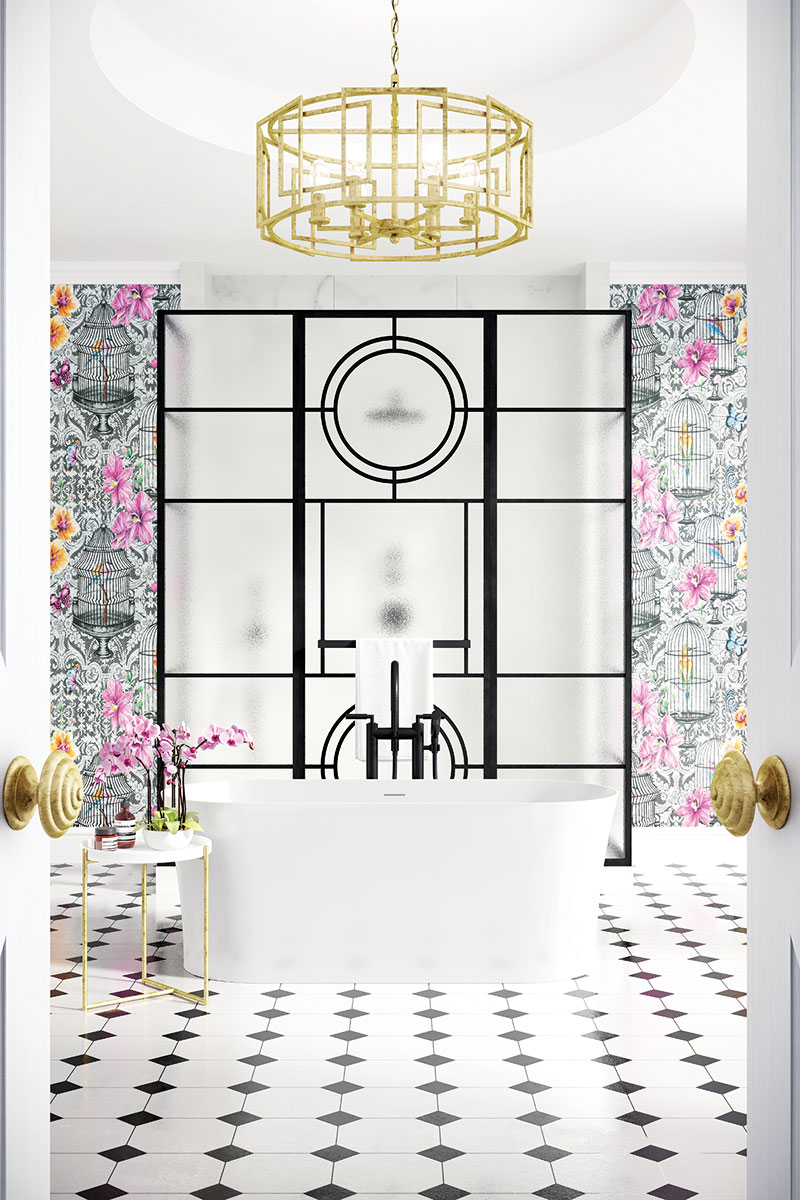 Bathroom lighting zones
It is always best to ask your supplier and electrician which lighting products you can install in different areas of the scheme. A bathroom is made up of different bathroom lighting zones. So the distance of the lighting unit from water will determine which light can be safely used.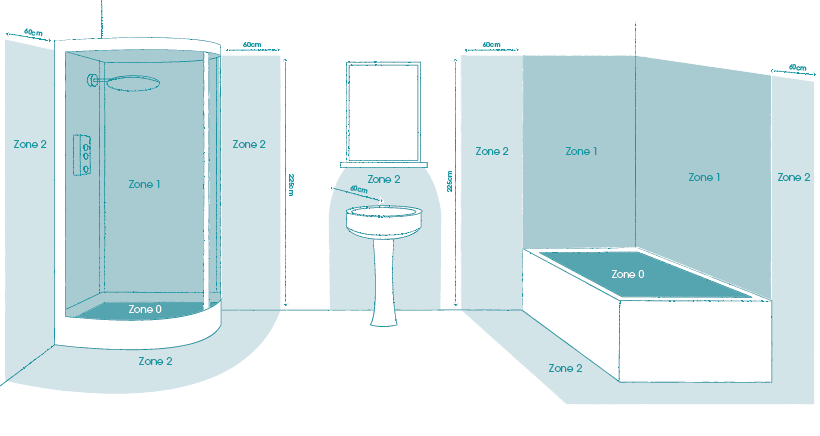 These are areas of your space which are defined by how far away from a water source they are. Your bathtub, for example, will be Zone 0 because no matter what you do, your light will get wet.
The area above your bath and your shower enclosure, however, will be Zone 1.
All of these defined bathroom lighting zones come with a minimum IP rating that you'll need to pick to ensure your fittings are safe.
Completely baffled? Don't worry – I'm here to break it all down into handy, bite-sized explanations.
But before we start on the nitty-gritty, one word of advice. Think about how you want to control your bathroom lighting early on in your project. This way, you'll avoid hassle after the installation is done.
Bathroom lighting zones: Zone 0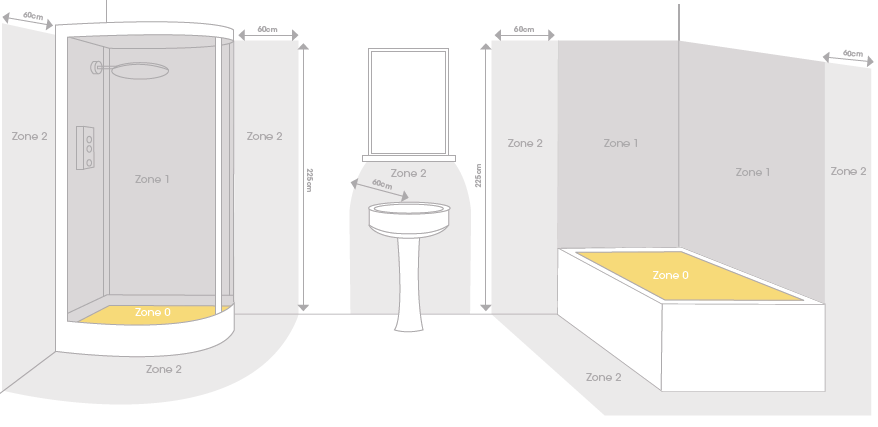 Minimum rating: IP67 or IPX7
This zone covers the area within your bathtub and shower enclosure. Here, any lamps will be submerged in water regularly. It's pool light territory, if you wish.
Any fixtures you install here will need to be low voltage, with a maximum of 12 volts.
What works in bathroom lighting zones?
Thanks to technical advances, LED solutions are growing ever more popular – from strip lights to spot solutions. You can integrate them into furniture, sanitaryware, or even showerheads.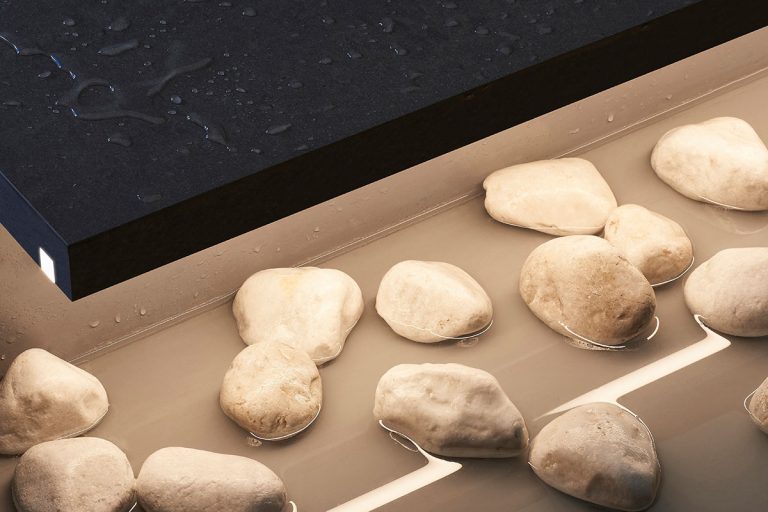 Individual uplighters are a nice idea, too. They bathe your shower wall in a blanket of light that's soothing at the top, but not so dark at the bottom that you'll stumble.
However, generally speaking, the bathroom lighting you choose for these wet areas is more aesthetic than practical. It's often more to create a mood than to help you see clearly.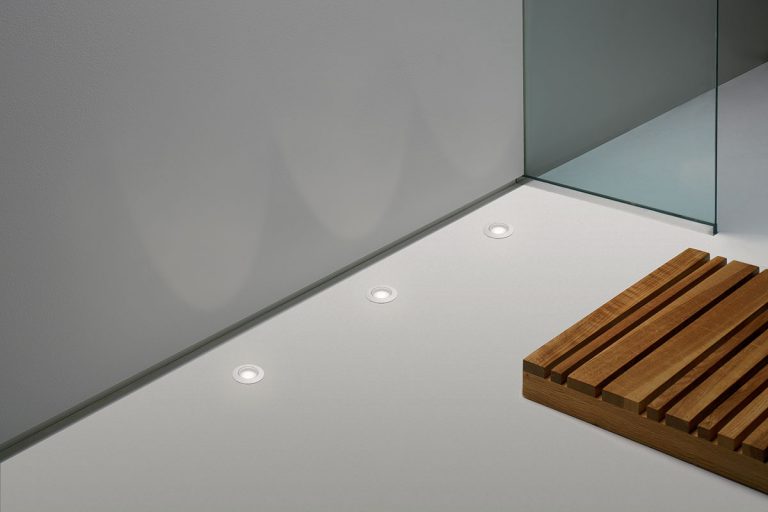 Oh, and one tip: if you choose a concealed design, make sure you don't have super-glossy surfaces, as they are very reflective and can ruin the effect.
Bathroom lighting zones: zone 1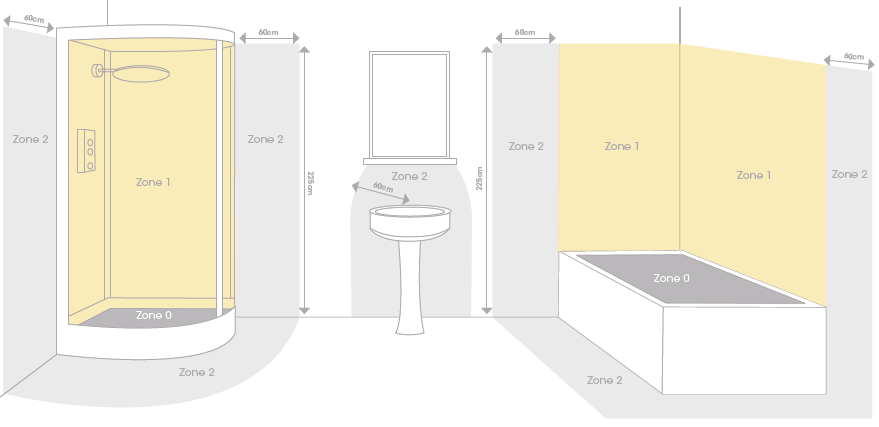 Minimum rating for bathroom lighting: IP44
This is the area above your bath and your shower, up to 2.25m above the floor and at a radius of 1.2m from the water source.
As these areas will not see your lights permanently submerged, you will find yourself having greater freedom when it comes to design choices.
Bathroom lighting zones: what works?
Flexible LED rope lights and strings of individual diodes – sometimes in a variety of colours, and many of them with remote control capabilities too – look nice. And when fitted under the lip of a roll-top bath, along a plinth, or within an alcove, can create a dramatic effect.
You could also choose a pair of symmetrically positioned wall lights next to your mirror or above the bath, to make a strong design statement.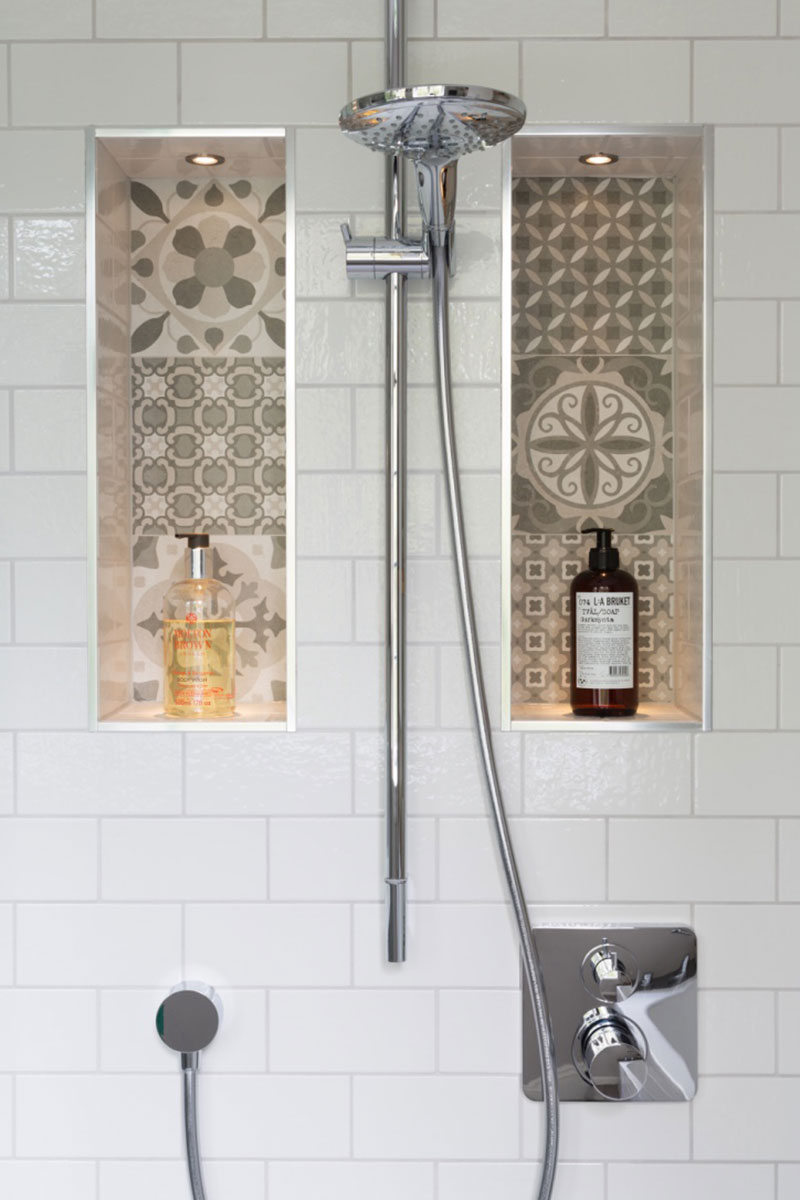 Industrial bulkhead designs are incredibly popular at the moment, but there's something for every taste. The bonus? As they were originally intended to be purely practical, they often boast clean lines and are neatly sealed, so can withstand the odd splash quite easily.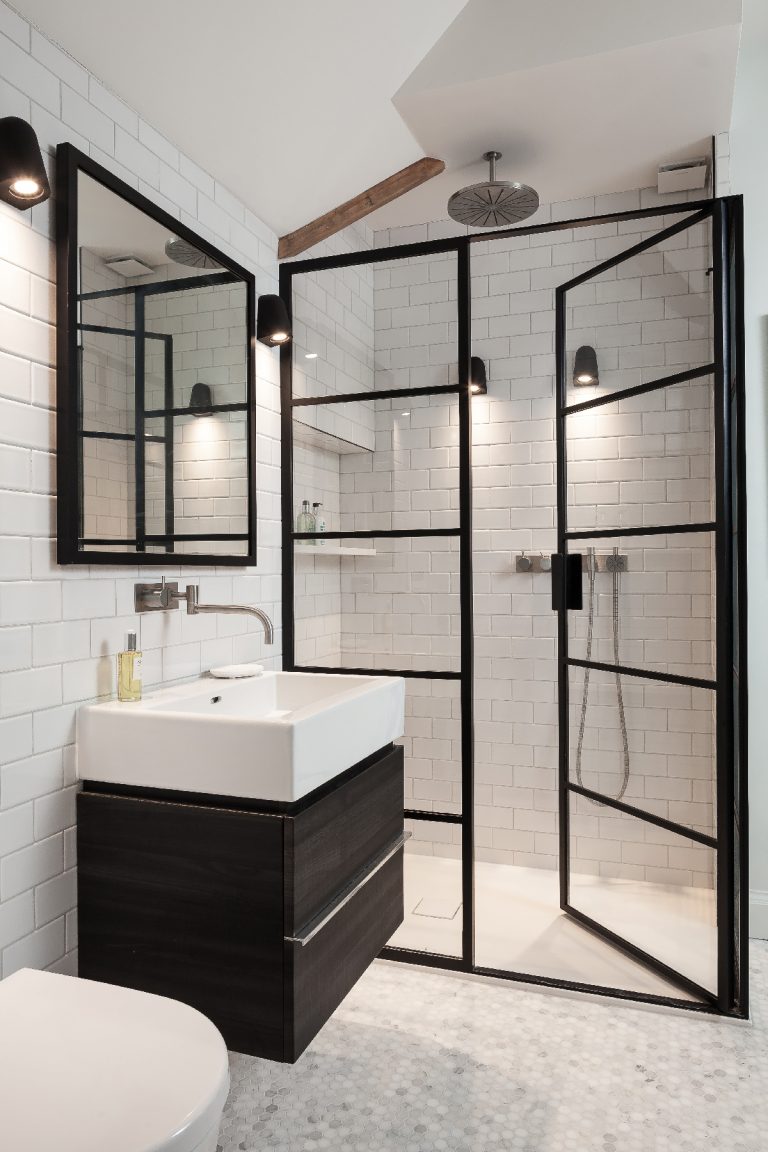 Outdoor lighting
Outdoor lights are also ideal for use in Zone 1, as most of them will be rated IP67. We are in Britain, after all, where the next rain shower is only a matter of time! So if you've seen a lamp you like but can't fit it into your garden, you could always have it indoors instead.
To shake up your scheme, why not choose contrasting styles rather than matching them to the existing look?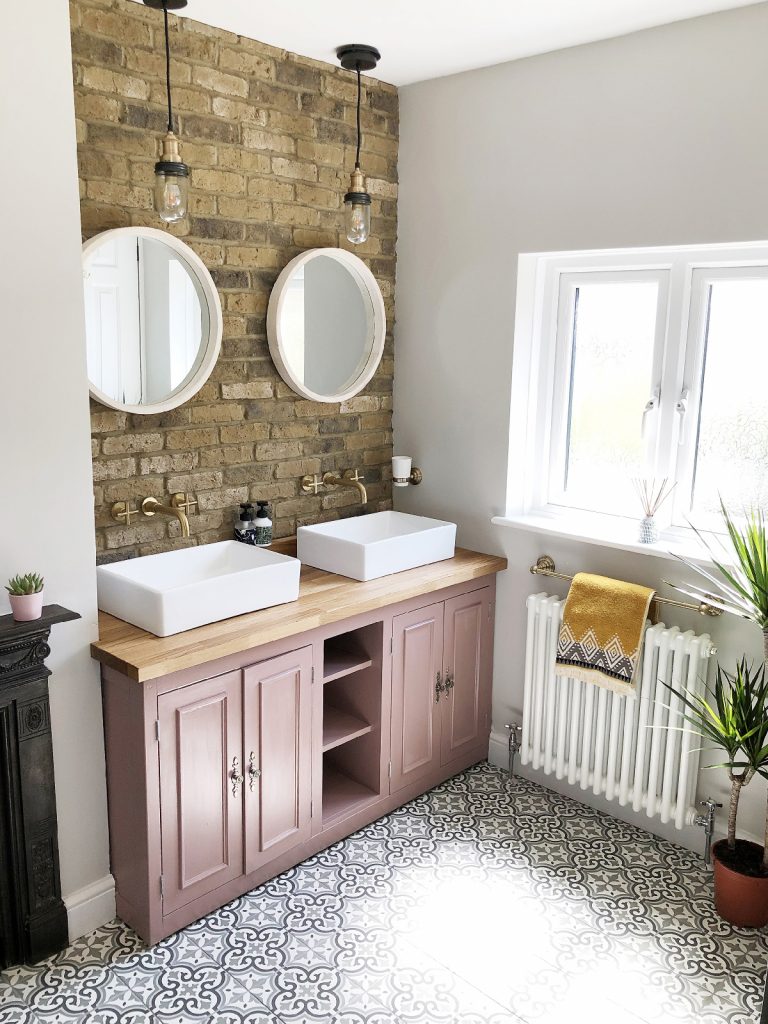 Zone 2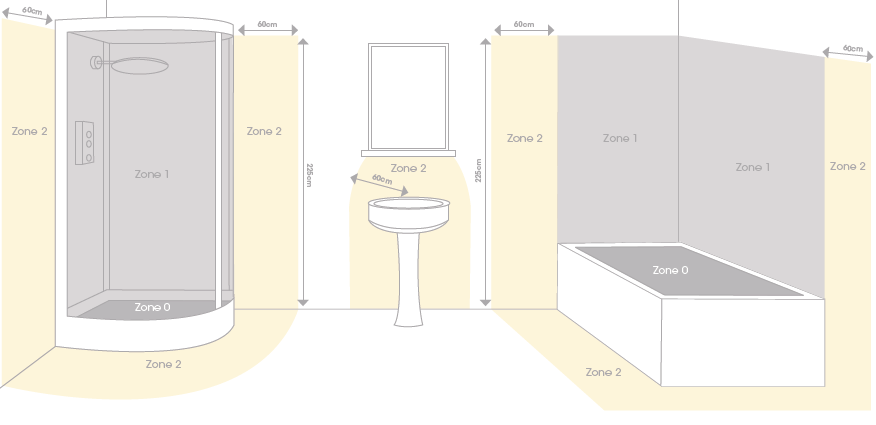 Minimum rating: IP44, but IP56 and IP65 are also ideal
Zone 2, essentially, extends Zone 1 by another 60cm. It also includes the area around your basin, with a radius of 60cm from each tap or other water source.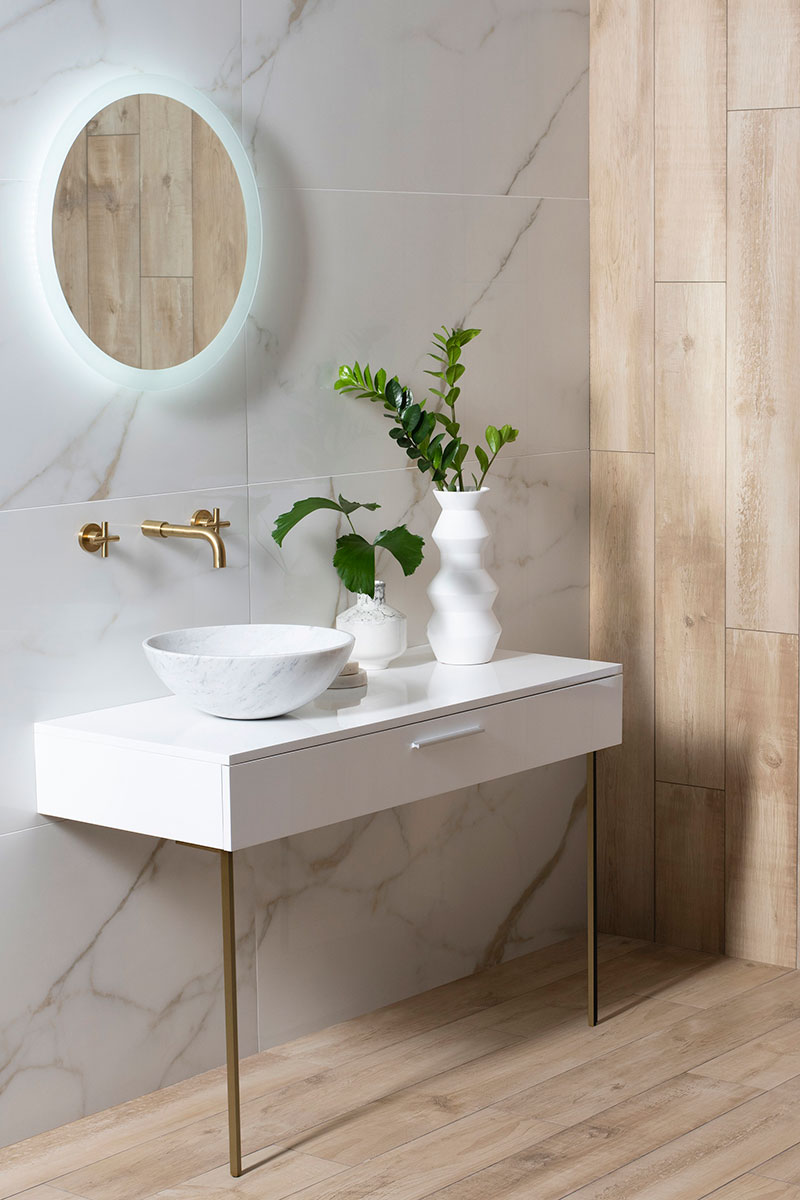 In most bathrooms, this area is the focal point. Think about it: your basin most likely has a big mirror above it, which automatically draws the eye. It's a kingdom for a statement light.
What works here?
There are plenty of options to match all styles. Personally, I'm a fan of a mirror with integrated lighting, but you could also opt for fixture above or, to frame the wash area, a pair of wall lights.
However, if you do this, make sure the fixtures are symmetrical so you avoid an uneven glow. This could create shadows and make applying makeup or shaving a bit of a challenge.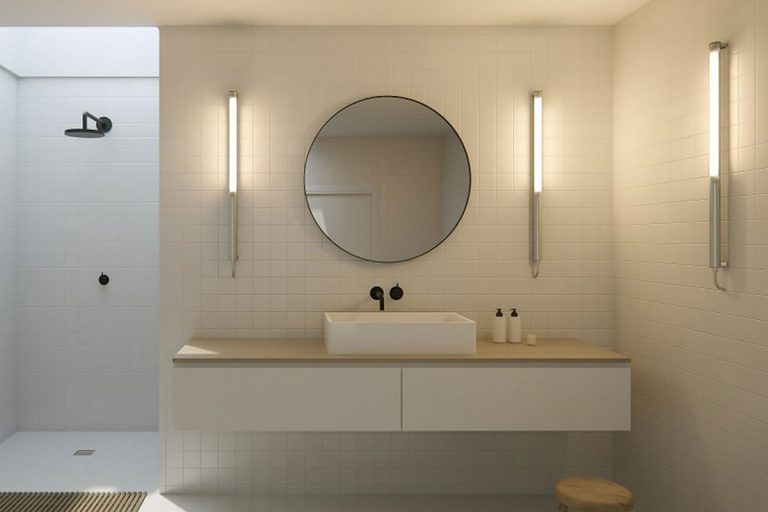 Unzoned
Minimum rating: IP20
Any light outside the three zones we mentioned before falls into this. Located well away from wet areas, and at very little risk of splashing, you can use any light fitting that is rated at least IP20 here.
What works here?
When I spoke to Katie Agombar, designer at West One Bathrooms, she told me that this is the ideal area to get a feature solution in. "I love the striking pendants with exposed light bulbs or the pretty, ornate classic wall lights," she told me.
Of course your space dictates what's possible, but if you have high ceiling, this is your chance to bring in a chandelier or cluster pendant. All bathroom lights will have an IP rating, and the higher the rating, the more watertight the light will be.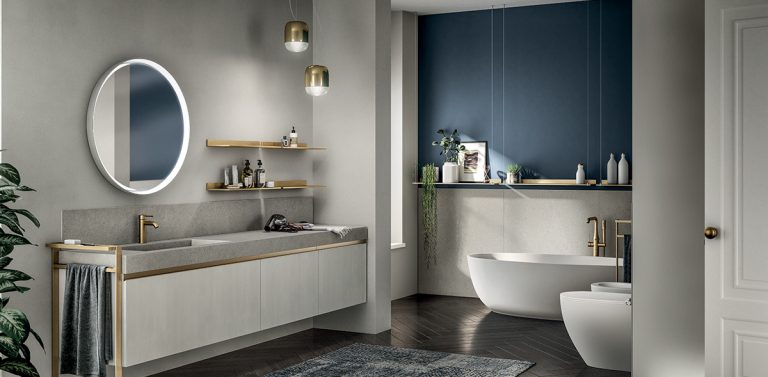 How do I choose the right style of bathroom lighting?
It is not only the type and design of the individual lights that are crucial but also where you position them in a layout. Don't be tempted to fit downlights directly above a vanity unit or mirror as they will cast shadows below your eyes, nose and chin. This will make it difficult to shave or apply makeup properly. Instead, you could mount wall lights at eye level either side of a mirror to achieve the best lighting. If you have the space and ceiling height, consider a glass drop chandelier over a standalone bath to create a dramatic atmosphere.
Another popular choice are LEDs, which can last up to 25 years and significantly reduce your energy usage. So look out for built-in LEDs in mirrors, bathroom furniture, drawers, sanitaryware and showers to include in your scheme. Most have touch-screen controls.
How much does bathroom lighting cost?
Lighting a bathroom doesn't have to be expensive. You can add the latest wall lights either side of a mirror to update the space for a few hundred pounds. However, if you want a complete redesign then you'll need to take expert advice to create a dimmable layered lighting scheme, and this can cost thousands.
So, what will you choose?
Want to read more bathroom lighting features? Then you'll love this stunning gallery.
About Post Author