One of the main silver linings I've found with working from home is I can have a drawn-out shower in the morning. That's as as opposed to my quick in-out, half-asleep wash I usually have at 6 am.
It's made me think about how I could have a more spa-like and wellness-inspired shower more often. And the answer I came up with is: rainfall showers.
They're also called pan showers, large showerheads or, as I like to say, rainfall showers. These big players in brassware mean that showers are no longer simply a means of getting clean quickly. But rather they are a way for us to indulge in a few moments of relaxation that leave us feeling rejuvenated. Sounds perfect right now, right?
In fact, rainfall shower designs are often top of a bathroom renovation wishlist. Commonly found in luxury hotels and spas, more and more of us are opting to have large static overhead showers in our own spaces to recreate that sanctuary feel. Would you like one?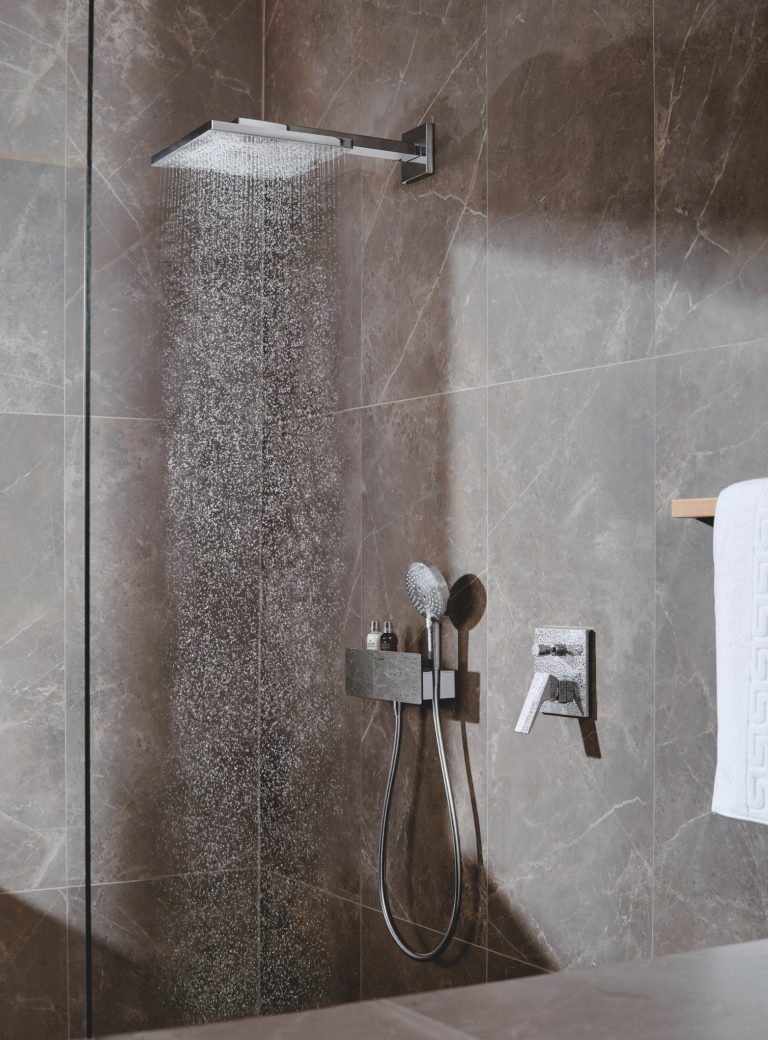 Buying tips for rainfall showers
Given the popularity of this type of set-up, there are a lot of options on offer. Many have multiple spraying and jet modes for a spa experience – some even mimic the feel of actual raindrops – dreamy, I know – whereas others will offer a simple on-off system.
Fortunately, many bathroom showrooms now have operating showers on display for you to test out their range of functions – so, when you can – it is worth visiting one to get a better understanding of how different systems work before you make a purchase.
Top tip: Check that all products and materials are WRAS approved, which means they comply with the Water Supply (Water Fittings) Regulations or Scottish Byelaws.
Get the design right with rainfall showers
As with any shower, you should firstly decide which kind of system you want. For example, a concealed set-up is where the valves and pipework for the shower are hidden behind the wall. This layout will result in a neat look, but it will also be more difficult to install as you'll need to rip open the surface.
An exposed scheme has the valves and pipes on show – more of a traditional look, but one that's also gaining popularity in modern schemes. (Although it will need more cleaning  – something I've sadly discovered with my own exposed shower.)
You can attach rainfall showers to an exposed pipe, recess them into or fit them on the ceiling, or install them on the wall. As with most bathroom brassware, the most common finishes are chrome and stainless steel. However, there are an endless concoction of finishes out there. There's everything from gold, nickel, and matt black to tarnished brass and burnt copper. Now, these will make a real statement.
Also consider adding a handset to your rainfall shower. We recommend this if you have little ones, as it will make washing them easier, and helps when cleaning.
Finally, the shape and finish of your showerhead depends on the style of your bathroom. So think about how the new set-up will work as part of the rest of your décor. Are you partial to the industrial look for rainfall showers, or prefer something a bit more glam, for instance?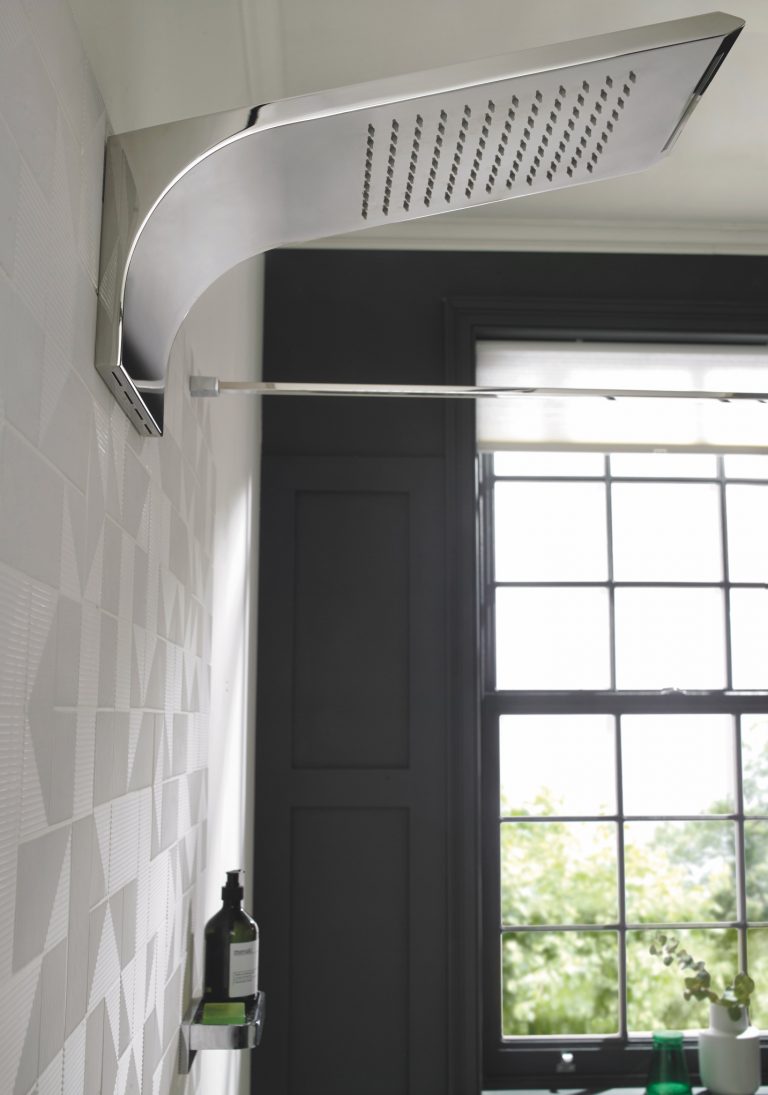 Don't forget…
The technical bit: due to their size, rainfall showers require a high amount of water pressure. So you must find out what the levels are like in your property before deciding on which system to go for.
You measure water pressure in bars and this generally ranges from a low 0.1 bar up to a high pressure of 5 bar. If you have your heart set on a certain design of rainfall showers, it is possible to fit a boost pump. However, check with a plumber before buying to see if they can do this in your home.
Pricing for rainfall showers
There are a wide variety of options on offer to suit every style and budget. They start from around £500 for a quality system with rainfall showerhead.
Featured image: Rainfall showers: The Big Rain by Dornbracht requires ceiling installation and measures an impressive 56 x 65cm. Available in a stainless steel finish from West One Bathrooms, £4806.
If you liked this feature on rainfall showers, you may also enjoy Spa bathrooms: can water help our wellbeing?
About Post Author