Want a touch of drama in your bathroom design? Step this way. Known for their colourful, feel-happy interiors, Jordan Cluroe and Russell Whitehead – aka 2LG Studio – are a dab hand at creating spaces filled with joy. Now, they've turned their attention to creating a wow-factor shower room, with Insta-worthy results.
2LG are a design duo who have collaborated with brand Sealskin on the launch of the Sealskin Duka range of shower enclosures, which can be made to measure to fit even the most awkward spaces and create that all-important style statement in a bathroom thanks to a choice of glazing options and metallic trims.
We caught up with Jordan and Russell on this latest project and to get their tips on getting a wow-factor shower room – 2LG style…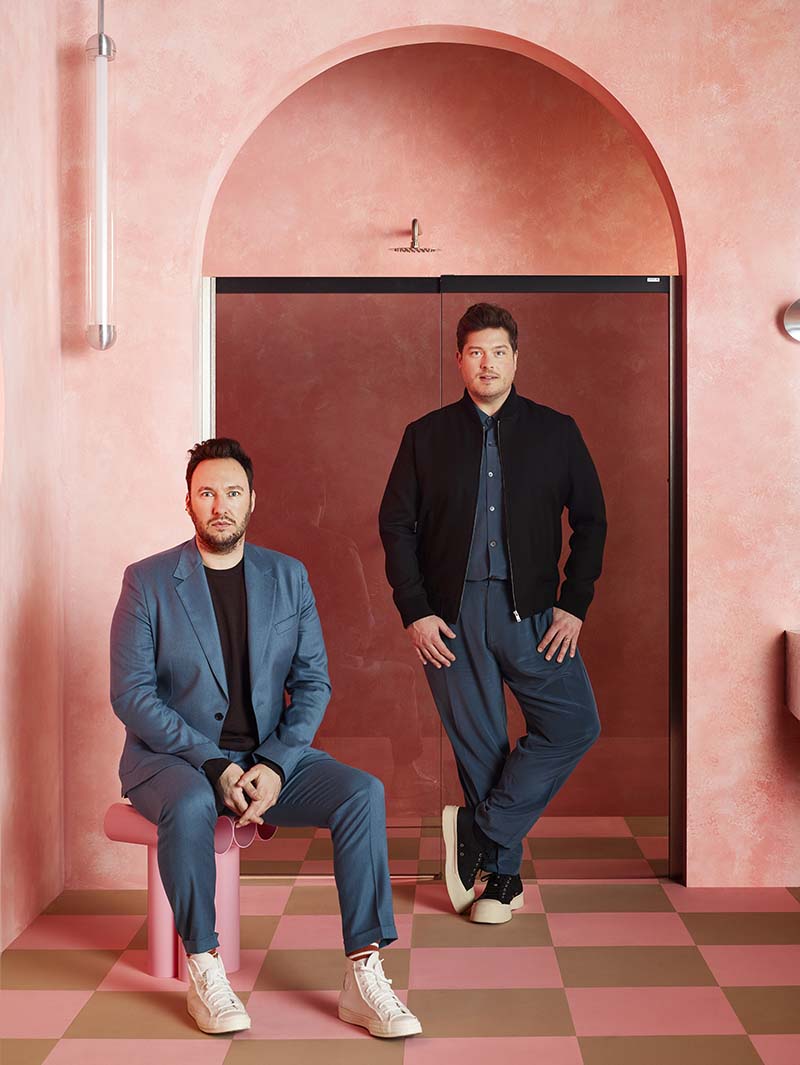 Hi Jordan and Russell, you've created your fair share of colourful bathrooms… what is it you love about bathroom design?
Bathrooms have become a calling card in our interiors, and we do love to create spaces with impact.
We believe your home should facilitate your best life and help you to become the best version of yourself. Sometimes that can mean stepping out of your comfort zone and making a bold statement, so we are not afraid to go there.
So, 2LG, what's the secret to a good bathroom?
Quality fittings are key. A bathroom space needs to be functional above all, so it's important to spend as much as you can on the hardware and fittings. They will last longer and be a pleasure to handle each day.
Get those elements right and then you can have fun with other finishes such as tiles and paint. A bathroom that breaks all the time or is impossible to keep clean will never be a joy, so put time into choosing fittings that will be robust and a pleasure to live with.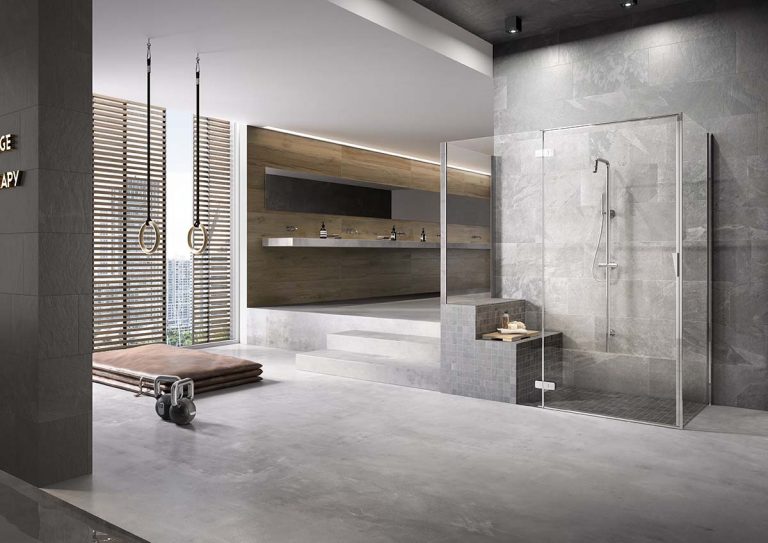 2LG have recently collaborated with Sealskin Duka to launch a range of shower screens to the UK, right?
Yes, we created a scheme using their new range of made-to-measure shower screens that have a minimal look that's ideal for modern bathrooms. It was a project that really appealed to us because it's a new product to the UK and we are always curious about new materials and like to challenge ourselves to find new combinations that make us excited. There are three new ranges: Acqua 5000, Libero 5000 and Pura 5000 – but when we saw the smoked glass Acqua 5000 shower screen design, we just knew we had to create a bathroom around it.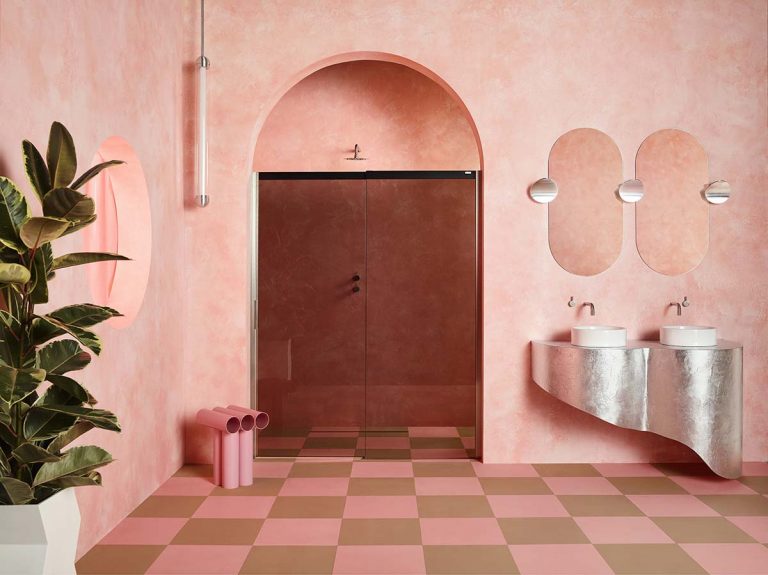 The bathroom you designed as part of the collaboration is a bold statement in true 2LG style…
It is indeed. We wanted to take a shower screen and show how it can be the focal point in a bathroom and be a fitting presented in a contemporary way. So we've incorporated bold curves, sexy smoked glass, lots of texture and our signature use of colour. It's a space that we dream of having in our home one day.
There is such attention to detail in the way the Sealskin Duka range of shower screens have been designed. One of our favourite parts is a clever soft-close action to the clip at the bottom that allows easy access for cleaning, which is just so practical. The overall look is really contemporary: flush fitted clean lines but with a sturdy sliding mechanism for the door that's really pleasing to use.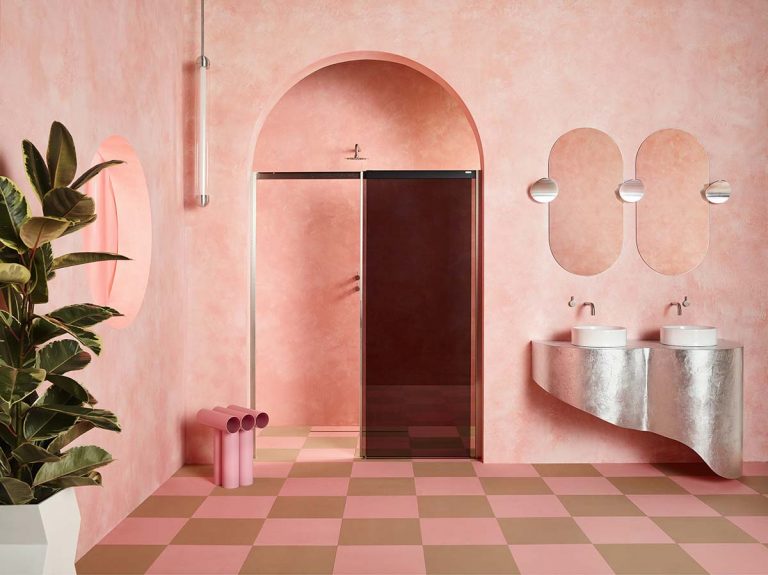 Any tips on creating a bathroom with wow factor?
Contrasting colour and texture is a great way of adding impact to a bathroom. We also love strong curved lines to break with the convention of straight-lined bathrooms.
There's no reason you can't have curves in a modern bathroom – and even have a shower screen made to fit the space. For example, the made-to-measure smoked glass Acqua 5000 sliding shower screen from Sealskin Duka we used in our pink scheme. It can be personalised with a choice of glass options and hinge and handle materials to suit your style.
But beyond looks, a bathroom must be right for you and fulfil your needs. 'Wow factor' is individual and that's what keeps us interested in working with homeowners. Everyone is different and that's what's so brilliant about helping people create their dream interiors.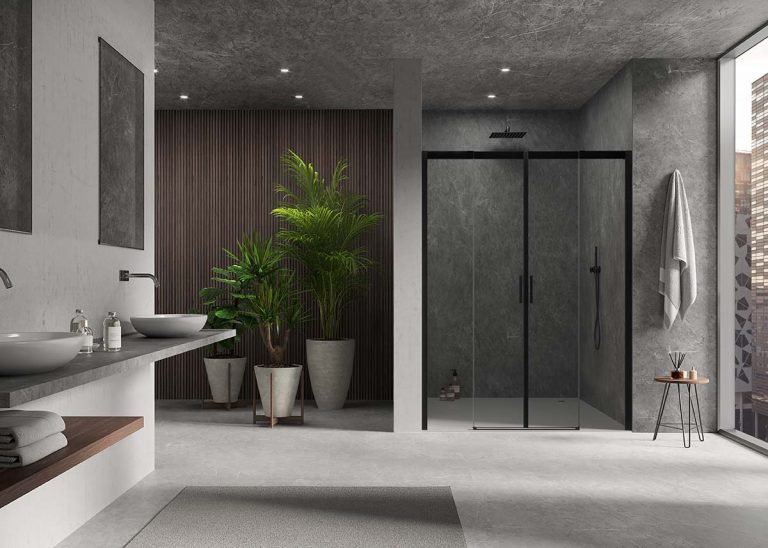 How can you make the shower the focal point of a bathroom?
Making the most of the different finishes and bespoke options is a great way of personalising a shower space. We love creating layers with different colours and textures – and our signature curved lines, of course.
In the roomset we designed, we chose the smoked glass enclosure and brushed nickel profiles to finish it off. Creating a larger-than-average opening for the shower allowed for a luxury aesthetic and made it feel all the more wonderful.
When it comes to choosing the size of the shower screen or enclosure, is there a rule of thumb to ensure it's practical?
It's very much dependent on the space you are working with. Utilising the maximum area available to you and creating a larger showering space is more visually stunning and will be comfortable and luxurious to use.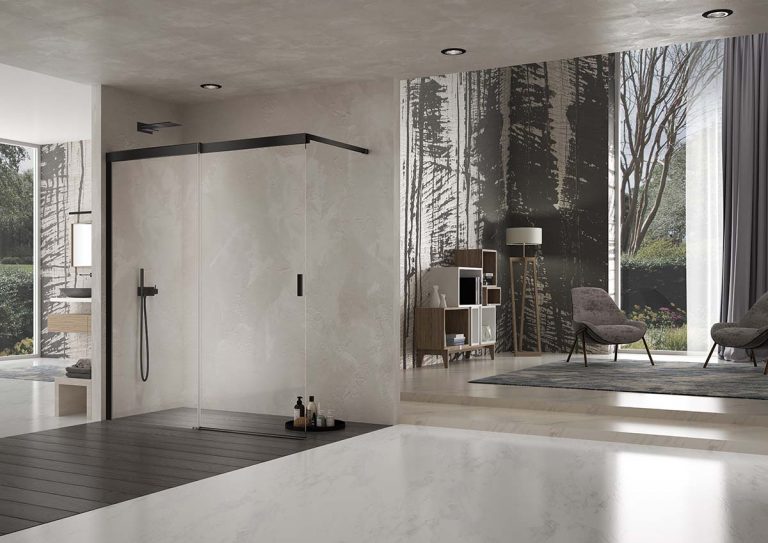 Think about your showering preferences, accessibility options, and who may be utilising the space. This should give you a good idea about layout options for your shower area or wetroom.
And of course, consulting your interior or bathroom designer is important. They will have experience of many different layouts and may be able to offer some options you haven't thought of.
What about if there's a sloping roof or awkward alcove in the shower room?
Awkward spaces are no problem when it comes to tailored enclosures. The quality of the Sealskin Duka products means that functionality is taken care of. It also gives you the freedom to unleash your creativity.
All of the products are made to measure, with options to choose the glass finish and the colour of the profiles. This makes catering for difficult spaces easy.
And finally, what are you dubbing the next big bathroom trend?
Atmosphere is everything. Our advice is to inhabit your space in the boldest way possible. Strong function, clean lines and playful use of colour and material are all important. Boldness is individual to each person; it could be it could mean a calm, serene minimal statement, or a maximal decorative statement.
Think about lighting, storage and of course quality fittings. Watch out for smoked glass making a big impact in the bathroom. It's sexy, dramatic and has a retro edge – we love it.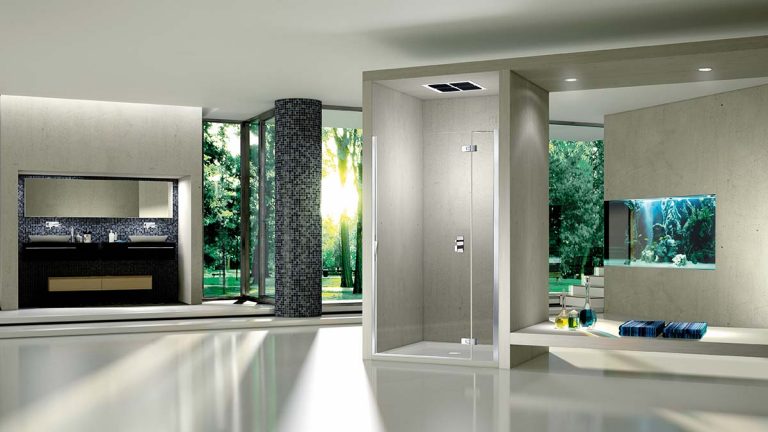 This article has been created in partnership with Sealskin Duka. To find your closest Sealskin Duka showroom visit Sealskin – Sealskin UK.
About Post Author