Excuse me while I go for a walk down memory lane.
I have a vivid memory of the cosy open fire in our childhood home. My two sisters and I would bundle ourselves into towels after our bath and hurry downstairs to dry beside the fire, toes stretched out. At Christmas Mum would pile chestnuts into a pan and roast them on a bed of coals. I loved watching the flames dance, even that sooty smell – there is nothing quite like an open fire. So, for me, a fireplace was an essential addition to our little Victorian cottage renovation.
I do, however, also remember the ashes, which needed to be swept away almost every day and the smoke escaping into the living room when the logs were laid in the wrong direction so a cleaner log burner seemed the obvious choice for our new living room, but which one?
First port of call for some renovation inspiration – Pinterest.
We had an idea of the look we wanted so we now needed to decide on which log burner, hearth and surround. Neither of us knew much about log burners so we visited a local retailer for some advice. There was a lot to take in and frankly we felt quite overwhelmed with efficiency ratings, hearth material, a whole range of price brackets. Then I remembered a place I had driven past almost everyday during our home-moving-limbo when we were living with my inlaws and travelling to our, now local town to drop my son at preschool. Ash and Embers were everything I hoped for, they sent someone out to measure and ensure the chimney was still in a good state of repair and then booked me in for an appointment to look at the stoves and fire surrounds in their showroom.
It was a hot summers day, which only got hotter when I entered Ash and Embers showroom. So many log burners – from traditional and period style to modern and contemporary designs. I eventually spotted 'the one' – a simple and elegant Charnwood in gunmetal grey with a wooden handle. It was both contemporary and traditional and best of all the emissions were low and it met the Clean Air Act requirements.
Now for the surround. Out the back was a fantastic reclamation yard with a treasure trove of original surrounds from all eras. I was in my element sifting through the dilapidated pieces of history. Marble surrounds that were in partial ruin were to be meticulously brought back to life again. I was sold – determined to find our perfect surround in this yard, it would be one of a kind and have as much history to tell as our house. In the end I found not one but two, a beautiful cast iron art deco surround and a stunning marble piece. The second would need a lot of work as all three sections had been separated over time. We had some decisions to make, dark or light? Marble or cast iron?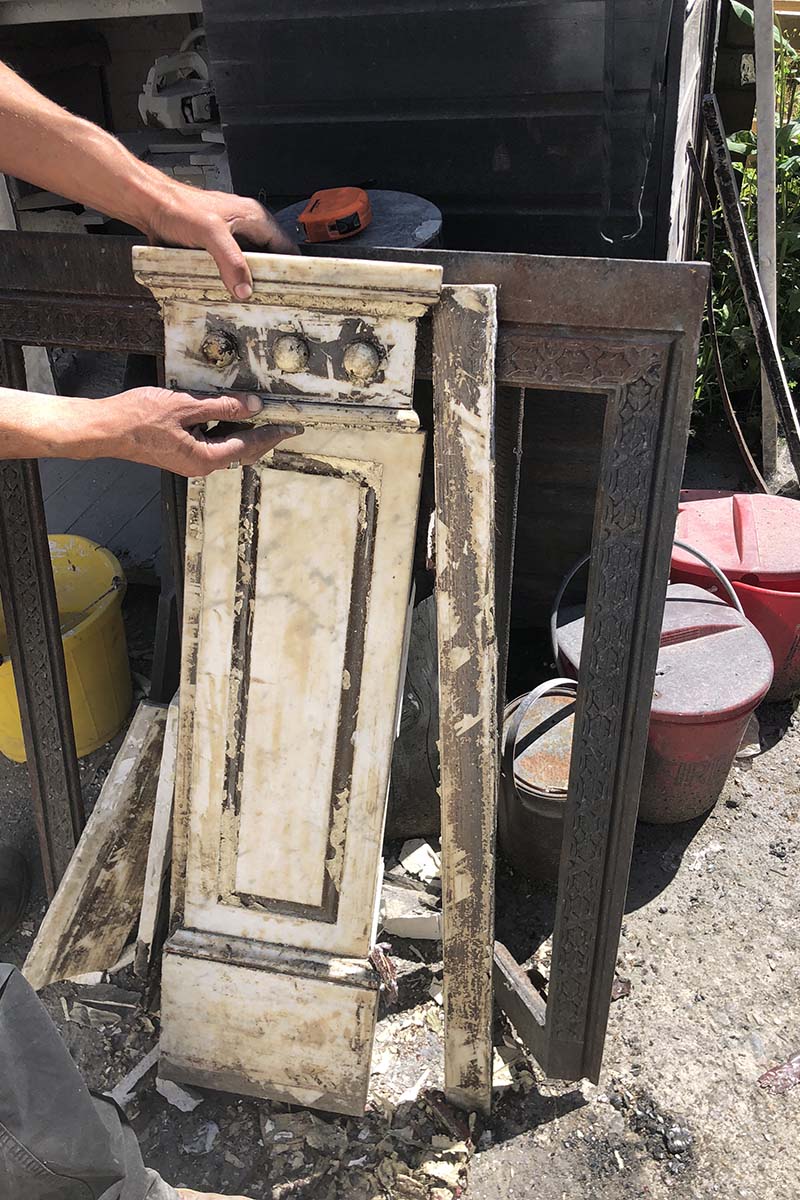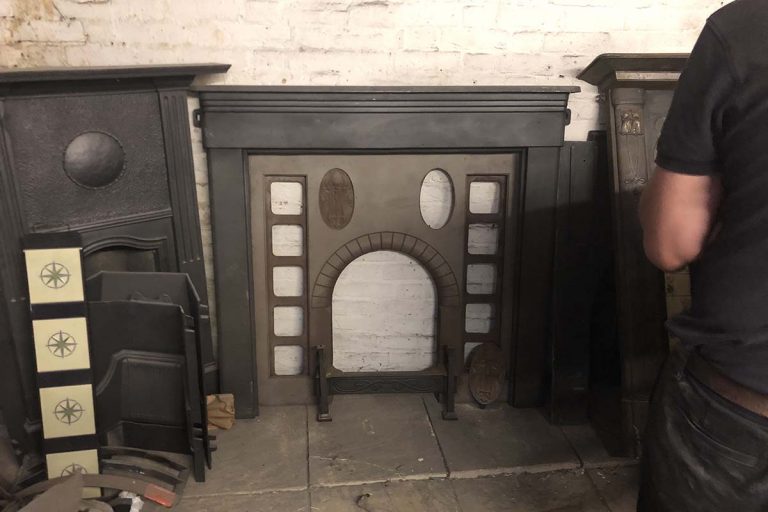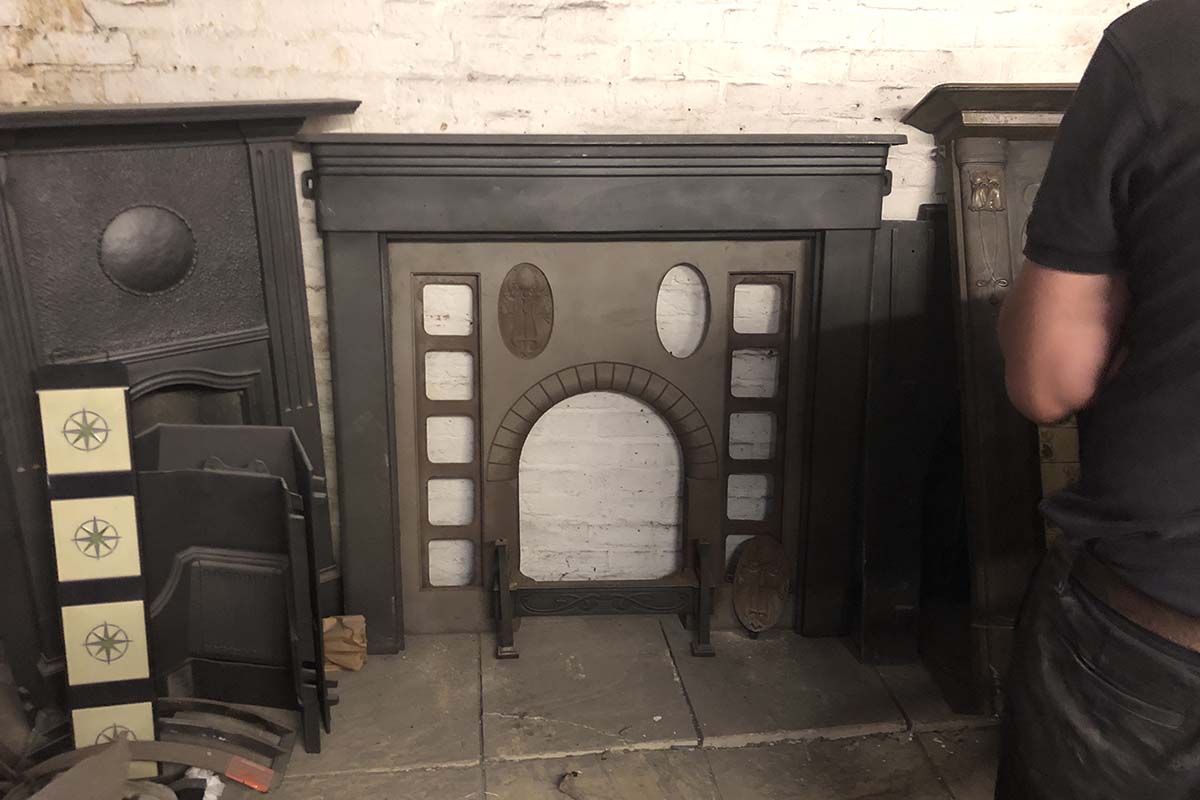 Back at home I mocked up a how each of these would look with the stove we had chosen and mulled over it for a few days. Eventually we decided on the cast iron because it felt so different to anything we had seen before and was a real one-off. It would be painted in gunmetal to match the stove with a grey sandstone hearth.
While we waited for the stove to arrive and the surround to be restored we had work to do. The previous hearth needed removing, the brick surround we currently had would need to be plastered and the wooden mantel shelf had to be removed.
When the day finally came we found that the installation was a bit more complex than we'd originally thought and the team needed to use a cherry picker to put the new chimney pot on the roof without damaging the old tiles. By the evening the fire was in and we couldn't wait to light it (even though it was mid summer and about 30 degrees outside!). So after bath time we bundled the boys into their towels, sat on our uncarpeted concrete floor in our empty, yet-to-be-decorated living room and dried beside the fire, toes stretched out – reliving old memories and creating new.
Read more First Time Renovator blogs in the series.
Featured image: Our log burner.