No one said remodelling our bathroom would be easy, and for my husband Marcus and I, it was certainly a dusty affair…
When we first moved in to our house that was in total disrepair, there was only one toilet upstairs that was all on it's own – isolated from the rest of the bathroom. (I'm sure anyone remodelling a bathroom can understand my pain). I lovingly nicknamed it the chokey: the punishment cupboard of Miss Trunchbull in Roald Dahl's Matilda.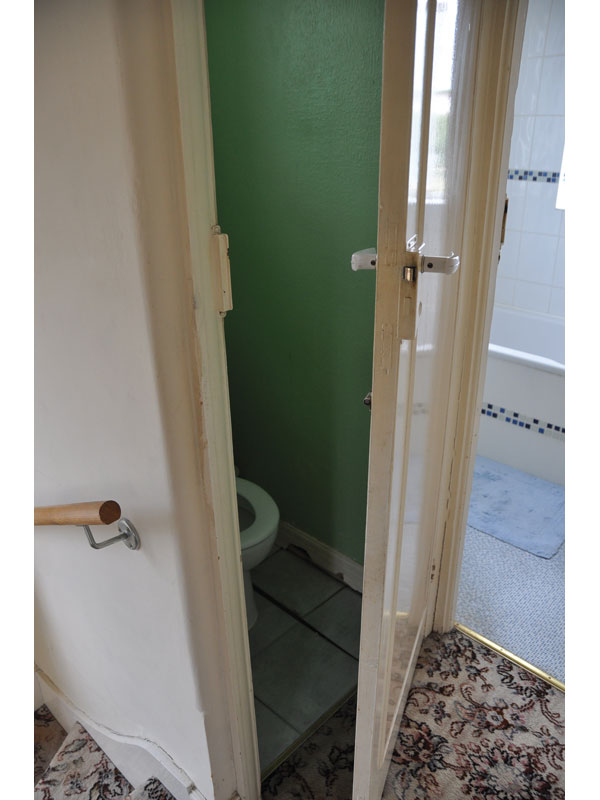 Barely enough room to stand, let alone sit, you had to do a type of jiggle-dance to get in and close the door. It was decorated in florescent-green wallpaper, which in turn was hiding another layer of lilac wallpaper. So it really was like torture spending any time in there. Next to this tiny room was the bath and shower room. This included a fitted bath, hand-held power shower, a sink, some white tiles and lino flooring. Thankfully it wasn't as unpleasant to be in.
However, in our three-week stint of attempting to live in the house while we renovated, the shower proved to be very temperamental. It tended to stop working mid shampoo. All of this combined meant the bathroom was one of our main priorities to sort out.
The first major decision we made
The first major decision we made was to gut it of everything (a key step in remodelling our bathroom, I suppose). This was while tradesmen were installing our new pipes and heating throughout the house.
We removed all the tiles from the walls and ripped out the lino flooring. Then we removed the non-supporting walls that separated the two rooms. Next we created a new doorway for the space, using plasterboard and a stud wall. This now seamlessly flows on from the exterior of the old WC.
Exposed, exterior blockwork, dusty floors, and a solitary toilet were what we were left with – and it already looked so much better. Soon after our electrician installed spotlights in the new 4.6m2 room, and a plasterer, who was recommended to us by family, sorted out the walls. Remodelling our bathroom was underway!
Remodelling our bathroom with a blank canvas
Now we had a blank canvas, it was time to rethink the layout. However, even though we'd opened up the space, we were limited in what we could do. Especially because we wanted to save money and keep the WC and sink where they were.
I knew a bath would be a non-negotiable for me, as was a shower, so we had to have a design that included both. I'm not a fan of enclosed schemes, so it either had to be a wetroom style, or a shower-bath combination.
However, Marcus was quick to dismiss the idea of a wetroom – as he didn't want the whole floor to get wet after a wash. We also looked into fully waterproofing the space – known as tanking. It was quite an expensive and time-consuming job. Consequently, we decided the layout would have to stay the same when remodelling our bathroom, but with a complete upgrade.
For the tiling, I wanted to create a statement look, a mix of classic-contemporary with an industrial twist – eclectic, I know. This has stemmed from my weakness for dramatic and quirky bathrooms you find in restaurants and boutique hotels. I love monochrome tiles, so when I saw a black and white zigzag design from Tile Giant, I knew it was for me. And also perfect for the floor.
Choosing the perfect tiles
We were planning on matching this with white herringbone tiling, but a trip to Topps Tiles soon changed this. We both fell head over heels for a rich blue, crackle glaze effect, vintage-style tile. I had no idea how these would go with the flooring, but I took a risk. And as they have literally just started to go down, I can tell the final look will be spectacular (if I do say so myself).
For the fixtures and fittings, my heart was set on a freestanding, claw-footed bath. However, as this was going to have to be our shower as well, we needed to semi-fit it. I thought I had found the tub within our budget. However, we got some fantastic advice from our bathroom supplier. They showed me the tub wouldn't be the most practical for everyday use as a shower. This was because of its light weight and feet. So, with that in mind we opted for a fully fitted steel enamel Kaldewei shower-bath. It's extra strong and easy to maintain.
Selecting exposed brassware
For the brassware when remodelling our bathroom there was no other option but to go exposed – the industrial look is one of my favourites. For the sink and WC we chose more traditional fitted furniture. This gave us ample storage to hide away toiletries ­– especially important. There's no point in having a nice bathroom with bottles everywhere, right?
A double mirror was also essential when remodelling our bathroom – so I can do my makeup while Marcus brushes his teeth. Also a feature light above this to provide some atmosphere and extra lighting to finish off the look. Our plumber, recommended to us by friends, is halfway through the installation and I can't believe how dramatic it already looks. Dark and moody, yet still warm and cosy – perfect for having a long soak or a quick shower. All that needs doing now is the grouting, to finish the plumbing… Oh, and around 10 or 12 houseplants and a few prints for the wall (I'm sure Marcus won't mind…)
Are you remodelling a bathroom? If so, let us know in the comments section below…
Read more Newlywed & Renovating blogs in the series.
About Post Author