With the side extension built, it was time to start working on the inside and it finally felt as though it was all coming together. We'd originally said that this room would be for two key things: the first being storage, and the second a utility room. Up until this point our washing machine had been in the kitchen and the tumble dryer outside in our garage, so I really couldn't wait to have them both in one place.
There were a few things to think about before they went in, including checking we had waste access for the water (from the washing machine) to filter out, and then running the waste pipe and cold water from the boiler in our kitchen outside into the extension. Wayne made sure this was all done and hidden underneath the flooring, so there are no pipes on show. The tumble dryer is to be put on a shelf above the washing machine and we factored in a spot next to them where we could put washing tablets and detergent.
Then, it was on to planning the rest of the storage. As an interior stylist, I have a lot of props that I need space for – everything from cushions and vases to larger items such as rugs and floor lamps. I also get quite a few deliveries before a big shoot and so I wanted a space that I could use to store big boxes and items of furniture.
We had one long wall for storage, where Wayne had built a frame out of 4×2 timber. With the dimensions in mind, I drew out a rough diagram of what I thought the shelving should be like, with some narrow spots for boxes of small accessories, and some larger and taller spaces for bulkier items. Wayne got to work, building the shelves from 18mm sheets of plywood and taking care to ensure they were sturdy enough to take the weight of what was likely to be some rather heavy items – including the tumble dryer!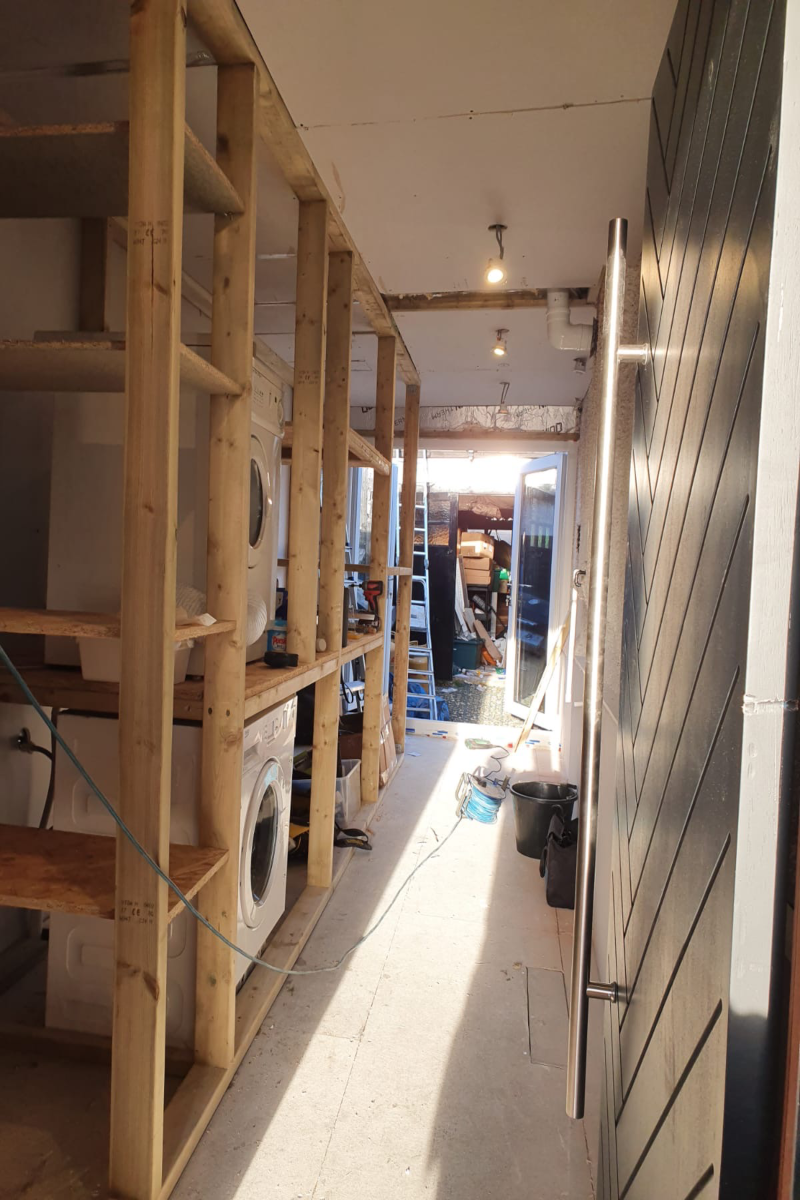 Once all the shelving was finished, it was on to the doors, which we'd decided should be sliding, considering it's a narrow space with little room for them to open outwards. We bought sliding door kits, which include the rails, from Screwfix, and then we used the same 18mm sheets of plywood that we used for the shelves to make the sliding doors.
To begin with, I'd said I wanted to keep the doors unpainted, to add a rustic touch, but once they were up and we began painting the rest of the extension I felt they looked just a bit too rough, so we changed our minds and decided to paint them. This part of the decorating is carried out during lockdown, and paint is tricky to get hold of, so we decided to use what we already have.
We had a soft grey emulsion as a base, just to give the doors a couple of coats and get rid of the wood finish, and then used the remainder of a tin of Farrow & Ball's Wevet (a white with a hint of grey) as the final coat. The plywood has bowed slightly but should drop out over time and will be sealed once that's done.
Some black handles from Amazon finished off the doors nicely, but I realised when looking for sliding door handles that there aren't that many choices – it seemed to be the same designs over and over again – so there's a definite gap in the market!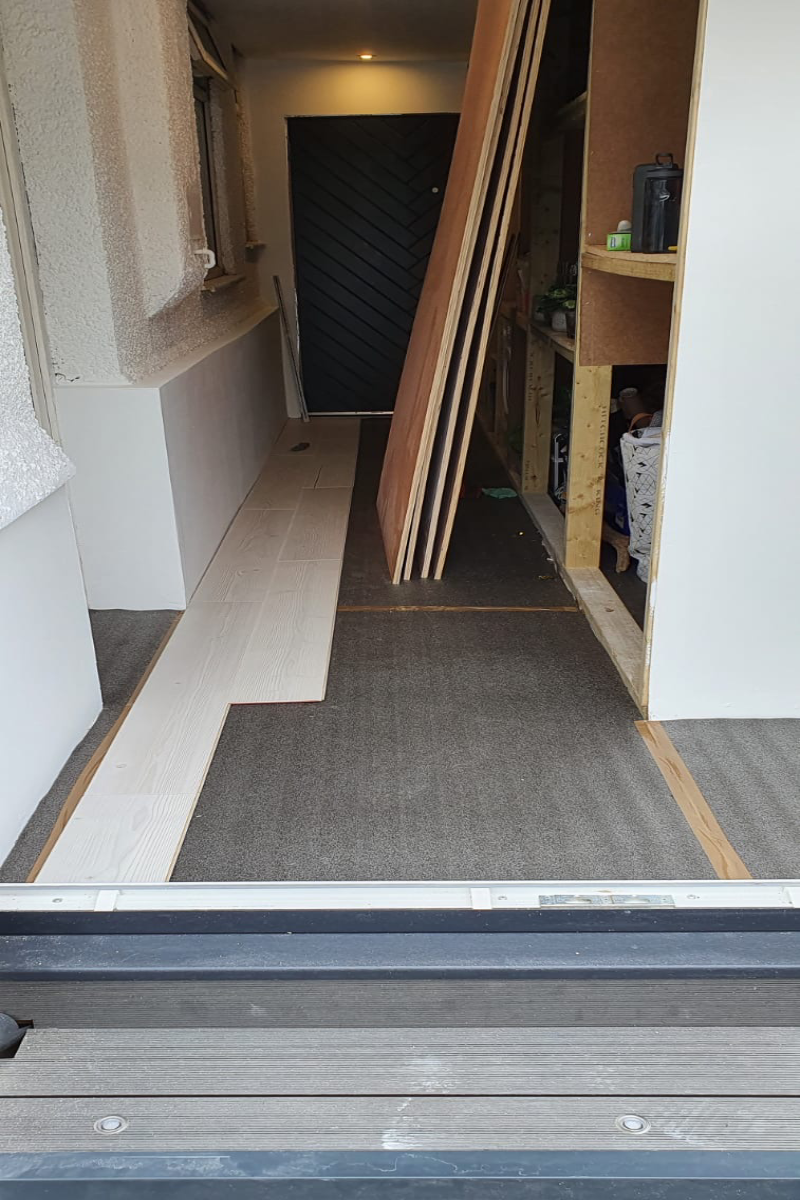 It was at this point, once the storage was all designed and the doors were on, that I could start to put my props into the room. Although the decorating wasn't entirely finished, it just meant that I could free up space in the house and I can't tell you how happy that made me! I still need to get some good storage boxes to store everything in on the shelves, but for now, Ikea bags and some crates are doing the trick!
The final thing we did at this stage was to lay the floor. Both myself and Wayne had decided a laminate would be the best option – we didn't want to have to grout tiles– and laminate is so easy to keep clean. Plus, with the number of boxes coming in and out, it would be one of the sturdiest options to take any knocks and chips. I still wanted to keep the space feeling light and bright, though, so I decided on a white spruce-effect floor called Harrow from Lifestyle Floors.
It went down really easily and we are both so pleased with it! Wayne laid it vertically to match the length of the extension and with the white walls and white sliding doors it feels quite seamless without being clinical. We just need to add the Scotia beads to the edges now.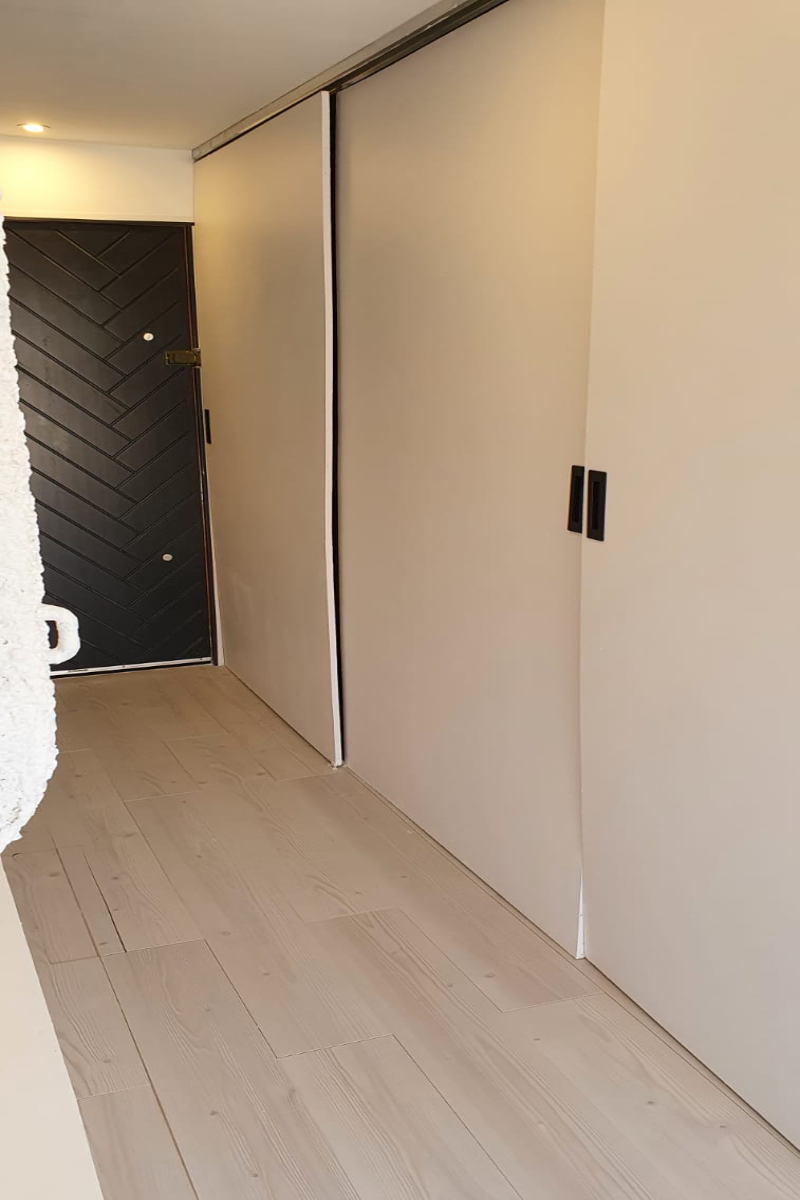 The final step will be all the finishing touches. Pop back soon to see how we're getting on…
Read more Our Side Extension blogs in the series.
Follow Laurie on Instagram @lifeofaninteriorstylist and @secretstylingclub
Featured image: The frame for the storage is measured out and built.
About Post Author