I would love to know if other renovators have done what Marcus, my husband, and I have done since moving in – which is practically nothing. Nada. Zip. Squat. Or is it just us? All that energy we spent trying to get our house liveable and just when we are 90% there, we pause.
The first few days of being in were fantastic as we experienced our new space, trying out all the tools and gadgets. We had so many plans to keep going, but as the weeks went by so did our gusto for renovating. In fact, I didn't feel guilty about it at all. Taking a breather was lovely. Yes, half the rooms didn't have doors (and those that were up remained unpainted) and we had zero pictures on the walls – and no shelves either. And yes, my plant collection was lacking. But that was okay. Half of this new sense of taking it slow was influenced by our budget… or lack thereof.
Our decoration funds were slightly tied in with our contingency monies and because we had to use quite a bit of it for extra support in our extension's foundations, spending on new furniture and other bits and bobs fell down the priorities list. When we finally got round to accessorising, we started by focusing on the room we now spend the most time in: our new kitchen-diner. I wanted to soften the dark graphite cabinetry with pale pinks and greens.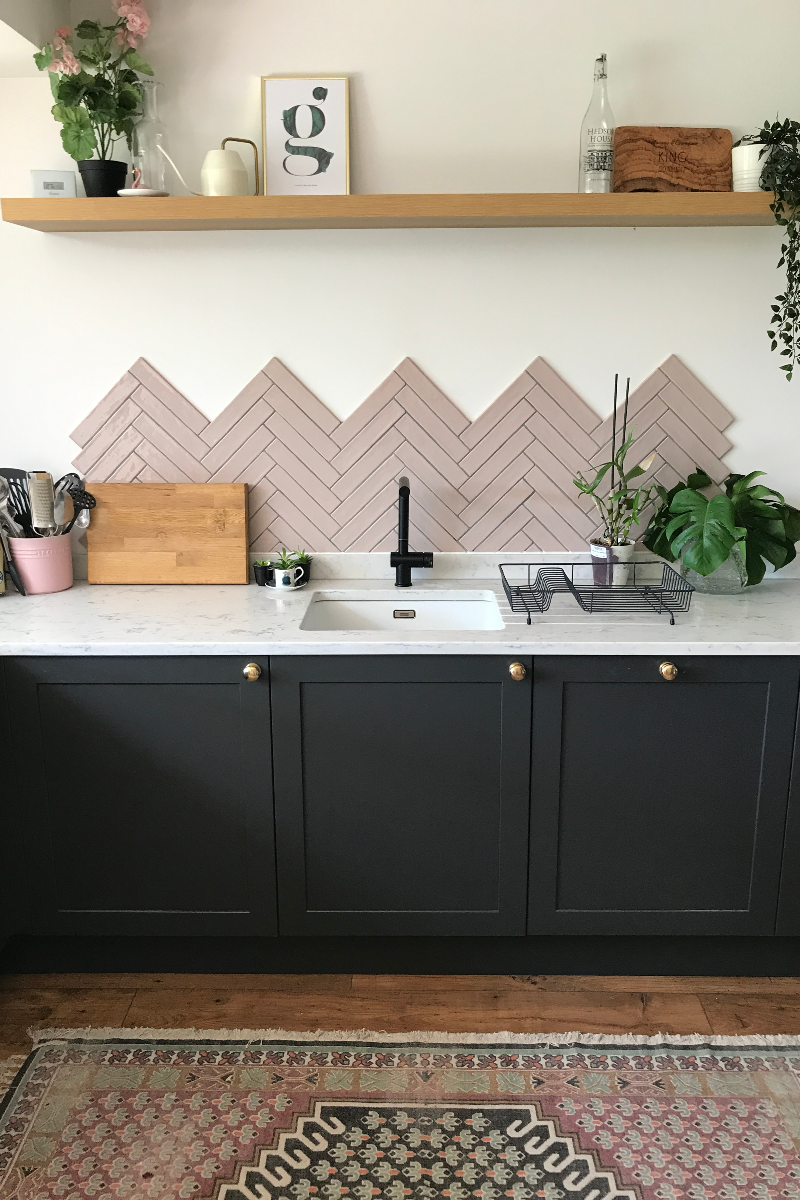 Because the decorating budget said no to parquet flooring – although I very much love my rustic, chunky wood-effect laminate – I decided to have a dash of its pattern as the splashback instead. We used a pastel pink tile, which really makes the black tap we have pop, finished with a grey grout to tie in nicely with the veining on the Carrara marble-effect quartz worktop. Above this, we fitted open shelving to display items such as trailing plants and memorabilia. I'm actually quite stunned at how much of a difference this has made: the ceiling feels higher and the room much more spacious and coherent.
Inside the U-shaped kitchen I've placed a Moroccan-style rug, which brings all the shades together and makes the space feel homely and warm. Within the dining area, I matched the colour of the far wall with the cabinets. It blends really nicely with the frames of the bi-fold doors and helps draw your eye into the garden. Soft velvet furnishings in a mix of tones, from pink barstools and emerald green dining chairs to a teal love seat, adorn this space. I've finished it all off with a large painting, a bar trolley, and colourful cushions, plus a large cheese plant.
However, as this was all going on, other items have started to creep into the rest of the house. I've finally got round to printing wedding pictures – a year and a half after our big day – and started hanging them in the hallway. Because I have pineapple wallpaper in my downstairs WC – which I picked as its dark greys and brass tones complement the kitchen doors and handles – additional fruit-themed pieces are appearing here and there, and more plants seem to arrive by the day.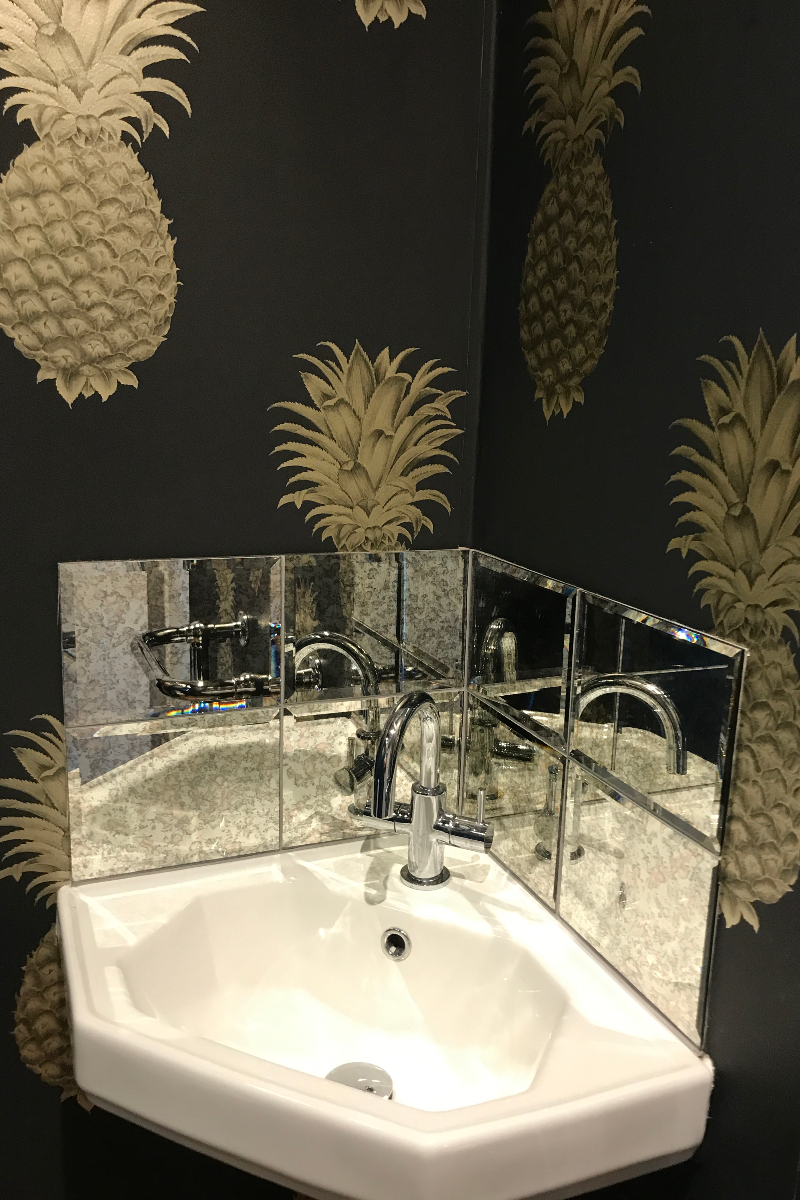 Upstairs, my bed now has cushions to add a layer of interest and a poster we bought in Nice for my birthday has finally been hung. Without realising it, our house is turning into a home, with memories peeking out from almost every corner. I admit, a couple of rooms are still empty, and one hides all the boxes we have yet to unpack, but there's no rush. And I think that's one of the main lessons I've learnt during this whole crazy process.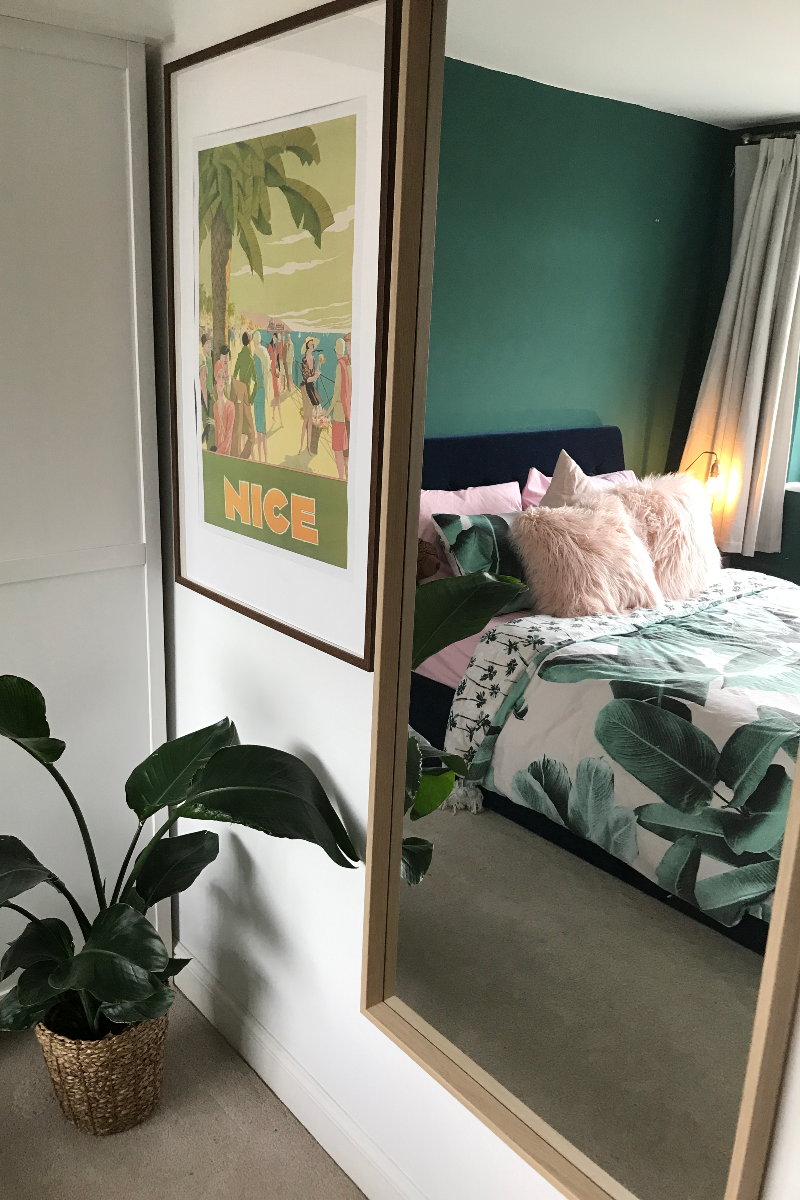 You can follow the renovation @newlywedandrenovating
Read more Newlywed & Renovating blogs in the series.
Featured image: Decorating the bedroom.
About Post Author