Meet our June 2022 issue, which is all about sustainability. Have you made moves to be more eco-friendly? Embracing a new eco-conscious way of living can seem overwhelming, I admit. Do you have to change everything? Do you need to alter how you shop and analyse each brand's credentials?
In our June 2022 issue, these are things I have grappled with as I forge my own path. Firstly, I have banned cling film in favour of recyclable foil or reusable food wraps, and switched bottles of shampoo and shower gel for solid bars. Secondly, I've bought secondhand homeware, made an effort to reduce plastic packaging by visiting my local greengrocer and shunning 20p bags. I've also discovered a refill market near my house – which, as an added bonus, satisfies my love of decanting.
I now favour long-lasting investment pieces I know I'll love for years. I've realised trying to do everything at once adds pressure, so little and often seems to work best.
So, for the June 2022 issue, the team and I offer you lots of ideas on how you can renovate your home in a more eco-friendly way.
What's in the June 2022 issue?
Kitchens that are better for the planet
In this sustainability special, firstly we look at how each element of your kitchen can be better for the planet, from ways to use reclaimed materials to choosing energy-efficient appliances. We also discuss how good quality, well-made cabinetry is by its very nature sustainable.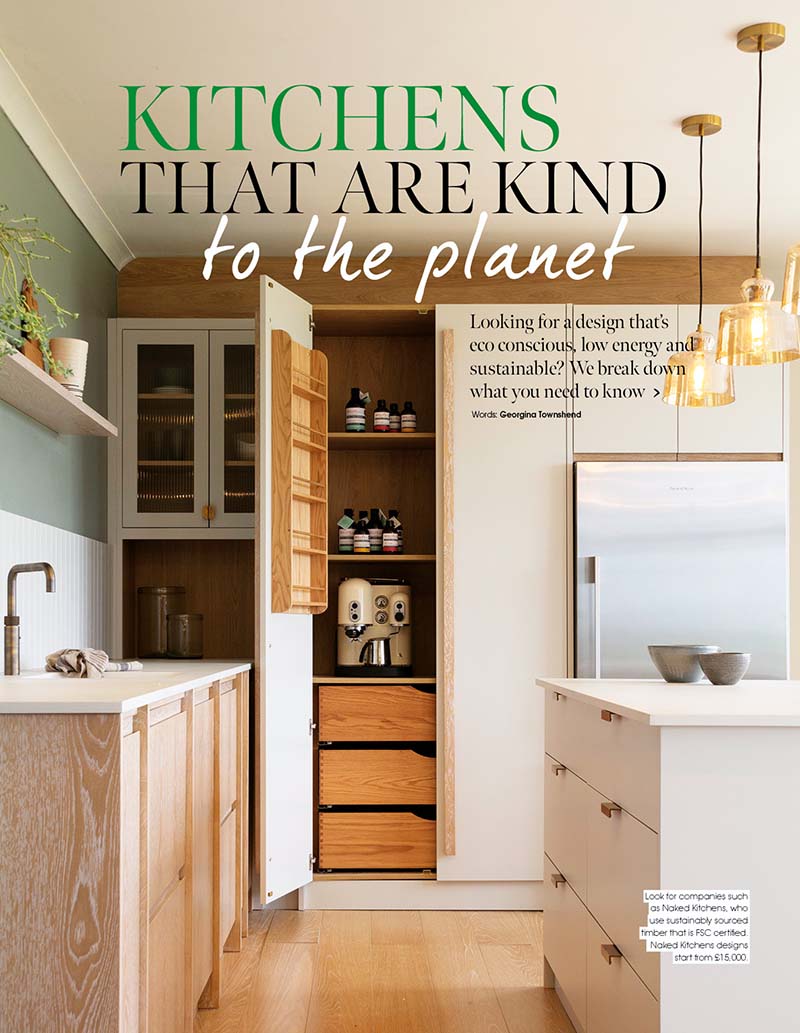 Water-saving in the bathroom
For the bathroom, we're asking: how much water do you use?
If you think the answer is 'too much', check out the latest products to help in the June 2022 issue – from toilets that use less water per flush, to baths that limit water without losing out on the feeling of a good soak.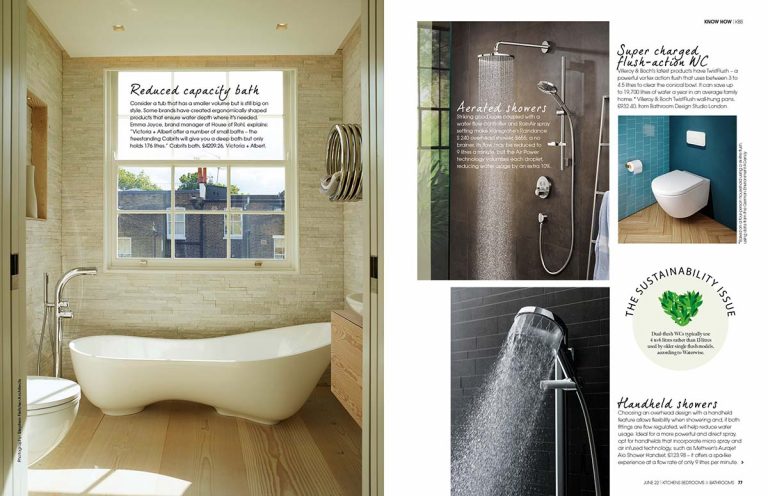 Shop more sustainably
Small things can make a difference too – like seeking out homeware created using waste products. Irina has rounded up her pick of the best second-hand buys that are as stylish as ever.
You should also buy bedding made from good materials, like responsibly-sourced organic cotton or linen. And why not update your shower head to an aerated version to reduce how much water is used? Also, if you're planning a spot of painting, how about a shade that's sustainable? Discover the brands making waves with low-solvent, carbon-neutral colours from page 37 of the June 2022 issue.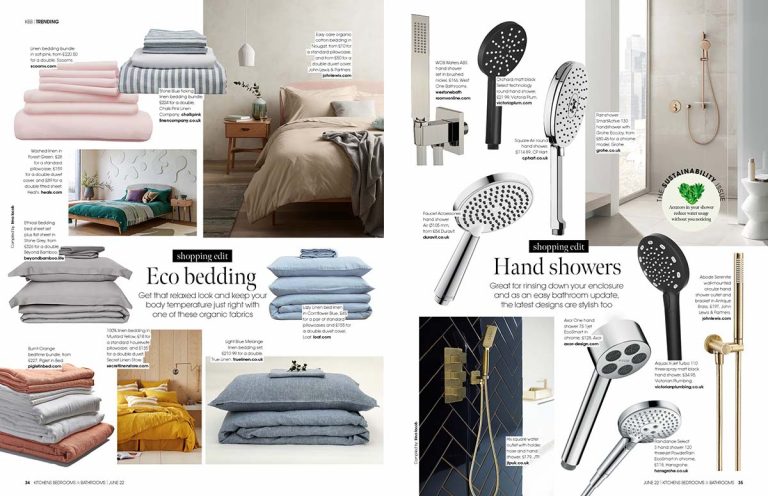 What I've come to realise is that, rather than being overwhelmed by what can seem like a sustainability mountain to climb, small, consistent changes and shifting your way of thinking can mount up to big differences and help you to lead a more eco-friendly life at home.
I hope this magazine, The Sustainability Issue, inspires you. My next move is to phase out synthetic cleaning products. What's yours?
Get your copy of the June 2022 issue
You can download your copy on the KBB Magazine app, via Readly or buy your copy in store nationwide. For the latest subscription offers, see here.
As always, enjoy the issue and chat soon,
Lindsay
P.S. Don't forget to tag @kbbmagazine when sharing your photos of the issue and use #kbbmag for a chance to feature.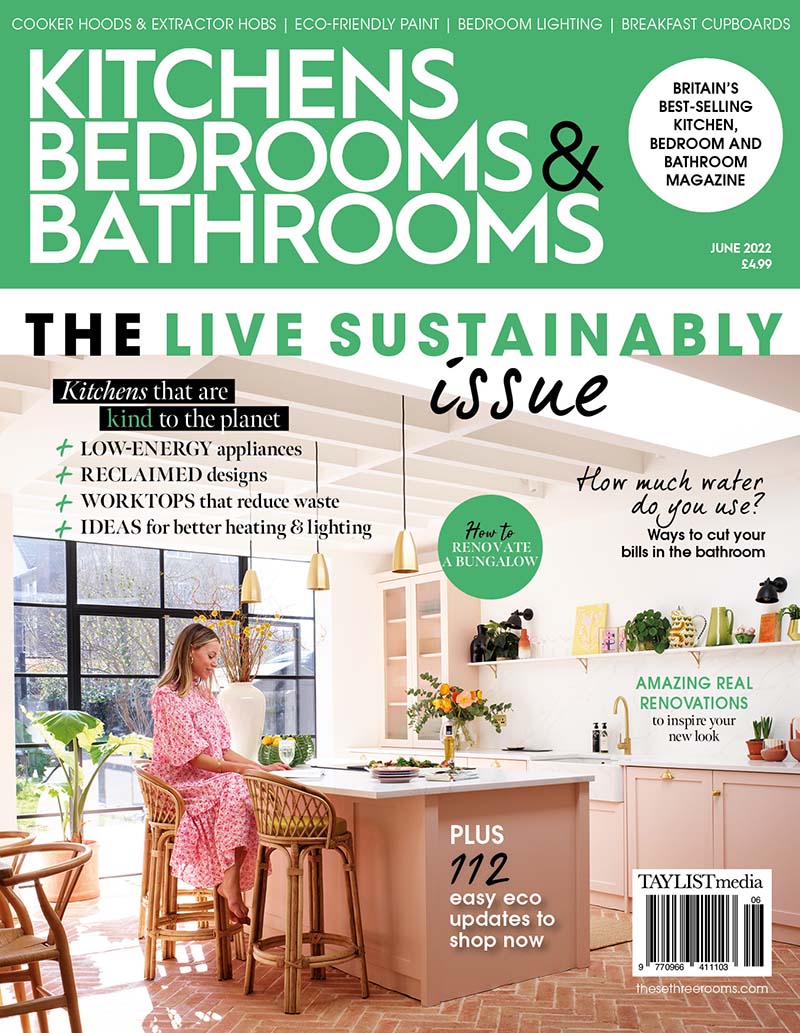 About Post Author