When my husband Dave and I agreed we would renovate my old family home after my father left it to me last year, we knew the next stage would be to get help. After all, we've never done anything like this before. It was when we were getting our house valued that we got our first tip-off in our journey to finding an architect.
Finding an architect was simple. One of the three estate agents who came round said in passing that she'd renovated her own house, which was nearby. She'd used a great architect who lived in the area – Gráinne O'Keeffe. We didn't know how to start planning the renovation or how to ensure the property achieved its full potential. So we looked online, found the phone number, and phoned her up. We'd seen some of the architect's projects on her site and also read numerous good reviews, so we felt confident. Finding an architect actually turned out to be a breeze.
Getting started on our journey
To get started on our journey to finding an architect, Gráinne came to us for a consultation. She did some rough sketches, and told Dave and myself the price for each stage of the renovation. During this initial meeting, we were also asked for our budget and what we wanted to achieve. In turn, we got to query whether she thought it was a good idea to have things such as a utility. This was where we could fit washing appliances and extra freezers – I have an allotment and Dave goes fishing, so we need the storage. We also asked whether it was possible to widen the hallway instead.
We got on well and we liked her instantly, as it was clear she knew what she was talking about. She also seems to have done a few houses in the area and usually gets her clients by word of mouth. A very good sign when finding an architect. We were happy with the ideas, so we hired her without looking for anyone else. That's rare, I know. However, we don't feel concerned that we haven't looked at any other architects. Even though we know you should always get three quotes for trades. But, because Dave and I had an idea of how much we wanted to spend, which she met, she seemed perfect for us. Especially looking at other projects she had done. So finding an architect turned out to be easy.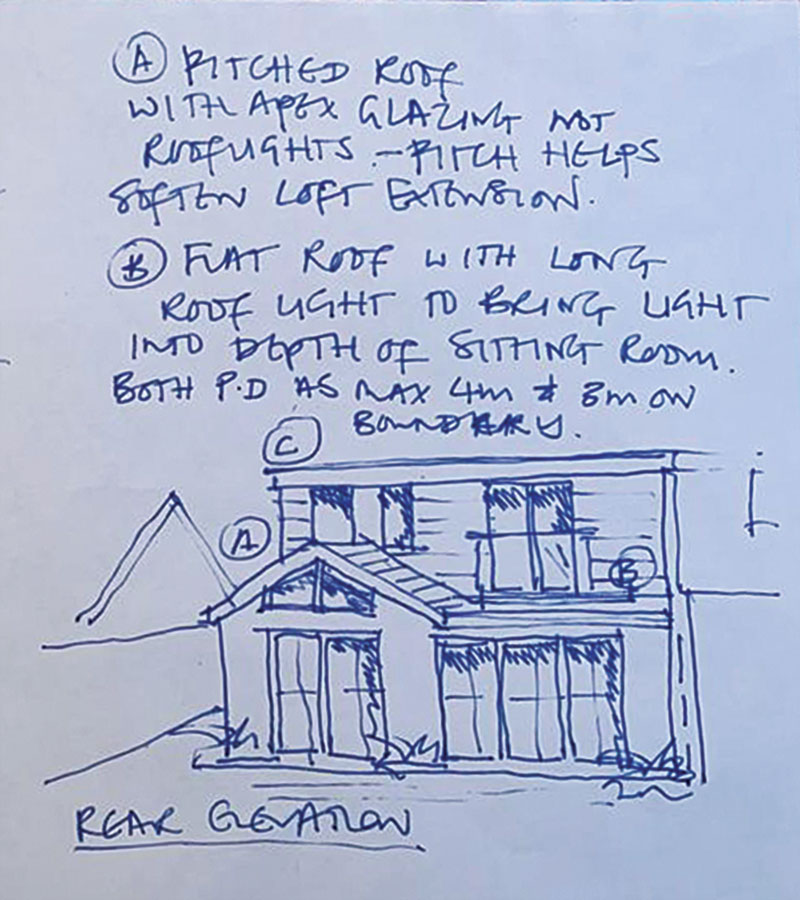 Finding an architect
Soon after finding an architect and hiring Gráinne, she created around four different hand-drawn sketches. We played around with them until we found the best configuration, but I had to keep going over each little detail. This is because I had trouble visualising what she was proposing. This is what I'm really finding difficult at the moment. I find it useful to talk everything over until I understand and can see it in my mind. After Dave and I approved the final drawing, the architect organised a site survey to measure everything up properly. Now, she has gone away to do the first set of digital plans, which will take about a fortnight. We're looking forward to seeing them, as well as a 3D model of all elevations of the bungalow. It is all starting to feel real now…
Now you've read about finding an architect, why not read more Our Bungalow Renovation blogs in the series?
Featured image: Janis's childhood home.
About Post Author