Have you ever taken everything out of your kitchen cabinets just to put stuff back in the same place after a so-called decluttering session? Well, I did. Hi, my name is Irina and I admit: I like to hold onto things. Especially mugs and glasses – I still have some from my childhood and some dishes my mother received as wedding gifts. Yep, serious gatherer.
As much as I would love to keep everything forever, I know I have to let them go – how handy would it be to have Marie Kondo in my kitchen to sort out my hoarding problem? But, without Marie keeping me in check, I've decided it's time to sort it out – quite literally.
Living in London, the space is limited – especially the kitchen space. No island for me, sadly (one day!). However, I somehow find lots of nooks to stash pasta in and come up with storage ideas to make sure my addiction for mugs thrives – despite my boyfriend's wish to donate them all.
I personally love a good spring declutter and what better way to start then in your kitchen – the land of carbs and sweets. However, in a recent digital survey about life admin tasks, 10% of Brits admitted they are likely to avoid cleaning and housework the most (hands up, please tell me I'm not alone). With this in mind, I propose you take one hour out of your day to declutter your kitchen – I promise, it will make your life easier. Ok, it might take me more than an hour…
Say goodbye to items that just aren't useful
The first and most important step in decluttering your kitchen is to separate what you use from what you just hold onto. Open up all your kitchen cabinets and drawers and take a look. This is the moment where you summon your inner Marie Kondo and try out her minimalist-inspired approach. Separate your belongings into two piles – to keep and to donate. I know I have the bad habit of buying lots of beautiful mugs and still using my all-time favourite one. Once you've had a think about what to keep and what to give away, you can start building up the piles and sort through all the objects in your kitchen. In order to successfully declutter your kitchen, you might not want to skip this step.
Decant, decant, decant
Sick of bags of pasta and packets of ingredients toppling out when you open the cupboard? Or do you cautiously open your larder at the fear or a teetering jar falling onto you? Get organised with glass jars. Go for the classic Kilner or find screw top ones or nice ones with cork lids. Display them proudly on open shelving, or simple fill with ingredients and keep them neatly in a cupboard near to where you'll be cooking. You can store pasta, herbs, spices, coffee, sugar, seeds or biscuits – anything you can think of. Simply place them on the counter to have instant access to them (maybe not the biscuits) when needed and add character to our kitchen.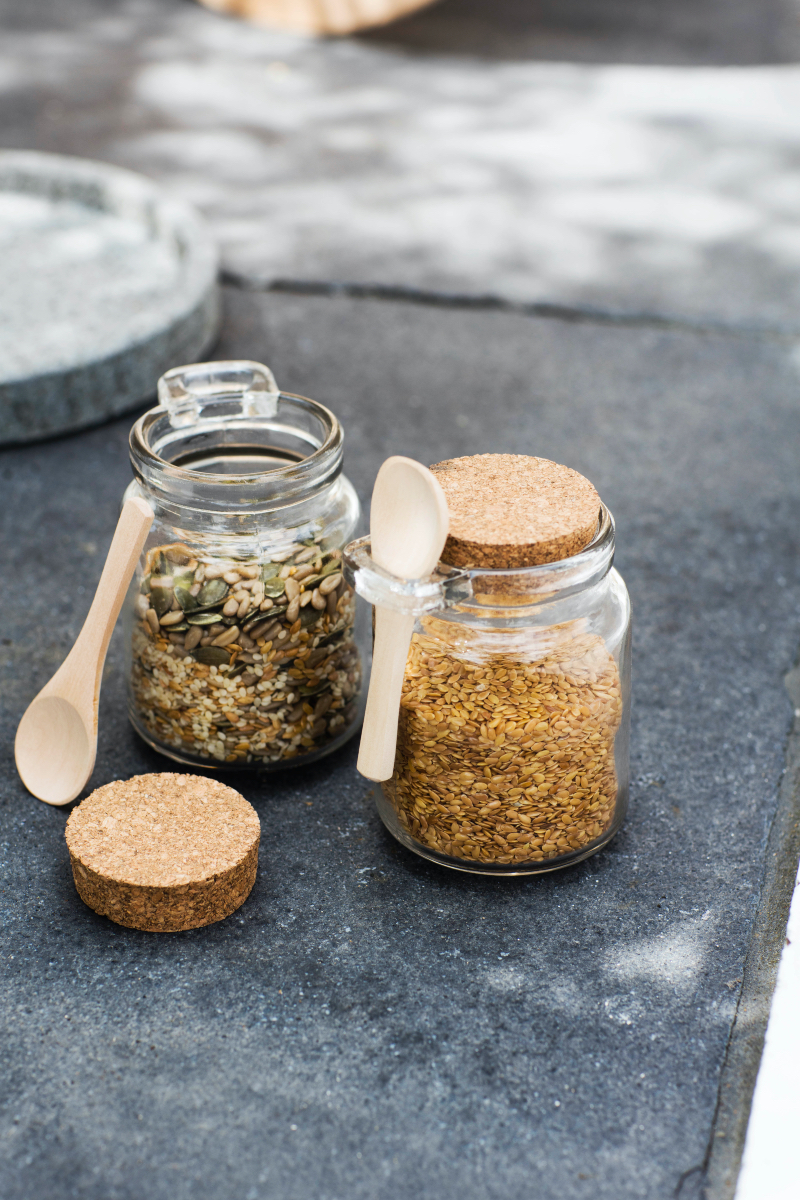 Use wall space effectively
If you would like extra storage in your kitchen, you can add a pegboard to an empty wall and use it for multiple purposes, such as to display mugs and cups,
store utensils or to hang tea towels. Add some personal memorabilia too for a nice touch that'll make you smile.
Install a rack
Pans, over pots, over pans – and the sound they make when they all collapse! Having a hanging rack in your kitchen is a life (and ear) saver. Find a spot where it could fit, for example over the kitchen island or mounted on a wall, and hang your pans and most-used utensils there, instead of piling them on top of each other and signing yourself up for a messy situation. Don't want them on show? Install a rack within a cupboard or add dividers to your drawers to keep everything nice and neat.

Add a trolley to the mix
A portable trolley is a great way to organise your kitchen and create the ideal go-to station for different occasions. For example, you can turn it into a drinks station (this is what I would do), the tea and coffee spot or even a serving trolley. A butcher's block trolley has a wooden worktop which could provide extra preparation space, too, if you need it.
Open shelving
One popular trend right now is open shelving. Create dimension in your kitchen by installing shelves and using the space to store glassware or to display colourful and delicious condiments – an eye-catcher. Keep things simple and aim to keep it tidy too – that means regular dusting as well as ensuring nothing gets put there that doens't belong. You want it to look good, right?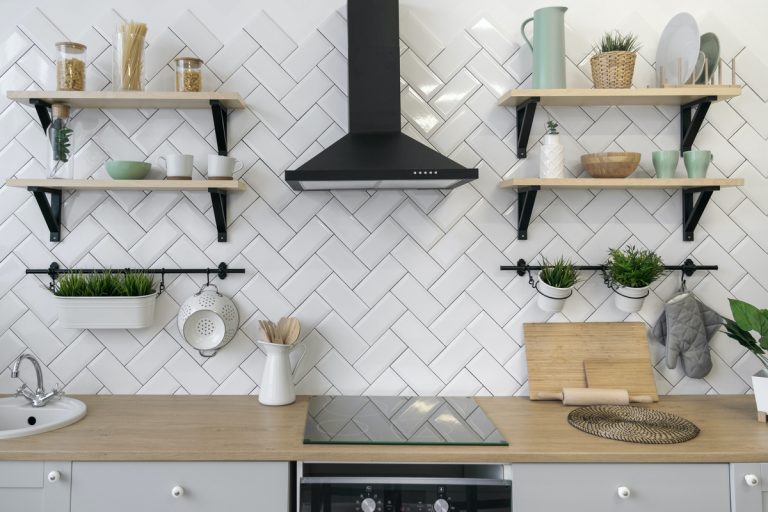 Try baskets
Baskets in neutral shades won't take away from your kitchen's aesthetic and will save you space. Use woven baskets to separate your items in the cupboard – one for pasta, one for your baking ingredients and one for your favourite movie snacks. This way you will continue to stay organised even after the decluttering process is over. Another great sustainable choice for decluttering your kitchen is jute bags,
which are great to store and preserve vegetables such as potatoes, onions and other long-lasting ingredients. What is more, you can reduce your single-use plastic.
Separate your drawers
If not compartmentalised, the cutlery drawer might cause a dramatic reaction when you have the simmering pan on the stove and cannot find that wooden spoon. Go for a cutlery organiser to beautifully store your silverware and keep the drawer tidy.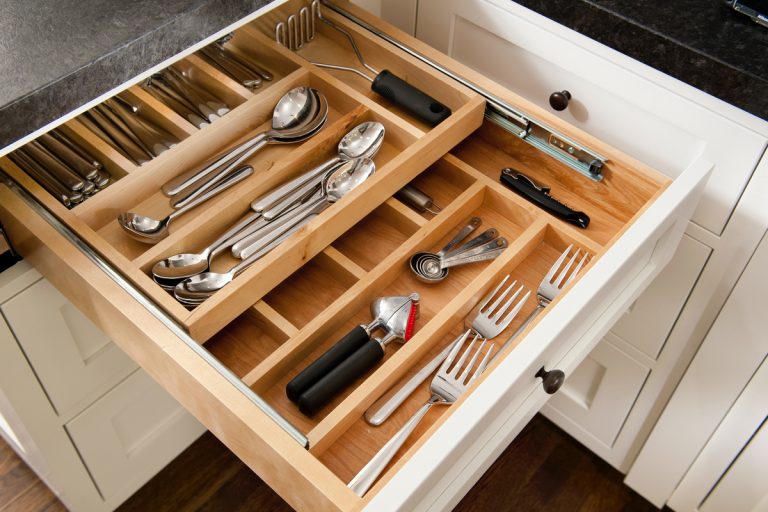 Organise your fridge space like a pro
Come up with a system to organise your groceries in the fridge and freezer – it will make everything look tidy and it will save you so much time when putting items away after a food shop. For example, separate shelves according to specific food categories like dairy, fruits and vegetables.
Organise your cleaning supplies
Lastly, create a space for your cleaning supplies so it become easier to keep up with maintaining an organised kitchen in the future. You can make use of the space under the sink and store all your cleaning supplies away in a wooden storage caddy.
Featured image: Declutter your kitchen just in time for spring. iStock/KatarzynaBialasiewicz
About Post Author