Sometimes I look at one of the many beautiful homes I am lucky enough to see as part of my job and think 'that looks like a really homely home'. Cosy, lived in (in a good way) and, ultimately inviting, it's actually harder than it may seem to get the homely look right – and of course it is entirely subjective. Plus, as I write this, I realise it's difficult to define exactly too. Maybe that's where imagery comes in – or is it a feeling when you're in a space?
Whatever it is to you, for me, this lovely kitchen, belonging to Rebecca and Simon Freer, says homely to me. When the couple took on their six-bedroom 1930s detached house in Farnham, Surrey, it was perfectly liveable, they tell me, but it the décor was a little dated and not really to their style. With patience that I would most likely not have, they decided to live there for a while before committing to a renovation project to put their stamp on the place.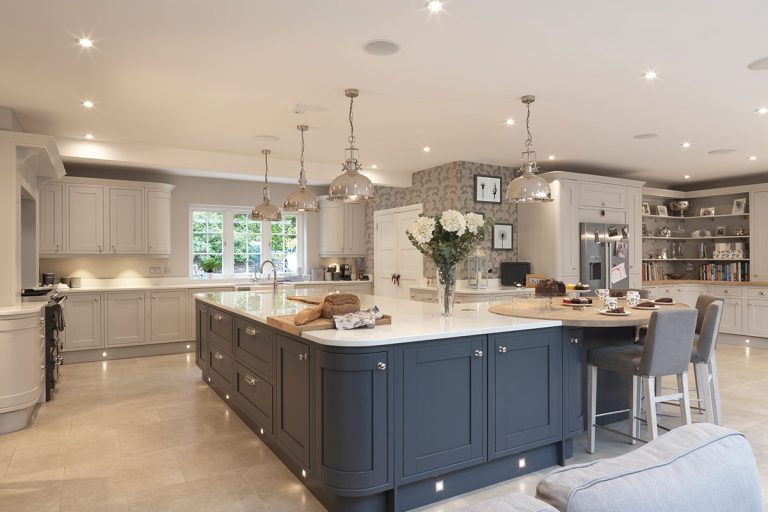 Rebecca told me: "Waiting gave us lots of thinking space to thoroughly research designers, collect ideas, and speak to different experts about the routes we could take, meaning every aspect was extremely well-thought through."
Fast forward some months, the plans were this: reconfigure the upstairs layout, convert the loft, landscape the garden, replace draughty windows, and update the plumbing and electrics, plus redesign the ground floor to create an open-plan kitchen-diner, complete with utility and boot rooms – the pièce de résistance.
Let's hand over to Rebecca so she can tell us all about it shall we?
What did you want for the kitchen?
By knocking two rooms together and extending, we ended up with a really generous room. We'd experimented with different layouts by drawing rough sketches. Simon and I decided that our must-haves included good links to the south-facing garden through glazed doors, a large dining area for the family (we have three daughter and a dog, plus we love to host friends and family) and a big island with breakfast bar. The kitchen would be designed around the island, with matching cabinetry providing the storage we'd need.
Keeping the existing walk-in larder was important to me. I didn't like it at first, because it was dirty and full of cobwebs. But after good clean and a lick of paint, I found it to be the kitchen's most useful place – so we had to keep it and made sure the cooking areas were close by.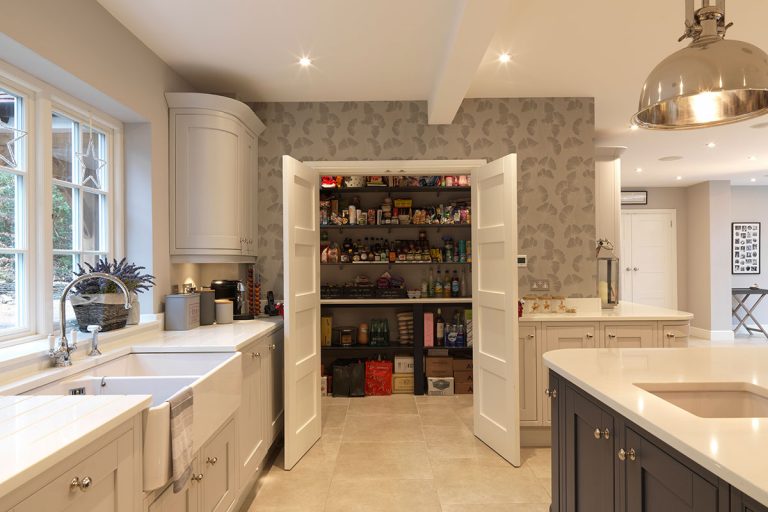 Did you change anything else structurally?
As well as knocking through and extending the 1930s detached house, we moved the entrance so it could have double doors, making it even easier to access – I love it. We worked closely with our architect Kate Stoddart, who drew out our ideas and helped us visualise our perfect scheme. We made very few changes, since we knew exactly what we wanted, but Kate made some helpful suggestions to improve the build's structure – like maintaining the roof beams, but painting them so they blended with the décor.
How did you find your perfect kitchen?
We took our plans to B&B Furniture in the Isle of Man – run by a family member – to find our perfect kitchen style. From the start, Simon and I decided on classic painted wood in-frame style with traditional architraves in keeping with the property's age. The designers at B&B Furniture told us about cabinetry by Symphony, so we took the trip to their factory showroom in Barnsley and chose the Laura Ashley Kitchen Collection Harwood range – it has a traditional look. But I didn't wasn't chintzy, so this fit the bill perfectly.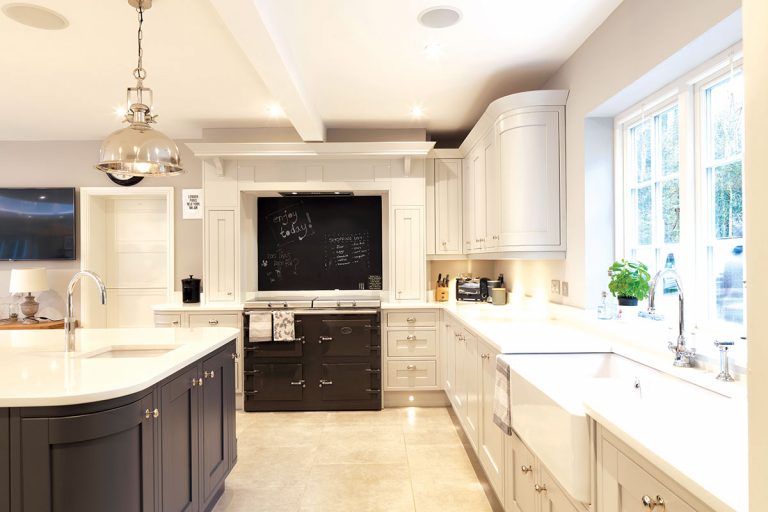 The kitchen style looks like it's really in keeping with the 1930s property, but still fresh…
I think the two-tone grey colour palette helps create a more modern look. We wanted the units to look soft rather than too angular or harsh, so the cabinetry and island's rounded corners fit perfectly. I saw the idea for a contrasting oval breakfast bar on Pinterest and a local woodworker, Arcana Cabinet Makers, created a bespoke design. It's a practical area where the five of us can have breakfast, and its shape emphasises the cupboards' curved details.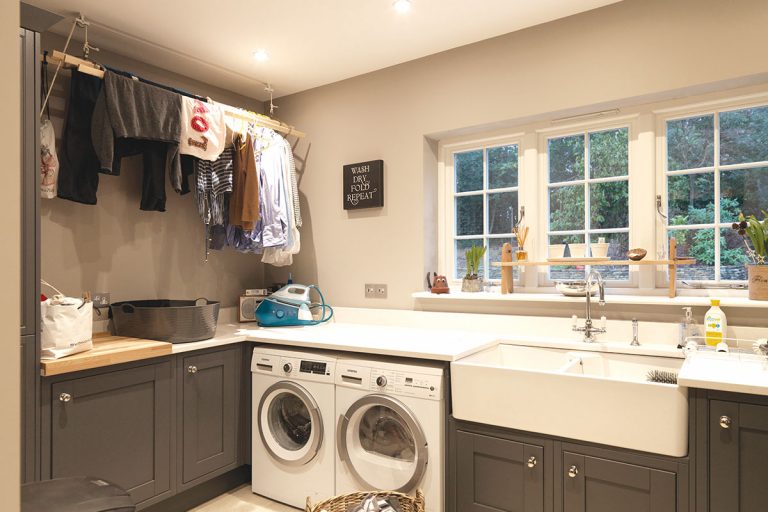 I have to ask about your boot room and the utility room…
It was really important for us – with three kids and a dog, we needed space to keep muddy boots and sports kit and manage lots of laundry without having it on show. But I wanted the utility room to look good and feel part of the overall design, too. In there, we have the washing machine and tumble dryer, plus a drying rack that hangs from the ceiling and a laundry chute that connects to upstairs, so the kids can throw their clothes in and they're collected neatly in a basket at the bottom. Then, we chose the sink to be big enough to wash the dog in.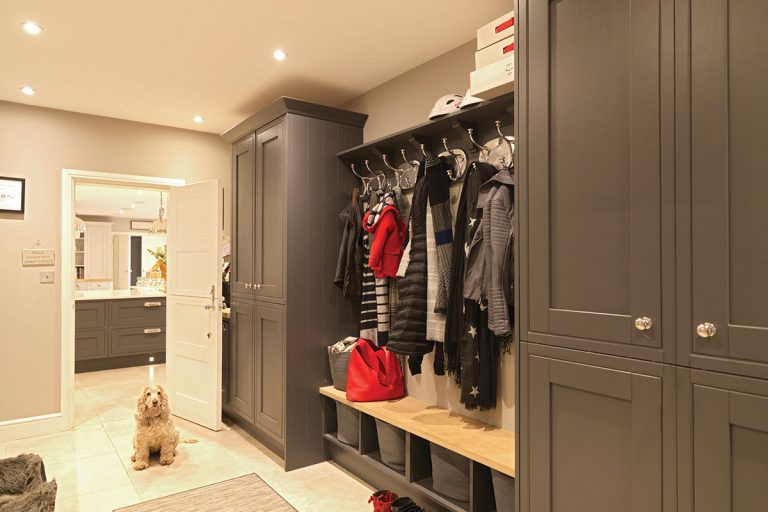 How did you connect the spaces?
The units in both are the same as the darker shade kitchen cupboards, and they have the same wall paint and flooring. The utility features a matching sink and tap, too.
How did the renovation process go?
Simon project managed the whole remodel of our 1930s detached house, working closely with our builders. Apart from the kitchen extension and knock through, we also reconfigured the bedroom layouts and converted the loft to create a playroom and gym. It was a fairly straightforward process but stressful at times, as we had to make so many decisions. Thankfully we'd planned everything to the finest detail, so there were no hold ups.
Any words of wisdom?
The time we spent before any work began was invaluable – throughout the process we were clear about absolutely everything we wanted. All the planning was worth it, as we now have our perfect family space.
Featured image: The darker anthracite of the island contrasts the units that run around the walls, which are painted in platinum, and creates a stylish statement. The two-tone grey colour palette also helps bring a modern touch to otherwise classic cabinetry.
Photography: Chris Shaw, Overview Photography

This error message is only visible to WordPress admins
Error: No feed found.
Please go to the Instagram Feed settings page to create a feed.
About Post Author