How many Instagram or Pinterest images have you saved with ah-mazing wall or floor tiles? Admit it, you're obsessed too. Don't worry, you're not the only one – tiles are big – no, huge – news right now.
And it's no wonder, with so many colours, patterns, textures and shapes to choose from. From the ever-popular lily pad design to simple metro and hexagonal tiles, you can have a lot of fun when it comes to buying tiles for your kitchen or bathroom.
The best bit, I think, is how much personality you can inject with your choice. Mix colours and designs, go for alternative laying patterns, use contrasting grout… I could go on. But I'll get to the informative bit instead, shall I?
Choosing the right style when you're buying tiles can be quite a challenge. There are so many different styles, patterns, colours and materials.
A good place to start is with the material, as selecting the ideal tile type depends on where you are planning to use it. Some are more suitable for use in certain areas than others. For example, walls, floors, wet areas, or those that may need to withstand high heat.
Buying tiles: hardwearing materials
Ceramic and porcelain tiles are most commonly used in kitchen and bathroom schemes.
Porcelain designs are made of a finer, denser grade of clay than ceramic and then pressed and cooked for longer at hotter temperatures. The result is a high-performance, durable material that is non-porous, frost proof, and stain resistant. So it's a good, stable choice for many uses. Suitable for both walls and floors, porcelain tiles are also available in a wide variety of designs and shapes and are easy to maintain. They can be used virtually anywhere, having an advantage over ceramic styles in outdoor areas, wet zones, and rooms with high footfall.
A thing to remember when you're buying tiles is: ceramic is fine on the walls. However, porcelain is a better choice for floors and external use.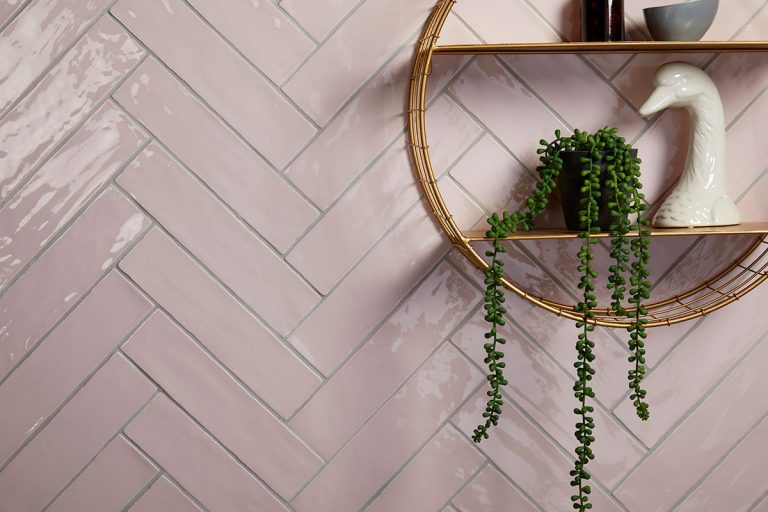 Buying tiles: glass & mosaics
Coloured glass tiles and mosaics are great for walls, but buying tiles and using them on floors should come with a word of warning. Not only will they easily attract dirt, they are also not as hardy as other materials. Instead, stick to them as details within a larger design. For example, to accentuate areas, such as a splashback or border or around a basin or storage niches in a shower. They will offer a touch of glamour that is also easier to clean and maintain.
These tiles are usually smaller in size, so bear in mind that there'll be more grout. You'll therefore need to maintain and clean the tiles more often.
Watch The Bathroom Sessions: ways with colour and pattern
Natural stone
Natural stone is still popular. Beautiful and timeless, with infinite detail and variations, each tile is different with unique markings, patterns, and textures. Stone offers innate strength and durability and continues to be an enduring choice when people are buying tiles.
However, a natural material requires a little more care and attention. Stone is porous, so sealing the tiles is critical, and harsh cleaning products may damage the surface. Also be aware it will mark and wear with time – but for me, that's part of the charm.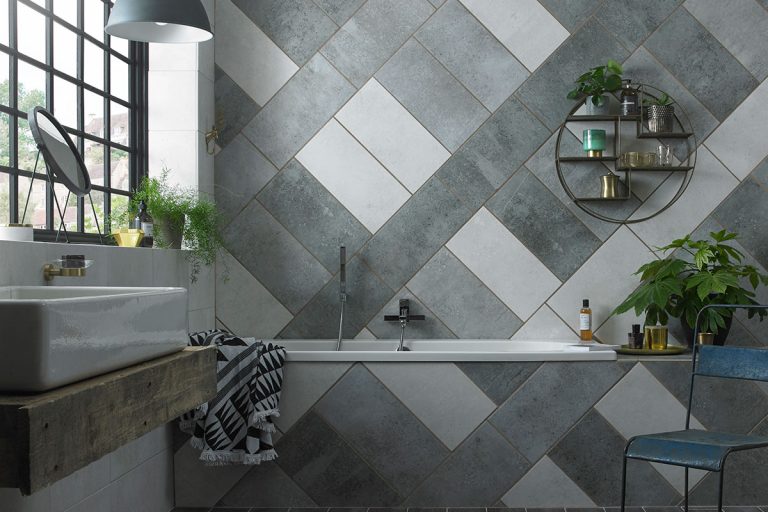 Faux finds
Advancements in print technology mean imitation marbles made from porcelain or ceramic provide a great alternative to the real thing. They're more affordable and easy to maintain. You don't need to seal them and the good ones have lots of variation and patterns. So you don't see repeats of the veining, making them appear much more realistic. A great option when buying tiles.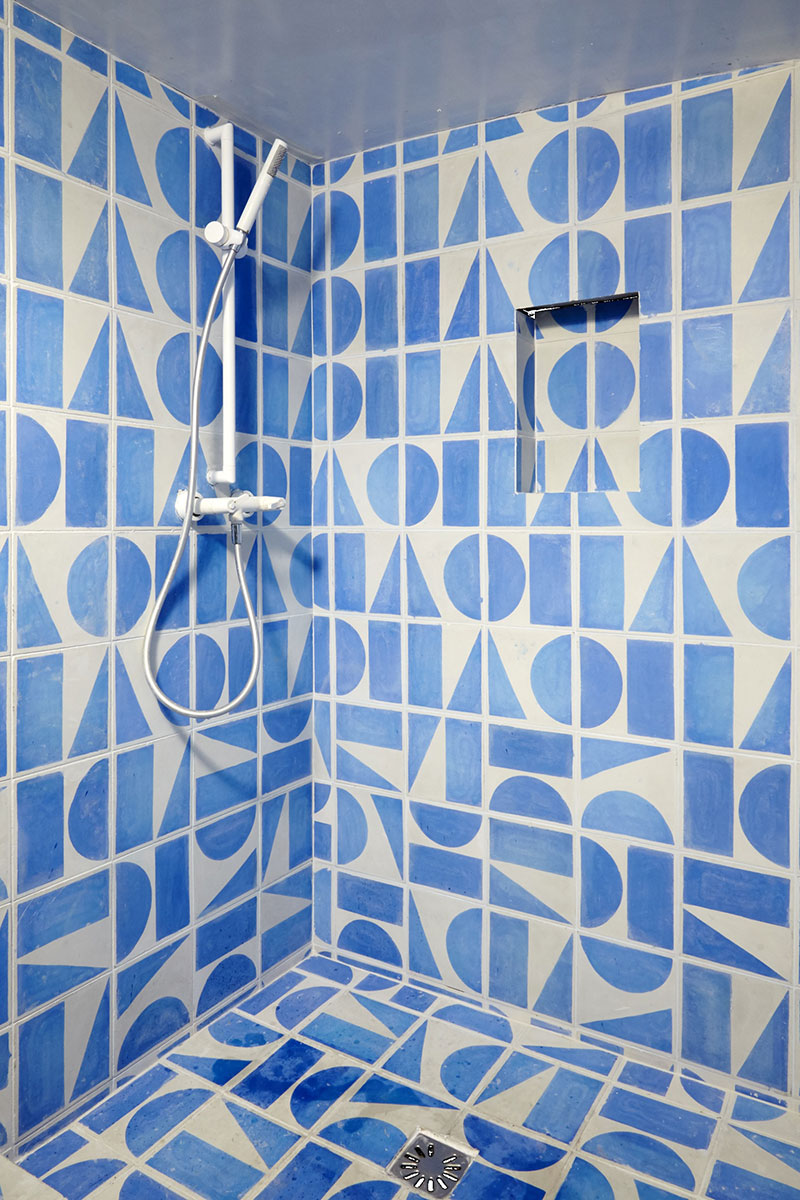 Buying tiles: concrete, clay & encaustic tiles
Cement or encaustic tiles have become increasingly popular – I suspect it's due to the colour and pattern choice.
Similarly, concrete tiles are popular too and come in a wide range of designs and shades – all with an urban, industrial-style feel.
If you prefer a more traditional look, terracotta tiles are made of clay and then fired, which creates a more artisan style. Usually unglazed, their natural earthy tones provide a beautiful rustic look.
Terrazzo
A big trend, terrazzo is a classic Italian design made with composite materials poured in place or, for tiles, precast. It consists of chips of marble, quartz, granite, glass, and other suitable materials combined with a binder and polished to create a smooth surface.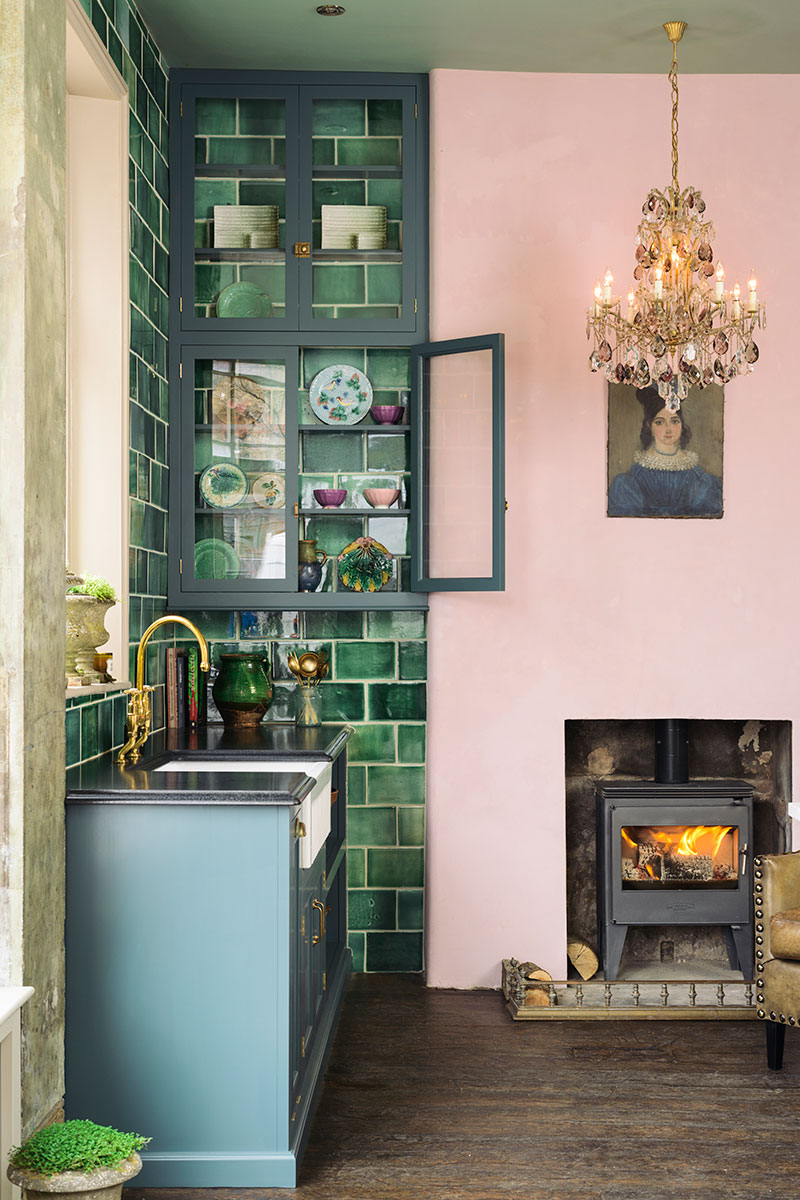 Where to start?
Really, the key is selecting the right material for your space first and then picking from the endless styles and colours out there when you're buying tiles.
Most tile suppliers will provide samples to take home, as seeing tiles in the space can help you with the decision.
The trick is not to order so many samples that you could open your own store. It's tempting, but try and narrow down your preference. My advice is to assess your needs, style, and how much maintenance you're willing to do before you make any decision on which material to buy. Then, you can pop your own Insta-worthy snaps on the grid.
Featured image: Gemini Tiles Reflections tile collection, CTD Tiles.
If you enjoyed reading all about buying tiles, then you'll love our feature how to choose tiles (and have great fun with them).
About Post Author