You wait ages for a bus and then three come along at once. This happens to me most mornings, and oh what a joy! Imagine planning a large kitchen extension for a year and waiting patiently for your builder to fit you in. Then receiving a call to say he can start four days later.
Suzanna Edwards laughs when she tells me the tale of when her builder called one quiet Sunday evening. He told her that a job had fallen through and he could start their large kitchen extension on Thursday. She is definitely laughing about it now. However, I wonder whether that was the case when she put the phone down after agreeing to the short notice start.
The project: a large kitchen extension on a beautiful 500-year-old carriage barn converted in the 1980s. And when I say large, I mean almost doubling the footprint of the property. This is in rural Northamptonshire and has a smallholding on the land surrounding it.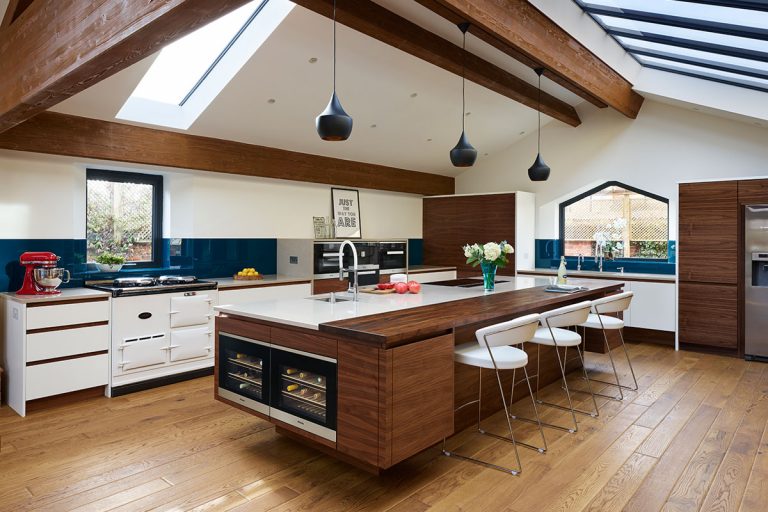 How the large kitchen extension evolved
"We had architect drawings, planning permission, and a vision of what we wanted. We hadn't had time to think about interior finishes, the style of kitchen, or to order any materials for the build. So, right from the start, our renovation was an ad hoc process and our ideas evolved as the new space took shape," Suzanna tells me. It's not the normal story I hear when asking homeowners how their new home came to be, so I'm totally intrigued.
The plan was to add a block-built extension with vaulted ceiling, glass roof and bi-fold doors. Suzanna, Glenn and family had lived in the house for three years before embarking on this, the largest part of the project. The house was old-fashioned when they moved in. So they improved the heating, plumbing and electrics, replaced ceilings, floors and redecorated. All while saving up for bigger improvements – the large extension.
Adding onto the barn conversion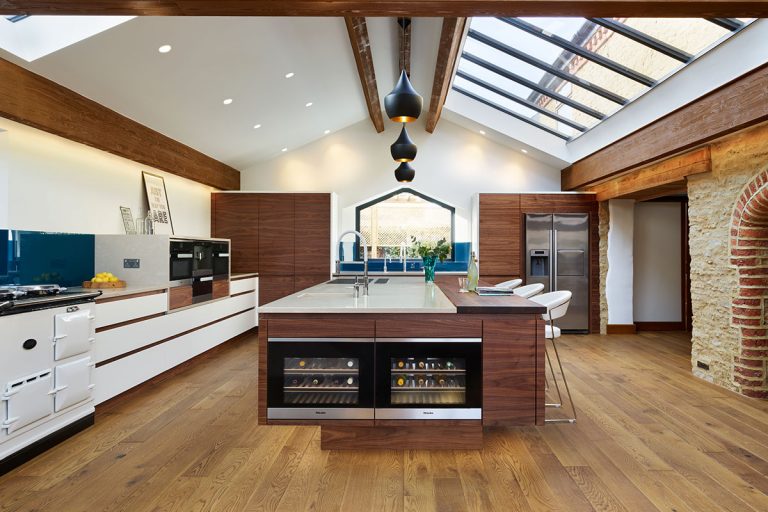 Problems with the existing kitchen
"The existing kitchen wasn't on mains gas. It also had worn chipboard units, an old Aga and a large island dominating the space, which we ripped out straight away," Glenn tells me. "Then we started plans for the large kitchen extension. However, despite having a clear idea of what we wanted to create, we faced a long battle with the council over planning permission."
They had to work with their architect to revise the plans to lower the roof pitch. They had to reduce the size of the windows too so that the large extension wouldn't be too dominant. Eventually, though, good news came and the project was given the go ahead. Oh, but then they had to find a builder. "We found someone we liked right away," Glenn says. "The only problem was that, at first, he wasn't available for months. Luckily for us, that soon changed. But it did mean we had only days to prepare for living on site and had to quickly start our search for the kitchen to go in the space."
The large kitchen extension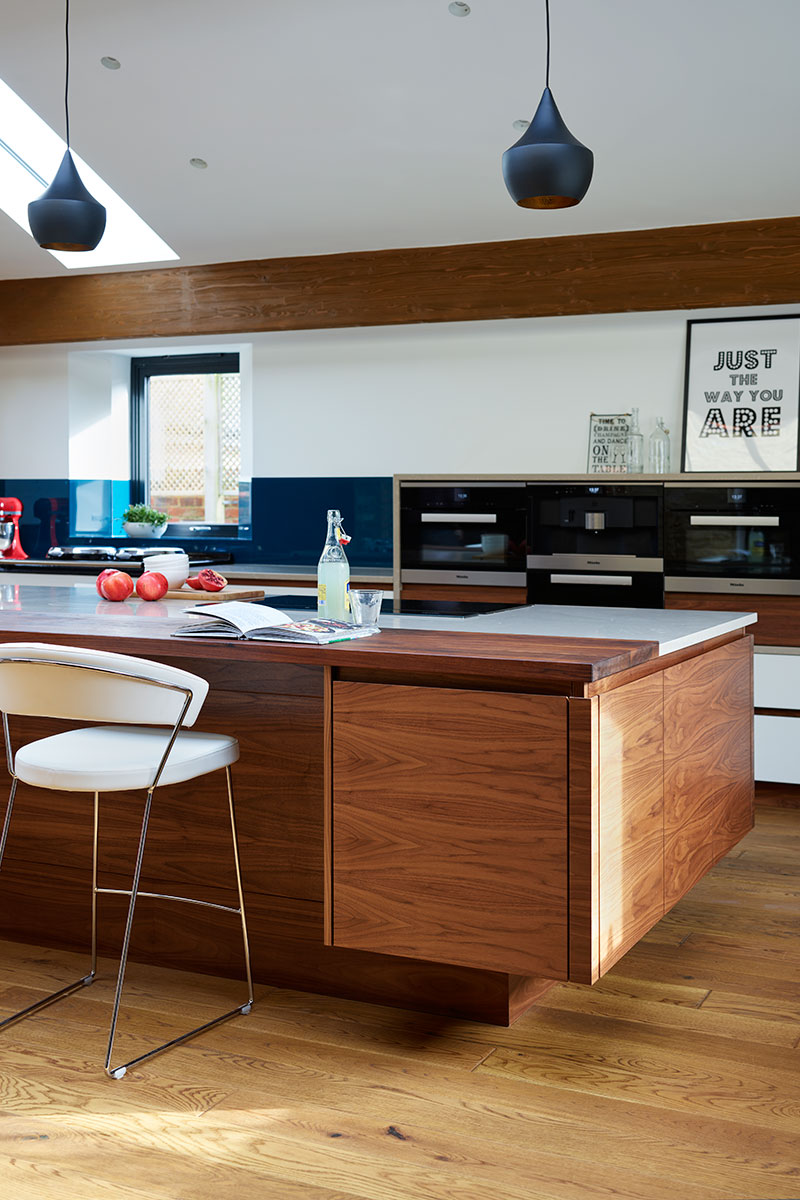 Weekends were given over to research, research and more research. The large extension would need a pretty large kitchen to fill it and the couple decided to bring on board designer Tony Lister from Simon Taylor Furniture in Aylesbury. "We liked the look of its previous projects, particularly one that had a 'floating' island," says Suzanna, who likes a rustic, homely style of interior. Glenn, on the other hand, prefers a more minimal look.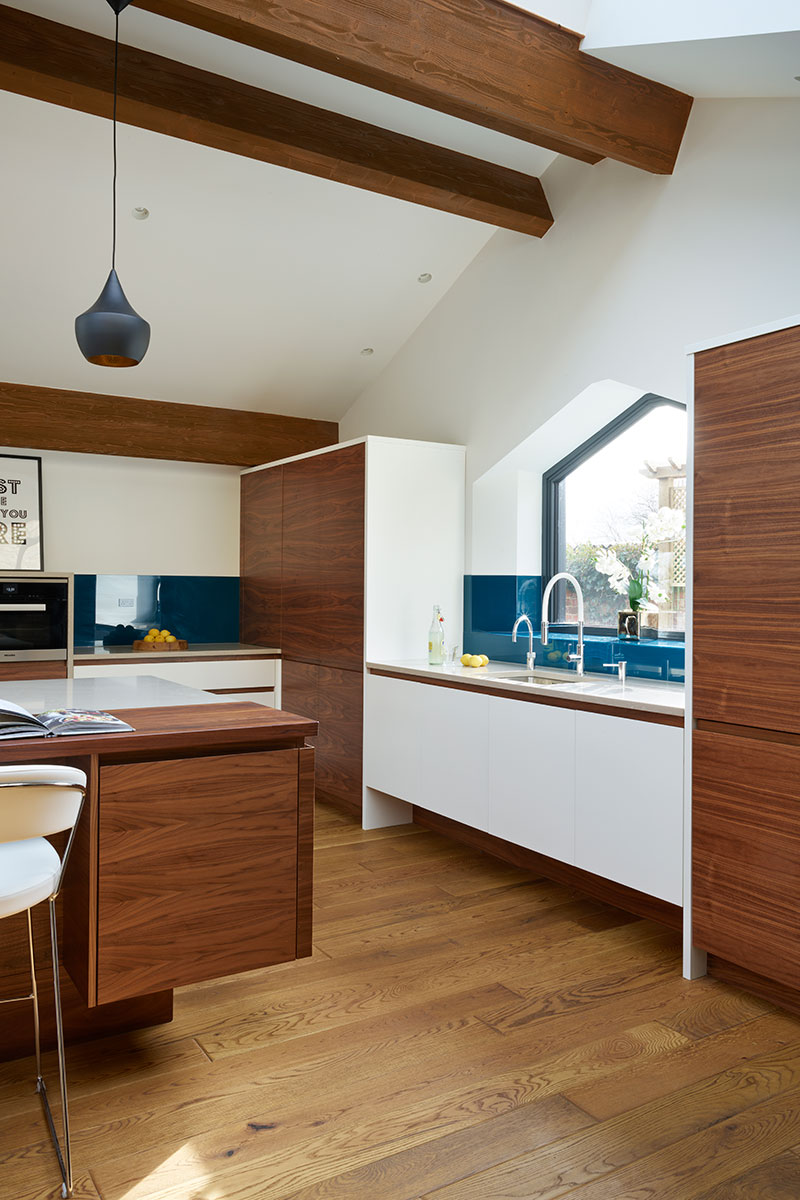 The wishlist for the large kitchen extension
On the wishlist to Tony: an Aga, boiling-water tap coffee machine, pop-up sockets with USB points and an induction hob with concealed extractor. The rest was up for discussion. Tony suggested an L-shape layout with a long run of handleless, flat white lacquered base cabinets and a colour-matched Aga (tick). Oh, and a central bank of built-in appliances within easy reach of the large island which seems to float. But I should mention here that the island measures an impressive four metres – yes four. I told you it was a large extension!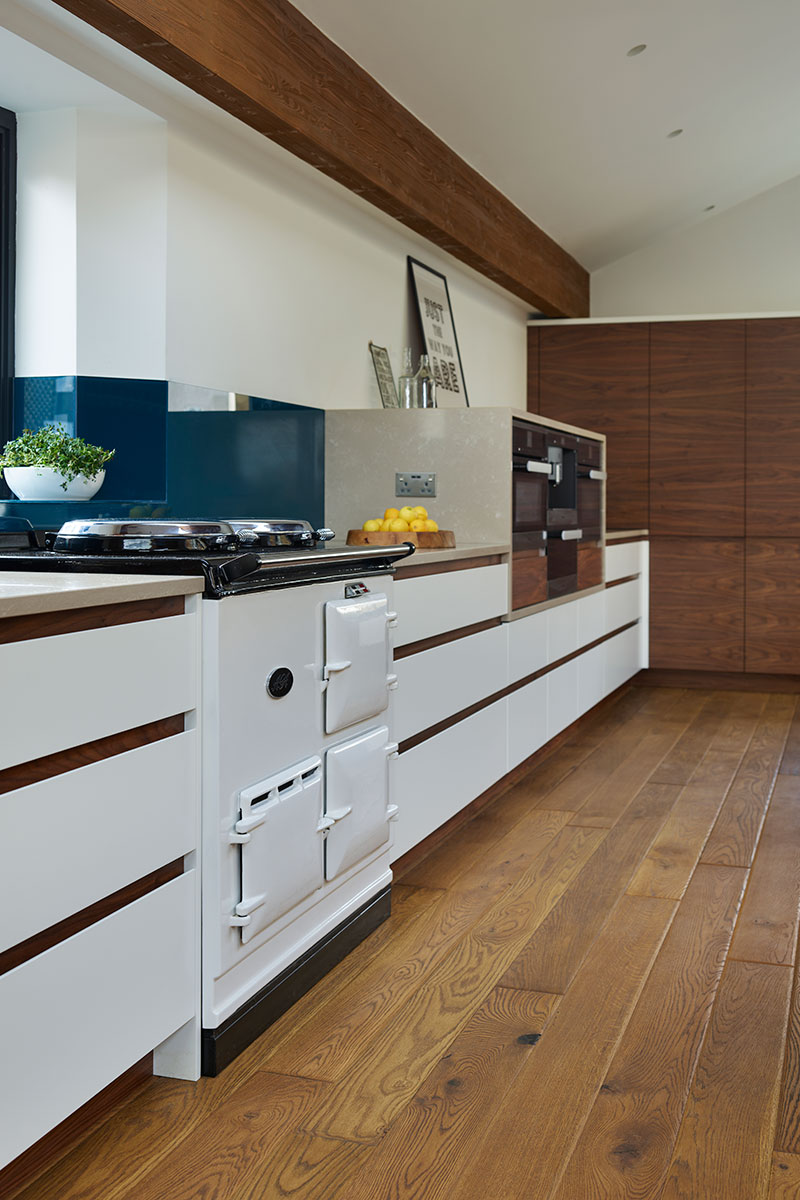 Ensuring there was enough storage
To make sure there was enough storage, Tony included two tall units in American walnut. He also included a double-door fridge-freezer, wine conditioners in the island and lots of drawer space. "Originally, we wanted all floor-to-ceiling cupboards, but Tony thought it would look too imposing and limit light. So we decided against it," says Glenn. "We chose a neutral worktop that looks like locally quarried stone. The sink went by the picture window so we could see out to the garden."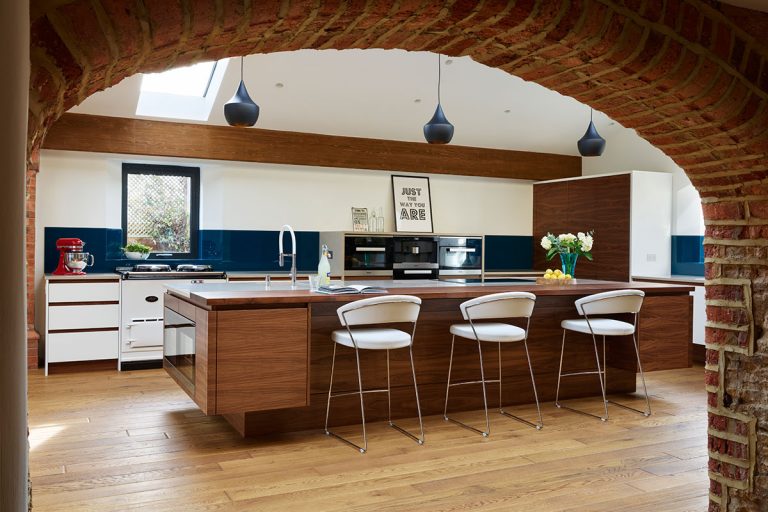 Keeping the character of the old barn
To keep the character of the 500-year barn and ensure the large kitchen extension flowed with the rest of the house, removed the doors from the original carriage arches and laid the same wooden flooring throughout the downstairs space, adding underfloor heating for extra comfort – nice. Add to that a reclaimed slate wall (a late addition after they found the idea on Pinterest) and aluminium glazing that took a while to source, the kitchen-living-diner was complete.
"We kept adding and changing bits of the design, which probably wasn't the best idea but meant we got what we wanted in the end," laughs Glenn. But he and Suzanna wouldn't change a thing about it now. "Once the extension was built, the interior was so slow to take shape. But with such a sudden start date, we knew it would be a labour of love," she says . "We love the kitchen now it's complete, while the whole space takes people's breath away – our friends and family walk in and say 'wow'."
Featured image: Initially, the couple wanted all double-height cabinetry, but they decided against it after Tony Lister of Simon Taylor Furniture suggested it would dominate too much. Instead, the design features a combination of high and low units to complement the architecture.
Photography: Darren Chung
So, did you love this feature? Then you'll also enjoy our feature on a country-style kitchen in an AONB.
About Post Author